One of the trendiest short hairstyles for the modern man is the fade haircut. The temp fade haircut adds a touch of energy and freshness to your appearance. It's divided into many different types, creating an endless number of options where you can pick the best option to get attractive look.
A well-done faded haircut complements your face plus hair type while allowing you to express yourself through a unique fade style. A man with a well-shaped drop fade haircut exudes elegance. This is a modern era haircut, which is short on the sides and back with different hair lengths on the top. It has quickly established the go-to haircut for guys who want to maintain a fresh look.
It is an adaptable approach to the traditional short back and the sides. Whether it's a High fade or a Mid fade. It is mostly liked and taken by sports players, Hollywood celebrities, and stylish heroes. However, the game is completely in your favor when it comes to deciding on the finest fade hairstyle for you.
Below are many different fade cuts that are some of the finest options for a hassle-free hairstyle. We are confident that this post about men's fade haircuts will assist you in providing a new appearance.
What Is a Fade Haircut Style?
A haircut fade is a transitional haircut that begins at the bottom of the back and sides of the head. It moves upward towards the top of the head to create a smooth transition. Fade heights may vary widely based on hair volume and color.
A men's fade is a more severe form of simple short hair on the back and sides. Normally, the hairs on the top of the head are longer than rest of the head. However, with this haircut, the hair slowly shortens when it moves down to sideburns and the back of the neck.
The basic features of a fade cut are similar, there are differences based on personal choice and hair type. Although this haircut is often called a modern haircut, the design has its origins in the US military.
Originally mandated in the early 1950s, the fade cut was known for disciplined and standardized style of dressing that requires constant trimming with a certain amount of physical confidence. During World War II, Hispanic and Black barbershops were linked with skin fades, propelling the haircut into mainstream culture through TV series and movies.
Although they have become popular, individuals are now going farther and being more adventurous with different fade techniques. Men's faded haircuts lately had a significant return because of the emergence of barbershop culture. Now, there are many fades that fit each hair type and facial shape, so if you like short haircuts, you're in luck.
How to Do a Fade Haircut?
Fad starts, the top hair is left longer than the hair on the sides and back. For accuracy, clippers are used often. Varied sizes of clipper guard plus a steady hand are Important for attaining a precise fade. If you have a steady hand and know how to use clippers, you're good to go.
We'll guide you through the process step by step. There are many different kinds of fades to pick from. There are several ways to modify this trendy haircut, low, mid, and high skin fades to skin fade and drop fade. In this guide, understand how to create a cut fade.
Step 1: Get the Necessary Products and Equipment.
You'll need a few products and equipment to get the finest results while creating a fade.
Here's all you'll need to do a fade haircut.
Clippers and different guards.
Towel or cape.
Comb with fine teeth.
Bottle for spraying.
A pair of scissors (optional).
Hair Clip (optional).
Step 2: Understand Clipper Guards.
A number is allocated to the guard that defines the length of the hair. A lower number means shorter the hair will be! You can use a particular guard number if you understand how short you want your hair to be.
Zero – no guard. Completely shaven with a very less amount of stubble.
One — one-eighth of an inch or 0.12 inch.
Two — a one-fourth of an inch or 0.25 inch.
Three — 0.37 inch.
Fourth — a half-inch or 0.5 inch.
Fifth and Sixth —There is no fixed size for numbers five and six, ranging from 0.62 to 0.75 inches.
Seven and Eight — 0.87 inch to 1 inch.
To get a classic fade cut, leave approximately 3 inches (or even more) of hair on the top. This type of fade is normally done with the number three, two, one, and zero clipper guard. Use clipper guards number four, three, two, and one instead if you want your fade to be a bit longer.
Step 3: Set-up for the Fade.
The length of the top hair will be longer. So take the edge of the top hair and spray it with water using a spray bottle
It won't be clipped with clippers making it easier to sweep out. Clip the top hair out of the side for easy fading. Tie a towel around your neck or shoulders while trimming to keep the hair away from your clothing. Also, decide fade line for your fade.
Step 4: Start With a Small Clipper Guard.
Put the smallest clipper guard to the clippers – usually number one or two. Now start cutting upward from the bottom hairline to around halfway of the fade line (around 1 inch for a classic fade) in a C-shape motion. Do this until you cover the entire back and side hairline.
Step 5: Use Mid Guard.
Use medium lengths guards to mix with the small bottom hair part you recently trimmed. Use number two guard if you used number one guard for bottom hairline or use number three if you used number two small clipper guard. Start trimming upward to fade line in C-shape motion from small bottom hair.
Step 6: Use Long Guard.
The hairline should be halfway faded at this point, with the bottom and mid-sections of the head finished. To complete the top part of the fade, take the long clipper guard. Do not touch the long hair on top of the head at this time.
Put on the number three or number four guard (one size larger than your previous guard), then start trimming down to the bottom hairline. Make sure long top hair is out of side fade and that the top hair terminates where you want it to.
Step 7: Make the Transition Line.
It's crucial to make a transition line between the lengthier top part of the hair and the faded sides. If you want a strong contrast between both the lengths, you may keep it the way it is.
However, many people prefer to add a medium taper to help fit in better. You may manually combine the lines by descending in a bit of a millimeter and flipping outward on the borders of the lengthy portion. If you're really experienced with the clippers and have perfected the C-shape descending technique.
Step 8: Use Scissors to Cut the Top Hair.
Make sure to spray water on top hair before cutting with scissors. Pull a tiny part of hair forward with the comb, then move your index with middle fingers up until the length you wish to cut is visible at the top of the comb.
Cut the area while still keeping hair upright, then take the next little section with the comb and repeat. After you have finished cutting, go over the hair again, taking random portions and lifting them upward to make sure all top hair is the same length.
Tips for a First-Rate Fade.
Don't Do It by Yourself
A fade hair is one of the easiest haircuts to get. You should definitely avoid trimming these haircuts yourself because they are strongly mixed and slowly become longer towards the top of the head.
A fade requires a scissor and clipper to work and a lot of visually inspecting to achieve that graded appearance. So to get your fade cut, go to a professional hairstylist who has taken the effort to master the fading technique.
Keep Sharp Fade Look
Do you want to maintain the flawlessly blended look? Then expect to see your barber very often. The tighter the fade, the more often you will have to re-cut it to maintain it clean and sharp. Fade cuts, especially those with most head exposure, like bald and high fade styles. They needed to be trimmed back every week depending on your hair growth-rate.
Watch Out for Bumps
Consider your head as a factor while deciding your fade cut. If you have any bumps on the sides or back of your head, then short hair may expose that bumps. So, keep this in mind when deciding on the best fade style for you.
Take an Image
Before your haircut session, take images to ensure you achieve the appearance you want. There are different techniques to fade hair, so find the fade cut you prefer that is too long or short. Scroll down to explore the limitless fading ideas.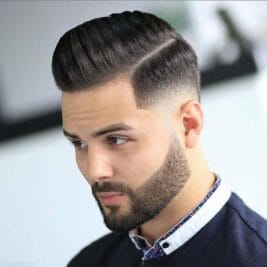 Fade vs Taper
Fade and Taper are the two most commonly used terminology in barbershops. However, very few men know the differences between these two haircuts. So, what is the simple difference between a fade and a taper cut? The sides and back of both haircuts have declining lengths that go shorter from top to bottom.
The difference between a fade and a Taper is determined by the steepness of the slope and length. Fades and Tapers are basically updated versions of short back and sides. The Taper is a very modest haircut than fade. Taper is a classic, adaptable style with slowly reducing hair length. The hair length should drop uniformly over the back and sides, reflecting the natural development of your hair. This style gives you more length on the sides and back.
The basic difference between a fade and a taper is that the fade does not require a gradual decrease in length. Instead, the hair length may be changed from long into short instantly. They are usually shorter, reaching nearly down to the skin. These haircuts are often matched with extreme hairstyles like combovers, undercuts, or mohawks.
The Basic Differences between a Fade and a Taper
Tapers are longer than fades.
Tapers have less or no contrast, and fade cuts have stronger contrast.
Tapers are casual, and fades are bold.
Is a Taper or Fade Suitable for You?
First, consider your facial shape while choosing between a taper and a fade cut. If you like a modest haircut, Taper is a suitable option. On the other hand, if you like a a bolder look,, fade is a suitable choice. If you're still confused, you should ask your barber for advice. A professional barber can guide you on which will suit best for your face shape.
What Are the Types of Fades?
Men's fade cuts with many different fade hairstyles are quickly becoming the traditional go-to appearance for thousands of gentlemen. It is entirely up to you whether you choose a taper fade haircut styles, skin fade haircut, or one of the many different types of fade — choose a decent style you like.
Because a haircut fade is so easy to get, it is a good choice for most males when it comes to getting their hair trimmed. While almost any type of fade cut variety has a shorter area at the bottom, slowly rising in length as it is near the top, not all types of fade cuts are the same.
Taper fades, for example, are more focused with edging and line-ups, whereas these styles seek to reveal more head area. While you may personalize your cut and instruct your hairstylist on how to make a fade cut according to your choice.
There are three basic varieties of fade: high, medium, and low fades. Below is the list of the popular type of fade haircuts.
High Fade Haircut or High Top Fade Haircut
A high fade haircuts are modern fade that begins higher on the head, near the temples, rather than halfway just above the ear. The hairstyle on the sides and back of the head is usually very short, maybe almost shaved up to the skin fade, which we will discuss later in this article). The haircut high fade is properly named a liked this because the fade begins "high up" on the head.
Blend Point for High Fade: High-temple
Best Season to Try this style: Summer
Perfect Age Group to Wear High Fade Haircut: Guys in their late twenties can seem handsome in this haircut.
Suitable Face and Hair Type for this style: This fade style is most suitable on Pear, oval, and square-shaped faces with any hairstyle on top.
The Perfect Outfit for this Fade: Wear anything basic and easygoing.
Haircut Mid Fade
Mid fade haircuts are the safe fade type that many guys prefer these days. The mid drop fade haircut is popular because it allows you to try with a number of longer lengths on top, such as a pompadour. It's also more subtle than the low fade and less striking than the high fade. You will not be disappointed if you give it a try.
Blend Point for Mid Fade: Mid-temple
Best Season to Try Mid Fade cut: Winter
Ideal Age Group to Wear Mid: Early-thirties men may rock and capture the mid-fade look.
Suitable Face and Hair Type for Mid Fade: This fade style is most suitable on heart, oval, triangle face shapes with curly hair.
The Perfect Outfit for Mid Fade: This is a wonderful haircut to wear for the office with formal clothes.
Low Fade Haircut
This fade cut sets the blending line below the temple, making it a starting point for individuals new to the area of fade hairstyles. This haircut is far cleaner than the typical short haircut, and it can be kept for a longer period of time without making any major changes to your form or shape. The low fade is a fantastic point for starting if you wish to spice things up without going crazy.
Blend Point for Low Fade: Ear height
Best Season to Try Low Fade Hairstyle: Any season
Perfect Age Group to Wear This Fade Hairstyle: For males in their thirties.
Table Face and Hair Type for Low Fade: This fade style is most suitable for oval, round, and square face shapes with coiled hair.
The Perfect Outfit for Low Fade: Men may wear this to casual gatherings or dating evenings in both formal and informal clothes.
Taper Fade Haircut or Temp fade Haircut
A fade haircut taper is type of fade where the fade area is reduced to the sideburns and nape alone. The hair progressively fades down to zero in this hairstyle, with a blending point right above the ear. This hairstyle, the haircut taper fade while not much different from a typical cut, not only appears sharper but also will last longer as well as grow out more smoothly.
However, it won't be just as extreme as most of the fades you'll notice. It can be adjusted to every hairstyle on the top, making it not only one of the finest fade haircuts but also one of the most adaptable.
Blend Point for Taper Fade: Sideburns
Best Season to Try Taper Fade Haircut: Winter
Perfect Age Group to Wear Taper Fade Haircut: For early thirties men.
Suitable Face and Hair Type for Taper Fade: This fade style is most suitable on Round, square, and oval face shapes with silky hair.
The Perfect Outfit for Taper Fade: This is a perfect haircut for a normal business look with minimal formal clothing.
Bald Fade / Low Skin Fade Haircut
The approach to fading on a skin fade haircuts are different from the other styles outlined above. The point is that skin fade begins at the hairline and fades up to the skin. The high skin fade haircut is ideal for people who want to highlight the line between their beard and their haircut.
Blend Point for Skin Fade: Temple height and rounded towards the back.
Best Season to Try Skin Fade Haircut: Summer and monsoon
Perfect Age Group to Wear Skin Fade Haircut: For Men in their 30's and 20's
Suitable Face and Hair Type for Skin Fade: This fade style is most suitable for triangle, heart, square face shapes with any hairstyle on top.
The Perfect Outfit for Skin Fade: This is a perfect haircut for a normal business look with minimal formal clothing.
Undercut with High Skin Fade Haircut
The undercut haircut is similar to the fade that has short hair on the sides and back of the head. The fading undercut mixes two hairstyles. Usually, undercut haircuts are cut quite high and trimmed one whole length. The men's undercut fade shortens swiftly and forcefully before gradually tapering. To fit a haircut, guys might receive a low, high, or mid undercut fade.
Blend Point for Undercut Fade: Disconnected
Best Season to Try Undercut Fade Haircut: Summer
Perfect Age Group to Wear Undercut Fade Haircut: For guys in their thirties.
Suitable Face and Hair Type for Undercut Fade: This fade style is most suitable on Round, square, and oval face shapes with straight and smooth hair.
The Perfect Outfit for Undercut Fade: Wear this fade cut with casual clothing and pants or shorts to chill out together with friends or go on beautiful outings.
Burst Fade
The Burst fade haircut is a style in which haircut all around ears is kept short while the blend point towards the nape of the neck is progressively lower. Some people have a circular pattern bald region above their ear that leads to a Mohawk-like neck. This men's fade haircut is more difficult for the stylist to do, but it fits individuals with large foreheads. Maintaining a lower blend line at the back will assist extend heart, triangle, and square face shapes, resulting in a sharper appearance.
Blend point for Burst fade: Temple height, rounded towards the nape
Best Season to Try Burst Fade Haircut: winter or summer
Perfect Age Group to Wear Burst Fade Haircut: Men in their twenties are ideal for this appearance.
Suitable Face and Hair Type for Burst Fade: This fade style is most suitable for heart, triangle, and square face shapes with wavy hair.
The Perfect Outfit for Burst Fade: Any casual clothes are appropriate for this style.
Drop Fade Haircut
Drop fade implies the fading drops just behind the ears. There is a noticeable curve from the temples to the ears, which separates this haircut from the others mentioned. If you're searching for anything new to try, we recommend you give this a shot!
Blend Point for Drop Fade: Temple height, Drops behind the ears.
Best Season to Try Drop Fade Haircut: Summer is an excellent time to experiment with this look.
Perfect Age Group to Wear Drop Fade Haircut: Men in their thirties can pull off this look.
Suitable Face and Hair Type for Drop Fade: This fade style is most suitable for heart, triangle, and square face shapes with wavy and curly hair.
The Perfect Outfit for Drop Fade: Men can look excellent in informal clothes and join formal gatherings.
Scissor Fade
It is clear that not every guy enjoys clippers equally. That's why we recommend the scissor fade haircut. To get this haircut, hairstylists use scissors rather than clippers, as you probably have guessed.
What differs it from the other fade haircuts is that it is slightly softer than the others; if you do not want to experiment with your haircut but still look fashionable, this haircut is for you.
Blend Point for Scissor Fade: Ear height
Best Season to Try Scissor Fade Haircut: Any season
Perfect Age Group to Wear Scissor Fade Haircut: Men in their 20's, 30's and even 40's can pull off this style.
Suitable Face and Hair Type for Scissor Fade: This fade style is most suitable for Oval-shaped face shapes with straight hair.
He Perfect Outfit for Scissor Fade: To look handsome, pair it with formal clothes and a tie. Attend enjoyable fancy parties to look your best.
Temple Fade
The temple fade, is called the Brooklyn Fade haircut. The temple fade was originally popular in black males with afro haircuts, but it has now made its move into the general, where it is a possible choice for everyone. The hair of a traditional temple short haircut fades quickly from the temples to the ears.
Blend Point for Temple Fade: Temple height
Best Season to Try Temple Fade Haircut: Summer
Perfect Age Group to Wear Temple Fade Haircut: Men in their 20s can pull off this look.
Suitable Face and Hair Type for Temple Fade: This fade style is suitable for every face shape with curly and coiled hair.
The Perfect Outfit for Temple fade: For gatherings with family and friends, dress simply and casually.
Top Fade Haircut
The men's fade haircut is one of the most attractive and trendy haircuts for men today, according to the males grooming market. Many celebrities and artists have been seen wearing this fashionable style, and they all appear quite handsome.
Guys having short hair were the first to adopt the fade haircut high, but it has later gained popularity in men having medium or long hair. A fade haircut provides guys a sharp and polished appearance. Fade haircuts are a type of haircut that combines various lengths and trims of the hair to make the fade seem as smooth and faultless as possible.
A fade haircut necessitates haircut tapering but is shorter than a tapered haircut. A very well fade haircut requires a trained, experienced, and precise barber. Faded haircuts may range from simple and understated to more dramatic and edgy appearances. It is also ideal for transitioning from sideburns to beards.
In addition, a fade haircut featuring the upward facial hair line has already become one of the most popular hairstyles for males. If you enjoy grooming your beard, you might want to include a fade haircut that can assist in enhancing your features and provide you a modern look. Check out each section to view the most modern men's fresh trends and fashionable fade haircuts. Check out this list of the most popular boy's fade haircuts.
Long Hair With Fade
This is an excellent option for those who don't want to trim frequently. To get this haircut, leave around 5 – 7 inches long hair on the top with a fade on the sides. You can wear this hairstyle with low, and medium.
Pompadour Fade
A trendy version of the original pompadour haircut is the pompadour fade haircut. The pompadour fade is the combination of stylish short sides with long hair on top styled as the pompadour. This hairstyle is ideal for taper fade, but it can also be worn with any other type of fade.
Comb Over Fade
A fade haircut comb over is a preferred choice since it is flexible and elegant. If you have medium or long hair on the top, you can get this style with a different types of fade lengths. It's a wonderful choice for a diamond and triangular face shape.
Quiff Fade
The Quiff fade is styled with a sloppy brushed back and comb over textured hair or finished with some volume on the top and faded on sides. It is perfect for professional guys.
Hipster Fade Hairstyle
Hipster fade hairstyles are trendy and creative. They're ideal for guys who want to freshen up their look. Hipster fade haircuts are inspired by elegant, vintage, and retro styles. This style is combined with a casual fade and edgy modern version. This haircut requires a lot of maintenance.
Faded French Crop
The faded French Crop is the perfect haircut with a minimal hairstyle that is perfect for everyone who does not prefer to waste a lot of time maintaining their hairstyle but yet wishes to look presentable. French crop are very trendy cuts for guys this time, so adding them with fade will give a much more modern vibe.
Curly hair is easier to maintain with fade. To achieve this hairstyle, leave long curly hair on top and short hair all over with fading edges. Choose a low fading for additional curls.
Faded Spikes Hairstyle
Spiky hairstyle has always been a desirable appearance for guys. Although the old rock-hard spikes fashion is no longer acceptable, this spiky style is still a great choice for gentlemen with a modern twist. To get this style, add a smooth fade on the sides and use a good hair product. Then, using your fingers, draw out textured spikes on the top with some wax.
Faded Hard Part Haircut
A hard part looks very stylish on guys. Furthermore, the hard part is easy to combine with all fade haircuts. By mixing a clean hard part and fade haircut, you can quickly get a clean and polished style that is modern and interesting.
Brushed up Fade Cut
Brush up is a basic yet iconic haircut that is popular these days. There are several ways to style this hairstyle. The sides and back of the hair are often kept short to highlight the Brushed up hair on top. The sides are often trimmed into a fade or undercut, which is currently in vogue.
High Volume Faded Fringe Cut
A high-volume faded fringe cut is a fantastic choice for young generation. To achieve this look, get a fade on the sides and long to mid-length hair on top. Mattify the ends of your long top hair to the front by brushing or using wax or pomade.
Faux Hawk With Fade Haircut
The faux hawk haircut, often called Fohawk, has become one of the most popular hairstyles in recent years. The faux hawk mixes very perfectly with a fade on the sides. Understanding which length will fit your specific personality is the key to improving the ratios of this cut.
High and Tight Fade Haircut
If you want a macho haircut with minimum effort, the high and tight fade haircut is the way to go. Military guys normally have it. This style includes trimming a bigger area of the back and sides of the head with very short hair on the top.
Crew Cut With Fade Haircut
The crew cut is fashionable because it combines short hair and great style. Because of the flow induced by the volume of hair, this haircut looks very attractive. This is a beautiful casual haircut with neatly faded sides with a slight lineup.
Textured Fade Haircut
Men's hairstyles with texture have suddenly become the most prominent. It is considered a stylish and professional hairstyle. Short and medium hairstyles look best with a textured fade haircut. To achieve the right mix, this faded haircut on the sides needs a clipper cut. The textured fade looks nice with fade haircuts, but it looks best with taper fade.
Asymmetrical Layered Fade
Asymmetrical haircut is a very bold and attractive hairstyle. It is suitable for you boys. To achieve this fade haircut, get a fade cut on sides and different lengths of hair on top.
Butch Fade Cut
One of the most favorite hairstyles for men with short hair is the butch fade cut. To achieve a different amount of contrast between the top and sides, guys can ask their hairstylist for a mid, or low fade. You can get a razor or skin fade.
Blowout Fade Haircut
The blowout fade haircut is available in a variety of styles and cuts. Ask your hairstylist for a low, mid, or taper fade on the sides and back, with long or short hair on top, for a flexible and edgy look. However, a blowout complements every type of fade haircuts.
Military Fade Haircut
A military fade hairstyle has progressed from being reserved for the military to being one of the most popular short haircuts for males. Its appeal stems mostly from the haircut's manageability and ease of maintenance. The image of haircuts associated with strong, daring, and brave men, on the other hand, played an important effect.
Burr Fade Cut
This is the perfect fade haircut if you desire a virtually bald appearance but do not prefer to trim the hair down to the skin. The hair on the side is usually around 1/8 of an inch short, which is easy to achieve with a hair clipper. Get help from a professional for the greatest results and a well-structured look.
Faded Regulation Cut
Among the most stylish and polished men's short fade haircuts is the regulation fade haircut. Regulation Cut needs minimal trimming. The hair on the top half of the head is separated from the side by creating a strong line from front to back. Hair on the sides of the head is faded to give a clean look. The barber would usually cut the hair with scissors before using a clipper to ensure the side part are nicely faded.
Slick Back With Fade Haircut
A new twist on the traditional haircut is the slick back fade. The slicked-back haircut is still the most attractive hairstyle for guys. The slick back hairstyle needs an undercut and fades on the sides, plus long or short hair on top. A slick back haircut looks very good with low, bald, and medium fade haircuts.
Two Level Fade Haircuts
This Two Level Fade haircut is a modern twist of fade haircuts. It ensures that you will be the center of attention everywhere you go. This haircut includes two fades on the sides. To achieve this style, get two fades on sides with number 3(Bottom hairline) and number 6(up on short fade).
Mullet Fade Haircut
This fade haircut is modern and stylish, so you don't have to worry about looking out of date. Additionally, it is suitable for all hair types and forms.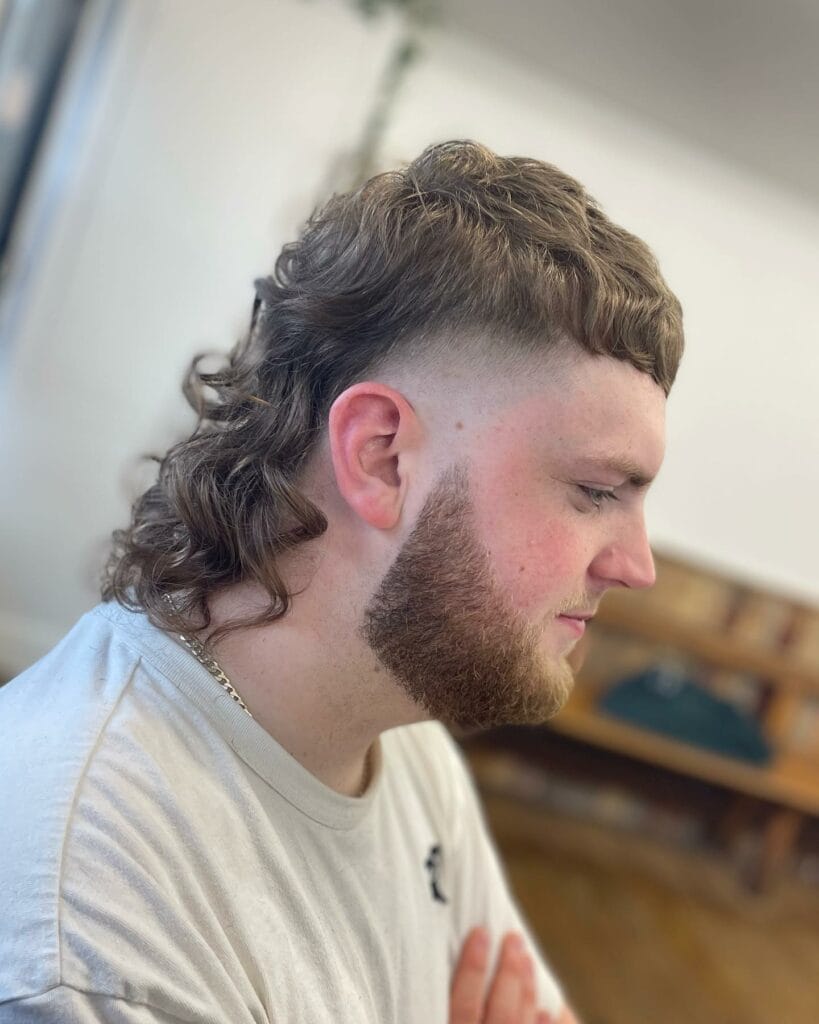 Side Part Fade Haircut
This side part fade haircut style is enough to make a man look smart.
Faded Crop Top Cut
This fade haircut style includes a fringed flurry that "sits" on the top of the head, with sides and back cut to a clean fade.
Buzz cut Fade Haircut
The buzz cut is a classic haircut that every hairstylist in the world is familiar with. Some people love it, while others hate it, but there is no denying its iconic status and basic design.
Hard Part Fade Haircut
A shaved line is called hard part. A razor part is another name for it. Pairing a hard part with different fade is one of the most elegant ways to style it.
Design Fade Haircut
You can achieve this fade haircut by adding some designs to the side or back haircut style.
Mohawk Fade Haircut
The Mohawk hairstyle consists of a trimmed stripe of hair down to the center of the head.
Afro Fade
Combine your natural Afro with a fade haircut for black man for a softly curved style for a stunning look that makes your face appear longer.
Faded 360 Waves
Any fade haircut goes well with 360 waves, from low to high and skin to taper.
Wavy Hair Fade
The wavy fade haircut is great for managing and controlling unwanted curls. Wavy fade haircuts can be low, mid, or high on the back and sides.
Faded Long Crew Cut
The crew cut is a shorthaired men's haircut with a fade that looks sleek and trendy.
Reverse Fade
The reverse fade tests wearer's creativity while, allowing a barber to improve their skills.
Messy Top With Fade
Leave your top hair between 3 and 5 inches long with the kind of fade you like.
Ducktail Fade Haircut
A short and ducktail can be mixed with medium to high fade. A barber can cut the back hair around the neckline to produce the triangular touch.
Bro Flow With Fade
The word "bro flow" comes from the form and look of the hair, which looks like it flows backward.
Braids With Fade
Braids with fades are a good haircut for guys with short or long hair.
Faded Dreads
To bring your hairdo to another level, combine your dreadlocks with a fade.
Faded Man Bun
The man bun fade is a great approach to get a lengthy fade haircut. Whether you go for a low, mid, or high, the shorter sides will draw attention to the longer top.
Men Bob Fade
Bob fade haircuts ranges from chin to shoulder-length hair with faded sides.
Surfer Fade Haircut
Surfer's hair is popular in guys of all ages who seek a look that is defined by its rough, windy appearance.
Flat Top With Fade
A fade highlights the height and structure of a flat top, which is an easy and efficient method to clean it up.
Faded Twist
Twists with fade are the most popular version of the modern hairstyle. A faded haircut on the sides adds contrast and an elegant look to twist on top.
What Do I Tell My Barber for A Fade?
If you've already picked a fade haircut and plan to get one from your barber, it is best to provide your hairstylist as much information as possible about the appearance you want.
If possible, carry an image, or even many images, with you that provide a good idea of what you're looking for.
It's a good idea to talk about your desired hair length and texture so you can customize your style to your preferences.
How to Maintain Your Fade Haircut?
The perfect fade usually lasts just a few days, maybe three to five days. The best part is that you can use a razor to maintain your fade haircut.
Invest in high-quality products that will repair your hair while avoiding the use of harsh chemicals.
We all enjoy a little drying, ironing, and curling, but they all come with a price of hair damage. Limiting the amount of heat you use on your hairstyle is the greatest approach to prevent hair damage.
The top hair of a fade haircut is special. Over-brushing your hair, on the other hand, can weaken hair strands and produce split ends.
The length of hair on top defines how a men's fade haircut is styled. Because the word 'fade' usually refers to the back and sides, you can cut or grow your top hair long. Consider your facial shape again, plus which sections highlight your finest features. If you have long straight top hair with faded style, consider adding sharpness using a rat-tail or fine-toothed comb rather than a sponge.
To point-style, just sweep the cream or wax over your head to get the desired shape of top hair. Shorter hairstyles, on the whole, look best with less product, so go for something matte or similar in texture.
Conclusion
Fade haircuts have grown in popularity in recent years. Fade haircuts are popular in males of all ages because it is the simplest way to give men's hairstyles a modern touch.
If you like fade haircuts, choose from the fade haircut ideas listed above and get it cut by a professional barber. You will love these trendiest fade hairstyles I've compiled for you. Above are the latest modern hairstyles that will look great on all men. Choose the one that best matches your facial shape and hair type. Give one of these trendiest fade haircuts a try this year.
Finally, remember to show the barber images of what you desire. Plus, inquire if the hairstyle you prefer is appropriate for your face shape. It will assist you in appearing your best and perfect hair.
If you still have some questions about fade haircuts, then scroll down to see fade haircut FAQs.
Fade Haircut FAQs
What Is the Best Fade Haircut?
All fade haircuts are best. It all relies on the impression you wish to send with your haircut and on your own preferences because there is no good or bad fade haircut.
Is Skin Fades Un-Professional?
Skin fades are not un-professional these days. It was formerly considered unprofessional, but now it has become very common. The haircut, which is a nod to military origins, this styles tells a lot about the person, mainly that they are regulated, consistent, and enjoy their look.
What are The Three Types of Fades?
High, mid-fade, and low fade are the most popular types of fades. Apart from these three, undercut, tapered, scissor, and temple cuts are few stylish fade haircuts.
What Is the Most Requested Fade Haircut?
Medium fade is the most requested fade haircut. Medium fade can be paired with French crop, undercut, wavy hair, a pompadour, and many more hairstyles.
Should You Give Yourself a Fade Haircut?
Yes, you can give yourself a fade haircut with few conditions:
Your Clipper skills.
Proper products and equipment.
How Do You Decide How Short to Fade the Back and Sides of Your Hair?
Consider your face shape and your daily care plan to decide how short you should fade your hair on the back and sides.
What Does a Fade Haircut Look Like?
A fade haircut has a short fade on the back and sides, with slightly longer hair on the top. This combo results in a sleek shape with a powerful effect.
How Long Does It Take the Fade Cut to Grow Out?
This is mostly determined by your hair growth-rate. However, you will need to revisit your barbershop for maintenance in every two to three weeks.
How to Add Volume to Fade Haircut?
Volume can be added to different types of fade haircuts using a mix of styling tools plus products. Some products can help to raise hair from the roots and add volume to your haircut. Mousse, Dry shampoo, and style powder are examples of these products. Then use a pomade to keep the form.
However, maintaining maximum volume takes more than just product. A blow dryer is the best tool for adding volume. Simply comb or brush hair up while blowing it with air. So when your hair is dry, set your hairstyle with a spray of cool hair. Finally, apply a drop of product.
How to Comb Your Fade Haircut?
First, comb the hair to remove knots, then comb your hair in the direction of your choice. Wet hair is weak and sensitive to breakage, so detangle it directly out from the shower using a wet brush or broad tooth comb. Use a comb to manage hair during blow-drying, or style your hair while it is dry.
Combing hair does more than just smoothing and shaping. Moving the brushes from the hair roots to the ends spreads the oils for natural conditioning onto the hair. It exfoliates the skin and massages the head to promote blood flow. This isn't just for males who have long hair. A daily combing plan creates healthy hair from root to top. It can even benefit men who are suffering from hair loss.
How to Get Soft Hair for Fade Haircut?
To get soft hair for a fade haircut, you should take a healthy diet. Apart from diet, it is important to keep your hair hydrated. Shampooing your hair just twice a week will help you to maintain the head's natural oils. Second, apply a conditioner on a daily basis. If that is not enough, a biweekly deep conditioning session or treatment can assist in restoring dry, damaged hair.
How to Grow Long Hair for Fade Haircut?
Growing long hair requires patience and time. So, just keep your hair healthy and do regular styling to achieve fast hair growth.