16 Boys' Hair Highlights to Show Off Your Personality
Are you ready to take your hair game to the next level? If so, you'll want to check out the hottest trend in men's hair right now.
Whether you're looking for a subtle touch of color or a bold statement, this ultimate guide has got you covered. From platinum blonde to rainbow hues, I have compiled a list of the best boys' hair highlights to inspire your next look.
So read on and get ready to turn heads with your killer hair!
Why Should Boy's Hair Get Some Highlights?
Highlighting hair is now a common trend among men. As a result, many guys are getting highlights to enhance their hair's natural shine and depth.
Highlights are becoming quite versatile. And with a highlight, you can produce anything from a natural to a dramatic appearance.
Men's hair has been highlighted as a more put-together appearance that attracts more attention.
Trendy Boys' Hair Highlights
There are several trendy highlights for boys you will find today. It's fascinating to see that most people are not afraid of playing with color and having fun with their hair.
The most common type of highlights is blonde, mint, red highlights, silver highlights, ash blonde, and platinum highlights. Rocking one of these highlights will give you a unique and sophisticated look.
1. Purple Highlights For Boys
There are several purple highlight styles for boys. There is the lavender hair highlight that is light purple. It is a mix of blue and purple that delivers an elegant look in boys.
When applying the highlight, incorporate foils to gain an even hair bleach.
The high purple tinted quaff is best for boys in the office. The highlight gives the best professional look. To get the best out of this highlight, seek professional help.
People with short hair can use the purple highlight, add some style, and create a messy appearance. Using hairspray for this highlight will give you a fantastic result.
2. Light Brown Highlights
Light brown is among the best choices for boys who do not want blonde hair color. The light brown highlight can be used as a highlight or used with darker brown shades to gain higher hair depth.
The light brown highlights are best on dark brown hair bases. The highlight gives you a superb visual appearance.
3. Ashy Brown Highlights
Try the ash brown to get the most fabulous look on your hair. The choice is excellent for light-skinned guys. The hair color is a shade of brown and a slight touch of grey. The color looks light.
Medium brown is best for boys who do not love shouting colors. It works best with neat comb styles.
You can also try the ash-brown brunette look, where you highlight the hair tips. The highlight is best for boys with long hair.
The light ash brown highlight requires you to begin with a dark blonde base and proceed to a light ash color on the root tips.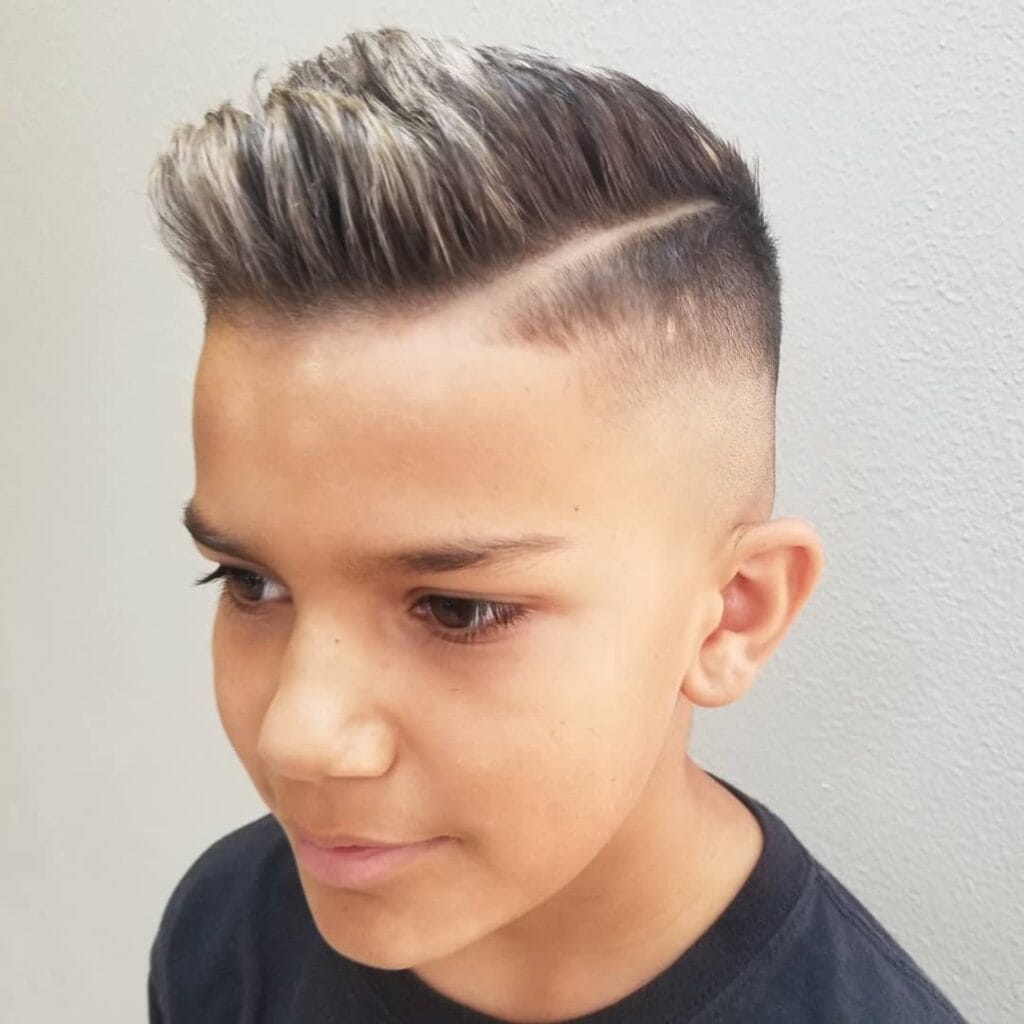 4. Darker Ashy Brown Highlights
Dark ash-brown highlights are best for people who want to put their hair in an updo.
The highlight is enhanced by light shining on the tresses where the brown highlight is shown and ensures that your hair does not look flat.
5. Best Red Highlights For Boys
Red color looks best when walking in the sunshine.
Also, red gives you the most elegant look during winter sun or sunset over your head. There are several red highlights you should try, such as red highlights on dark hair, sultry red and brown highlights, short brown hair with red highlights, etc.
Red highlights on dark hair deliver the boldest and most robust look. The highlight works best for boys with long hair as it will be applied on the tips.
Sultry red and brown give the option to stand out. Your hair type influences the highlight maintenance method.
You can apply red highlights on brown hair. When doing this, apply medium brown on the roots of your hair. To get the best from this look, use professional products.
Unfortunately, the red highlight on blonde hair fades after a short period; thus, you must reapply after a month. Use red shampoo for hair maintenance.
There is also the short brown hair with red highlights where you use foils to gain the softly blended look. When applying, use color reflectors to ensure the highlight does not fade.
6. Full Reddish Blonde Highlights
The reddish-blonde highlight is best for people with blonde hair looking for ways to have fun with their hair. There is crimson red hair with blonde highlights that has a coppery finish after application.
The red hair with bright blonde highlights gives you a shiny and warm look. The highlight gives a magnificent look on sunny days.
The cinnamon-reddish blonde highlights deliver a gorgeous and natural look—best for short hair application.
7. Blonde With Undercut
Blonde hair has charm and elegance in most men. The blonde undercut represents versatility and is popular among young people. The blonde undercut is among the most outstanding styles for boys and men worldwide.
The blonde highlight ensures that you stand out from other people with an extra touch of class.
The blonde with an undercut can work with almost all types of hair for boys.
8. Blonde Side Part
There's no denying that the blonde side part is a timeless haircut. It's a classic look that always goes in style and can be dressed up or down. It's a popular style among celebrities, but anybody may benefit from adopting it.
You can achieve this look by creating a side part and then using a comb or brush to style the remaining hair.
It's versatile enough to work with short or long hair and a center or side part. One may wear the part either straight or textured, depending on their hair's length.
Using highlights and lowlights in your blonde hair may give you a more multidimensional effect.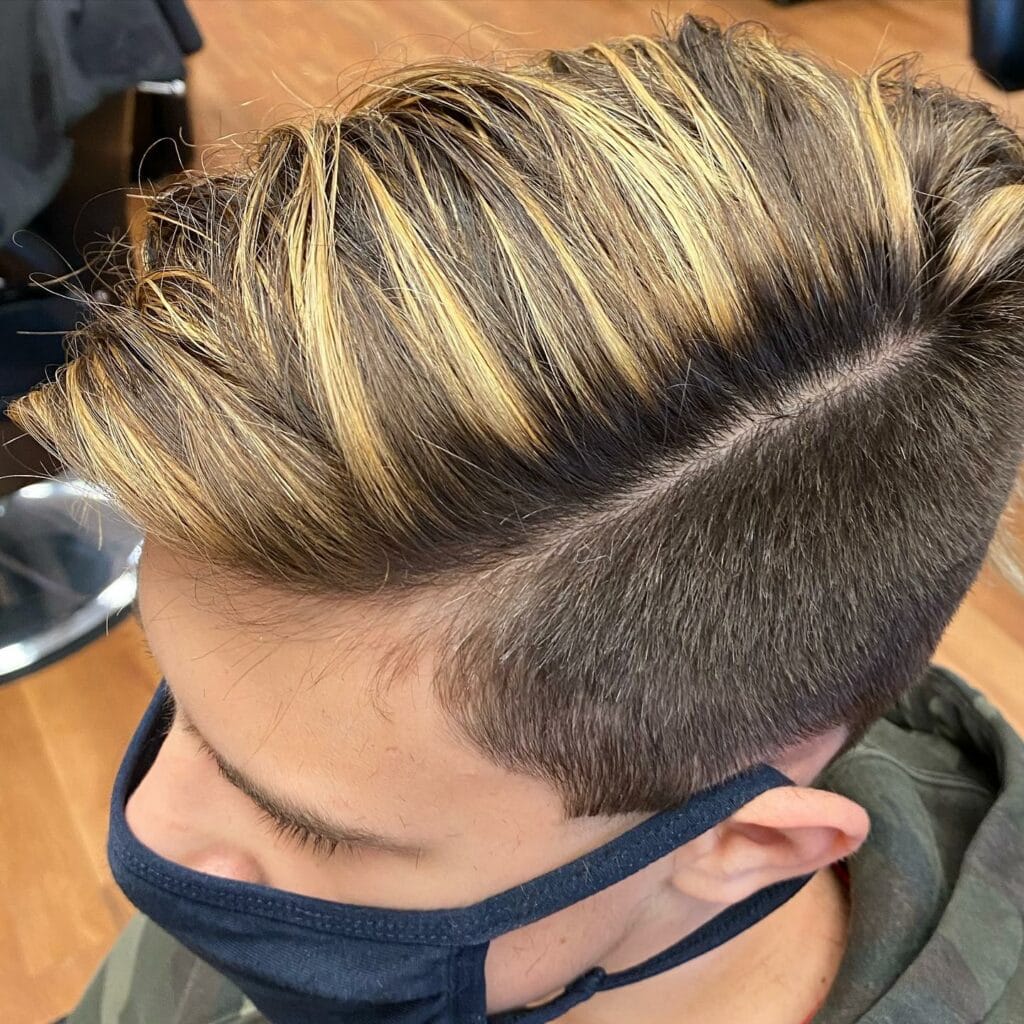 9. Mid-Taper With Highlights
Mid-taper haircut is one of the most common styles used by boys today. The mid-taper style looks exceptional, with long and short edges running from the back's end.
To get a great look, apply some highlights on the edges. The combination will be exquisite.
Depending on your hair color, you can choose a lighter highlight to emphasize the edges to gain uniqueness. However, with your natural hairline, you will still look sophisticated and elegant.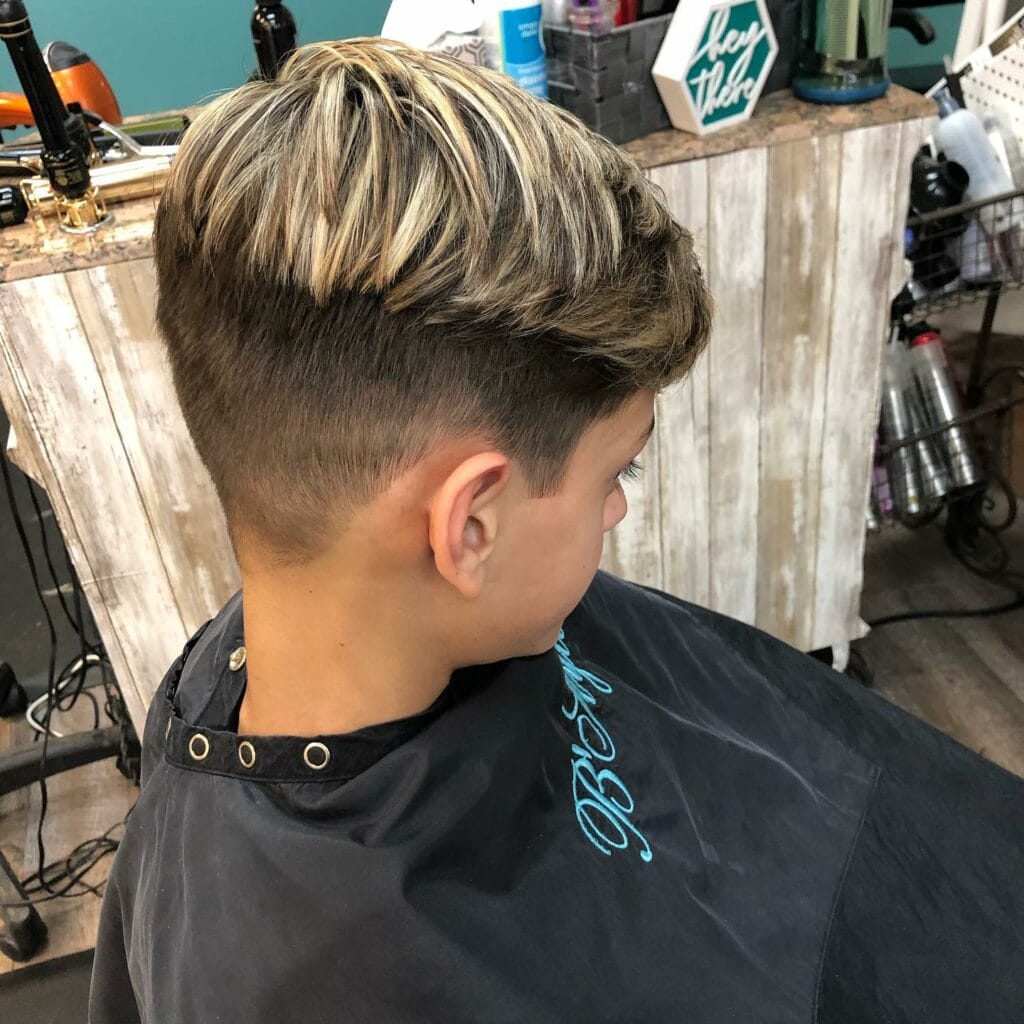 10. The Undercut With Highlight
The undercut style has existed for ages and maintains a great look for boys. You can have some silver strands to gain an enhanced undercut with highlights.
To maintain the silver stands, use purple shampoo. This ensures that your hair never turns brassy. The silver highlight can be applied on the tips of the hair or just after the base of your hair.
You can add other highlights like mint to transform your look. Add the highlight on some strands to acquire the look.
The highlighted strands will attract more attention to the edgy undercut. The greatest thing about undercuts is that you can try any highlights that match your skin.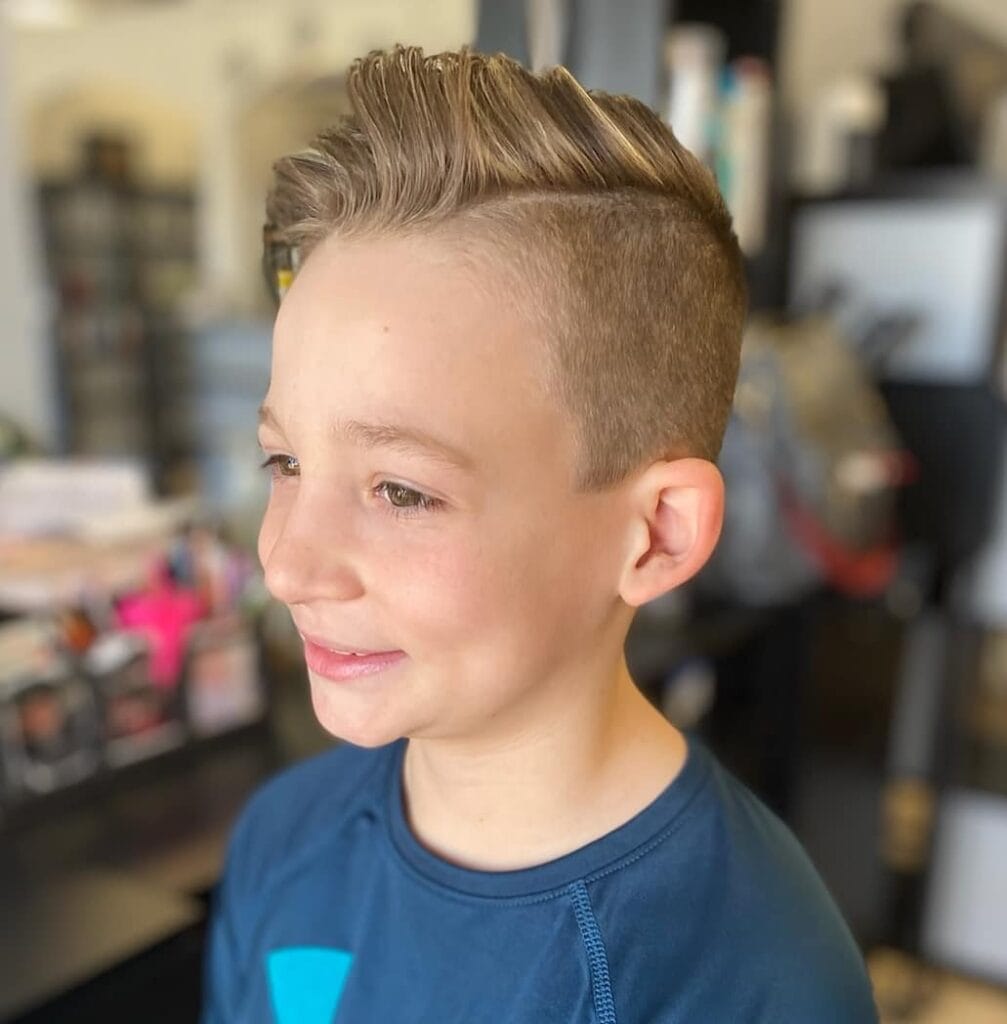 11. Black Peek-A-Boo Highlight
Black peek-a-boo highlights ensure that you hide the dyed hair stands. You do not have to worry about your office noticing the highlighted hair here.
For instance, if you have blonde hair, you can add a black peek-a-boo highlight that you can show whenever you want. In addition, the black peek-a-boo highlights create scattered hair strands to give a sexy style.
12. Blue Line Highlights In Brown Hair
Blue is such a great color and highly noticeable.
On your blonde hair, you can decide to add a blue line. If you have the undercut style, add the blue line highlight on the edges; for people with messy waves, add a blue line on some strands.
13. Bright Silver Highlights In Brown Hair
Silver highlights on brown hair have never gone wrong. The bright silver highlight elevates your skin tone.
To gain an enhanced and unique look, you can add a pop of color.
The highlight works for undercut, especially in boys with long hair- where they highlight the edges with the bright silver highlight. For boys with wavy hair, apply the highlight on a few stands on the hair to stand out.
14. Wavy Messy Top With Highlights
The messy wavy hair is easy to play with, especially with several highlights. There is the dark and dusty highlight. It is best for boys tired of applying standard hair highlights such as blonde and silver.
Depending on your taste and preference, you can choose dark green or dark blue. You can acquire the look at home by using temporary hair spray.
You should apply the hair color spray a distance away to achieve a dusty color.
The global ash grey suits the wavy messy top hair. The highlight is for boys confident in trying out any color to satisfy their cravings. The highlight has dark tones of grey that will make a statement once you make an appearance.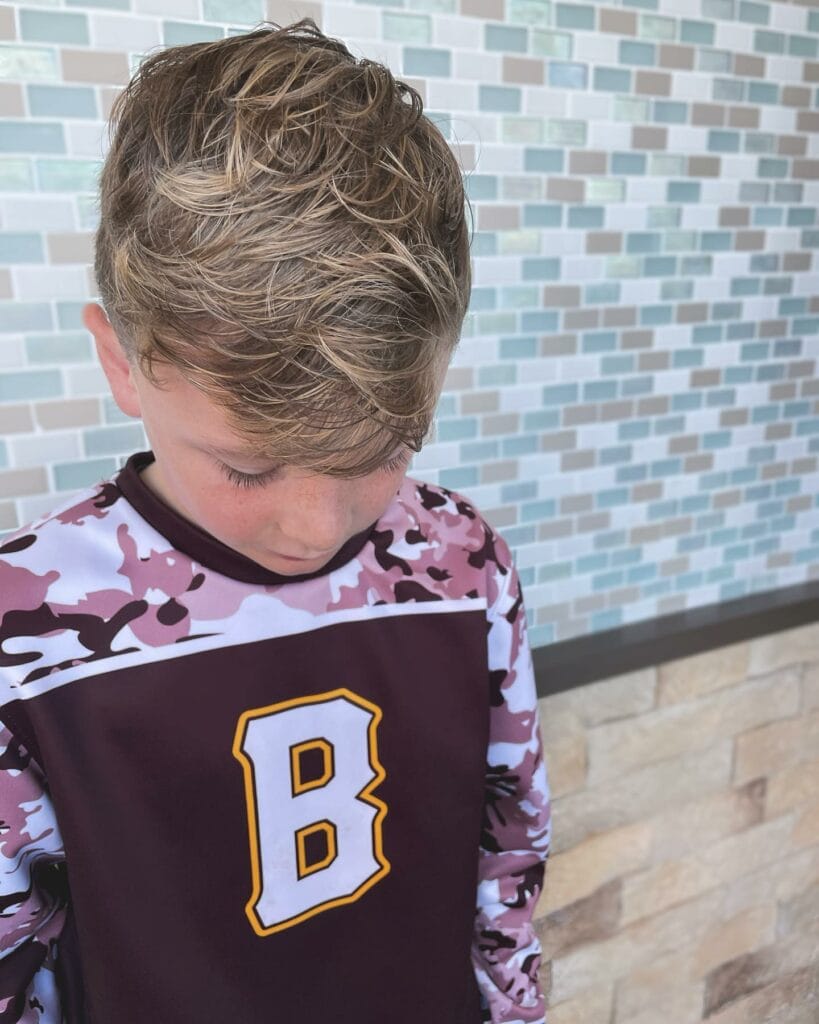 15. Coffee Brown Highlights For Boys
The brown coffee highlight looks great when solid, washed on a softer tone or diluted with highlights.
The brown coffee highlights for blonde increase the drama look on your long hair.
There are several ideas for the coffee brown highlights for boys, such as black coffee hair with ombre highlights. It works best for boys who want to add creamy caramel to their hair.
The dark espresso hair is where you add some light golden brown hue at the end of the hair. Again, the highlight is best for boys with long hair.
16. Green Highlights For Guys With Short Hair
Green is an excellent option for men in the modern era. There are several green colors to choose from and acquire the look you want.
The ombre green and teal are best for boys, with Mohawk style. Start by shaving the sides and apply ombre on top hair—afterward, green highlights on the roots.
The green highlight also looks excellent with guys with green eyes. Finally, the long green slick back hair suits boys with long hair. Apply the highlight from the root of the hair to the end. Great look for summer.
Conclusion
Choosing a perfect highlight from all the incredible options can be daunting.
However, you still need to select the one that best suits you, whether you want a soft, delicate, daring, or modern look. Following our guide will lead you closer to achieving your dream highlight and rocking your world.
FAQs
Which Highlights Are The Best For Men?
There is a wide range of highlights for men. The choice depends on their skin tone, hair type, and taste.
The most common highlights are red, blonde on black hair, platinum, silver, blonde highlight on brown hair, and ash blonde.
You can consult a professional if you are still selecting the best one.
How long do male highlights last?
Most highlights on men's hair can last for approximately eight to ten weeks. The period is influenced by the rate of hair growth, hair type, and the shampoo you use to clean the hair.
Which Highlight Is Best For Hair?
There is a wide choice of hair highlights.
However, the following are the best: grey highlights, pink highlights, blue highlights, blonde highlights, balayage highlights, ombre highlights, and ash blonde highlights.
Do Highlights Damage Hair?
Highlights have low cases of damaging hair compared to bleach. The highlights, however, tend to change the hair structure, making the hair look dry. Therefore, it is advisable to avoid using highlights frequently, especially when hiding grey hair.
What Are The Benefits Of Highlights?
Highlights have several advantages on hair.
1. The hair highlight promotes your skin tone.
2. Using the proper highlight color for your skin tone will improve your appearance.
3. It will enhance your eyes and facial features.
4. Highlights help to give your hair a modern look.
5. Trying new types of hair highlights changes your regular signature.
6. Using the latest highlight trends makes your hair look bolder.
7. The application of highlights ensures that the grey hair is not noticeable.
8. Highlights are the best ways of disguising grey hairs with low maintenance costs.
Khamis Maiouf is a professional barber who graduated from Hinckley College in England with a degree in hairdressing. He has also won several barbering contests and successfully operated a barbershop for the last two decades. As a skilled hair stylist for 20 years, his goal is to teach others how to achieve a beautiful appearance through their hairstyles.