16 Boys' Hair Highlights to Show Off Your Personality
The highlight of my day? Talking about Boys Hair Highlights! When it comes to setting trends and turning heads, boys aren't just left in the dark.
They too deserve their moment to shine, quite literally. Now, gone are the days when highlights were reserved only for the adults or the pop stars.
In today's fashion-forward world, Boys Hair Highlights are increasingly becoming the RAGE.
Whether it's to add a splash of summer sun, a touch of wintry frost, or simply to imbue a dash of rebellious spirit, these streaks of color can redefine a look.
Dive in with me, as I unravel the myriad of shades and techniques that can give every young gentleman that extra flair!
Why Should Boy's Hair Get Some Highlights?
Highlighting isn't just reserved for the ladies; even boy's hair deserves some spotlight. Why, you ask? Boys Hair Highlights can add depth, texture, and a unique personality to any hairstyle.
It's a great way to enhance natural tones or experiment with bolder colors. More than just a trend, these highlights allow boys to express their individuality and confidence.
Just as clothing and accessories play a pivotal role in defining one's style, Boys Hair Highlights can be that finishing touch to elevate a look, making it modern, fresh, and distinctive.
So, why shouldn't boys have a bit of fun and flair with their hair?
Trendy Boys' Hair Highlights
There are several trendy highlights for boys you will find today. It's fascinating to see that most people are not afraid of playing with color and having fun with their hair. Have a look!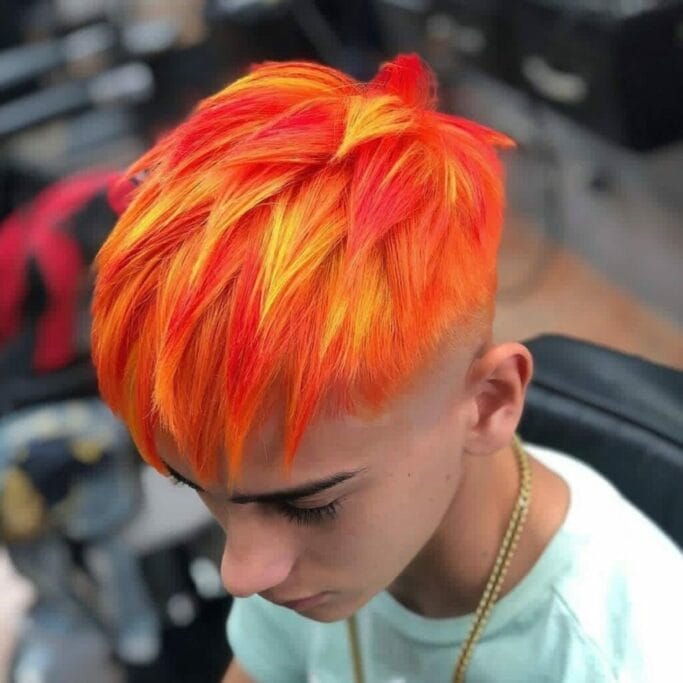 1. Purple Highlights For Boys
Ever since I stumbled upon Boys Hair Highlights, I've had a soft spot for the audacious and lively purple shades.
They aren't just a color anymore; they're a statement! Purple has this incredible knack for blending seamlessly, yet it pops with youthful vigor.
When incorporated into boys' hair, it lends a dose of wild creativity. If you're considering a unique splash of color, purple might be your best bet.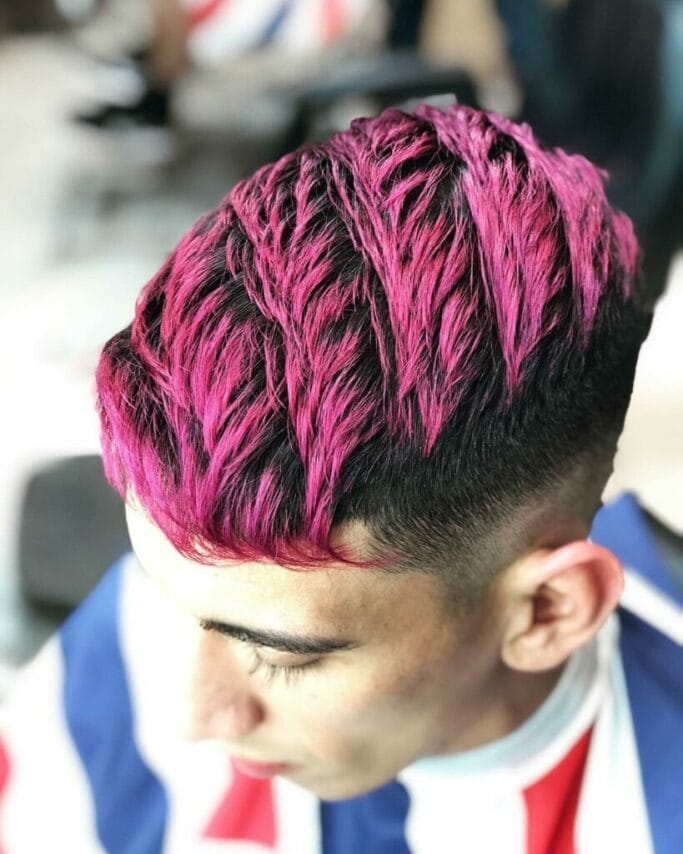 2. Light Brown Highlights
One of the most versatile Boys Hair Highlights, in my opinion, has to be light brown.
It subtly adds dimension and depth without being overly flashy. For those looking for a natural enhancement to the basic hair color, this is your ticket.
I've seen this shade complement all hair types beautifully, ensuring a soft transition from the base hair color.
3. Ashy Brown Highlights
The ashy brown spectrum in Boys Hair Highlights has genuinely captivated my attention. Its muted, smoky tones exude sophistication and a modern twist, perfect for the trendy young lad.
You can also try the ash-brown brunette look, where you highlight the hair tips. The highlight is best for boys with long hair.
Whenever I recommend this shade, I always emphasize how it strikes a balance between style and subtlety. It's neither too loud nor too dull, but perfectly in between.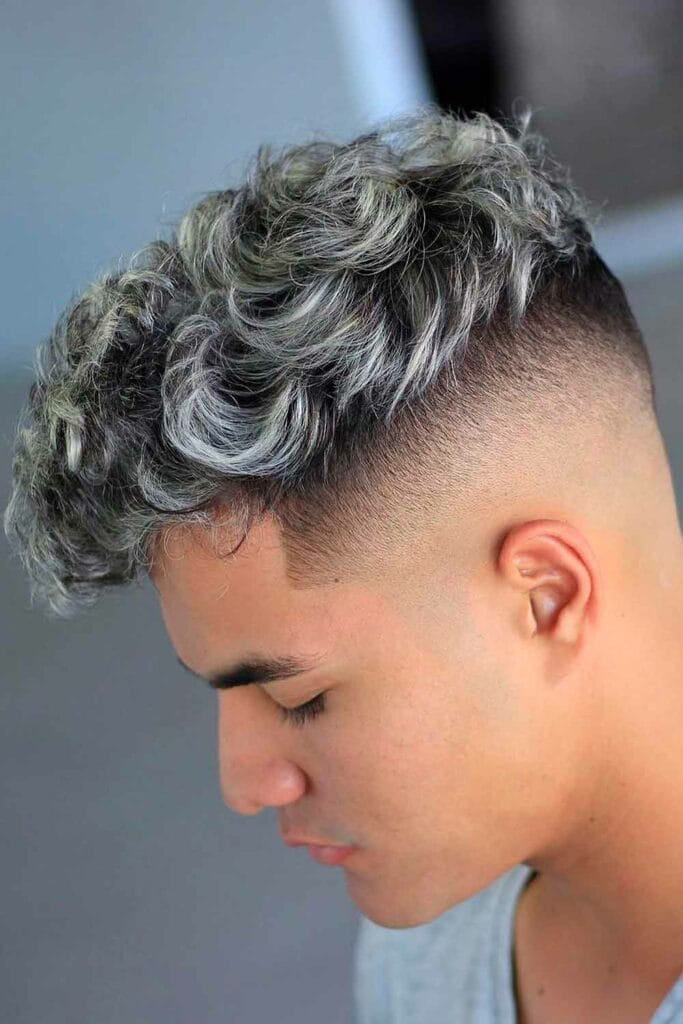 4. Darker Ashy Brown Highlights
Delving deeper into the ashy spectrum, we have the darker ashy brown.
I consider this a perfect choice for those seeking a hint of mystery.
Boys Hair Highlights in this shade can add richness to the hair, creating shadows and textures that are irresistible to the eyes.
From personal observation, it pairs particularly well with darker hair bases.
5. Best Red Highlights For Boys
When we discuss Boys Hair Highlights, how can we skip the fiery charm of red? The color red has always symbolized passion, strength, and energy.
Introducing this into a young man's hair can make a robust statement.
Over the years, I've seen the way it can transform a look, adding both vibrancy and depth and it looks best when walking in the sunshine.
Sultry red and brown give the option to stand out. To get the best from this look, use professional products.
6. Full Reddish Blonde Highlights
Meshing the warmth of red with the golden hue of blonde creates the magical reddish-blonde. It's among my top picks for Boys Hair Highlights.
This color combo can light up the entire appearance, radiating warmth and sun-kissed vibes. If you're after that surfer-dude charm, look no further!
The red hair with bright blonde highlights gives you a shiny and warm look. The highlight gives a magnificent look on sunny days.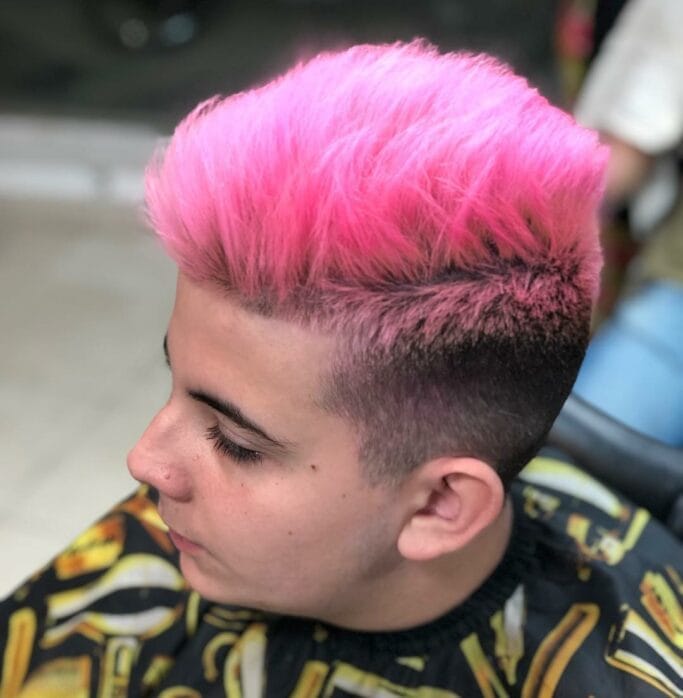 7. Blonde With Undercut
The undercut has been a staple in boys' hairstyles for a while now. But pair it with blonde highlights, and you've got a match made in heaven!
In my journey with Boys Hair Highlights, I've noticed how this combination lends a sharp, edgy appeal.
The contrast between the undercut and the highlighted top is simply striking as it can work with almost all types of hair for boys.
8. Blonde Side Part
Classics never fade, and the side part is one such timeless style. Sprucing it up with blonde highlights elevates the look tenfold.
Using highlights and lowlights in your blonde hair may give you a more multidimensional effect.
Boys' Hair Highlights in blonde, when done along a side part, have this uncanny ability to highlight the hair's structure and flow.
Every time I've seen this combo, it screams sophistication with a modern twist.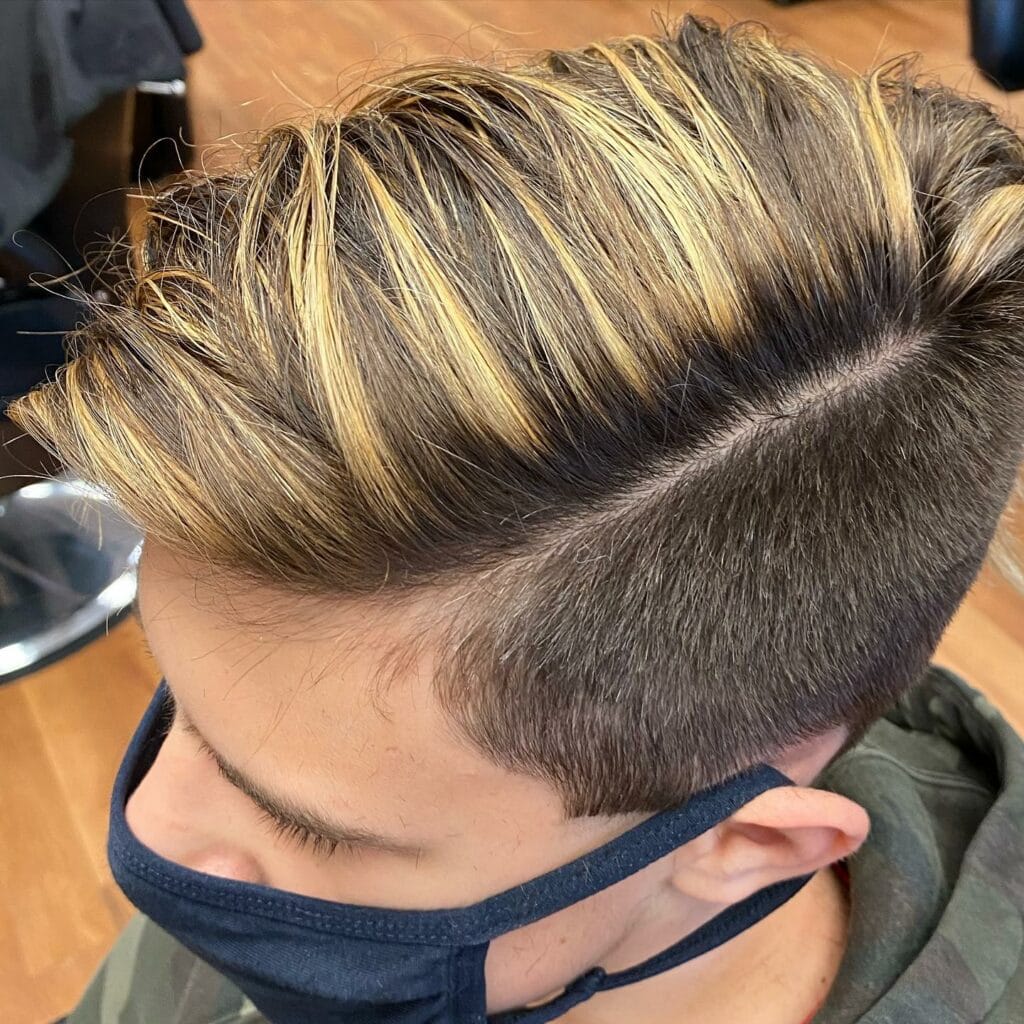 9. Mid-Taper With Highlights
Ah, the elegance of the mid-taper! But have you ever considered spicing it up with Boys Hair Highlights?
I've been a huge fan of this combination for a while. The gradient of the taper blended with striking highlights can amplify the depth and texture of the hair.
It's like giving your hair a 3D effect. Every glance becomes a double-take with this style.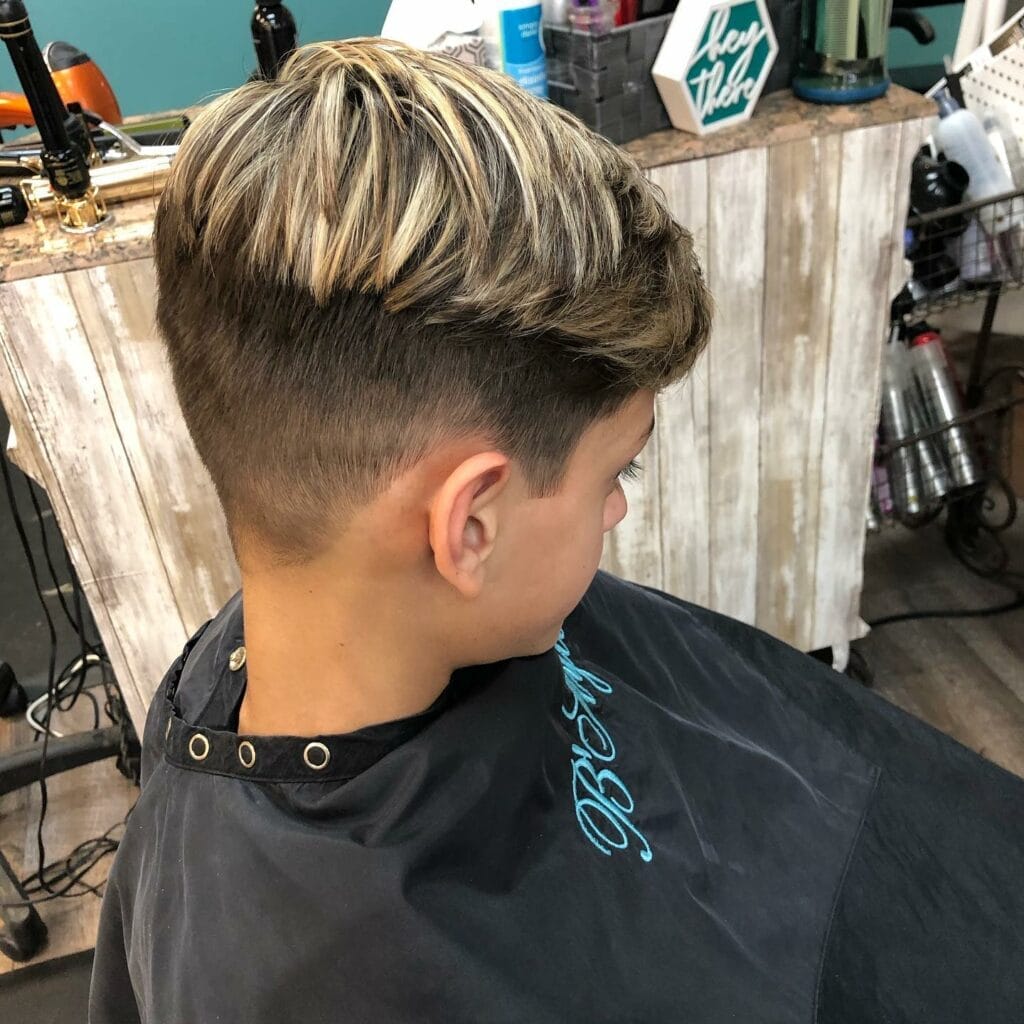 10. The Undercut With Highlight
I remember the first time I saw an undercut combined with Boys Hair Highlights, and it was love at first sight.
The undercut style has existed for ages and maintains a great look for boys. You can have some silver strands to gain an enhanced undercut with highlights.
The stark difference between the undercut and the highlighted top adds a flair of modern sophistication. It's a bold move, but if you're out to make a statement, this is a go-to look that never disappoints.
You can add other highlights like mint to transform your look. Add the highlight on some strands to acquire the look.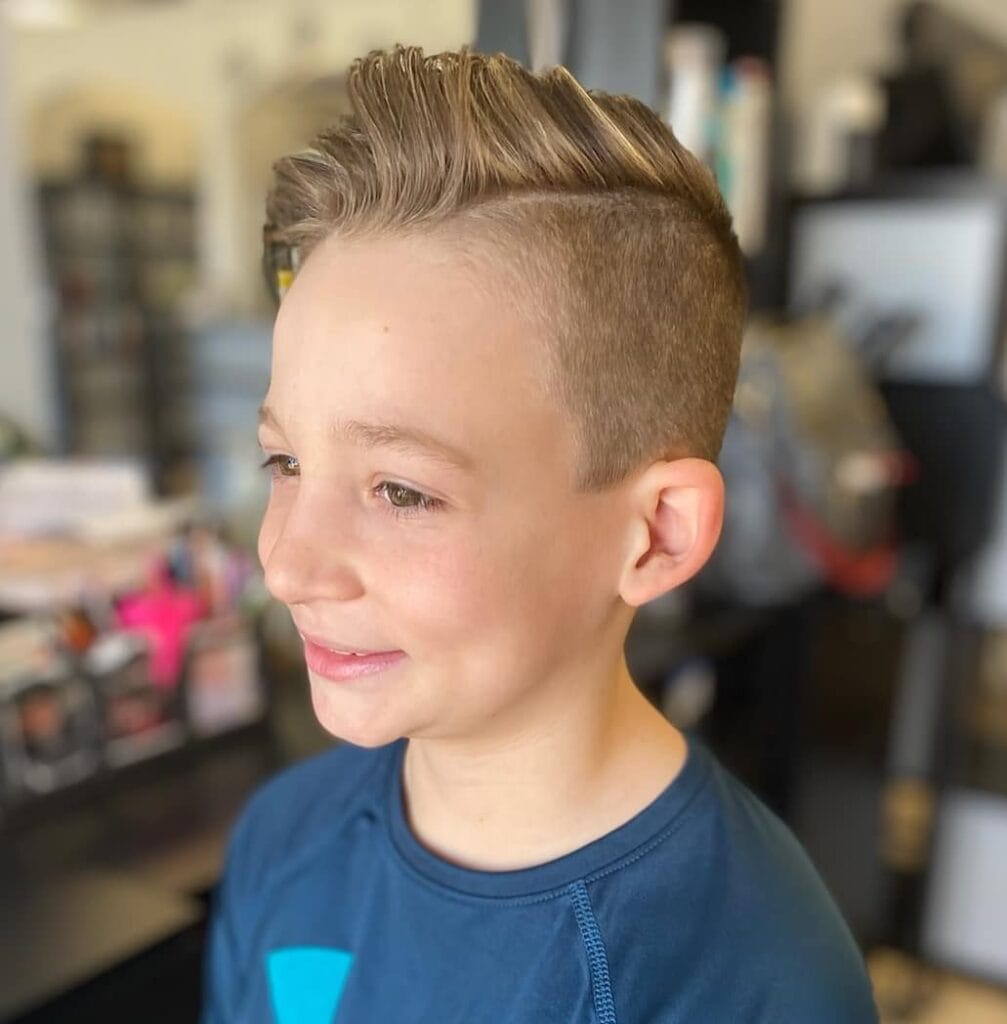 11. Black Peek-A-Boo Highlight
Boys' Hair Highlights don't always have to scream for attention. Enter the black peek-a-boo highlights. They're like the secret ingredient in a recipe, subtle yet transformative.
Black peek-a-boo highlights ensure that you hide the dyed hair stands. You do not have to worry about your office noticing the highlighted hair here.
I've always admired how they add mystery and depth, revealing themselves only upon closer inspection. It's a touch of the unexpected, and I'm here for it!
12. Blue Line Highlights In Brown Hair
Imagine the calmness of the ocean meeting the grounded earthiness of the land.
That's the essence of blue line highlights in brown hair for me. These Boys Hair Highlights bring a pop of coolness, cutting through the warm brown base.
Each time I've seen it, the blue serves as a refreshing, contemporary twist that's hard to resist.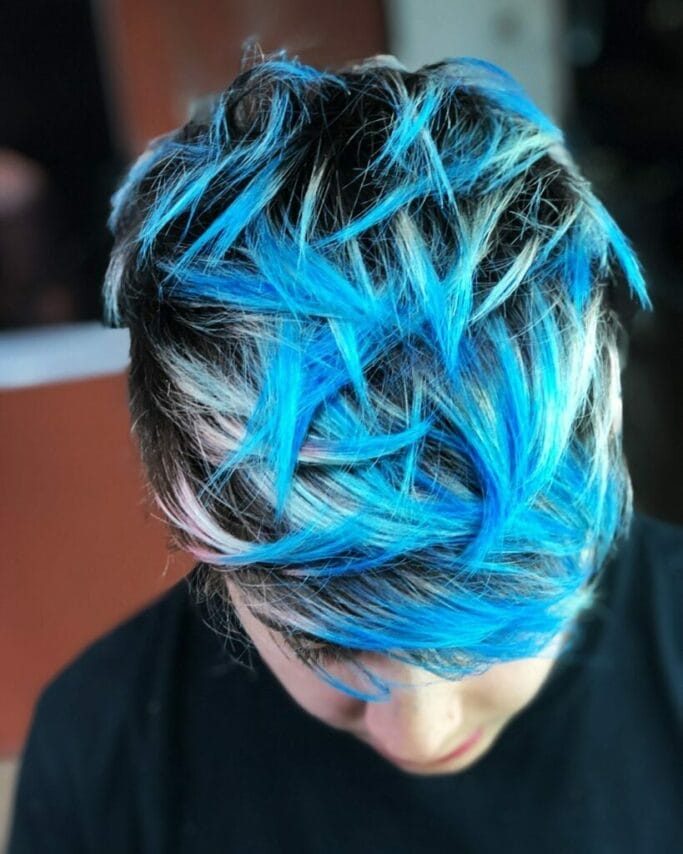 13. Bright Silver Highlights In Brown Hair
The allure of bright silver contrasting with deep brown is unparalleled in the world of Boys Hair Highlights.
There's something magnetically captivating about the way the metallic silver dances through the brown locks.
I've often likened it to moonbeams piercing through a dark forest – ethereal, radiant, and completely mesmerizing.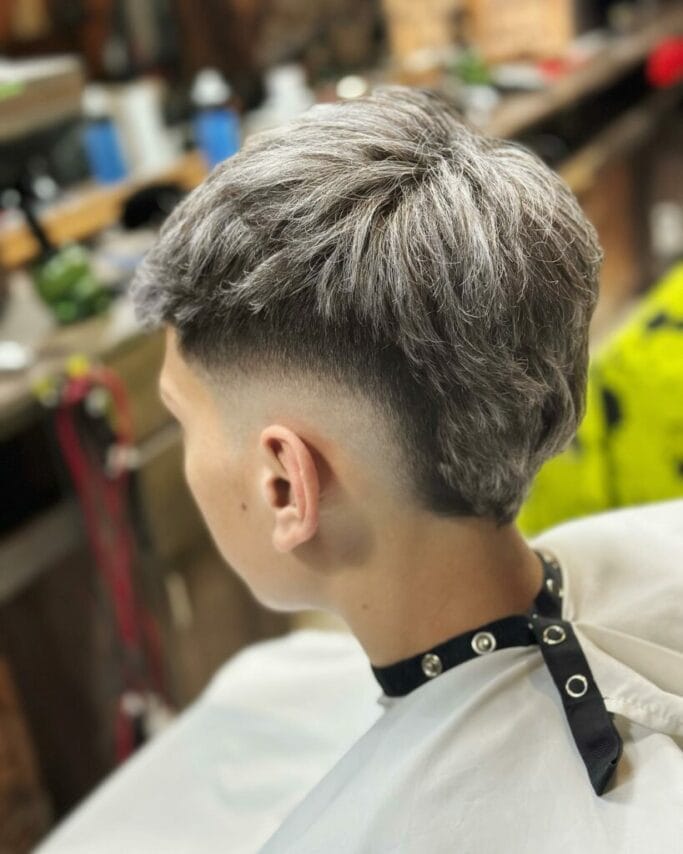 14. Wavy Messy Top With Highlights
The carefree vibe of a wavy messy top combined with Boys Hair Highlights is pure perfection! It's the embodiment of youthful rebellion and relaxed elegance.
The messy wavy hair is easy to play with, especially with several highlights. There is the dark and dusty highlight.
The highlights, in this case, playfully weave through the waves, enhancing volume and movement. It's a look that says, "I woke up like this, and I look fantastic.
15. Coffee Brown Highlights For Boys
The richness of coffee brown is hard to overlook, especially when it graces the hair as highlights.
It's like the comfort of your morning brew meets the world of Boys Hair Highlights.
The dark espresso hair is where you add some light golden brown hue at the end of the hair. Again, the highlight is best for boys with long hair.
I absolutely cherish how these highlights offer a warm, comforting touch while keeping things sophisticated and grounded.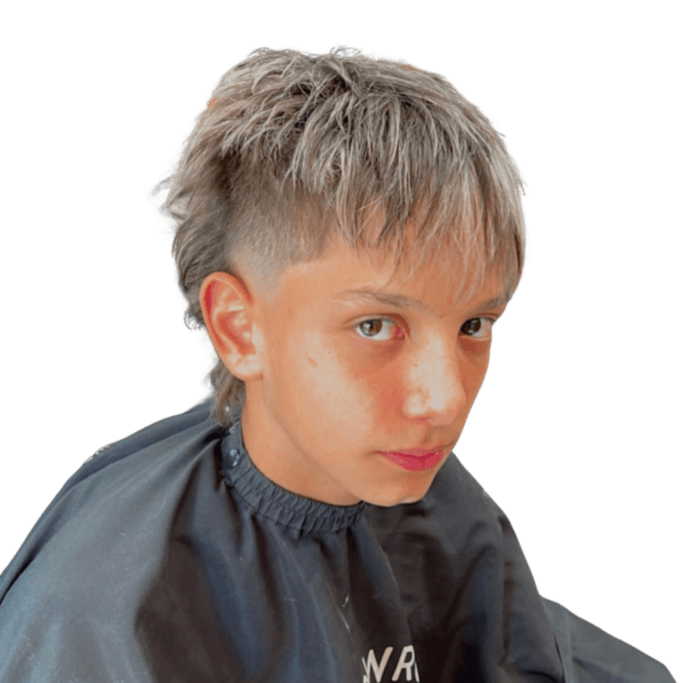 16. Green Highlights For Guys With Short Hair
Embrace the wild side with green highlights, especially if you're rocking short hair.
I've seen how these Boys Hair Highlights can instantly transform a regular cut into a head-turner.
The vibrant hue of green juxtaposed with short, neat cuts is a delightful paradox, making it an audacious yet incredibly stylish choice.
The green highlight also looks excellent with guys with green eyes.
Conclusion
In the vast realm of hairstyling, Boys Hair Highlights has certainly carved its niche.
They offer a dynamic twist to CLASSIC cuts, reflecting individuality and style. I firmly believe that with the right shade and placement, these highlights can truly accentuate a young lad's personality.
Dive in, experiment, and let those highlights speak volumes!
FAQs
Which Highlights Are The Best For Men?
There is a wide range of highlights for men. The choice depends on their skin tone, hair type, and taste.
The most common highlights are red, blonde on black hair, platinum, silver, blonde highlight on brown hair, and ash blonde.
You can consult a professional if you are still selecting the best one.
How long do male highlights last?
Most highlights on men's hair can last for approximately eight to ten weeks. The period is influenced by the rate of hair growth, hair type, and the shampoo you use to clean the hair.
Which Highlight Is Best For Hair?
There is a wide choice of hair highlights.
However, the following are the best: grey highlights, pink highlights, blue highlights, blonde highlights, balayage highlights, ombre highlights, and ash blonde highlights.
Do Highlights Damage Hair?
Highlights have low cases of damaging hair compared to bleach. The highlights, however, tend to change the hair structure, making the hair look dry. Therefore, it is advisable to avoid using highlights frequently, especially when hiding grey hair.
What Are The Benefits Of Highlights?
Highlights have several advantages on hair.
1. The hair highlight promotes your skin tone.
2. Using the proper highlight color for your skin tone will improve your appearance.
3. It will enhance your eyes and facial features.
4. Highlights help to give your hair a modern look.
5. Trying new types of hair highlights changes your regular signature.
6. Using the latest highlight trends makes your hair look bolder.
7. The application of highlights ensures that the grey hair is not noticeable.
8. Highlights are the best ways of disguising grey hairs with low maintenance costs.
References
Hair highlighting/lowlighting is changing a person's hair color, using lightener or haircolor to lift the level or brightness of hair strands. source
Is your hairstyle boring or have you grown tired of the same old look? Are you ready to try a new style, but don't know where to begin? Whether you're vying for a new haircut, or are simply trying to mix things up a bit, there are all sorts of techniques and products you can try out. source
Khamis Maiouf is a professional barber who graduated from Hinckley College in England with a degree in hairdressing. He has also won several barbering contests and successfully operated a barbershop for the last two decades. As a skilled hair stylist for 20 years, his goal is to teach others how to achieve a beautiful appearance through their hairstyles.