33 Slicked Back Haircut for a Sleek and Youthful Appearance
One cannot miss mentioning slicked-back hairstyle when discussing beauty at its best. All through the ages, men, both classy and rigid, young and old, have loved wearing slicked-back hair.
Its retro vibe and ability to suit all face shapes and hair types make it popular.
What's more, it offers you the secret sauce to style up your favorite haircut.
Sport any slick back hairstyle ranging from messy slicked back to pompadour slick back. The sky is not the limit but the beginning.
Here are some of the slick back hairstyles I have tested over the years, and none of them disappointed me.
Messy Slicked Back Hairstyle
The messy hairstyle is typical of guys who are happy with untidy hair.
Slicking it back will earn you the breezy look of your favorite DJ. Tell your stylist to trim your hair short for the trendiest look to avoid looking unkempt. And leaving a mixed-up top will give you a chilling vibe.
Undercut Slicked Back
Imagine having your undercut and long top slicked back with a detailed drop fade! Isn't it heavenly? I suppose.
You don't have to worry about wearing it to any occasion; it suits both formal and casual functions. And it's pretty cheap and easy to maintain.
Mid Fade Undercut Slicked Back
Without going extreme, a mid-fade haircut makes you stand out. Enhance your look on the top by taking off a considerable junk of hair on the sides. Keep your hair in place with pomade while adding shine for the best results.
Ask your stylist for a low taper fade on the sides and back for a romantic finish.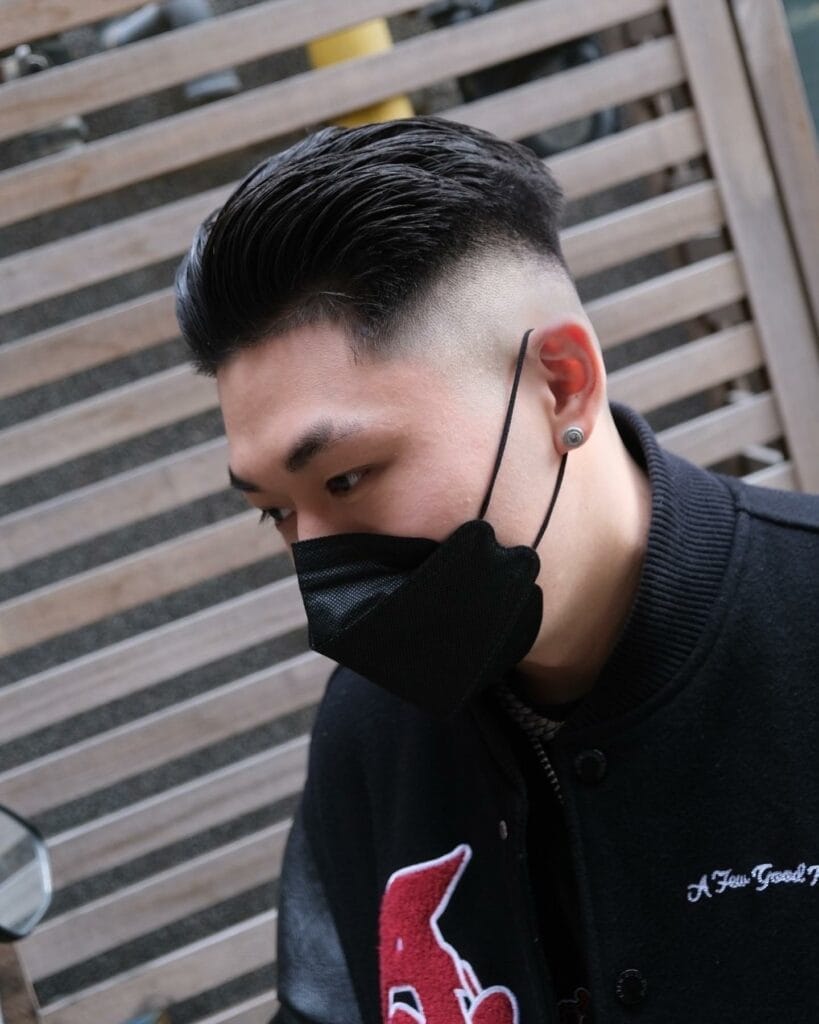 Skin Fade Slicked Back
This hairstyle involves your stylist leaving decent hair at the top while the back and sides are shaved short for an eye-catching look. Comb the hair at the top towards the back for a striking, tapered appearance.
You'll LOVE every moment you step out for business or attend professional meetings with this haircut. Even so, visiting your stylist more often to keep your look sharp is its major setback.
Pompadour Gentlemen Hair
Creating a pompadour look requires a voluminous smoothed-back style. And blow-drying the quiff, texture spray, pomade paste, and hairspray.
This is not easy, though! You must be a calm, patient guy. It's akin to picking grain from the ground, one after the other. After you are through, pat yourself on the back. It wasn't easy, men!
One more thing. Invest in a pompadour comb and other products for a higher pomp game.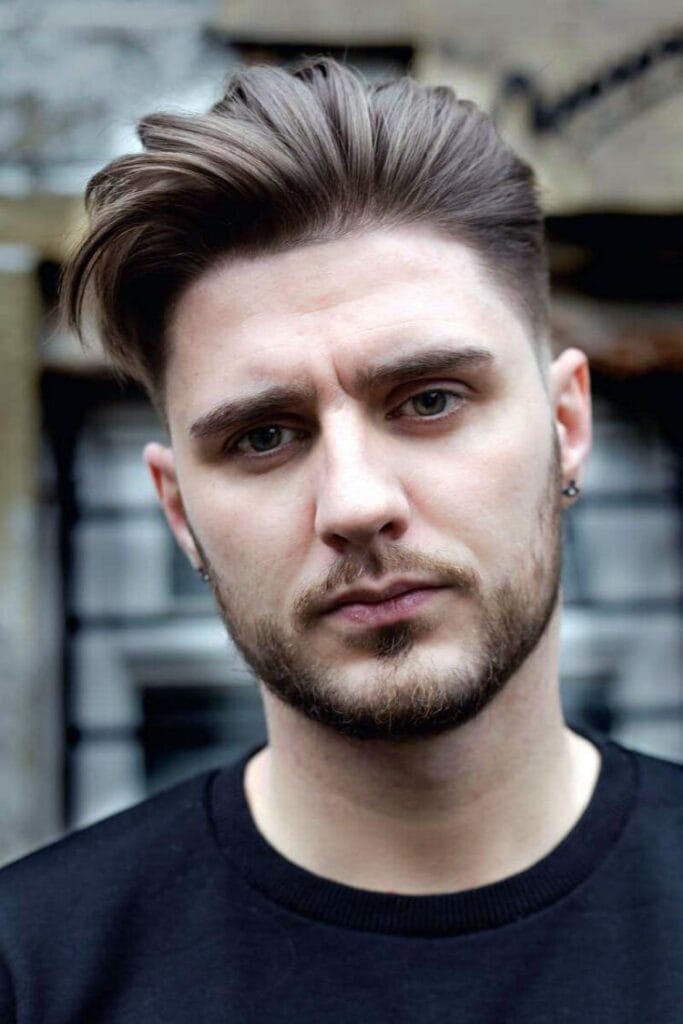 Low Skin Fade
Once your strands hit average length, they have enough weight to pull off styles without any products. Your stylist tapers around the edges to keep your hair full when styled.
Texturizing your top makes the hair fall better for easier styling. Ask your barber to leave a few long layers for texture and comb your hair back.
Fury Slicked Back
Fury haircut is a product of a slicked-back pompadour. Your stylist shaves the sides pretty short for a timeless and excellent cut. At the back, your hair is long and tapered to zero at the neck.
You may keep the sides and back the same length, and the look will still be fantastic.
Tidy Slick Back Haircut
Your stylist pulls the hair to the center from both sides and combs it backward for a tidy slick back hairstyle. Even so, you'll need to invest in hair products to keep your hairstyle intact.
Whether you choose a matte finish, apply your product from root to tip. Comb your hair into place, and it will shine all day.
Hipster Style Slicked Back
Imagine how amazing it is to have short hair at the sides and long at the top!
Perfect. Right?
This is what you are missing with the hipster hairstyle. YES, it is casual but classy at the same time. The voluminous top and soft-shaven sides give this hairstyle a heavenly look. And if you have curly hair, I encourage you to try this hairstyle.
Add flavor by combining this haircut with a beard.
Casual Slicked Back Hairstyle
Everything is casual and done the simple way on weekends.
Why not try casual slicked back?
You will experience a gorgeous and easy finger-styled look. Shaved sides add beauty to the longer slicked-back top to give you a casual, slick-back look.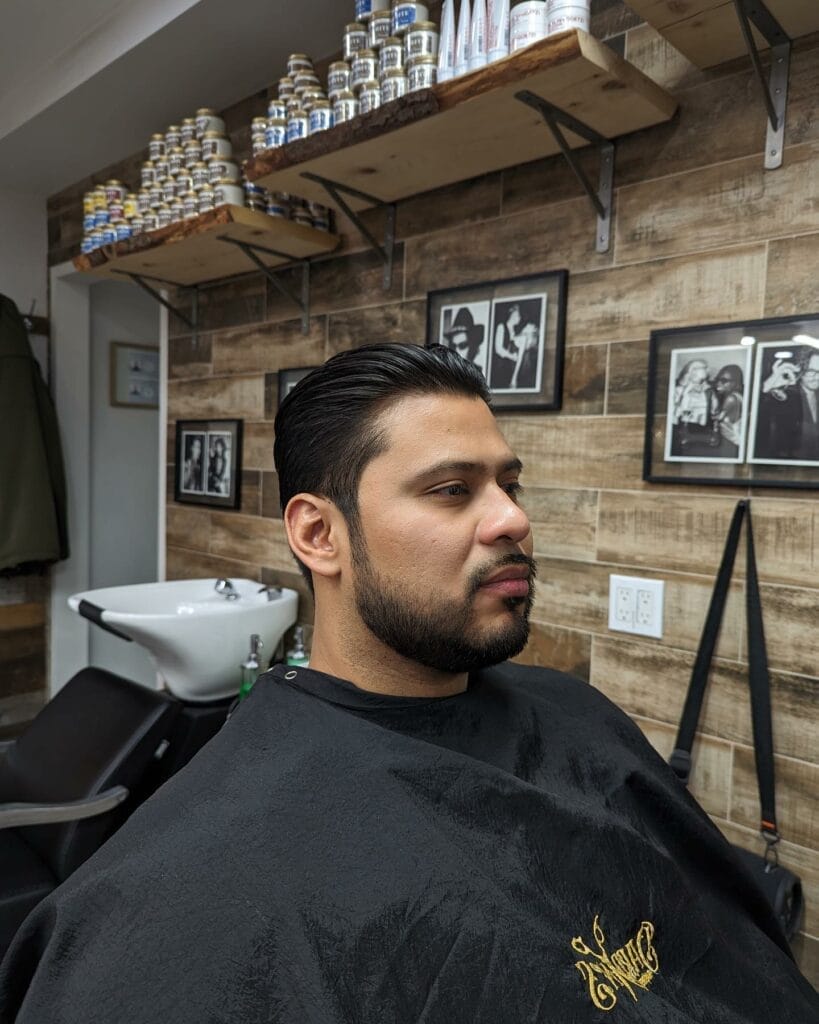 Wavy Textured Top Slick-Back Haircut
Is your hair wavy?
Its texture and ruggedness offer a SEXY and eye-catching look. Comb your wavy blonde to the back and let the texture of your hair do the magic. Fabulous!
It's incredibly cool when your hair at the top is accompanied by spotless sides and nape.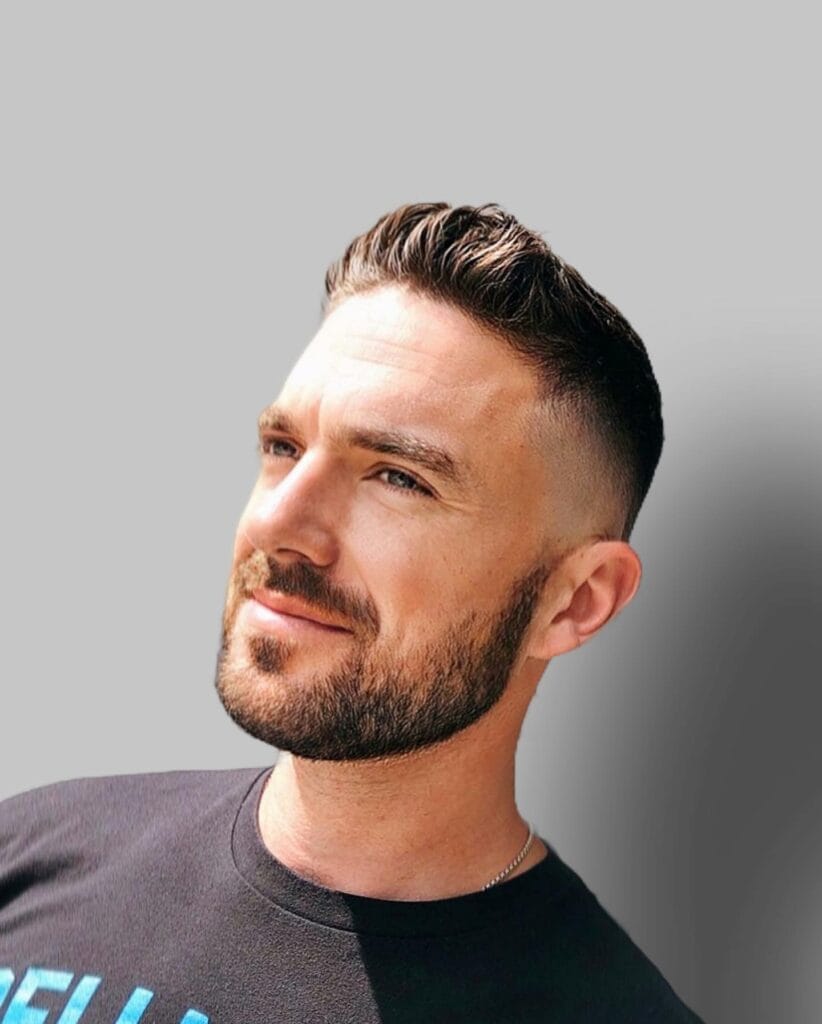 Puffed High Volume Slicked Back
Shake hands with the boldest hairstyle you've ever known before. Spicing it with a twang of hipster-logy makes this style incredible.
Side Part Slicked Back Hair
I LOVE how the hairline part ways on one side of the crown to produce a desirable look. Ask your stylist to trim your hair at the top slightly longer than on the sides for an elegant look. The slick-back haircut offers you a flattering angle and a gorgeous look.
The side part keeps it professional and avoids too much exposure to your forehead-in case you are reserved.
Relaxed Undercut and Slicked Back
This hairstyle requires many products to keep it in position. Your barber must drop the fade at the back a bit. This allows the hanging hair to fall on the thickest part of the fade. The result is a seamless transition, leaving you with a splendid look.
Disconnected Undercut
A disconnected undercut takes little effort to get a shiny look. It's the best option for beautiful and well-textured hair. Go for this hairstyle if you don't want to chop off your hair length.
Fabulous Shorter Sides
Your hair is styled to have a longer haircut at the top while the sides remain trimmed short. The resulting image is but a screamer in the nick of time.
Back Swept Finger Comped Hairstyle
This style is excellent if you cherish long hair on top. The base is faded tight and transitions into a bold and heavy top. Use a blow drier and paste to keep the style sharp all day. A finger comb comes in handy to create texture at the front.
You need to keep a close look all day to maintain this style.
Parted Middle Puffy Slicked Back
Did you know taper faded sides result in a thick top?
Have your hair parted in the middle and slicked back for a classy look. Adding taper faded sides will result in a sleek appearance due to the thick top. You will, however, need some gel to keep your hair fluffy and in position.
Clean Mid Part Haircut
Although in existence for years, a clean mid-part haircut is super when spiced with a natural side part.
Faded Temple Undercut
Faded temple undercut is the unsung hero in the hairstyling world. The short crop on the sides with slicked-back medium-length hair on top cannot produce anything less of a classy and mouthwatering look.
Skin Faded Sides Haircut
Are you looking for a romantic and elegant hairstyle? Go no further! Skin-faded sides is your hairstyle.
I once recommended skin-faded sides to a guy with blonde, and it was terrific. It's also excellent with curly hair because it leaves your hair strands doing their thing to give you a romantic look.
Dyed Slicked Back Haircut
Men have joined hair dyeing in recent years, and the results are phenomenal. From inviting to daring colors, you can choose one meeting your taste. Give a dye touch to your natural shade and experience a refreshing look.
Pumped Slick Back Haircut
Do you have thick wavy hair and want to keep the natural texture of your hair? Pumped slick back is your number one choice. Get this easy yet fashionable hairstyle to pull a stunning appearance.
Fancy Temple Shave Haircut
Even though slicked-back hair has little volume, fancy temple shave redeems it. Fancy temple creates a relaxed yet subtle contrast giving you an eye-catching appearance.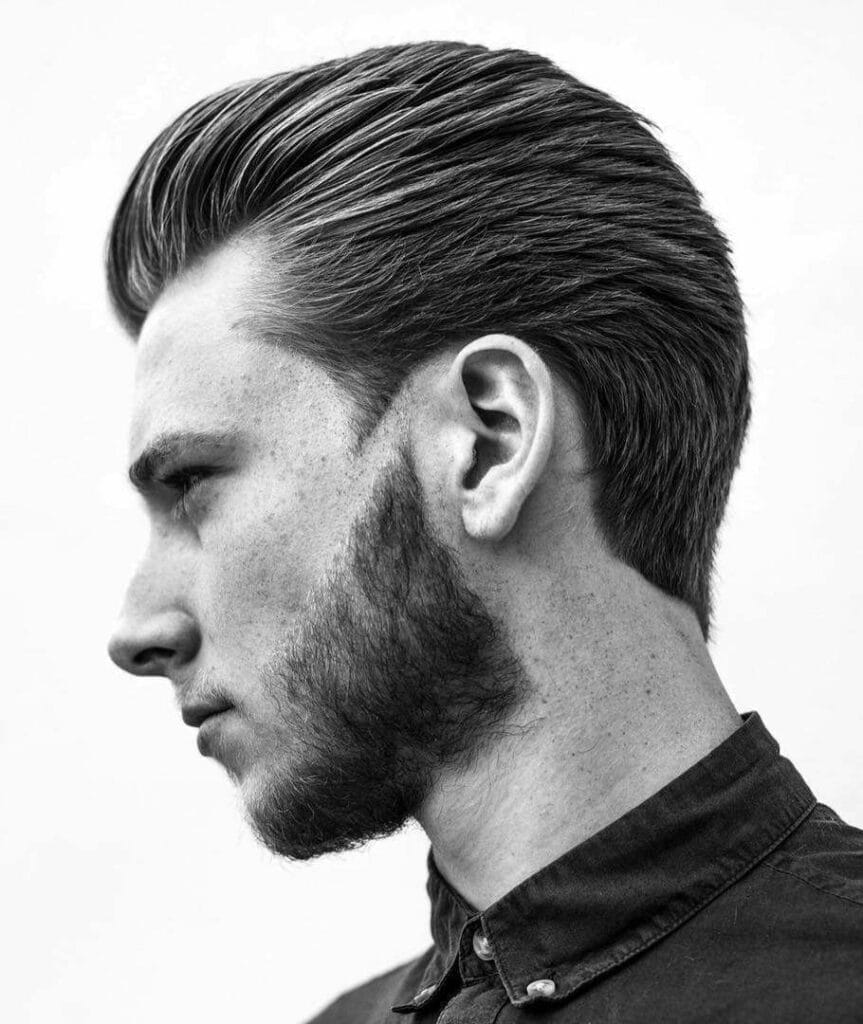 Confident Puff Slicked Back
Nothing screams confidence like a well-done pompadour. It's one of the various slicked-back styles you can try your hand at for a sexy appearance! I don't have to mention that it leaves your hair strands flowing naturally.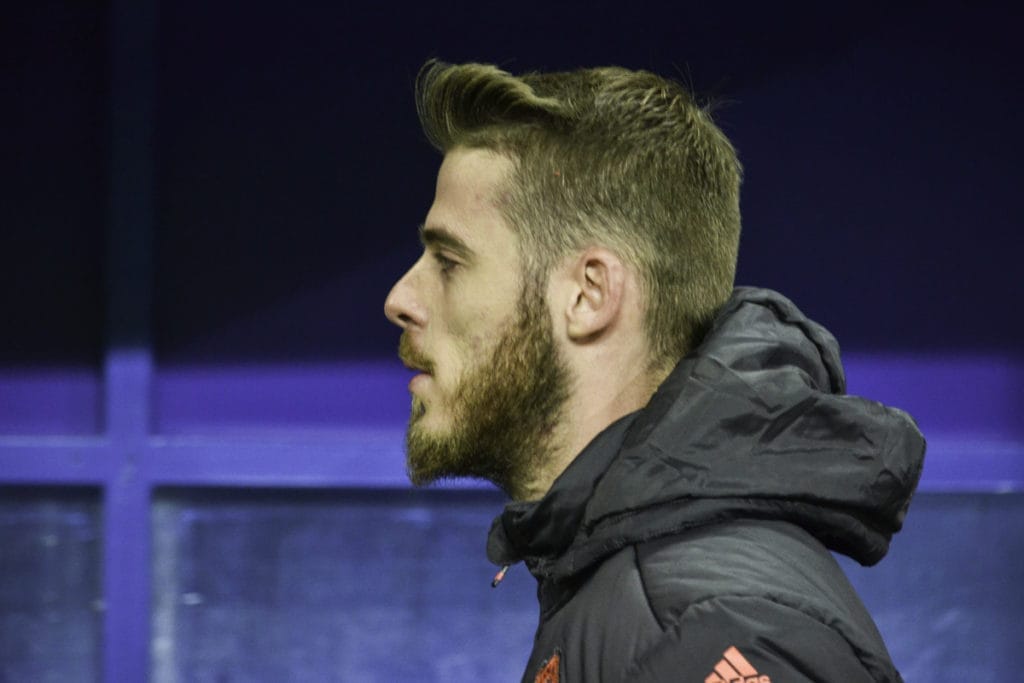 Taper Faded Sides Haircut
Adding a taper fade leaves you with a soft texture and a retro vibe that compliments your brown hair. The sharp taper fade makes the haircut look extra sleek.
If you are a lover of beards, get that killer look with shaved sides.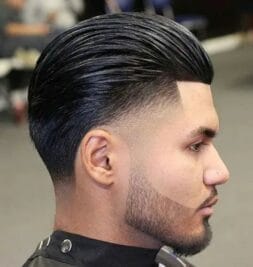 Pitt's Undercut Slicked Back Haircut
Pitt's undercut slicked back characterizes you as the king of the jungle. The sides are shaved clean and the top slicked, producing a fiery guy in a single look.
Quinto's Slicked Back Undercut
Quinto's slicked back is perfected by trimming the sides. And you end up with a cool and unique haircut to shoot your appearance beyond the skies.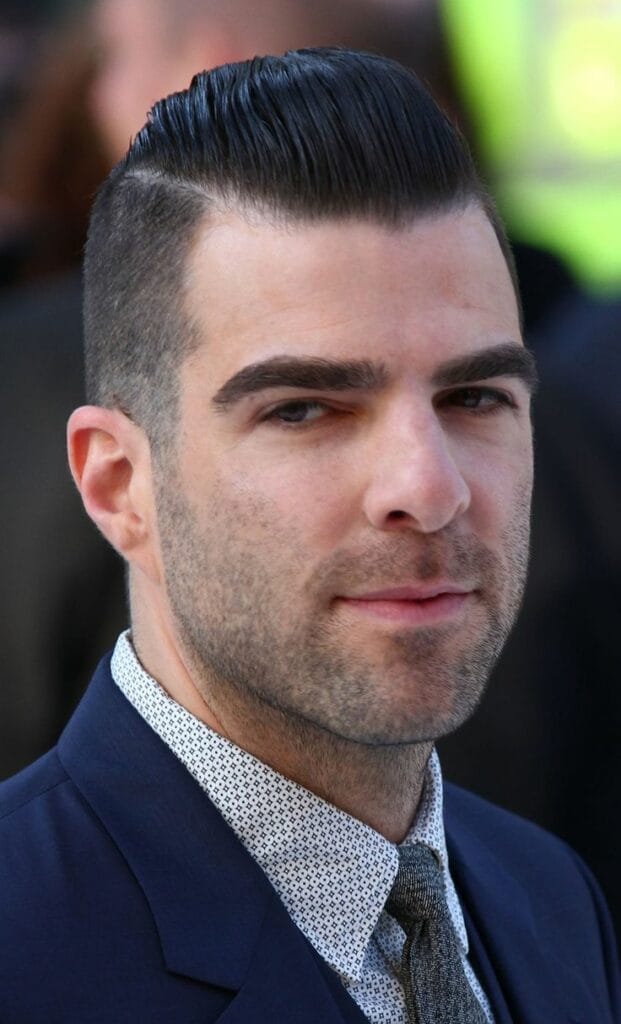 Pushed Back Texture Short Top
Shorter gelled-back styles like this pull a romantic look you'll admire round the clock. Take this hairstyle as your choice and put a lot of spending on your hair to rest.
Informal Slicked Back Haircut
An informal slicked-back hairstyle produces texture at the front and volume to give you a gorgeous look. Try it with your medium-length hair, and you will never look back
Classic Taper Fade
Your hair falls a bit to the sides to give you a mix of texture and volume. It is then brushed backward from the hairline and secured using a gel. The hair on your top is left longer while shortening the taper fade toward the back.
This allows for a contrast of your choice producing an elegant appearance.
Wrap-Up
Slicked-back hairstyles will be around for a while. Having any of the styles gives you the appearance to stir your confidence. This writeup sampled the tested haircuts you can choose for a fabulous look. You are welcome to select other hairstyles discussed in this blog if slicked back is not your thing.
FAQs
Does Slicked Back Look Good?
I prefer slicked back haircuts to other hairstyles because they work on all hair lengths to create a stunning appearance. Both short and long hair pull a stunning look with this haircut.
Does Slicked Back Haircut Cause Hair Loss?
Constant pulling of your hair to the back may lead to loss of hair volume. I recommend you avoid combing your hair so hard to prevent the loss.
Does Slick Back Hair Make You Look Older?
I don't think so. On the contrary, the slick back hairstyle is flattering. Even so, avoid pulled-back buns and ponytail finishes. They result in wrinkles and skin imperfections that may make this haircut undesirable.
What Fade is Best for a Slick Back?
All fades for slick back hair will make your appearance fantastic. Yet, I single out low drop fade with a shiny slicked-back top as my favorite.
Khamis Maiouf is a professional barber who graduated from Hinckley College in England with a degree in hairdressing. He has also won several barbering contests and successfully operated a barbershop for the last two decades. As a skilled hair stylist for 20 years, his goal is to teach others how to achieve a beautiful appearance through their hairstyles.