The haircut is the most very important aspect of a man's appearance. As a result, they experiment with many haircut styles to stand out. Trendy and modern short haircuts are the best option to stand out in a crowd, and they are very easy to maintain.
If short haircuts are the sexiest, the spiky haircut is one of the best choice for modern short haircuts. The spiky haircut has risen in popularity with unique spiky haircuts for men. The Spiky hairstyle is as fashionable as ever and a simple hairstyle that has been around for years.
Having the best hair products can help create fantastic spikes that can help you stand out your appearance. Spiky haircuts are the most famous hairstyles thesedays, with thick and thin spikes being made based on the type of hair and face shape form. These haircuts help you to add more texture and elegance to a plain cut. This is one of the key reasons why the spiky haircut is so stylish with guys all over the world.
What Is a Spiky Haircut?
A spiky haircut is a style in which many pointy strands called spikes are created to style hair.
You can wear these spikes of hair in many ways with different hair length, making it a flexible hairstyle option for men. This sharp haircut is a great choice for gentlemen. So, if you are looking for a fresh look, spikes are a good option. Spiky haircuts are stylish, soft, and quick to achieve with new grooming tools and products. They are perfect for almost every hair texture.
How to Style a Spiky Haircut?
This classic look can be achieved using hair products that give a strong hold and volume. Follow the steps below to style your hair in a spiky style for daily wear or a family gathering.
Getting Your Hair Ready for Spikes
Wash your hair before styling spike. It's crucial to begin cleaning the hairs, so it's clear of all the dirt and other products. Begin by shampooing and conditioning the hair with high-quality shampoo and conditioner.
After a shower, towel dry the hair until it becomes dry but a little damp.
Using a wide-toothed comb, remove tangles and knots. For short curly hair, it's necessary to remove knots and tangles before doing spike.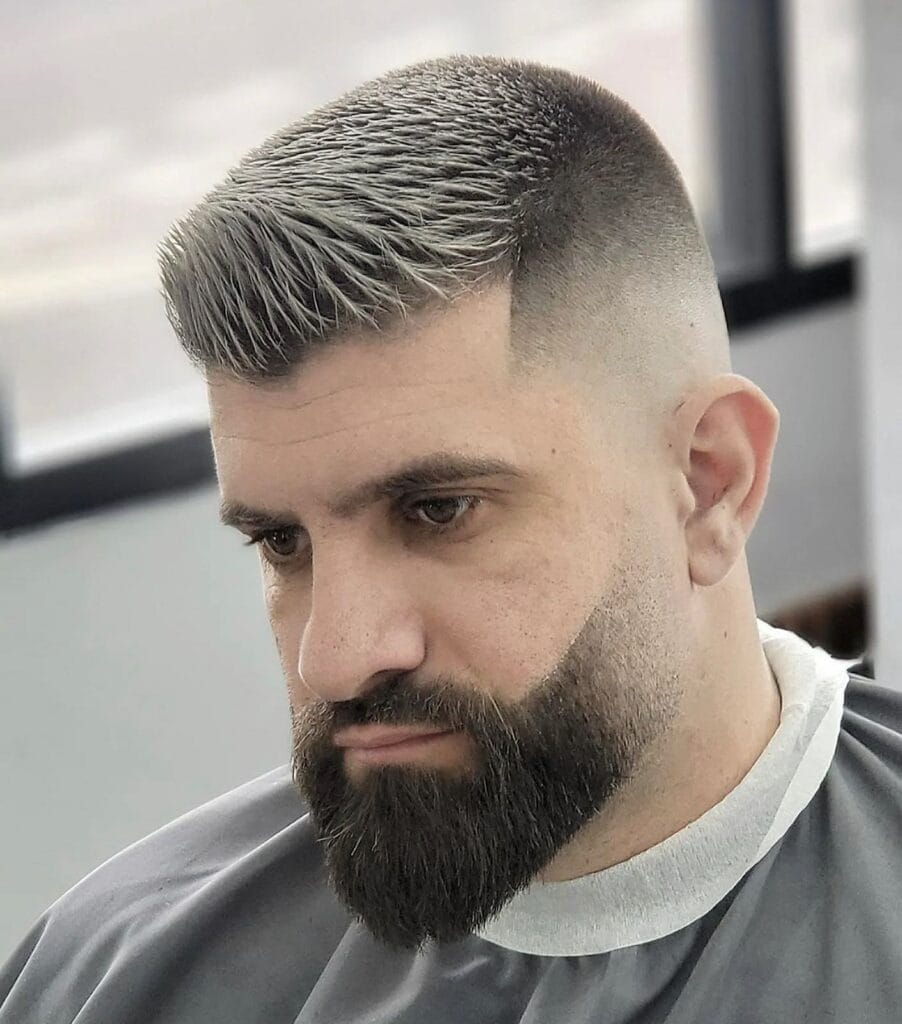 Spike Your Hair
Apply a little gel, pomade, or wax to the hair. When using hairstyling products, it is always better to begin with a tiny amount and then slowly increase the amount if needed.
Apply products from the front hair, then run figures backward. Repeat two to three times until you get your front hair spiked.
Once you've gained a spiky hairstyle, confirm it in the mirror. For a more careless appearance, spin some spikes with fingers. You can use your fingers to smooth the sides of the hair for a cleaner, spiked look.
To make sure that your spikes remain stable throughout the day, use a hairdryer. You can also use hairspray for the finishing touch.
Throughout the day, you can refresh your spiked hairstyle by applying a tiny amount of wax, gel, or pomade to your spiky haircut.
Best Spiky Haircuts
If you're not sure which spiky haircut is best for you, we've discussed some of the finest styles, so you can get a detailed understanding of each one. There are many different spiky hairstyles to consider ranging from short to long hair.
The spiky haircuts in the list are chosen such that you can wear them at different places. It covers an office-going look as well as a party look. Men with a variety of facial forms might choose from the spiky haircuts options listed here. Let's start with the many spiky haircuts and see which one is perfect for you!
Thick-Haired Spiky Haircut
If you have thick hair, you may easily pull off short spikes. With the use of a little hairstyling product, it will look fantastic. Request your barber to leave sufficient hair length on the top to produce medium-sized strands and thick spikes.
Spiky Mohawk
If you're not among those men who need an office appearance, you have a variety of spiky hairstyling possibilities. Make a spiky Mohawk, then uplift top hair while the sides are faded. Long Spiky Haircut. If you understand how to arrange your spikes properly, a long spiky haircut may be a really gorgeous and trendy look.
Long spiky haircuts with fade or taper on the back and sides are popular right now. If you prefer to spike the hair upward, you'll need a strong-hold matte hairstyling product. For long-length hair, we suggest a textured, sloppy style, particularly if you like your hair spiked at the front.
Spiky Pompadour Haircut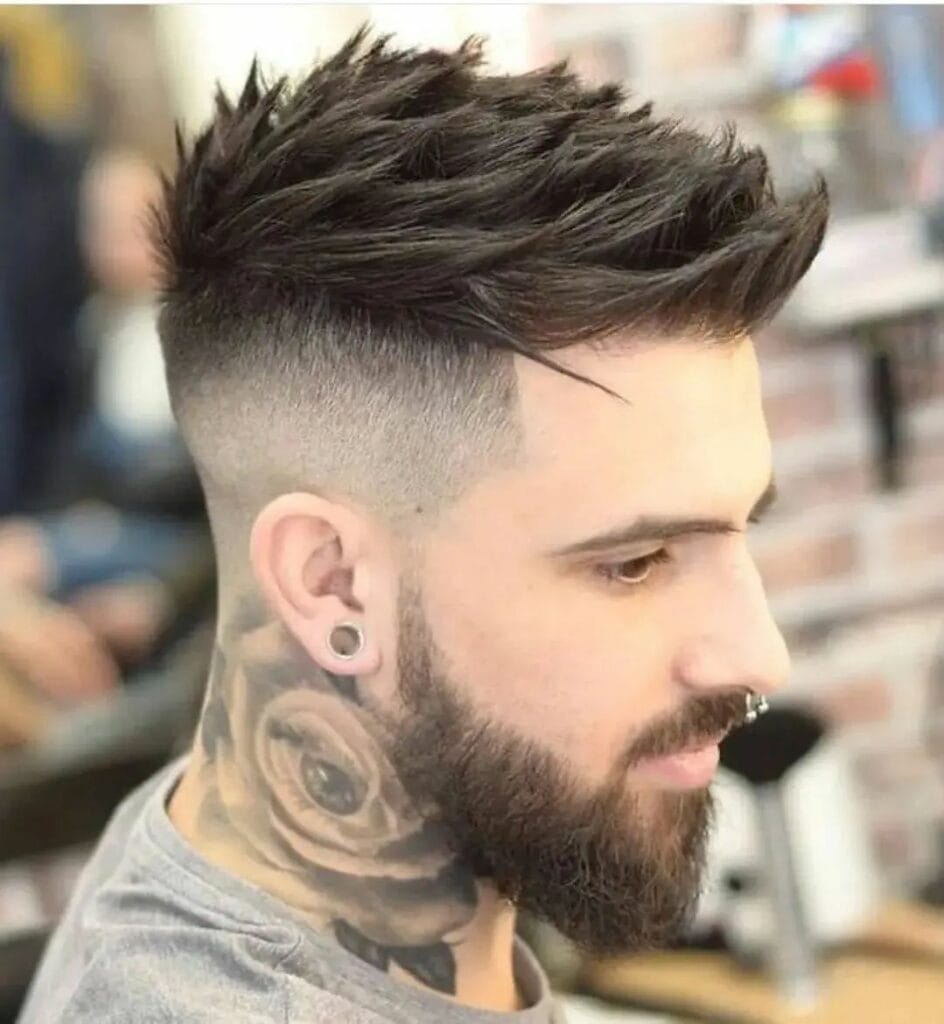 The difference between a standard pompadour and a spiky pompadour is in just the way it is styled. The important thing is to remove some strands immediately before the hair product sets in to achieve a spiky Pompadour Haircut.
Textured Spiky Haircut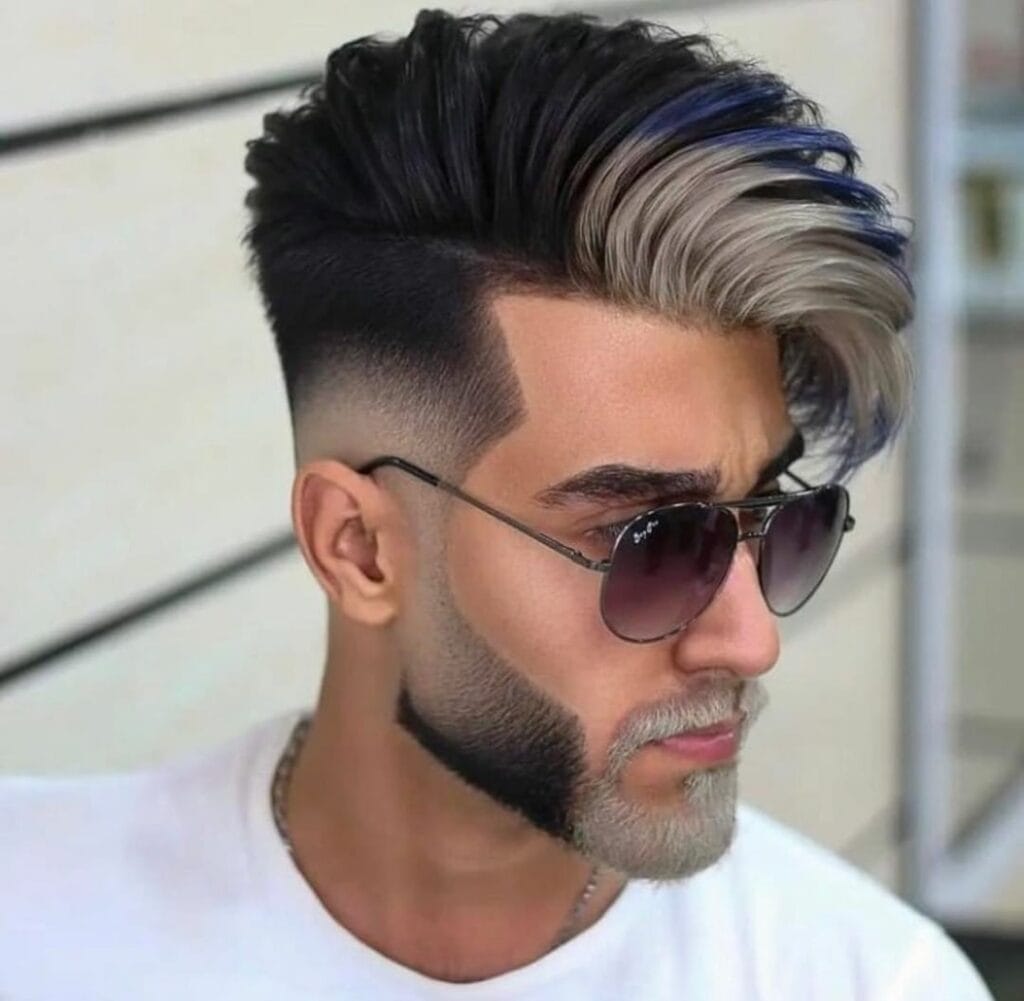 Textured spiky haircuts will provide you with the maximum options for styling. The styling possibilities are nearly limitless. Furthermore, when you mix tapered haircuts with men's textured spiky haircuts, you will undoubtedly have no competitors!
Spiky Comb-Over Style
This haircut combines a short spiky haircut with a comb-over. This hairstyle is brushed in a backward direction as well as spikes are created at the front hair. Apply a small amount of hair gel on your fingers and begin combing the hair backward. Create extra upward spikes for a better look.
Spiky Mullet Haircut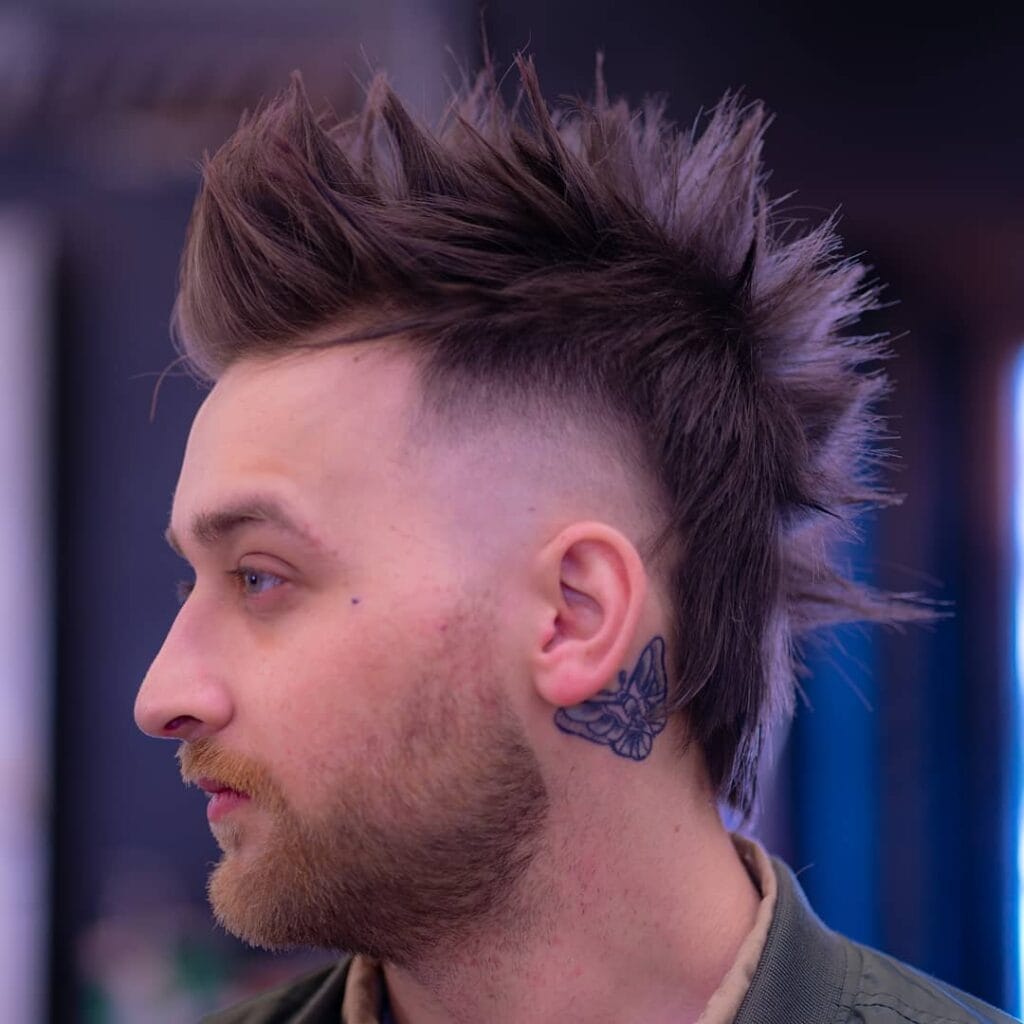 The spiked mullet haircut is perfect for a guy with short straight hair who wants to maintain the classic 80s appearance. The sides are trimmed short yet layered, while the spikes are achieved with a powerful hair gel. The top is additionally layered for volume, and back hair is kept long all the way down to the neck.
Spiky Fringe Hairstyle
The spiky fringe haircut is a pretty stylish haircut for males that you should try. The hairstyle is defined by a big fringe in front and spiky hair throughout. This messy and wild appearance is ideal for males who want a bedhead haircut with fringe and spikes.
Spiked Faux Hawk
The faux-hawk haircut is considered one of the most fashionable hairstyles for guys. The spiked faux-hawk haircut is a guy's favorite due to its edgy and rebel appearance. To get the look, use an excellent hairstyling product to maintain your hair holding up as you set them all towards the center.
Spiky Blowout Hairstyle
A spiky blowout hairstyle is a famous hairdo that quickly adds a carefree and relaxed attitude to your look. You may add more style by pairing it with a fade haircut on the back and sides. Furthermore, you can alter its aggressiveness and contrast by choosing a high bald fade.
Spiky Hair With Undercut
The mix of an undercut with spiky hair looks fantastic. In recent times, this ultra-modern design has become increasingly popular in barbershops. It is feasible to achieve a more striking spiky hairdo if your hair on the top is long. It is the best choice for guys who worry about their looks.
Very Short Spiky Hairstyle
This hairstyle is ideal for males who desire spikes but do not prefer them to be overly noticeable. If you apply a little styling product on top hair and move the fingers through hair upward, your elegant hairdo can be transformed into very short stylish spikes.
Tousled Spikes
Apply a small amount of hair wax and then style it using your fingertips for a sloppy look. This haircut is not just stylish but also funkier and more dynamic. You'll be sure to turn some heads in the crowd with this tousled spiky haircuts for men.
Center Spiky Hairstyle
For guys who want to spike hair in the middle, there are a variety of spiky haircuts to choose from. Whether you want short or long spiked hair in front, spiky haircuts are wonderful for adding thick volume with the flow. You'll need a decent wax and cream to spike up hair in the center. Rub the product from scalp to hair tips, then start spiking the bangs with your fingertips. Avoid brushing or combing your hair. Try to keep it textured, raw, and wavy.
Super Spiky Haircut
The number of styling products you use will determine the precise structure of your spiky haircut. For example, if you prefer a sharper appearance, we suggest using a bit more gel or wax than usual. It goes well with short hairstyles.
Swirled Spikes Haircut
You may add a "swirled" appearance to your spiky haircut. In different terms, separate strands can be twisted into spikes at an angle. You'll end up with a highly dynamic hairdo that complements your rebellious nature.
90s Spiky Hairstyles
This is a true throwback to a bygone era. This collection of lengthy spikes is quite stunning. Gel dominated the 1990s long until pomade became everybody's go-to hair product. This solid hair gel was applied freely to make spiky, dramatic styles. If you want to go for a spiky appearance today, try to use less hair product and create more structure and flow to your style.
Spiky Haircut With Hard Part
The hard part is a normal side part done with a razor by the barber. It's much thicker and more noticeable than a standard side part, so you can pair it with a spiky haircut for a trendy disjointed look.
Pink Spiky Hairstyle
This style is a mixture of bubble pink hair with a spiky undercut. It may be your new summer haircut or your outfit for the upcoming music festival. It is a kind of funky style, but you've to be smart about how you arrange it regarding clothes and accessories.
Rainbow Spiky Haircut
Don't worry if you cannot decide on a single color for your spiky hairstyle. This simply suggests that you may now get all of them. Rainbow spikes are what they're called, and we're completely smitten with them.
Spiky Brushed up
Pick a spiky cut with plenty of flow into hair for a youthful vibe. This spiky brush-up haircut is a best choice, with a mild fade and lineup to provide even more variety.
Spiky Devilish look
There's no point to delay if you wish to be more creative. The devil spikes are a must-try! Brushing the top hair and in the middle creates them. The front area has been kept short and tidy. The overall spiky devilish aspect will undoubtedly draw some admiring glances your way.
Soft Spiky Haircut
Men with straight and thick hair can achieve a soft spiky appearance by applying a small amount of gel on their spikes. This hairstyle isn't as flashy as other spiky styles. It may be sported to school or the office with ease.
Side Swept Spikes
This hairdo represent volume and thickness in hair. However, unlike most spiky haircuts, the hair in this haircut is spiked in angular brushwork rather than up straight. This shorter spiky haircut for guys adds elegance to the style by giving the hair a wavy vibe.
Extreme Funk Spikes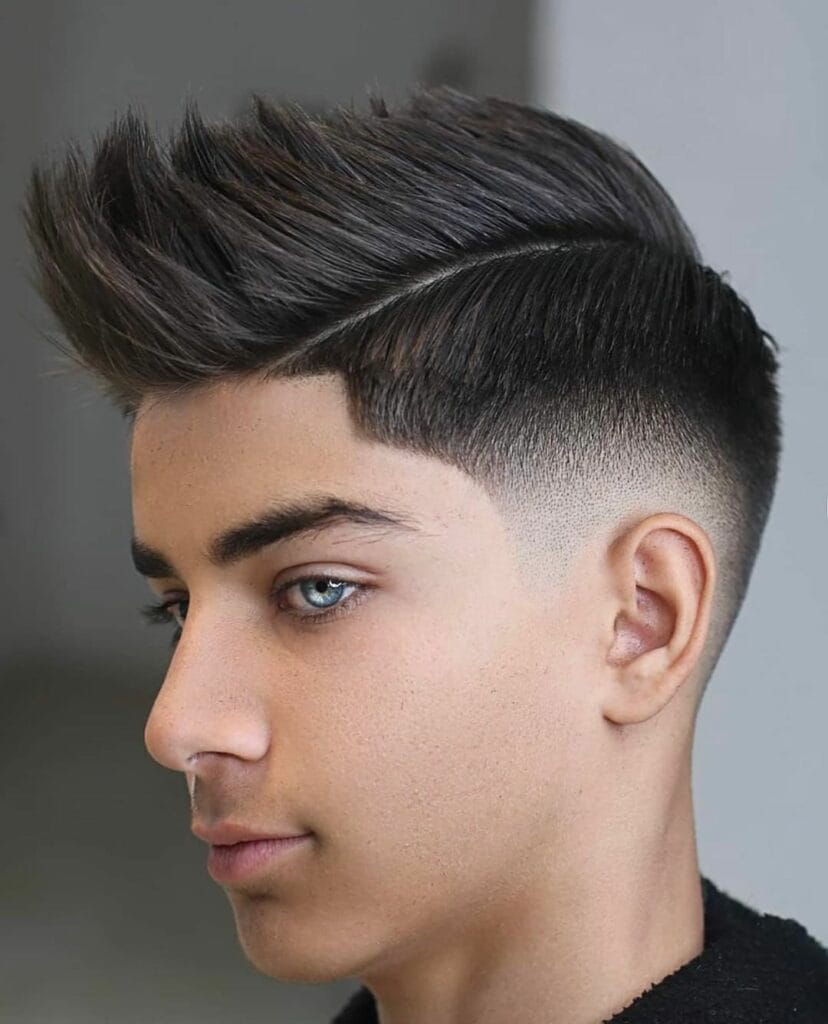 For males who define funky with nothing but a spiky haircut, this hairdo is perfect for you. While a spiky hairstyle can be very formal, this spiky style expresses total funk and screams "PARTY!" The extreme spiky hairstyle in this scenario can be difficult to maintain because they are lengthier than normal and require a huge amount of gel to keep them in place.
Classic Spiky Hairstyle
For its adaptability, this is one of the finest spiky haircuts for guys that will never go off the style. The classic spikes highlight the appeal of this wonderful hairdo type. The famous spiky hairstyle has been here for decades, reaching back to the golden 1980s, when they served as the inspiration for a plethora of amazing hairstyles, the best of them was this one.
Front Spiky Hair
If you're not sure which spiky haircut to go with? Then Front Spiky Hairstyle will offer you a new, casual shape. The only front hair is visible in the form of a spike, as the names imply. With the help of a trimmer, side hair is faded and kept short. It's the most typical ready-to-wear and simple hairstyle that can be seen on a guy. If you don't have your brush with you, you can use your fingertips to shape a spiky front hairstyle.
Spiky Haircut With Taper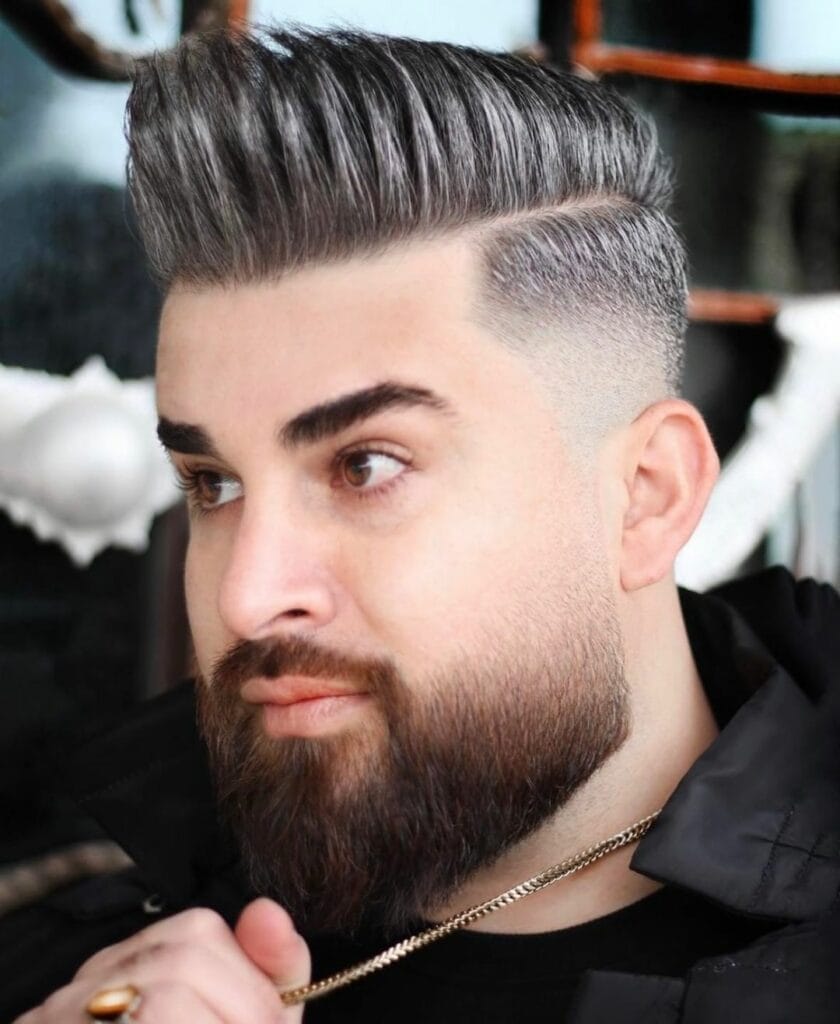 If you want to give your face a more cheesy look while keeping your hair short and stylish, consider this spiky cut with a tapered hairdo. This hairstyle looks similar to fade hairstyles, but with tapered sides, the spiky haircut with taper style has a more elegant and traditional appearance. You can wear your short hair without exposing your skin. Furthermore, due to its flexibility without being very aggressive, this haircut can be styled by business experts.
Wavy Spiky Hairstyle
You can wear Spiky haircuts with thick and straight hair. You can make unique and rare spiky versions if you've wavy hair. Although hair texture can be difficult to style in a single direction, but with the right management and styling, you can achieve fantastic results.
Spiky With Golden Tips
This shorter spiky haircut is enhanced by a shining color. From tight fade at temples with mahogany-colored roots, the intensity of this haircut moves higher.Finally, the spiky golden tips are combed for flow. This spiky hairstyle has a rooted yet colorful impression.
Blue Spiky Hairstyles
Blue is a color you may use on the spiky hairstyle this year. Of course, you have a choice of colors, but we suggest a neon version. Here is a tip: Make your eyebrows and make them look natural. You will end up looking like a human cartoon if you don't.
Messy Spiky Hair
The messy spiky haircut has become very famous in barbershops. Totally messed spiky haircuts are considered informal and fun. Guys can achieve this appearance at home with the right hair product and a shorter haircut.
Asian Spiky Haircut
Spiky Asian hairstyle can be highly stylish and unique. For example, Asian guys are famous for having straight and thick hair, which is hard to control and style without the use of a powerful hair product. It is known for being stylish, clean, and fresh. With a suitable haircut and styling, you can achieve an Asian spiky haircut.
Afro Spiky Hairstyle
You don't have to limit your haircut selections just because you've Afro hair. You can make a good spiky haircut on your well-kept Afro. If you have Afro hair, you should create spikes all over your hair rather than just in front.Take small amounts of gel, then use it to build spikes. You may handle it all on your own or get the services of a professional barber.
How to Get the Perfect Spiky Haircut?
The perfect spiky haircut starts with a visit to the barbershop. Although a spiky haircut is incredibly versatile and can be worn with almost all hairstyles, there are some principles to remember when it refers to the length of hair to achieve the best results. Ask your hairstylist to give you a minimum of 0.5 – 2 inches of top hair to get a stylish spiky haircut; this way, you'll have the appropriate length of hair to spike up. Short sides and long top hairstyles are famous nowadays, so consider your sides clipped, tapered, or faded.
If you have a fade, you'll be able to create a much more eye-catching style by increasing the contrast between short clean sides and a rough spiky top.
Best Hair Products for Spiky Haircuts
There are many hair products to choose from, but before you make a decision, think about your hair type, thickness, length, overall condition, plus the sustainability of hair products. Consider the following example:
Short haircuts can benefit from pomade and wax.
Clay or wax can give depth and volume to thin hair types, and it can be beneficial for your hair.
If you have medium to long hair length, hair products may help you to keep spikes in position more properly.
If you prefer to be secure, then mousse and pomade are good solutions for different types of hair.
If you prefer your hair to be shiny, you can use hair gel. It has the ability to hold your spikes in position for an extended period of time. Hair gel, on the other hand can make your hair hard.
Conclusion
A spiky haircut is recommended for males who wish to stay up with the short hair trend. It will give you a stunning look if you mix it with taper or fade on the sides. We have created a list of spiky haircuts for men to make you comfortable with a spiky haircut. Whether your hair is short or medium, curly or wavy, you must remember that all spiky haircuts need grooming and care to be fresh and in good shape. To style spiky haircuts, there are many healthy hair care products that can be used without having negative effects.
I hope you like the list of modern spiky haircuts for men. It will help you find traditional and modern spiky haircut styles that suit your hair length and type. Now it's your turn… Which of these fantastic men's spiky haircuts is your personal preference, and why? Are there other spiky haircuts that you believe I should include in this spiky haircuts list? Please give your thoughts in the comments section so that others can get more options on the best men's spiky haircuts. Lastly, if you still have some doubts about men's spiky haircuts, then scroll down to have a look at the spiky haircuts FAQs section.
Spiky Haircut FAQs
What Is the Meaning of a Spiky Haircut?
A spiky haircut denotes confidence, playfulness, and a willingness to have a good time. It is a low-maintenance haircut that's easy to style, so if you are a person who wants to spend their time doing things they enjoy, then a spiky haircut is worth a try.
Is Spiky Hair Still in Trend?
Yes! It has undoubtedly been famous in the past, but it has never gone out of trend. Because it works with all types of hair, you'll have a lot of alternatives to choose from.
What Is the Best Spiky Haircut for Guys?
A side-swept spiky haircut is the best spiky haircut for guys. However, spiky haircuts are the finest choice for a man. Simply choose a design that compliments your facial features and boosting the most appealing ones while concealing possible flaws.
How to Style a Spiky Haircut Without Using Styling Products?
Apply a mixture of some water, and a small amount of hair oil, then start styling your spiky haircut.
What Is the Shortest Spiky Haircut?
Spiky buzzed cuts are the shortest haircut.