The Pompadour Haircut is among the most famous and eye-catching haircuts for guys. These are the kind of haircuts that every man should try at least once. It is indeed big, bouffant, and dense. It won't be for everyone, and men who don't like the Pompadour Haircut could prefer the quiff hairdo, which is a distant cousin of the pompadour haircut. Since this article is about Pompadour haircut, so here we will only focus on topics that explain it better.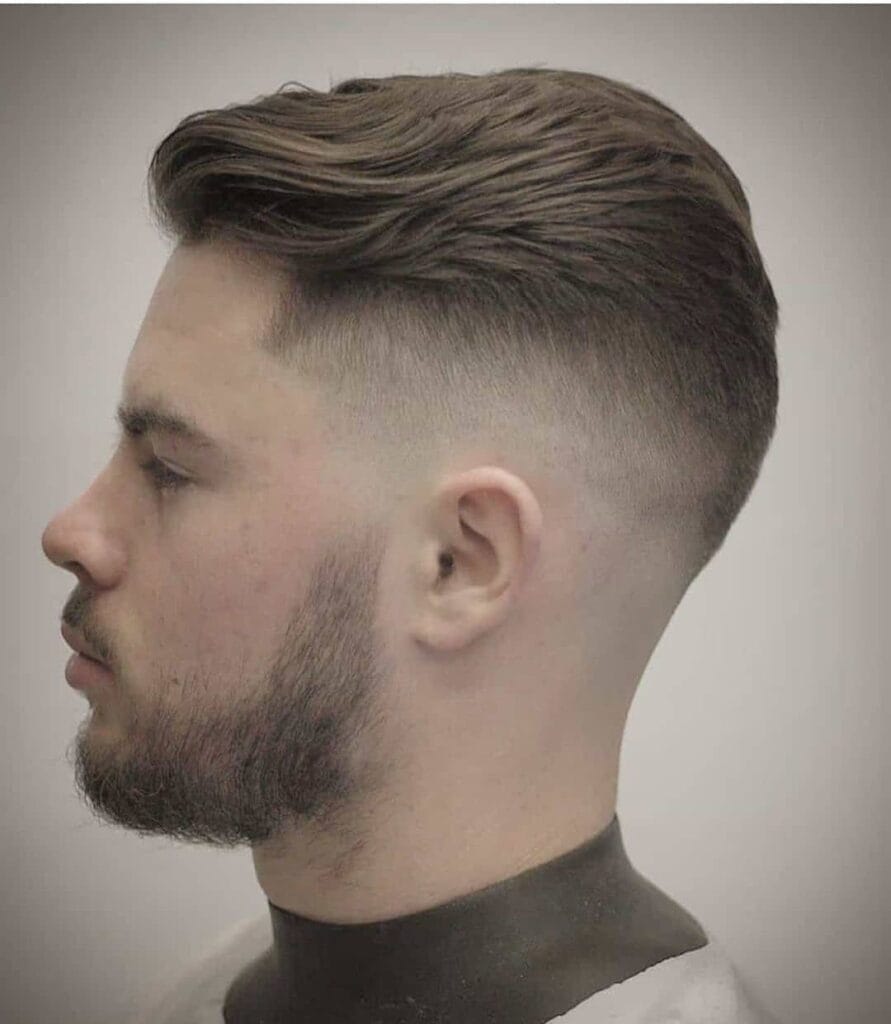 Where Did Pompadour Haircut Descended From?
With such a title like pompadour, it's only natural to presume it owes its existence to history. In truth, the hairstyle is named after King Louis XV's famed bedfellow and companion, Madame de Pompadour, whom made popular the style and offered influence to topmost 18th century European women.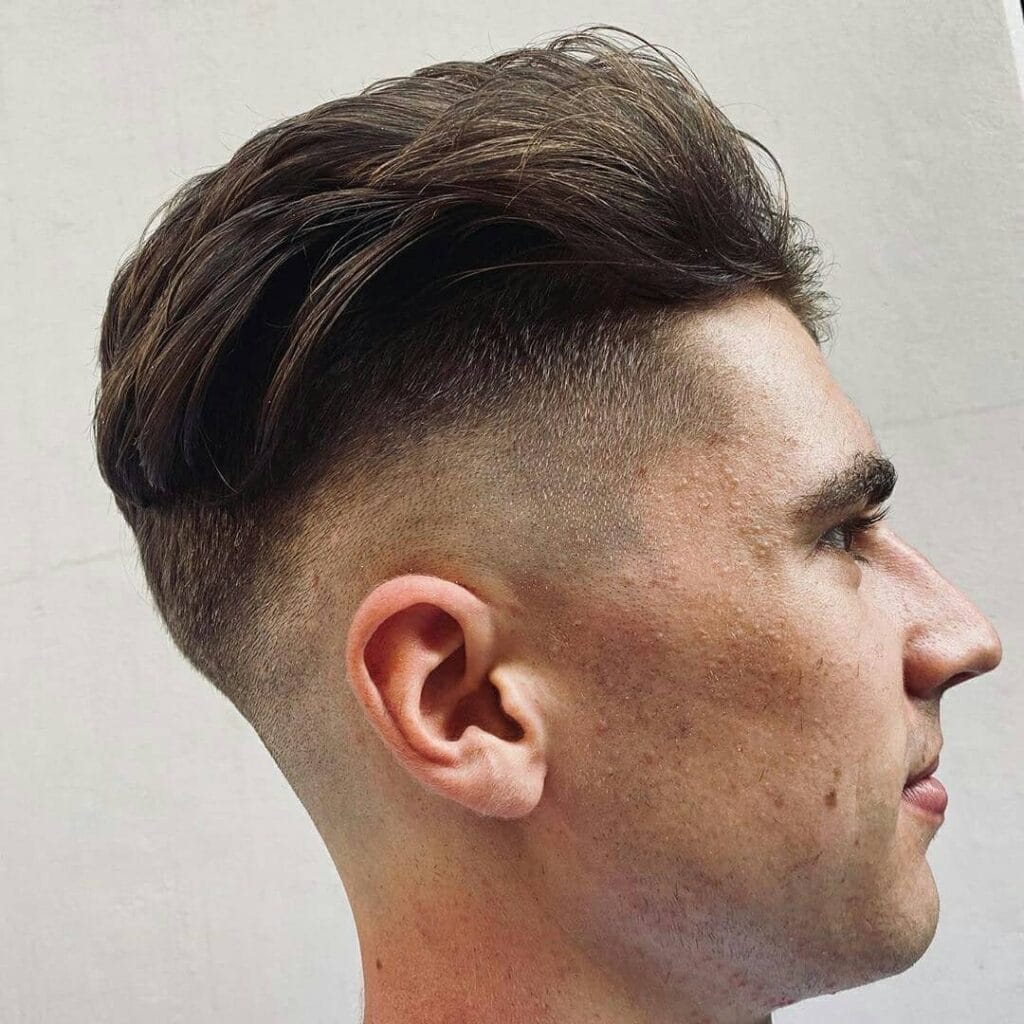 That's right, you read that correctly. This same fairer sex haircut then gave birth to a fashionable men's haircut. That isn't to suggest that males didn't want a piece of the action. The pompadour hairdo made its way across Western culture and was adopted by Elvis Presley, a good ol' boy from Mississippi, in the early 1950s. And, as they say, that was the end of it – almost.
Who Will Surely Slay Pompadour Haircut?
Before making a booking and committing yourself to a barber's scrutinizing, think about if your particular hair and face shape are suitable for Pompadour Haircut. It's a haircut that can be worn in a variety of ways. That isn't to argue that everyone who makes it his first pick is doing oneself a favour. In this case, luck favours men with squared or oval facial characteristics. That may seem a little harsh, but we're starting from a great spot.
A classic Pompadour Haircut gives density to the crown of a man's head, which can draw attention to any prominent facial characteristics, such as a prominent jawline, high forehead, with round cheekbones. That isn't to imply that if you wouldn't have the abovementioned facial blessings, you won't appear like Gollum in a King outfit. To obtain a flattering look, you'll simply have to tinker with the proportionality aspect of the haircut.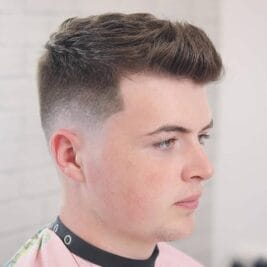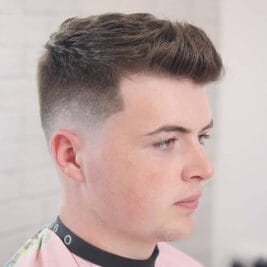 Due to the regrettable possibility that the theatrical form of the haircut will make the face look smaller, like a bean with nothing but a wigs, a tiny, round face is less suitable to an overdone, Pompadour Haircut. Furthermore, if you have a chubby face, a large volume quiff can make you look 'top-heavy.' Neither of them appear to be attractive. If your features aren't too dissimilar to those listed above, opt for a more modest Pompadour Haircut to keep even, symmetrical proportions, since you don't want to give the impression to your friends that you're turning into Johnny Bravo.
You may even go for a more current pompadour, which we'll go into in more detail later. In the same vein, gentlemen with a large forehead or lengthy features will benefit from shortening their haircut. Choosing a truncated version will help to avoid the appearance of an extended head to keep things in proportion.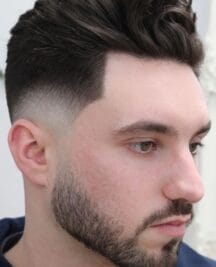 What Will Be Best Hair Texture To Get Pompadour Haircut?
When it comes to the fundamentals of the pomp, the structure of your hair isn't all that significant. These hairstyles look great on both straight and curly hair, even though the end result is different. If you have fine hair and rebellious curls that won't comply with a this double comb-and-pomade attack, you'll have to settle for a messier look. Outside of the business scope of haircuts, this understanding is more relaxed.
A high fade on the sides, on the other hand, might intensify a curly hair pompadour haircut if you don't go too short. Furthermore, straight-haired men will have to accept that their pompadour hairdo will always maintain a precise, angular shape, as opposed to the 'I woke up like this' look that curly-haired men tend to achieve.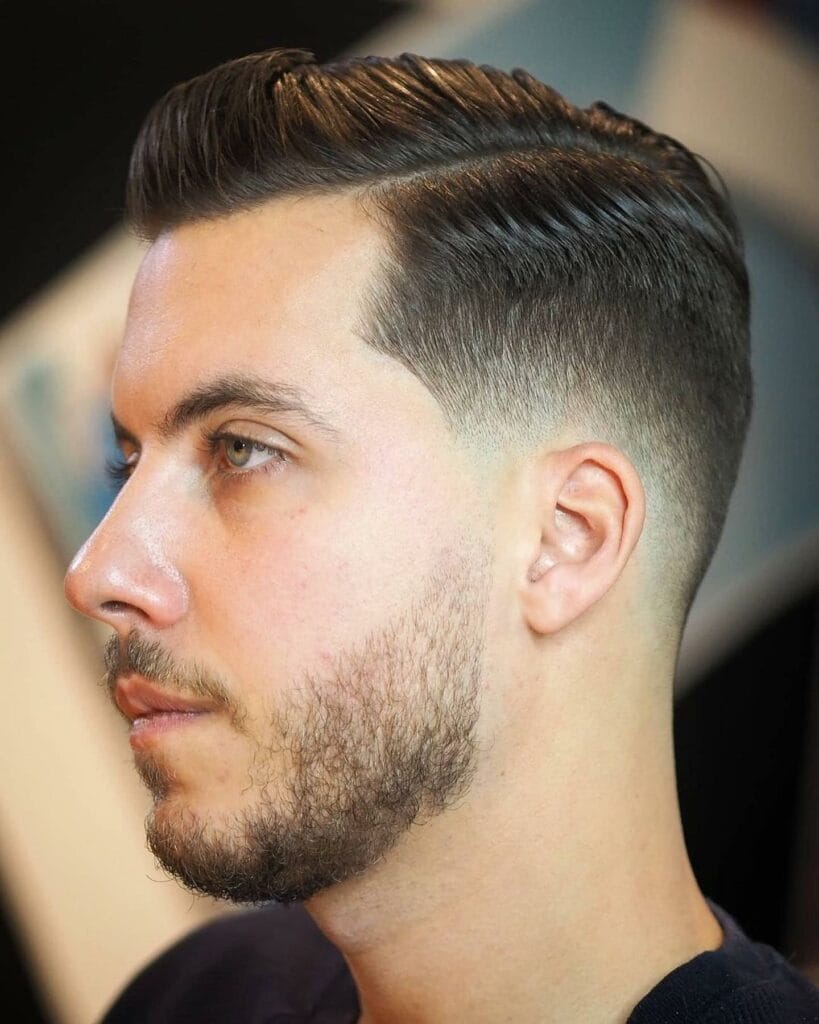 Thin hair, on the other hand, isn't going to cut it. Because thin hair is susceptible to tumble out of position and change shape with abrupt movement or the wind, the stylish pomp requires considerable follicular bulk to stay in place. This isn't to say it won't work on average guys with regular faces who aren't featured in hairstyle publications. So, if you've got a decent mane and are willing to learn how to use a lot of pomade, you're definitely ready for our golden instructions on how to obtain the perfect pompadour hairstyle.
Different Variations To Pompadour Haircut
So now you know if the numerous pompadour haircuts will fit you as well as how to maintain them until you've seen the barber. Let's have a glance at the numerous hairstyles available to make your trip to the barbershop a little less painful.
Curly Pompadour Haircut
You might also have noticed a tiny theme in the current sequence of pictures: they all have straight hair. That isn't to say that the pompadour haircut is only for straight-haired gentlemen; men with natural curls can also benefit from it. Curly hair is a perfect fit in many aspects because of its perfect volume and bouncy, requiring less upkeep in the morning.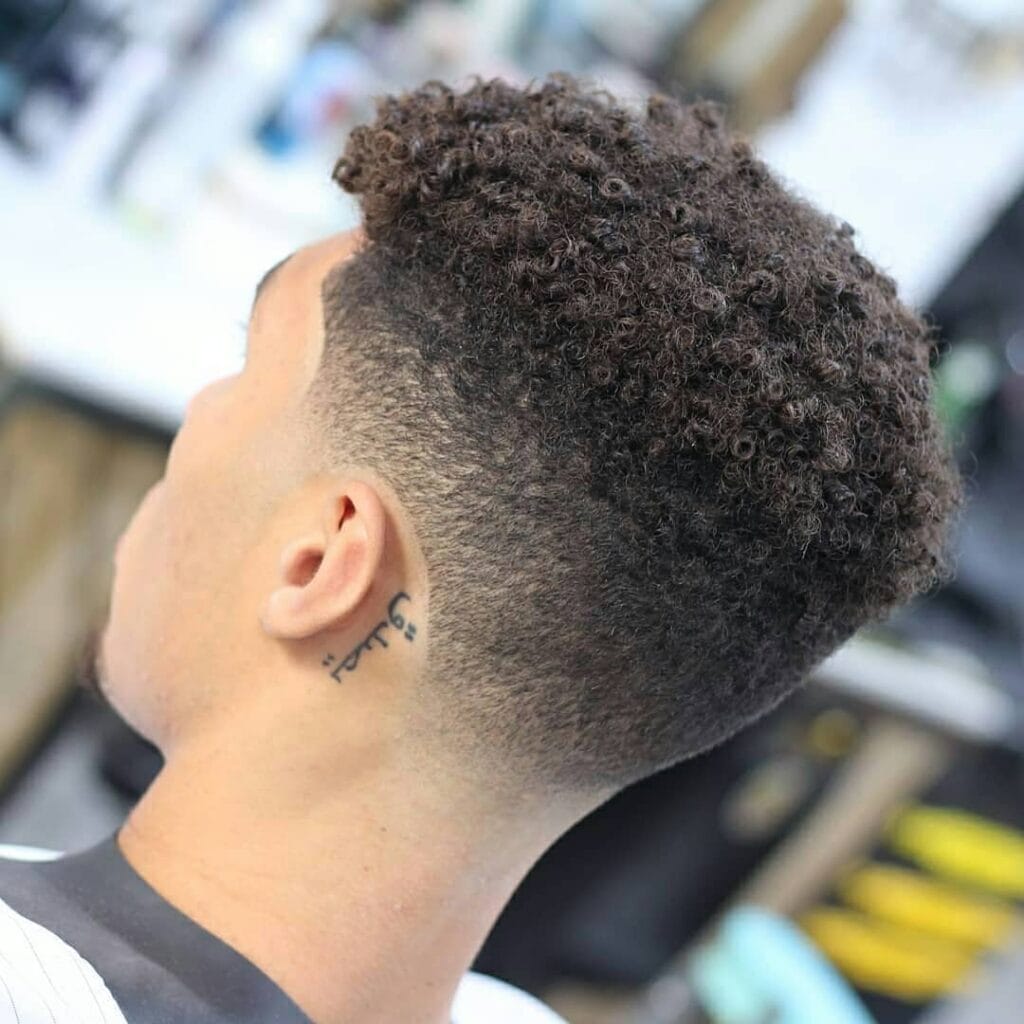 It's possible that you won't need to perform any styling at all. Simply remove part of the locks on the sides and top, combining either a fade or perhaps an undercut when you want to really make a statement, and your hair's natural volume.
Pompadour Haircut In The Modern Era
Nobody really likes to look like a seventeenth century French woman, despite the fact that it's a historical hairstyle. While the original pompadour may provide inspiration, the modern version is the approach to go for individuals who wish to bring it in line with current hairstyles.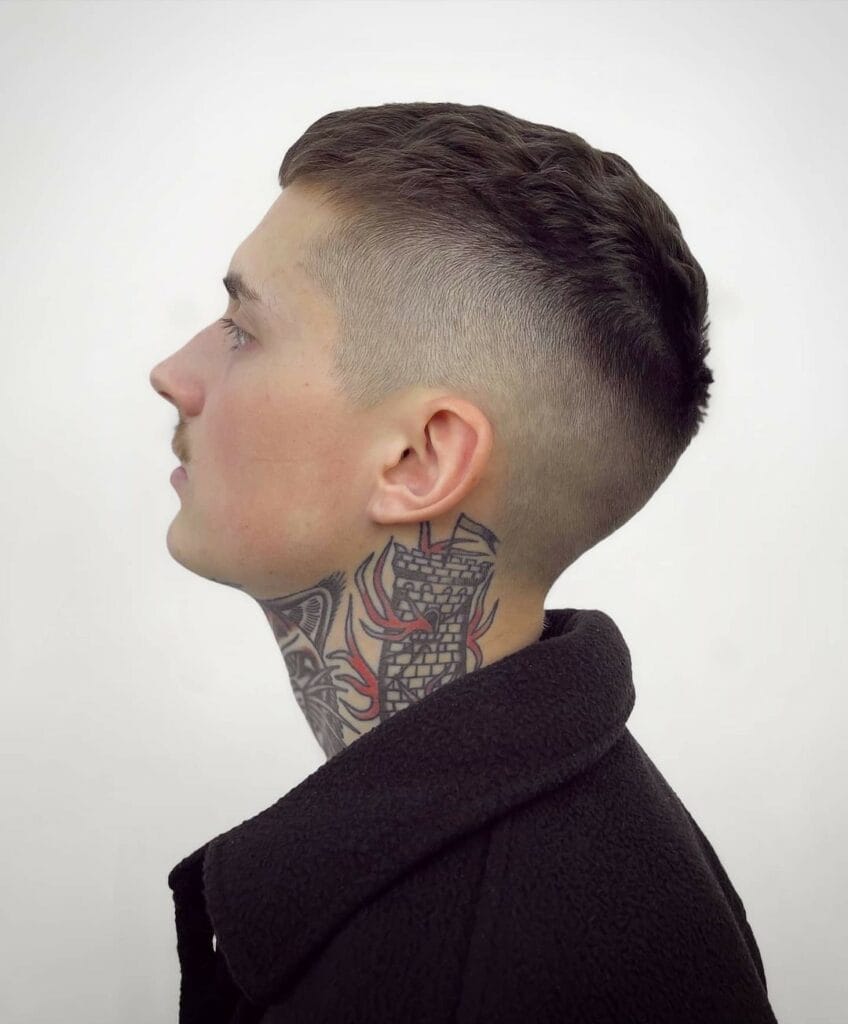 The modern rendition is all about height, and it's just as voluminous as the original but a little more modest. Instead of styling the front of your hair up or back, the current Pompadour Haircut has all of your hair done upward.
You'll obviously need some firm hold style paste for this, as well as a hairdryer, not to mention long locks in the very first place, however the end result will give your face a lot of length. Men with rectangular face should exercise caution in this regard, but those with rounder faces may profit greatly.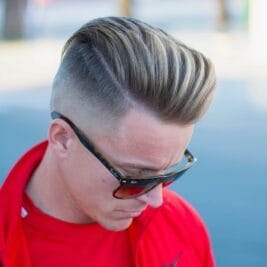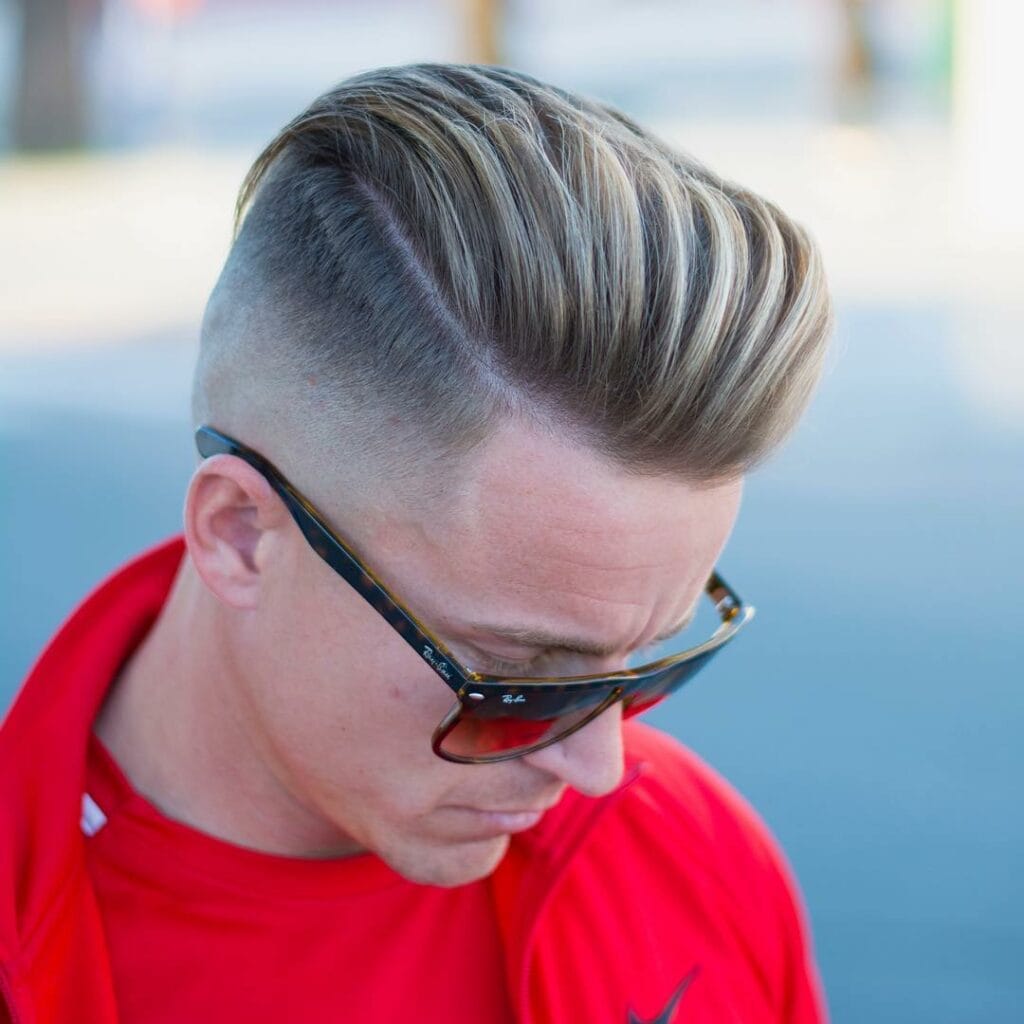 Disconnected Pompadour Haircut
The disconnected Pompadour Haircut, also known as kind of a pompadour undercut, is the result of the fusion of two hairstyles that operate in follicular harmony. The disconnected pompadour, like the curly hair variety above, sees the hairs on the sides of the face eliminated, leaving only the poofy hair, voluminous hair on top.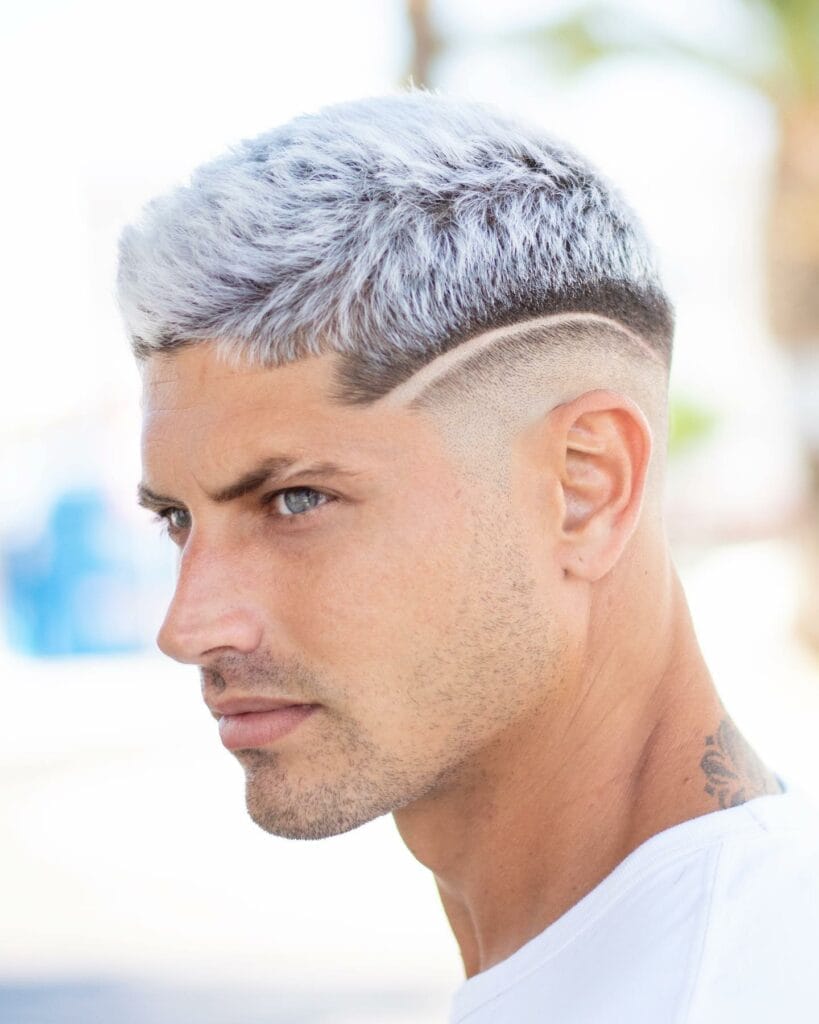 The undercut's sharp contrast offers a head-turning style that may be achieved without putting too much work into styling. Due to the length of your top-of-the-head hair, you can use styling tools to transform it into something more sophisticated, maybe for your days at the office. Alternatively, if you have reasonably long hair on top of your head, you might let it flow freely with only a touch of order to keep things altogether.
Mid-Sized Pompadour
A medium-length pompadour hairstyle is a safe bet for males who wish to dabble in pompadour land but don't have the "go big or go home" mentality. Many men will attest to the fact that medium length hair provides them with a plethora of styling possibilities while also avoiding the high upkeep requirements of long hair hairstyles, an ideal middle road, if you will.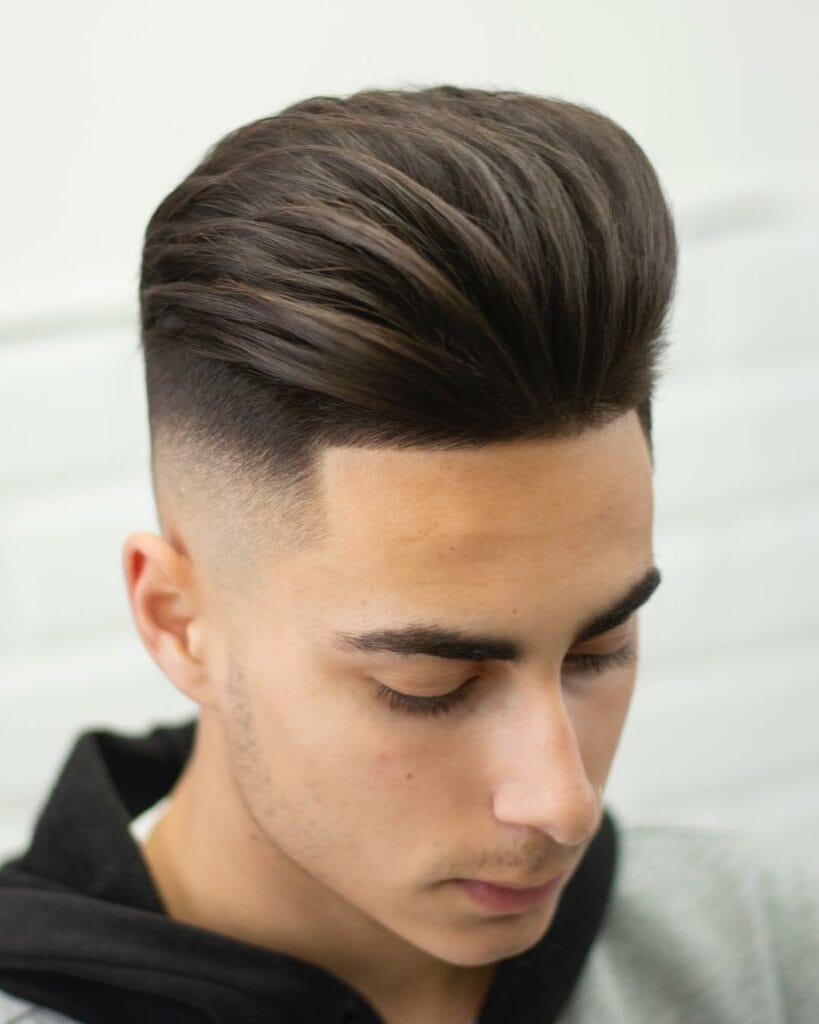 As a result, the mid-sized pompadour haircut is a terrific hairstyle for males. If this sounds like something you'd like to try, have your barber add more texture with point-cutting or thinning shears.
Side Part Pompadour
The side split pompadour haircut is a fun twist on the traditional pompadour. A side part pompadour contains a side part, indicating the hair is carried over through one part of the head to another, as opposed to the standard pomp, which requires the hair to be fashioned upwards and pulled back.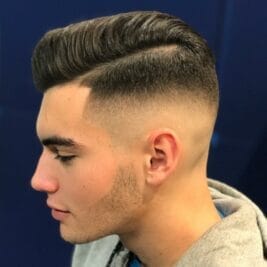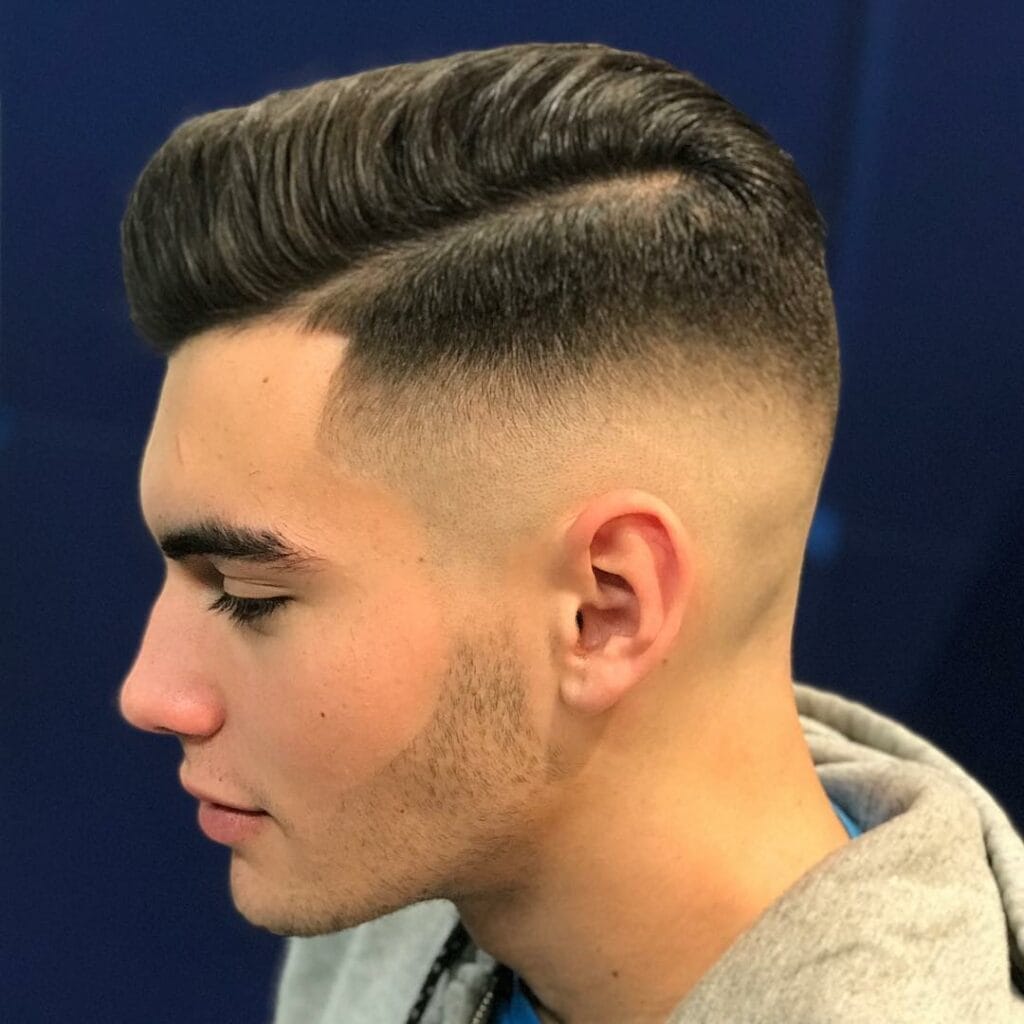 You've gotten yourself a pomp if you're able to add density to this sweep. This side part pompadour looks best on men having straight hair, but you can still try it if you have natural curls.
Sleek Back Pompadour Haircut
If you like the rockabilly look, the slicked-back pompadour is for you. The pompadour hairstyle is a great haircuts option for more professional contexts, or if you're the company big shot around the desk.
It exhibits high shine, meaning you'll need to invest in some high quality hair product or adhesive products. What you do prior you use your styling products is crucial to attaining a great slicked back pomp.
Specifically, how quickly you can produce a dryer and a comb. To acquire the volume you want, use the dryer to move the hair upward, then finish with cold air to set it in position before applying your product.
Because you want a high shine, you may be a little more liberal whereas if you intended a matte effect, however you don't want to go too far or you'll come off looking as your 8th grade physics instructor.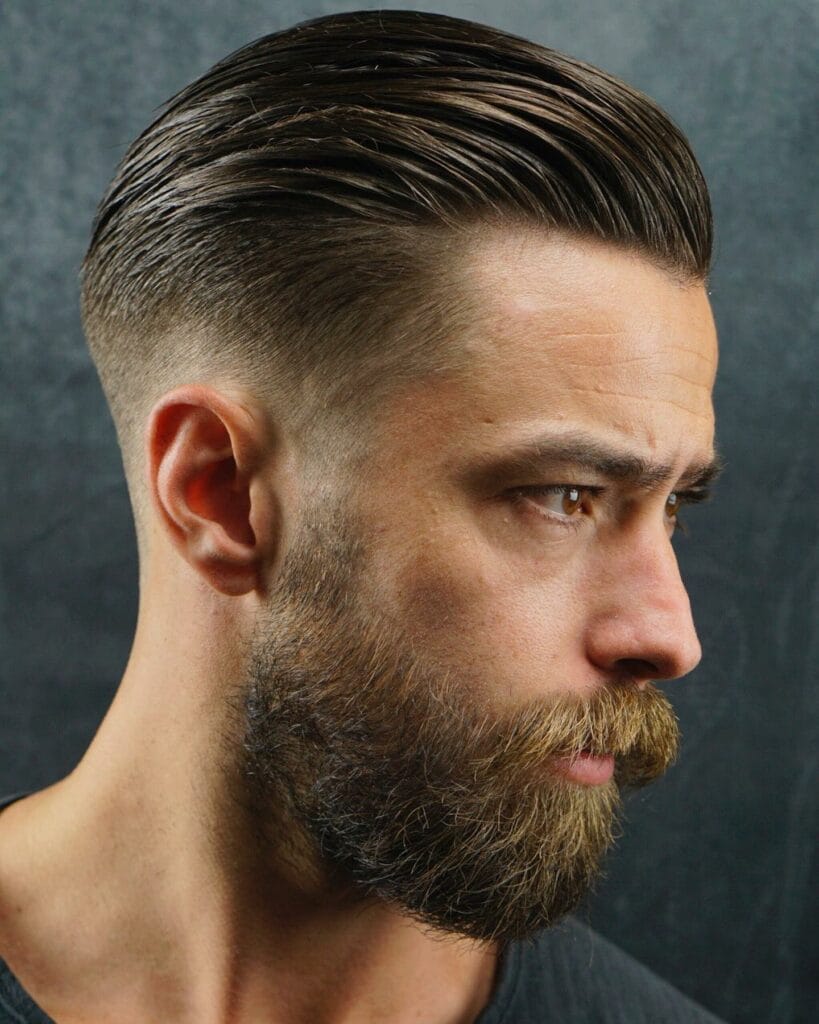 Pompadour Haircut Fade
The pompadour fades is the type you're most probably to see it on other men's heads. It's a trendy pompadour in the sense that it deviates from traditional guidelines, is simple to produce, and oh so attractive.
In the case of this hairstyle, including a fade – whether it's a low fade, mid fade, high fade, skin fade, or taper fade – helps to lighten the weight of this usually hair-heavy haircut, making it look much more clean and professional. As a result, the pompadour fade is ideal for both the business and casual weekend styles.
In terms of top-of-head hair length, cutting hair as from sides of the face puts greater emphasis on the top. This means you don't have to go as large and dramatic when you're with a typical pompadour, making it a far safer alternative for men who haven't yet dabbled in pompadour land.
Short Length Pompadour
The short pompadour is indeed a choice for men who would like to try out this hairstyle but don't have the long locks needed for the classic form, Or just don't want to compensate for the extra management that accompanies with maintaining the length. The short variant, not to be mistaken with the quiff, requires a bit more preening to attain a precise look, whereas the quiff could be a little messy.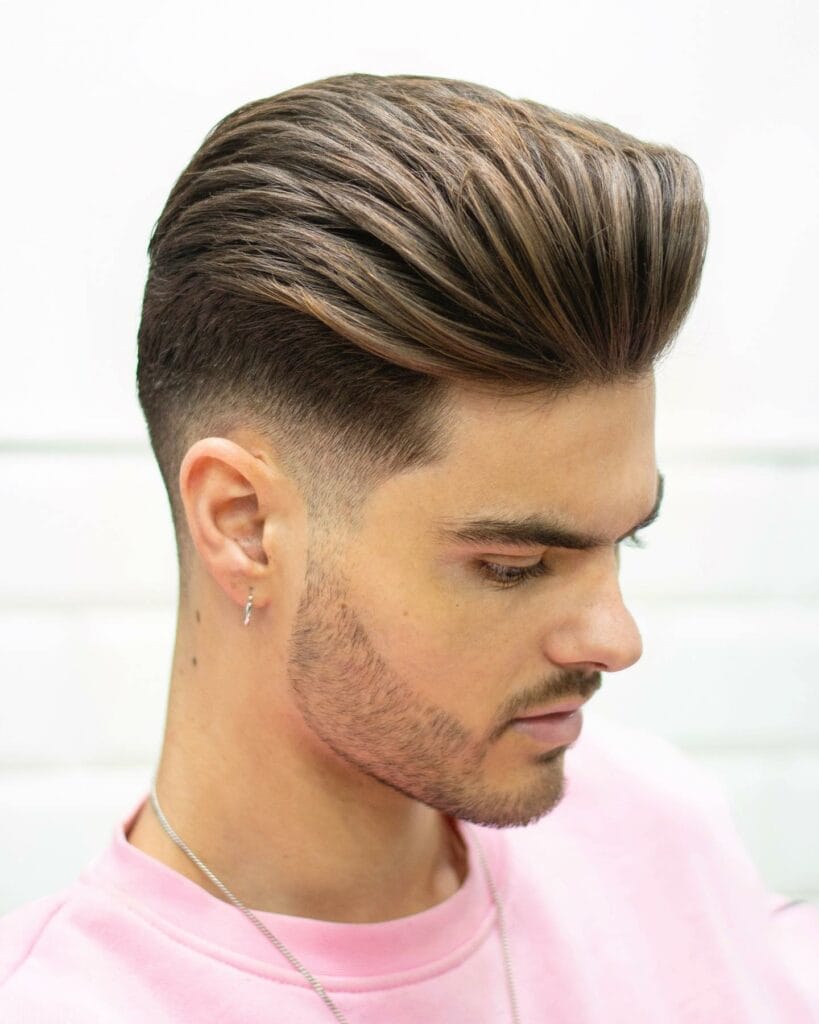 A fade looks great with a short pompadour, but it's not required. Instead, style the hairline while leaving the hairs on the sides and top at a comparable length all around. However, you'll want to integrate a taper fade for more tidiness and sophistication for the greatest results.
Styling A Pompadour Haircut Needs a Great Guide
Most guys assume pompadour haircuts are prime targets for a low-maintenance haircut because of their seemingly careless appearance. That is not entirely correct. To make it work, you'll need a barber with a lot of skill, a lot of precision practise, and the correct equipment. The wrong method can turn you into a cheesy Elvis imitation, robbing you of the rebellious rock 'n' roll appearance you've spent many hours perfecting in front the mirrors.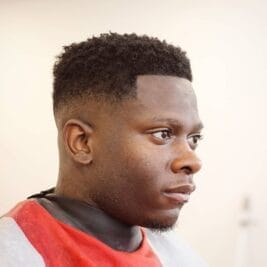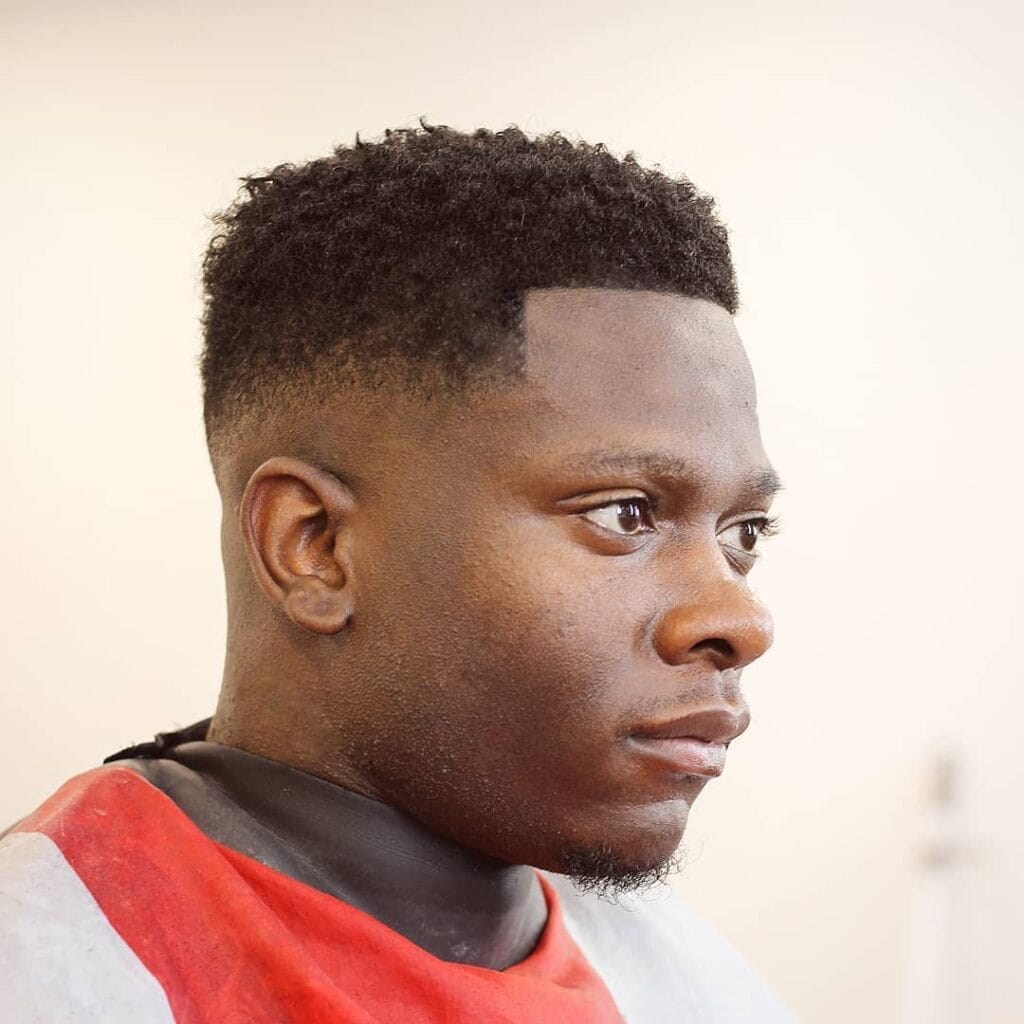 These simple tactics can instantly improve your Grease bad boy status.
Let's begin with the chop. Find a skilled barber who can work outside the limits of a buzz cut, and begin with dimensions: shorter on the sides, longer on top.
You have complete control over the ratio. However, there are some general guidelines to follow: don't go too low on the side for proportional reasons, and don't go too long because you're not a filthy bit cheesy.
Shearing the hair is a good idea. Unless you already have a manufacturing comb and hairspray that can tie down the house in a tornado, thick hair is an obstacle to success.
If your hair isn't so dense that somebody might lose their phone or wallet inside your follicles, that's a plus. If your barber hasn't already done so, request that he pull out his thinning shears.
You'll be able to get some more bang for the buck/pomade by styling your hair more successfully.
Make sure to invest in equipment for hairdressing. You won't go far without a comb and a blow dryer, so get used to using both. But don't get too fancy. There's no need for a diamond-encrusted blow dryer or a laser pointer.
I bought mine for $6 at Savers and haven't had a bored second since. Combs, on the other hand, are a different story: a mass-market plastics comb will flex and snap even more than the birds in Absolutely Blonde. Purchase one made of acetate from a hairdresser.
Locate the appropriate products. Unlike other haircuts, the pompadour is primarily supported by proper pomade. Buy something high-end (the cat's knickers are uppercut Deluxe).
You can choose between water and oil-based alternatives depending on the hair type, but the latter is preferable until typically wash your hair frequently per day.
Pomade also retains a silky finish for all the Slippery Ricks out there, while keeping the hair strong without sacrificing the ability to restyle afterwards.
Practice for perfection. You don't have to be a magician, although the first few times can be challenging.
Before you get too worked up about it (in a good way), keep in mind that getting the look correct won't happen overnight, unless your wife is a stylist who is willing to do it for you daily mornings.
Test it out a few times seeing how your hair reacts.
Make a statement with it. After a shower, start with towel-dried hair. Hairdryer from the top down toward the back with the comb and blow hairdryer to give it depth and dimension.
Start working the styling hair-product that you prefer through all the hair after it's dry. Consider pomade to be salt in a meal when using it.
The appropriate quantity of flavour will be added, but too much will be overwhelming and defeat the aim. Begin with a little amount and gradually increase.
It's easy to add, but removing is another matter. Once the cream is evenly dispersed, fine-tune the design with any adjustments necessary to achieve the length and shape you like.
Upkeep of the follicles is necessary. The current pompadour haircut is just not a low-maintenance style which you can throw on and ignore about after a shower.
To keep the hairline in form and preserve the sides, frequent salon visits are required. An edge or pompadour fade can have you back in a chair every two weeks, but a traditional pompadour may be maintained between appointments for three to four weeks.
To Sum It Up
In this article you can read all that you want to know about a perfect Pompadour haircut. It states all informative statements whether it is about "how to" or it is "Different variations". Yes! This guide is gold and treasure. So grab it before anyone else.