25 Styles To Transform Your Look with a Drop Fade
A drop fade haircut is an edgy style that starts at the temples, arcs behind the ears, and finally drops down to the nape of the neck.
It's a unique twist on the traditional fade that adds character and flair to any haircut, as the even curve of the drop fade gives a clean and dapper finish.
This dynamic style looks awesome, whether paired with an undercut, a pompadour, or anything in between.
This is because the contrast between the long hair on top and the short sides creates a stylish and eye-catching look.
The drop fade is versatile and can be combined with any haircut to create a unique and stylish look.
What is the difference between a drop fade and a skin fade?
A drop fade features a fade line that drops behind the ear and follows the natural curve of the head around the back.
A skin fade is where the shortest length is shaved down to the skin.
25 Best Drop Fade Haircuts for Men
The drop fade is a new variation of the classic fade and one of the coveted hairstyles that will take your hair game to the next level.
This precision taper cut allows you to wear any style while adding alluring detail and fresh textures to your hair.
Whether you're looking to add some subtle flair or want a more edgy style, the drop fade will uplift your style game without appearing overly aggressive.
We have made a list of 25 trendy drop fade haircuts that will inspire you to step up your hair game and try something new.
Drop Fade Curly Hair
A drop fade haircut puts the focus on your beautiful curls to enhance your curly crowning glory. It also creates a softer texture for your hair.
And typically, curly hair is heavier than straight hair.
So a drop fade lightens your hair, making it the best choice for men with heavier, curly hair.
Plus, the combination of the drop fade and curly hair creates a work of art from every angle, especially when viewed from the back. So why wait? Embrace your curls and upgrade your haircut with a drop fade today!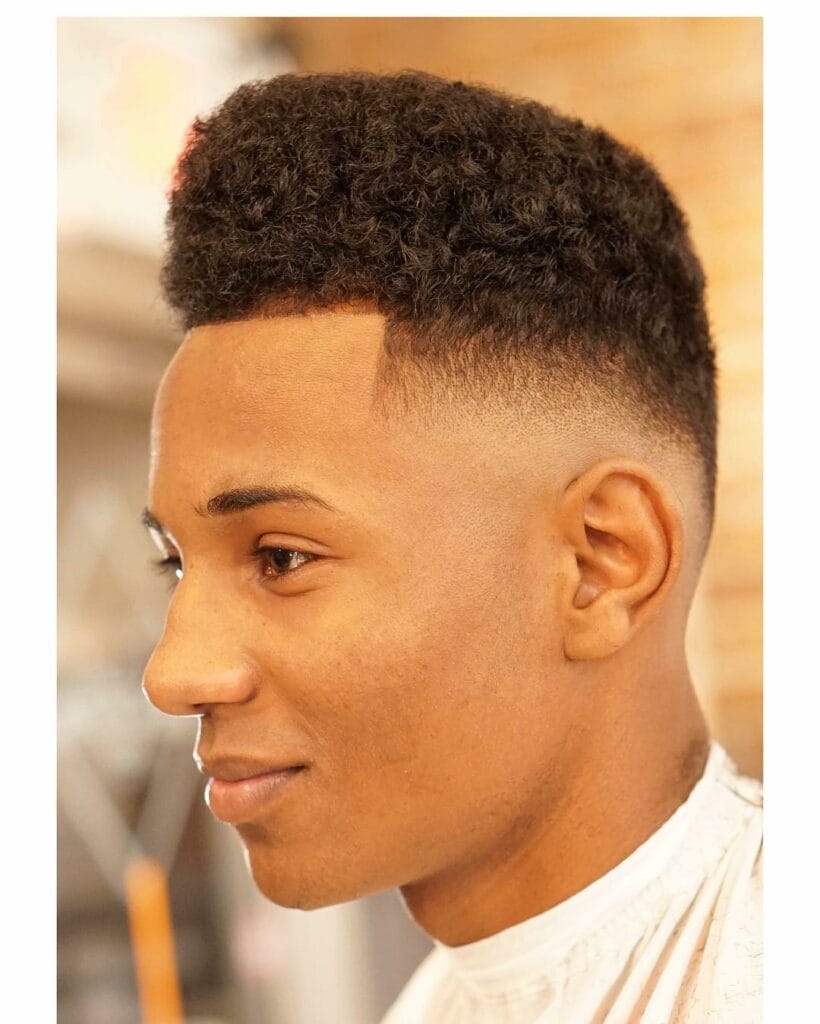 Mid-Drop Fade
A drop mid-fade is a variation of the drop regular fade haircut. As the name suggests, the mid-drop fade is cut at a lower point than the drop regular fade, which gives it a more pronounced look.
The mid-drop can be cut to any length but is usually kept relatively short.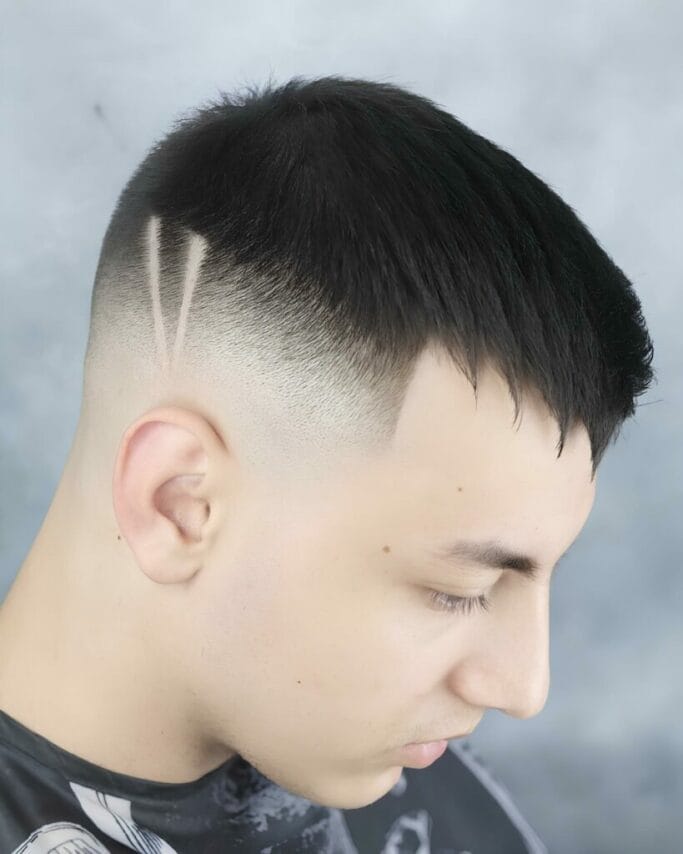 Comb Over
The drop comb-over fade is a classic hairstyle that has been around for decades. To rock this hairstyle, your hair on top must be long enough to allow sweeping it to the side, with the front coming down over and across the forehead.
It is a versatile style for men of all ages and hair types. The drop fade comb-over is a great choice for those who want a stylish yet easy-to-maintain hairstyle.
Whether you're heading to the office or a party, this haircut will keep you looking sharp.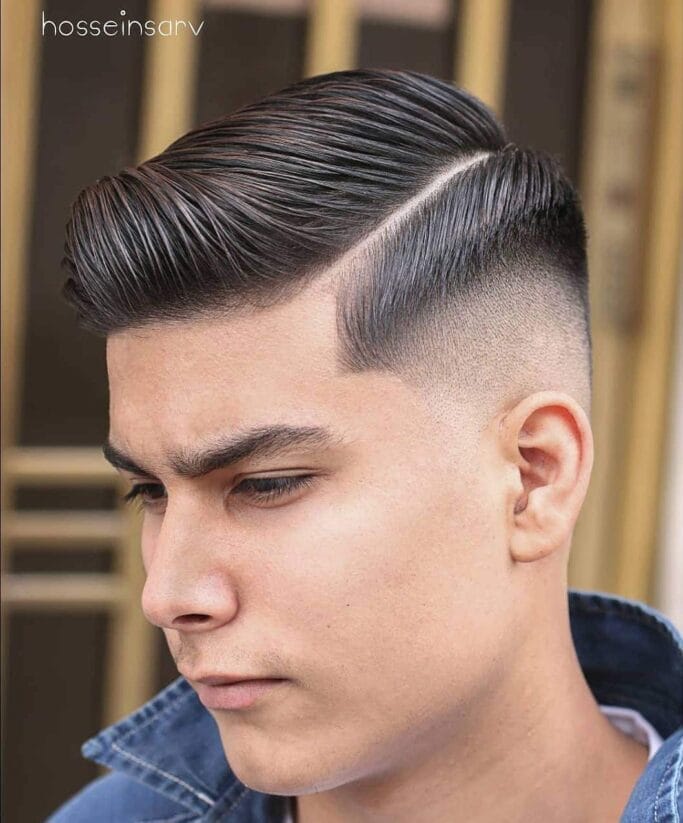 Bald Drop Fade
The bald drop fade is a daring style defined by shaving the hair on the back and sides while keeping the hair on top longer. All you need is to experiment with your desired length to create the perfect contrast.
This haircut gives the hair on top a fuller, thicker appearance due to the contrast and a relaxed, edgy look that demands attention.
And if you want to take things even further, try combining the drop fade with a bald fade for a truly unique and stylish look.
One of the best things about the bald drop is that it looks good with any type of hair texture. This hairstyle will work for you whether you have straight, wavy, or curly hair. It's also a great option if you're trying to grow out your hair or if you have thinning hair.
Drop Fade Slick Back
A slick back hairstyle will add a little extra flair to your look when paired with a drop fade. The drop slick back is achieved by shaved sides and longer hair on top that is slicked back.
The drop fade slick back is a great choice for guys who want a stylish yet easy-to-maintain hairstyle. This hairstyle is perfect for guys who want a clean, polished look.
It works well with all types of hair, from straight to curly. It's also versatile enough to be worn for both casual and formal occasions.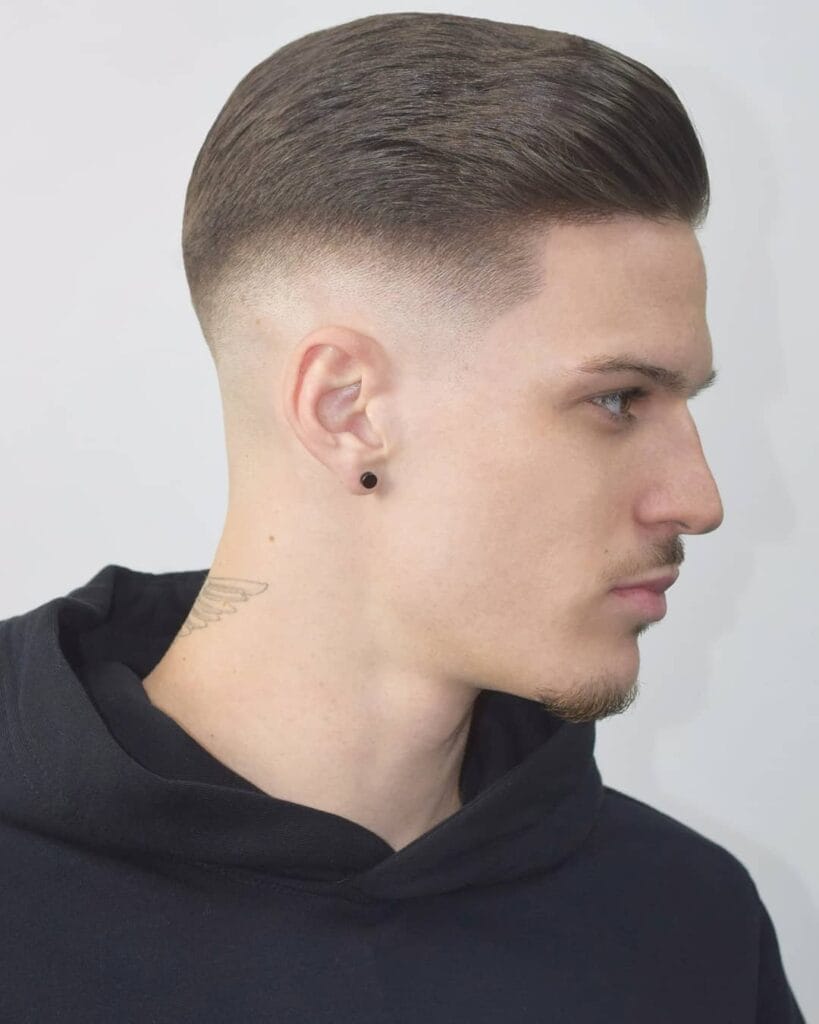 Low Drop Fade
The low-drop fade involves shaving the hair on the sides and back down to the skin while leaving the hair on top longer. This creates a sharp contrast between the two lengths of hair, which can be styled in several ways.
The low-drop fade haircut can be worn with various hairstyles on top, from long and loose to short haircuts and spiked hair.
It's a versatile look that can be dressed up or down, depending on how it's styled.
Drop Taper Fade
The drop taper fade is a type of haircut that combines elements of the taper fade and the drop cut fade. The result is a hairstyle that is both stylish and easy to maintain. The clean fade and defined part give it a sleek and gentlemanly appearance.
Ask your barber for precise fades that blend seamlessly into one another. Also, make sure they use high-quality hair products so your new haircut looks its best.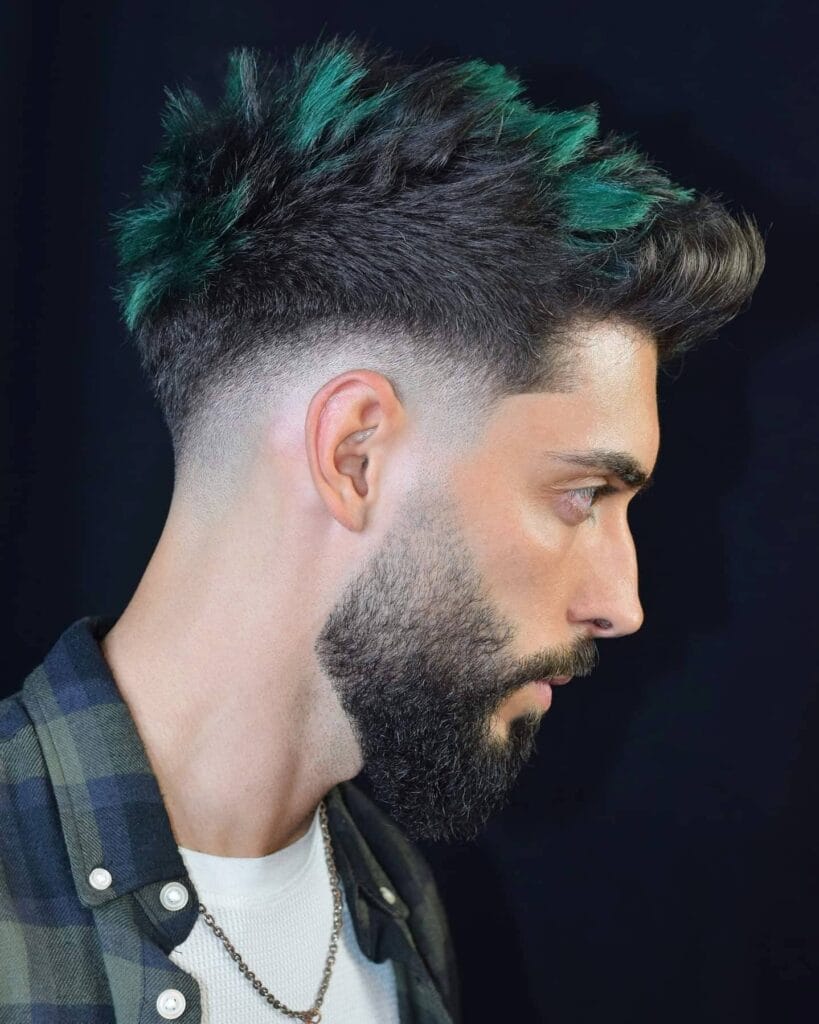 High Drop Fade
A drop high fade is a variation of the regular drop fade haircut. As the name suggests, the drop high fade is cut at a higher point than the regular drop fade, which gives it a more pronounced look.
The drop high fade can be cut to any length but is usually kept relatively short. If you're looking for a stylish and versatile haircut, then the drop-high fade is definitely worth considering.
It's a great way to add personality to your look and can be adapted to suit any hair texture or face shape.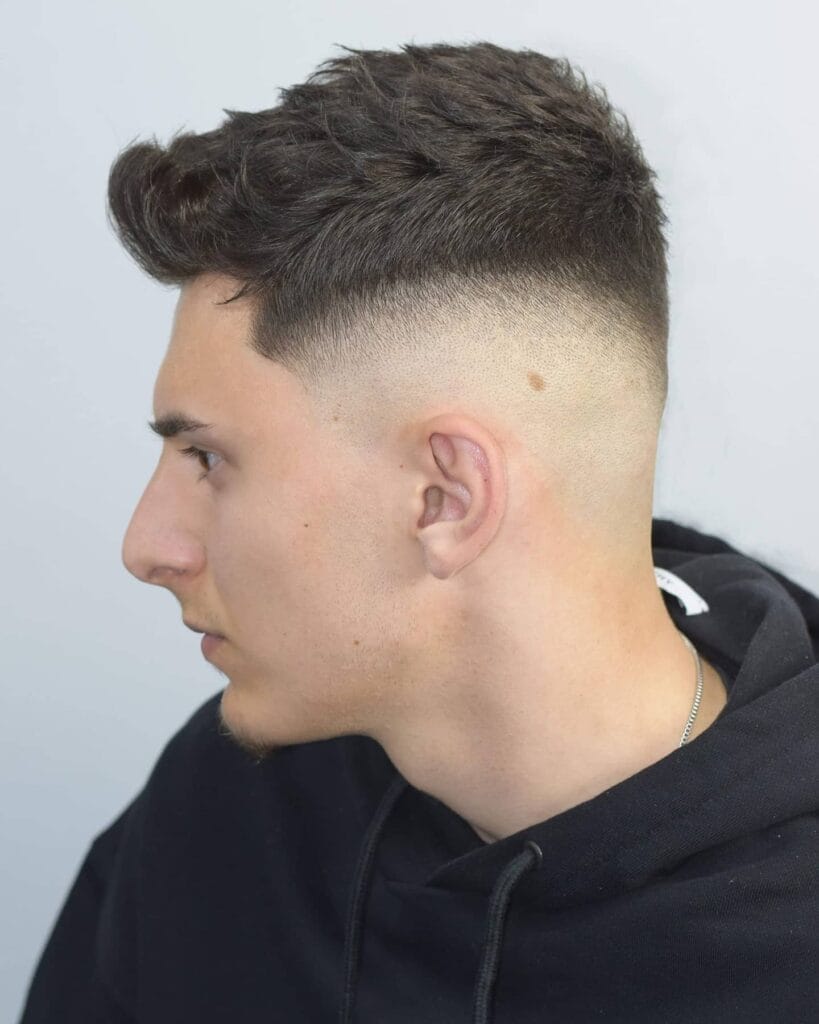 Drop Fade with Waves
Just like the ocean, which can be calm and serene or wild and untamed, hair styling is filled with many possibilities. But one look that always seems to turn heads is the drop with the waves.
This style combines the two hottest hair trends – the drop cut fade and beach waves. The result is a sexy, elegant look that can turn heads.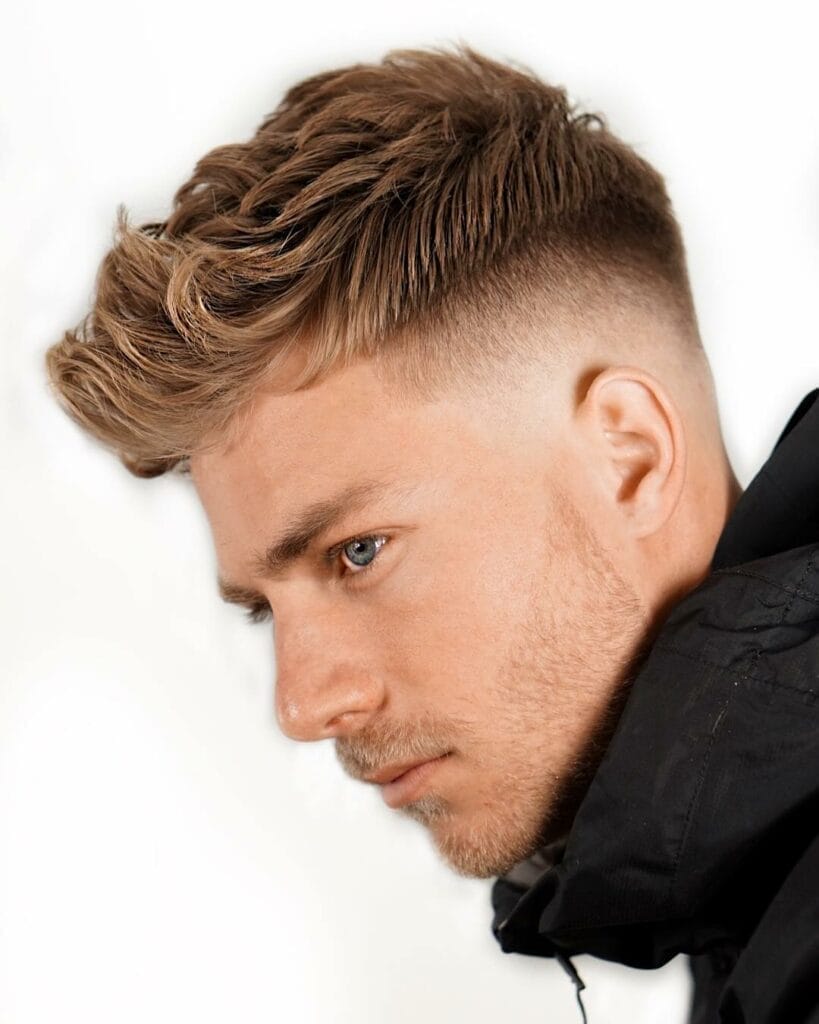 Drop Fade Wavy Hair
A drop fade hairstyle is perfect for taming your wild wavy locks. This type of fade starts high on the sides and back and gradually gets lower as it goes down. The end result is a polished, put-together look that's both edgy and stylish.
A drop is a great choice if you're looking for something different from the typical fades you see everywhere. With its unique styling, a drop fade can help you stand out from the crowd. Plus, it's a versatile look that can be worn both formally and informally.
No matter what your style may be, a drop design fade is definitely worth considering.
Long Hair Drop Fade
Men with long hair can be so handsome to attract the attention of the masses. However, long hair can cost them tooth and nail to maintain.
Try a drop fade haircut if you want to keep your locks without all the hassle. This style is effortless but will upscale your appearance while reducing maintenance costs.
Once you have the length you need, it's time to start fading your sides and back.
A good barber will be able to give you a low fade that still looks natural and doesn't leave your head looking too "empty." The final touch is to style your long hair into a cool quiff or man-bun – it's up to you!
Drop Fade Straight Hair
Dropping a fade is one of the most popular ways to wear straight hair. This is because it gives the hair a nice clean look that can be achieved without having to use any products.
With a drop fade, you can achieve a contrasty, pronounced look without relying on any special styling techniques.
This also means that your hair will not get oily fast, which is always a plus. To achieve this look, simply take a small section of hair from the front and sides of your head and drop it down so that it covers your ears.
Then, use a straightening iron to smooth out the remaining bumps.
You'll need to style the top of your head to your taste. So, you can switch between a messy or slicked-back look depending on your mood.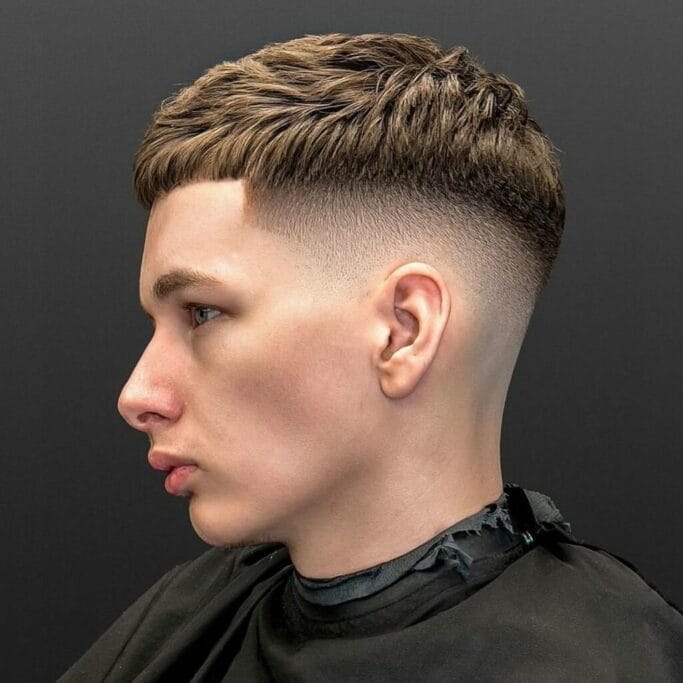 The Spiky Top
There are many hairstyles that men can choose from these days. One popular option is the spiky top with a drop-shaped fade. This look is achieved by shaving the sides of the head down to a very low level and then leaving longer hair on top.
The longer hair on top is then spiked up, and a fade is created by gradually increasing the length of the hair from the bottom up.
Adding a quaff to short haircuts for guys can make them more versatile. With a slick back quiff, you can easily switch up your style by transforming it into a spiky look. Just grab a small amount of your favorite hair styling product and use your fingers to work it through the top of your hair.
Make sure you start at the back and move toward the front while styling the edges with your fingers for a textured, messy finish. Such a spiky top haircut pairs perfectly well with a mid skin fade.
Crop Top Drop Fade
The Drop Crop Top is a hairstyle that is perfect for those who want to show off their neck and shoulders. This style is achieved by cutting the hair short on the back and sides while leaving the top longer.
The top can then be styled into a variety of looks, from sleek and straight to tousled and messy hair. To add even more interest to this look, ask your stylist for a drop cut fade, which will create a gradient effect as the hair gets shorter near the nape of the neck.
Skin drop fade haircut
The drop skin fade haircut is a clean and trendy look that can be achieved with any length of hair. This fade style is achieved by shaving the hair down to the skin at the sides and back while leaving it longer on top. The result is a clean-cut look that is perfect for any occasion.
The Quiff
Do you want to achieve a refined, professional look? Combine a quiff with a low skin fade on the sides and a drop fade on the back for a captivating look. You'll simply need to brush your hair back to allow the creation of volume at the front for a stylish and sophisticated appearance.
Typically, this haircut does not include an undercut, so you are confident it will maintain a neat and polished look.
Whether you wear it to work or simply your preference, this haircut will definitely turn heads.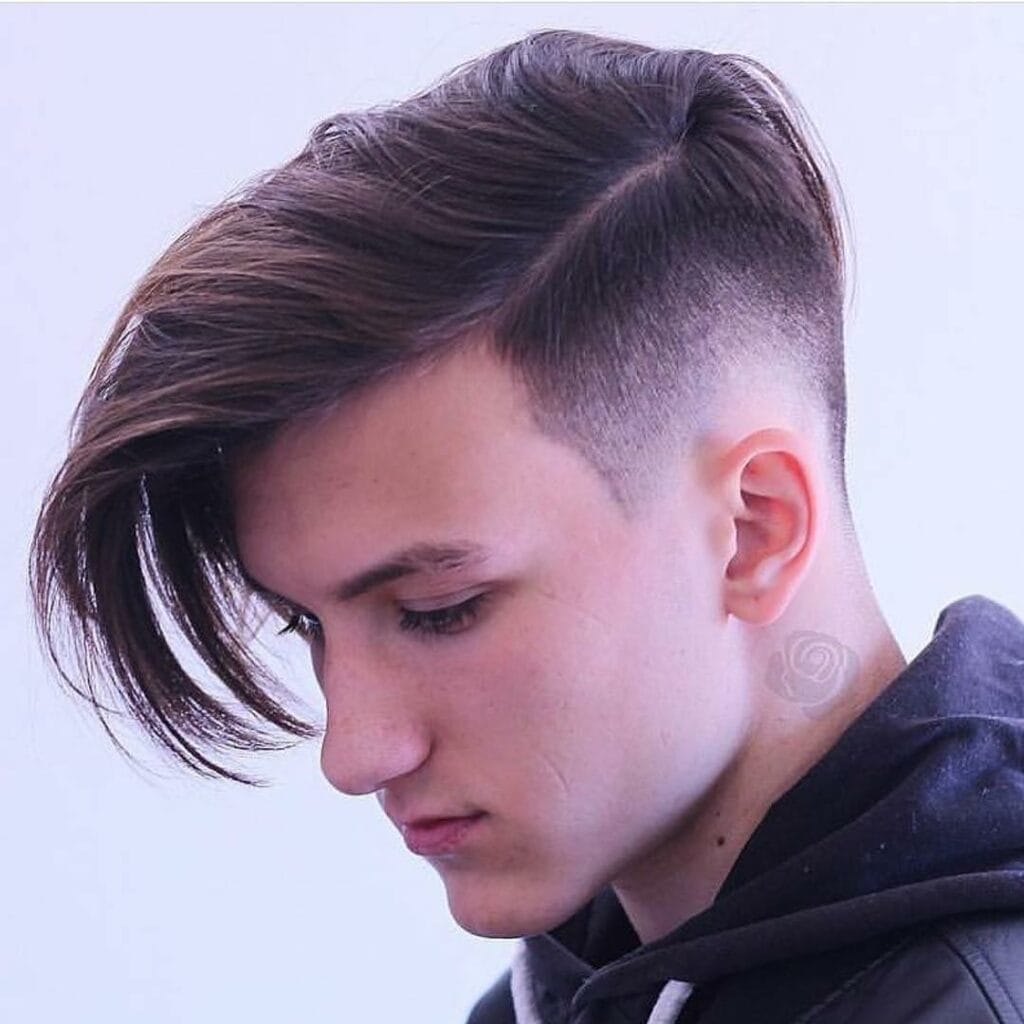 Short Hair Drop Fade
A drop cut is a great option for those who like to keep their hair short. This style features short hair on the sides and back but gradually gets longer toward the top. The result is a stylish and clean look that can be customized to suit your needs.
Drop Fade For Black Men
One of the most popular hairstyles for black men is the drop style fade. The fade gets its name from the way it is cut – the hair gradually fades from a longer length at the top to a shorter length at the bottom, creating a "dropped" effect.
This style can be worn with any type of hair, but it looks particularly good with curly or Afro-textured hair.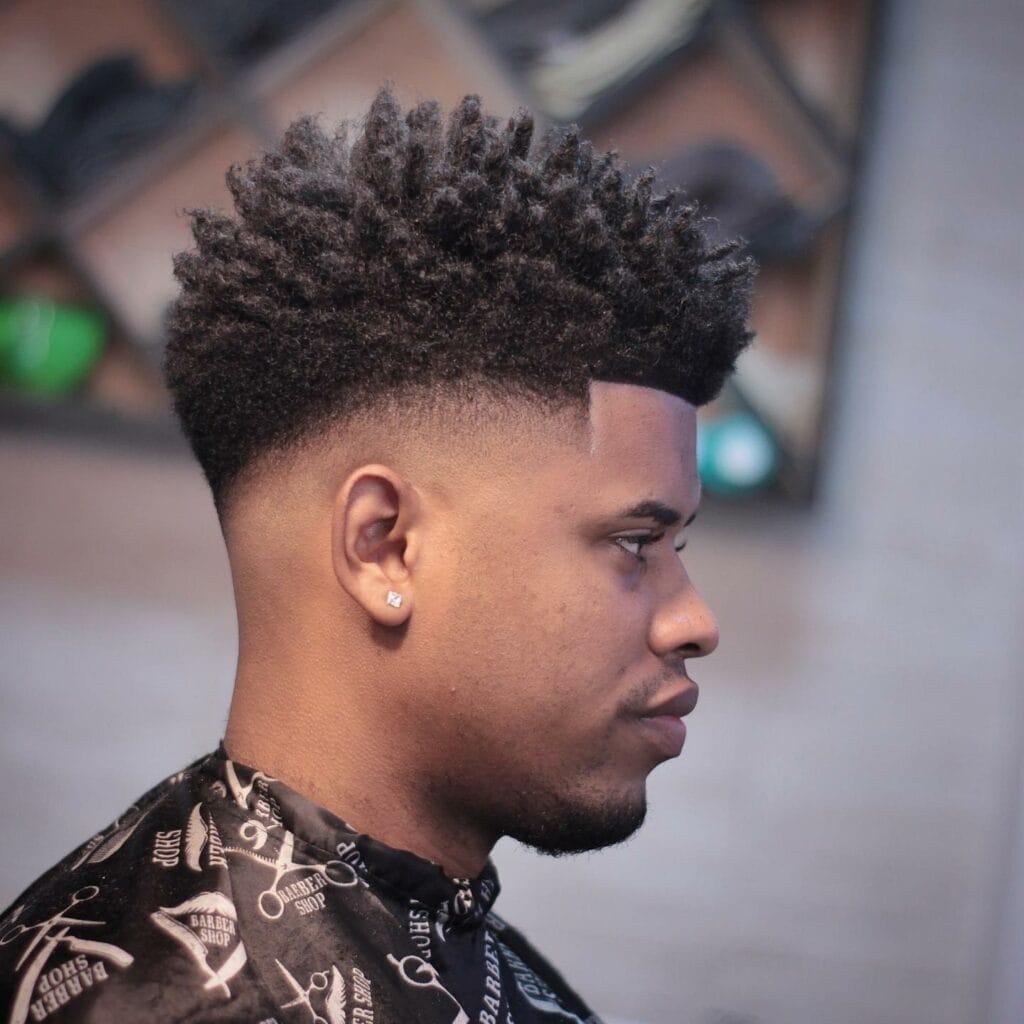 Drop Fade Fohawk
The drop faux hawk is a trending hairstyle for men. It's a variation of the classic mohawk but with a low fade on the sides. The effect is a stylish and modern look that can be tailored to every man's individual taste.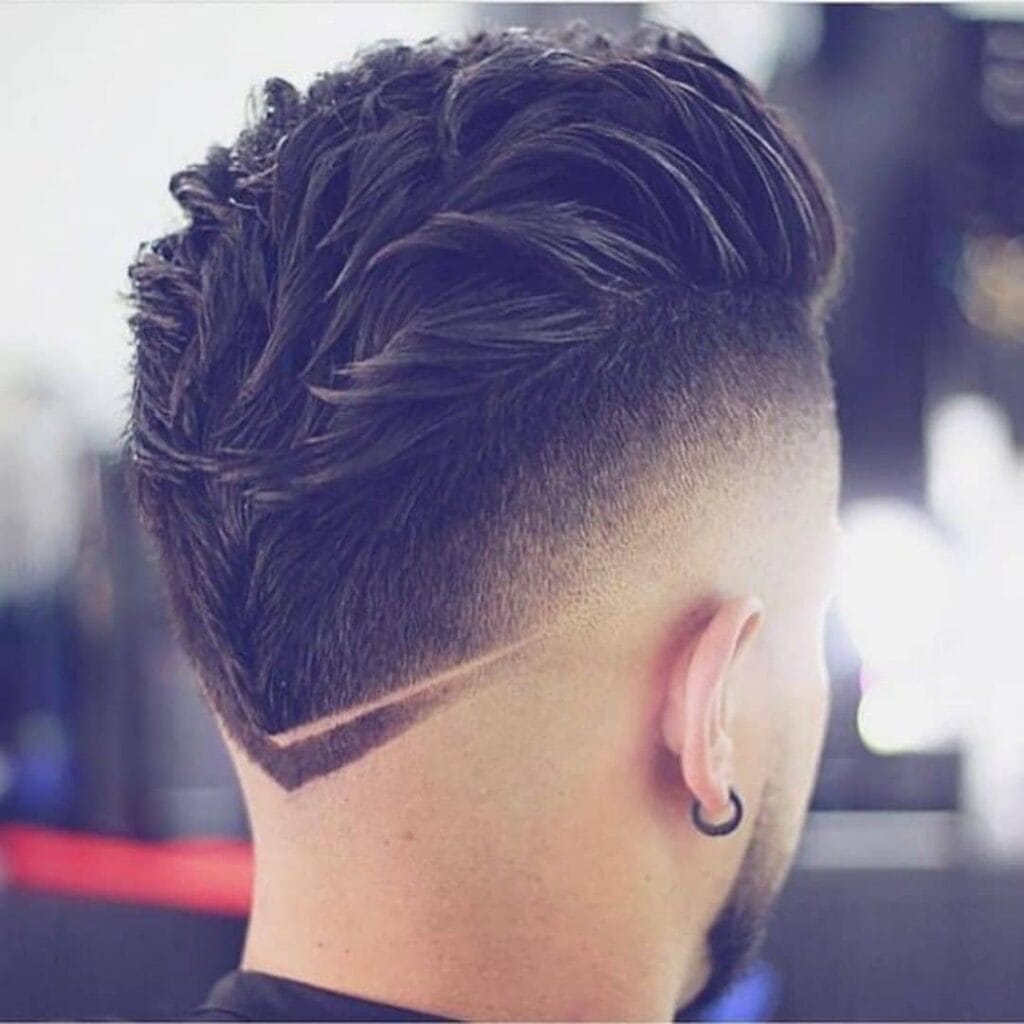 Drop Fade With Disconnected Undercutting
If you're looking for a stylish and contemporary hairstyle, then the drop fade with a disconnected undercut is definitely worth considering. It's an excellent option for guys who want something different from the usual fades but want to stand out from the crowd.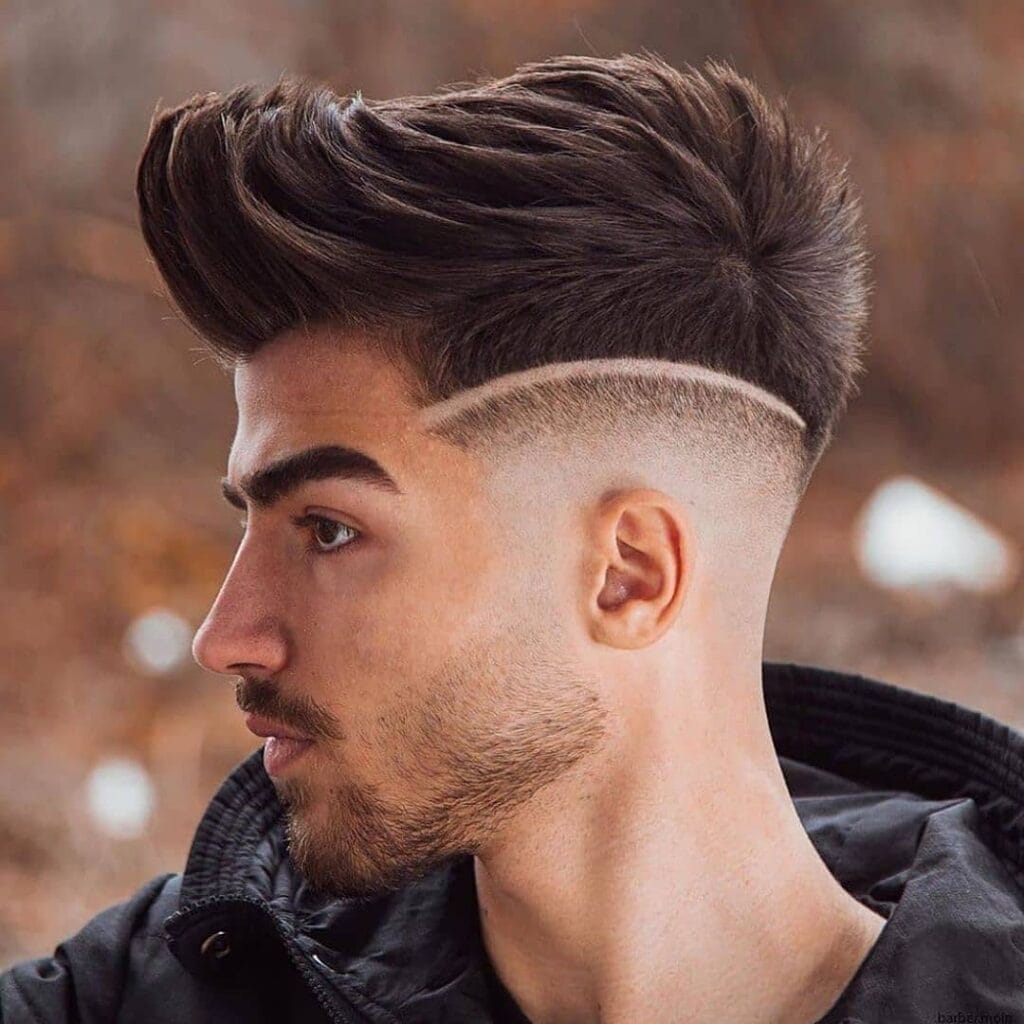 Undercut
The drop fade haircut with an undercut is a trendy and stylish look that can be achieved with different lengths of hair. This haircut features short hair in the back that gradually gets longer towards the front, creating a clean, polished look perfect for every occasion.
Drop Fade Dreads
If you're considering rocking drop dreads, it's crucial to find a skilled stylist who can give you a look you want.
You'll also need to maintain your dreads with regular washing and upkeep. And finally, be prepared for some stares and comments from people who don't understand your unique style!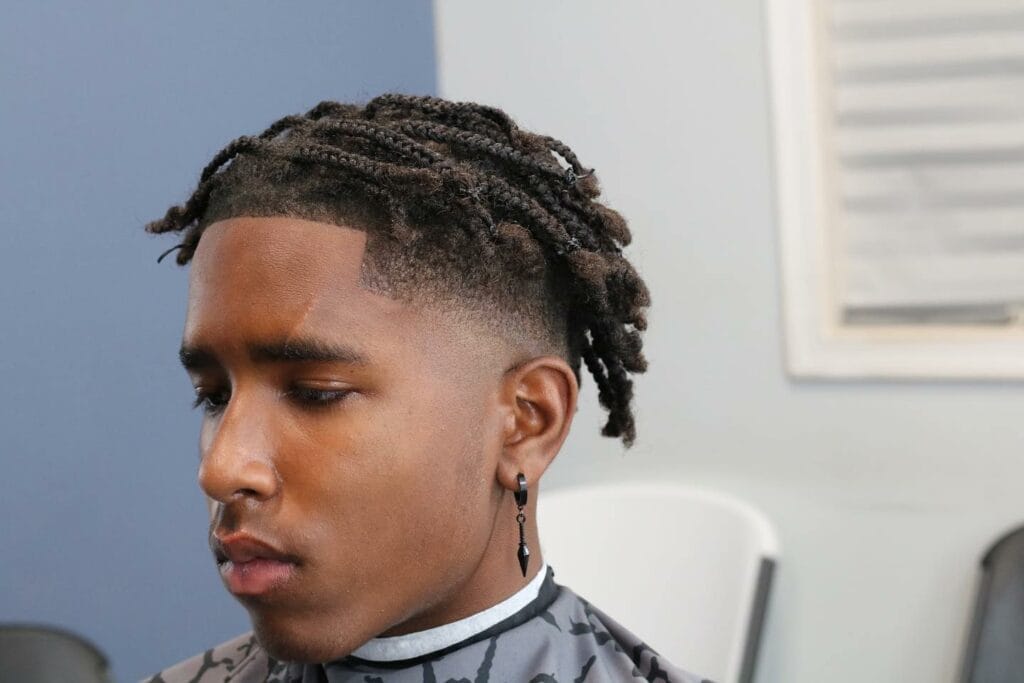 Regular Drop Fade
The regular drop style is the most common type of fade. It is characterized by a clean, sharp side part line that runs from the top of the head down to the neckline. This style can be paired with different types of hair, including short cuts and long manes.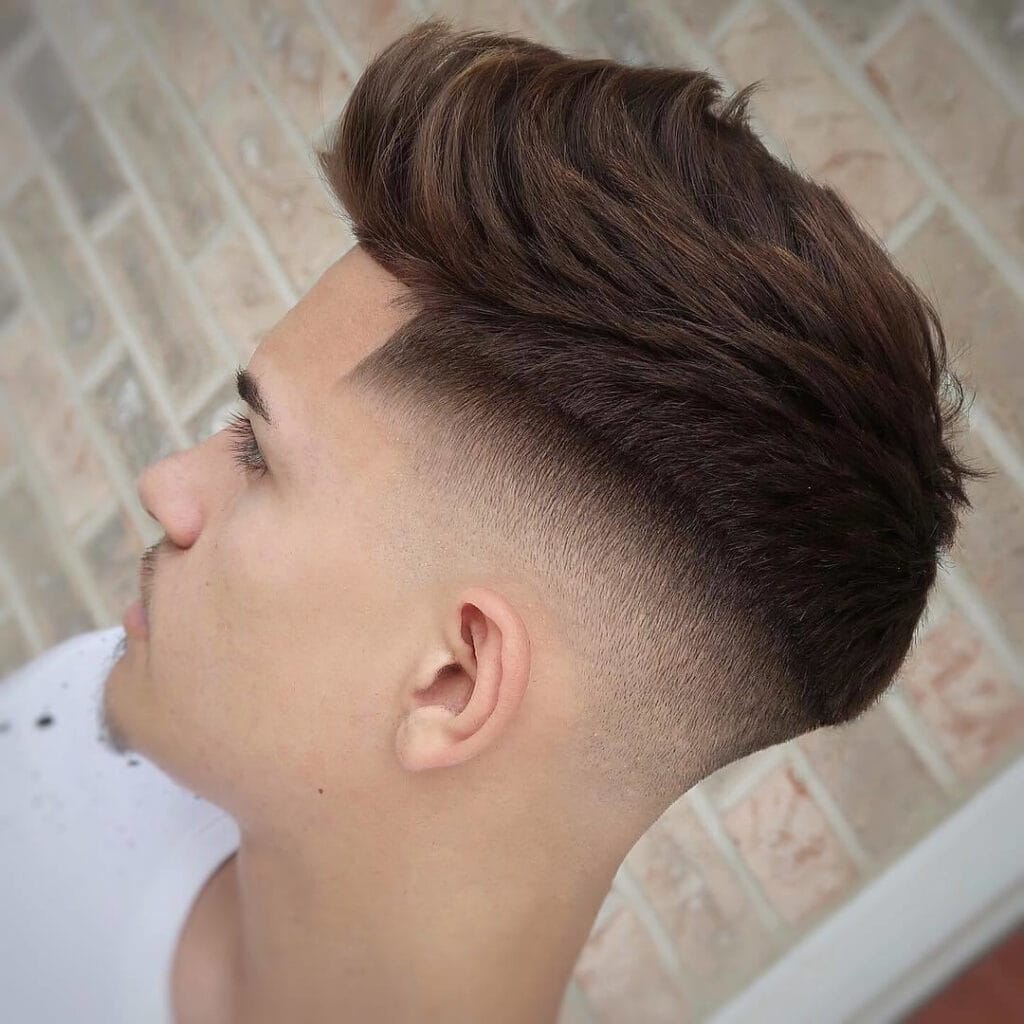 Twisted Drop Fade
The twisted drop cut is a more creative take on the regular style. This type of fade features a twist in the line running from the top of the head to the neckline. The twist adds visual flair to an otherwise simple hairstyle.
Freeform Dreads Drop Fade
The freeform drop dreads hairstyle is a one-of-a-kind look that combines dreadlocks and fades. This style features long, flowing dreadlocks at the top that gradually get shorter toward the back of your neck, creating a dynamic and eye-catching effect.
The result is a stylish and modern hairstyle that looks great and exquisite.
Conclusion
We hope the drop fade hairstyles we have covered so far have helped you decide which style best suits you. So, if you are looking to elevate your haircut to the next level, consider trying a drop fade, and you'll surely add a touch of flair to your look.
Go ahead and give one of these amazing drop haircuts a try today!
FAQs
How Do You Maintain A Drop Fade?
Here are some tips to Maintain a Drop Fade:
Keeping the area near your drop fade clean is important. Avoid using products that can build up on your hair or scalp. If you must use a product, be sure to shampoo thoroughly and often.
Trim your hair every four to six weeks to maintain the shape of your drop fade. Lastly, keep in mind that drop fades need a bit of care and attention. Consult with your stylist about the best way to care for your particular hairstyle.
What is the best way to get a drop fade haircut?
Get an experienced barber to style your hair appropriately. Talk to them about how you'll want your hairstyle to look beforehand to avoid mistakes while doing the styling.
Who does a drop fade suit?
Generally, faded hairstyles are characterized by their shorter length on the sides, making them an excellent choice for persons with rounder or wider face shapes. Adding height on top, like with a pompadour, can help balance out the dimensions of your face for an overall flattering look.
References
I fade Thomorino's picks every day and make a healthy profit. source
A fade or Jersey is a hairstyle. In a fade, a barber cuts the hairs at the back of the neck and sides of the head short and there is longer hair on the top of the head. source
Khamis Maiouf is a professional barber who graduated from Hinckley College in England with a degree in hairdressing. He has also won several barbering contests and successfully operated a barbershop for the last two decades. As a skilled hair stylist for 20 years, his goal is to teach others how to achieve a beautiful appearance through their hairstyles.