Discover 57 Short Haircuts for Men That Will Turn Heads!
If you are looking for new hairstyles, there is something to smile about.
I have made finding the best short hairstyle easy for you by compiling a list of 57 short hairstyles for men that are trendy and stylish. Whether you love hairstyles that are easy to maintain or complex ones, we've got you covered.
Go through this article to get the right haircut that will turn heads.
Sexy Short Buzz Cut
The back and sides of the head should have very short hair, and the size should increase as you near the crown.
You should use one or two clipper blade sizes for this style. This style is suitable for official functions and will make you look sharp and neat.
Trendy Short Crew Cut
If you have a diamond face, then get this haircut. You need to cut your hair on the sides and the back and leave some hair at the top with a tapered side.
You can also have a low, mid, or high skin fade to give you a bold look.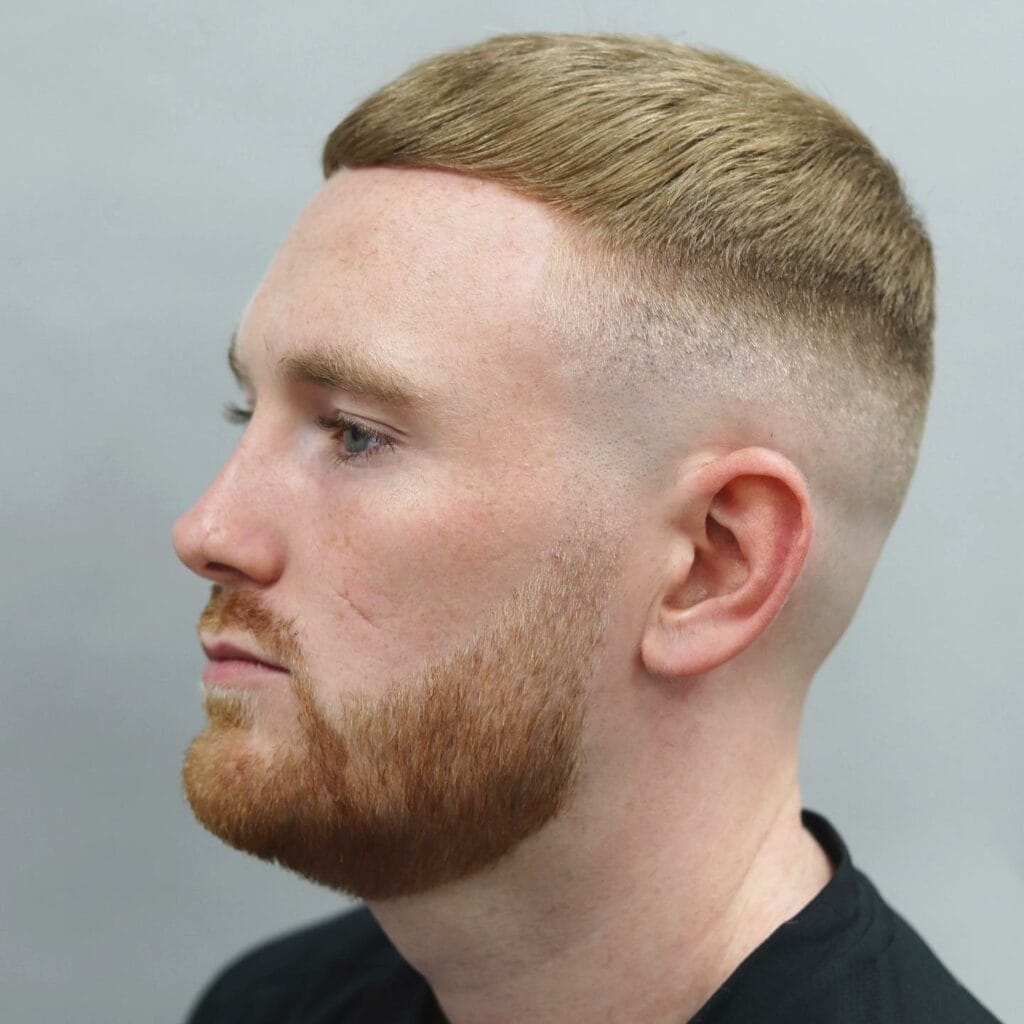 Spiky Short Hair
With this style, you can shave the sides and the back of your head, leaving long hair at the top.
Next, you can trim your hair the whole of your head and leave some hair that can be spiked. Then, spike your hair with the help of spiking products as you desire to give yourself that manly bold look.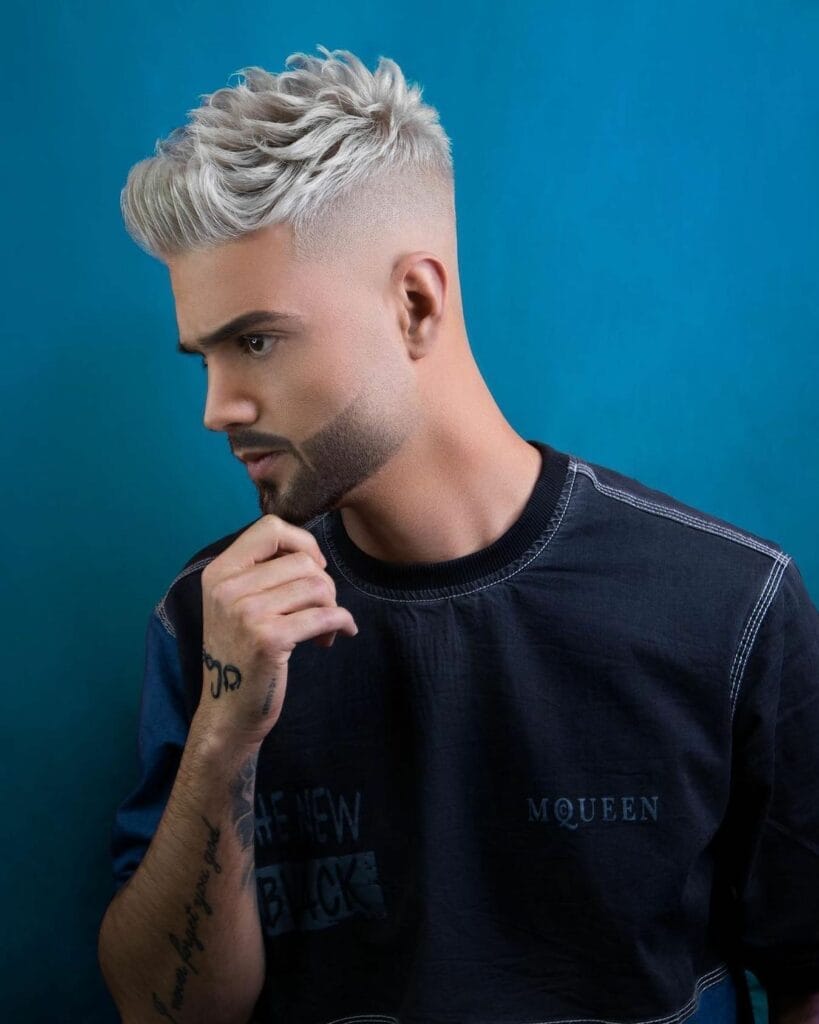 Side Part
You can put a side part on short or medium hair where you put a separating line at the side of your head.
It's one of the trendy hairstyles that will make you look confident.
Additionally, the side part adds a touch of sophistication to the haircut, making it suitable for formal and professional settings.
It's also a great way to add volume and texture to your hair, making it appear thicker and fuller.
Stunning Fade Haircuts For Men
If you want a dramatic yet stunning look, try a fade haircut. Start cutting your hair from the sides and back.
It should be low and close to the skin and increase the size of the hair at the top.
Short Haircuts For Boys
Boys, too, have various short haircuts they can try.
If you want your son to look unique and bold, have his short hair styled, short sides, long band, disconnected spiky, almost middle spiky, medium and layered, taper fade, etc.
These hairstyles are simple to maintain.
Short Haircuts For Men With Beards
Do you have a nice beard?
Then, you must complement it with a nice short haircut to achieve an attractive and manly look.
Some good styles with your beard are buzz, skin fade, undercut, slicked back, short textured quaff, comb over, etc.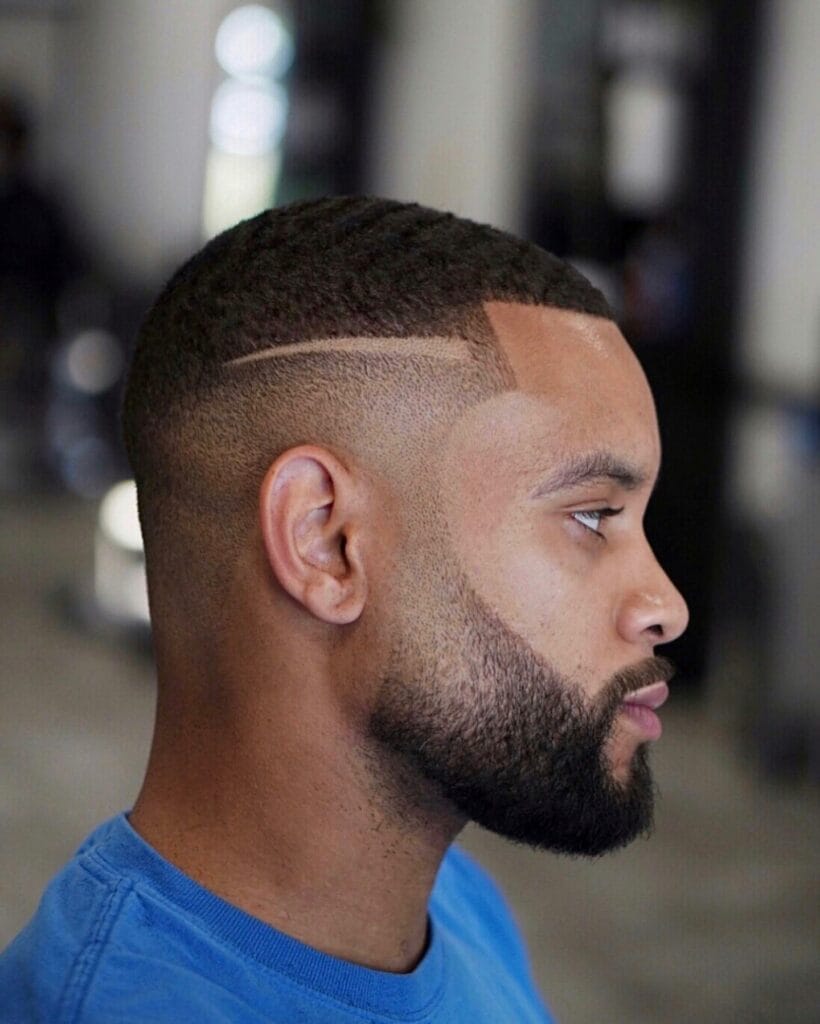 Side-Swept
Brush your hair towards one side of the head. Even though you want your head short, you should leave the size you can comp to get a unique haircut.
Side-swept hairstyles are a popular choice among men who want a short haircut with a bit of personality. By brushing your hair towards one side, you can create a sleek and modern look that is perfect for both formal and casual occasions.
Side Swept Undercut
It includes undercut sides with longer hair at the top, where the hair is combed towards one side. It's one of the bold modern hairstyles you can embrace.
It's a great choice for men who want a trendy, edgy look while still maintaining a professional appearance.
The side-swept feature adds a touch of elegance and sophistication to the overall style.
Side Part Fade
The hairstyle combines a side part and a fade on the sides and behind. The hair at the top is longer than the rest of the head. If you love looking fashionable, this style is here for you.
Short And Spiky
You will achieve a short and spiky hairstyle with the help of a hair spray.
Cut the hair to the shortness you want and apply the spray.
You should ensure the hair is long enough to ensure the spray won't get in contact with your skin. It's a trendy hairstyle for confident guys like you.
Undercut
Cut short the hair on the sides and behind, and leave some long hair at the top longer.
This hairstyle will show your handsome face to the world. The undercut is a popular choice among men for its edgy and modern look. It allows for a contrast between short and long hair, creating a unique and stylish appearance.
With this hairstyle, you can easily switch between a sleek and polished look or a more textured and messy style depending on your preference.
It's a great way to add some personality to your look and stand out from the crowd.
Short And Messy
The hair usually doesn't look decently styled. Short messy haircuts are easy to do and will take you a short time.
Besides, many women find men with unkempt hair more attractive. So this can earn you love.
Short And Neat
So you are that guy who loves a cool look?
This hairstyle will fit your personality. You just have to cut your hair cut short and style them neatly. It's an excellent official style.
Pompadour
There are different pompadour hairstyles. But a general pompadour involves cutting or trimming hair on the sides and back and leaving long hair at the top.
This is a bold hairstyle you can wear.
It is perfect for men who want to make a statement and stand out in a crowd. The pompadour can also be tailored to suit your face shape and personal style, making it a versatile option for any man.
Whether you want a classic, vintage look or a modern, edgy style, the pompadour can be customized to fit your needs.
Short And Textured
If your hair is thick and you want to tone down its volume or add shape, you will need to apply some products to make it textured.
That will make it easy to style.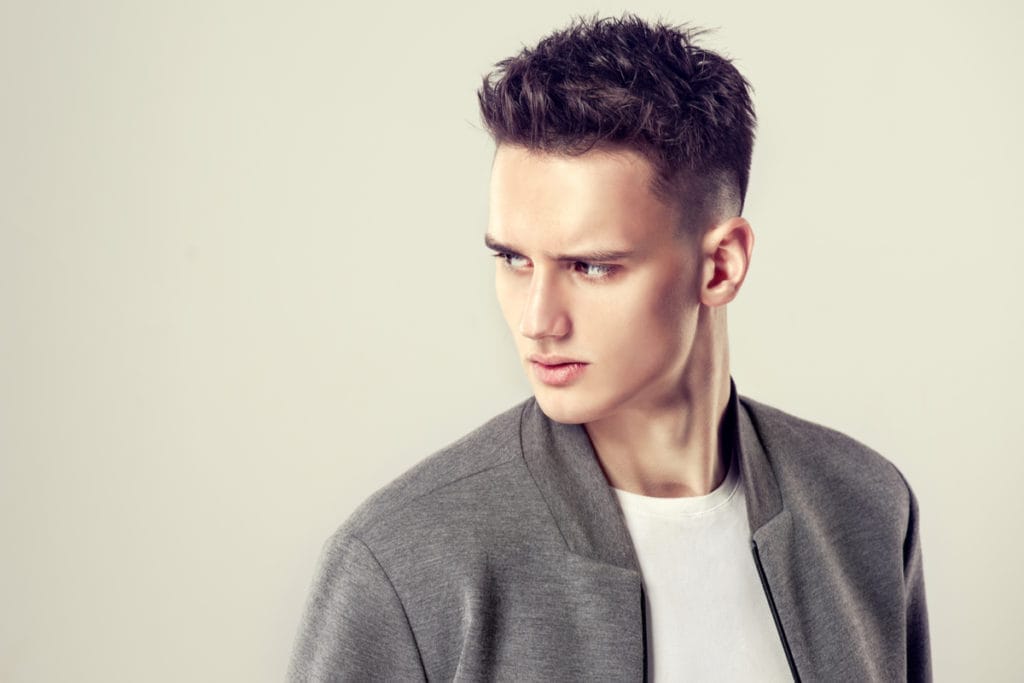 Slicked Back
Apply some products on your hair and comp it straight back. Avoid combing from the root, but rather do it from the end. The result is a neat and presentable look for you. This look is perfect for formal occasions or a night out on the town.
It adds a touch of sophistication and gives off a polished, put-together appearance. It's also a great way to show off your facial features and accentuate your hairstyle.
So, if you're looking for a sleek and sophisticated look, give the slicked-back hairstyle a try.
Short And Sleek
Using some hair products, you can make your short hair look shiny, smooth, and healthy. Have a unique hairstyle that will make you feel authoritative.
Additionally, short and sleek haircuts are perfect for men who want a low-maintenance, professional look. They are ideal for men who are busy and don't have the time to spend on styling their hair every day.
Whether you're going to a business meeting, a formal event or just running errands, a short and sleek haircut will make you look put-together and polished.
Caesar Cut
It features short hair with horizontally straight-cut bangs; you should layer it 2 – 5cm. It works with different hair types, curvy, straight, thick, or thin. You will style your hair easily and with little time to achieve that cute look.
Short And Natural
You can style your natural hair with or without chemicals.
Some of the short and natural haircuts are Bantu knots, faux-Hawk, simple side part, flat twists, finger waves, etc. short and natural haircut shows your confidence, and they are easy to style with no cost.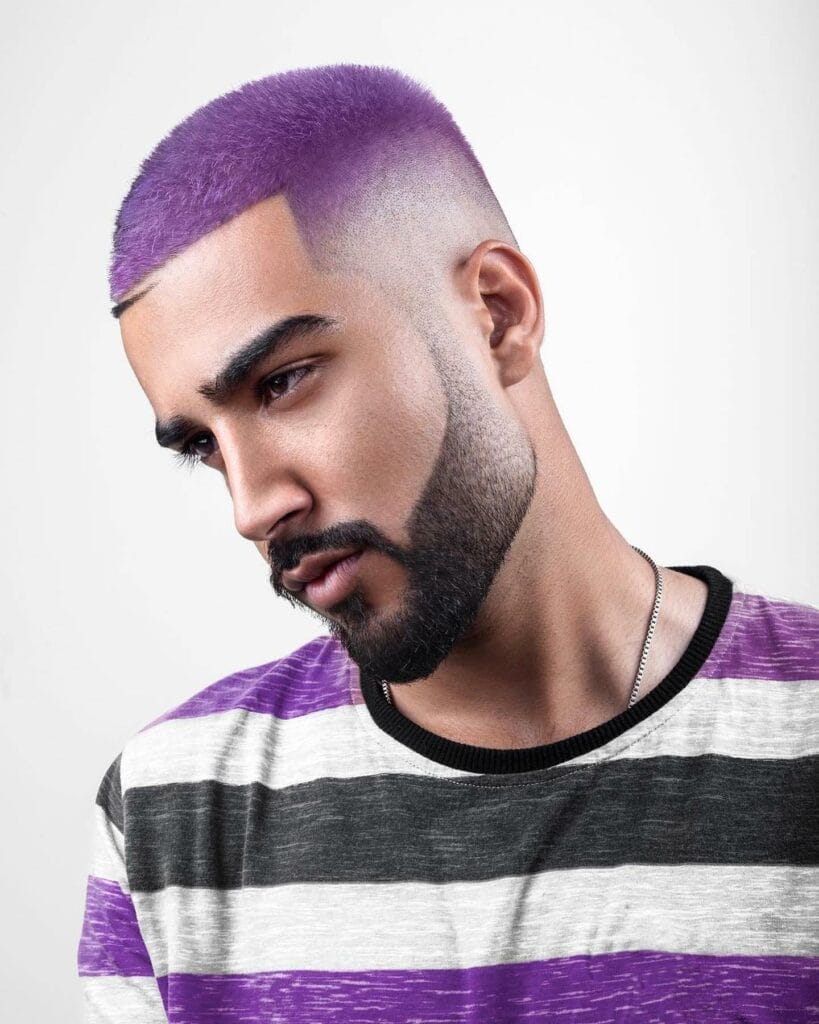 Short And Wavy
To achieve wavy hair, you just need to make your hair damp, apply curl cream, and finish with a styling product.
Then, make the waves you want and blow dry them. You will have an amazing attractive look.
Combed Over
Trim or shave the hair on the sides and leave some hair at the top with a good length.
Comb your hair towards one side. This unique hairstyle will make heads turn to look at you.
Short And Tousled
Do you want to go on that night out looking confident and gorgeous? A short and tousled hairstyle will sort you out. That undone messy hair is the perfect hairstyle for that night out.
French Crop
The haircut resembles Caesar with an undercut or a taper fade. It's simple to make this hairstyle to give you a cool look.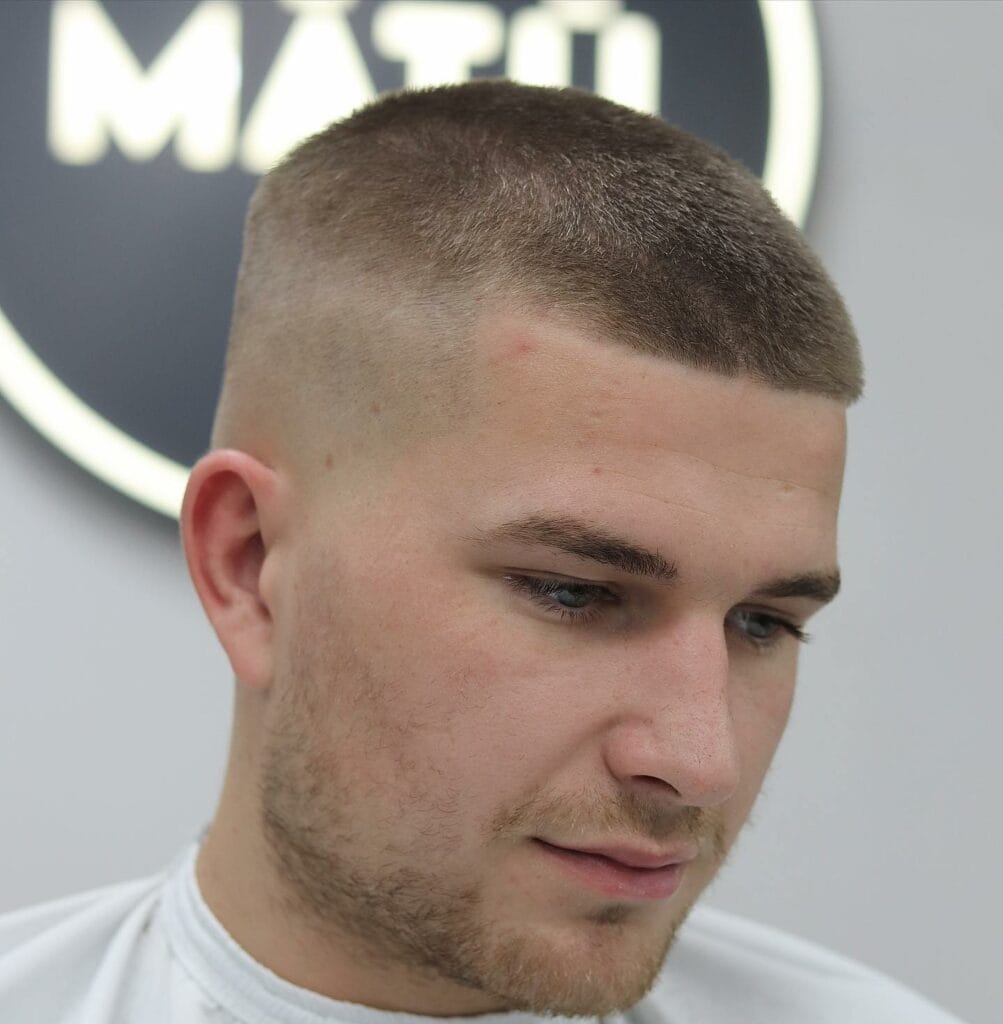 Brushed Back
This haircut is as simple as it sounds. You just cut your hair short, apply some styling products and brush it back. It gives you a relaxed and stylish look.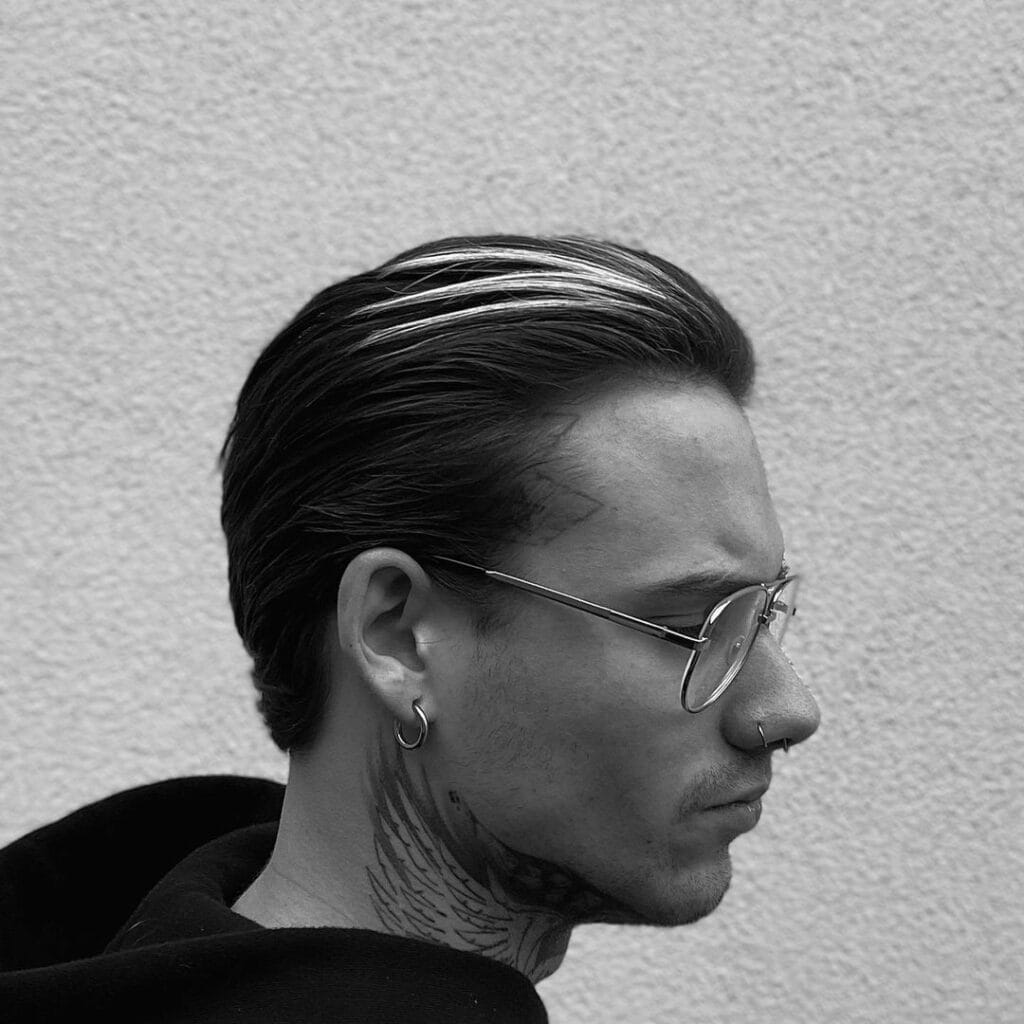 Short And Thick
Some short and thick hairstyles you can wear are short quaff, buzz, side part, French crop top, etc. These are simple styles that will make you attractive and confident.
Short And Thin
If you have thin hair, you can still look stylish with these hairstyles, pompadour with undercut, afro high faded bushy top, irregular spiky textured hair, natural taper, wavy top, etc.
All these hairstyles will make you the most attractive man of all.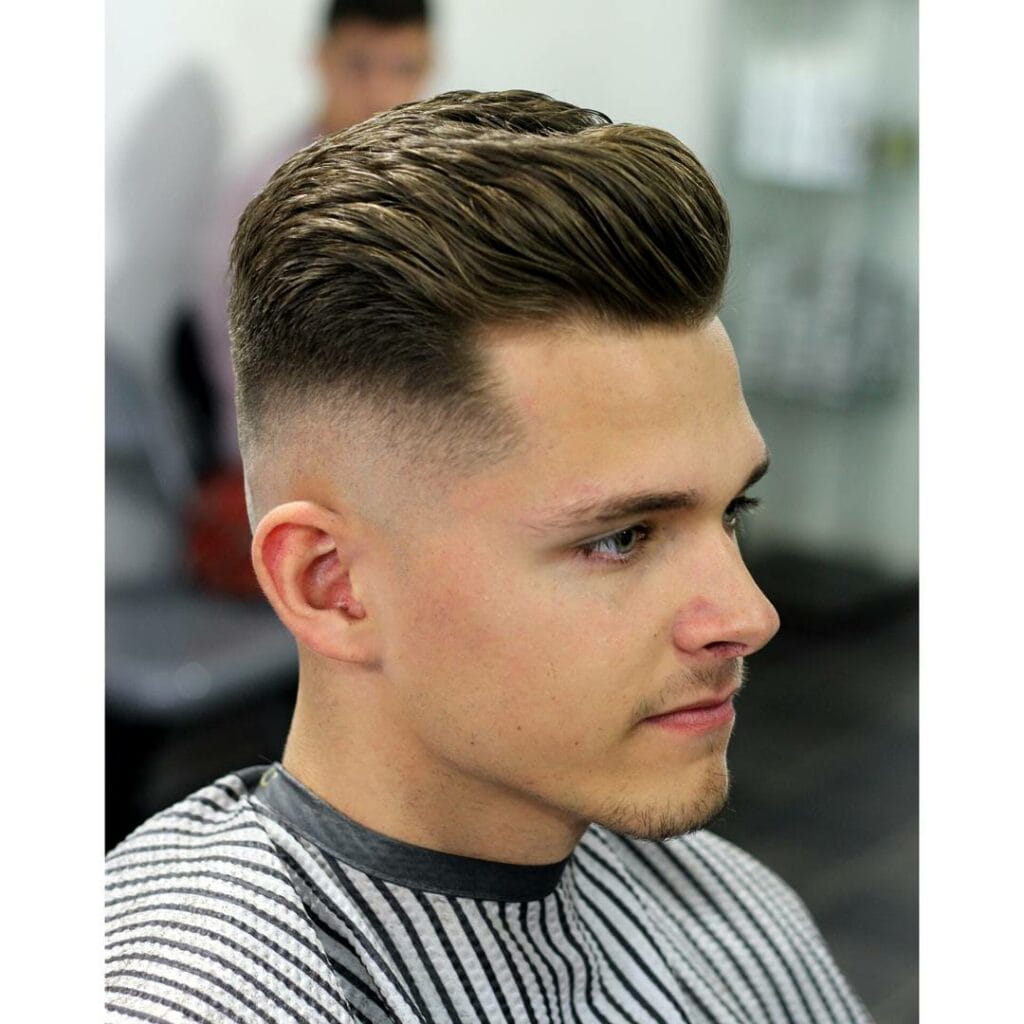 Short And Fine
Fine hair can give you many attractive hairstyles. The good this about stylish fine short hair is the simplicity of the styles.
Such hairstyles include buzz cut, comb-over, slicked back with waves, sleek side part, a pompadour, textured crop, etc.
Choppy
This hairstyle involves cutting the hair asymmetrical, layered portions to create a blunt, edgy texture. You should try this hairdo if you want that bold look.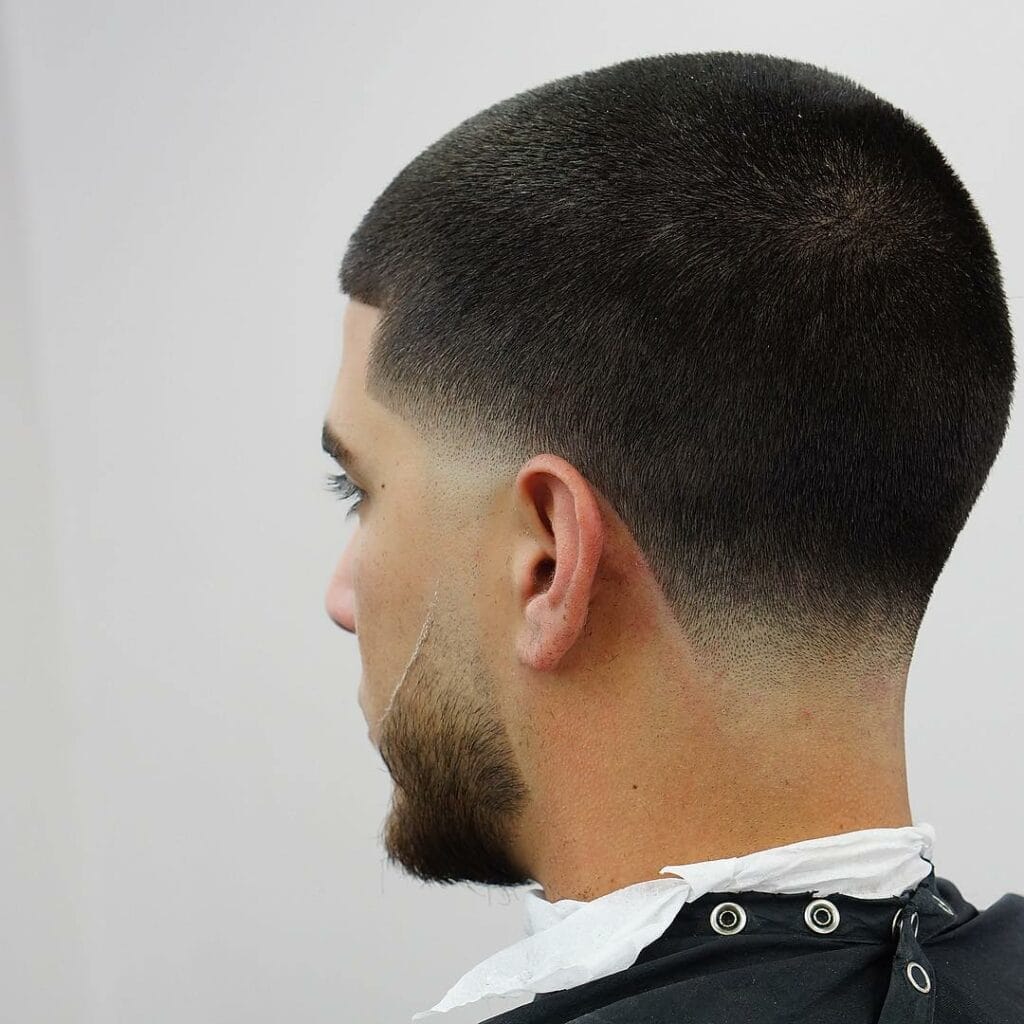 Short And Layered
Layered hair is cut in different lengths. If you want to create layers to your hair, simply tie a bun or pin the bottom strands if your hair is short and use a styling spray.
You can make different layers. Having this haircut will make you confident.
Textured Crop
The crop hairstyle can be worn in different ways, and it consists of textured hair paired with a fade on the back and sides and can also have a blunt fridge.
It's a stylish style that will make you admirable.
Short And Disconnected
Hair is cut unevenly on the sides, back, and top. It's one of the stylish hairstyles of this decade.
This is the hair you can wear and feel the confidence you have never felt before.
Taper Fade
You can decide to have a lower or an upper taper fade. It changes your hair length, which starts longer at the top and shorter down the natural hairline.
It works on the nape, neck, and sides of your head. This style will make you the talk of the town because of how attractive you will be.
Short And Burst Fade
In some styles, the hair is shaved or trimmed on the sides, leaving hair at the top, while in others, the hair runs from the forehead down to the back.
The hair is usually tapered around the ear and the back. It's a good style for a bold look.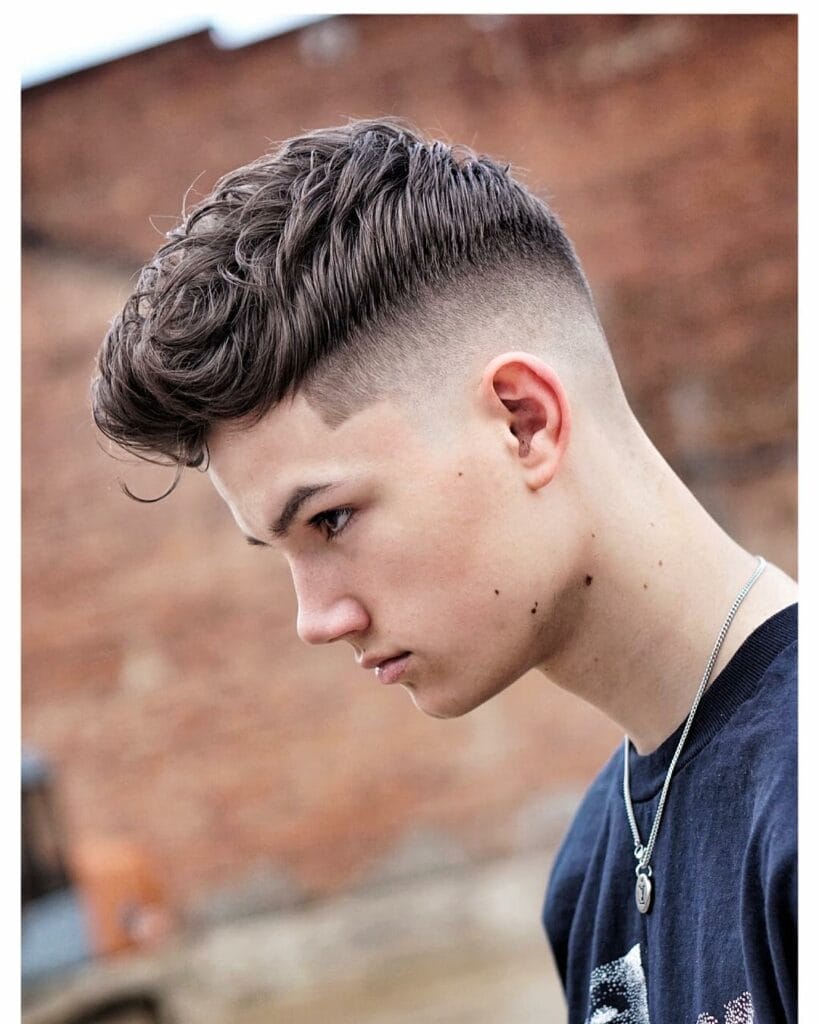 Short And Skin Fade
If you are looking for a clean and stylish look, a skin fade will do that for you.
In addition, you will get a haircut that starts from the top down, back of the neck up, and the length decreases as you go down.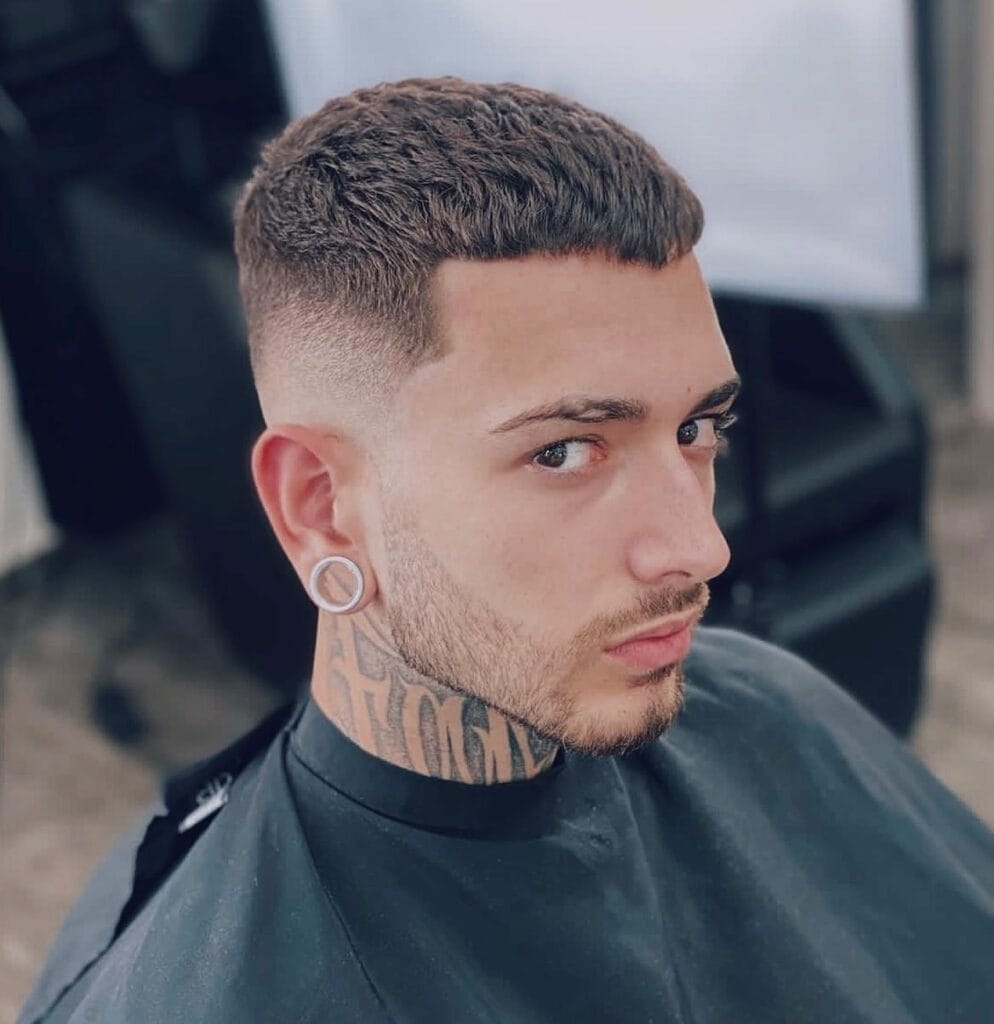 Short And Bald Fade
This hairstyle features shorter hair at the back and sides and longer at the top. The shorter hair is normally cut down to the skin. It's one of the bold hairstyles you need to try.
High Fade
With this haircut, shorter hair on the sides starts at the temples or forehead.
The hair is short on the sides and back but more extended at the top. You should do this haircut if you want to look cool.
Short And Low Fade
The hair is cut low from the sides and increases in length towards the forehead. This haircut will give you a classic and elegant look.
The low fade also adds a modern touch to the classic short haircut, making it a popular choice among men.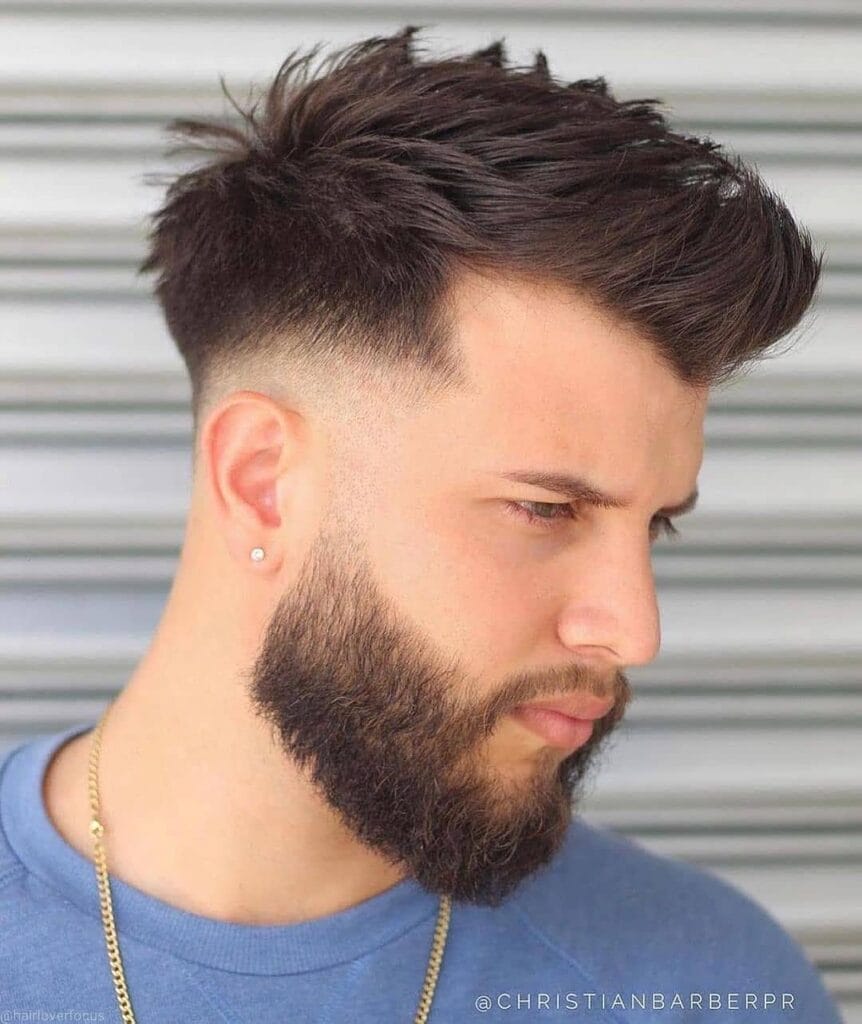 Short And Temp Fade
You can fade between bald to guard size of 0.5 and do the hair on the sides the size you want. Combining this look with sideburns will leave heads turning. It's a fantastic haircut that will make you look elegant.
Hard Part
Here, you will cut the hair in two different lengths and shave a line on the side to separate the two hair lengths. This is one way to look unique and fashionable within a short period.
Short And Razor Part
You can set your short hair how you want and incorporate a clean line on the side down the scalp. It gives you a uniquely modern look that no other haircut will.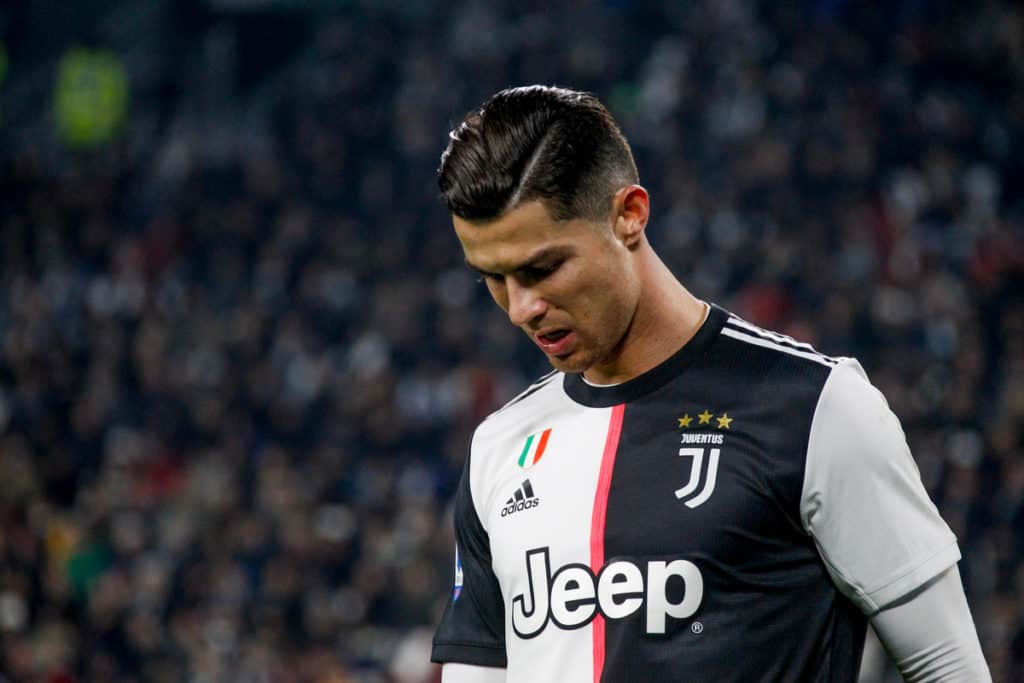 Beard Fade
It's time to make your beard look nice and admirable with a fade. First, trim the beard an inch above the jawline and increase the size as you go down the beard.
Short And Drop Fade
If you want a short and edgy look on the sides and back that will make you more confident, go for this hairstyle. It fits all types of heads and hair since the hair is cut from behind the ear following the shape of the head.
Box Fade
The hair is shaved on the sides and back of the head, with the hair above the parietal ridge cut in a sloping rectangular shape taking corners of the head.
It's a unique and bold style that you can love trying. It's also one of the simplest short hairstyles.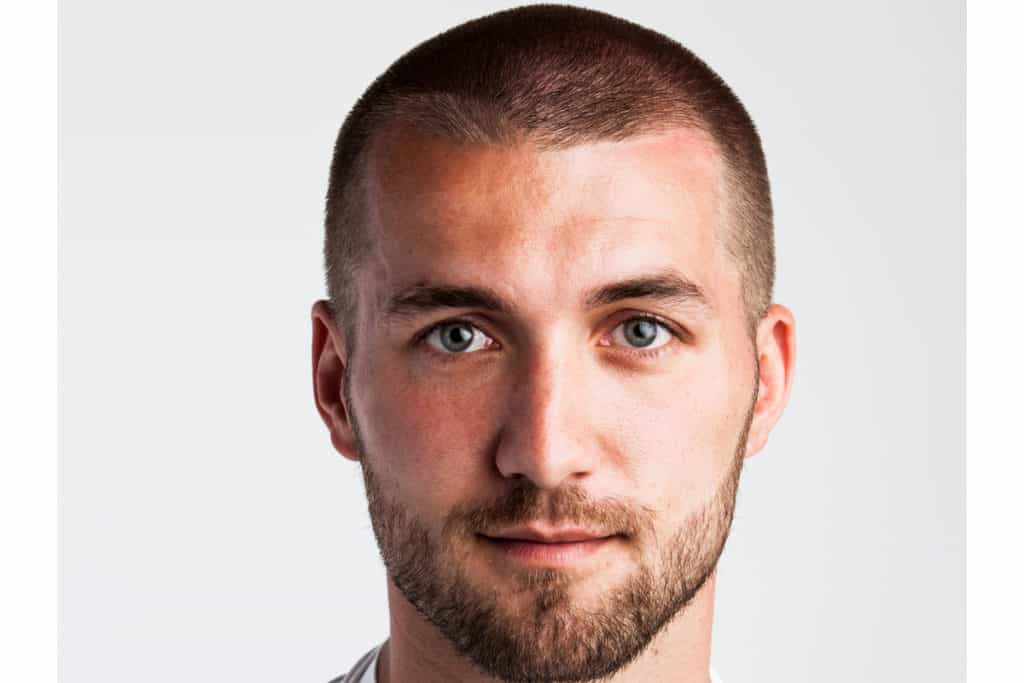 Short And Shadow Fade
A shadow fade is any shorter haircut on the sides, and it's shorter from the back and gains height as you go up to the top of the head.
This hairstyle will make you talk about your creativity.
Bald Taper
With this haircut, you will have the sides and the back of the head completely shaved, leaving some hair at the top.
It's a simple hairstyle that needs little maintenance. Having a bald taper haircut will make you look like a cool guy.
Short And Tight Fade
A short and tight fade is a striking haircut that will make you noticeable to anyone who sees you.
A tight fade creates a difference between the back, sides, and top of the head and the head.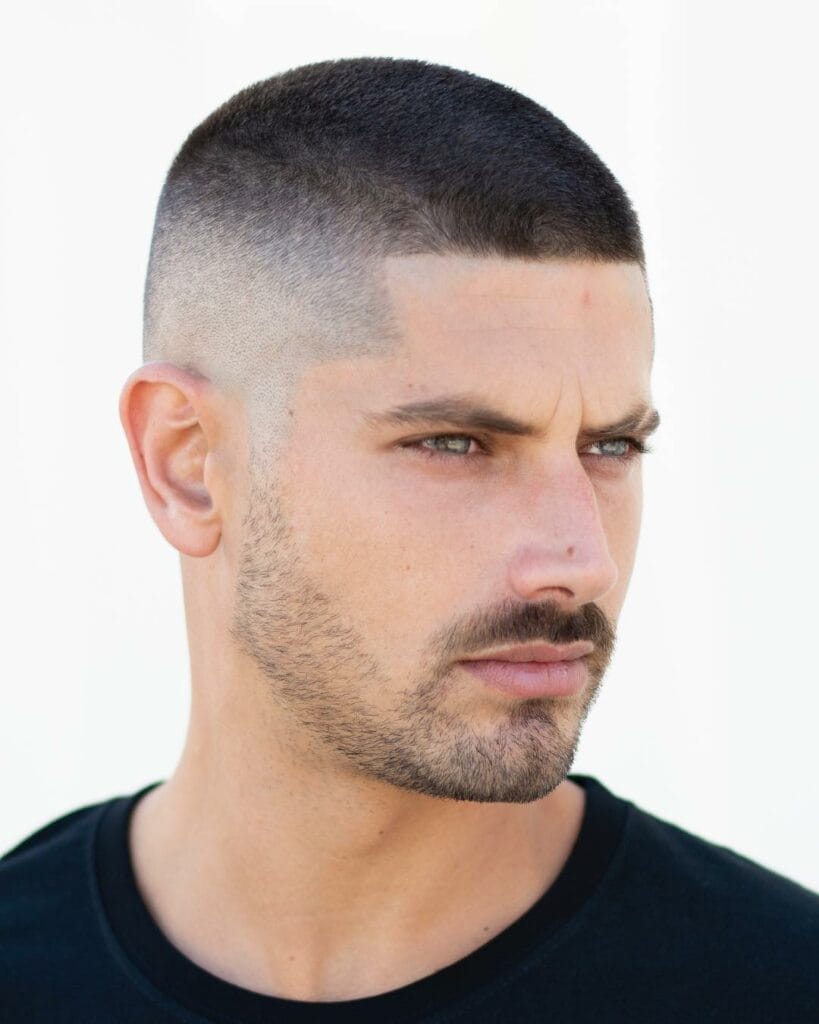 Short And Bald Taper Fade
The hair is shaved to a bald on the sides and back, but some are left on the top with the size of your choice.
You can wear this look for official functions since it gives you a cool look.
Undercut Fade
An undercut fade is a hairstyle you will always love the moment you try it.
You want everyone to see your creative nature and hair beauty; hence, this hair is appropriate for you. You only need to trim or cut your hair from your ears to your temples.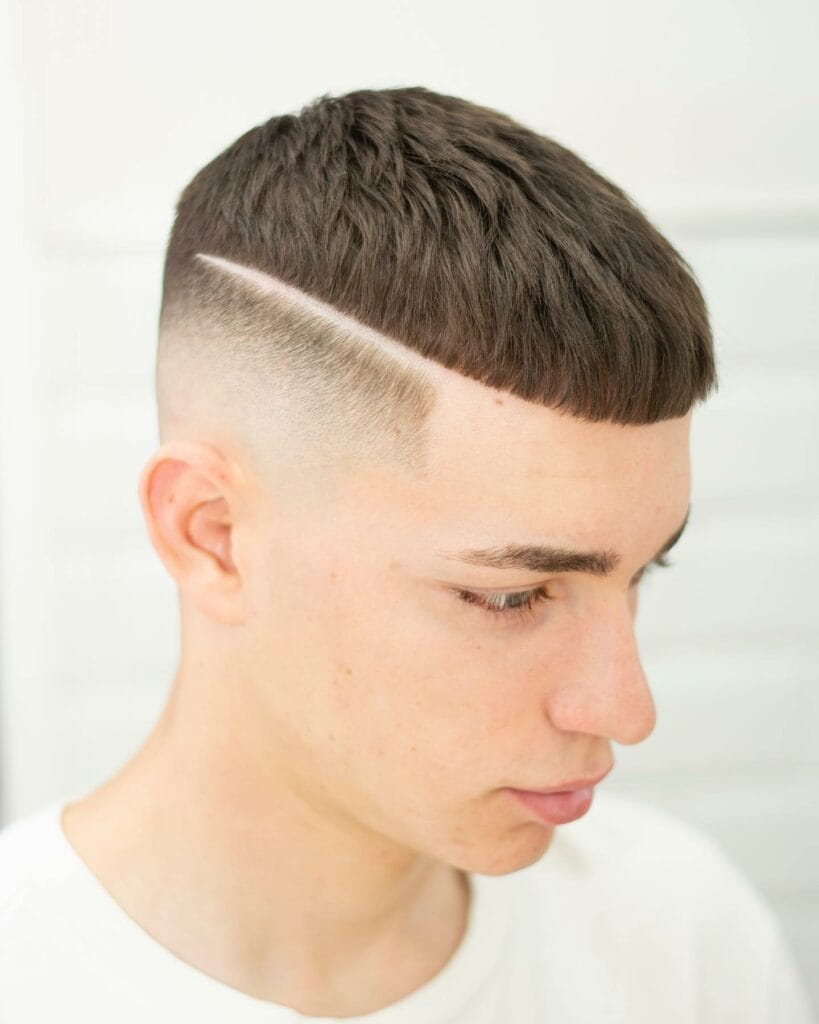 Short And Taper Undercut
It's a good haircut for a manly you. A haircut that will make you look more masculine. It's simple to have it. Just tell your barber to trim or cut your hair on the sides and back.
Then, the length you decide to keep in upon you.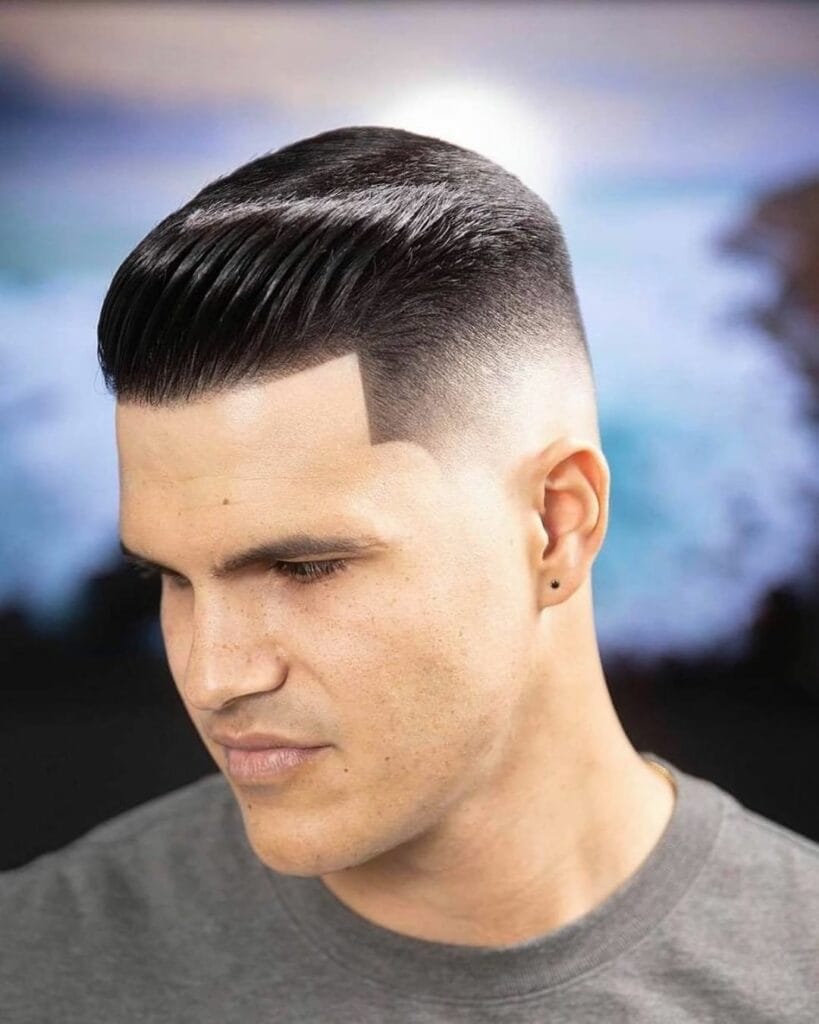 High And Tight
This haircut has been around for decades, and its style is fashionable. It includes tapered sides and back with some hair length on the top.
Wearing this look will make you look cleaner and more masculine. It's low to maintain too.
Short And French Crop Fade
This hairstyle features textured hair worn with a long fringe and complimented by a fade on the sides or back or tapered sides.
If you want to look bold and unique, you should wear this hairstyle.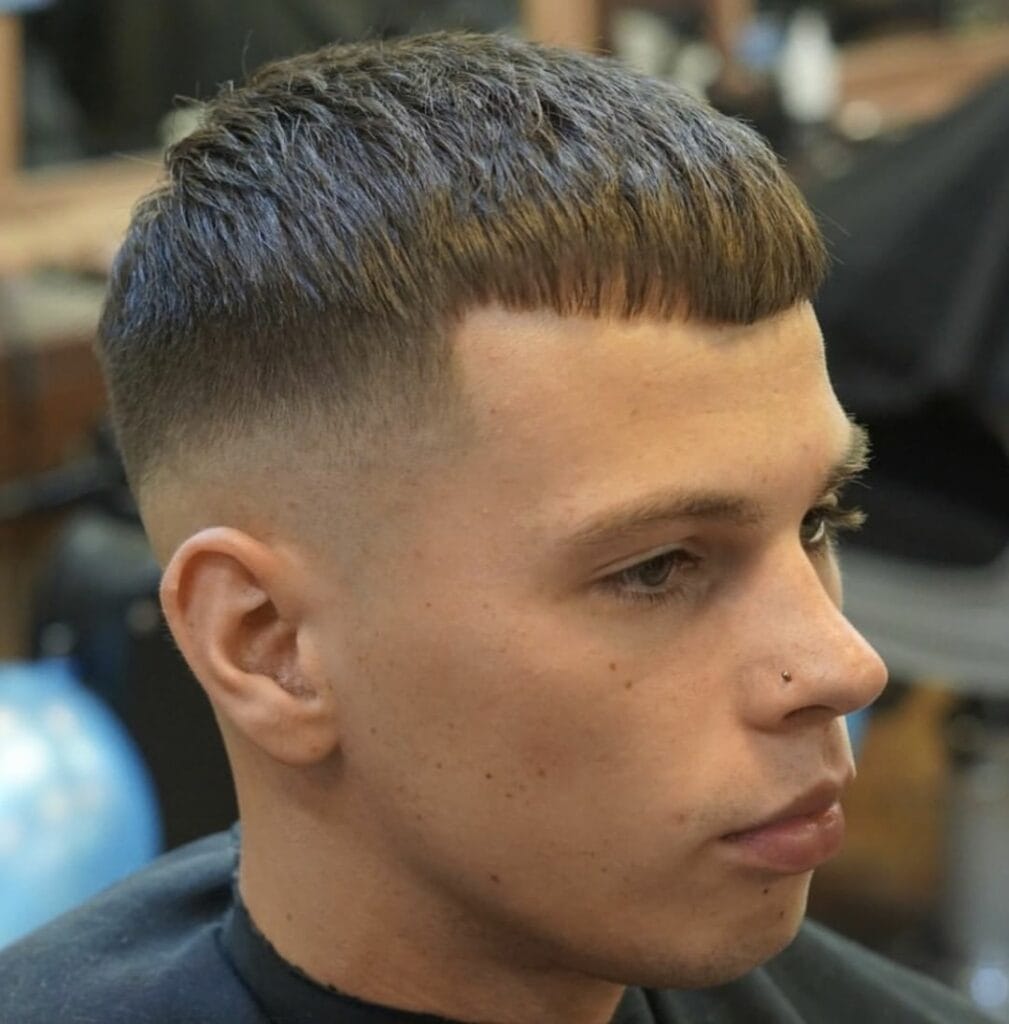 Textured Crop Fade
Have your textured hair styled in a fringe and work on the hair on the sides and the back. You can apply the fade you think will look good on you. You can be assured that everyone will see you attractive with this style.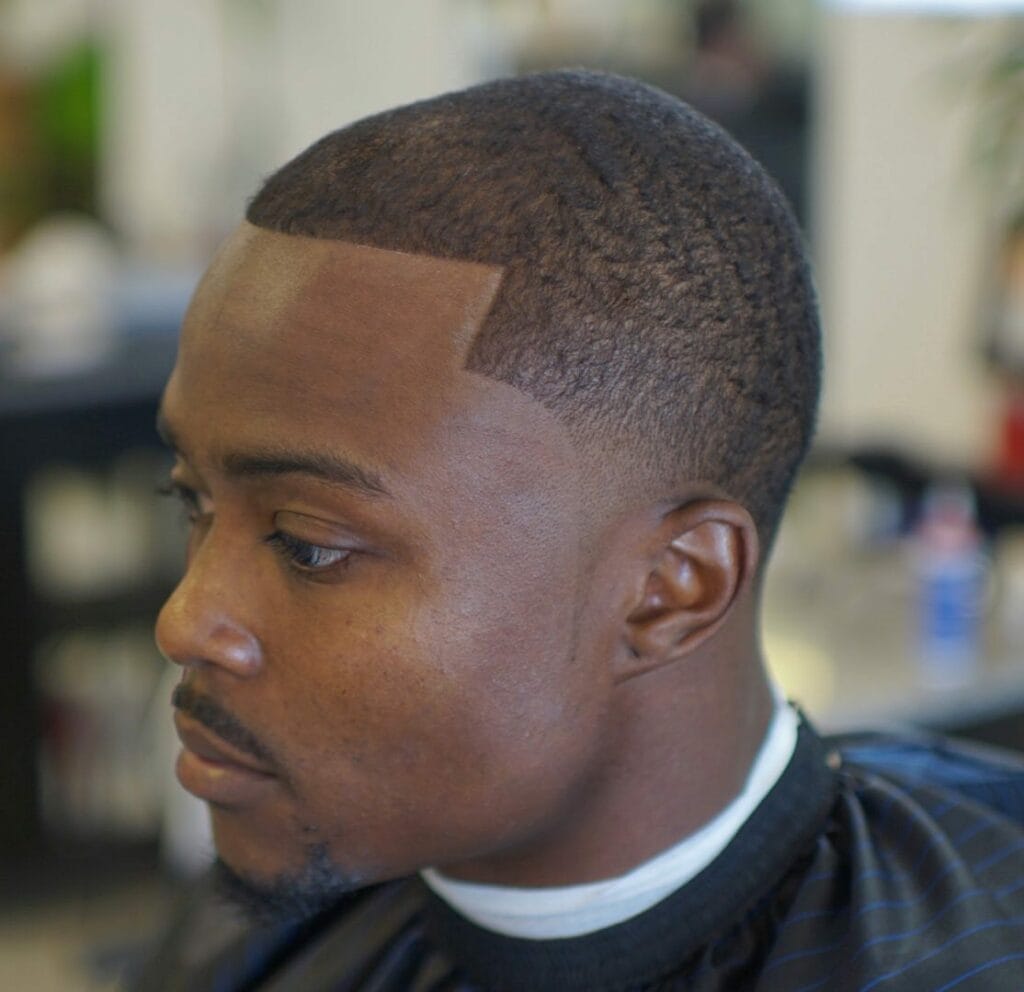 Short And Spiky Fade
You will love spiked hair for its fashionable and striking look. However, make your hair messy by spiking it if you want a nice casual look.
Avoid going too close to the root when spiking your hair using hair products to prevent burning your skin.
Final Thoughts
In conclusion, short haircuts for men are a versatile and stylish option that can suit any face shape, hair type, and personal style. Whether you prefer a classic crew cut, a modern buzz cut, or a trendy textured crop, there are many options to choose from. Short haircuts are easy to maintain and can make you look sharp and confident. So, if you're looking for a new haircut, consider going short and experimenting with different styles to find the one that best suits you.
FAQs
Which Haircut Is Best For Short Hair Men?
Even though there are several short haircuts, crew cuts and buzz cuts are the best.
It's always a good idea to consult with a professional hairstylist who can recommend a style that will suit your individual needs and preferences.
What Do I Tell My Barber For Short Hair?
When visiting a barber for a short hairstyle, it's important to communicate your desired length and style clearly. Here are a few things you can tell your barber to ensure you get the haircut you want:
Length: Specify the length you want your hair to be, whether it's a buzz cut, crew cut, or something in between.
Style: Describe the style you're looking for, such as a French crop, side part, or textured crop.
Reference: Bring a picture of a hairstyle you like or show a reference of a similar hairstyle
Hair type: Inform your barber about your hair type, whether it's thick, thin, curly, or straight, this will help the barber to know what technique to use.
Maintenance: let the barber know if you have a busy schedule or if you want a low maintenance hairstyle.
How Do I Pick A Short Haircut?
You should choose a haircut depending on your face shape. Ask an experienced barber, and they will let you know what is good for you.
Is Short Hair Attractive For Boys?
Yes, short hair is beautiful for boys. You can try different hairstyles to get the one you will stick to.
Khamis Maiouf is a professional barber who graduated from Hinckley College in England with a degree in hairdressing. He has also won several barbering contests and successfully operated a barbershop for the last two decades. As a skilled hair stylist for 20 years, his goal is to teach others how to achieve a beautiful appearance through their hairstyles.