High and Tight Haircut: A Bold Look for Today's Modern Man
The High and Tight Haircut Unleashed Looking for a haircut that's both bold and stylish, yet easy to maintain?
Look no further than the high and tight haircut! This timeless look has graced the heads of military personnel, athletes, and fashion forward gents for decades.
In this comprehensive guide, we'll explore the ins and outs of this versatile 'do, including its history, variations, and styling TIPS.
So, buckle up and get ready for a hair raising experience!
1. High and Tight Fade
A high and tight fade is a contemporary twist on the classic cut.
The haircut features a slightly longer top with the hair gradually fading down the back and sides.
This look is polished, fashionable, and ideal for any professional setting.
2. Military High and Tight Haircut
The military high and tight haircut is a no-nonsense, easy to maintain a style that exudes masculinity.
The traditional technique involves placing a hand on top of the head and shaving any exposed hair.
Luckily, your barber will be more meticulous than a drill instructor.
3. High and Tight Skin Fade
A high and tight skin fade creates a dramatic, eye-catching look. The barber fades the short back and sides down to the upper neck,
leaving a small area of skin exposed. This high-contrast effect is perfect for confident men seeking a bold hairstyle.
4. Modern High and Tight Haircut
Celebrities like Ryan Reynolds, Conor McGregor, and Brad Pitt have made the modern high and tight haircut popular among stylish men.
This versatile cut has evolved from its military roots, allowing you to mix and match with various styles for a look that reflects your individuality.
5. Shaved High and Tight Haircut
Also known as the "jarhead," the shaved high and tight haircut is a staple of the Armed Forces.
The clean shaven sides provide a low-maintenance, hygienic option for busy men, while the slightly longer top section offers protection for military helmets.
Embrace this masculine and uncomplicated style for a sharp look.
6. High and Tight Comb Over
Adding a comb-over to your high and tight haircut brings a touch of rebellion to the classic style.
To achieve this look, you'll need some length on top, a deep side part, and a high-quality pomade or mousse to hold the hair in place.
7. High and Tight Buzz Cut
The high and tight buzz cut combines the timeless appeal of a classic barbershop cut with the masculinity of a military-style buzz cut.
Featuring a stylish fade, this low maintenance haircut is perfect for the busy, fashion-conscious man.
8. High and Tight, No Fade
In a high and tight no-fade haircut, the back and sides are clipped very short without blending into the top section.
This easy to maintain haircut offers a clean and straightforward look for those who prefer simplicity in their hairstyle.
9. High and Tight Haircut Long on Top
This variation of the high and tight haircut offers the best of both worlds. Keep the back and sides short and tapered while leaving the top section a bit longer. For inspiration, think of Ryan Reynolds' signature style.
10. High and Tight with Beard
Elevate your masculinity by pairing a high and tight haircut with a beard.
A full beard can make your face appear wider, while the slimming effect of the high and tight provides a balanced contrast. Facial hair is an excellent way to complement this minimalist men's haircut.
11. High and Tight Flat Top Haircut
The high and tight flat top haircut is perfect for men seeking a strong statement.
The top section is left longer, allowing the hair to be cut flat across.
The sides are styled with an extreme bald fade, creating a dramatic contrast that will turn heads wherever you go.
12. High and Tight Recon
This high and tight haircut, popularized by Mr. T from the A-Team features razored or clipped sides with a narrow strip of hair on top.
Recon is an excellent option for curly-haired men who want a retro look that stands out from the crowd.
13. Prohibition High and Tight
Channel the slick style of the Roaring Twenties with the prohibition high and tight haircut.
This cut features closely trimmed sides and a short top section that can be parted or combed over, reminiscent of your favorite characters from Peaky Blinders.
Complete the look with a glossy, strong-hold pomade for a dapper finish.
14. High and Tight with Faux Hawk
A faux hawk adds a funky edge to the classic high and tight haircut, allowing you to express your bold personality while keeping a more conservative appearance.
Experimenting with different hairstyling products will help you make the most of this adaptable cut.
15. High and Tight with Mohawk
The Mohawk, a long strip of hair running from the hairline to the back of the head, contrasts sharply with shaved sides, creating a unique high and tight haircut for men who dare to be different.
This striking style was made famous by rebellious musicians and trendsetters of the past.
16. High and Tight with Undercut
An undercut adds an edgy touch to the traditional high and tight haircut.
In this style, the top half of the hair is left longer, while the lower sections around the ears and at the back are cut short.
This contemporary look is perfect for anime enthusiasts seeking a cutting edge hairstyle.
17. High and Tight Haircut for Receding Hairline
A high and tight haircut not only looks modern and stylish but can also help disguise a receding hairline.
This low-maintenance style requires minimal effort to maintain, making it an excellent choice for men like actor Jason Statham, who have embraced their changing hairlines with confidence.
18. Slick Back High and Tight
Exude confidence and allure with this sleek high and tight haircut.
To achieve this look, you'll need a skilled barber to create a tall, smooth fade and ensure the perfect length on the top and back.
The strong hairline is essential for this polished and sophisticated style.
19. Textured High and Tight Haircut
Stand out with a textured high and tight haircut that works particularly well for men with black curly hair.
This cut maintains the textured top while keeping the sides short.
To keep your haircut in prime condition, invest time in styling your hair with high-quality gels and pomades.
20. High and Tight Haircut with Forward Sweep
For a low-maintenance high and tight haircut, try a forward-swept look.
Achieve this by washing your hair, towel-drying it, and combing damp hair forward.
Either blow-dry your hair forward or let it air dry, and finish with your favorite styling products to hold the style in place.
21. High and Tight Drop Fade Haircut
Elevate your style with a drop fade high and tight haircut.
The blended and gradual fade drops behind the ear, creating a neat arc, with the fade lower behind the ear than at the front.
This professional and stylish look is perfect for men who want to make a statement in the business world while maintaining a trendy appearance.
22. High and Tight with Pompadour
Command attention with a high and tight pompadour.
This powerful statement requires sweeping the hair high over the head with an exaggerated volume that exudes confidence.
This unique take on the classic high and tight haircut propels your style to new heights, making you the center of attention wherever you go.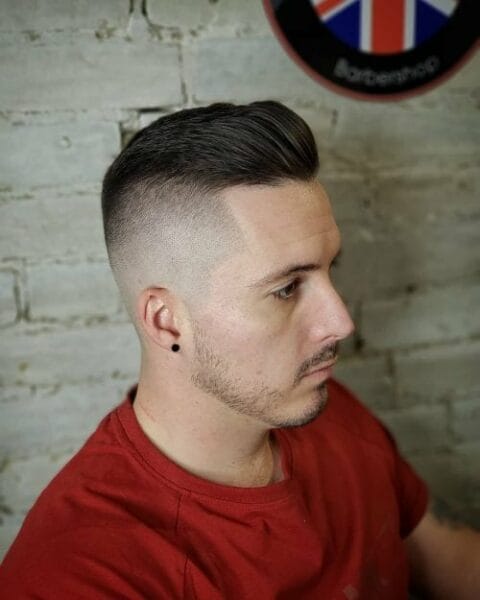 23. High and Tight with Quiff
Incorporating a playful quiff into a high and tight haircut adds a sophisticated touch to the overall style.
This look requires dedication to grooming, as you'll need to blow-dry the top section up and back with a round brush, then set it with a comb and a firm-hold styling product for a sharp finish.
24. High and Tight for Thin Hair
The high and tight haircut is a fantastic option for men struggling with thinning hair.
Unlike other popular styles such as the quiff and pompadour, which require thicker hair, the high and tight are flattering for nearly every hair texture.
Don't let thinning hair undermine your self-esteem; embrace this stylish and versatile cut.
Conclusion
The high and tight haircut is a timeless and versatile choice for men seeking a low-maintenance, stylish look.
With numerous variations, including fades, pompadours, and quiffs, there's a high and tight style to suit every personality and preference.
Embrace this classic haircut and elevate your appearance, whether you're in the boardroom or on the street.
With so many options at your disposal, there's no better time to explore the world of high and tight haircuts and find the perfect style for you.
High and Tight Haircut FAQ
1. What is considered a high and tight haircut?
A high and tight haircut is a military-inspired hairstyle characterized by very short or shaved sides and back, with a slightly longer top. It is low-maintenance, hassle-free, and versatile, making it a popular choice among men.
2. How do you ask for a high and tight haircut?
When asking for a high and tight haircut, tell your barber that you want the sides and back shaved or cut very short, with a slightly longer top. You can specify the desired length on top and whether you'd like a fade or any other variations, such as a comb-over or pompadour.
3. What's the difference between a high and tight and a fade?
A high and tight haircut typically features very short sides with around 1½-in of hair on top. A fade, on the other hand, gradually increases in length as it goes up the back and sides, from the nape of the neck to the sideburns. A high and tight can incorporate a fade, creating a high and tight fade hairstyle.
4. Does a high and tight haircut look good?
A high and tight haircut can look great on many men, especially those with oval, square, diamond, or triangular-shaped faces. This low-maintenance, timeless style is versatile and can be adapted to various preferences, making it a popular choice for men with different tastes.
5. What do I tell my barber for a high fade?
To request a high fade, inform your barber that you want the hair on the sides and back of your head to be cut short, with the shortest point being near the top of your head. The hair should gradually increase in length as it moves downwards, creating a smooth transition from the short hair to the longer hair on top.
References:
A high and tight haircut is a longer strip of hair on top of your head with shaved back and sides. source
The high and tight is a military variant of the crew cut. It is a very short hairstyle, characterized by the back and sides of the head being shaved to the skin and the option for the top to be blended or faded into slightly longer hair. source
Khamis Maiouf is a professional barber who graduated from Hinckley College in England with a degree in hairdressing. He has also won several barbering contests and successfully operated a barbershop for the last two decades. As a skilled hair stylist for 20 years, his goal is to teach others how to achieve a beautiful appearance through their hairstyles.