35 Fine Mullet Hairstyles in 2022
Mullet hairstyles are pretty popular among guys because of their unique form and easygoing mood. The hairstyle is short in front and long behind. The untidy styling, the overly bold cut, and the vivid color are what gives them their distinctive appearance.
Therefore, hairstyles such as a mullet, mohawk, bleached spikes, an elongated bowl cut, and others are regarded as unprofessional. It is not appropriate to wear braids, dreadlocks, or any other hairstyle that has a historical basis in a professional environment.
This one is for guys who want to stand out from the pack and not take themselves too seriously for mullet hairstyles. Here are the top mullet hairstyles for guys in 2022 to make them stand out.
1. Punk Mullet Hairstyles
The punk mullet hairstyles are evergreen. If you are a guy who is daring and isn't afraid to go all out, this hairdo is for you. Keep the hair on the top of your head short and close to your skin. Leave the hair on the top of your head a bit longer so that you may spike them with gel or spraying mousse. It doesn't matter whether you have long or short hair; just make sure it's short above the ears.
2. Permed Mullet
The long curly mullet is a must-have for daredevils. You'll want to keep your curls tight and avoid fluffing them up to pull this style off. Try a specific styling cream or pomade to define your curls since you'll want to keep the rest of your hair short. With a long curly mullet, you can show off curls without growing them all over your head, which may appear sloppy and difficult to manage, particularly in the summer heat.
3. Line Up Mullet
Mullet hairstyles show great individuality. Request a more complex piece of artwork from your barbers, such as a geometric shape, minimalist lines, or a three-dimensional part if you want something more daring. Wearing your mullet hairstyles with a line up can create a striking contrast between long and short hair.
4. Long Mullet
The long mullet hairstyles can be known in several types and variations. The long straight mullet is a good and low-maintenance hairstyle. This style is suitable for both thin and thick hair. Short front sections only need styling with wax if you want to add texture. You can leave the longer areas free and unstyled.
5. Faded Mullet Hairstyles
Whether you like a drop or mid-fade, you can never go wrong with this look. This hairstyle is sophisticated with a modern edge. You'll want to maintain the hair longer in the back and shorter from the ears up, much like a typical mullet. However, the buzzed temples set this haircut apart from the others.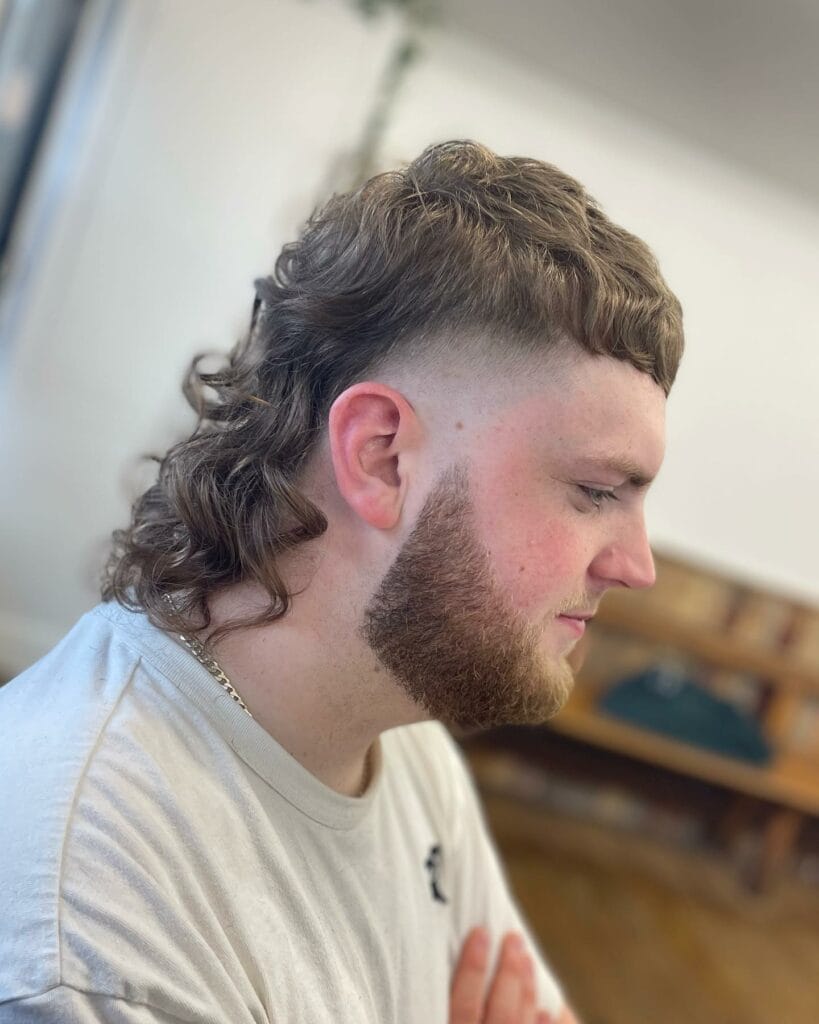 6. Half Down, Half Up Mullet
This look is ideal for every man since it blends work and leisure. You may wear this if you have long hair cut short on the front or top, as long as it is longer on the back or sides. Gather the summit of your head's tendrils and bind it to your liking. You may wear this to a business meeting or a party with friends, and it'll keep you looking presentable and professional in every setting.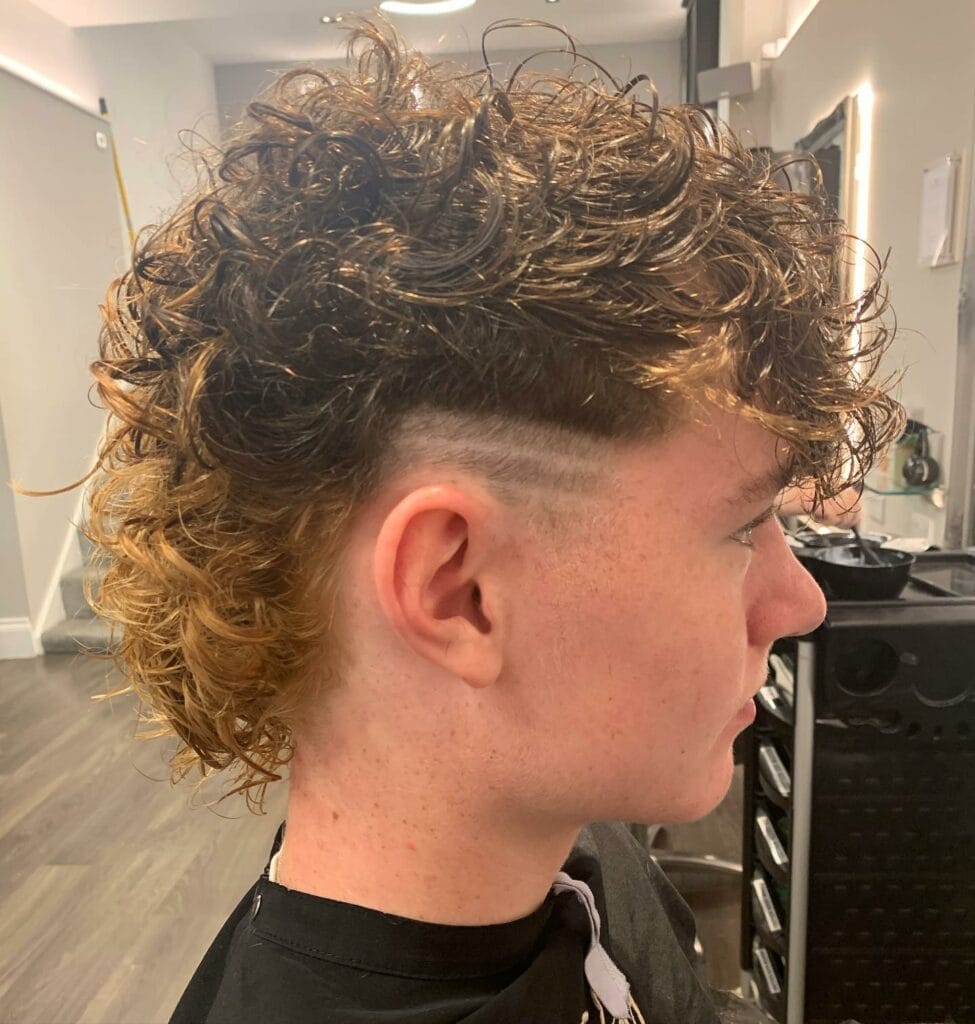 7. Fringe Mullet
Add bold bangs to the mullet for a high-fashion, magazine-inspired look. It has a futuristic impression because of its broad, straight across the short fringe. Oval face shapes benefit greatly from these bangs, which draw attention to the separation between the front and rear of the head. Even though the bangs should be blow-dried smooth, the lengthy back part may be left free and unstyled since this look is all about contrast.
8. Undercut Mullet
You may try out the mullet with an undercut if you're unsure about going full out. Achieve this look by shaving the sides and the underside of your hair. To create the appearance of a mullet, wear your hair shorter on top and longer at the crown. Gather your hair into a ponytail or bun when you're ready for a change in style.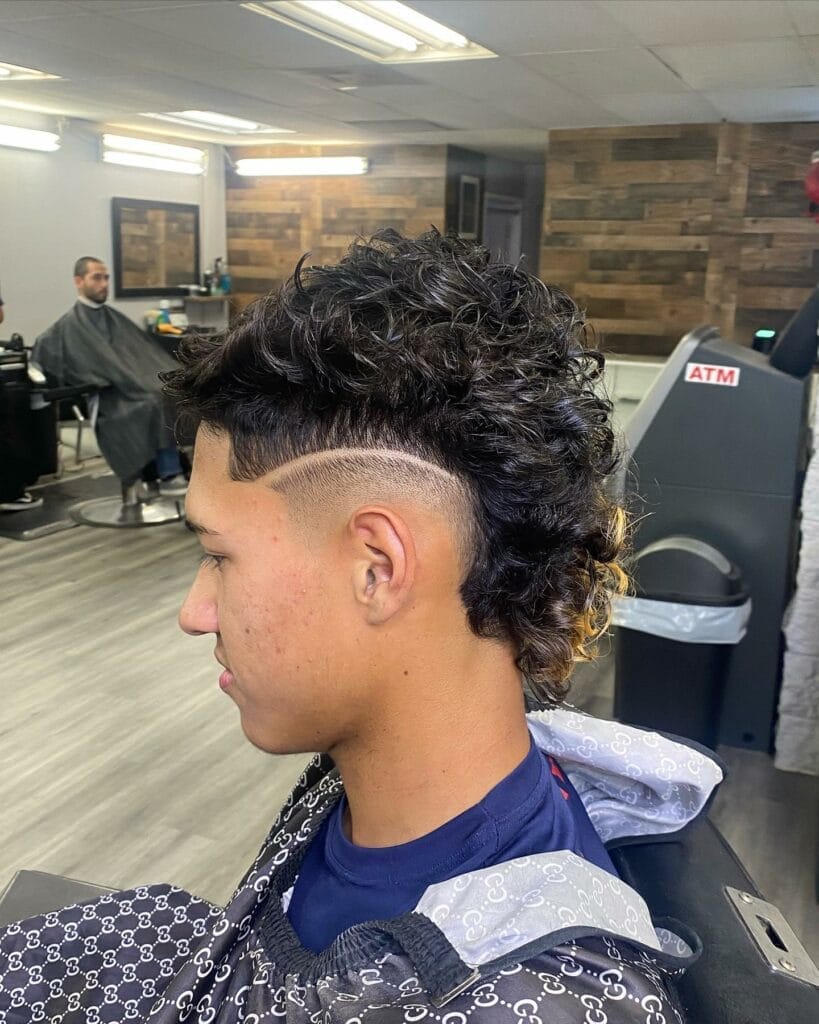 9. Drop Fade Mullet Hairstyles
To give the drop fade mullet hairstyles an added layer of attitude, it's best to cut the rest of your hair short. Drop fade mullet hairstyles combine the length of one style with the ultra-short, tapered appearance of the other to create the ultimate mullet. If you're up for the challenge, this is one of the most cutting-edge cuts you'll find.
10. Curly Mullet
The curly mullet cut is a great choice for curly hair since it's easy to style. As a result, curls smooth the transition between front and back lengths. Having your hair long in the back allows you to show off your beautiful curls without drawing attention away from the rest of your face.
11. Mohawk Mullet
With the mohawk mullet hairstyles, you can get more than one haircut at a time. It's best to maintain the top of your hair longer than the bottom if you want a true mullet look. Use a volumizing gel on the roots of your hair if it is straight or short. You may also use sea salt spray or leave it natural to give it a shaggier appearance.
12. Shaggy Mullet Hairstyles
In contrast to the typical mullet, this shaggy variation uses numerous layers to frame the face instead of relying on a detached top and bottom. There are various ways to style the layers in this haircut, from a straight fringe to a more classic cut in the front to a more jagged style in the rear.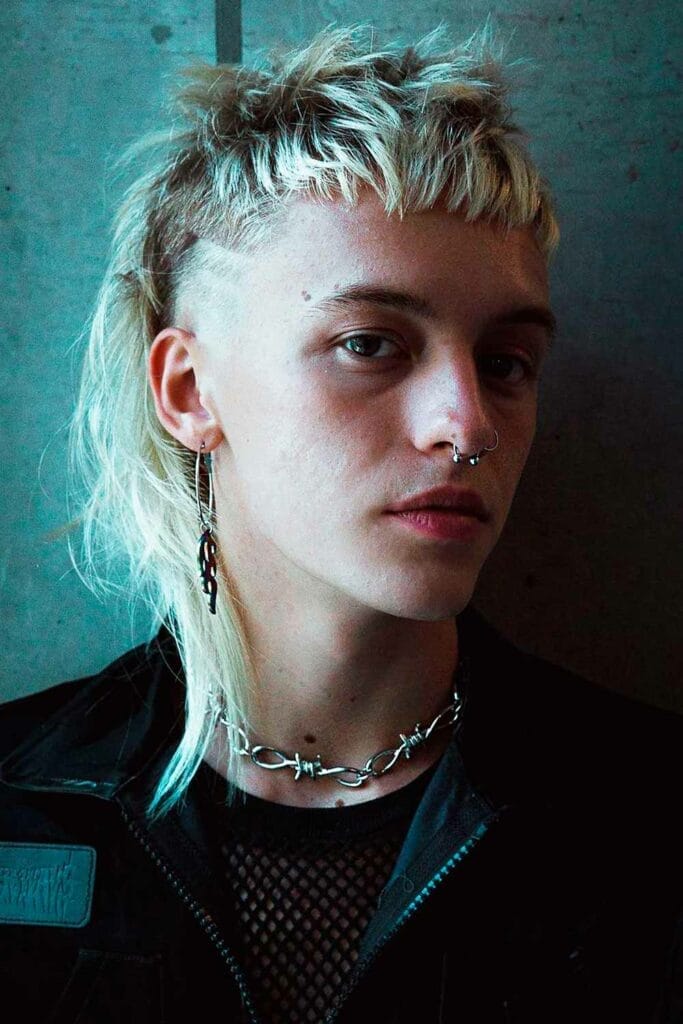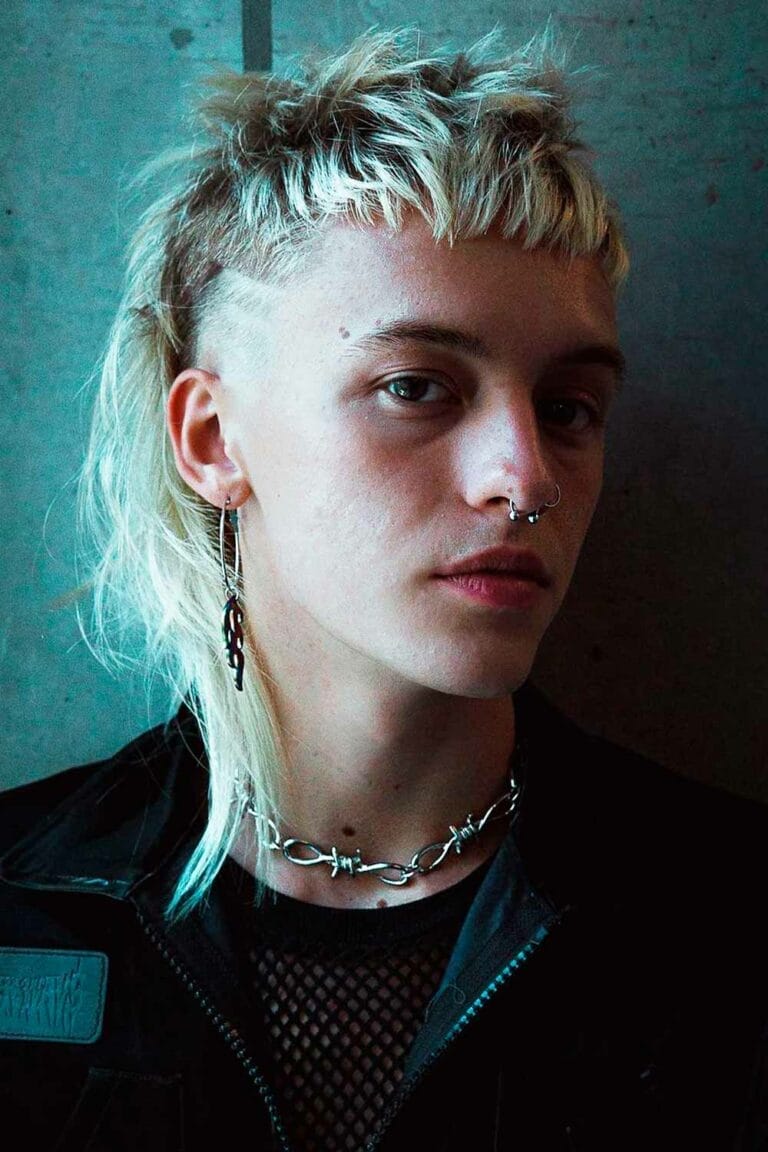 13. Short Mullet Hairstyles
As long as your hair doesn't reach your ears, it should be trimmed much shorter than the rest of your head. Let the longer locks fall to the center of the neck. Using a French crop, a fade, or even a fake hawk, you may reshape the sides of the face.
14. Modern Mullet
The contemporary mullet is a more low-key and modest method to experiment with the hairdo. If you aren't sure whether a mullet is the right choice for you, this is your cut. The shift from a small front area to a large rear segment is less sudden in today's mullet. As a result, the style is more gradual and supple. This is a great style if you have naturally thick and curly hair since your tresses will be on display without seeming unruly.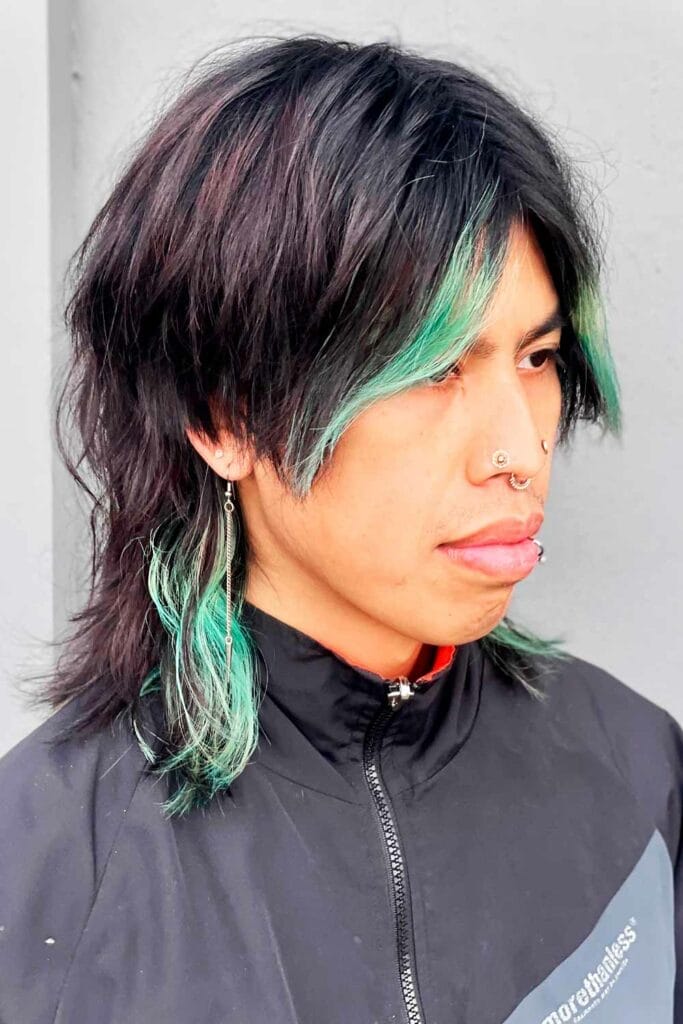 15. Retro Mullet
You may get the look by keeping your hair at polar opposite ends of the length spectrum and adding a contemporary twist to it. Add gel to the tips to produce a quiff or spiked form of volume.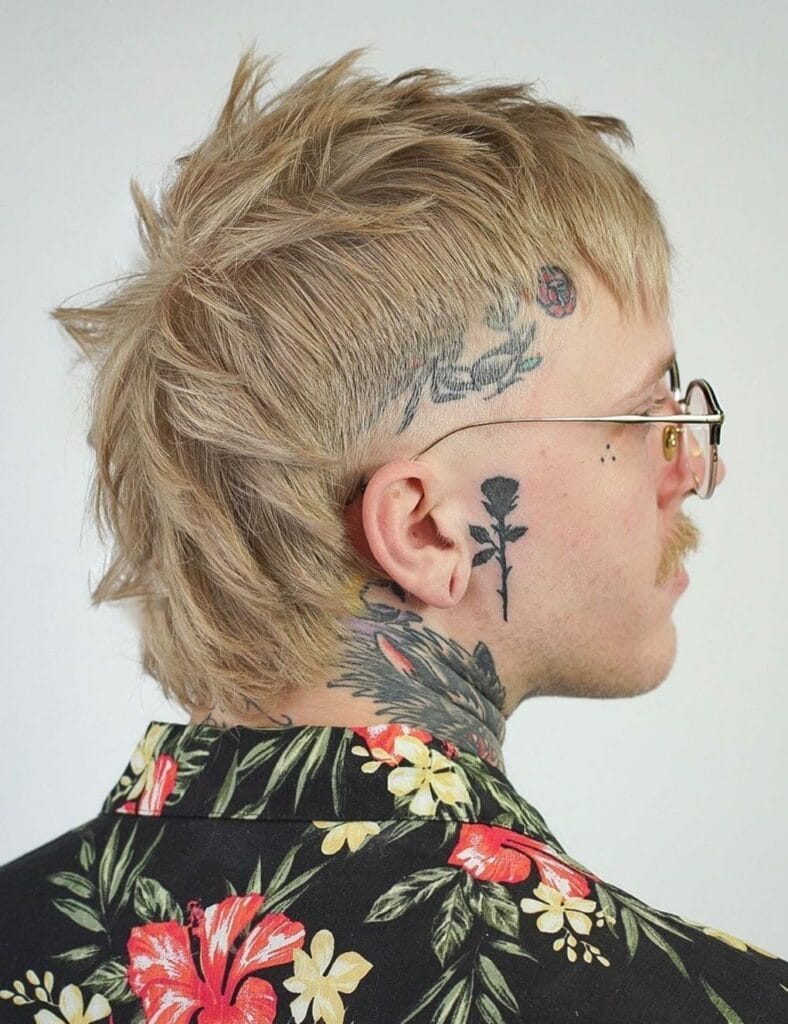 16. Mullet with Skin Fade
Mullets give the skin fade a whole new meaning. The skin fade mullet is all about sharp angles and an unending attitude because it is edgy and rebellious. You'll need a lot of volume in your hair to achieve the nearly geometric shape of this style, so thick hair is a must.
17. Slicked Back Mullet Hairstyles
This hairstyle, which goes by the moniker "sleek," is known for its sleek appearance and ease of recreation. A brush should be used from the top of your forehead to the bottom of your neck to apply volume-enhancing products like pomade or mousse to your hair. Hairspray will help keep the style in place after you've finished using it in the whole area.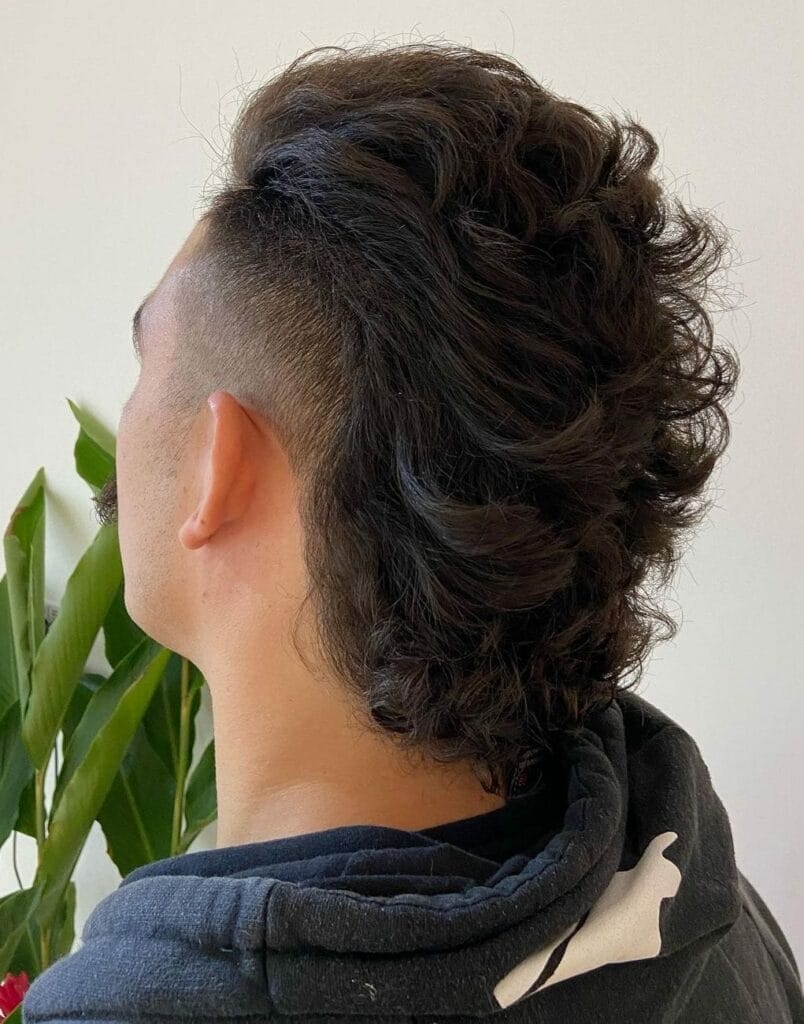 18. Asymmetrical Fringe with Fade Mullet Hairstyles
With this look, one side of the fringe is much longer than the other because of the angle at which it is cut. If you're looking to make a statement, this is the best option. If you want to add additional structure and contrast between the sides, back, front, and top hair, go with a fade-in addition to this cut.
19. Blow Out Mullet Hairstyles
This haircut has a striking effect since the sides, and top of the head are shaved, while the back is left long. Get this look by removing hair from the forehead and focusing on the cheekbones. The blowout is versatile and can be fashioned on every length and texture of hair. Try out a variety of lengths until you discover the one that works best for your style. But keep in mind that long hair will be more noticeable.
20. Mullet Hairstyles with Caesar and Skin Fade
When it comes to short haircuts for guys, the Caesar cut is one of the most flexible and fashionable options. The cut is short, with bangs that run horizontally across the forehead.
Style the traditional mullet and make it even more daring by leaving a little extra length in the back. Adding a skin fade to your hairstyle can give it more structure and seem sleeker. A fade is a hairstyle that gradually decreases in length from the top to the skin, starting with a more significant length. There's little doubt that this hairdo is considerably more wearable than the typical mullet.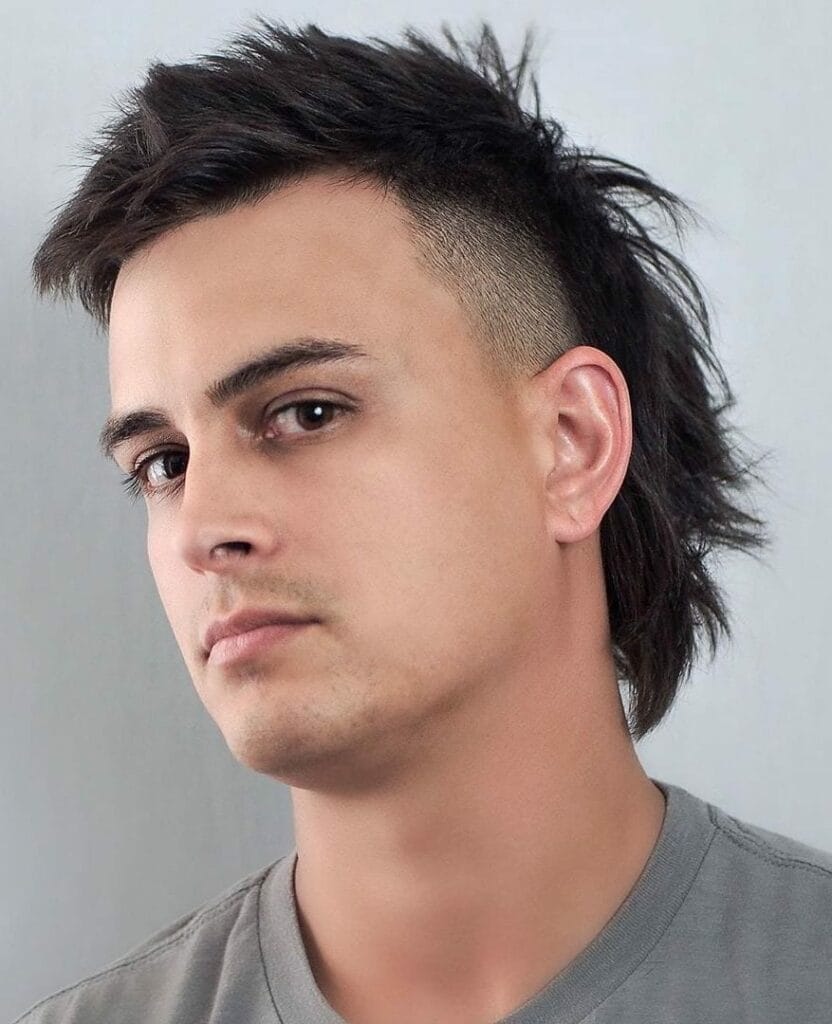 21. Faux Hawk Mullet
Rather than having the sides of the mohawk cut down to the skin, a fade is used in the faux hawk. It's also shorter, so there's a minor difference between the hair lengths in the center and on the sides, making it easier to style to your taste and suitable for all hair types. If you wear a faux hawk, adding a mullet to the rear and the top of the head is a more adventurous approach that will create an unusual balance.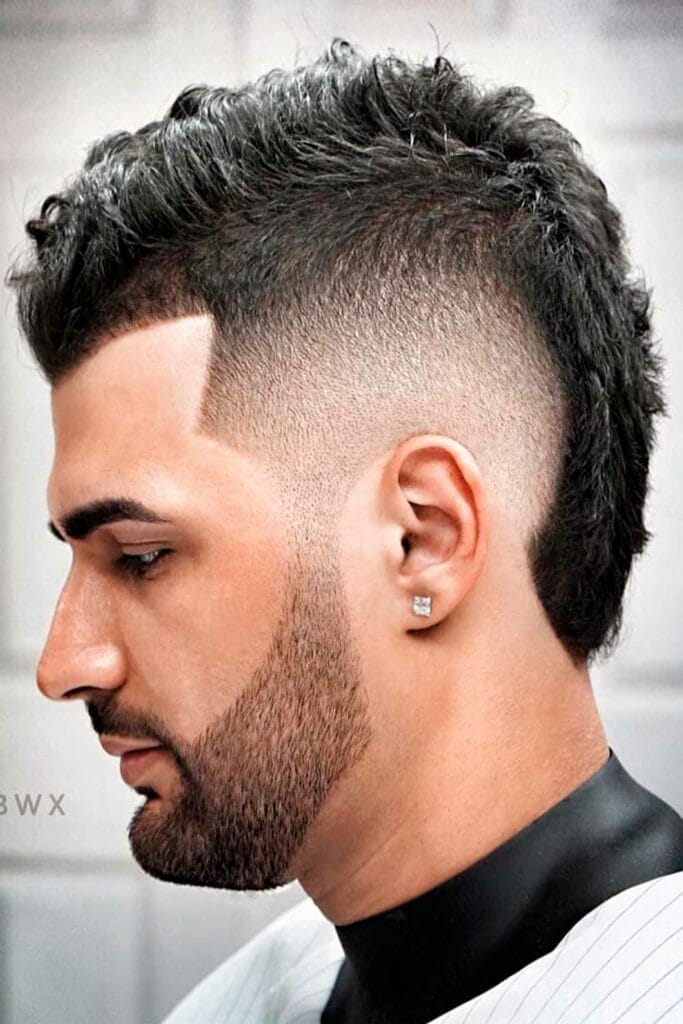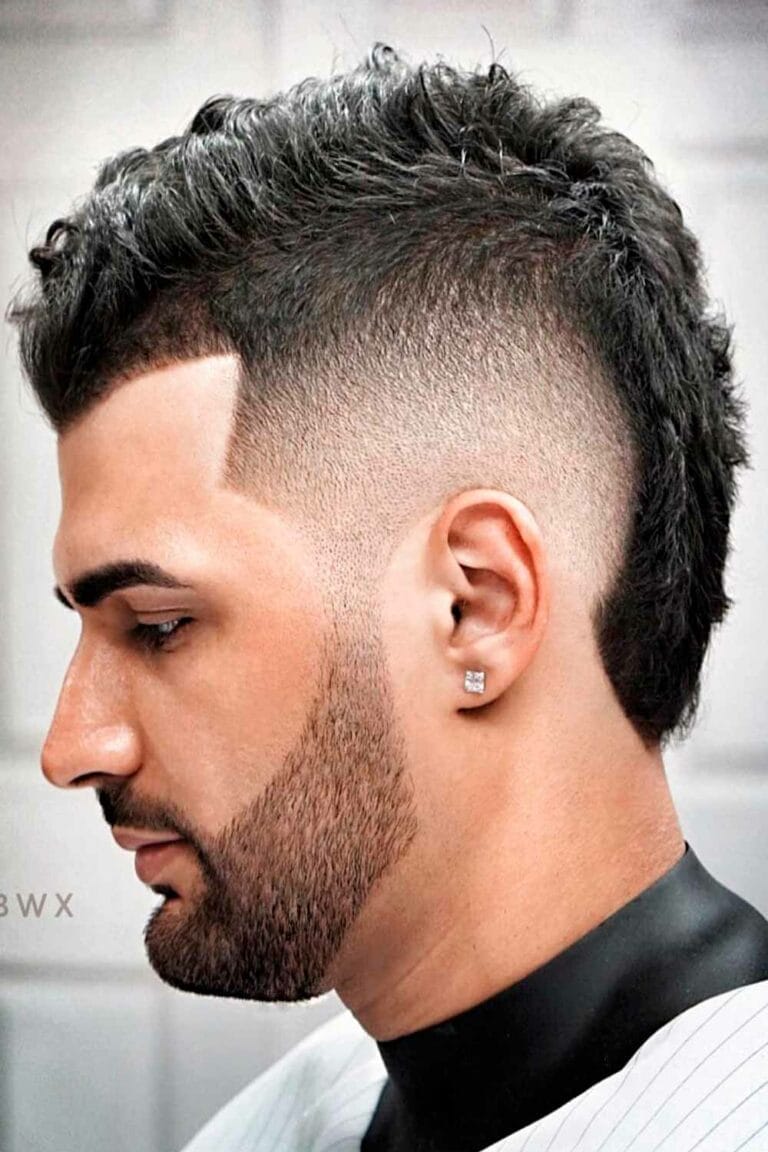 22. Flat Top Mullet
The height and volume of a flat top hairstyle set it apart. There are many ways to customize the flat top; you may experiment with various heights and sizes. A flat top with mullet is an option for individuals looking for a little edgier. This may not be the most wearable hairdo, and it will need a great deal of self-assurance to pull off, but for guys who want to stand out, this is the way to do it.
23. Wavy Mullet Hairstyles
One of the most appealing ways to experiment with a mullet is naturally wavy hair. This is also a great way to flaunt your natural waves. You have a wide variety of options for wavy mullet hairstyles, so you can get the look you want.
This might be accomplished by boosting the volume of the hair and then brushing it backward. You may also use a fade to emphasize the texture on the top of the head for a more structured effect.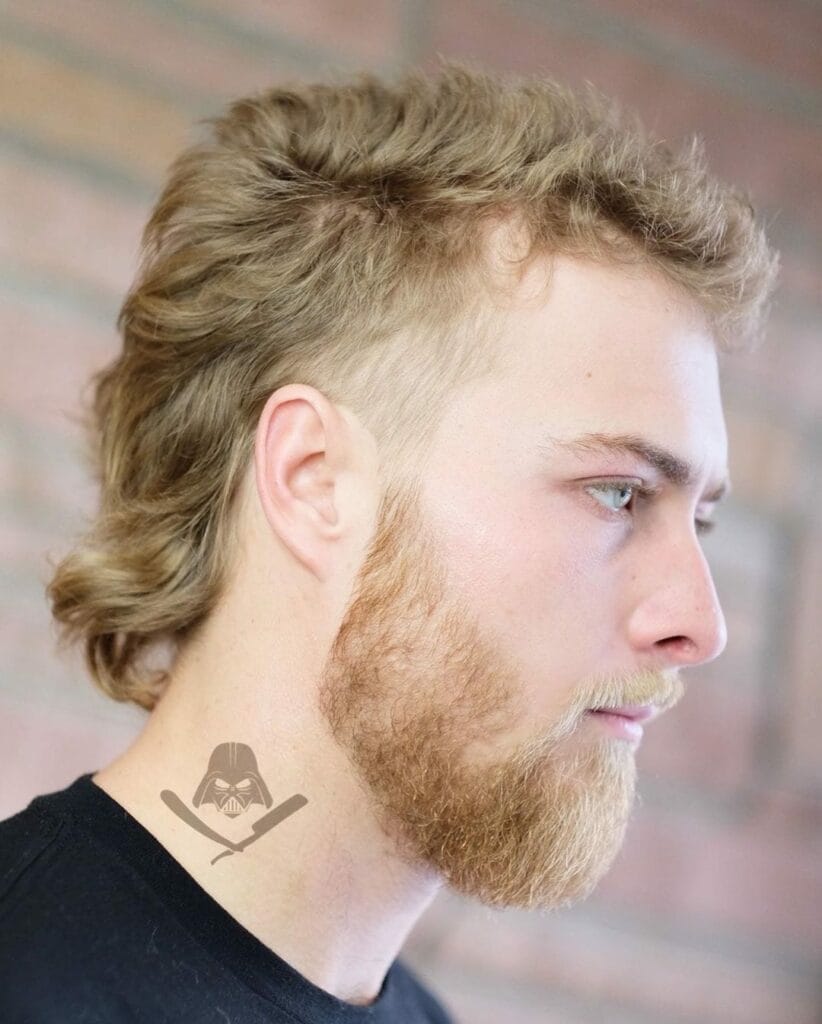 24. Skin Fade Mullet
Mullets give the skin fade a whole new meaning. The skin fade mullet is all about sharp angles and an unending attitude because it is edgy and rebellious. You'll need a lot of volume in your hair to achieve the nearly geometric shape of this style, so thick hair is a must. The cut is slim and challenging, but it's also quite fashionable because it incorporates the streetwear ethos.
25. Slick Back and Temple Fade Mullet Hairstyles
Hair is combed backward in the slick back to provide volume, making it a stylish and manly hairstyle. Pomade or gel gives the hair a shiny or somewhat damp appearance, and it also helps hold it in place. Style-conscious guys will love this appearance, but those who like a more edgy look may alternatively match it with a temple fade or even a mullet.
The idea is to keep the back hair short and not as dramatic as the classic mullet method. The temples' skin begins to show through when a temple goes away. Your hair will have structure and contrast with the top and back of your head, which will draw attention to the fullness of your crown region.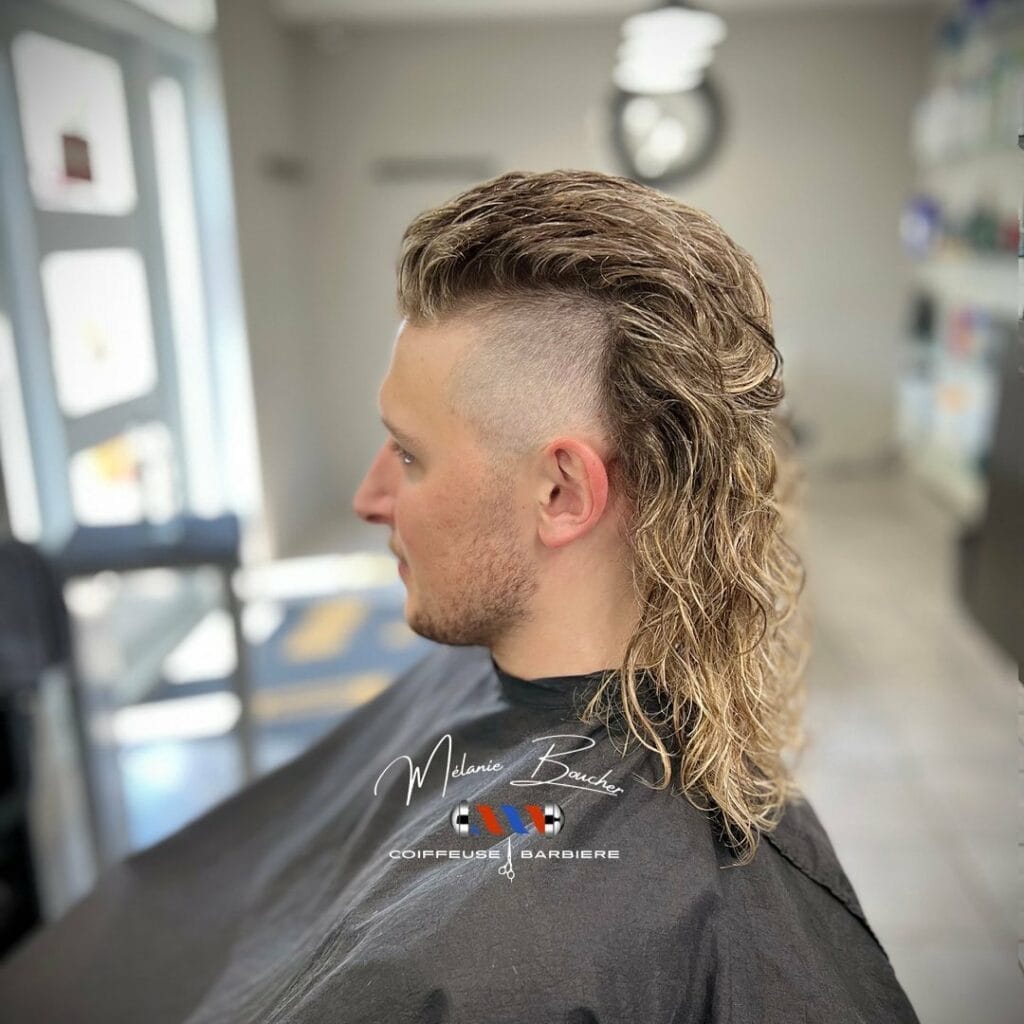 26. Long Mullet Hairstyles
Many different hair lengths may be used to produce the distinctive mullet, which is more noticeable the longer you keep it long. Despite its difficulty, this hairdo is remarkably flexible and adaptable.
You may do this by putting a hairstyle on top of your natural one. Simple lines and forms may be used in hair designs and more complex drawings and symbols. Using them is a chance to show off your individuality and stand out from the crowd. For those seeking a modern and edgy look, consider this haircut.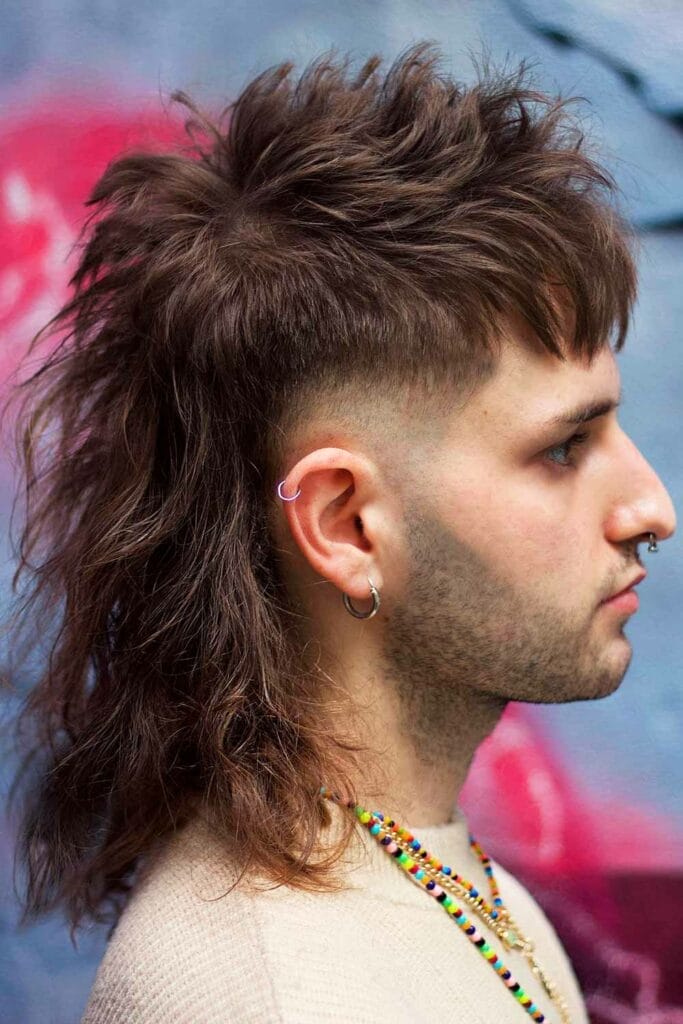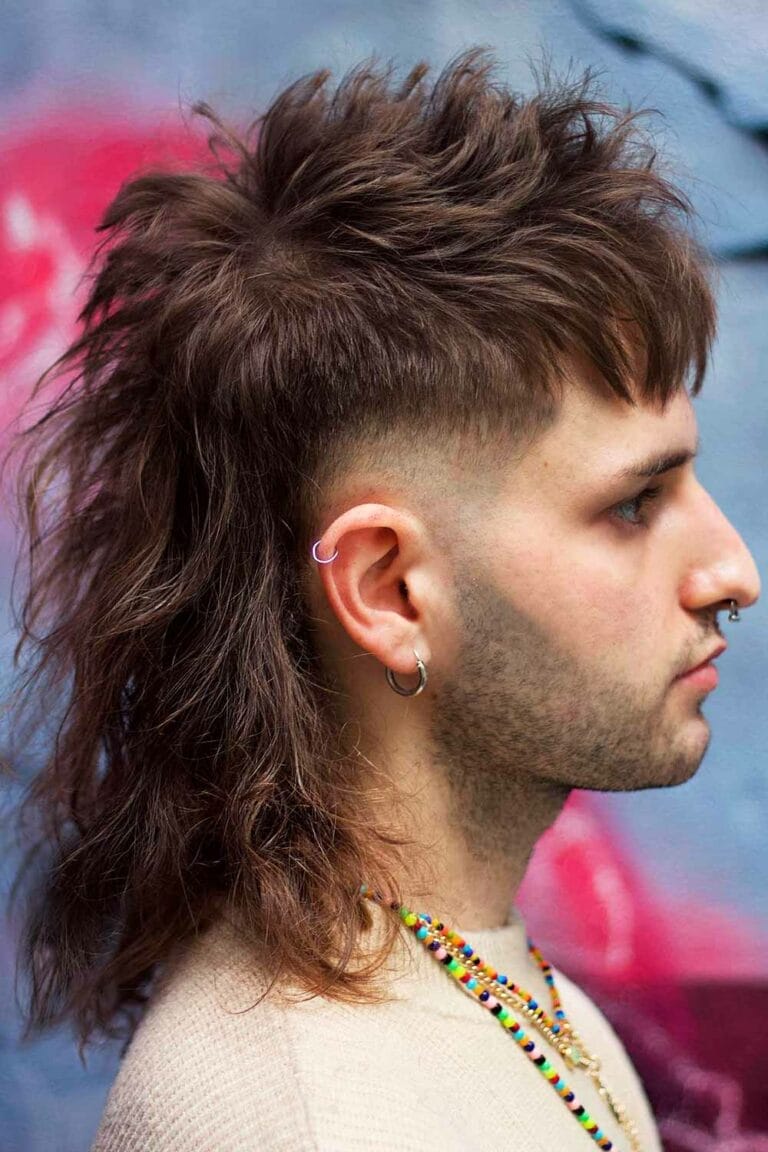 27. Bowl Cut Mullet
Consider a mullet with your bowl cut if you're a fan of structured yet unconventional forms. The bowl cut gets its name from the mushroom-like shape it gives off and the uniform length of the hair it maintains all over the head.
It's challenging to pull off a mullet, and a bowl cut together, but it looks great on most face types. This isn't the most professional cut either, so it's best for someone who doesn't work in a stuffy business atmosphere.
28. Skin Fade and Short Fringe Mullet Hairstyles
Hair short on top and sides but long in the back is often referred to as a mullet. On the other hand, the mullet has a plethora of interpretations and has undergone numerous revisions to seem more contemporary and unique.
Adding structure and contrast to your hair may be accomplished by using a skin fade, which starts longer at the crown and is shaved to the skin. A short fringe may bring attention to the face for a more aesthetically pleasing look. Having hair on both the forehead and the nape of the neck may give a more balanced image.
29. Fringe and Taper Fade Mullet Hairstyles
Since a fringe may bring attention to the face, adding one to any haircut is a good idea. The appropriate fringe may also enhance the cut, and there are a variety of ways to wear a fringe, depending on the length and structure of the hair you have.
Mullets hairstyles with fringe might help produce a more balanced and less contrasted appearance. A taper fade may be used to give structure to the hair and create an unusual form. Tapering is the progressive shortening of the hair on the sides and rear of the face.
To do this, you may choose from a low, mid, or high taper; there are several methods to accomplish this. Thanks to the addition, you may get the look with any hair type.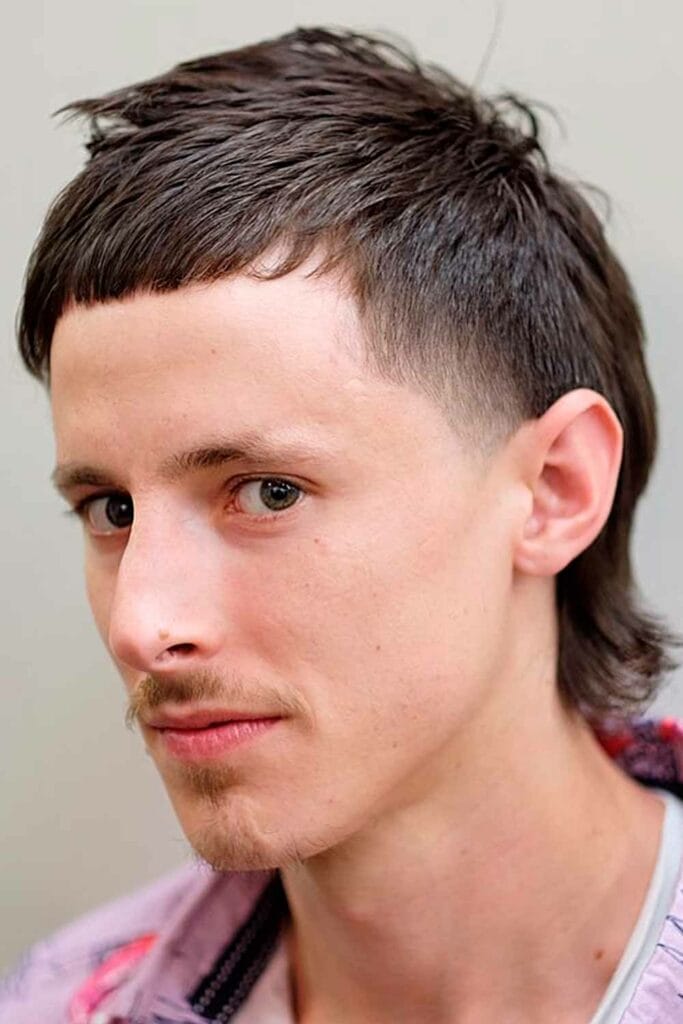 30. Textured Mullet Hairstyles
A mullet with textured hair seems more natural than one with straight locks because it softens the lines of the cut. The mullet may be more comfortable to wear because of the blending of the top and sides and the rear of the head, making it less noticeable.
The mullet is one of the most universally flattering hairstyles, looking well on almost everyone. A somewhat chaotic and voluminous appearance may be achieved with textured hair, giving your hair volume and seeming healthy.
31. Sophisticated Mullet Hairstyles
For most individuals, the mullet is an edgy and stylish hairdo, but it is difficult to achieve and has some negative connotations attached to it.
Men of all ages may wear this haircut more sophisticatedly with a more current take on it. Make sure that the rear of the head isn't too long so that the cut doesn't seem out of place with the rest of the head. If you have thick hair, you may wish to add a fade to structure the haircut.
32. Spiky Mullet Hairstyles
The top of your hair will seem larger and thicker with hair spikes. Any hair type may be used to get this style, but it is simpler to do on curly and wavy hair since it looks more natural.
Form soft peaks in the appropriate size and height using a pomade or wax on towel-dried hair. It's all about the rear of the head and the top when you match a mullet. This is a terrific option if you're a fan of the mullet but don't want it to be too obvious. Experiment with various back and top/side lengths.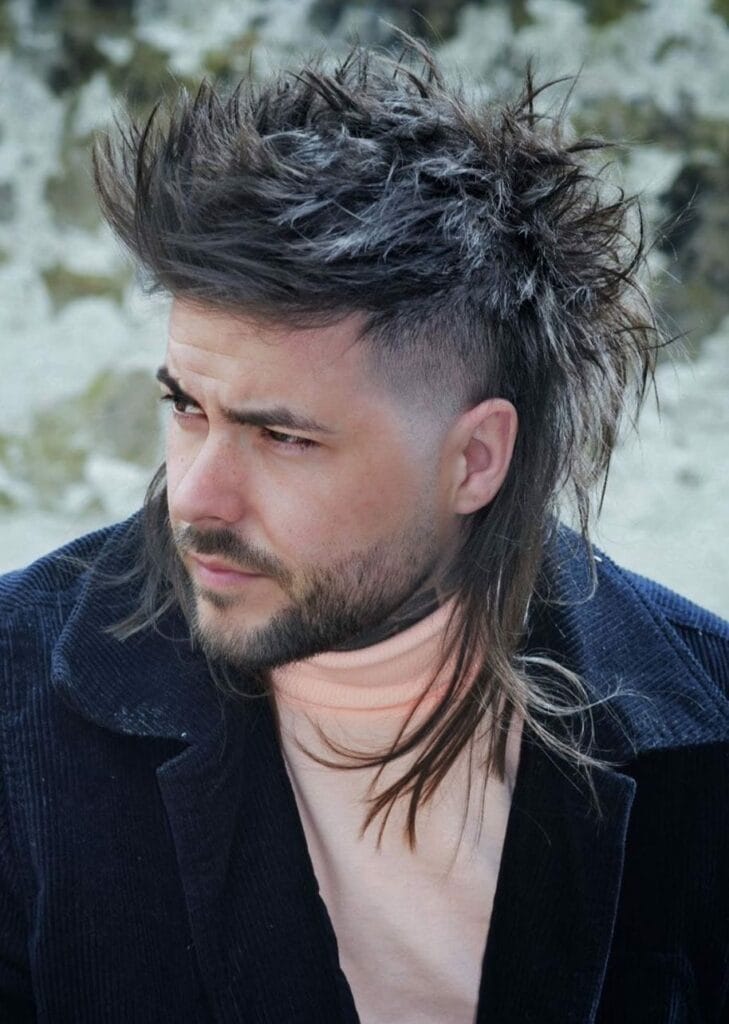 33. Double-toned Mullet Hairstyles
Doubled-toned mullet hairstyles are the perfect examples of a mullet style that is both wearable and contrasting. The texture of your hair will be highlighted if you use two colors. If you have dark hair, adding blonde highlights may help to brighten and lighten your overall look. Unnatural hues may also be a fun way to show your personality.
You're going for a sloppy, purposefully untidy look for this cut. Add choppy layers to your hair if you don't have naturally textured hair to give it movement and character. Enjoy the attention you'll get when you sport this haircut.
34. Gold Hair Mullet
One of the latest hair color trends, Rose gold elevates the mullet to new heights. If you have a fair complexion with pink undertones, this color is most suited for you. A mullet is a perfect choice for a hair color this daring. The rose gold color mullet may be paired with a high skin fade for an on-trend style.
35. Platinum-colored Mullet Hairstyles
When choosing a bleached style, the mullet is an equally eye-catching option. The combination gives off a stylish Mod revival impression when worn with a suit. Make careful to apply moisturizing treatments on your mullet to prevent it from drying out and becoming brittle after getting platinum blonde.
Conclusion
A mullet can only be achieved by growing your hair long enough to create a noticeable difference in length between the hair on your back and the hair on top of your head. It's as simple as trimming the top and sides to the desired size once it's grown out.
Men of all ages and classes can rock the mullet hairstyles effortlessly. As some experts say, mullet hairstyles are business in front and party behind. Blow-drying your hair constantly could ruin the texture and look of your hair. Try as much as possible to towel-dry your hair instead, so you can retain moisture. You could try using mild hair products and staying away from blowdryers to get the full hair for mullet hairstyles.
Please go through other articles on this website for more exciting content like this.
Khamis Maiouf is a professional barber who graduated from Hinckley College in England with a degree in hairdressing. He has also won several barbering contests and successfully operated a barbershop for the last two decades. As a skilled hair stylist for 20 years, his goal is to teach others how to achieve a beautiful appearance through their hairstyles.