Hey guys, if you want to impress your girlfriend with your sexy appearance and want to be classy yet charismatic even in casual wear. Then you should try different clothes, shoes, beard styles and of course Italian men hairstyles! You tend to experiment with hairstyles to look good and romantic in front of your girlfriend. We think you can do so by applying Italian men hairstyles. If you are worried, you don't know anything about Italian men's hairstyles.
Don't worry guys, in this article, we will discuss how you can get the best Italian men's hairstyles and different hairstyles that you can try to be chic and look cool. But before elaborating further, you have to keep one thing in your mind. Every Italian hairstyle mentioned in the below article needs extra maintenance and little effort to make it over your hair. With that in mind, let's talk about the best Italian men hairstyles.
14 Best Classy Italian Men Hairstyles
Short Crew Cut Style
If you want a simple hairstyle with little or no maintenance, try a short Italian crew cut. This is a clean and edgy hairstyle for those men who are beginners experimenting with Italian men hairstyles for the first time.
Comb your hair on the front side with medium faded sides. This hairstyle is suitable for formal wear. You can try this hairstyle with any formal or casual attire. Because it is a clean and elegant hairstyle. Oval or round face shapes are the best mediums for this classy hairstyle.
Italian Pompadour Hairstyle
This Elvis Presley-looking hairstyle is perfect with formal wear. It is a timeless hairstyle that is so popular among youngsters and middle-aged men. The haircut is accompanied by the low faded sides. The top part is swept up and slicked back.
This haircut is for straight and wavy hair. Wear a formal look with a penchant when you wear this haircut. You can experiment with this haircut if you want to attend an important event or meeting. The oval face shape is perfect for this super-hot hairstyle.
Italian Flat Slick Back Hairstyle
This is the most elegant and decent hairstyle that is trending at events and parties.
How can you prepare this clean and neat hairstyle?
Make low faded sides.
Give a flat-sided look to the top of your hair.
Sweep hair back and at sides.
This haircut suits any shaped face. You can try it with jeans, semiformal shirts, and pants. Make a memorable entry at the party with your girlfriend by having this classy and clean hairstyle.
Italian Semi-Quiff with Fade
If you're a fan of fade, this haircut is just for you. This sleek hairstyle looks good if you have waves in your hair. Experiment with this haircut with casual wear like a t-shirt and jeans. Men who have a rectangular face are perfect for this cool look.
The haircut can work at social gatherings, night parties, and even in college.
How to apply this style to your hair?
Make medium to low fade on the sides of your head.
Style the top of your head as a quiff.
Then, comb your hair to the back of your head.
Perfect! Now you look like a carefree and good-looking boy.
Pony Hairstyle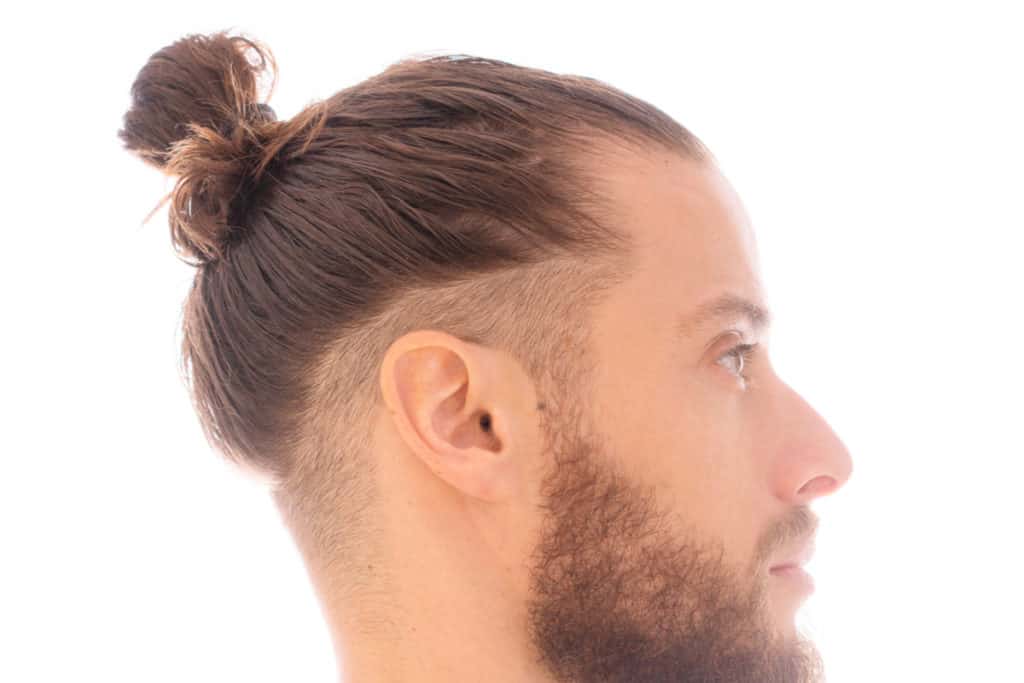 It is an easy hairstyle that is suitable for men from any age group. You have to grow your hair to make a male pony. Many well-known celebrities sport this stylish and edgy hairstyle. This sexy hairstyle looks good on men who have curly or wavy hair.
Wear this hairstyle anywhere, anytime. You don't have to have any specific face shape to have an Italian pony look or a man's bun. An Italian pony look or a man's bun looks perfect on any attire, be it formal wear or casual t-shirt and jeans.
Italian Hipster Style
If you have slick hair along with a trimmed mustache and beard, you can apply this hairstyle. This super stylish haircut is perfect for mid-20 and beyond boys.
You can do this easy-to-maintain haircut either on straight hair or wavy hair. If your face is oval-shaped, then it will look great on you. Apply this unique and modern hairstyle to casual wear and be an inspiration to other men at informal events.
Italian Curly Style
Just make a fade to the sides of your head and waves on the front of your head. You will look handsome and ultra-cool in this hot Italian hairstyle. Is it a messy haircut? Yes. But mark my words, you will look like the most handsome boy among your peers. Just ask your girlfriend for your confirmation! If your hair is already curly, this messy haircut is just for you.
Otherwise, you have to make waves on the front of your head. The curly Italian hairstyle is suitable for mid-20 boys. You can apply this extra cool haircut with daily and casual wear. Sport this curly hairstyle with style and grace in your college.
Italian Mid-length Wavy Hair with Beard
If you have long wavy hair with a beard, sport this unique haircut. This gorgeous haircut looks good on any face-shaped man. Men with 30 and beyond can look handsome and young in this amazing haircut. Don't try this with formal outfits. A casual T-shirt or jeans would be an apt choice for this different hairstyle. Even if you don't sport a mustache or beard, you can try mid-length wavy hair.
Italian American Hairstyle
This stylish and trendy hairstyle is becoming a hot cake for every young boy. You will look decent, elegant, and handsome in this classy hairstyle. You can experiment with this hairstyle in any outfit. But semiformal or formal wear is a perfect choice for this chic haircut.
The easy-to-maintenance haircut looks sexy with glasses. Don't try this haircut if you do not have an oval-shaped or square-shaped face. This extra cool haircut looks apt for college-going boys as well as middle-aged men. You can wear this hairstyle at in-office meetings and formal events.
Long Haircut
This other trendy hairstyle gives a macho look to your personality. You should have straight hair to have this confident and contemporary hairstyle. This super stylish hairstyle needs a straight combing and middle part. You don't need to do anything to grow long hair; it will grow longer naturally.
It looks perfect with an oval-shaped or square-shaped face. The age range between 25 and 35 is apt for this hot haircut. Also, if you sport a beard, this style will look manlier on you. Wear this hairstyle at cocktail events and other parties. Any casual wear is suitable for this Italian hairstyle.
Italian Messy Spikes
This is another super stylish hairstyle that can be sported by pulling your front hair towards the backside. You can trim the sides a little short. If you sport a half-shaven beard, this trendy hairstyle will be a great choice for you.
Remember, your face has to be square-shaped for this style to work for you. Messy spikes will look elegant in formal wear. You will become the talk of the town in your office or at night parties. Apply a little hair gel to keep this funky hairstyle in place.
Italian Chopped and Cropped Hairstyle
Your entire head and hair have to be trimmed short and spikey. The stubble beard will look dashing with this another modern-age hairstyle. If you're wondering which face shape is suitable for this hot Italian hairstyle? Well, oval-shaped and U-shaped faces are great mediums for this sexy haircut. It will be more interesting if you have a sharp-featured face.
From young boys to middle-aged men, this another funky haircut is becoming a hot trend among them. Formal attire is the best option for such a hairstyle. You can wear it anywhere, especially at cocktail parties.
Italian Gentleman's Haircut
The Gentleman's cut is a simple haircut with a spike. You need to sport a short stubble to look cuter in this trendy hairstyle. The hairstyle with a side partition is a perfect choice for formal wear. You can experiment with this style at in-office meetings, formal parties, night parties, and gatherings. It needs only a round-shaped face with short stubble. Young boys can wear this chic hairstyle with a complementary volume to look more handsome.
Italian Careless Spread Hairstyle
Do you know Gabriel Goko? He wears the same Italian hair, which you can follow anytime, anywhere. If you want to have a relaxation from boring workday life, just go for it! This hairstyle can be styled by scattering hair into stretched strands and spreading it like bangs on the forehead.
This is another funky hairstyle that is suitable for formal as well as casual wear. You can flaunt this haircut at night parties, cocktail parties, and informal gatherings. If you keep short stubble, then this style is great for you. However, your face has to be u-shaped to wear this trendy style. Also Read: The Top 5 trendy Balbo Beard Styles Now
Conclusion
Italian men hairstyles are known for messy and curly waves. However, some trimmed and decent haircuts are included in the best Italian men hairstyles. If you maintained those haircuts with proper oiling and shampooing, you would definitely rock these hairstyles. Nobody can compete with you due to your charming aura. Your girlfriend will give you more kisses, for sure!