Discover the 39 Black Boy Haircut Taking Over Instagram.
If you're looking for a new haircut, you're in luck. Instagram is currently filled with amazing black boy haircuts that are taking over the internet.
From the Caesar to the high top fade, there's a look for everyone. So whether you're looking for something sleek and professional or funky and fun, we've got you covered. Check out the 39 haircuts below and get inspired!
Luxurious High Top Fade For Black Boys
Looking for a high-end look for your little black boy? The luxurious high top fade is perfect for boys who want a style that's both professional and stylish.
With tapered sides and a sleek high top, this haircut is perfect for special occasions or everyday wear.
Soft Low Fade For African American Boys
If you're on the hunt for a new haircut for your little black boy, you're in luck. The soft low fade is one of the most popular haircuts for African American boys right now.
The soft low fade is a great choice for boys with natural hair, because it helps to show off their natural curls and texture.
It's also a good choice for boys who want a low-maintenance haircut. The best part? This haircut is perfect for any age, from toddler to teen.
So if you're looking for a new look for your little guy, the soft low fade is definitely worth considering.
Trendy Temple Fade For Black Boys
This fresh temple fade for black boys is one of this year's hottest looks. It's perfect for any guy who wants a stylish and low-maintenance haircut.
The temple fade is a great way to show off your facial features, while keeping your hair looking neat and tidy. Plus, it works well with any style of beard.
If you're looking for a cool new haircut that will make you stand out from the crowd, then the temple fade is definitely worth considering.
Full Afro For African Boys
For African boys looking to make a statement with their hair, the full afro is an easy yet stylish choice.
This haircut consists of voluminous curls that are kept at medium-length and, as the name suggests, can be styled into a full afro. This style is incredibly versatile, and looks great when paired with a variety of clothing styles.
To keep your hair looking on point, use moisturizing creams or oils to help keep it hydrated and healthy.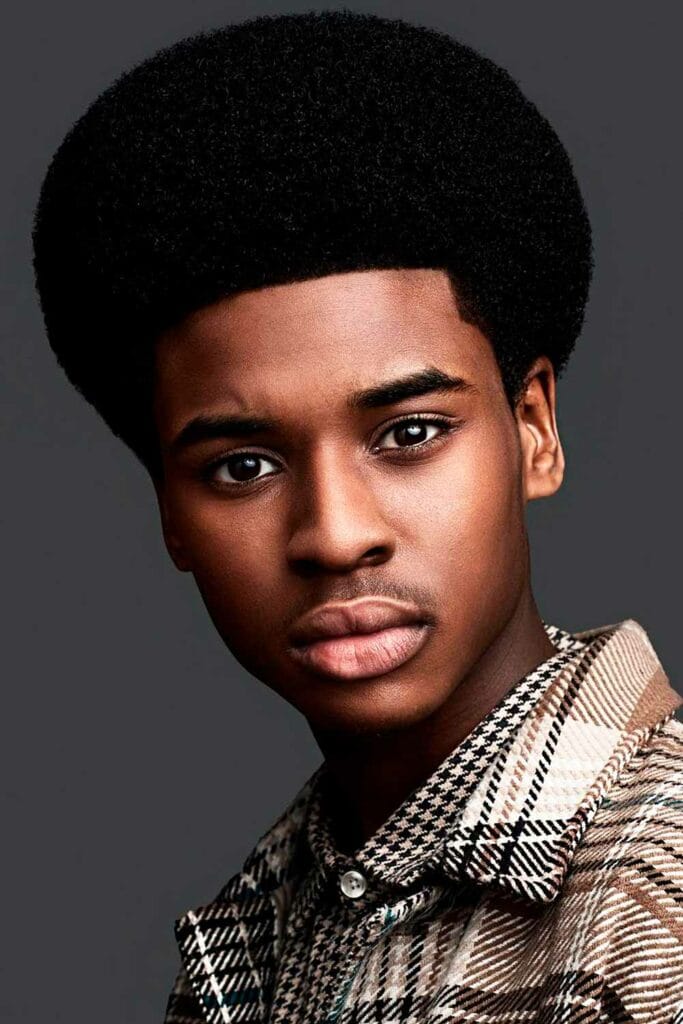 Cool Mohawk For Black Boys
The mohawk is a bold style for black boys, and one that you'll definitely want to try! It involves having your hair cut short on the sides, with a longer strip of hair in the middle.
The top can also be styled, using various techniques like braiding and using products like gel to achieve a sleek look.
It's sure to turn heads, and it's very versatile! Add some accessories for an even cooler look.
Intricate Cornrows For African Boys
If you want to make a bold statement, intricate cornrows are the way to go. Perfect for any age, this look features multiple braids criss-crossed up and around the head.
It's a great choice for African boys, who can also add color effects, beads and accessories to their creative masterpiece.
Add a touch of texture and volume with a mini afro at the crown. Finish it off with some subtle styling products for extra definition.
Stylish Braids Haircut
This stylish braids haircut is perfect for occasions when you want to look put-together and fashionable. It's a staple hairstyle in the black community, and with good reason!
The look consists of several braids all flowing towards the back, while the sides are shaven or trimmed. It's a great way to keep hair out of your face, while also keeping it looking stylish.
You can switch it up by adding beads, glitter, or other accessories to add an extra flair to your 'do! Plus, the protective style helps promote healthy hair growth.
Thick Dreadlocks
If you have thicker hair, you'll love this style. It's an oversized version of dreadlocks that looks effortless and stands out.
To get the look, ask your barber to create a neat parting in your hair and then twist larger sections of the hair into even-sized locks.
This style looks best with loose curls, but can also be worn with straightened or slightly flattened dreadlocks so it's up to you!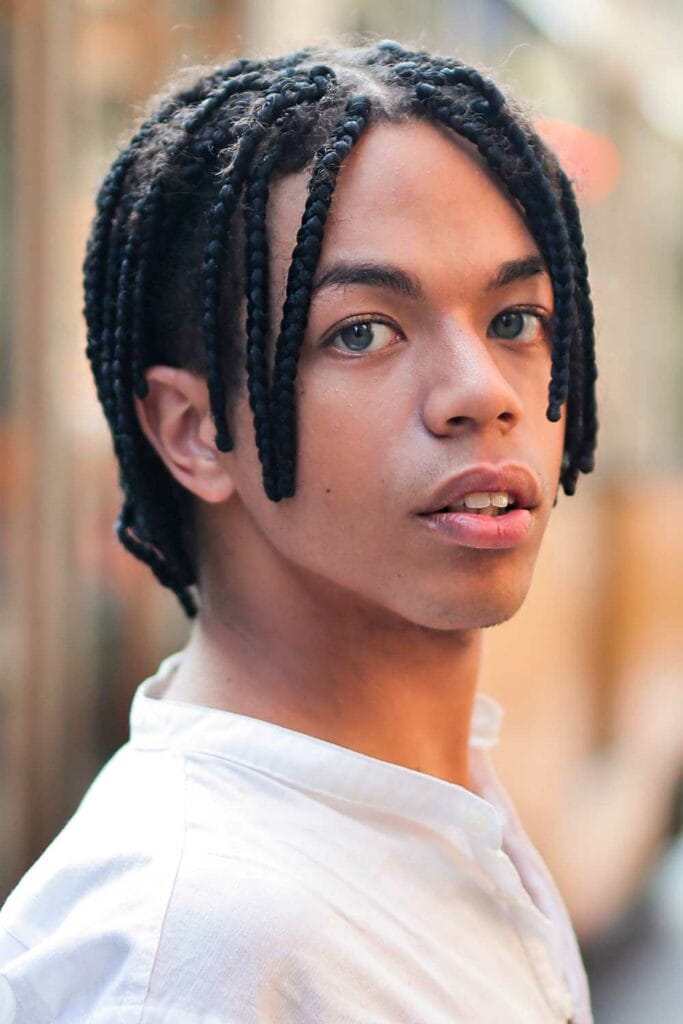 Fluffy Twist Out Style
If you're looking for a reasonably low-maintenance look, try this Fluffy Twist Out Style. This is a versatile cut where the top is kept short with minimal shaved patterns, while the sides and back are given a mere brush cut.
To achieve the twist-out style, use lightweight products like leave-in conditioner and styling cream to reveal those natural twists.
The twisting technique also adds more texture to the cut and makes it look fuller. This black boy haircut is perfect for guys who want something easy that looks great – day in and day out.
Curly Afro For African Boys
This curly afro is the perfect way for African boys to flaunt their natural texture. If you have tightly coiled hair, simply let your hair grow out and create a voluminous puff.
You can use oils and conditioners to help keep your curls hydrated and healthy. The only thing you need to do is keep your tresses trimmed every few weeks to maintain the shape of the style.
Precise Line Up For Black Boys
Tight lined up haircuts are one of the most popular trends for black boys. This cut gives a clean, sharp look and can be tailored to fit any type of facial shape.
It's usually achieved with a short clipper on the sides and back, while the top is kept at a reasonable length. The precise line up haircut also allows room for creativity, allowing you to add designs, such as shapes and lines.
Well-Groomed Shape Up
Looking good, fellas! The well-groomed shape up is one of the freshest haircuts for black boys this season. It's a clean cut look that's perfect for any occasion.
This haircut is all about keeping things neat and tidy. The hair is trimmed short and styled in a neat, understated way. It's perfect for boys who want to look sharp and professional.
Classic French Crop Hairstyle
This style is a modern take on the classic French crop haircut . It's short, neat and tidy, making it perfect for boys who want a low-maintenance style that still looks sharp.
The key to getting this look is to keep everything neat and tidy. The hair around the ears and temples should be trimmed shorter than the rest of the hair, and the hairline should be clean and straight.
Sleek Taper Fade
There's a sleek taper fade taking over Instagram, and you need to know about it.
This haircut is perfect for guys who want a low-maintenance style with a touch of sophistication. The sleek taper fade is versatile and can be styled in a variety of ways, making it the perfect cut for any guy.
Edgy Burst Fade For Boys
Fourth up on the list of the 39 black boy haircuts taking over Instagram is the edgy burst fade.
This style features a closely shaven head with a fade around the sides and back of your head. The fade starts just above your ears and goes up in a "burst" pattern, pulling extra attention to your hairstyle.
C-Shaped Curls
Number five in the series of Black Boy Haircuts taking over Instagram is called the C-Shaped.
Being one of the most popular cuts, this haircut is great for boys who want a manageable look that will last.
As its name implies, the C-Shaped style features shorter sides with a slight curl at the ends. The top should be left longer, so you can use regular styling products to create more defined curls or waves.
Also, it's important to note that guys with different hair types can make this cut work—both curly and kinky haired boys can rock it!
Coiled Hair For Black Boys
These days, more and more black boys are embracing their coiled hair. From tight ringlets to kinky-curly coils, these styles can help create an edgy new look or an effortlessly stylish one.
If you're looking for an easy, low-maintenance style, then the coiled pixie or "Afro-cropped" look might be just what you need.
This is a great style if you want to show off some natural shine while also keeping your hair neat and tidy.
Shiny Jheri Curls
Another nostalgic look that's been making its way onto Instagram lately is the shiny Jheri curl. This style was popular in the 80s and early 90s, and was made famous by stars like Will Smith.
The look is achieved by using a type of chemical solution to make your hair curl inwards or outwards depending on your preference.
To get this look, you'll need a curling iron and some strong-hold hair gel. After you've curled your hair, use the gel to set the curls in place.
Finish up with a generous helping of hairspray for that perfectly shiny Jheri curl shine. To refresh your look, use a natural oil-based product like coconut or argan oil to help keep your hair moist and add extra shine.
Wavy Hair For Black Boys
Do you have wavy hair? Take a look at these amazing haircuts. Whether you're looking for something bold and edgy or more classic, this list has you covered.
The Side Part:
This sleek side part adds sophistication to an otherwise basic cut. With this cut, you can shape the sides as you desire. Layers or no layers? It's up to you.
The Fauxhawk:
The fauxhawk is a perfect choice for progressive black boys who want to stand out from the crowd. The modern twist on the classic Mohawk style gives off an undeniable confidence boost and is sure to turn heads wherever you go!
Slick Back For Afro Boys
For all you afro boys out there, the slick back look is classic and timeless. To get this style, you'll need to work on your hairline and define your edges.
Start with a comb and some gel to sleek down your edges—this will help shape the hairstyle that you're rocking. Then, apply a generous amount of pomade or wax throughout the layers of your hair.
The key here is to make sure it's evenly distributed from root to tip.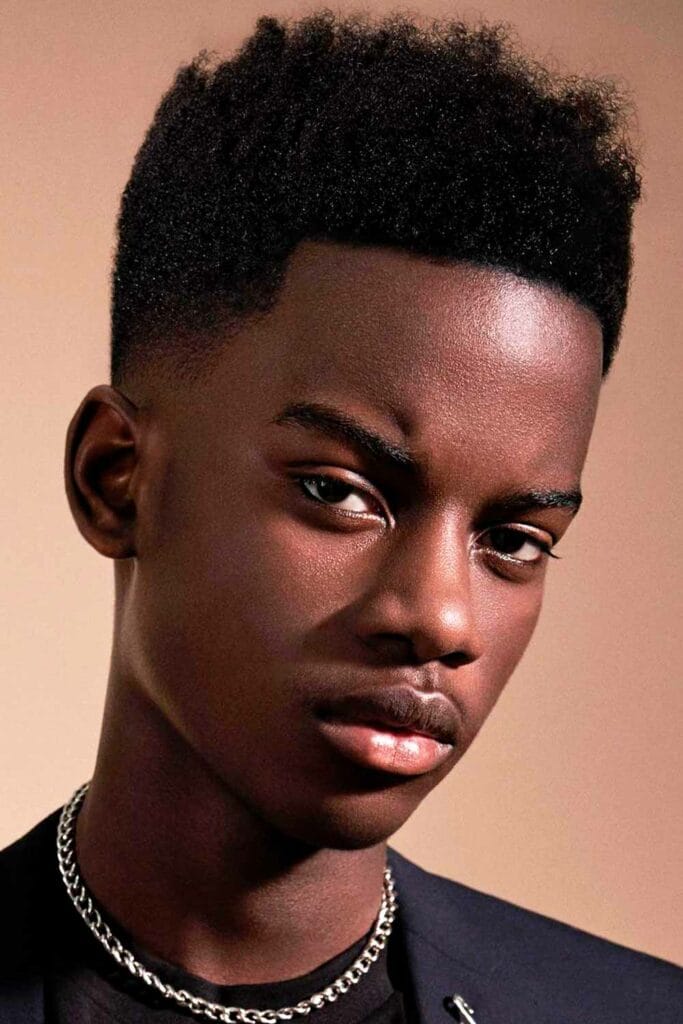 Textured Crop
The textured crop is a go-to look for black boys. To get this look, you'll need to buzz the sides and back of your hair around an inch or two.
The top should be left long enough for you to part it in any direction you desire. To add texture, apply pomade and use your fingers to mess it up a bit.
Clean Buzz Cut
The Clean Buzz Cut is a classic and stylish hair style that is still going strong. This cut features an even length all around the head, but you can customize it and add a part or line up for extra dimension.
This look works well for all hair types, but especially for those with curly and kinky textures.
Conclusion
So, whether you're looking for a low-key style or something a little more daring, there's a black boy haircut on this list that's perfect for you.
Just be sure to take your time in selecting the right cut and barber, and be patient as your hair grows out into the style you want. With a little bit of TLC, your new look will have heads turning—in the best way possible.
Khamis Maiouf is a professional barber who graduated from Hinckley College in England with a degree in hairdressing. He has also won several barbering contests and successfully operated a barbershop for the last two decades. As a skilled hair stylist for 20 years, his goal is to teach others how to achieve a beautiful appearance through their hairstyles.