Discover the 39 Black Boy Haircut Taking Over Instagram.
Cutting to the chase, Black Boys Haircuts are not just a trim trend, they're a statement of style and identity!
From the bustling streets of Brooklyn to the vibrant vibes of Johannesburg, these haircuts transcend borders and speak volumes. As someone who's always on the lookout for the latest in fashion and hair design, I've seen countless styles come and go.
But there's something innately SPECIAL about the creativity and flair displayed in haircuts tailored for young Black boys.
Whether you're a parent seeking inspiration or a young gent looking to update his look, you're in the right place.
Dive in, and let's explore the world of Black Boys Haircuts, where style meets substance in the most delightful way!
Luxurious High Top Fade For Black Boys
Looking for a high-end look for your little black boy? The luxurious high-top fade is perfect for boys who want a style that's both professional and stylish.
The first time I saw the luxurious high-top fade among Black Boys Haircuts, I was genuinely mesmerized.
This style speaks volumes about the wearer's confidence. It's an elegant tower of textured hair that makes a statement from any angle. When I think of classic meets modern, this is the look that instantly pops into my mind!
Soft Low Fade For African-American Boys
There's a softness and subtlety to the soft low fade that I absolutely adore. Among Black Boys' Haircuts, it exudes a kind of understated charm.
The soft low fade is a great choice for boys with natural hair because it helps to show off their natural curls and texture.
It's for the young man who wants to strike a balance between tradition and contemporary flair.
Plus, the seamless transition of hair length in this style is nothing short of an artwork!
Trendy Temple Fade For Black Boys
Oh, the trendy temple fade! Whenever I see this among Black Boys Haircuts, I'm reminded of how hairstyles can be so region-specific yet universally appealing.
Accentuating the temples, gives the face a distinct outline, creating a look that's both sharp and suave.
And let's be honest, who doesn't love a bit of trendiness?
If you're looking for a cool new haircut that will make you stand out from the crowd, then the temple fade is definitely worth considering.
Full Afro For African Boys
The full Afro is the epitome of pride and culture among Black Boys Haircuts. When I see a young boy donning this crown, it feels like a celebration of roots and identity.
It's voluminous, it's bold, and it's undoubtedly timeless. The full Afro stands tall, reminding us of the rich heritage from which it originates.
To keep your hair looking on point, use moisturizing creams or oils to help keep it hydrated and healthy.
Cool Mohawk For Black Boys
The Mohawk is not just a hairstyle; it's an attitude. Among Black Boys Haircuts, the Mohawk stands out, signaling a daring spirit ready to conquer the world.
It's sure to turn heads, and it's very versatile! Add some accessories for an even cooler look.
It's edgy, it's fresh, and it turns heads. I often find myself nodding in appreciation whenever I spot this rebellious streak of creativity.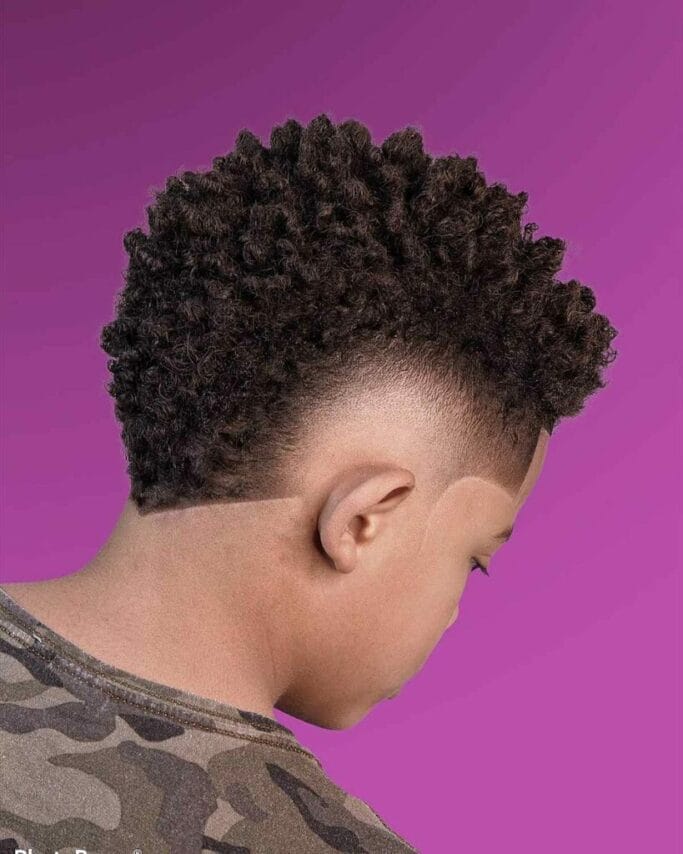 Intricate Cornrows For African Boys
There's an artistry to intricate cornrows that's absolutely captivating. Among Black Boys Haircuts, tells a story of patience, skill, and tradition.
Every time I see those beautiful patterns, I'm reminded of the hands that crafted them, transforming simple strands into elaborate designs that echo cultural narratives.
Add a touch of texture and volume with a mini afro at the crown. Finish it off with some subtle styling products for extra definition.
Stylish Braids Haircut
Braids are so versatile and undeniably stylish. Among Black Boy's Haircuts, they reflect a mix of fashion and functionality.
The way they cascade, twist, and turn is a testament to creativity. I've always been a fan of how they can range from simple to complex, showcasing individuality with every twist.
You can switch it up by adding beads, glitter, or other accessories to add an extra flair to your 'do! Plus, the protective style helps promote healthy hair growth.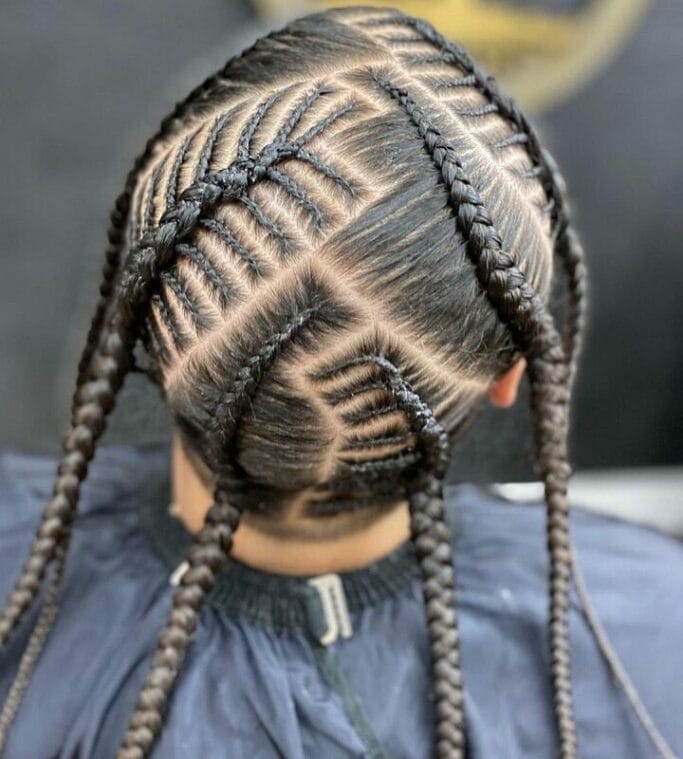 Thick Dreadlocks
When we talk about commitment in the realm of Black Boys Haircuts, thick dreadlocks immediately come to mind.
They are not just a hairstyle; they are a journey. Every lock tells a story, growing with the wearer, and absorbing experiences, and memories.
There's an ancient wisdom and modern swag in dreadlocks that I deeply respect.
This style looks best with loose curls, but can also be worn with straightened or slightly flattened dreadlocks so it's up to you!
Fluffy Twist Out Style
If you're looking for a reasonably low-maintenance look, try this Fluffy Among the myriad of Black Boys Haircuts, the fluffy twist-out style holds a special place in my heart.
It's like watching clouds dance atop a head, each twist boasting its own personality. This hairstyle shouts fun and freedom.
Each time I encounter it, I'm taken on a nostalgic trip, reminiscing about the joyous moments of letting hair down and just being!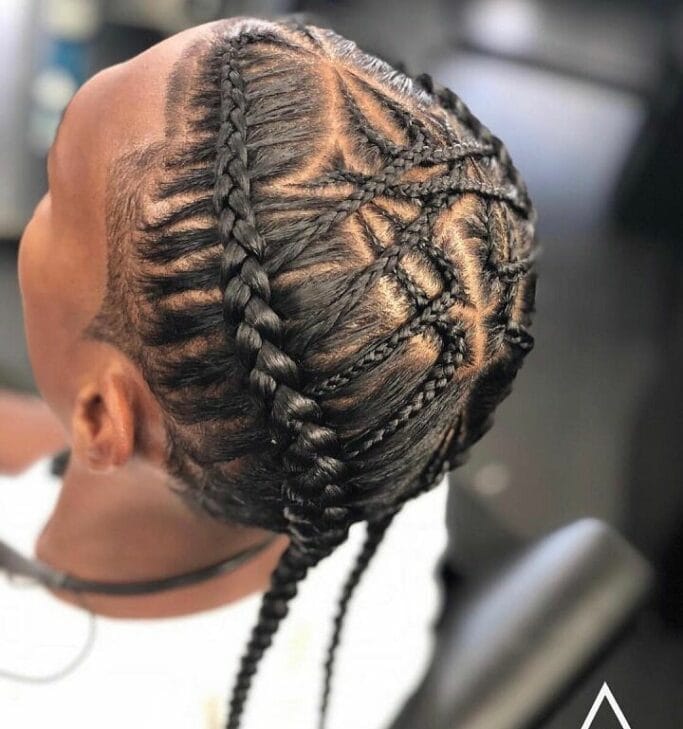 Curly Afro For African Boys
The curly Afro among Black Boys Haircuts is a symphony of springs and spirals. There's a rhythm to these curls, each one seemingly dancing to its own beat.
When an African boy dons this crown, it's as if nature itself is playing on his head, celebrating both origin and individuality. A natural marvel, indeed!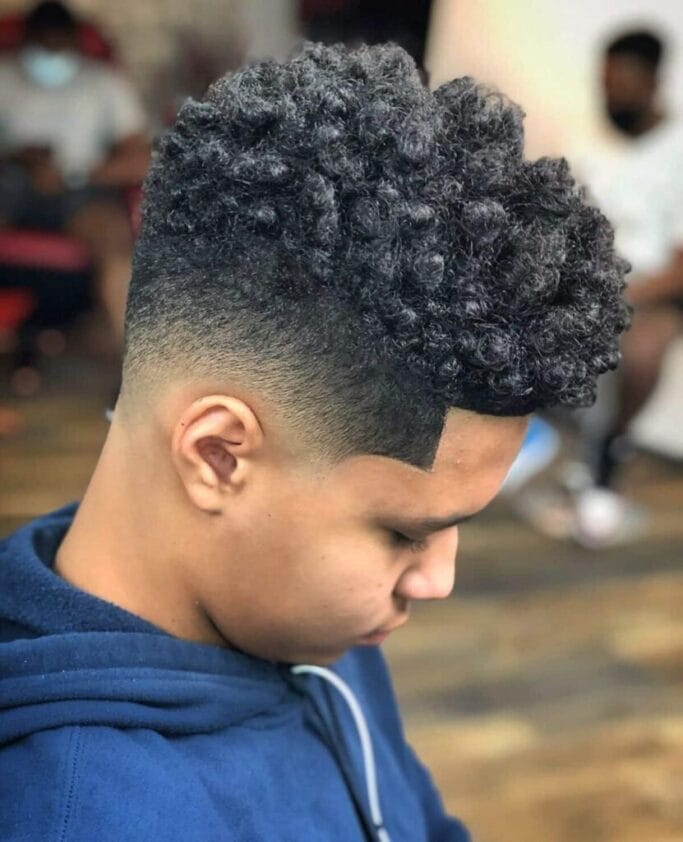 Precise Line Up For Black Boys
Precision is an art, and the precise line-up among Black Boys Haircuts is its canvas. The edges, the sharpness, and the clean lines make me nod in admiration every single time.
It's for the boy who understands that details matter and that a haircut can indeed be a masterpiece in its own right.
Well-Groomed Shape Up
A well-groomed shape up in the realm of Black Boys Haircuts is akin to a perfectly tailored suit – it just fits!
The contours, the neatness, the undeniable charisma it adds; I've always believed it's for the young gentleman in the making.
It speaks of elegance, discipline, and a touch of swankiness.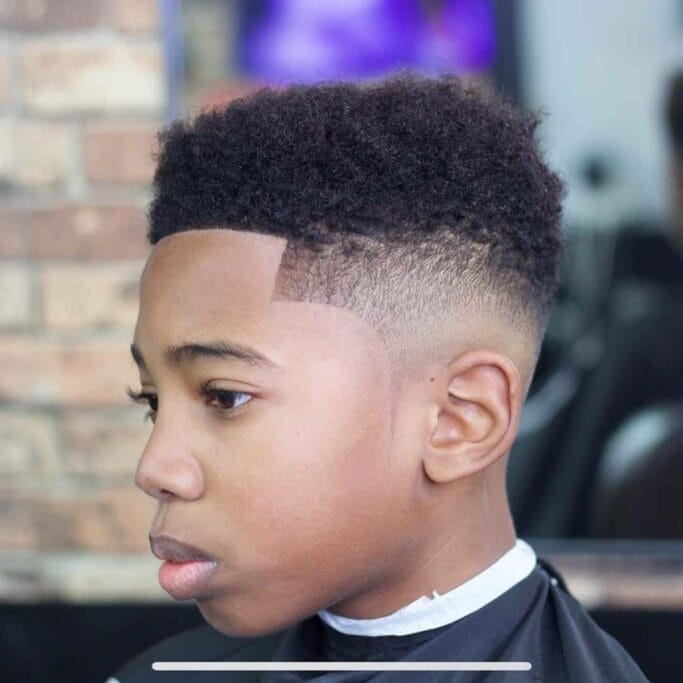 Classic French Crop Hairstyle
This style is a modern take on the classic French crop haircut.
The classic French crop has made its mark among Black Boys Haircuts, and oh, how it has thrived!
With its forward-facing fringe and neat sides, it's like the Paris runway came calling. Every time I see it, I'm transported to the chic boulevards of France, with style and sophistication in every step.
Sleek Taper Fade
There's a sleek taper fade taking over Instagram, and you need to know about it.
The sleek taper fade is the epitome of suave in the world of Black Boys Haircuts. Smooth transitions, blended lengths, and a polished finish – it's the haircut of dreams!
Every time I see it, it feels like a harmonious blend of tradition and trend, creating a symphony of style.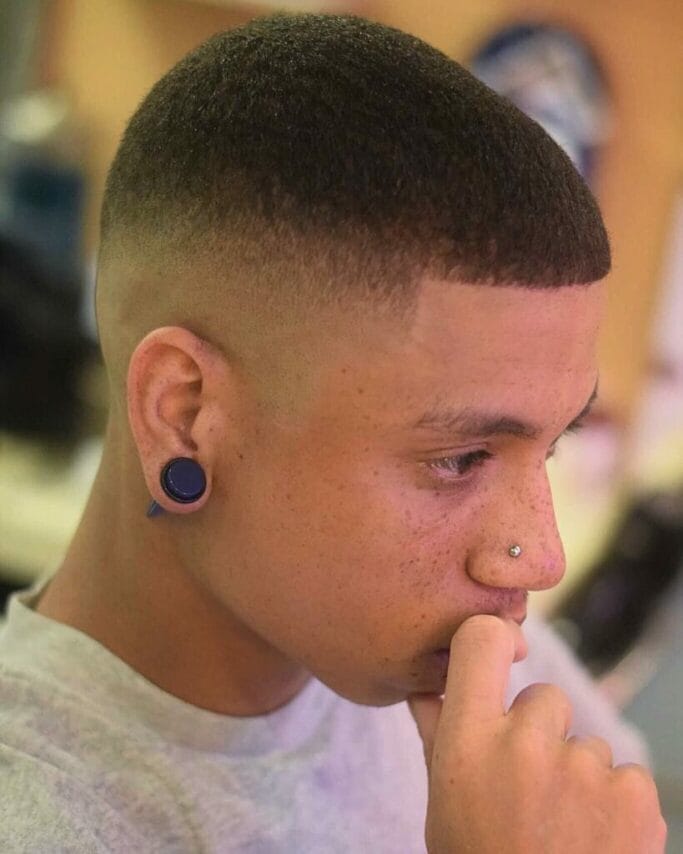 Edgy Burst Fade For Boys
The fade starts just above your ears and goes up in a "burst" pattern, pulling extra attention to your hairstyle.
The edgy burst fade is where dynamism meets style in Black Boys Haircuts. It's like a firework display on the scalp, bursting with flair and attitude.
It's for the spirited, the bold, and the trendsetters. Whenever I spot this style, I silently applaud the audacity and the vision behind such a vibrant choice.
C-Shaped Curls
C-shaped curls are the whimsical touch to Black Boys' Haircuts. These curls seem to have their own language, narrating tales of adventure, mischief, and innocence.
The C-shape, with its unique curve, captures my imagination, making me believe that sometimes, hair can truly wear its heart on its sleeve… or scalp!
The top should be left longer, so you can use regular styling products to create more defined curls or waves.
Also, it's important to note that guys with different hair types can make this cut work—both curly and kinky-haired boys can rock it!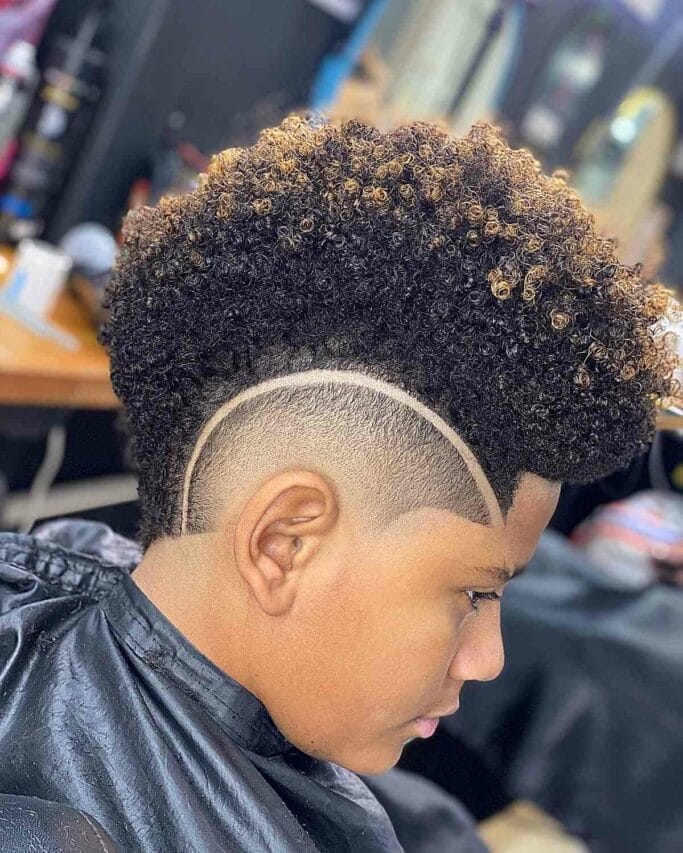 Coiled Hair For Black Boys
There's a magnetic allure in coiled hair among Black Boys Haircuts. Every coil seems to have its own little dance, bouncing and moving with youthful energy.
It's as if nature herself twisted these locks to perfection! Every time I encounter this natural masterpiece, it's a visual treat, celebrating the beauty of tight, springy curls that scream personality.
This is a great style if you want to show off some natural shine while also keeping your hair neat and tidy.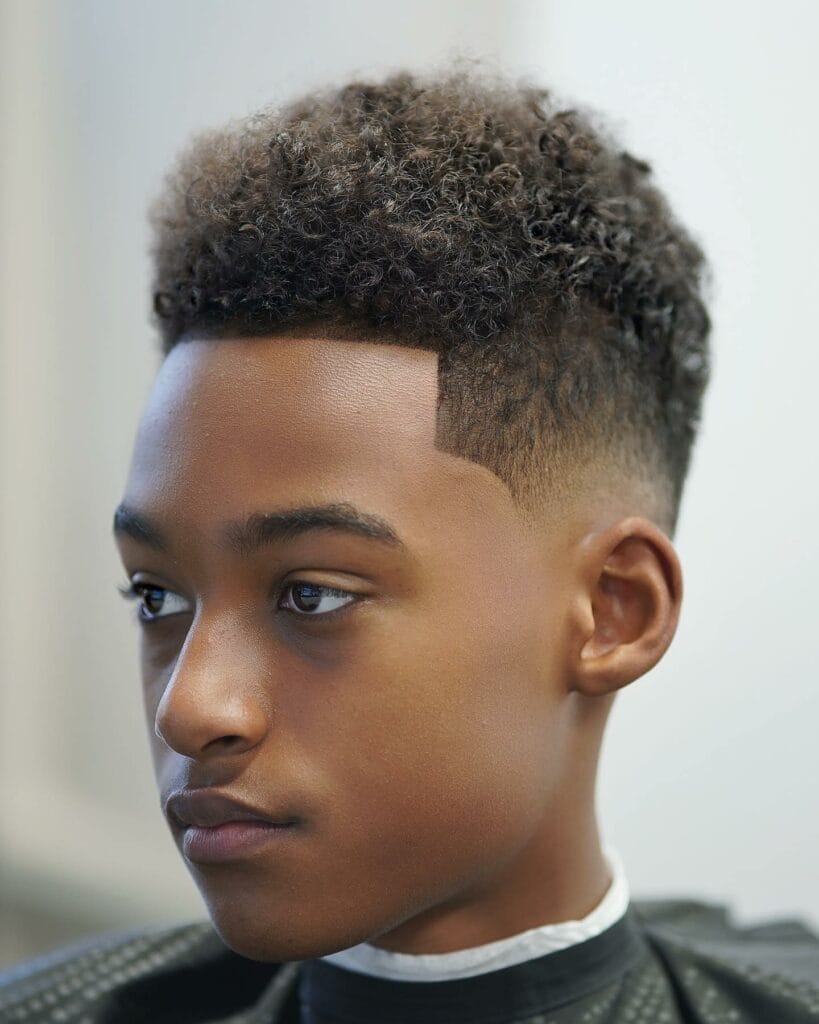 Shiny Jheri Curls
Ah, the glamorous shine of Jheri curls among Black Boys Haircuts! It brings back waves of nostalgia, reminding me of iconic musical legends.
But more than just a throwback, these glossy curls represent a fusion of past glory with present-day swagger. It's a moist, shiny spectacle that adds a touch of retro to the modern day.
To get this look, you'll need a curling iron and some strong-hold hair gel. After you've curled your hair, use the gel to set the curls in place.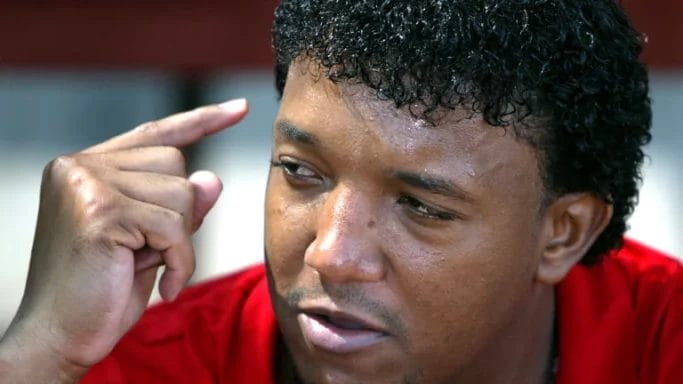 Wavy Hair For Black Boys
The rhythmic flow of wavy hair in Black Boys Haircuts is nothing short of poetry in motion.
There's a softness to it, a gentle wave that seems to carry stories of oceans and open skies. Whenever I see these flowing waves, it feels like an embrace of natural grace and fluidity, truly captivating the essence of movement.
The Side Part
The classic side part of Black Boys Haircuts is the epitome of sophistication. It's a simple yet impactful statement of elegance, dividing hair with precision and purpose.
When I think of young gentlemen setting trends, this neatly combed distinction always comes to mind. It's old-school charm meeting new-age style.
The Fauxhawk
The Fauxhawk among Black Boys Haircuts is where tradition winks at rebellion. It's the perfect middle ground for those who want to flirt with edginess without going all out.
Every time I spot this, it gives off a vibrant, playful vibe. A hairstyle that's ready to challenge norms, but in the most stylish, understated way.
Slick Back For Afro Boys
The slick back style has found its niche in Black Boys Haircuts, and boy, does it make a statement!
There's something incredibly sleek about taking those Afro-textured locks and pushing them back, as if saying, "I mean business." It's a testament to versatility and the audacious blend of formality with flair.
The key here is to make sure it's evenly distributed from root to tip.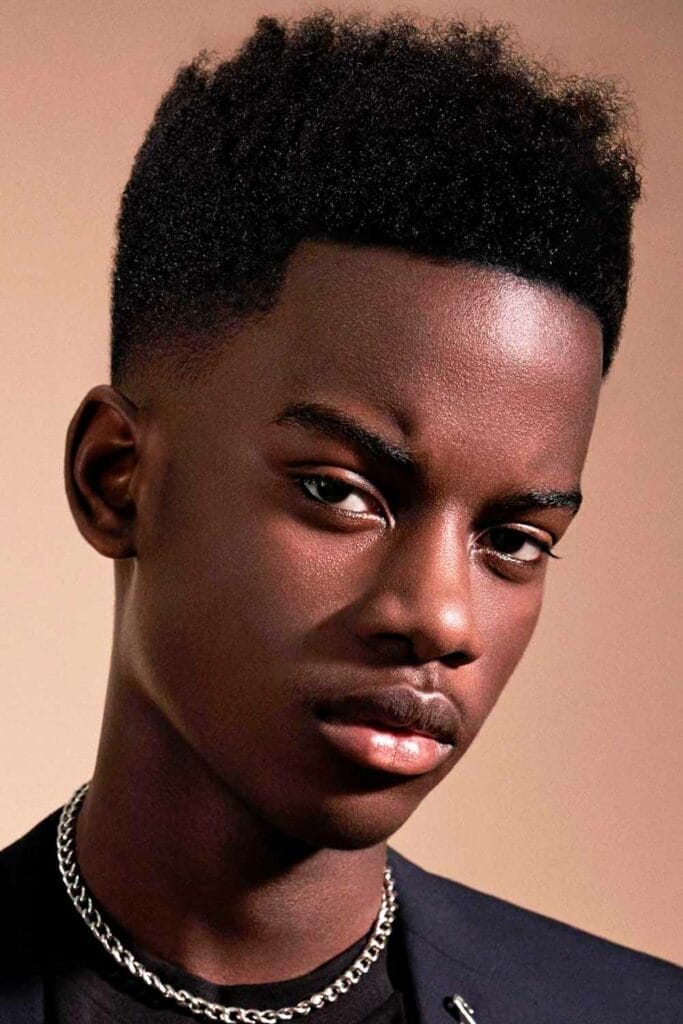 Textured Crop
There's a certain rawness to the textured crop in Black Boys Haircuts. Each strand, with its unique texture, stands out, creating a beautifully rugged landscape on the scalp.
Whenever I run into this style, it speaks volumes about embracing imperfections and celebrating individuality. It's a bold, unapologetic nod to the wild side.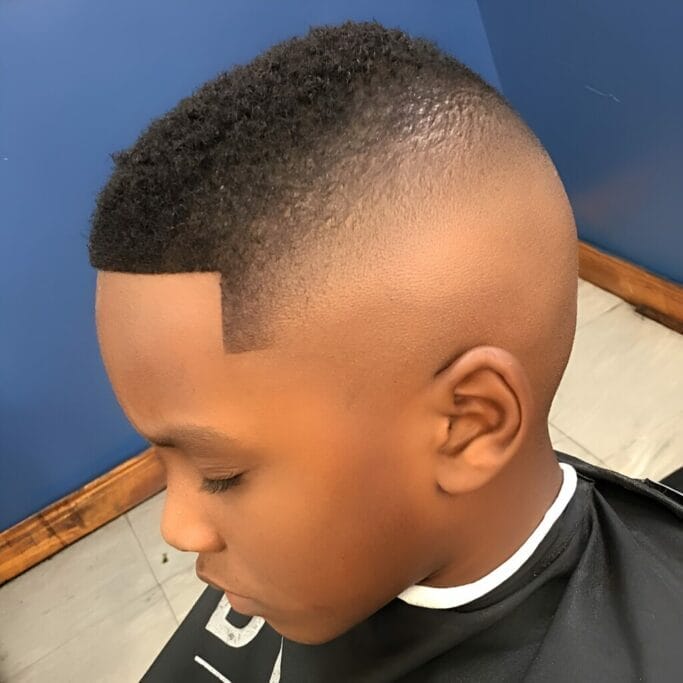 Clean Buzz Cut
The clean buzz cut among Black Boys Haircuts is like a breath of fresh air. It's straightforward, neat, and incredibly refreshing.
I've always admired its simplicity and the sheer audacity of bearing oneself with such minimalistic grace. It's a reminder that sometimes, less truly is more in the world of fashion and style.
This look works well for all hair types, but especially for those with curly and kinky textures.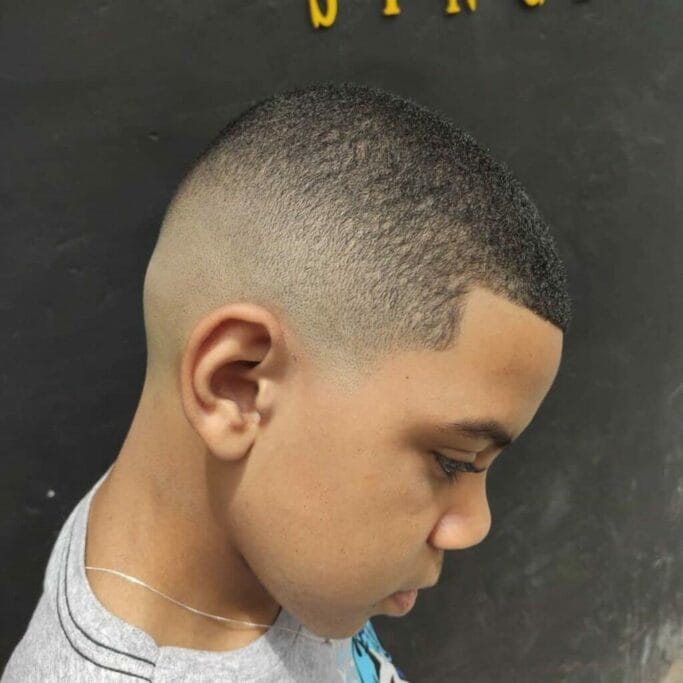 Conclusion
In my journey exploring the realm of Black Boys Haircuts, I've come to appreciate the depth of creativity and identity they carry.
These hairstyles are more than just fashion statements; they're an emblem of culture, heritage, and individuality. I wholeheartedly believe that every young Black boy deserves a haircut that reflects his unique personality and spirit.
As I look forward, let's continue to celebrate and embrace these distinct styles that make our world so vibrant.
References
African-American hair or Black hair refers to Afro-textured hair types, textures, and styles that are linked to African-American culture, often drawing inspiration from African hair culture. source
Black Boy (1945) is a memoir by American author Richard Wright, detailing his upbringing. source
Khamis Maiouf is a professional barber who graduated from Hinckley College in England with a degree in hairdressing. He has also won several barbering contests and successfully operated a barbershop for the last two decades. As a skilled hair stylist for 20 years, his goal is to teach others how to achieve a beautiful appearance through their hairstyles.