9 Amazing Hipster Beards Styles You Must Try Now
If you're a fan of the hipster vibe, then you know that the hipster look is only complete with a stylish beard to go with it. And with hipster beards styles becoming increasingly popular, this is the time to try out a new facial hair look.
These beards offer the perfect blend of ruggedness and refinement, allowing you to express your individuality while still looking effortlessly cool.
But with so many styles to choose from, it can take time to figure out where to start.
That's why we've created the ultimate guide to hipster beards styles, featuring the latest trends to help you find the perfect style that suits your personality and lifestyle.
What are Hipster Beards Styles?
Hipster beards encompass popular beard styles among the modern-day hipster crowd, emphasizing individuality and self-expression. In a nutshell, it's a rugged yet stylish facial hair trend that rose to popularity in the late 2000s.
Prior to this, the hipster beard was associated with older generations and considered unappealing to younger generations. However, it gained new life in the fashion world and is now appreciated with a certain level of maintenance.
This may include trimming and the use of hair creams, among other grooming practices.
Hipster beards styles will take your grooming to the next level when paired with the correct hairstyle. The beard can be summed up as the "power Beard" which breaks traditional social norms while remaining on-trend in contemporary fashion.
9 Dazzling Hipster Beards Styles for You!
With a diverse range of styles for your face, there's no shortage of ways to make a statement.
Whether you're looking to complement your face shape or a style that aligns with your personal aesthetic, the versatility of hipster beards means there's something for everyone.
Having read this page thus far, you are interested in exploring the world of hipster beard styles and finding the perfect one.
Below is a carefully curated list of the top nine hipster beard styles that will inspire your next grooming adventure.
1. Classic Hipster Beards Styles
The beard plus a mustache combination is what really sets the classic hipster style apart.
One of the great things about the classic hipster beard style is that it can be customized to suit your individual preferences.
This type of hipster beards styles is usually grown out to a medium length and shaped to suit your face, while the mustache is trimmed and styled to complement the beard. Together, they create a cohesive and stylish masculine and refined look.
You can experiment with different beard lengths, shapes, and styles to find the perfect combination that suits your face and personality.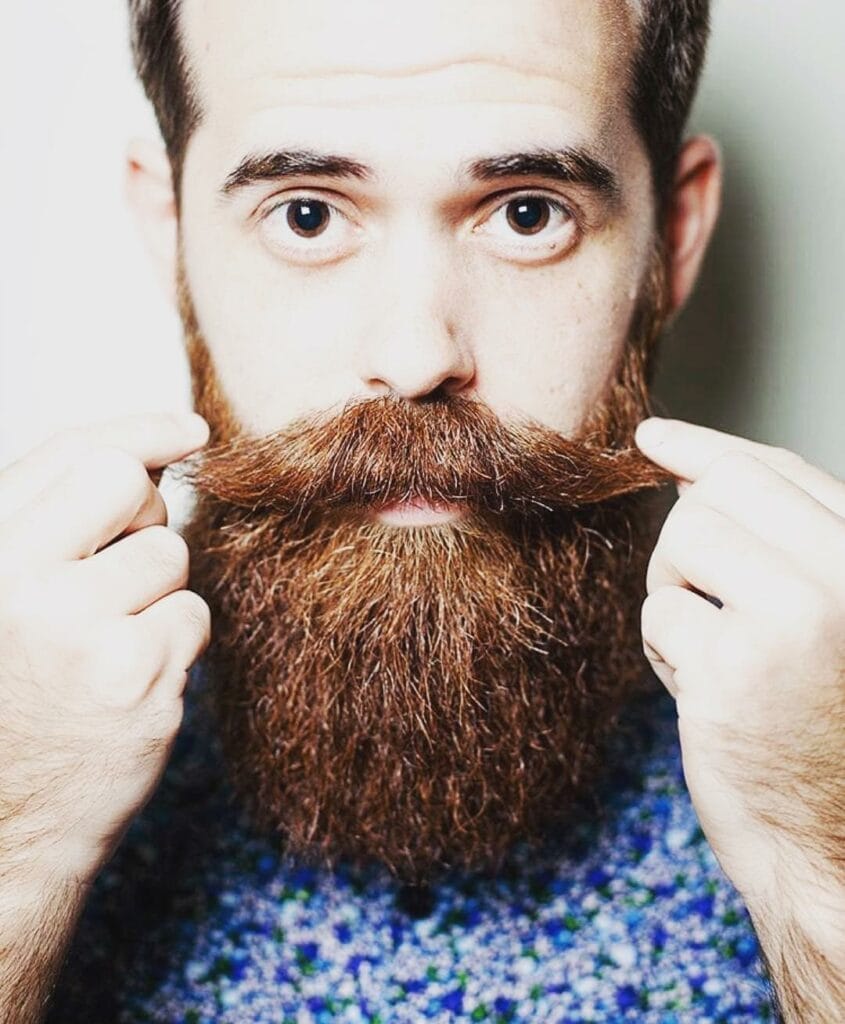 2. Top Knot Hipster Beards Styles
When it comes to beard styles for men, the top knot hipster beard definitely stands out from the rest. The top knot style combines with the trendy man bun hairstyle to create a stylish and masculine look.
This involves combing your hair up into a ponytail and wrapping the hair of the ponytail around itself.
The top knot beard style is trendy among men who want to make a bold fashion statement. It adds a youthful and carefree vibe to your appearance that will impress.
Plus, with its well-groomed facial hair and a stylish man bun hairstyle, this beard style will earn you plenty of admirers.
3. Faded Pomp Hipster Beards Styles
It's essential to keep in mind that not all beard styles are created equal, so you need to choose the best style for your face shape and features.
Fortunately, the faded hipster beard is one of the popular beard styles that can complement a variety of face shapes, making it a great choice for many men.
You'll need to follow some beard-trimming tips to keep your faded hipster beard looking its best.
This may include using beard oils to keep your beard moisturized and softened and using a good quality beard trimmer to keep the length and shape of your beard just right.
Whether you prefer a shorter hairstyle or something a bit longer, this beard style can be customized to suit your individual preferences.
4. Razor Sharp Hipster Beards Styles
The razor sharp hipster beard is a great option if you're looking for a style with sharpness and precision.
This style combines a slicked-down and faded hairstyle with a beard that has been meticulously outlined to follow the curve of the cheek. The result is a look that is razor sharp and oozes confidence.
5. Grizzly Hipster Beards Styles
Inspired by the heavy fur of the grizzly bear, the grizzly beard style portrays a wild and rugged appearance.
While some slight trims to allow the hair to grow in the right direction are recommended to differentiate it from a completely wild hipster beard, the overall composure of the beard should remain untamed.
The grizzly hipster beard is particularly well-suited to those with a carefree and exotic attitude, as it lets your beard grow freely and embrace a more extravagant personal look.
This beard style can complement a variety of hairstyles, but it's particularly well-suited to longer hair or a messy, undone look.
6. The Rebel Hipster Beards Styles
The rebel hipster is the most classic beard that perfectly embodies the rebellious spirit of the hipster tribe. This beard style is adopted by some of the most daring and unconventional men, as it helps you to attain the perfect rebel appearance.
Hipsters often reject cultural norms and trends, and the rebel hipster beard is no exception.
The rebel hipster beard is typically a free length beard, although it is trimmed to maintain neatness. The key to achieving this style is that the beard remains slightly unkempt and has a messy appearance.
Although not a compulsory requirement, wearing a heavy hipster mustache style is an additional feature of the rebel hipster beard. Even so, many rebel hipster beards are complete without bulky mustaches.
Ultimately, the rebel hipster beard is about embracing individuality and rejecting conformity.
7. Burly Hipster Beard Styles
The burly hipster beard can be classified among the short beard styles with neatly trimmed, heavy, and bulky hair.
The most prominent feature of this beard style is the heavy mustaches, which cover the entire upper lip area. This gives the style an exquisite and classic appearance favored by men from all walks of life.
8. Rock n' Roll Hipster Beards Styles
To achieve the Rock 'n' Roll beard with a hipster appeal, a full beard of hair should be grown and cut into a short Mohawk style. The sides should be left shaved to create a sharp contrast between the long hair on top and the bare skin on the sides.
The good thing with this style is that the beard requires minimal maintenance, as the key is to let the hair grow freely and embrace the natural texture of your facial hair.
The Rock 'n' Roll hipster beard is an excellent choice for those who want to stand out from the crowd and show off their edgy side. This style is particularly well-suited to those with a rocker or punk aesthetic.
With its versatile and rugged appeal, the Rock 'n' Roll hipster beard is a beard style to consider.
9. Honor Roll Hipster Beards Styles
The simplest way to style a hipster beard is by growing it out and trimming it down to your desired length.
Pair it with faded temples and a stylish comb over to complete the look. This style requires minimal effort and is perfect for those who prefer a low-maintenance look.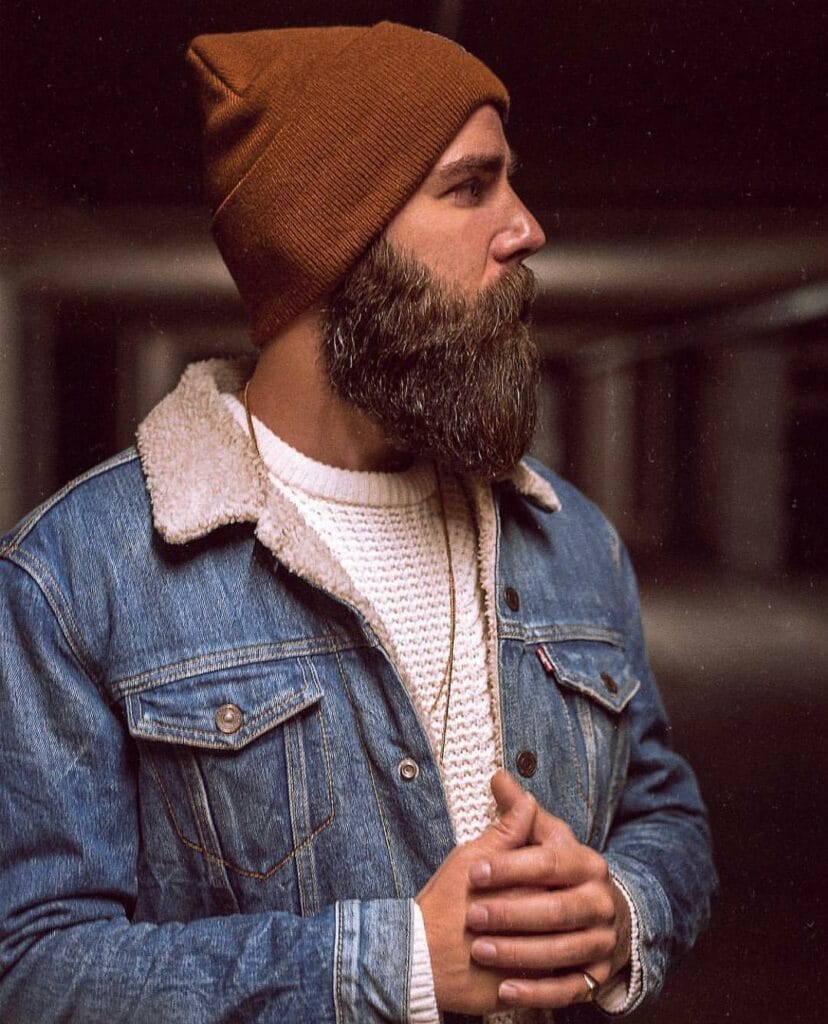 Steps to Growing and Maintaining Hipster Beards Styles
STEP-1: Stop shaving
The key to achieving a hipster beard lies in the ability to manipulate facial hair. Therefore, the initial step towards realizing your hipster beard aspirations is to grow and maintain sufficient beard hair.
STEP-2: Wash and condition regularly
While the hipster aesthetic is often associated with a rugged beard look, it is important to note that this doesn't equate to keeping it unclean or unkempt.
Maintaining proper hygiene is crucial, as neglecting it would be unsanitary and inappropriate.
Thus, as you grow and prepare to manipulate your beard, washing it regularly using specialized shampoos, lotions, and soaps designed for beards is recommended.
This ensures that you stay healthy and hygienic throughout the process of achieving your desired hipster beard look.
STEP-3: Comb regularly
This stage involves grooming and caring for your beard while it is still in the early stages of growth.
During this initial phase, it is recommended to regularly brush your beard even though it may still be short.
As it grows longer and the brush is no longer effective, it is advisable to switch to using a comb and continue doing so until you reach your desired length.
It is worth noting that combs come in different sizes, so as your beard grows, you will need to use increasingly larger combs.
STEP-4: Understanding your style
Prior to visiting a stylist, it is wise to conduct extensive research on the specific beard style you desire. This will enable you to determine the most suitable style for you and decide whether it is worth pursuing.
After identifying your desired style, the next step is to manipulate your beard as much as possible before your appointment with the stylist.
This may include simple techniques such as dyeing your beard, but avoiding going overboard with drastic changes is important.
STEP-5: Using supplements or boosters
If you struggle to grow your beard to the desired standard, there is no need to worry, as many others face the same issue.
Fortunately, scientists have made significant advancements in the discovery of supplements, creams, or lotions that can help boost beard growth.
Which beard supplement should you try now?
If you are unsure which beard supplements are worth trying, I have compiled a list of the top 5 beard supplements just for you!
Beard Grow XL
Prophet Tools Beard Oil
Prime Beard Growth Supplement
ZHOU Nutrition Iron Beard
And many more.
STEP-6: Visiting the stylist
This step should only be taken once you have groomed your beard to the desired length and shape. It involves a simple process of visiting a stylist, much like going to a grocery store to purchase items.
It is important to choose your stylist wisely to ensure they are skilled and experienced in the specific style you desire.
STEP-7: Take good care of your hipster beards styles
After you have succeeded in getting a good hipster beard, the next step is to take good care of it by washing, combing, conditioning, and trimming it from time to time.
This is because if you are unable to do all this, the hipster you have been grooming beards for might end up being messy.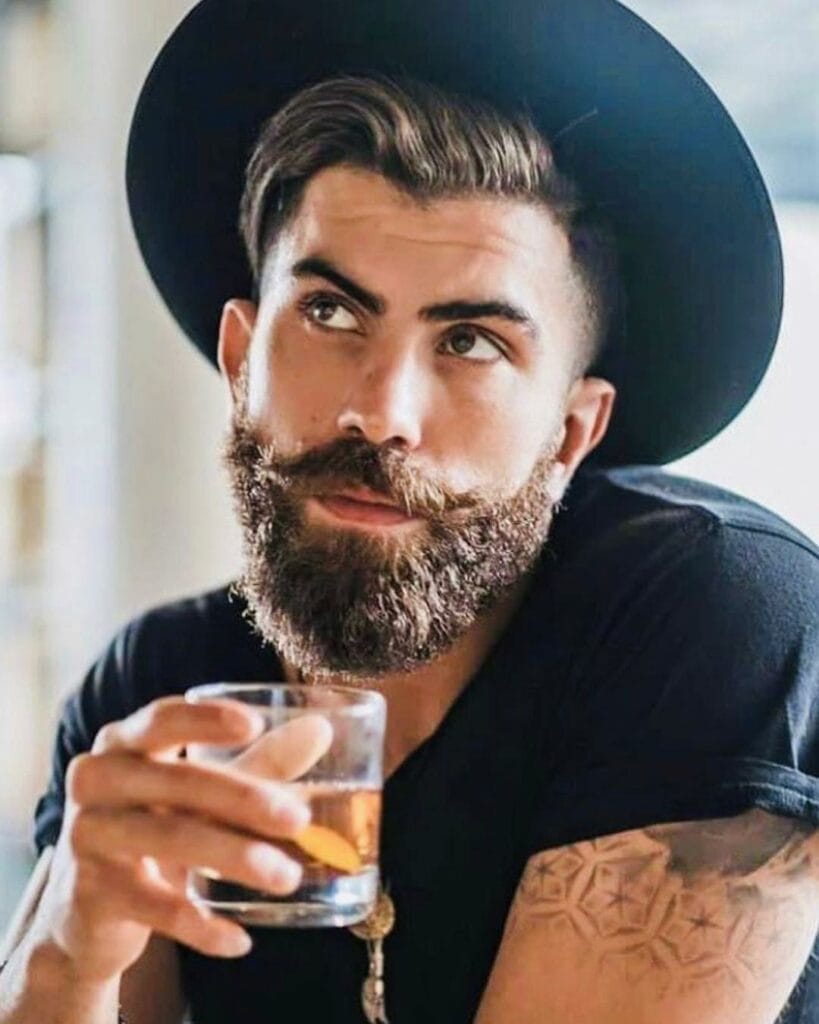 Benefits of Wearing Hipster Beards Styles
It has been proven over and over that growing hipster beards can undoubtedly make you look good, attractive, and unique.
Still, in case you don't have any good reason why you should do so. Below are a few reasons why the idea of trying different hipster beards styles is worth putting into consideration.
1. Look Fashionable
Hipster beard styles have become an integral part of modern-day fashion. Growing a hipster beard can give you a current and trendy look.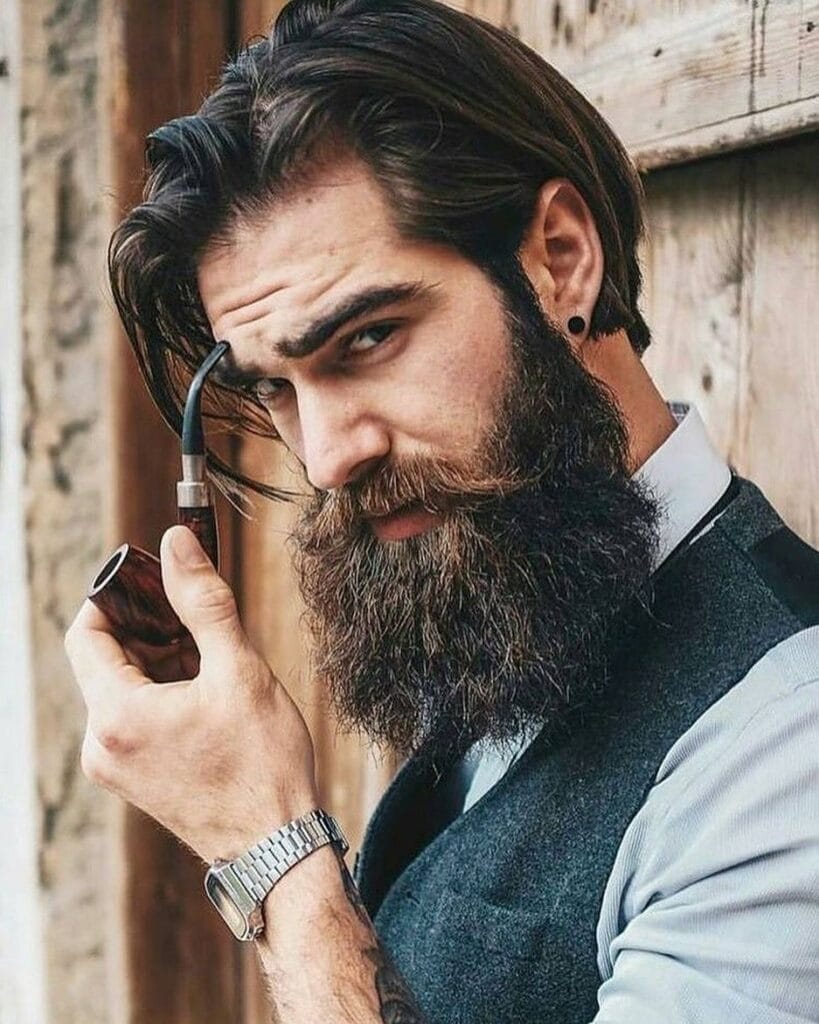 2. Standing Out
Beards with the hipster glamor are not commonly seen among the public. If you enjoy standing out and looking different, growing a unique hipster beard is a great option.
These beards are highly noticeable on the face and will undoubtedly make you stand out and be easily noticeable among others.
3. Look Attractive
A well-suited hipster beard style can enhance a man's attractiveness. Finding a style that complements your personal style and features is important to achieve that desired effect.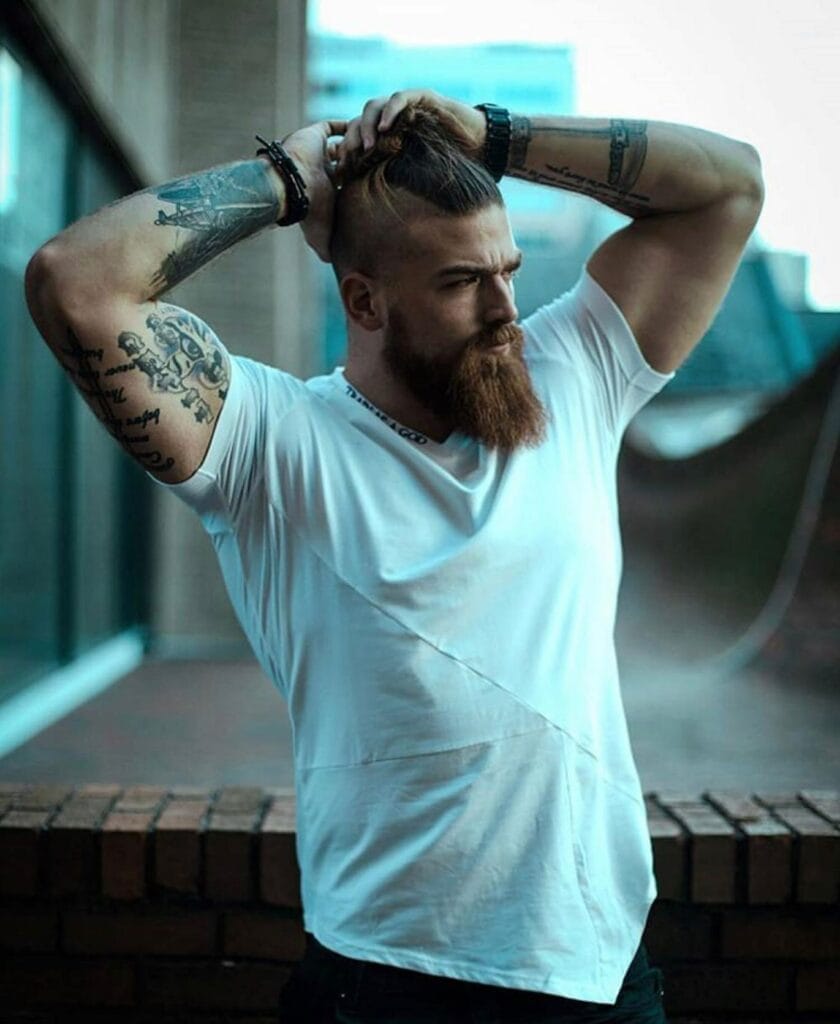 4. Blending In
If all your friends or acquaintances have hipster beards and you don't, you might look out of place among them. This is especially true if there is an event or gathering where the expectation is to have a hipster beard.
However, the likelihood of this scenario is low. In any case, if you find yourself in such a situation, there's no harm in trying out a hipster beard style that suits you to fit in with the crowd.
Popular Hairstyles for the Hipster Beards Styles
Classic Undercut
The undercut hairstyle is perfect for showcasing your hipster beard in all its glory. With its clean and precise cut, the undercut is currently one of the best hipster hairstyles.
Messy Hairstyle
The hipster beard is often paired with a hairstyle that complements the classic image of rebellion associated with hipsters. As a result, a messy hairstyle is highly favored among other hairstyles.
This hairstyle doesn't require any sharp undercut. It involves slicking your hair backward to achieve a seamless look.
Pompadour Haircut
Your hipster beard will garner a great deal of attention from onlookers when paired with this modern and voluminous pompadour hairstyle.
Conclusion
The hipster beards styles have become highly sought-after styles for men all around the world. Its popularity can be attributed to its versatility, allowing individuals to customize and blend their chosen beard style with their preferred hairstyle.
Plus, achieving a fashionable hipster look does not require a significant financial investment, making it accessible to all who desire to embrace the style.
With proper care and maintenance, hipster beards styles can become a statement piece that adds a touch of personality and individuality to any man's look.
FAQS
How do I maintain a hipster beard?
To keep up with the hipster beards styles trend, use quality beard shampoo to maintain cleanliness. Apply beard oil after washing to achieve a burly look and accelerate growth.
Daily brushing or combing will ensure your hipster beard looks neat during the growing phase and beyond.
Khamis Maiouf is a professional barber who graduated from Hinckley College in England with a degree in hairdressing. He has also won several barbering contests and successfully operated a barbershop for the last two decades. As a skilled hair stylist for 20 years, his goal is to teach others how to achieve a beautiful appearance through their hairstyles.