26 Creative Haircut Designs for a Unique Look
Are you tired of the same old haircut and looking for a fresh, unique style to turn heads?
Look no further, as I have compiled creative haircut designs that will make you stand out from the crowd.
These imaginative and distinctive hairstyles cater to diverse tastes, ensuring that there's a perfect fit for every daring FASHIONISTA seeking a bold transformation.
From avant-garde geometric patterns to intricate hair tattoos, these haircut designs push the boundaries of traditional hairstyling.
As you explore our list, you'll discover how contemporary hair artistry can turn your tresses into a canvas for self-expression.
Be prepared to get inspired and embrace your inner trendsetter, because these haircuts are about to take your personal style to uncharted territories.
Undercut with Geometric Haircut Designs
This modern hairstyle features a bold undercut combined with eye-catching geometric patterns.
The precision of the shapes creates a unique and compelling contrast with the natural flow of the hair on top.
Faded Mohawk with Hair Tattoo
A fresh take on the classic MOHAWK, this style incorporates a skillfully faded side cut and a striking hair tattoo.
This intricate design adds an edgy, artistic flair to the iconic punk-inspired look.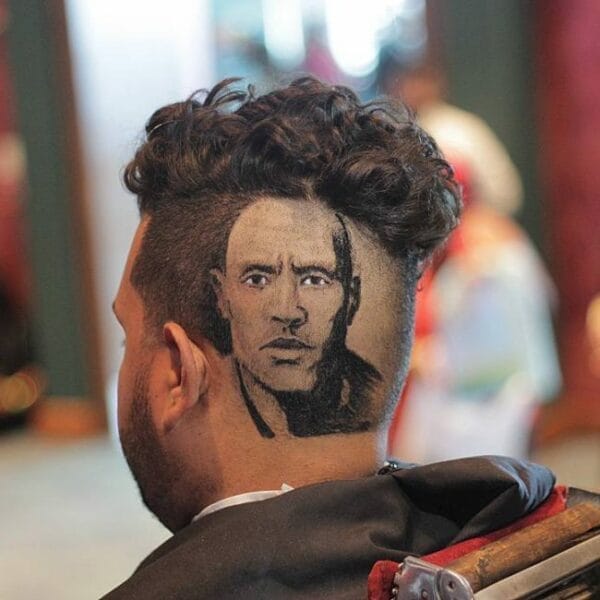 Pompadour with Razor Lines
The timeless pompadour gets a contemporary twist with the addition of precise razor lines.
This hairstyle showcases the perfect balance of vintage elegance and modern style, making it a fashionable choice for any occasion.
Braided Top Knot Haircut Designs
This creative HAIRCUT design offers an intricate and captivating updo that commands attention.
It combines the sleekness of a top knot with the detailed texture of braids, creating a visually stunning effect.
Asymmetrical Fringe
Bold and distinctive, the asymmetrical fringe adds a unique twist to a classic haircut.
By playing with different lengths and angles, this hairstyle creates a sense of movement and intrigue that's sure to turn heads.
Textured Crop with Shaved Design
A textured crop meets a bold shaved design in this unconventional hairdo.
The contrast between the textured top and the carefully etched patterns on the side creates a captivating and edgy look.
V-Cut Neckline
V-cut neckline adds a touch of sophistication to any haircut.
The sharp, angular lines create a distinct and stylish focal point, giving an otherwise simple style a contemporary edge.
Slicked Back with Surgical Line
A slicked-back style is elevated by the addition of a precise surgical line. The clean, sharp line adds a striking contrast to the sleek, polished hair, making for an impressive and modern look.
Angular Comb Over
Angular comb over adds a contemporary twist to a classic style.
The sharp angles create an eye-catching effect, giving the hairstyle a fresh and unique appeal.
Curly Fade with Hard Part
This hairstyle combines a curly top with a smooth fade and a bold hard part.
The contrast between the soft curls and the sharp, defined part creates a stylish and dynamic look.
Faux Hawk with Zigzag Patterns
The faux hawk gets a playful upgrade with the incorporation of zigzag patterns. These unique designs add a fun and artistic touch to the edgy hairstyle.
Quiff with Disconnected Undercut
Quiff and disconnected undercut come together to create a captivating and modern hairstyle.
The contrast between the voluminous top and the short, disconnected sides adds an extra layer of visual interest.
Swirled Hair Tattoo
A swirled hair tattoo is a mesmerizing and artistic addition to any haircut.
The intricate, swirling patterns create a captivating focal point that showcases the wearer's creativity and personal style.
High Fade with Hair Art
A high fade meets creative hair art in this striking hairstyle. The detailed designs etched into the fade add a unique and edgy touch to the classic cut.
Skin Fade with Wavy Top
Skin fade and wavy top combine to create a modern and stylish look. The sleek fade transitions seamlessly into the soft, textured waves, making for a versatile and fashionable hairstyle.
Shaved Side with Curly Top
This daring style features one shaved side contrasted by a curly top.
The asymmetry and texture create a visually striking and distinctive look that's perfect for men seeking an edgy, bold hairstyle.
Mullet Revival
Mullet Revival is back and better than ever, with updated cuts and styling options. This modern take on a classic style showcases the perfect blend of retro and contemporary flair.
Caesar Cut with Shaved Details
The Caesar cut gets an edgy update with the addition of shaved details.
These intricate patterns create a striking contrast with the classic, short style, giving it a contemporary and unique appeal.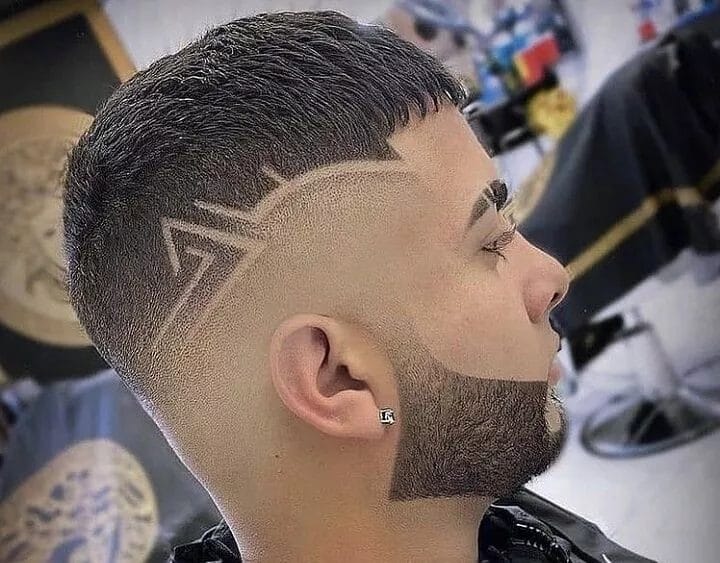 Tapered Burst Fade
Tapered burst fade haircut design is a stylish and modern take on the classic fade.
This versatile hairstyle features a smooth transition from short to long, creating a subtle yet eye-catching effect that complements various hair types.
Forward-Swept Spiky Hair
With its bold texture and dynamic movement, forward-swept spiky hair is a statement-making style.
The jagged spikes give the hairstyle a youthful and energetic vibe that's perfect for men seeking a DARING, modern look.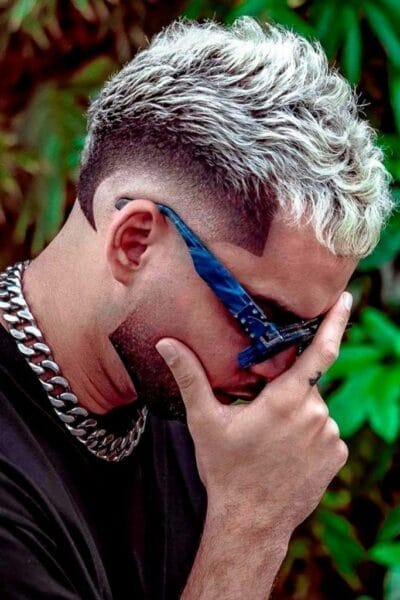 Low Fade with Side Part
Low fade with a side part is a timeless and sophisticated hairstyle that never goes out of style.
This polished look combines the clean lines of a fade with the classic elegance of a side part, making it suitable for any occasion.
Hard Part Comb Over
The hard part comb over adds a modern and edgy twist to a classic style.
The precise, defined part creates a striking contrast with the sleek, combed hair, resulting in a stylish and contemporary look.
Drop Fade with Curly Fringe
This unique HAIRSTYLE combines a drop fade with a curly fringe for an eye-catching and fashionable look.
The smooth fade transitions into the soft, textured curls, creating a dynamic contrast that's perfect for men seeking a versatile and modern style.
Two-Tone Faded Design
Two-tone faded design is a creative and bold hairstyle that showcases the perfect blend of color and texture.
The contrasting hues create an eye-catching effect, while the smooth fade adds a polished finish to the look.
High and Tight with Tribal Patterns
The high and tight haircut gets a daring update with the addition of intricate tribal patterns.
These ARTISTIC designs add a unique and edgy touch to the classic military-inspired style.
Buzz Cut with Creative Shaved Lines
Buzz cut is elevated by the incorporation of creative shaved lines, adding a touch of individuality to this timeless style.
The precise, bold lines create a striking contrast with the short hair, resulting in a captivating and modern look.
How to Maintain Your Creative Haircut Designs
Maintaining your creative haircut is essential to keep it looking fresh and stylish. Follow these steps to ensure your unique hairstyle stays in top condition:
Regular trims
Schedule regular appointments with your hairstylist to keep your haircut well-defined and polished.
Depending on the style and your hair growth rate, you may need trims every 3-6 weeks.
Use the right products
Invest in high-quality hair products specifically designed for your hair type and style.
This may include pomades, hair gels, waxes, or mousse. Consult with your hairstylist for recommendations on the best products for your unique haircut.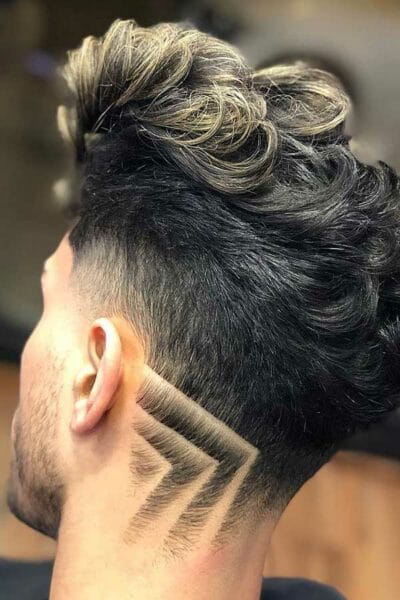 Shampoo and condition wisely
Choose a shampoo and conditioner that suits your hair type and any specific needs (such as color protection or moisture).
Avoid over-washing your hair, as this can strip it of natural oils and cause dryness. For most hair types, washing every 2-3 days is sufficient.
Protect your hair from heat
If you use heat-styling tools like blow dryers, flat irons, or curling irons, always apply a heat protectant spray beforehand to minimize damage.
Additionally, use the lowest heat setting necessary to achieve your desired style.
Maintain hair color
If your creative haircut includes color, use color-safe shampoos and conditioners to prolong the vibrancy of your hair color.
You may also want to schedule regular color touch-ups with your hairstylist to keep the hues looking fresh.
Keep your scalp health
A healthy scalp is essential for maintaining a great haircut.
Regularly exfoliate your scalp using a gentle scrub or brush, and consider using a scalp treatment or oil to keep it nourished and balanced.
Protect your hair from the elements
Sun, wind, and pollution can all take a toll on your hair.
Use a LEAVE-IN CONDITIONER with UV protection, wear a hat when outdoors, and consider using a silk or satin pillowcase to minimize friction while you sleep.
Stay in touch with your hairstylist
Regular communication with your hairstylist can help you stay on top of haircut maintenance.
If you're unsure about how to care for your creative haircut, don't hesitate to reach out to your stylist for guidance.
By following these steps and working closely with your HAIRSTYLIST, you can keep your creative haircut looking fresh, unique, and stylish such as Broccoli Haircut.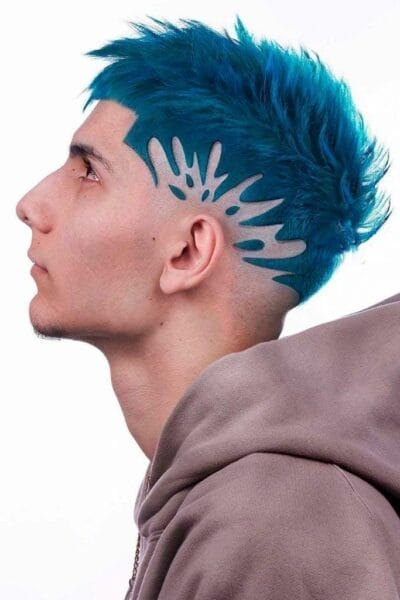 Conclusion
Experimenting with one of these creative haircut designs can help you express your individuality and make a bold fashion statement.
A unique hairstyle sets you apart from the crowd, boosts your confidence and also enhances your overall appearance.
Remember to choose a style in my salon that complements your face shape, hair type, and personal preferences. Embrace your uniqueness and let your hair do the talking.
References:
This is a non-exhaustive list of hairstyles, excluding facial hairstyles. source
Khamis Maiouf is a professional barber who graduated from Hinckley College in England with a degree in hairdressing. He has also won several barbering contests and successfully operated a barbershop for the last two decades. As a skilled hair stylist for 20 years, his goal is to teach others how to achieve a beautiful appearance through their hairstyles.