Black men with dreads is a superb style with little care. It's the perfect hairstyle for everyone. Dreadlocks (also known as loc) are super-stylish, and they can suit all kinds of hair, whether thick or thin, long or short hair. If you're worried about choosing the right style of dreads and need some inspiration?
15 Celebrity-Inspired Hairstyles For Black Men With Dreads
Well, in this article, we've organized a list of the top artists to inspire you– continue reading and scroll down for unique and trendy styles!
Also Read: How to Grow the 5 Sexiest Beard Dread Styles at Home?
Snoop Dogg with Sexist Long-Length Dreads
We don't need to introduce the famous self-made pop-star Snoop Dogg because every single person on earth knows him and listens to his songs. Snoop Dogg with mid-length loc is the perfect look for a cocktail party.
In this style, he carries his dreads with a front twist to back dreads and makes a smooth braid and tie-up with a tiny pin. Snoop Dogg carried this style for more than two years, and he gained more popularity with his cool hairstyle. Snoop Dogg's style is followed by many pop stars and young black men with dreads; his thick frontline dreads look cool and stylish.
Damian Marley with Long Ground Touch Twisted Dreadlocks
Dreadlock word is not complete without mentioning "Damian Marley." His hotness and style have always inspired many young and adult boys. Damian Marley has a unique style; he easily carries these twisted long dreadlocks that touch the ground and looks like a long tail.
Offset Long Pony Tail Dreadlock Hairstyle
Offset is well-known and very famous in the US. This man carries his dreads with a clean slide. He colored his hair blonde, and if you love to color your hair blonde, then you can follow his style. To follow this hairstyle, you need to start growing your hair and avoid taking a comb. You can dye your hair in any color because locs are versatile and easy to carry on the beach or office.
Mozzy Shoulder Length Dreads with Bun
If you have long curly hair and want dreads, then Mozzy pop-star shoulder-length locs are the best option for you. In this picture, he tied locs and made a bun on his head. You can pursue this style with a French mustache and open dreads. You don't need to stress about thick or thin hair. Just follow some tips and tricks from your barber to get excellent results.
Wiz Khalifa with Pixie Haircut and Twisted locks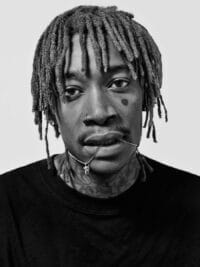 Wiz Khalifa's name always comes in the most stylish black man in the world. He is a famous artist, and young and adult boys follow his style. You can follow him to get shoulder-length dreadlocks and braids that are easy to manage. Before carrying this style, make sure dreads are straight and tight. This hairstyle for black men with dreads is ideal for long hairs.
The Weeknd with High Angular High Top Locs
The Angular high-top dreadlock style became his signature hairdo. If you're a die-hard fan and love to watch his style, then you must follow this calm and formal hairstyle. He became famous for high angular top locs in 2017. Recently, he cut his dreadlocks and shocked everyone. In 2019, many fans followed his classic and different hairstyle. Now with thick dreads, he looks more elegant and smart.
Jaden Smith' Round Shape Dreadlocks
Jaden Smith, with a small number of dreads, is a cool and trendy style. This style will work for any young boy in a nontrivial dread style. You need to tell your hairdresser to do small dreads and let them fall. In the latest picture, Jaden Smith looks like an innocent guy with small dread and a clean shave. For a trendy, messy, and classy twist, you can go with this style.
Kerbito Freestyle Neck length Dreadlock
Kerbito's freestyle dreadlocks are easy to handle and have a unique style that everyone can follow. These short-length dreadlocks have the best combination of twist and dread. Kerbito's freestyle dreadlock with a beard and thin dreadlock give you the perfect party hairstyle. Many young boys followed him because of his style. You can also wear a suit with these freestyle dreadlocks to attend a meeting. Make sure your hair is short and naturally falling to achieve this look. You can dye your color in grey to look more cool and handsome.
Future Pop Star With short Blonde Braids Dreads
Future is also a celebrity, and his blonde braids are famous in town. You can naturally grow your hair from dread and color them with a blonde; this style is easy to manage as it requires little to no maintenance. It gives you a professional look with blonde dreadlocks.
Popcaan Music Director with Twist Locs and Beard
This well-reputed and famous celebrity, Popcaan is a rapper and music director in the US. Recently, he posted a picture with tied-up clean ponytail dreadlocks. He carries his locs (dreadlocks) twisted to the back. If you need some next-level dreadlocks style, then you can go for this style and use some hair accessories to decorate them. To do this style, you need thick dreads to start from your frontline and a tie-up with a hairband.
Bob Marley with Stubborn Loc Dreads with Mustache
Bob Marley, with his stubborn attitude and freestyle shoulder-length locs, always trends on social media. He colored his dreadlocks in a brown shade. This abandoned and antisocial look will take you to another world and give you an introverted look in 2021. A man with good height and dark skin looks cool in these twisted and thin stylish dreadlocks. You can follow his hairstyle that gives you a vintage look, and you don't need to take care of them. You can tie your hair with a hairband and simply leave it
Denzel Curry With Straight, Short, and chunky Dreads
Denzel Curry has inspired a straight and short dreadlock that gives you a funky and cool boy look. You can also wear some accessories to show off your money at parties. Denzel Curry's hairstyle proves that not all dreadlocks need to be the same and long. If you don't have time to style your hairdo, you can follow this hairstyle. It naturally grows and falls without paying a barber or hairdresser. This hairstyle for black men with dreads is ideal for shorthairs. Also Read: 5 Trendy Anime Characters with Red Hairstyle
Lenny Kravitz with Pineapple Style Dreadlock
"Lenny Kravitz" inspired Pineapple style gives you a chunky and enthusiastic look. You can tie your dreadlocks with a hairband. His hair is naturally black and well-groomed, giving him a stunning look. You can color your dreadlocks in a chocolaty brown or black color because dreadlocks are easy to color. To do this style, make sure your dreads tips stick out and look like a real pineapple shape.
Jason Momoa With Soft and Curly Dreads
Jason Momoa, a man with a sexist beard and curly deadlock, his style, acting, and dress is always best of the best. He carries soft and small dreadlocks with a full beard look. A black man with a long dreadlock looks so luxurious and handsome. You can follow Jason Momoa for his hairstyle tips and tricks.
J Cole With Long Black Locs with Furry Beard
J Cole is one of the finest and most stylish dudes with millions of fans following him on Instagram. His cool and sassy look always attracts women and young girls. J Cole with long dreadlocks and a full beard makes him look extraordinary and rare. If you love to grow a beard with locs, then you can go with this tradition and common style for black men with dreads in 2021.
Conclusion
Black men with dreads hairstyle are usually common because most of the black guys have compatible hairs to get dreadlock. However, men should not allow stereotypes keep them from sporting dreadlock hairstyles if that is what they want. Now you may select from 15 amazing hairstyles for black men with dreads.
You'll find lots of options on this list, whether you prefer shorter, longer, or thinner dreadlocks. Try any hairstyle from the list according to your preferences and face shape. It gives you confidence and attitude at parties. I hope you got all the information and are inspired by these celebrities' dreadlocks style. Be ready to grow and style these trendy and modern dreadlocks. You need to have patience and a bit of care to get Dreadlocks.