Dreadlocks are always trendy in salons. They are also called locs, which represent a carefree, independent, and artistic lifestyle. Combining Dreadlocks with a high fade haircut may result effective and attractive appearance. Nevertheless, men should not allow stereotypes to stop them from wearing dread hairstyles if it's what they desire. While dreadlock hairstyles are typically associated with black males, men of many ethnicities have adopted the appearance. Men's dreadlocks hairstyles range from black to blonde, short to long, straight to braided, and come in various forms, sizes, and patterns.
Types of High Fade Dreads
There are various types of high-top dreads in terms of length and hair density. Some high fade dreads have extremely tight dreads, while others have less tightly braided hair. The most noticeable dreads with fade are high top dreads long and high top dreads short.
8 Different High Fade Dreads Hairstyles
High fade dreads hairstyles are flexible, with a variety of styles to produce a one-of-a-kind look. Dreadlocks are a lovely design that requires little maintenance. It is very simple to wear and maintain them, as well as to build a healthy hair care routine. Here are 8 high fade dread haircut options for you to try.
High faded sides with long dreads
A guy with long dreadlocks can be stylish, especially when combined with high faded sides. These dreadlocks are twisted ropes that are brushed back for an edgy yet beautiful appearance.
The High fade Dreads, Goatees, and twists can draw a lot of attention to you. This style is unique since it is simple to maintain; simply stick to your usual dread care routine.
High faded short twisted dreads with razor cut
If you are looking for stylish high fade dreads that require low maintenance and care, this hairstyle is perfect for you. This style has a high faded side and short dreadlocks that stand on their own. Short dreads with twisted style create a Mohawk, and high faded sides have been creatively designed with razor cuts. This style is unique and will give you a cool stylish look.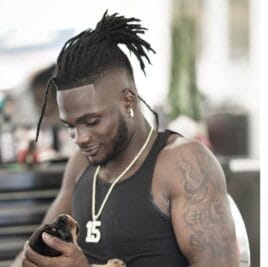 High faded dreads top knot
If you want a traditional high-top dread, this hairstyle is for you. To get this style, you just need to request a traditional dreadlock style, which means regular and extremely thin dreadlocks on top of your head. After achieving regular dreads, just press them to the top of your head, twisting them together until you have a high bun. After that, simply tie everything together, and you're finished.
High fade Mohawk Dreads
The dread Mohawk is a more modern and edgy version of the dreads hairstyle. The fresh long dread Mohawk fade is the trendy haircut for guys. Mixing cool dreads with a Mohawk fade produces a unique look. The taper fade, undercut, or shaved sides are required for a Mohawk with dreadlocks. While the style is typically seen with short sides and long hair on the top, it may fit with any length of dreads, short, medium, and long. For short dreads, leave the short hair free and untidy on top, and for long dreads, tie your long hair in a ponytail.
Pull the dreadlocks forward to create a ponytail that sits on the head or falls over the forehead. Ask your stylist for hair patterns with trimmed sides for a powerful, macho finish. Mohawk dreads styles will never go out of style since they are versatile & refreshing.
High fade Twisted dreads with a blond highlight
Dreadlocks are bold and rough on their own, but they look better when paired with a Mohawk cut. This style consists of short dreads, with blond highlights and high faded sides.
Natural curly hair works best with this style since you won't have to use wax or tightening gel as often. Wear this hairstyle, and you can be confident that no one will ever question your badass style.
Turban Dreads with high fade
It looks fantastic on men with beards. All you have to do is arrange the locks in the center. Then, like a turban, wrap a towel around the high skin fade dreads. Your dreads must be visible in the center of the top; That's all to it. If you can match the color of your turban to the color of your outfit, your dreads will look more stylish.
High faded Pineapple Dreads style
This is one of the most daring dreadlock haircuts for guys, but it is also extremely simple to accomplish. This requires growing long hair enough to have dreadlocks, then arranging them in an almost high bun, except instead of tying it all up, leaving the tips floating upwards to get the pineapple shape.
High faded sides and Dreads with Irregular Strands
If you have straight hair, uneven haircuts may not be appealing, but dreads with irregular strands may be quite attractive. Dreads are famous for being restless. So irregular dreadlocks don't require much shaping and are quite simple to pull off. All you should do is let the hair grow naturally and wrap itself. Most people believe that dreadlocks must be quite long, but you may wear the short dreadlocks style with the right haircut.
Conclusion
That's it! Now that you've seen the best high fade dreads styles, you have various choices to choose from. Just remember to take appropriate care of your dreadlocks after you've acquired them, and you'll be okay. Apart from that, if you are still confused and have some questions regarding high fade dreads style, then you should look at the FAQ section below.
FAQ
Q: What fade looks good with dreads?
High fade is the best option to wear with dreads. Dread styles look good with low fade, medium fade, and high fade. So, all fade styles are good with dreads. It only depends on the dread's hairstyle.
Q: What helps dreads grow faster?
You should add biotin, vitamin A and E to your diet to grow your dreads faster.
Q: Do dreads stop growing?
No, dreads don't stop growing. But with time, you'll have to maintain them properly; otherwise, it will turn out to be a mess.
Q: How long does it take to get high top dreads?
It could take anywhere between 10 months to 2 years to reach the most mature stage of high-top dreads.
Q: Can you unlock dreads?
You can "unlock" your dread without cutting away from them, but it'll be a lengthy procedure. Short dreadlocks that have been in place for less than a year may unlock within 4 to 8 hours. Longer locks that have been in place for several years may take 15 – 48 hours.