39 Low Fade Haircuts That Will Instantly Transform Your Look
Low fade haircuts involve skillfully tapering the hair down towards the back of the head, creating a seamless and gradual transition between the longer hair on top and the shorter hair on the sides and back.
Low Fade haircuts complement any hairstyle on top, ranging from a crew cut to modern quiffs to a box braid.
A Low fade haircut is a great option for men with different hair textures and lengths. Whether you have thick or thin, curly or straight hair, it'll suit you.
Plus, the shorter sides alter the appearance of your face making it look more angular and defined, giving you a sharp and stylish appearance.
With the right cut and styling, a low fade can be a great way to elevate your style game and stand out from the crowd.
39 Exquisite Low Fade Hairstyles For You this Season
The versatility of the low fade haircut is undeniable, and we've handpicked our favorite examples to showcase just how elegant it can be.
Low Skin Fade
A low skin fade haircut can bring structure to your hairstyle and allow you to personalize your hair based on your personality and style.
This hairstyle involves trimming the hair short on the top and gradually fading it to reveal the skin on the sides and back of the head, resulting in a bold and daring men's hairstyle that can produce a clean and polished appearance.
However, if you desire to keep some hair on the sides of your head, you can opt for a taper fade.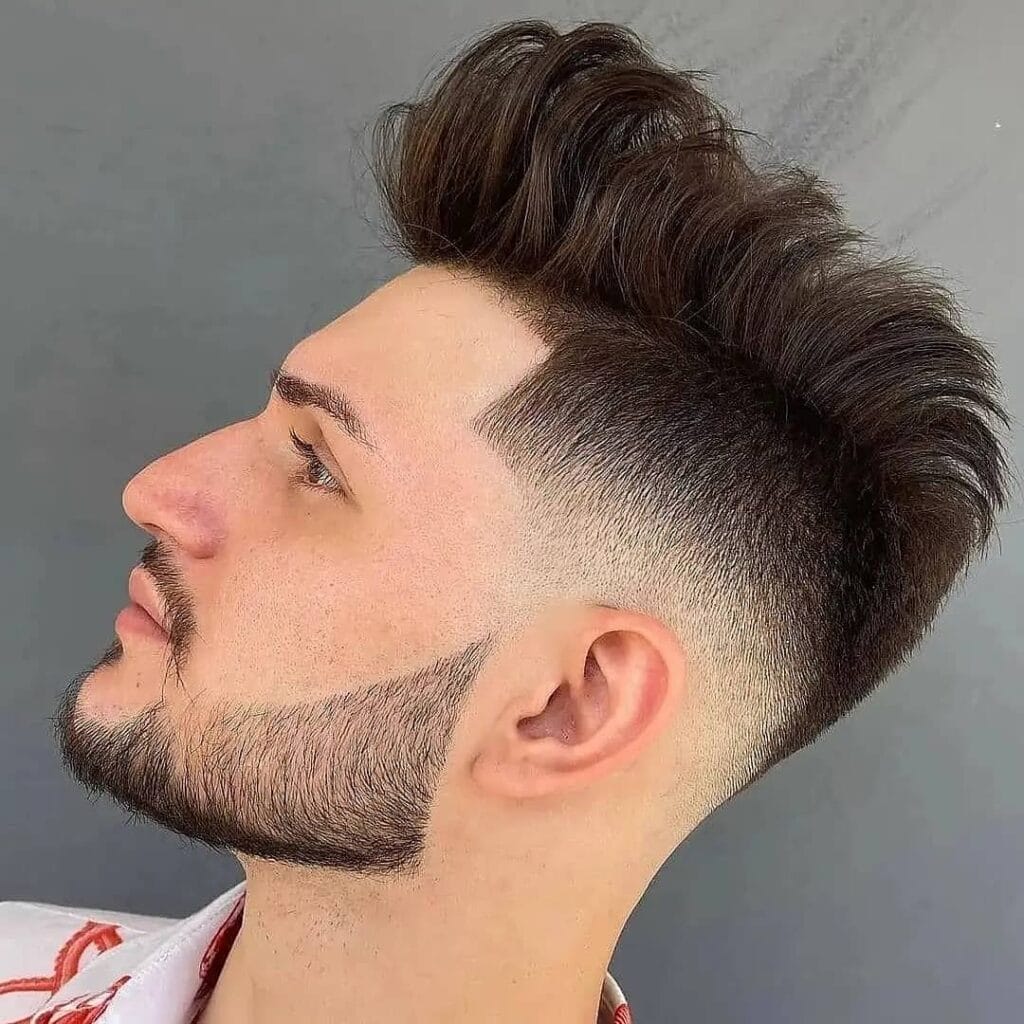 Tapered Comb Over
Currently, there is a resurgence in the popularity of classic comb-over hairstyles, with several modern and sleek versions available.
A comb over haircut can complement your look regardless of your hair type or length. Pairing a full top with a low fade comb-over can produce a classic yet modern look.
To enhance this style, pair it with a beard that extends down to the skin around your temple for a seamless transition.
One of the benefits of this haircut is that the regrowth looks natural, making it easy to maintain without frequent trips to the barber.
Spiky Haircut
To achieve a sexy and edgy look, consider incorporating a low skin fade and taper into your spiky hair. A lineup can elevate this haircut to another level for an added style touch.
To enhance the overall appearance of your hair, remember to use quality hair products and blow-dry your hair accordingly.
Low Drop Fade
The low drop fade is an excellent haircut for those seeking a contemporary finish that adds contrast to their sides. With the drop fade, you have the flexibility to style your hair to your liking.
The fade gradually tapers down to create a sharp, precise arc behind your ear. This draws attention to the hair on top, creating an illusion of volume and fullness.
Combining this hairstyle with a well-groomed beard adds to its upscale appearance. You can tousle your hair to create a trendy, relaxed look.
Low Taper Fade Haircut
Low Taper Fade is more of a straight taper. The top of your head has a pinched texture with a low faded lineup.
The taper fade is a slow transition from long hair at the top to short hair by the ears. It looks great on nearly every man.
The low drop fade is a versatile haircut that complements any hairstyle on top. However, it's essential to have an experienced barber execute the cut correctly for the desired look.
Sleek Bleached, And Spiky
Having your hair bleached blonde and spiked up unleashes your inner self to the world.
Putting on a low fade eliminates the punkish hair look and gives prominence to your sleek top. Don't forget to stock up on hair dye since it needs to be changed frequently.
Undercut Low Fade Haircut
Getting an undercut will give you a fresh new look. Split your hair into three sections for a fade undercut to look its best.
The longest section should be on top, with the undercut below the crown, and the fade around the ears and temples. This results in a clean, splendid, and well-blended cut.
Curly Faux Hawk
The faux hawk fade is a milder version of a Mohawk without shaved and disconnected sides. The curly faux hawk has a tapered fade creating a Mohawk look at the top of your head.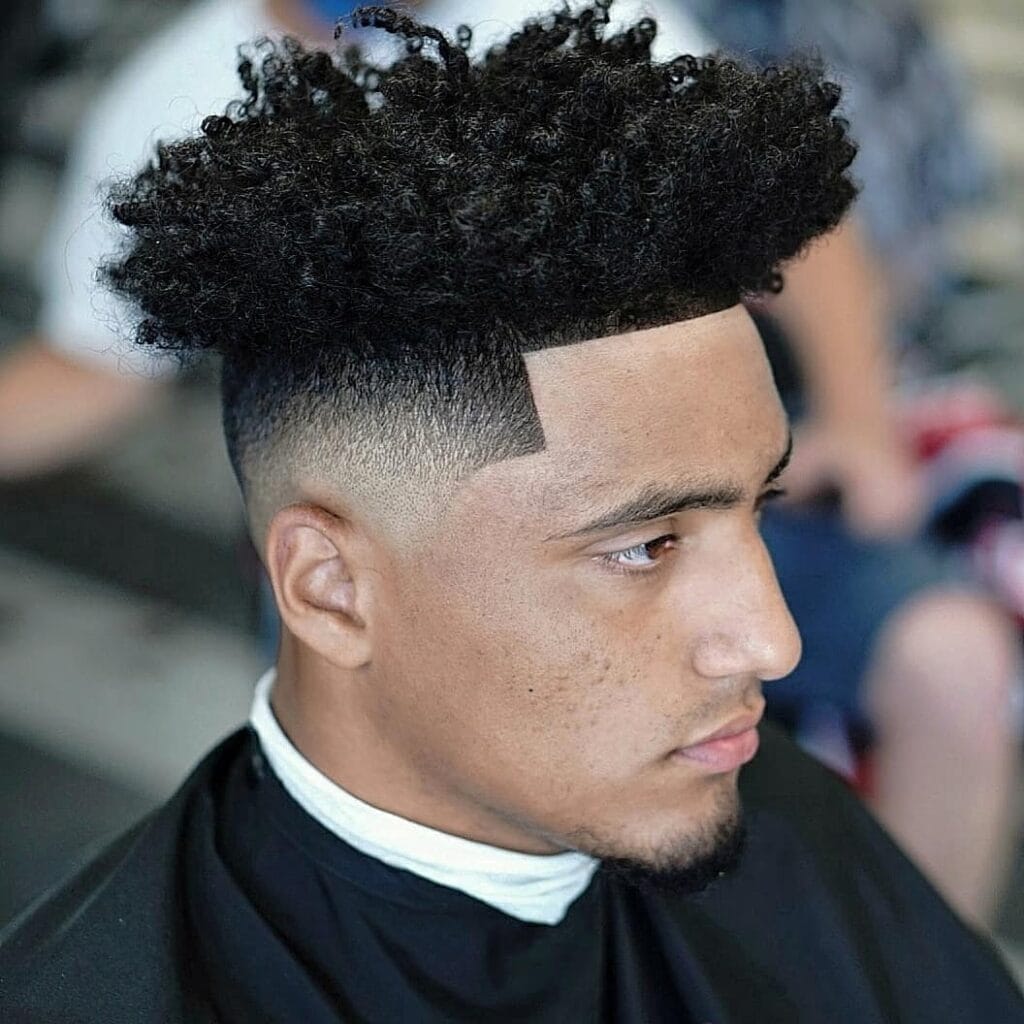 Low Fade French Crop
You have the freedom to experiment with various hair types and textures with the versatile French crop. Getting this cut requires your barber to cut short your hair at the back and sides and curve slight fringe.
A low fade is a perfect option for lovers of the French crop hairstyle who want to give it a contemporary finish.
Having a natural hair texture gives you leeway to create astounding contrasts. It also makes styling your hair more manageable.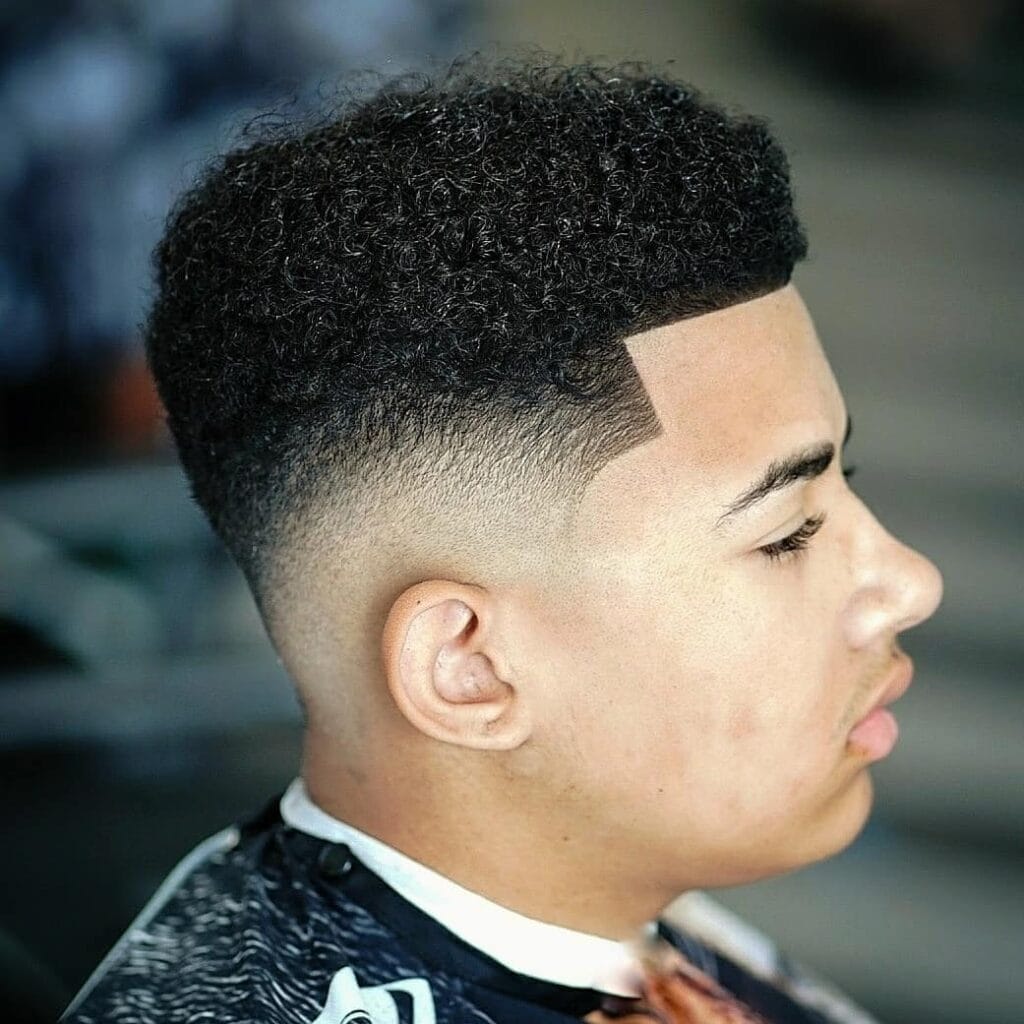 Low Fade Pompadour
This pompadour fade features a very structured, sculpted look. A pompadour style is known for its neat appearance. So be ready to trim the sides and lower portion regularly for a timeless look.
To add more versatility to your undercut, consider incorporating a hard part. This technique creates a distinct line on your scalp, adding a sharp and stylish touch to your overall look.
Low Fade Buzz Cut
You might consider adding a low fade to your buzz cut if you are interested in rocking the super buzz cut that's not too ordinary.
With a slight taper, you can give your cut a buzzy stylish look without removing its signature aesthetic. A short fade ensures that only the correct amount of skin is exposed to avoid looking too bald.
Faux Hawk Low Fade
This style uses tapered cuts like a fade to simulate a mohawk's shape without boldness. It's basically a calm version of a mohawk that is sometimes combined with a low fade. Together, they give the wearer a well-balanced and aesthetic look.
Low Fade Messy Hair
Disheveled hair can look just as stylish as structured hair if worn correctly.
Do you like messy hair? Don't worry.
Keep your sides short and sharp to give your disheveled style a sense of tidiness and prevent it from looking unkempt.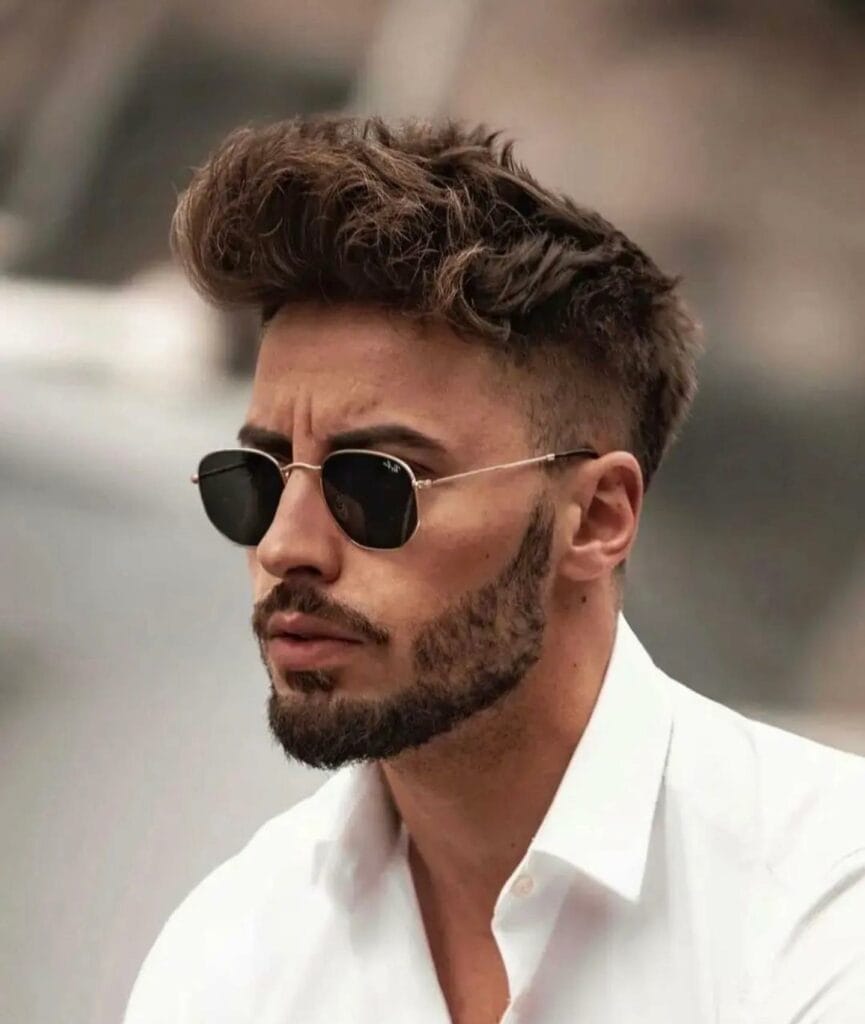 Low Fade Slicked Back
You can wear a low fade with short or medium hair on top. If you choose a medium length, think of a slicked back hairstyle to avoid appearing like you are from another era.
Adding a slight fade helps balance out the longer length on top and makes this style sleek without appearing overly serious.
Adding a beard to balance out the longer sideburns will leave your face screaming gorgeous.
Amazing Low Temp Fade
This fade is perfect for drawing attention to the hairline since it tapers around the temples. Low temp fade can be paired with a low fade to produce a sleek and masculine haircut that's fantastic on all hair textures.
The temp fade does require a lot of maintenance, so you are not worried about excess expenditure on your hair.
Low Bald Fade
There is one difference between a low bald fade and a low skin fade. A low skin fade usually starts out as thick but wears away as it moves to the bottom.
The bald fade is the best choice if you want to stand out from the crowd. Your barber maintains the hair on your top longer and shaves the back and sides, creating a contrast.
Start at the lower part of your head for a subtler approach to balding
Sleek Short Drop Fade
This crop features a low fade around the sides. With this cut, you'll have the curvature of the hairline swooping downwards toward the neckline. Saying you'll have a seductive look is an understatement.
Casual Wavy Taper
Are you looking for a more relaxed and sleek appearance? Consider a casual wavy hairstyle, and you'll never regret it.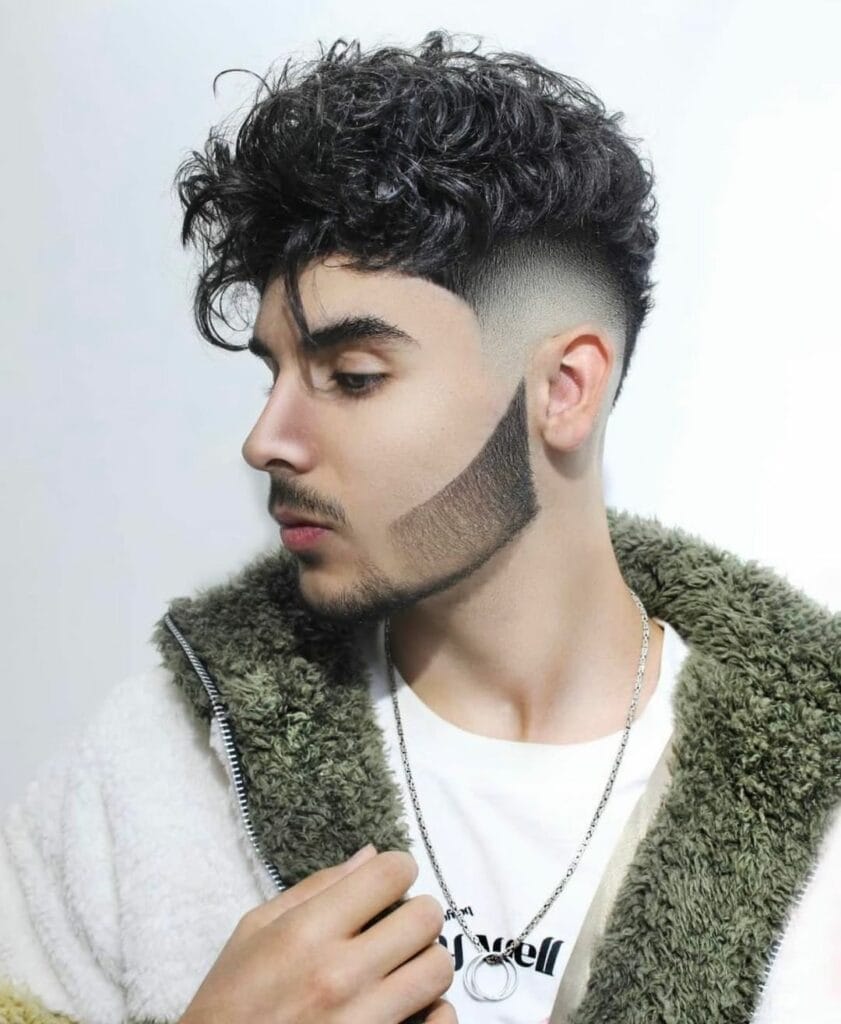 Subtle Temple Fade
It is a low-key hairstyle that emphasizes a very subtle fade of the sideburns while maintaining a full and even appearance.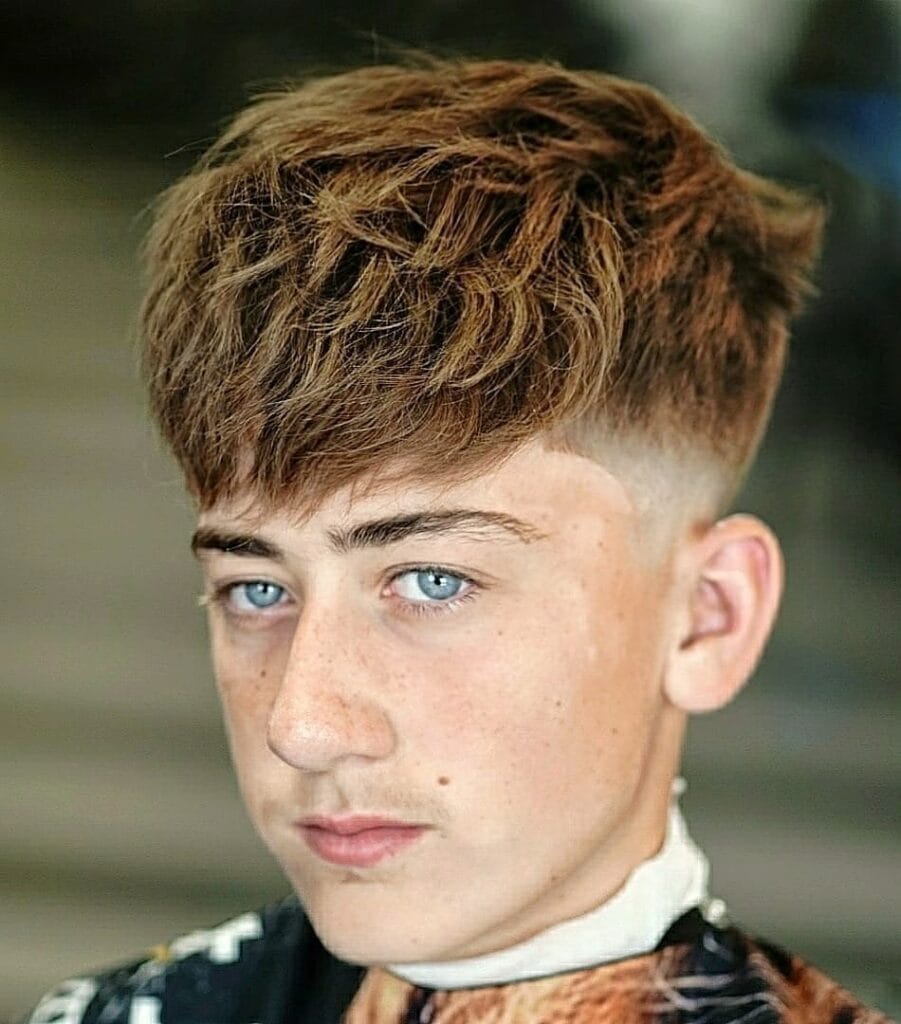 Low Fade With Textured Hair
When a low fade combines with textured hair on top, it produces a unique and stylish cut loved by many guys. Pairing textured hair with a low taper fade is one of the best have a shiny and polished finish.
The low fade is an excellent way to add a stylish touch to a short haircut. This style gradually reduces the hair length from around the temples to the ears, creating a clean and modern look.
The fade draws the eyes up towards the hair on top, adding shape and focus to your appearance.
Plus, you can add a bit of texture to your head by brushing your head with your fingers soaked in a styling gel.
The best way to achieve a clean-cut look is to use a light-hold matte pomade for layers. Textured hairstyles are great for thick, curly, wavy, or wavy hair, but they're also suitable for thin hair.
Low Fade Blowout
A low fade can allure you to go for a rather messy style. Pair it with a trendy blowout to add some dimension to your look.
For this, you must use a blob of hair mousse and a powerful blow dryer for the desired result.
Low Fade Short Hair
A low fade gives men a masculine and stylish look when paired with short hair. Low fades complement short haircuts by keeping the sides trimmed.
As such, the eyes are drawn upward to the styling above.
A taper fade will give you a professional look you can wear to the office and anywhere. Applying a matte gel will help create a thicker and fuller look.
The good thing with this hairstyle is that you can pull off an elegant look even if you have short hair.
Side Part Haircut
Recent years have seen the popularity of side part hairstyles with fades bursting onto the hair industry. Low fade and side part hairstyles are ideal for men seeking sleek and sexy looks.
Your hair is cut to a medium size and swept to one side. The sweep must, however, follow your natural part.
Side part hairstyles look excellent when coupled with a low fade. You'll, however, need to consider your facial shape before going for a side part haircut. For example, a high fade can make a face seem oblong.
So, have your sides longer to avoid the style looking out of place. This subtle cut can be worn to the office and casual places.
Razor Faded Pompadour
The pompadour fade haircut is great, but adding a low bald fade will give you a fantastic look when. To rock this cut, puff up your top hair nicely, ensure the side part is not too overstated, and the fade is superb.
Manage it by spraying on your favorite mousse or pre-styler and gently brushing it into a pompadour.
Low Fade Curly Hair
A low fade is a real deal for guys with curly hair. They provide you an escape route to taming your locks almost instantly.
What's more, curly hair makes your natural hair texture stand out. You'll take your look to another level by complementing the curls with a taper or skin fade.
Sleek Afro Curls
There is always something special about curls, but afro curls stand out. In addition to the taper on the sides with drop-shaped low fade, these hairs are permed with thick rough hair that has been curled into a thin long spiral shape.
Afro curls give you a cleaner approach to this look.
Low Fade Quiff
A low fade quiff is an easy, elegant hairstyle that will keep you looking young and stylish. It features a balance between short sides and a high top, making it one of the hottest hairstyles out there.
The low skin taper looks excellent with a quiff because it makes the top hair the focal point, so it does not require elaborate styling.
However, the low fade haircut wouldn't work well with a receding hairline because a low fade needs a lot of volume at the front. Keeping your sides a bit longer will help prevent over-slimming, especially if you have an oval-shaped or long face.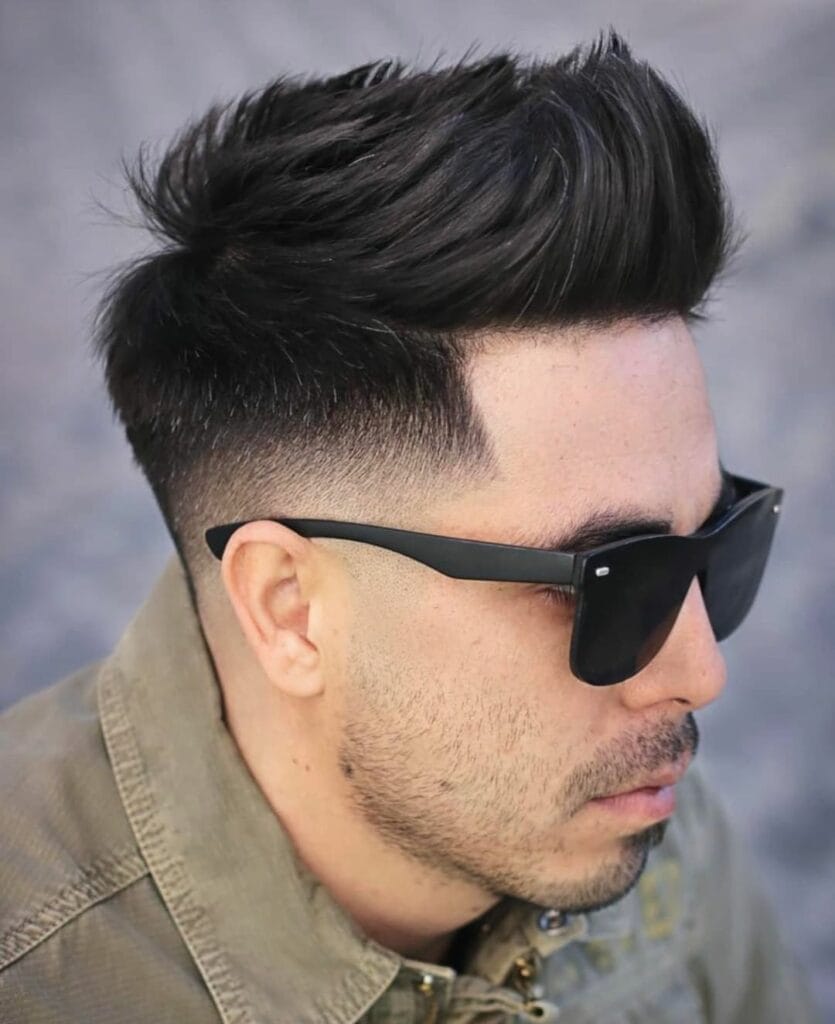 Crew Cut Low Fade
A crew cut looks great, but it's certainly not the most remarkable. Adding a tapered shave will transform this look and make something nice for the eyes to behold.
In order to spice up the crew cut, add a fade for a trendy touch. Choosing a low fade exposes part of the skin just right to show off that military look.
Its refinement means that your crew cut will still look sharp and professional, so you can wear it both in the office and afterward.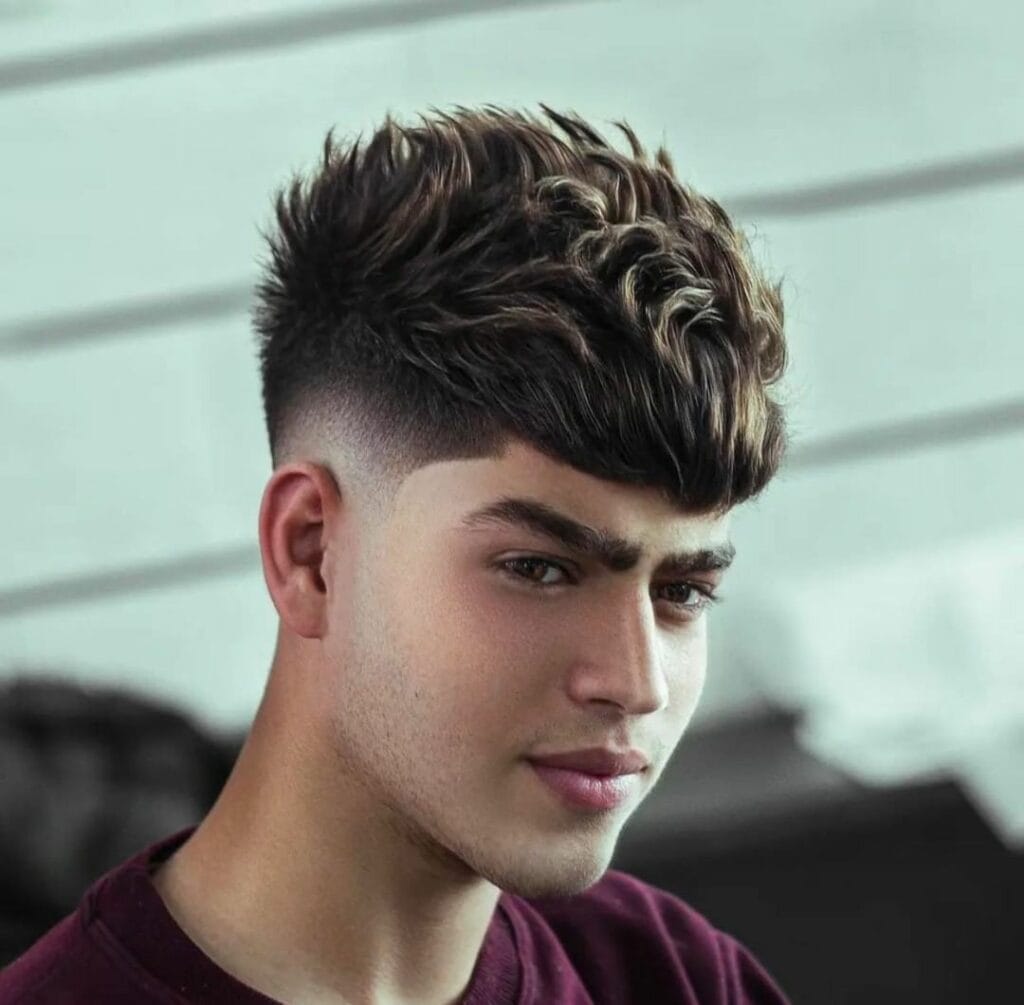 Irregular Fringe
Having a low fade means the freedom to experiment with your top hair as much as you like.
An irregular fringe creates a fuller-looking head.
This haircut is perfect for guys with thin and limp locks since an irregular fringe adds a sense of fullness. Plus, it gives you a bold and daring appearance.
Low Fade For Black Men
Low fades look fascinating for black men as they upscale their appearances. Most black guys wear low fade haircuts because they look neat and tight. At the same time, it also allows them to keep some length in their curls.
Today, many black guys wear low fades to create contrast.
Afro-textured guys can rock this haircut in many ways, from a short afro to dreadlocks. This cut assures you of a modern touch to give you a sleek look.
Spiky Hair On Top
The spiky top is perfect for rebellious hairstyles. Tapers are the same as fades, but they're much more gradual. For example, a skin fade around the neckline creates a spiky taper fade.
Ensure you coat your spikes with enough styling products to stand out. For added flair, dip your thorns in soft hold gel for a crunchy look.
Elegant Side Sweep
Those who like to keep up with the latest fashion trends will love this hairstyle. Your hair top could be sophisticated.
However, you'll need a side sweep while keeping the sides and back low. All these work in harmony to create a hairstyle that will make you stand out.
Swept Back Long Top
Guys who prefer long hairstyles are sure to benefit from a fade. The long locks can be maintained easily without sacrificing length, so all the effort they put into growing their hair out won't be wasted.
Plus, give yourself that classy look by brushing the top of your head.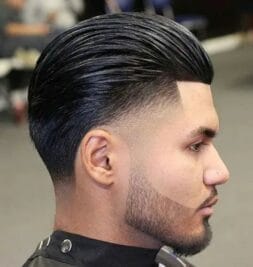 Elegant Flat Top
With a flat top, you have the impression of that guy who has just woken up from bed. The fade will make it look neat and clean without giving the image you have just jumped out of bed.
Messy Pompadour
With height and flow, a pompadour offers a trendy look. A messy pompadour is your perfect choice if you are looking for a hairstyle that is easy to maintain. However, opt for a low fade on the back and sides to make it more modern.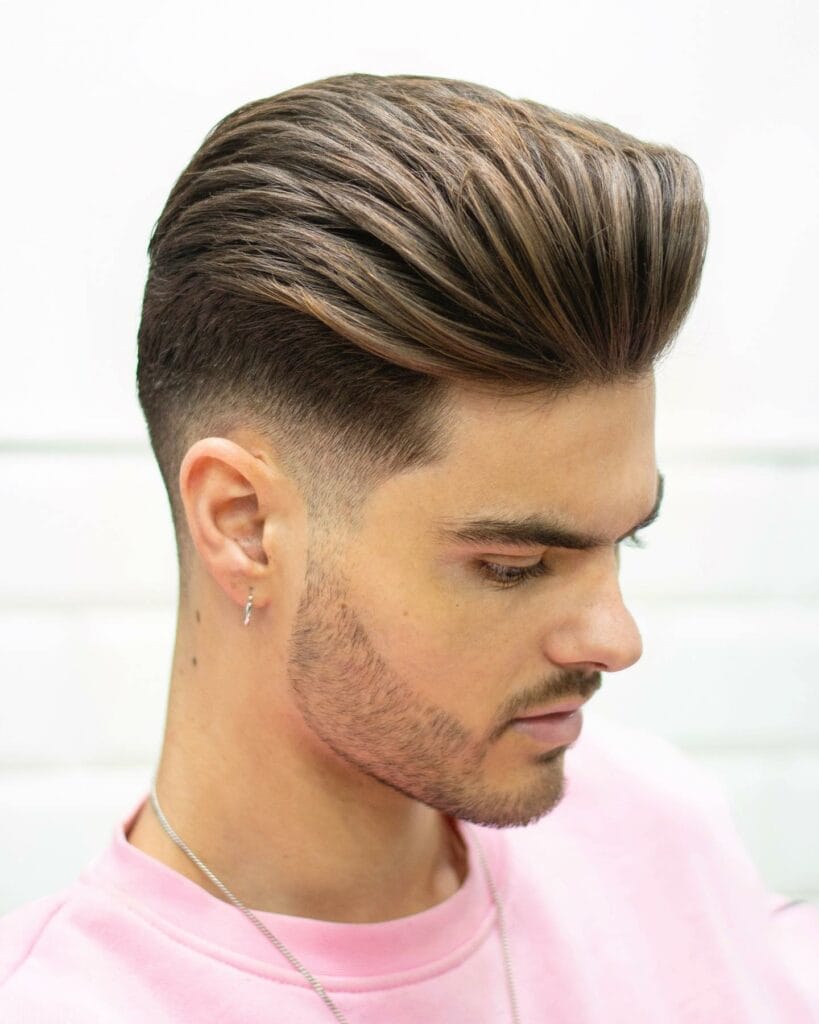 Brushed Up Fringe
Turn your old hairstyle into something fancy and stylish by brushing your fringe up or getting a taper on the sides. This style gives you the illusion of being taller and having an elongated face.
Man Bun
Fade with long hair gives you an edgy, modern look that is hard to beat. Feel free to add a beard for a classier look. You can go a notch high by applying a bearded man bun.
Wrap Up
Many things have evolved recently, and haircuts have not been spared. The inception of different styles regarding low fades will continually be in place.
But I know this cut will stay for generations to come, just as most haircuts do. You can always count on a low fade to give you a clean, sleek look that suits your style.
Depending on the cut, you might need a touch-up every two weeks or so.
Medium-length cuts might take you up to four weeks. Low Fade hairstyles are simple and adaptable to any situation. Book an appiontment at your nearest salon and experience the glamor
FAQs
Between low and high fade, which one is better?
In general, a low fade works best for men with round or heart-shaped faces because the closely-cropped sides help slim the head down. A pompadour or quiff will elongate the face for a more balanced overall appearance.
High temp fades create an edgy appearance as they keep the focus on the top of your head and incorporate a lineup along the forehead and temples.
The fade remains a timeless choice whether your hair transitions into the buzzed look from the top or bottom.
How long do low fades last?
You will look fresh for only three to four days, irrespective of the Fade you choose. Soon after, your hair starts to show through.
Are low fades attractive?
It's beautiful. Nearly anyone with any hair type or texture can pull it off. It's versatile yet understated, with a subtle edge that attracts everyone, especially women.
What's a Low Fade Hairstyle?
A low fade haircut is classic with short, neat sides and back. As your hair length fades around your head, your sides gradually become more transient, allowing the top of your head to look full.
It enables you to select any look you want on top to suit your style.
What's the difference between a low fade and a high fade?
High fades are longer and command more volume. However, a low fade tapers just above the ear and transitions to the hairline, creating the right amount of edge. Low fades are shorter and don't require a lot of daily maintenance.
If you're looking for something stylish but low-key, you can't go wrong with a low-faded haircut. It works for any ambiance, no matter how formal it is.