Revamp Your Look with This Must-Try Comb Over Styles
Are you tired of the same old hairstyle and ready for a change?
Look no further! Our list of the top comb-over haircuts is here to help you enhance your look and turn heads.
From modern and edgy styles to timeless classics, I have got a range of options to choose from.
But don't just take my word for it -Keep reading and see which comb-over haircut speaks to your personal style.
Not only will a new haircut boost your confidence, but it can also be a fun and informative experience as you learn about the different styles and techniques involved.
So why wait? Start your journey towards a fresh and stylish haircut by browsing our list of the most engaging comb-over haircuts today!
What Is A Comb-Over Haircut?
A comb over haircut is a timeless men's haircut where you brush over the front hair to the side.
A few years ago, many people believed that the hairstyle was reserved for older men trying to hide their baldness or hair deficiency. I'm sure this came to your mind when you first heard about the hairstyle.
As hairstyle trends continue to evolve, we've seen that a comb hairstyle does more than hide baldness.
Baldness has even become one feature that many have learned to embrace today.
We now see a combover haircut as a versatile hairstyle for people who want volume on their top hair. It is one hairstyle that fits many hair types and facial shapes.
In addition, this timeless hairstyle can be paired with other styles like fade and undercut to give you a great look. It is one fantastic haircut every man, regardless of age, should get.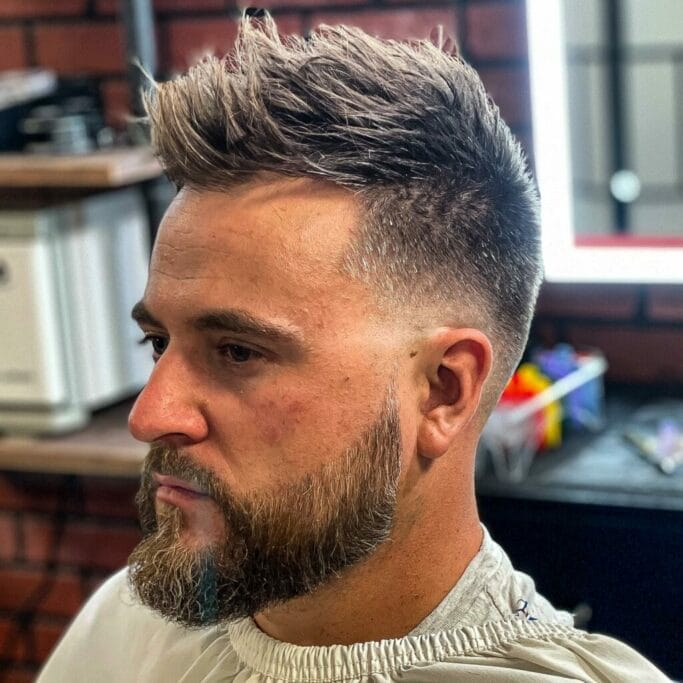 How To Get An Amazing Comb-Over Haircut
You have seen how versatile this hairstyle and you're considering it. Then stay with us as we will guide you on how to get an ideal comb-over haircut.
Imagine a comb-over haircut without enough hair volume. Sounds weird, right? For this, we recommend you leave your hair about 2-4 inches long before getting this style. The hair you leave on the top depends on your desired volume.
For the side, you can choose your desired guard size. However, we suggest you go for any guard size between 4 – 6.
This will give you the best result. You can also pair the voluminous top with a fade, undercut, or a hard part to create contrast.
Styling Technique For A Comb Over Haircut
It is one thing to get a comb-over haircut, but it's different to ensure your combed-back hair remains in place for a long time. To achieve this, you need to do proper styling and maintenance.
Interestingly, styling a comb-over hairstyle is straightforward, provided you have the correct hair product.
A high-quality wax or pomade, comb, and a nice hard part are all you need to style your combover haircut.
You will need to apply the pomade to your hair first. However, ensure it is slightly damped and adequately dried with a towel.
Then you massage it thoroughly to spread the pomade well. It is the pomade that will help your comb over to stay in place and give it some shine.
The next step is to comb your hair to a particular side away from your part. Doing this will help you achieve the comb over haircut. Then, you can complement it with a fade, undercut, or any other desired style.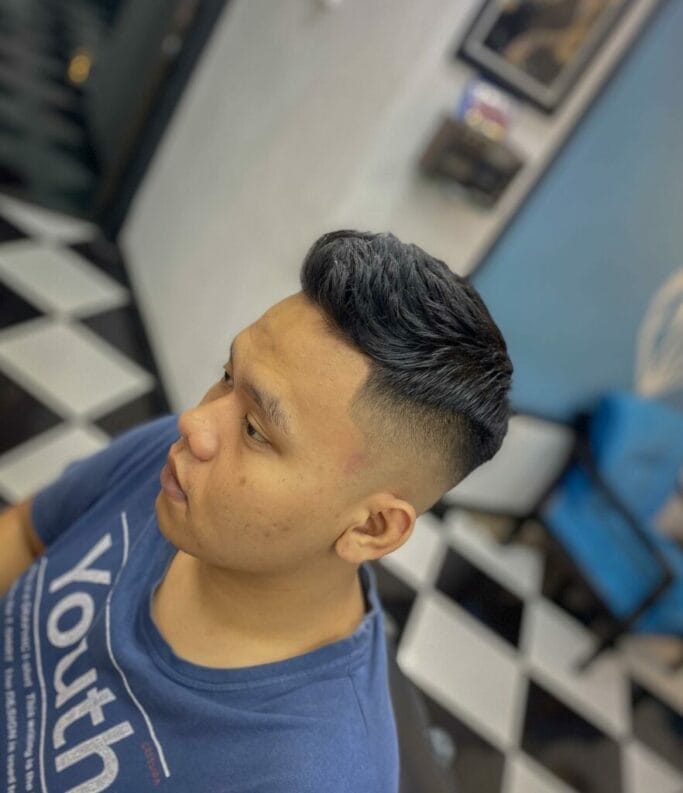 Best Men's Comb Over Haircuts
Now that you are sure that a comb-over haircut is right for you, we will walk you through various styles you should try.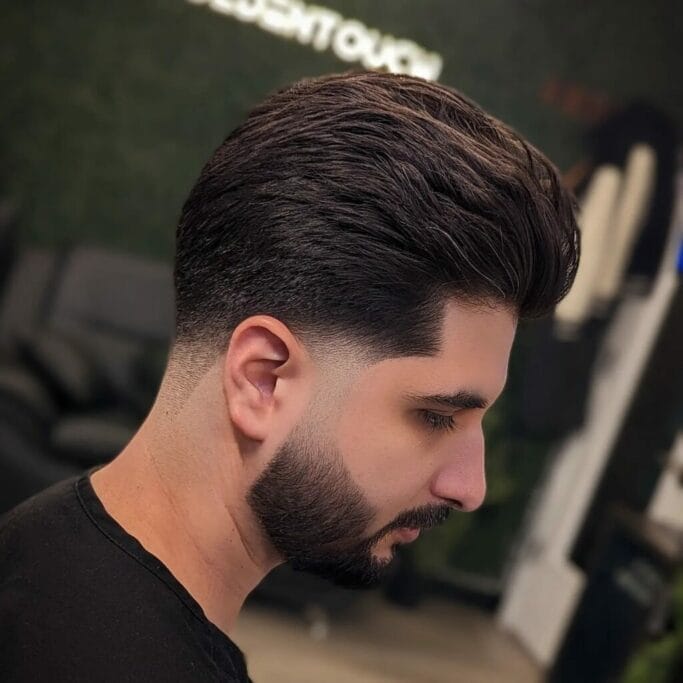 1.Classic Comb Over
This is the original way to have a comb-over haircut. It is the perfect gentleman and low-maintenance haircut.
Getting this hairstyle is pretty straightforward. You cut your back and sides to a decent length without revealing your scalp. This means there is enough hair in those areas.
Ask your barber for an all-scissors cut to get an excellent cut at the sides and back.
Alternatively, you can also ask for a clipper cut, but this time your fade should start with a guard 3 clipper.
2. Comb Over Fade
Combining fade with a combover haircut is a timeless innovation.
A fade is easily one of the most versatile haircuts you can get today. Pairing fade with a comb-over cut helps flatter your face shape and makes you look younger.
You can have this haircut in both a professional and casual setting.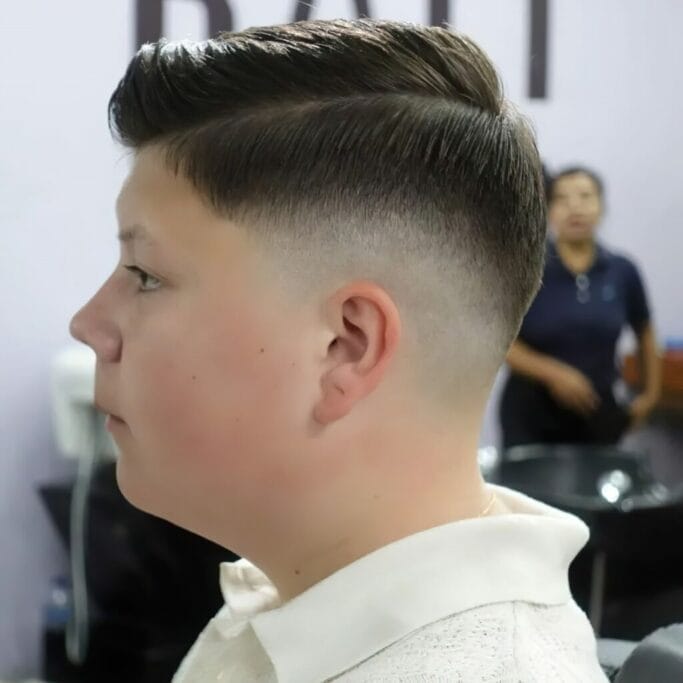 3. High Fade Comb Over
Here, you will get a comb-over haircut with a fade that starts high up around the temple area of your head. This is a contemporary look, which every man who wants to exude class should consider.
The beauty of a high fade comb lies in the length of the hair at the back or sides.
In addition, you can get a skin shave to create a better contrast and draw attention to the comb-over.
4. Low Fade Comb Over
Getting a low fade comb over makes your hair appear longer. This is because the longer portion of your hair covers more of your head than the fade.
The fade here starts below or around the ear level. This hairstyle looks superb with a fuller combover on the top hair.
It can work well on any hair type, whether straight, curly, or wavy. So, get a low fade comb over today and see the attention you command.
5. Skin Fade Comb Over
Pairing a comb over with a skin fade is ideal if you want a high-contrast look that gets attention. Here, you shave the side and back hair down the skin. For this reason, the fade is also called a bald or zero fades.
You can get this cut with your fade starting at any level. But I'll suggest a mid fade, as this will give you a well-balanced combover cut.
In addition, you can draw a design on the skin fade line to add style to the haircut.
6. Mid-Fade Comb Over
The mid fade comb over is the ideal cut for classic men who want simplicity with style. The fade here starts midway above the ears, with the comb over on the top left longer.
7. Undercut Comb Over
This combination gives both a dapper and wild look. You would appreciate this look if you want to make a bold statement. This unique cut is for daring men.
Here, the hair at the sides and back is buzzed like a typical undercut. However, the top hair has several inches of extra length. The volume of the hair on top draws attention to the unique features on your face.
People with straight hair rock this look best; however, you can still achieve this with a wavy or curly look.
8. Tapered Comb Over
To get a tapered comb over, ask your barber to fade your hair at the temporal area and the nape of the neck.
It is a fabulous hairstyle for guys with short foreheads. The side sweeping of the hair on top helps open up the forehead and gives the face an elongated appearance.
9. Short Comb Over
Here, the emphasis is on simplicity. It is a safe option for those who want a simple and contemporary look. Combining it with a neat fade will give you the desired gentlemanly look.
Although the side and top hair transitions are not much like other variants, you can still pull a hipster look with this cut.
You should go for this hairstyle if you want to spend less time styling your hair.
10. Comb Over With Long Hair
This hairstyle allows various styling options like mohawk, quiff, and pompadour. Here, the length of the top hair is exaggerated, with the side and back faded or given an undercut.
Men with curly and wavy hair rock this hairstyle best. With this hairstyle, such people can easily flaunt their natural hair texture.
11. Long Sweep With Widow's Peak
A comb over is typical for guys with a window peak hairline. The idea behind this look is to take the focus off the V-shaped hairline and instead focus on other features.
The secret to achieving this is a well-styled combover with tight sides and the top voluminous.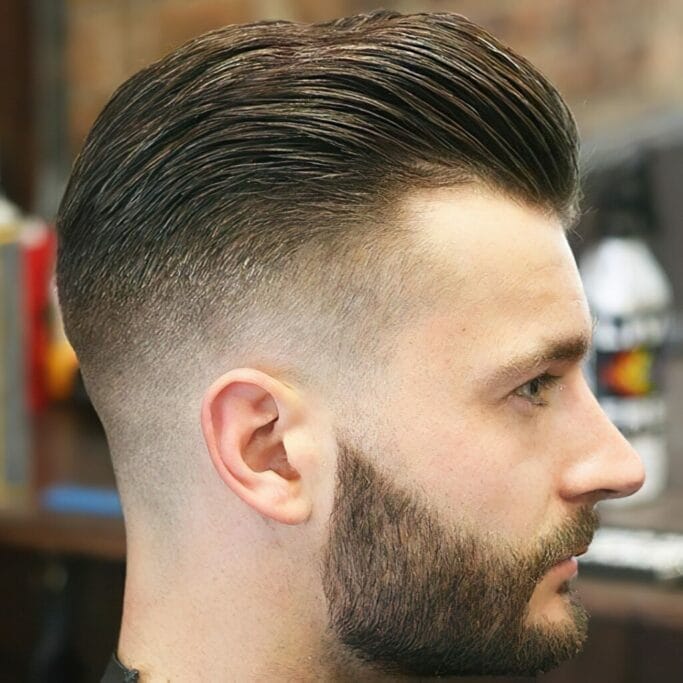 12. Undercut Long Comb over Hair
The undercut long comb-over haircut continues to dominate modern-day barbering trends. It is a versatile hairstyle for classy men. Those with long wavy hair will love the outcome of this exotic look.
To achieve this look, you will combine an undercut on the sides and back of your head with long side-swept hair on top.
The length of the top hair should almost extend to the tip of your ear for a better result.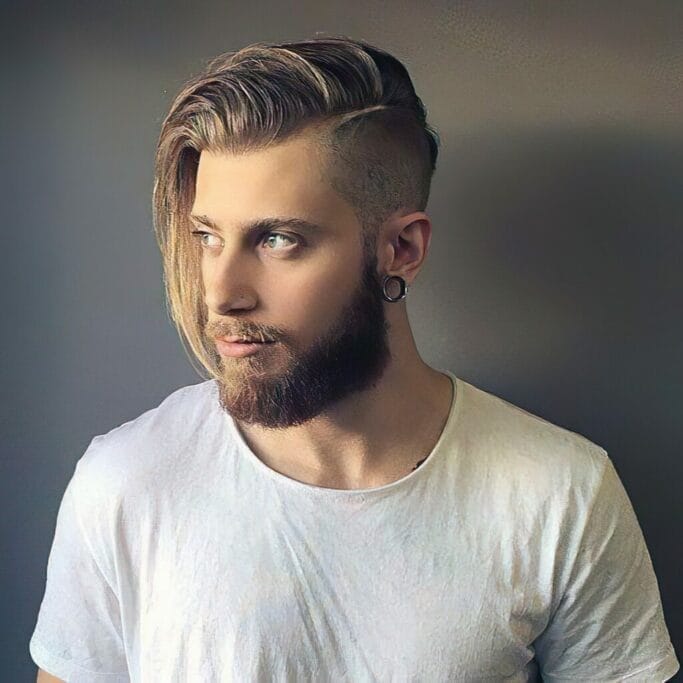 13. Hard Part
A hard part is one crucial element in a combover haircut. This look is created for energetic and robust men.
You can use a trimmer and razor to create the hard part. This will give an impression of a skin undercut.
For the top hair, ask your barber to give you a combover cut with your preferred top length.
You can also decide the nature of your fade to suit your style. A neat quiff can be a great addition to this look. Its presence helps give the haircut more volume.
14. Combed Ivy League
Ivy league haircut is perfect for men who desire a sleek and stylish look.
The hairstyle has been around for quite a long time, but it's still setting the pace in today's haircut trend. A combed ivy league is a go-to hairstyle for any occasion. So, if you are considering a flexible and versatile hairstyle, this will be your best shot.
The hairstyle is similar to a crew cut. But in this case, the top hair has enough length, making it possible to brush it sideways.
This creates a mini quiff-like appearance in front.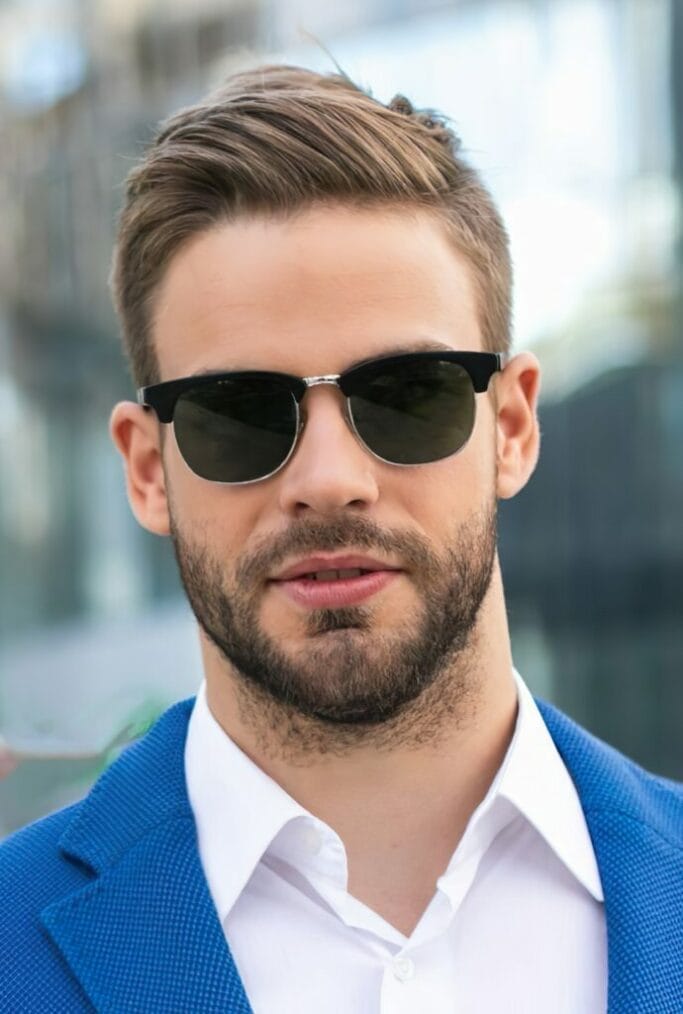 15. Pompadour Comb Over
You have pretty long hair, and you want to experiment with it? Then try a pompadour comb-over. The hairstyle has existed since the nineties and is still relevant in today's hairstyle trend.
To achieve a pompadour comb-over, you must blow your hair upward and backward.
16. Slick Back Hair
A slick-back haircut is another cut that works best for men with longer hair. The hair movement in this hairstyle is bi-directional: to the back and sides.
So, you need enough hair length to achieve the look. In addition, the hair can give a diagonal comb-over appearance.
An essential factor to consider before choosing this hairstyle is the nature of your hairline.
For example, a slick-back haircut is not ideal for men with thinning hairlines.
17. Spiky Haircut
This is a beautiful look for men that love extravagance and fun. Getting this look is easy if you have the right products. You're closer to achieving your spiky look with hair gel or pomade.
You will first need to get a good amount of hair product on your fingers.
Then you rub it on your fingers and palms. After which, you will run them on your top hair from the back to the front to create a spiky edge.
Combining a spiky haircut with a mid-skin fade will give an exotic look. Get this hairstyle today, and get the ladies drooling!
18. Brushed Up Hair
A brushed-up hair is fast becoming an iconic haircut among men. This hairstyle gives a chaotic or messy appearance. Guys with wavy or straight hair will do justice to this haircut.
Achieving this look is straightforward. You will brush your hair upward with the sides and back left low. A fade or an undercut at the back will give a fantastic combination.
19. Combed Hair With Beard
A comb-over haircut with a groomed beard is an elegant combination every man should try. You will get a mature look from this hairstyle and get lots of compliments from the ladies.
However, the hairstyle requires consistent maintenance.
For instance, leaving your beard untrimmed will make you look untidy. So you'll need to visit your barber once every week or for two weeks to maintain this look.
20. Line-Up
A line-up combover haircut is not a hairstyle in its real sense. Instead, it's a styling technique for an already cut comb-over haircut.
Here, you will shape the edges and corners of your hairline to improve its aesthetic after having a combover cut. A line-up can also enhance contrast and bring more attention to the combover.
21. Comb Over With Buzzed Sides
A buzz cut is ideally a low-maintenance haircut whose length is kept minimal.
Getting the side of your hair buzzed when having a combover cut is a classic combination. It will create high contrast and bring attention to the combover cut.
22. Wavy Hair Comb Over
Men with wavy hair are the favorites to get the best from a comb-over look. Their hair texture makes it easier to style and achieve this haircut.
In addition, you can add gel or pomade to make the combover shiny and attractive.
23. Boy Comb Over Haircut
Boys in their adolescent and teenage years also deserve to look handsome and stylish like men. Getting them a comb-over haircut can help them achieve this.
There are various decent combover haircuts that you can get for kids.
These cuts might not require extravagance styling, long comb-over, or spiky comb-over because of the nature of their age. A decent combover with a neat fade can transform the look of young boys and make them attractive.
However, everything still boils down to the parent or guardian's decision.
24. Bald Comb Over Haircut
Many people have nursed the opinion that a combover haircut was created to conceal baldness. While this might be true in the past, the hairstyle has been modernized to fit beyond concealing baldness.
So men with bald hair can look stylish and embrace their hair deficiency as a blessing in disguise.
25. Sexy Fade Comb Over Haircut
Fade is one of the sexiest haircut trends you'll find today. It has a way of spicing up your look and making it more attractive.
Do you want to create high contrast and highlight some of your unique facial features? Then add a fade to your comb-over haircut.
With a fade cut, you've varieties of styling options. It all depends on where you want your fade to start and the length of the faded hair.
Personally, I think a mid skin fade will add more sexiness to a combover haircut. The mid-fading gives enough space for the hair to taper, while the skin fade creates the perfect contrast. However, you can still try other fade that works best for you.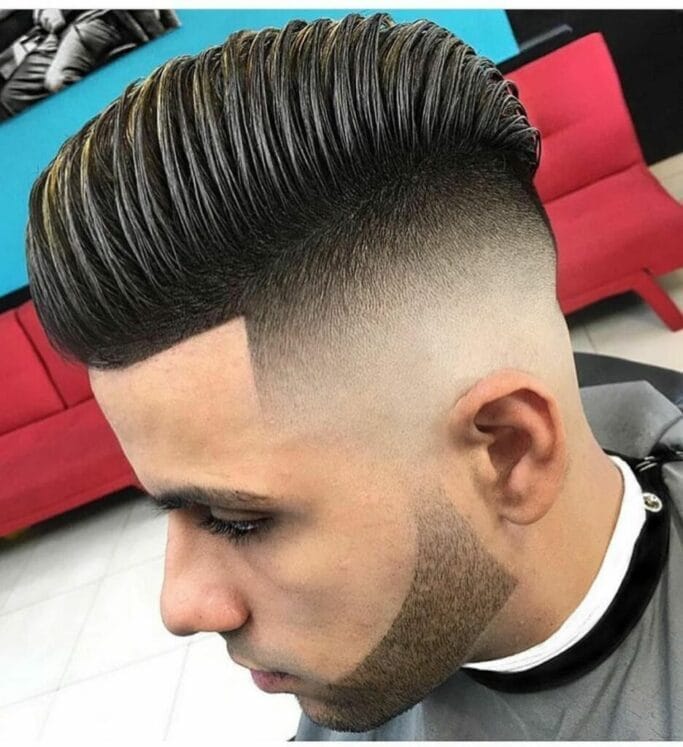 Frequently Asked Questions
What Is The Difference Between A Side Part And A Comb-Over?
You will start by deciding where you want the part to be and the side you want to brush the hair over.
Then, you will tell your stylist how long you want the hair on the top of your head.
Next, you will describe if you want a fade, undercut, or scissors cut at the sides and back. If you want a fade, you will then decide on the fade you want to have.
What Is The Difference Between A Side Part And A Comb-Over?
Although a side part shares few similarities with a combover haircut, they are two different hair phenomena.
While a combover is a classic haircut where you sweep the hair to the side, a side part is simply a line that demarcates the longer and shorter sections of hair. In addition, a combover comes with more volume than a side part which is flatter.
How Long Should Hair Be For A Comb-Over?
The length of hair for a combover haircut varies, depending on your desired style.
However, an ideal combover should have a length of about 3 to 4 inches on top. Sometimes, the hair can be as long as 6 inches or more.
Do You Comb Over Left Or Right?
You can decide to comb your hair to your left or right sides. if you have a prominent part on one side, you may want to comb your hair over to the opposite side to balance out your look. Similarly, if you have a round face, combing your hair to the side may help to elongate your face and create a more angular appearance. Ultimately, the most important thing is to choose a direction that feels natural and that you feel confident and comfortable wearing.
What Fade Is Best For Comb-Over?
All fades will go well with a comb-over haircut. It all boils down to choosing the one that best suits your face shape. Low fade: A low fade is a subtle fade that starts at the bottom of the hairline and blends upwards towards the crown of the head. This fade works well with a comb-over because it allows the hair on top to be styled in a more pronounced way without looking too extreme.
REFERENCES:
combover. source
The "comb over" often gets a bad rap as a 1970s hairstyle for hiding a bald spot on top. Source
Khamis Maiouf is a professional barber who graduated from Hinckley College in England with a degree in hairdressing. He has also won several barbering contests and successfully operated a barbershop for the last two decades. As a skilled hair stylist for 20 years, his goal is to teach others how to achieve a beautiful appearance through their hairstyles.