If you would like to stand out from the crowd, the faux hawk haircut could be precisely what you need. In our fast guide, we'll teach you all you need to know about this current cut, from which variation to choose to how to dress it.
Origin Of Faux Hawk Style
The faux hawk haircut has sprung from its more well-known sibling, the Mohawk, and radically transformed the game. It's different from the Mohawk in the same way that the Sex Pistols or The Doors would be different without Johnny Rotten or Jim Morrison. Even if it's not as spectacular, it still makes you sit up and take notice.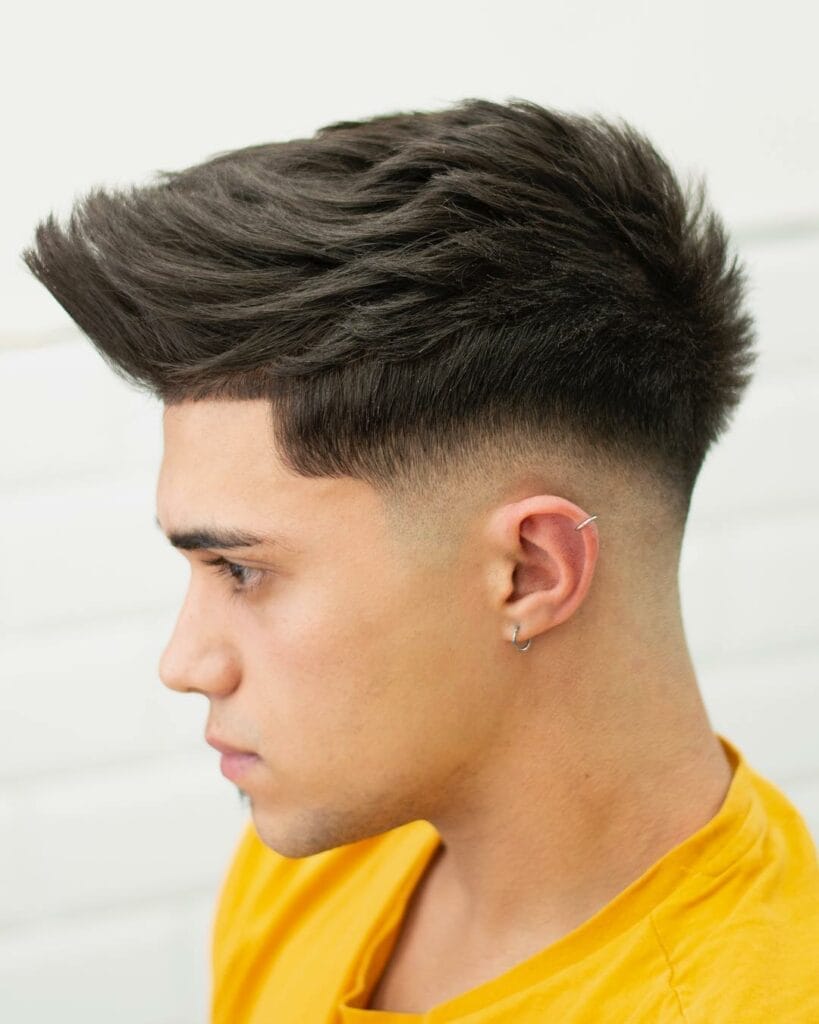 This faux hawk haircut was famoused and mimicked by modern males when fashion and sporting hero David Beckham was seen with it at the "The David Beckham Academy" premiere party at Creative Artists Agency in Beverly Hills, California. Beckham was the primary reason behind the faux hawk hairstyle's rise to prominence in the twenty-first century, popularising it among inner-city guys.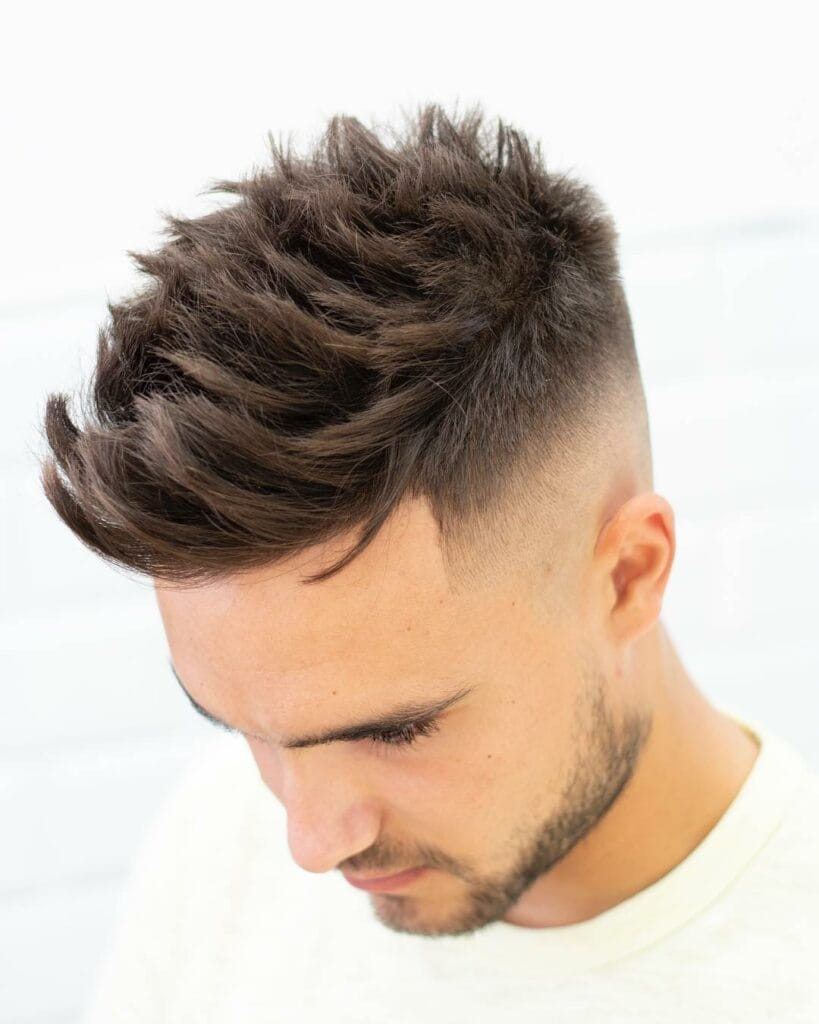 How Can I Get My Faux Hawk Haircut?
A fresh new style and a quick trim can leave you feeling revitalised and with a new lease on life. The fake hawk haircut is enticing enough to pique interest, but not so lavish that it will jeopardise your job interview success. A faux hawk haircut is a good option if you want something that's similar to the modern pompadour but with a little more intensity and style.
How Should I Get My Barber To Trim This Cut For Me?
Bringing in a few photo examples might help your barber or hairdresser understand exactly what kind of faux hawk haircut you want, Whether it's a close shave or a longer design. It's important to remember that the way the hair is trimmed makes a huge difference in the final result,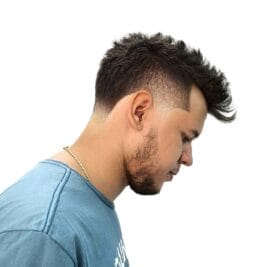 And that it should be done using scissors rather than a razor. Let's not mince words: what you're asking for is a short back and sides with longer hair at the top, with the strip spiked or made into a point depending on the thickness and consistency of the hair.
It's simply that simple to master a stunning faux hawk cut. If you want to achieve your desired natural look for your faux hawk, all you need is a decent quality styling product, a good comb (or your fingers), and a hair dryer.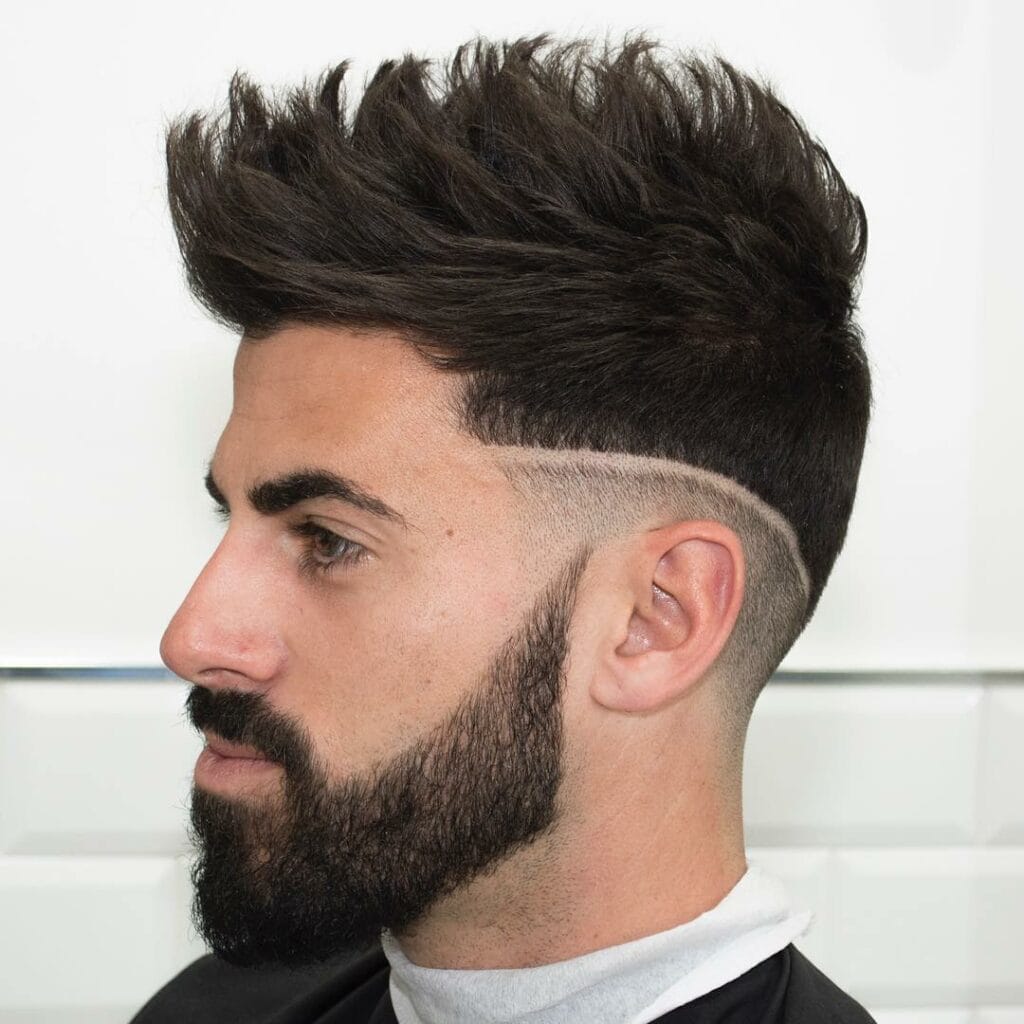 David Beckham Inventory Faux Hawk Haircut
It is among the most sought-after styles in 2022, And you should consider it if you want to change your appearance and wear a super-star look.
The most appealing aspect of this Faux hawk haircut is how versatile it is. The shaven hair on the sides is proportionate to the locks left in the middle for Faux hawk style in this haircut. Keep in mind that if you leave long hair alone, the trimming will be light; however, if you leave short hair alone, the shaving might be a little deeper.
Nevertheless, there is one component of this haircut that you should consider if you like it and want to give it a try: your facial shape. It's a great look for men who have a lot of facial hair.
Classic Of All Types
This is the hair style that most people associate with the Mohawk as it is the classic faux hawk, it most likely resemble Mohawk. The length difference between the precise sides and the stretched hair on top is significant, necessitating the use of spikes to achieve this iconic appearance.
Slicked Back
Along the front of the back, the middle hair is left uncut. You'll need to style your hair to a medium length to achieve this style. The sides are shaved, but not excessively so. The amount of hair chopped on the sides decides whether this fohawk looks good or ugly.
After that, the hair is combed from the front up and then back. To help it last longer, use an excellent styling gel.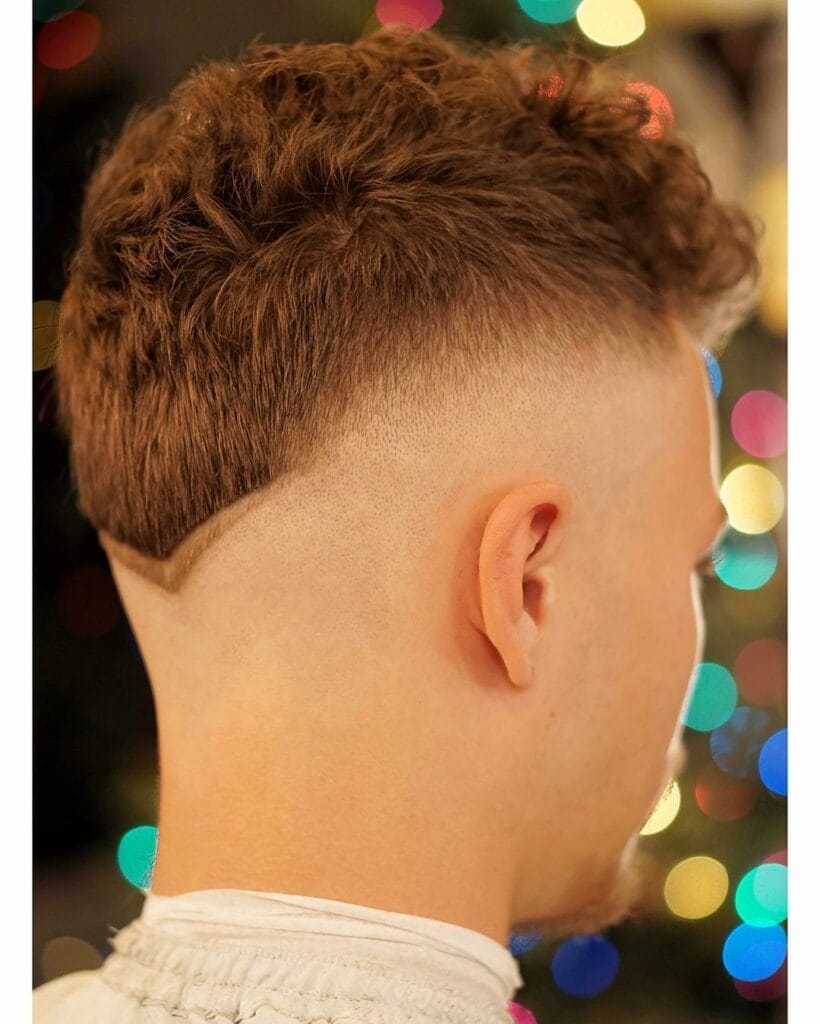 Buzzed Faux Hawk
Keep an eye out for the buzz cut faux hawk, If you're looking for haircut that's easy to manage, fashionable, and a touch out of the ordinary. It's a great starting point for short faux hawks in general because it looks like a number of different haircuts while maintaining the length short all around. It's one of those times when less really is more. You can instruct your barber to do whatever fade you want.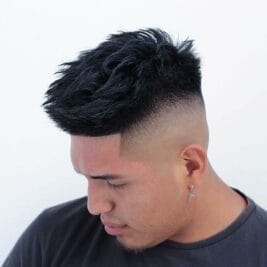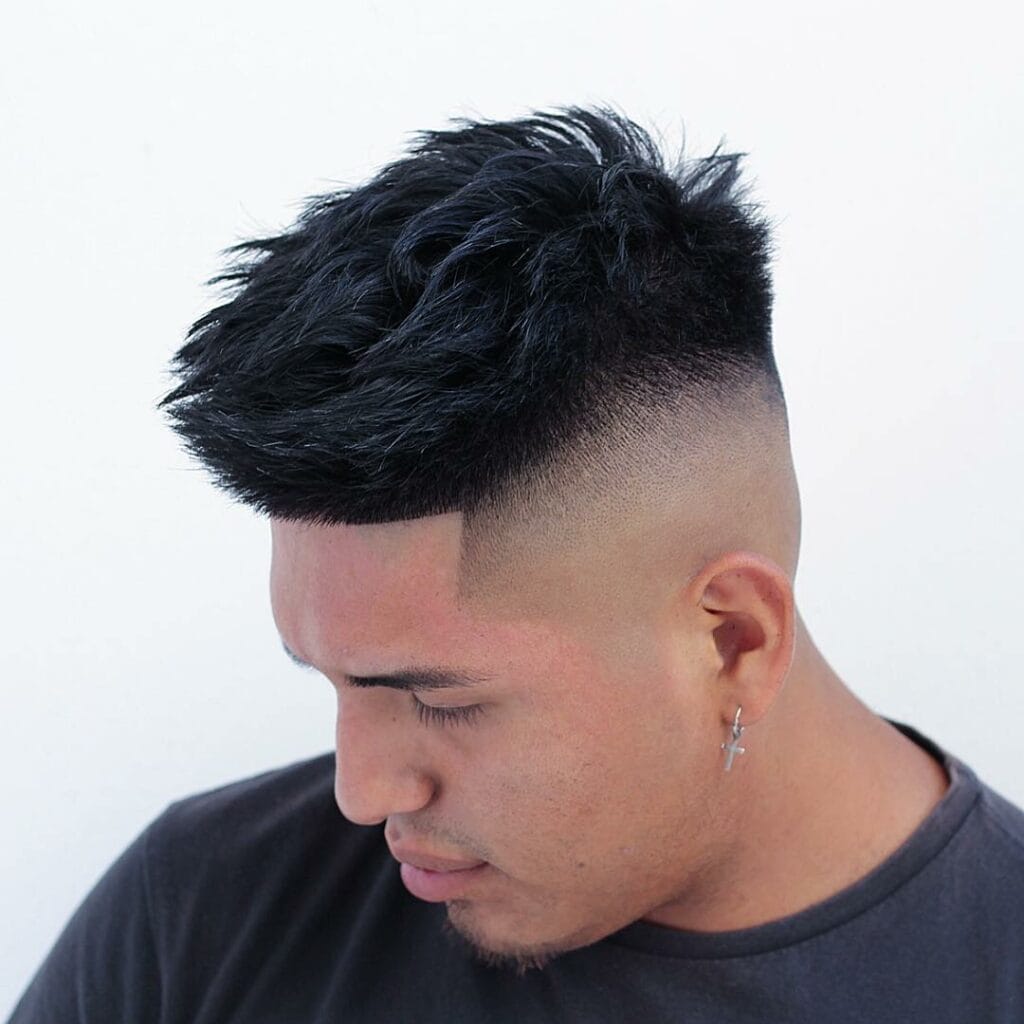 If you opt to Recreate this haircut, keep in mind that it will take a lot of time to style, and you need use high-quality hair products. Because the hair is fine, it may be difficult to get the desired shape. Dying a short Faux hawk hairstyle will be easier if you use high-quality hair products. As a result, you should opt for hair products that are firmer and more durable.
Shaggy Faux Hawk Haircut Idea
This haircut is ideal for males who want their hair to look like it belongs on a rock star. Yes, it's shabby and unkempt, but it's still paying respect to the fake hawk aesthetic.
Mohawk Fades- Faux Hawk
Hair stylists have a lot of fun with short Mohawk fades, which are also known as faux hawk fades. There are so many different ways to play and experiment with these looks.
The thickness of the sides, as well as the three parts working in unison and flowing in the same direction, sharpen the pointy top created by spiking the crest. You can achieve the subtle style you want with this faux hawk hairstyle. It's ideal for males who wish to preserve their stubbles while sporting a faux hawk hairdo.
The faux hawk haircut is a more understated yet nonetheless edgy style. You can choose from a variety of styles depending on your hair type, including messy and buzz cut cuts. It also Keeps your hair silky and tamed with the correct clays and a comb. The faux hawk haircut makes it tough not to be drawn in. Using your fingers, you may easily get, administer, and undo it at any time (not that you would want to do that of course). However, we prefer hairstyles that are easily changeable.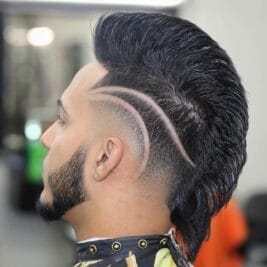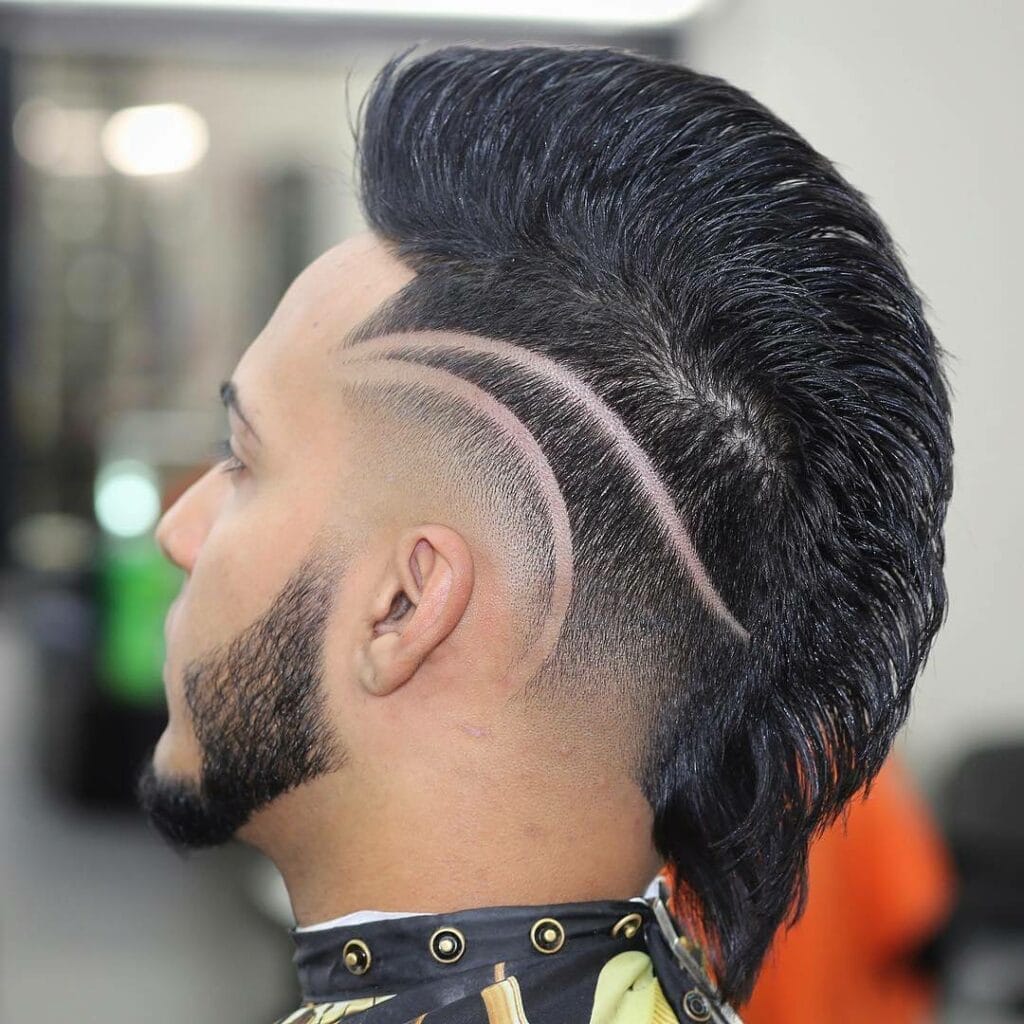 It may not be cutting-edge technology to create a faux hawk hairdo, but it must be fashioned correctly to achieve the desired impression. When you go to the salon next, you'll know just what to ask for. No matter how much it costs, your haircut will seem like a bargain in comparison to the days, months, and years of pleasure it will provide you.
Spikey Faux Hawk Haircut
When you tell a buddy you have a "spiked" faux hawk, they'll probably imagine individual spikes shooting up from your crown, but that's not the case.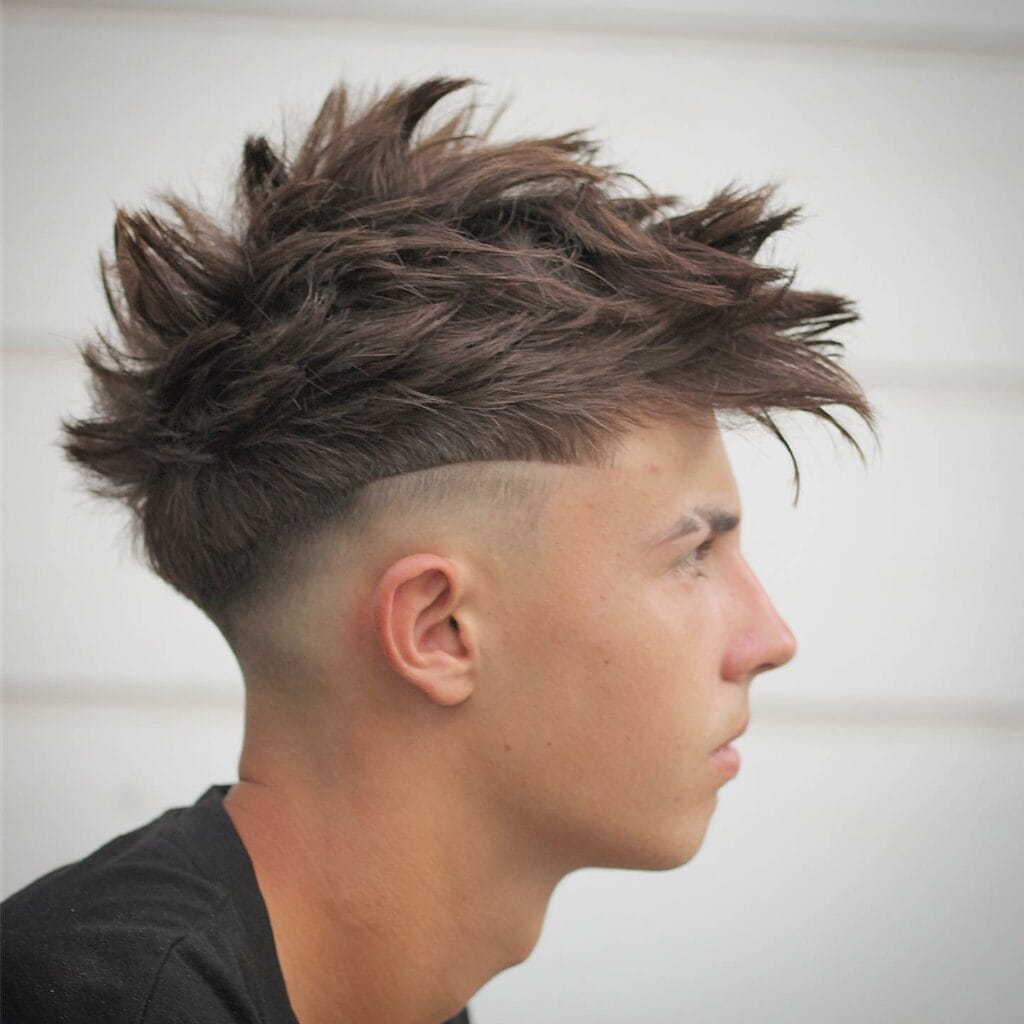 This faux hawk, like the long hair faux hawk, is all about volume and texture, with full hair positioned outward but without turning one's head into an impaling machine.
Faux Hawk Haircut- High Volume
This is a trendy Faux hawk hairstyle with a lot of volume. The Fohawk style emphasises the fading line, which is sharply drawn to give the appearance of a defined volume. This haircut is best suited to males with thick, curly hair.
When you keep a sparkling appearance, it looks fantastic. If you choose this hairstyle, make sure you have the appropriate gel and spray. This haircut has a wide range of styling options, allowing you to wear it to a variety of official and informal settings.
Undercut Faux Cut
The undercut Faux hawk is one of the most trendy and sought-after hairstyles in 2022 because it can be done in a multitude of ways. Because there are so many undercut styles to choose from, you're bound to find one that suits your hair type and face shape.
You can choose disconnected undercuts if you wish to "draw" patterns on it, for example. The hair in the centre is left alone and can be any length, but a medium length is ideal for this look. If you're a creative person, you should definitely go for it and give it your all. This haircut demands the use of a barber with a diverse skill set.
Long Length Faux Hawk
Want to rock a Faux hawk hairstyle with your long hair? When it comes to lengthy Faux hawk, you can never go wrong. It ensures that the length of your hair is maintained by simply trimming the surplus on the sides. This hairstyle should be proportional; otherwise, you'll want to shave your entire head for a fresh start.
If you want it to stay in shape, apply strong hair treatments to keep it in place throughout the day. Because your hair is long, the wind can easily make you look dishevelled. This hairstyle will be severely tarnished as a result of this.
Heavy Looking Faux Hawk
With this haircut, men with thick beards and a lot of thick hair appear more macho. It allows guys to keep their beard while maintaining that appealing look. The sideburns and beard are connected by strong fades.
On the sides, the hair is shaved a little longer, leaving a large amount in the centre. It should be medium in size, and you can comb it sideways or backwards, as long as you use hair products that hold your hair in place. Remember to keep it gleaming.
A multi-coloured Faux hawk is the way to go if you want a more laid-back style. It makes no difference what kind of Faux hawk you're wearing. The colour of your dye is critical in this cut. When dyed, long and medium faux hawks appear better than short ones. As long as the colours don't create an entirely different design, you can use as many as you want.
Let's Talk About Face Shapes
There are a lot of possibilities for guys and their unique face shapes with a multitude of ways to make the Faux Hawk. There are, however, a few things to keep in mind when customising it. Seven various facial forms influence how people wear their hair. If you haven't already done so, We strongly advise that you read our guide to determining your face shape before moving on to the next step.
Ideal Face Shapes For Faux Hawk Haircut
Faux Hawks go well with oval face types and are ideally suited to the style. Because of the crest's angular sharpness, your features will not be softened, allowing you to change the length on the edges.
The Faux Hawk is best for people with round faces. The textured volume on top adds angular length to the face, While the short, faded sides serve to lengthen it.
Square-faced people can have fun with this style at their convenience. On the other hand, given the expanse of their foreheads, make sure the crest isn't too narrow.
Acceptable Face Shapes For Faux Hawk Haircut
When it comes to diamond face forms, make sure the cut isn't too angular. To avoid seeming too small, make sure the crest is wide enough to add bulk to the forehead. Keep a low Fade to snuggle the ears in as well.
The Faux Hawk is suitable for heart-shaped faces, however the crest should be lightly textured and the front should slip down as a fringe to the side.
While the incompatible face shapes for faux hawk haircut are oblong and triangle face shape.