The low taper fade haircut is one of the most famous hairstyles that has been popular for years. The pairing of the low taper fade long hair offers a very masculine and unique look, but this haircut also needs regular maintenance. This haircut is very clean, manly and it works well for both business and casual meetings. You can mix and match any taper fade patterns with any other hairdo and be confident that you'll look handsome.
Aside from its attractive appearance, the low taper fade is quite versatile, which is why it is the foundation for so many other haircuts for men. So if you have time to style and care, then this stylish hairdo is ideal for you.
Best Low Taper Fade Long Hair to Try
Here are some of the best examples of trendy low taper fade long haircuts, which suits a variety of face shapes and hair textures.
Low Taper Fade With Long Coil Hair
A low taper fade looks great with long coiled hair on top. This style with a longer coiled top and distinct hairline is one of our favorites. The fade starts low down the temple, with the long section dipping downward in the back. The longer your coiled hair gets, the more casual styles you'll be able to pull off. If these aren't your goals, but you love your long coiled hair, consider having them loosely braided. If you choose tight coils, keep in mind that they'll be less defined than looser coils. However, both styles look great with a low taper fade and a well-trimmed beard.
Long Hair Twists With Low Taper Fade
Long hair twists are a fantastic option for a low taper fade haircut if you do not want to commit to the time and effort. These twists take a little longer than the shorter ones, but they require less time and effort than dreadlocks. However, it requires greater maintenance. When dealing with this, you should separate your hair every few weeks to keep it healthy. This haircut is all about having a good time and being fashionable.
Low Taper Fade Long Curly Hair
If you have naturally curly hair, a low taper fade is a correct option for you. It defines and outlines the disorderly curls while highlighting their complex pattern and structure. Just swipe your fingers over the curled bangs with hairstyle product, and you're set to go. Like long twist hair, long curly hair looks excellent with a low taper fade haircut. The low taper fade long curly hair is about contrast and creating the eye-catching attractive style. Keep the natural density in the curls, then sweep them forward to achieve a pompadour impression for a stunning and striking look.
Low Taper Fade long Top Knot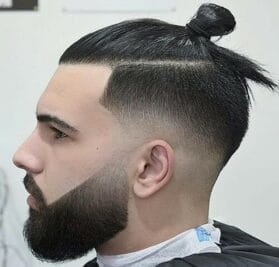 Low taper fade topknot is another wonderful hairdo to show off. So, regardless of the hair type, a low taper fade haircut will look great with your long top hair. You may choose how subtle or powerful the low taper fade should be. In any case, it'll be a show-stopper. A low tapered fade adds a delicate touch to a top knot that men may adopt. It won't be overly bright, but neither will it go overlooked. We prefer the design mainly if you are not restricted by your surroundings, such as school or work. Based on how long you wish your hair to stay, you might ask your stylist for a two or three-grade haircut for the low taper fade portion.
Long Braids With Low Taper Fade
The combination of a low taper fade and braids adds to a man's appeal. This style consists of longer hair on top, while the back and sides are low tapered. Braid style is totally dependent on the kind and texture of your hair. On thick hair, it looks fantastic. When forming braids, you should take special care of your hair by applying moisturizer to them and never braid them too tightly because this might damage them. If you like braids but want to add some uniqueness to your look, this hairstyle is for you. This haircut will transform the overall appearance of your long hair, making your individuality stand out in a crowd.
Pony With Tapered Haircut
If you have naturally straight, long, thick, rich, soft, and silky hair, you owe it to yourself to explore, experiment and style it in as many various ways as possible. Start with the ponytail, and you will be definitely amazed. A loose pony might fall on the neck, while a tight pony might stand hard at the top. Low taper the back and sides to create it more attractive. Remember that this style increases the forehead hairline.
How Can Guys Grow Long Hair?
A guy can grow long hair with some tips given below
Make sure you're using the proper shampoo and conditioner.
Use cold water to wash your hair.
Avoid using heated equipment or chemicals while combing your hair.
Alter your showering regimen.
Maintain a healthy diet and lifestyle.
Drink plenty of water.
Massage your hair with hot oil.
Apply a thorough conditioner to your hair.
Make use of a hair mask.
Rinse your hair with apple cider vinegar.
Conclusion
The low taper fade looks good with medium to longer styles.  A low taper fade, as one of the finest short sides, long top hairstyles, increases the contrast of the back and sides to draw attention to the longer styling top. Mid to long haircuts have the advantage of adaptability, allowing men to experiment with various haircut concepts.
If you are eager to try out the current fashion trends, then you can wear any low taper fade long haircut listed above. Request a low taper fade haircut with long hair on top from your hairstylist that fits your facial shape, type, and hair length.
FAQ
Do Guys Look Good With Low Taper Fade Long Hair?
Low taper fade Long hair looks fantastic on men and complements a wide range of face shapes, especially when shaped with layering or texture.
What Are the Benefits of Low Taper Fade Long Hair?
Low taper fade Long hair can represent strength, confidence, health, and a rebellious attitude in a guy.
Is Low Taper Fade Long Hair on a Man Unprofessional?
Low taper fade long hair is becoming common, yet it is still disapproved upon in some locations, such as corporate offices.
When determining to choose whether or not to grow your hair long, think about your area of work and professional goals, as well as how long hair would affect them. If it's allowed, try your best to maintain it clean and tidy by washing it frequently and brushing it.