What is a Taper Fade Haircut?
A taper fade haircut is one of the most identifiable and famous haircuts in many different hairstyles. With its timeless appeal, clean design, and adaptability, it's been around for a long time.
It's appropriate for informal and formal events, you can comfortably wear it in your office or home.
A taper fade (also known as a taper), is different from a traditional fade. Both include slowly shortening the hairs on the back and sides while keeping the top hair longer. Whereas taper fade is shorter and might end in skin fade at some point.
A taper fade and a normal Fade are two distinct haircut styles.
They are combined to form taper fades. All of these are flexible, clean-cut, and a mix of current and traditional. It is the finest approach to cut short hairs on the back and sides, even if you have curly hair, straight, thin, thick, or wavy.
We've compiled a list of different taper fades haircuts to help YOU choose the right one for yourself.
What Does a Taper Fade Haircut Look Like?
The Taper Fade Haircut has short hair towards the neck and long hair on the head. Typically, the hair on the neck is shaved and mixed into the skin. However, this is not a hard and fast rule. Clippers, which can cut very close to the skin, is used to get the look.
Hairs are cut in vertical stripes beginning at the back of the neck and progressing upwards.
What Is Better Taper or Fade?
The length of hair in a taper haircut changes depending on the style. In fade haircuts, the hair is kept short. The taper fade is a mixture of these two haircuts.
A tapered haircut has 3 varieties, whereas there is much more variety in the Fade.
The hairstyle can be drastically reduced in taper, and the boundary line can be seen. While the precise line in Fade is lost. A tape fade contains a sharp boundary with an incremental fade style.
The top hair of the head is longer in a taper cut than a fade haircut. A taper fade can have any of these depending on the requirements.
The taper may be performed at home and does not need professional guidance, but a fade haircut needs professional guidance.
Types of Taper Fade
The three basic types of taper drop fades are listed below.
What is a High Taper Fade?
The back and sides have the most shaved portion in high taper fade.
The taper starts two inches from the natural hairline and then slowly shrinks or trims out over the sides and back. It appears disjointed, with a stark contrast between the sides and the top.
This is a sleek and clean hairstyle that attracts a lot of attention. In addition, caesar cut, slicked back, textured crop, and quiff can also be used in a high taper fade. Furthermore, it is easy to handle and maintain.
What is a Mid Taper Fade?
A Medium taper fade is among the most fashionable haircuts nowadays. This hairstyle is popular with young males. The first thing you need to know is the main variation between low and mid-taper fade.
In the mid-taper fades, as you could expect, the reference fade line is higher.
It's placed an inch just above the ear with an outliner. Below this fade line, the hair is completely bald. Various guards are used on the sides and back to taper the hairs from top to bottom.
This cut produces a seamless transition on the back and sides of the hair.
What Does a Low Taper Fade Look Like?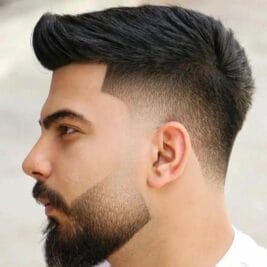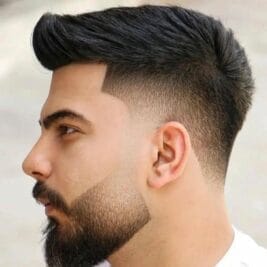 The low bald taper fade is a very fashionable plus risk-free hairstyle because this hairstyle has a low contrast between the sides and top of the hair. For the edges of a low fade with a taper cut, there are two rules to follow.
The first thing is to create low initial guidelines using a clipper. It extends behind the head and bends above the temples. This line's bottom has been completely cut.
The barber then goes up about one inch to make a new fade line using a clipper. The margin between these two fade lines is clipped to various sizes at this point. As a result, the blending is finished.
Finally, hair is clipped by progressively raising the length of the hair upward.
Should I Get a Taper Fade Haircut?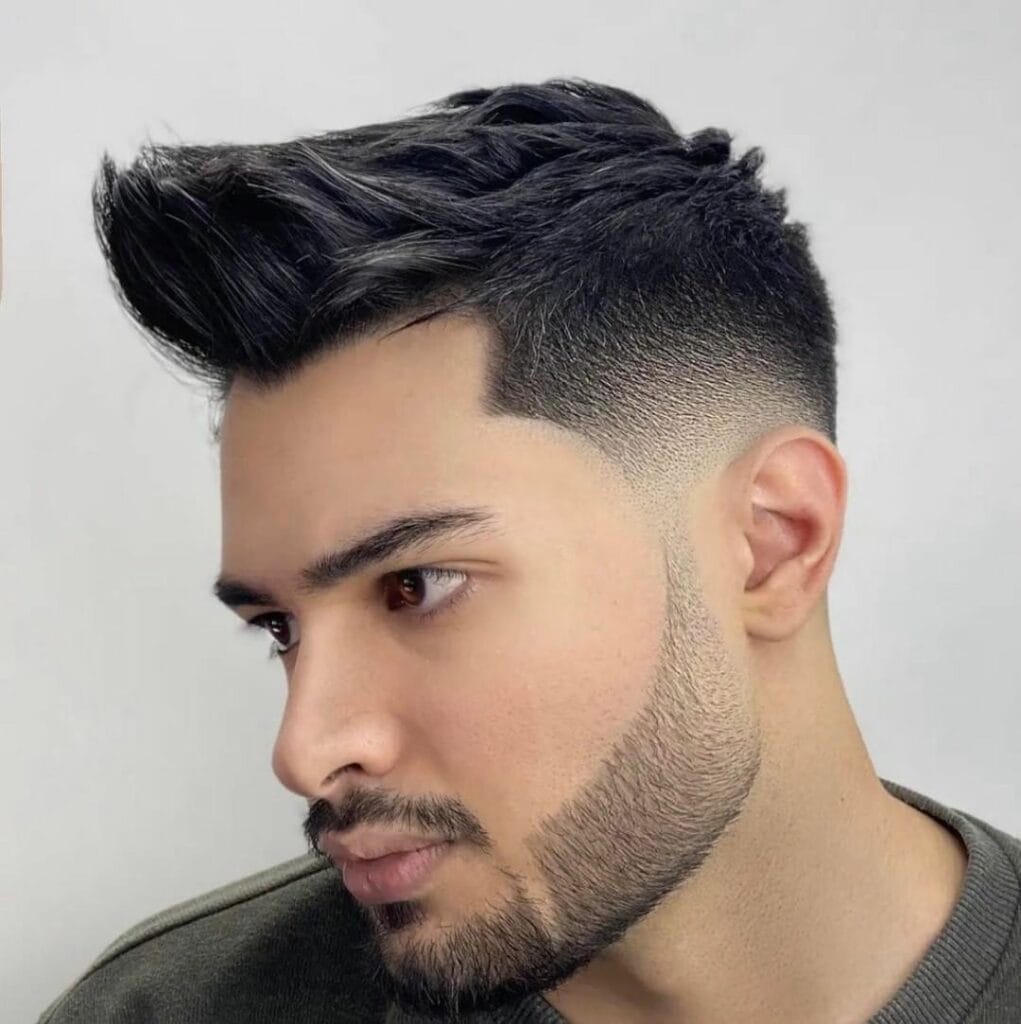 Young men and boys commonly wear taper fade hairstyles. The standard taper fade style consists of long and thick hair in the center of the head that gradually shortens as it reaches the back of the ears and neck.
Despite the fact that many of them appear overly accentuated, the majority of them appear to look fantastic.
Another big benefit of this hairstyle is that it flatters almost every facial shape.
The taper fade haircuts are a low-maintenance style that does not require a lot of styling or care. It is also wonderful for experimentation; you can change it to suit your preferences.
How to Get the Taper Fade Haircut
To get the taper fade, follow the steps below
If you have long hair, you should first wash and dry it before going for a taper fade. After washing, brush your hair carefully, especially if you have curly hair. It will simplify the entire procedure helping you to obtain the finest possible result.
Start from the top hair with the scissor-over-finger method (for long hair). However, when you start trimming the hair, first make sure you keep the scissors parallel to the floor.
You can use any hair clipper for fades; clippers are easier to use once you know how to use them. I consider clippers to be easier to handle than scissors.
The taper fade haircut is not a very lengthy style. Hair length ranges from two to four inches. However, the longer hair, the less tidy it will appear, so a length of two to four inches is a decent starting point.
You will need a nice set of hair clippers plus different guard sizes for merging steps to trim a taper fade. We strongly advise you to see a barbershop if you want a sharp, stylish fade. To get a taper fade, the hair on top must be the longest section of the haircut. The side hair and back can be gradually cut shorter.
Best Taper Fades Haircuts
Below are the finest taper fade haircuts for guys if you want to acquire a taper.
Browse our collection of photos to find a stylish taper fade haircut, which includes a low, skin or bald, high and mid drop and taper on the sides, and combine the haircut with long hair, medium-length, or short on top.
Taper Fades Haircut With Angular Fringe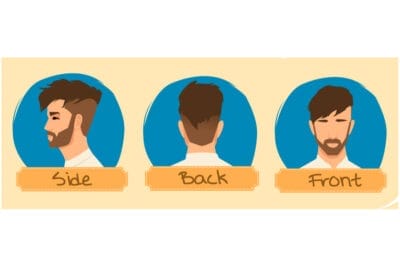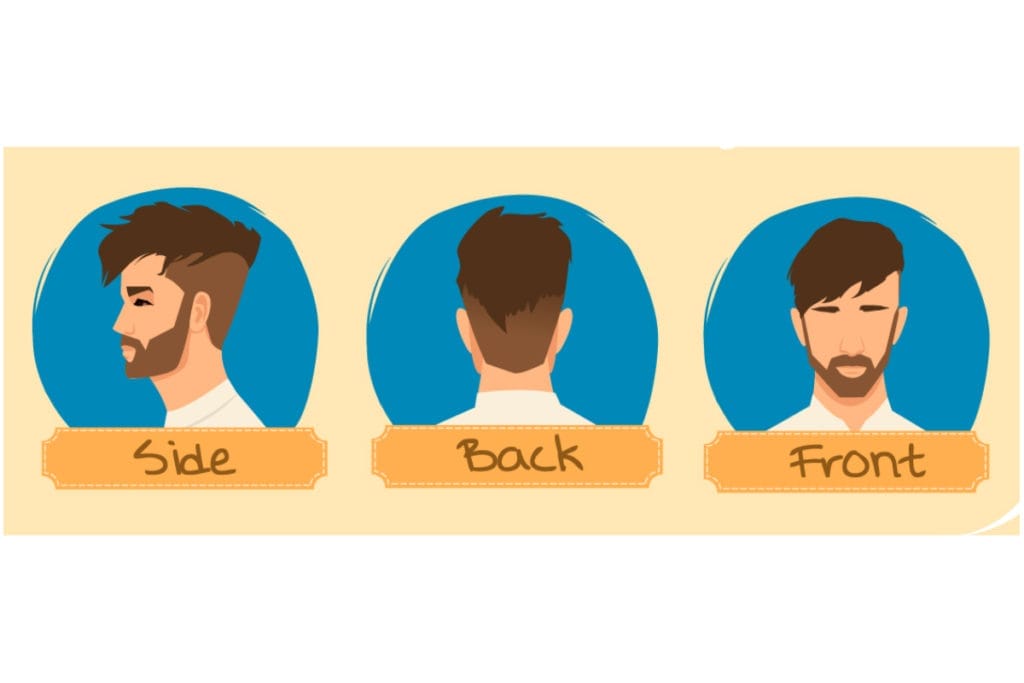 It's common for guys to adjust the structure of their hairstyle to increase height, improve sharpness, or vary the thickness. This angular fringe amplifies the level of creativity.
One side of the divided hair forms a sweep upwards, while another juts toward a sharp edge around the brow.
Your haircut will appear as casually cool as an artistic design in a gallery if you are into the artistic scene.
Taper Fades With Elegant Slicked Back Haircut
Twist your hair back into a beautiful comb-over to bring the twenties into the twenty-first century. Use wax to soften your hair back, but maintain a visible curl to outline your face. To differentiate the slicked-back area from the taper fade, use a mild fade plus red-haired dye to compliment.
Angled and Sculpted Taper Fades Hairstyle
The high Hyperbolic geometry Fade, also known as the high Angled and Sculpted Fade, can add dimension and design to the man's look.
The features of this hairstyle include super straight and clearly defined lines, and it looks best on individuals with the asymmetrical head because the edges will seem more uniform and noticeable.
Creative and High Seasonal Taper Fades
This haircut provides you with a distinct look, with a taper fade that is both seasonal plus creative. You can adapt with the season by applying a leaf to a taper fade and creating a wave to give beauty to this sort of men's taper fade haircut.
This is among the most famous black men's taper fade hairstyles.
Taper Fade With Faux Hawk Top
Maybe the first hairstyle you should try with a taper fade is a faux hawk. To get this look, make sure your top hair is long enough to create a spike, and the sides, despite the typical mohawk, should not be clipped but instead tapered.
Taper Fade Comb Over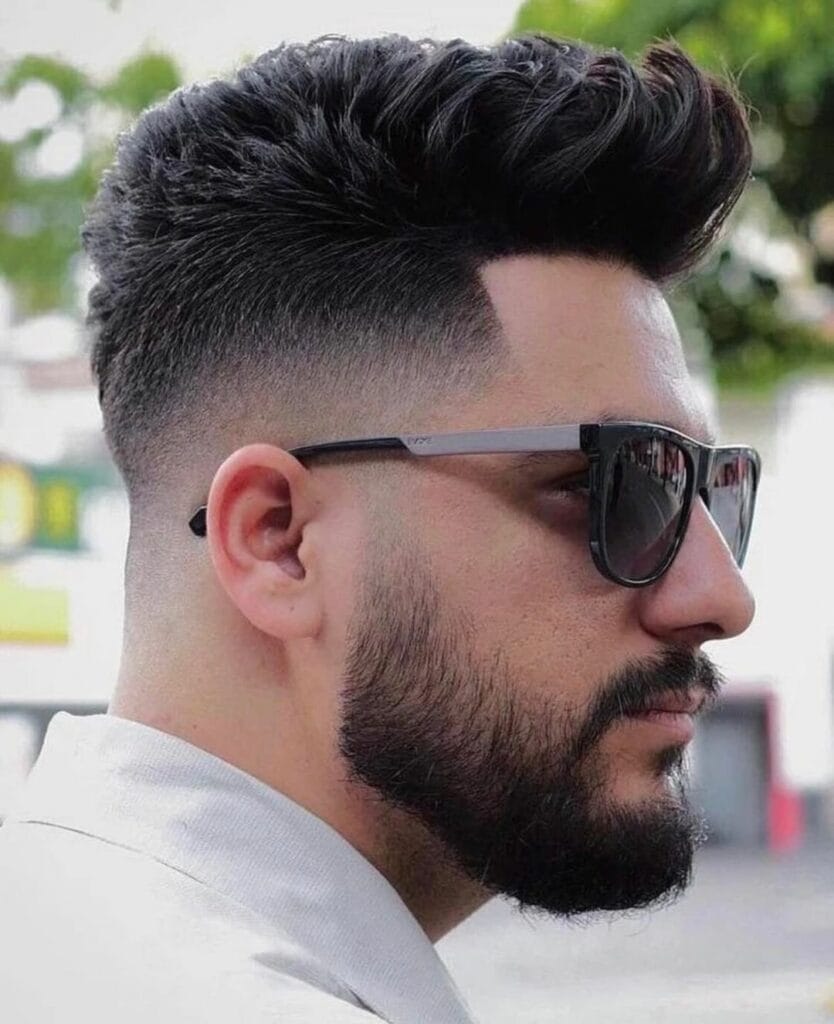 In modern times, the comb-over haircut has resurfaced as one of the best hairstyles for guys.
The Taper Fade comb over is smart, stylish, and attractive, plus it works well with a variety of hair kinds and lengths. For a more macho look, try a taper fade comb over with a firm part, shape-up, shaved line, or full beard.
Taper Fade Blowout
The top of the blowout taper fade is generally trimmed medium or short length, with very shorter tapered offsides.
A nice hair product, such as a smooth gel, wax, or clay, is frequently used to style back and up to the blowout taper fade haircut. The smooth, textured look of a blowout is ideal for men with thicker hair.
Taper Fade With High Volume Top and Back Line
With this loud top, you will undoubtedly attract a lot of attention. Mid-length hairs brush up into a distinctive high volume tower in the front. The taper low fade with a hard line in the back will definitely make people look twice.
Taper Caesar Fade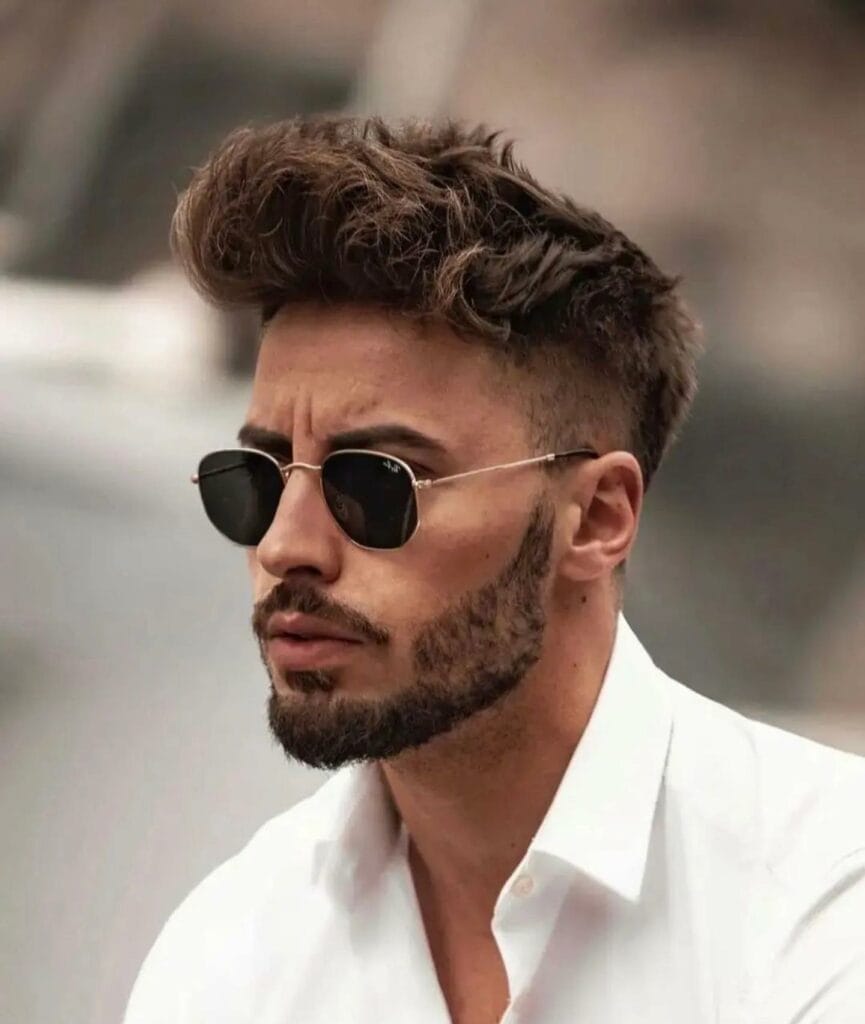 The high taper Caesar fade is one of the best types of taper fade for black men. The top hair is cut slightly longer and is pushed to the front rather than parted on the sides. Top hair can be textured to the edges with short hair. Stronghold wax or gel can be used to style hair.
Taper Fade With Waves
This hairstyle consists of very short waves of hair on top of the head. The top hair waves are rough, with a small volume among each one. This wave taper fade hairstyle is popular among black guys, but men generally enjoy wearing it. A good razor line runs across the brow. The taper side high fades are visible near the brow and, more specifically, around the ears.
Taper Fade Crew Cut
A longer-length crew cut with a deep and high taper fade. This look is managed to pull back to a small bobble hat in the top front hair. The stubble beard adds a nice delicate effect to this style.
Taper Fade With Stranded Brush Up
Begin by adding some magnificence with such a stranded brush up on top hair and taper fading to the sides and back. This works especially very well for guys with medium length hair to add structure to top hair with wax.
Dapper Taper Fade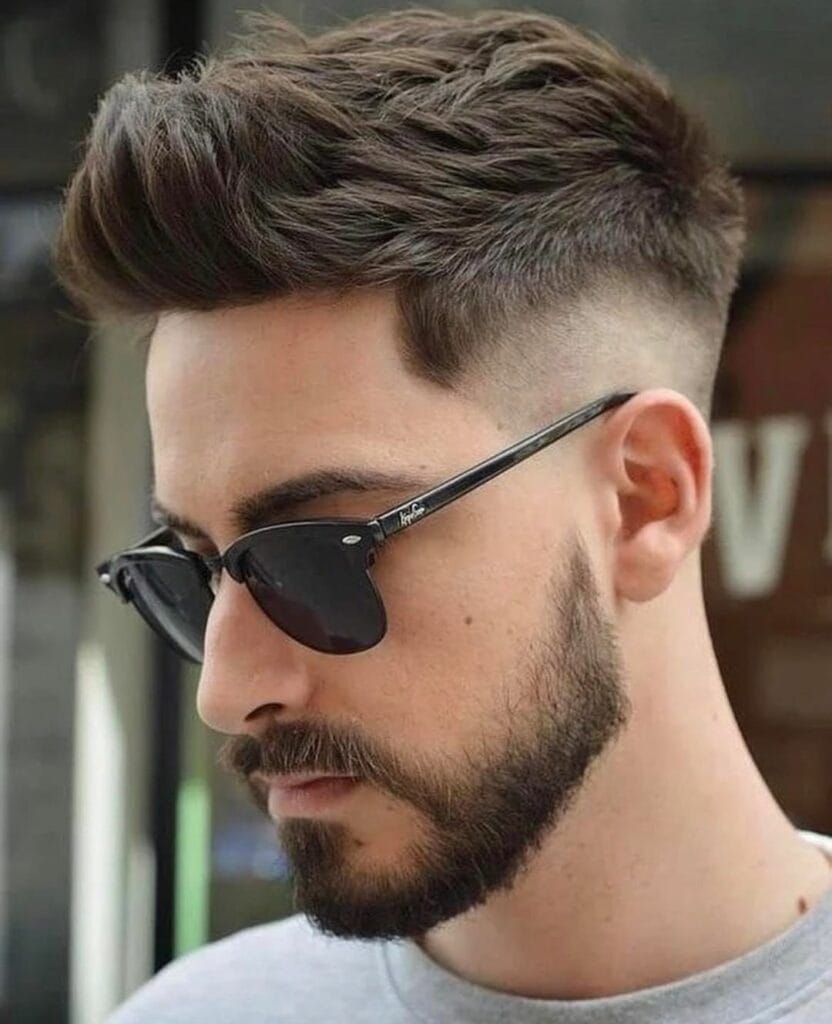 The dapper taper seems to do exactly what it says. It highlights the dapper aspect of a suitable taper fade haircut. This hairstyle is a nod to classic fashion, specifically men's hairstyles from the 1950s and 1960s. The dapper taper fade is one of those trends that will never go out of style.
Taper Fade With Dreads
Dreadlocks are among the highly trendy and effective black men's haircuts. Dreads can be fashioned with a taper fade. There are various dreads hairstyles for males to pick from, including faded, mohawk, braided, and high top dreads.
Sculpted Taper Fade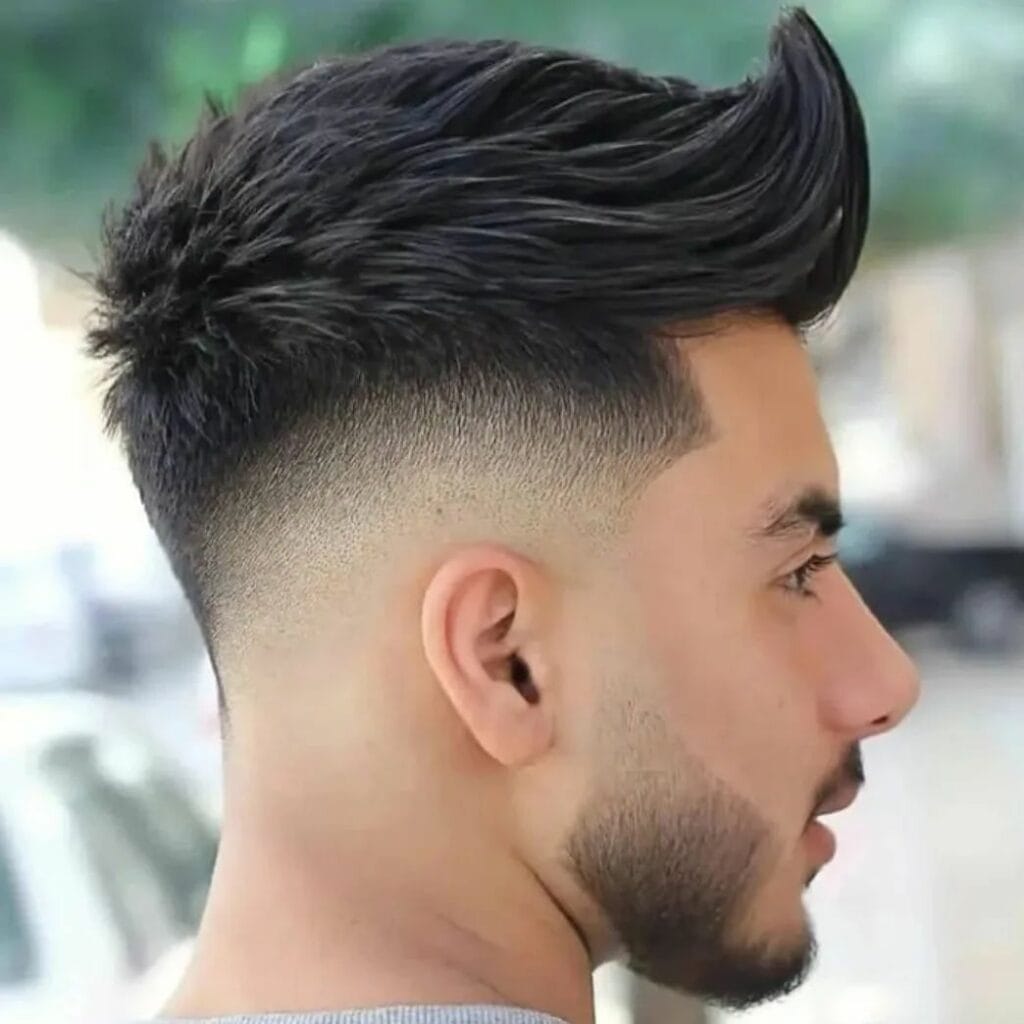 The sculpted taper fade is a finely carved, exact, and clean haircut. In fact, it is nearly flawless. There isn't a single hair out of position, and the side part gives the hair even more volume.
Taper Fade With Undercut Design
If you prefer the taper fade and wish for a stylish look but do not want anything very flashy, this taper fade undercut haircut is for you. The shaved pattern in this example highlights the neck area using two zig-zag lines, but you may be as creative as you want with any taper fade undercut style.
Wavy Taper Fade
Long hair is used to style a wavy taper fade. If this hairstyle is maintained, a person's hair will remain smooth. To finish, this sort of styling employs a precise touch. Clippers are commonly used in this form of hairstyling. This haircut appears to be a wonderful fit for the man with a tapered beard.
Short Trimmed Taper Fade
Many men prefer their hair to be cut short. It is simple to handle. In addition, it is the most realistic approach to managing hairstyles. The short taper fade haircut is ideal for men who prefer low maintenance haircuts. The top hair is less than one inch. It becomes sparse as we move closer to the bottom of the head.
Taper Fade With Short Backward Combed
This is the hairstyle to go for if you prefer to do your own hair. Simply comb it backwards with a comb. If you prefer clean hair, this is the style for you.
Suave and Smooth Taper Fade
This taper fade is ideal for guys who desire a clean and short haircut that is both professional and stylish. Ask the stylist to deal with your natural hair waves to taper the length. Make sure the entire styling is uniform. The additional length of hair on top allows you to be elegant while maintaining a professional or family-friendly appearance.
Temple Taper Fade
The temple taper fade (also known as a temp fade) is a trendy haircut for guys of all ages that have been around for years. You may change the haircut by altering the blade length just a few inches down or up. This haircut looks terrific in a variety of lengths. It is also a low maintenance haircut that just requires trimming every few weeks.
Long Taper Fade Straight Hair
Taper fade has less hair on the back and sides and longer hair on top. To put it another way, blending long and short hair is a great method to sport this haircut. This look is perfect for the man who likes to stand out, who is not scared to try something new with his hairstyle.
Mexican Taper Fade Haircut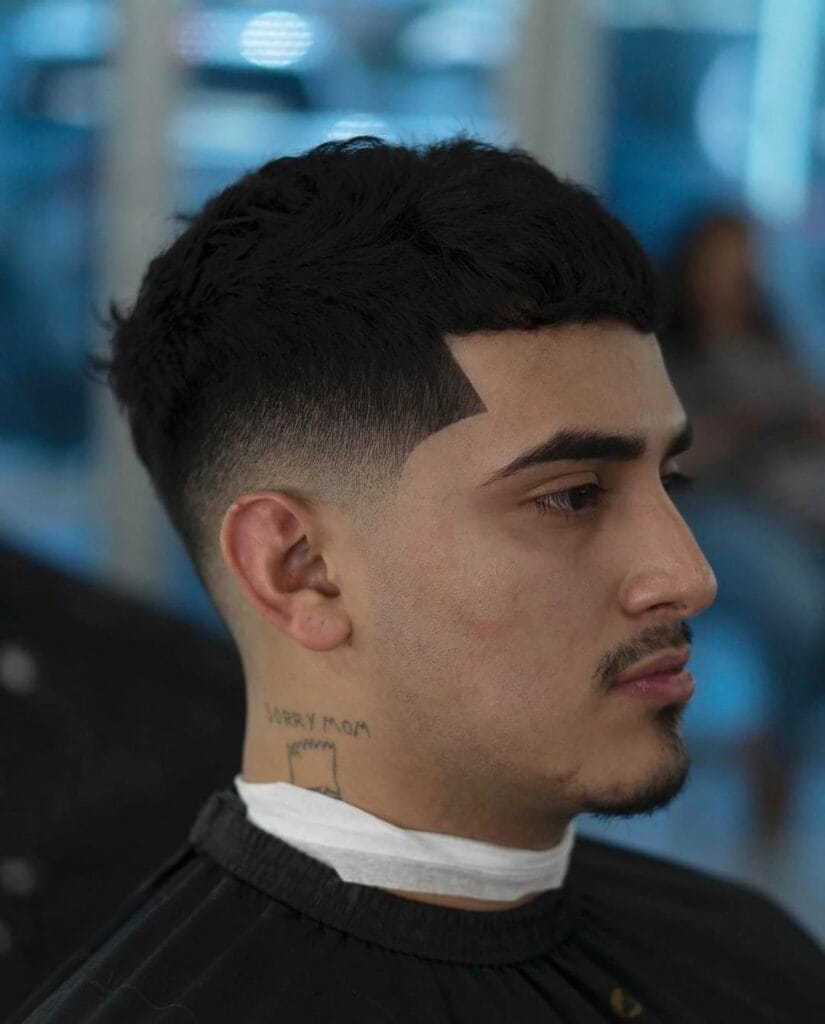 Most of the time, you wish to avoid choosing a hairstyle that is too dramatic for your hair type. For some, the Mexican Taper Fade Haircut is a severe look, but it is a daily look for others.
Disconnected Undercut With Taper Fade
For men, there are a variety of trendy haircuts to choose from. You might believe that they are all extremely similar to the very last thing you like doing. There are, however, distinctions between each sort of fade hairstyle for men. The Disconnected Undercut with Taper Fade is a fantastic alternative.
Taper Fade With Messy Quiff Hairstyle
The coolest part you can do is make sure you understand the various types of haircuts. This can be done by examining what is trendy right now and what will be famous in a few years. Taper fade with Messy Quiff Hairstyle is one of the most popular hairstyles right now.
Braided Taper Fade
This hairstyle is perfect for you if you want to try the French braid. Your hairstylist will trim the sides and back of your head while leaving your hairstyle long on top. After that, braid your hair backward from the hairline and lock it in a tight ponytail or bun. This look is also known as "Viking chic."
Cornrow Taper Fade
You should consider this hairstyle if you want a different and stylish haircut. To get this haircut, all you have to do is spice up your standard cornrow braids and make them more attractive by adding a taper fade to them. The beard's crisp geometric cuts add to the overall appearance.
Fade Taper With a Pony
Who says lovely, smooth and silky ponytails are just for ladies? Men may wear long, silky ponytails. Maintain an attractive, gentlemanly appearance by growing a royal beard while wearing your lengthy hair in a ponytail. Offer a modest taper fade to the sides to put a little style depth.
Long Taper Fade With Hard Line
This hairstyle is ideal for those who like to keep their hair long. It is because it's deserving and also extremely manageable for the wearer. Aside from that, the lining on the side of the head appears to be cool as well. Above all, this haircut is both comfortable and popular; it goes well with a shaved face.
Curly Taper Fade With a Beard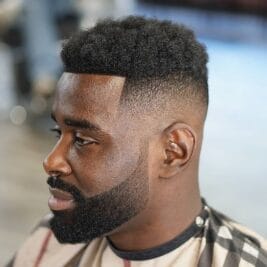 Curly hair allows you to experiment with different beard styles. If you maintain your top section short, you can wear a lengthier beard. Apart from that, if you have a dark skin tone on your face, it looks fantastic. As a result, it's more probable that you'll enjoy this haircut rather than regret it.
Candy Taper Fade Haircut
Apply little candy colour to your top hair if you have mid or short hair and want to make a unique change! The hair is smooth and shiny, so it drapes precisely over the brow. A subtle taper fade on the sides, above the ear, perfectly matches the style.
Taper Fade With Coil Hair
Another advantage of getting a taper fade is that you can show off multilayer hair, with the thicker section at the top and the clipped down section at the bottom. And if you wish to change the look, you can leave the long coil hair alone on the top with taper fade. This is the perfect style for a mid-aged man.
Taper Fade Throne
This style is for you if you want an excellent overall appearance. Blossom suits girls best, but men must have a throne hairstyle. The thrones in your hairstyle with taper fade offer you a masculine appearance and provide you with the greatest potential appearance.
Long Bleached Hair Taper Fade
Adding a dash of colour to the hair is a fantastic way to show off your personality. If you want to feel like you're in the summertime, just bleach your hair or try for a lighter shade of blonde colour. However, you should be aware of the risks of long-term bleaching.
Platinum Blonde Spiky Taper Fade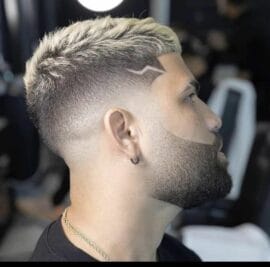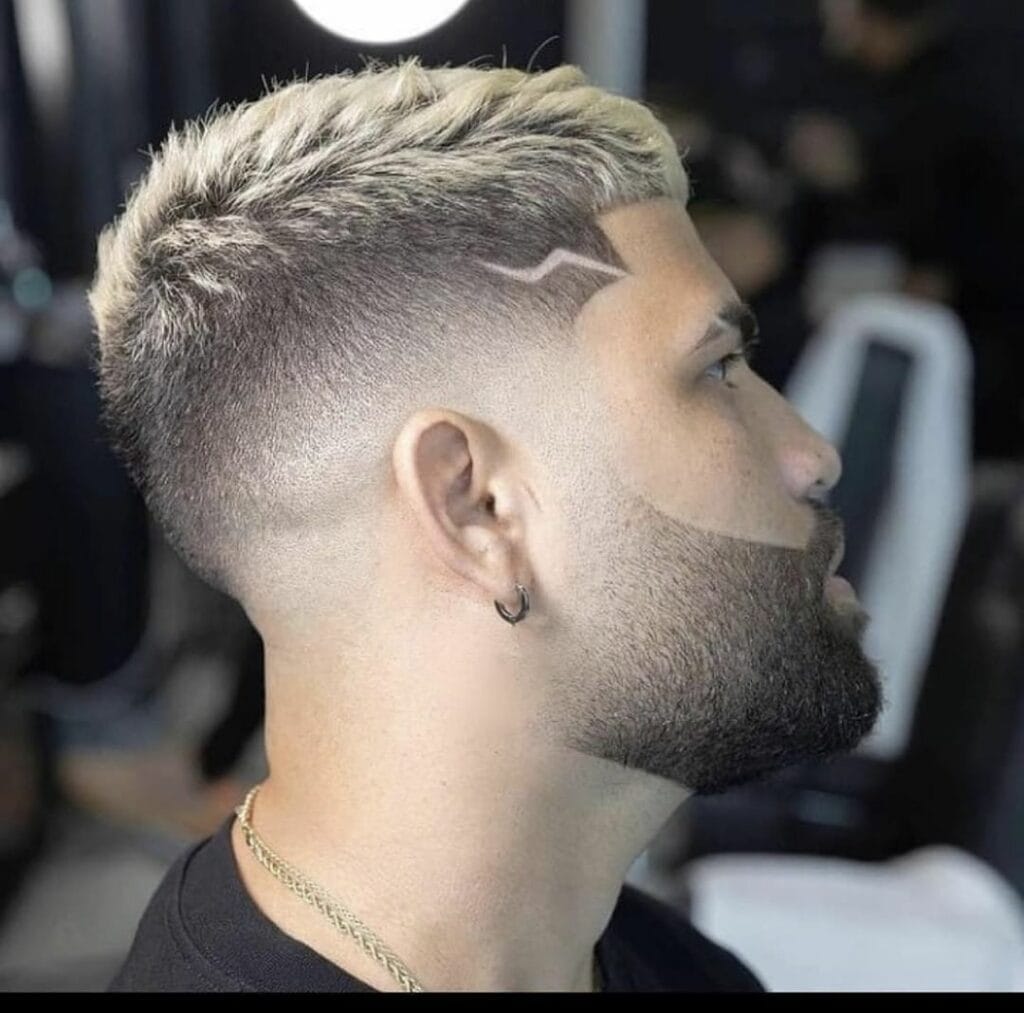 It's difficult to imagine a better approach to accept your inner rock star than with a spiky hairstyle. You may create much more contrast by applying a taper fade on the sides while maintaining it in your original colour. You can colour the spikes platinum blonde. if you wish, you can also experiment with different hair colours.
Taper Fade With Wispy Layers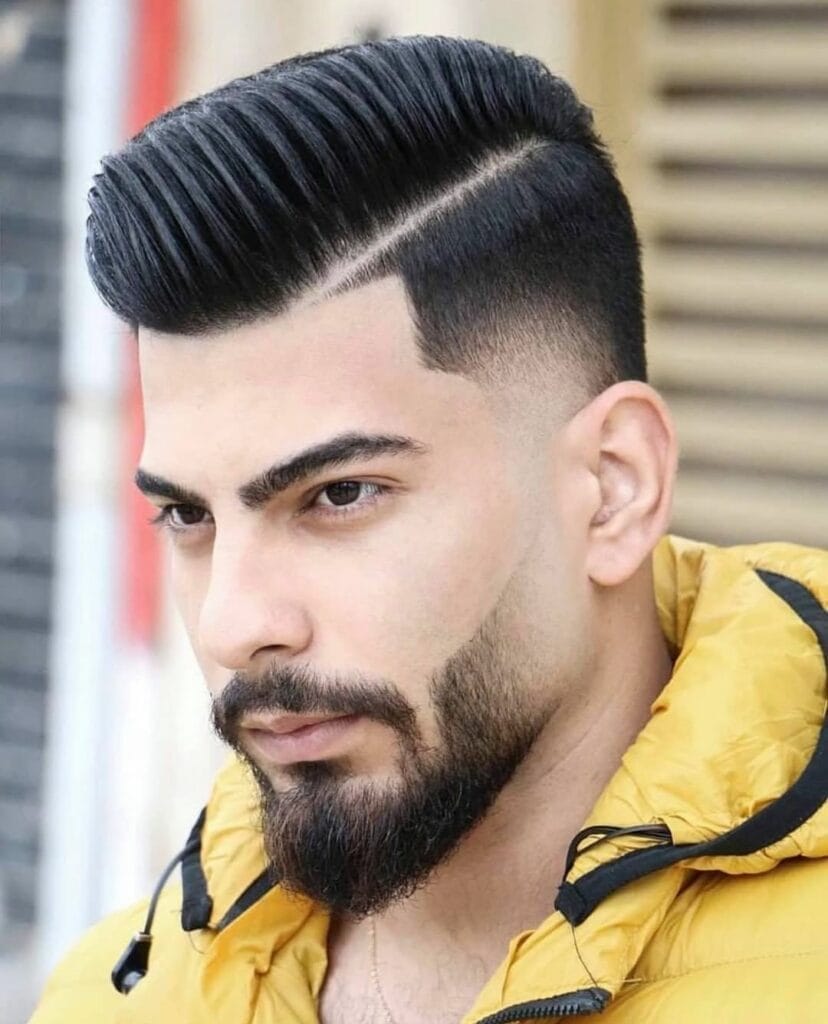 Another advantage of taper fade haircuts is that they look good on layered hairstyles. As a result, if you prefer straight hair with a layered hairstyle, you can trim the sides and back to make the entire look more impactful. This stylish haircut is best for men with straight hair who want to attract attention.
Neck Taper Fade Haircut
The neck taper is best for adding a subtle style to any hairstyle. As the name implies, this haircut concentrates on the back of the neck, shaving only the nape of hair.
Taper Fade With Hungarian Mustache
Hairstyles with a taper fade are frequently matched with very well beards. While most of our images have beards, this one features a moustache that creates a "hipsteresque" image.
Taper Fade With Large Beard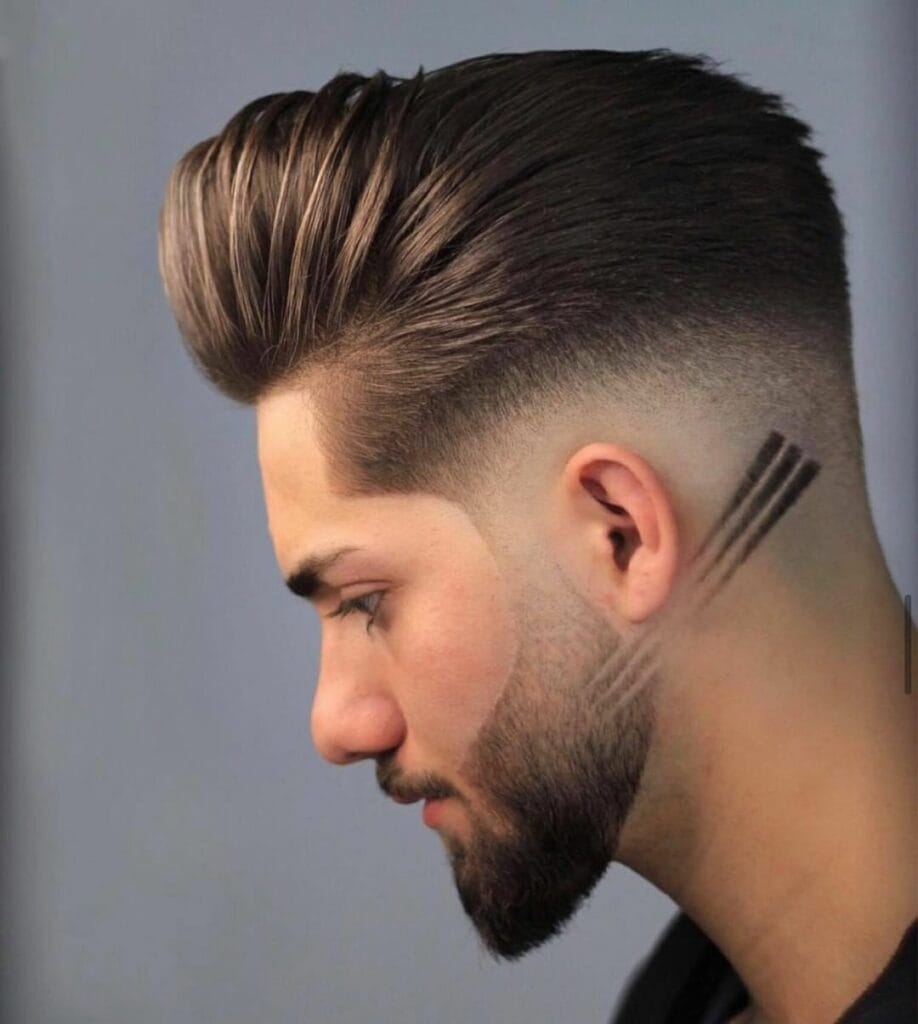 The Taper fade looks wonderful even with big beards. When you're getting your hair done, ask your barber about trimming and styling the sides of your beard to create a smooth transition from your haircut to your beard.
Taper Fade With Pompadour
The Taper Fade with Pompadour appeals to guys who want a refined look in their haircut. It's the perfect mixture of modernity and tradition. A professional can create a head-turning look with a simple Taper Faded cut enhanced with a pompadour haircut.
Mini Pompadour With Taper Fade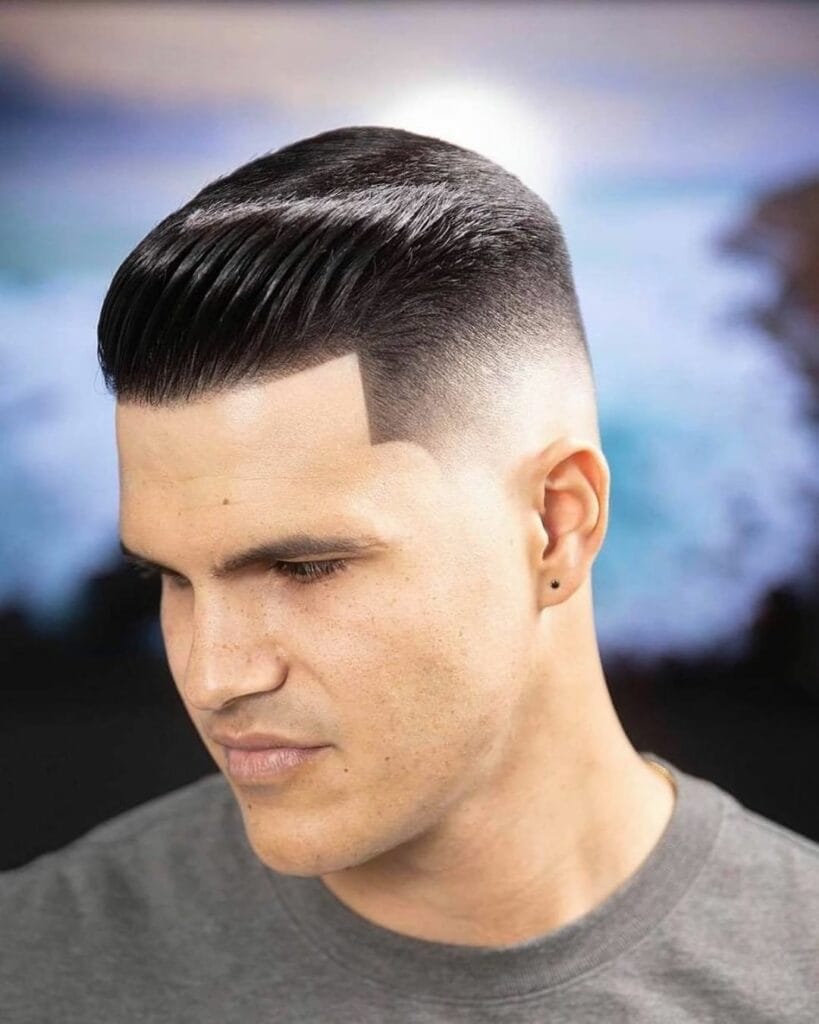 The mini pompadour is a less formal and more everyday variation of the original pompadour, but it still has the same aggressive personality and elegance. With a taper fade, a mini pompadour looks fantastic. The fading provides a subtle edginess and modernizes the look.
High and Tight Taper Faded Haircut
The high and tight taper fade is all about length, as you can imagine. It should have a sleeked head, smooth tapered sides that flow into a very nicely trimmed short beard, and just a rugged look to produce a fantastic style that can be worn to the office or even the club.
Choppy Taper Faded Haircut
A taper fade with a chopped top is a good option for males who want to add some personality to their haircuts. With this design, you may make your haircut edgier, punk-inspired, and give it a modern feel. Using styling gel can also improve or modify the texture.
Wall Taper Fade
This variant has a fading appearance on both sides, similar to a Mohawk. The fading look begins about an inch past the hair division. The hair at the upper mid is longer, particularly the bangs, so it gets shorter as it gets further back. To keep its structure, the hair is brushed upwards with wax.
Tapered Kinky Style
Men having natural hair can be taken to another level with this style. To create kinky bangs, this method maintains the hair on top at the front area relatively long. The mid-top is medium in size and features natural textures. Both sides have faded textures and are trimmed short. The fading effect begins with a noticeable line all around the head.
How to Maintain Your Taper Fades Haircuts?
Concern over how the prefect fade that helped you float only a few days earlier has lost all of its attraction might be terrible. On the other hand, hair growth is quicker than it seems, specifically when you wish it to slow down so that your haircut lasts longer. Although you won't be able to make your hair cut seem exactly like it did on day one, you can still apply some techniques to keep your look fresh and experiment with the growth.
Take Care of Your Hair
We frequently overlook this stage, which has terrible effects. A Tapered haircut highlights the details of your face, making them look more sharp and visible. However, if you don't keep unwanted hair under control, this can work against you. Make sure to remove hair from your nose and ears, and give your neck a short trim every so often.
Hair Care Is Product Care
A Tapered haircut requires a great deal of skill and precision, so it must be treated with care. Suppose you are using products that create your hair wavy or dry unnaturally. In that case, the cut might quickly turn into a confusion of unrelated hair lengths. This highlights the importance of hair care and the products you select. Why not go out and make your good looks last if you've already invested in a stylish haircut?
Make Some Changes to Your Appearance
The wait between haircuts might be irritating since you do not even understand what to do about the undesired hair length leftover from the fade.
Don't be afraid to fix up your hair, but be careful not to spoil what you already have. Keep below points in mind
For the Tapered fade, avoid using a beard trimmer. For sharp lines, use the appropriate clipper and trimmer.
Start at the bottom of the head and work up to the temple.
You can go back for a second trim, but you cannot add more hairs to what you've just removed. Make sure you don't cut too much and have a guard in place.
Conclusion
To summarize, the taper fade haircut is one of the professional haircuts but daring haircuts for guys. The taper fade provides a variety of style possibilities in addition to being relatively easy to maintain. Haircuts with a taper fade are all the rage. Hopefully, the variety of styles attracts you. Taper fades haircuts are best for you, especially If you prefer a shorter hairstyle that does not need a lot of maintenance. Whether you choose a low, high or mid-taper fades, you can be confident that the end result will look fantastic. So, what are your thoughts on men's taper fades haircuts?
FAQ
How to Explain a Taper Fades Haircut to a Barber?
Usually, to explain a taper fades haircut to a barber, the best approach is to provide them with a photo of the style you want. To clear the specifics of the hairstyle, you must describe aspects like the length of hair you need on top, the amount of skin on the sides, the type of hairline, and add fade lines, if you wish to break the uniformity of the fade.
How Long Does It Take for a Tapered Haircut to Grow Out?
A regular tapered haircut lasts three to five days, or perhaps a week if you are lucky. So, if you want to look your best for some function, make an appointment just few days earlier.