40 Unique Taper Fades For The Modern Man
Taper fades offer stylish and versatile haircuts suitable for any occasion and a classic option for short hair styling with endless possibilities.
With its clean and iconic look, the taper fade has become a go-to choice for men looking to elevate their grooming game. Whether you're dressing up for a formal event or keeping it casual, a taper fade is a perfect way to add some flair to your look.
A taper fade, also known as a taper, differentiates itself from a classic fade through several distinctive features.
Although both techniques involve the gradual shortening of hair on the sides and back while leaving the top section longer, a taper fade results in a shorter cut and achieves a fade down to the skin at any given point.
40 Exclusive Tapered Fades for the Fashion-Forward Man
We have compiled various options for taper fade haircuts, some of which you may not have previously imagined. Browse through our collection and select the one that best fits your preference and taste.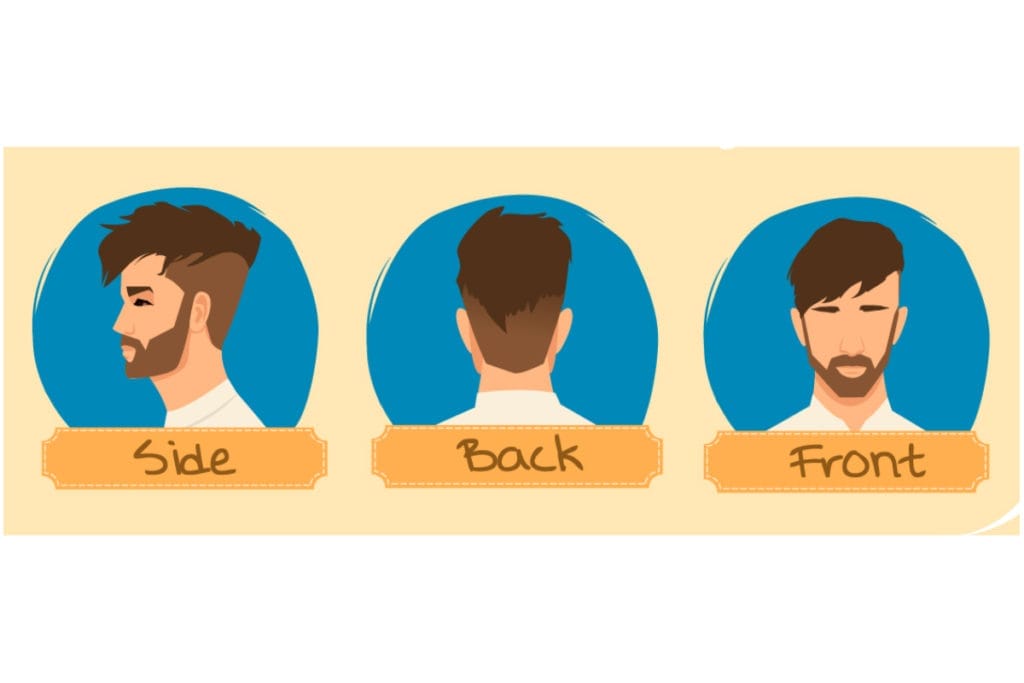 Classic Side Part
Getting the classic fade and timeless side taper fade will carry your hairstyling troubles away. Saying it's favorite among men of all decades is an understatement.
The fade, achieved by gradually blending the hair on the sides and back of the head down to the skin, creates a clean and polished look.
The taper on the side adds a subtle modern touch and polished finish. Whether you're heading to a formal event or want to elevate your everyday hairstyle, a classic side part is your perfect choice.
Faux Hawk Tapered Fade
There is no better to leave people looking at you than having a faux hawk tapered haircut.
To enjoy this look, your hair length at the top must be enough to form a crest, while the sides are tapered. The taper fades down to the skin, making a great blend of long and short hair.
This versatile choice meets all you require for a sleek haircut that will make you trend.
Afro Taper Fade
Afro taper fade haircut fits black men with kinky or curly hair. Your stylist leaves curly hair at the top while the hair on the sides is faded, starting from just over your ears and neck, for a tidier appearance.
You are free to choose the length of taper you want.
A low taper fade needs you to remove a small portion of your hair, while a higher fade might need some good chunk of your hair cut. However, from experience, a low fade rocks better for an afro haircut.
Removing your hair from the sides will help you emphasize your facial looks, and in case you've been gifted with runaway cheekbones, it's your turn to show them off.
Comb Over Taper Fade
A comb over has previously been used by balding men to lessen the prominence of their bald heads. Nowadays, guys have given the traditional combover a modern twist by incorporating a taper fade.
The taper fade allows for more customization, such as adding a hard part or shaved design.
Men having thick hair can greatly benefit from this style since they can style the top section and let their hair speak for itself.
This haircut allows you to experiment with different fades and styles.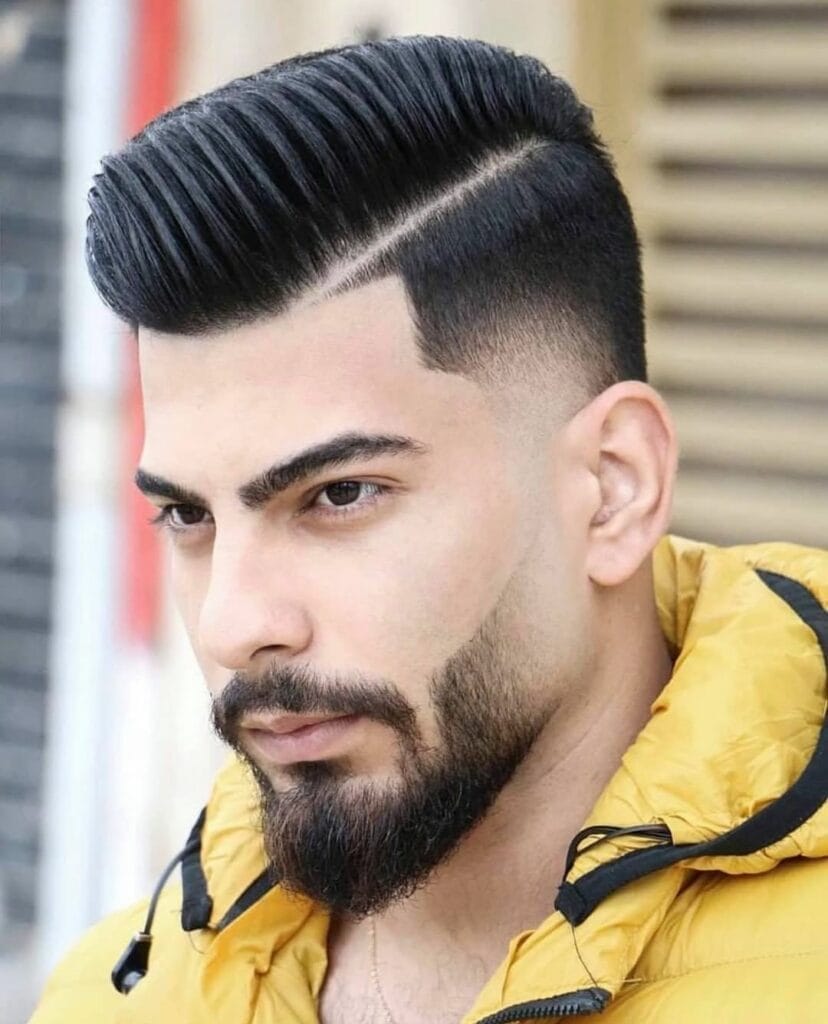 Caesar Inspired Taper
Have you tried the Caesar cut before and enjoyed it? If so, why not take it to the next level by pairing it with a tapered fade? The combination can create a sharp and stylish look that takes your haircut game to the next level.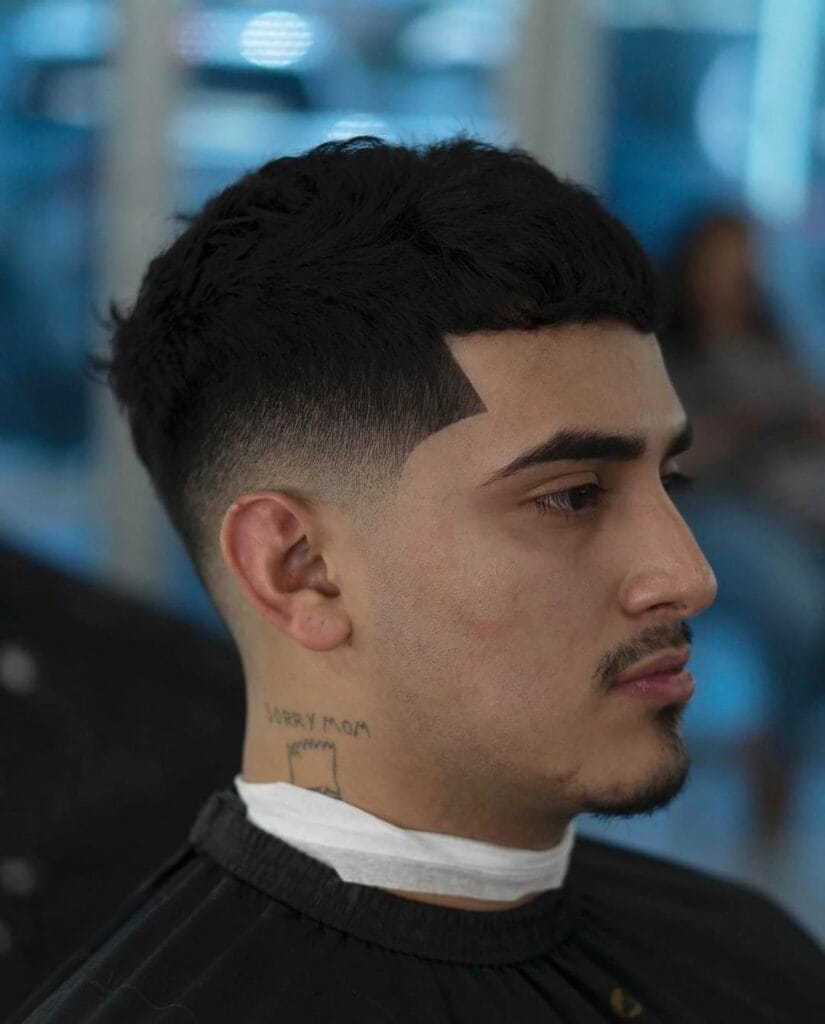 Parted Brush Up
Do you have fine and limp tresses? I dare you to try parted brush up, and you'll never look back. Yes, the styling will take much of your time and resources, but the final outcome is worth it.
Compliment this hairstyle by making your sides shorter and a taper fade for a sleek finish.
Brush up the hair on top of your head and apply the lumpsum gel. Finish by using a hairdryer to set up your style.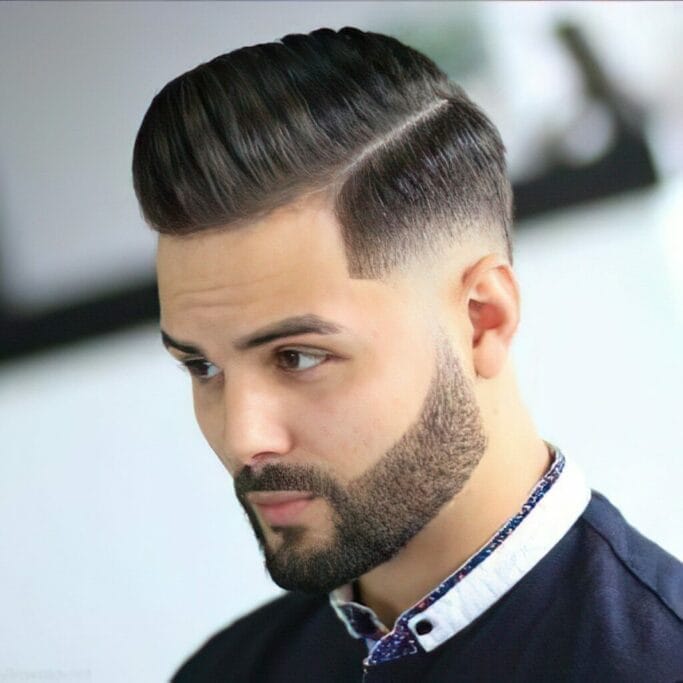 Low Taper Fade
A low taper fade starts at the ears and follows the hairline to the nape of the neck.
This haircut focuses on the back and sides, giving you a neat and polished appearance. This is because this haircut does away with flyaway hair around your neck and ears.
What's more, you can sport this haircut on both formal and casual occasions
. And because the low taper focuses more on the back and sides, consider leaving the top of your hair longer for a contrasting look.
Skin Taper Fade
A skin taper fade means a person can view your skin through the hair. The sides have little hair, meaning you are free to style the top to your taste.
Spiking your hair up, combing over your hair, and quiffing are some options you can explore.
This haircut forms a burst effect at your temples and neck, making your hair on top gracefully stand out. A skin taper fade haircut works with all hair lengths, so you don't have to be worried about your hair size.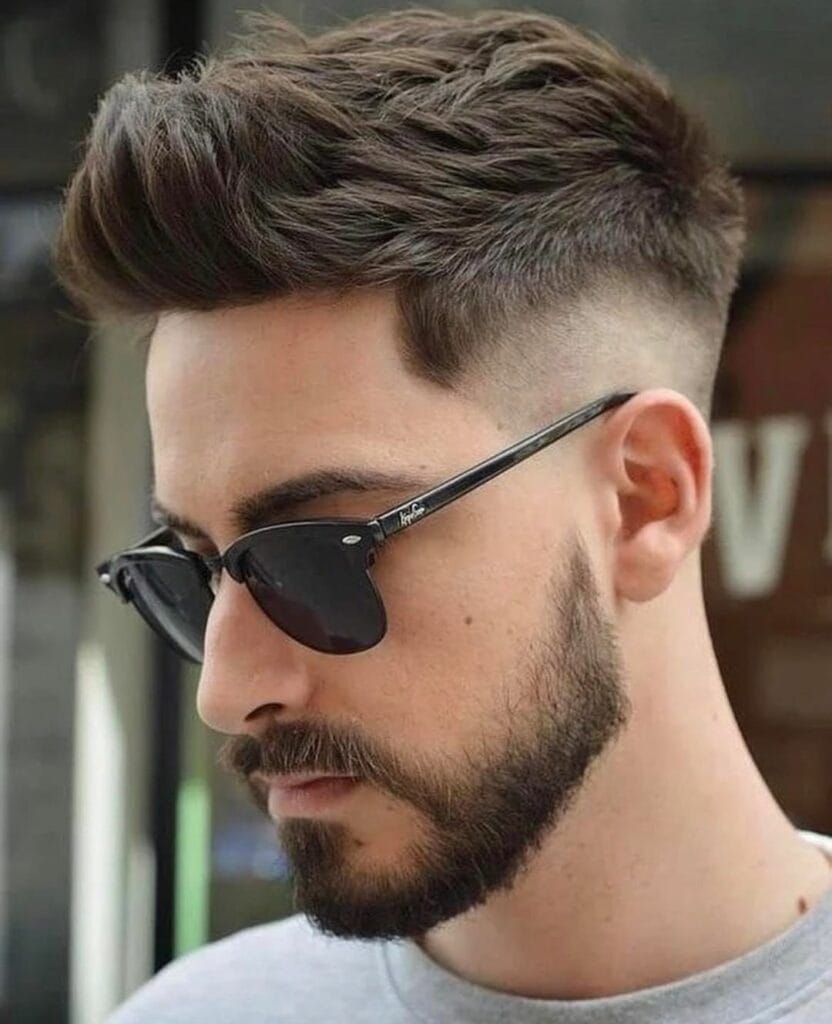 Mid Taper Fade
A mid taper fade haircut starts at the center of the sides and back of the head, which distinguishes it from a low taper fade. It's not too subtle or too dramatic, making it a popular choice for men who want a stylish but not overly flashy haircut.
Irrespective of the hairstyle you want to rock, an afro, a faux hawk, or any other, choose a mid fade to complement your hairstyle.
Taper Fade For Blonde Hair
If you are a black man considering changing your hairstyle, I invite you to try a taper fade afro. It's easy to maintain compared to the traditional afro. Wear a taper for blonde hair for a bold look.
Low Drop Taper Fade
Going for a low taper fade will show you as a bit reserved and tasteful. It's not so attractive, but without a doubt, it adds some quality finish to your hair.
We suggest you compliment this haircut with a low drop taper fade to elevate your look.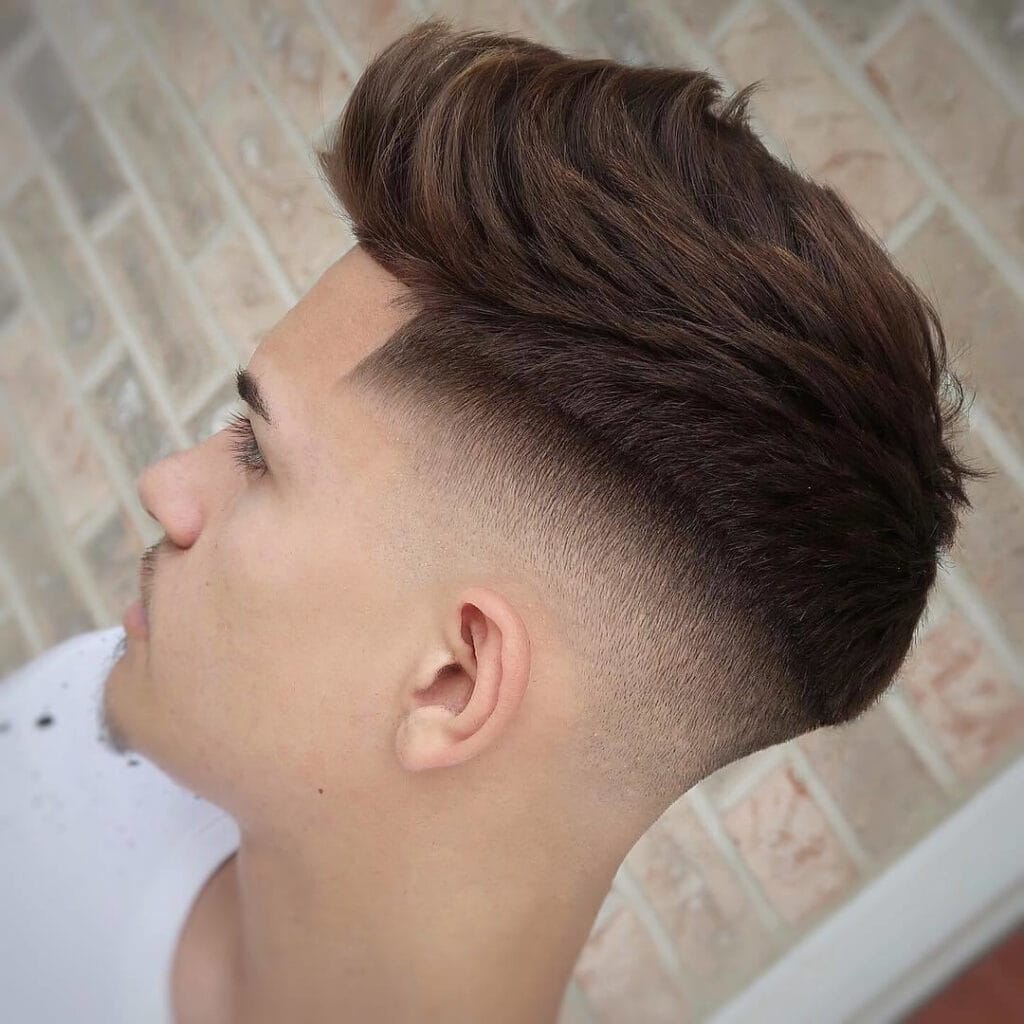 Tapered Buzz Cut
Are you tired of boring, uninspired haircuts? A tapered fade will help you shake things up! This versatile style blends well with both short and long hair.
And for an added touch of class, ask your stylist to add a buzz cut to the mix. Trust us. Your tapered cut will be screaming with beauty!
Just ensure the areas around the back of your neck, and the ears are immaculately clean. And remember to complete your styling with a matte hair product or any non-shiny gel.
High Top Fade
Feeling nostalgic for the 90s? Wearing the high-top hairstyle will refresh your memories, and in no time, you'll start dancing to the hip-hop beats. Well, the look is old-fashioned, but the high top fade spices it.
The high top fade haircut is particularly great for guys with African roots and men with curly and afro hair.
Make sure your stylist starts the taper at your temples and ends it above your ears for a modern twist.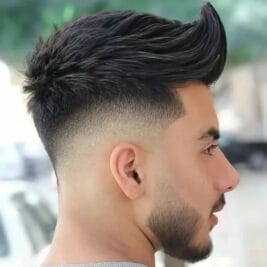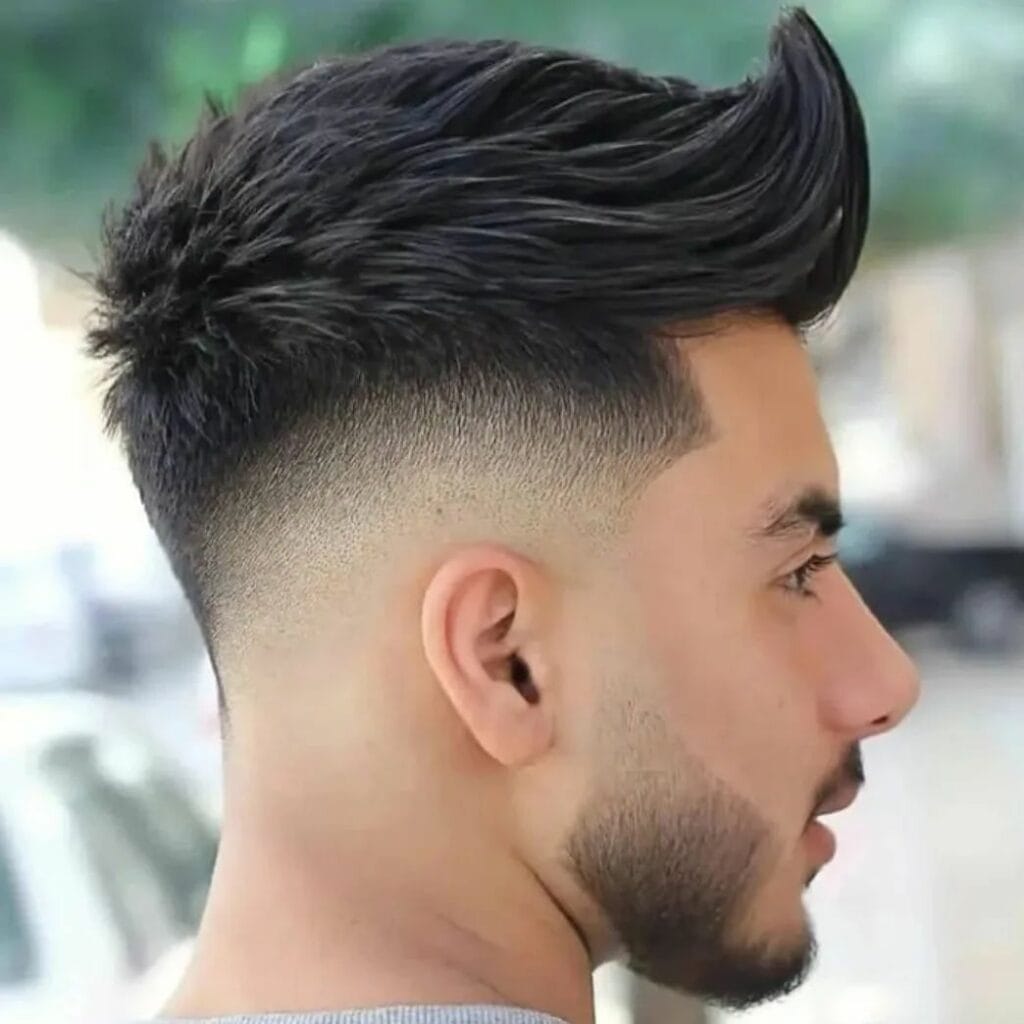 Drop Fade Disconnected
Ready to add some edge to your long, curly hair? Try a hard part to create a disconnected look. This haircut allows you to rock a messy top with a drop fade for an exquisite look. So why not give it a try? Your hair will thank you.
Pompadour Taper Fade
If you want to rock a pompadour, try keeping the back and sides short and leaving a chunk of hair at the front.
Fashion this pomp for a modernized look by creating a high fade taper with your front hair. While keeping the pomp high, you can choose a low, high, or medium taper for a pro-max look.
Wearing this hairstyle will make you achieve an even and balanced look. Even if your hair is thin, this haircut will be a hit, and you won't regret trying it.
Messy Curls Taper Fade
Create a disheveled look with ease by rocking messy curls. Irrespective of your hair texture, messy hair offers you a perfect option for any casual occasion. Get a matte or wax pomade and put it on your scalp using your fingers to add volume.
Adding some products to the ends will complete this hairstyle, giving it a textured and excellent finish. Complement it with a tapered fade, and you will turn heads!
Sleek Brush Back
If you want to rock a brush back haircut, there's no better way to style it than with a tapered fade.
Ask your barber to give you a comb pompadour at the top and gradually taper the sides until they blend seamlessly into your beard. The resulting sharp lineups will be incredibly attractive, and the beard will balance out your face.
High and Tight
Looking for a military-inspired haircut? Try buzzed hair at the top with a chunk shave on the sides and back.
This sharp, no-nonsense style will make you a true badass. Just make sure you're ready for the regular maintenance cost that comes with this cut!
Classic Swept Back
Incorporating flowy strands on top is the best way to style your classic swept back hairstyle. Sweep back the hair on your top and let the sides fade gradually to the skin.
A gradual taper fade will best do this for you. The swooping hair at the front will give you a fantastic and sleek look.
Sexy Temple Taper Fade
Also referred to as taper fade or temp fade, this versatile haircut is worn by men of all ages.
It's known for its short and immaculate hair around the ears, with a fade moving down to the skin. The best part about this haircut is that it's customizable– you only need to adjust the length of your blade to suit your taste.
Plus, you don't have to worry about the maintenance cost since you'll need to visit your barber occasionally.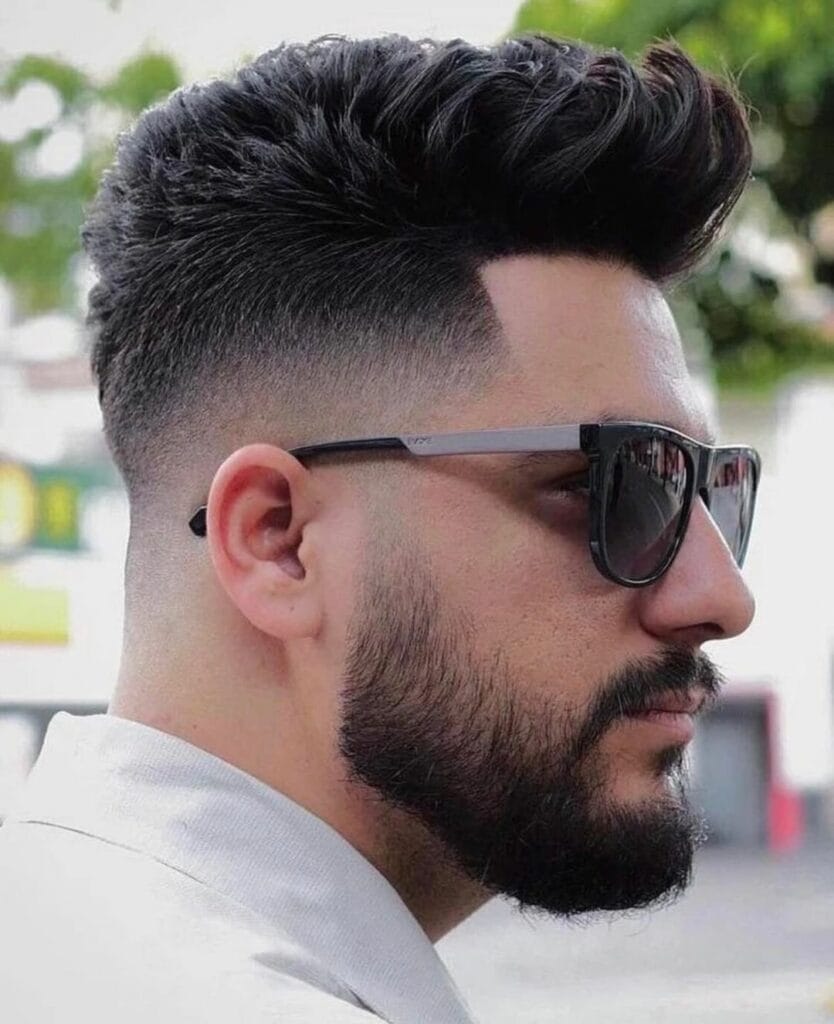 Thin Hair Undercut
Do you feel self-conscious about your thinning or fine hair? It's time to start wearing an undercut with a high fade.
The fade will elevate your swept hair on top and make it look fuller. The fade adds a touch of elegance to make a statement. Don't be afraid to try something new and show off your style!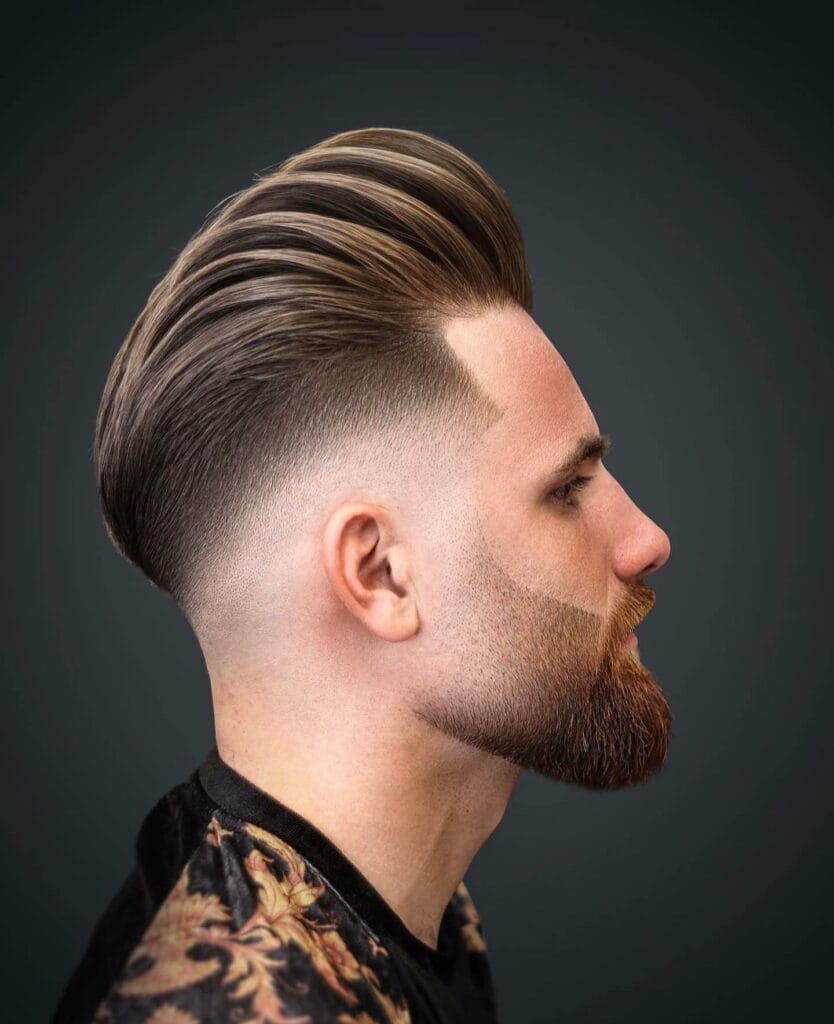 Blowout Taper Fade
Are you ready to upscale your hair game and achieve the ultimate voluminous look? Look no further.
The blowout taper fade is your perfect choice. This trendy hairstyle features a high-volume top with short, trimmed sides giving you an enviable sleek look.
You need a holding and volumizing product and a powerful hair dryer to achieve the perfect blowout taper fade. Why settle for dull, lifeless hair when you can make a statement with a blowout taper fade and turn heads wherever you go?
High Taper Fade
Men with thick hair are better placed to sleek the high taper fade hairstyle because their extra density adds the contrast they want.
High taper fade starts high on your back and sides and slightly lower on the crown.
The high taper fade produces a natural contrast to create room for playful styling with long haircuts such as afros and pompadours. This haircut is equally great with short styles like the Caesar cut.
Even men with thin hair can rock this haircut as long as they keep the length on top in mind.
The high taper fade is versatile enough to work with short styles such as the Caesar cut.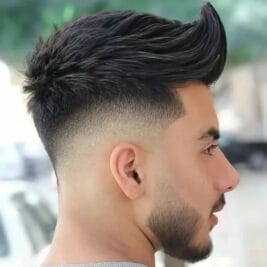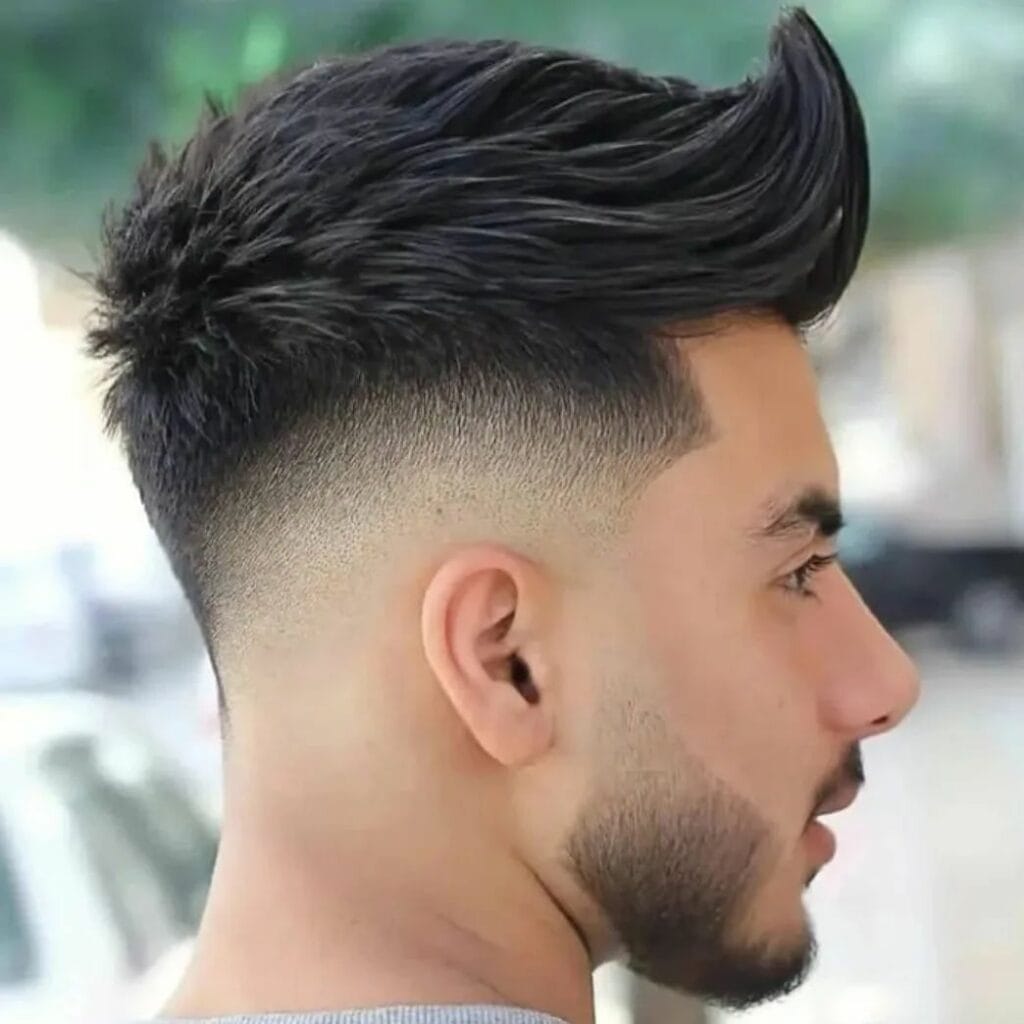 Wet Hairstyle With Taper Fade
Looking for a stylish twist to your hair? A wet hairstyle with a fade is your best match. This haircut uses a water and gel combination to produce a slicked effect.
It's styled in various ways, such as a side part, wavy slick-back, quiff, or comb over. Finish off the style with hairspray for a shiny, polished look.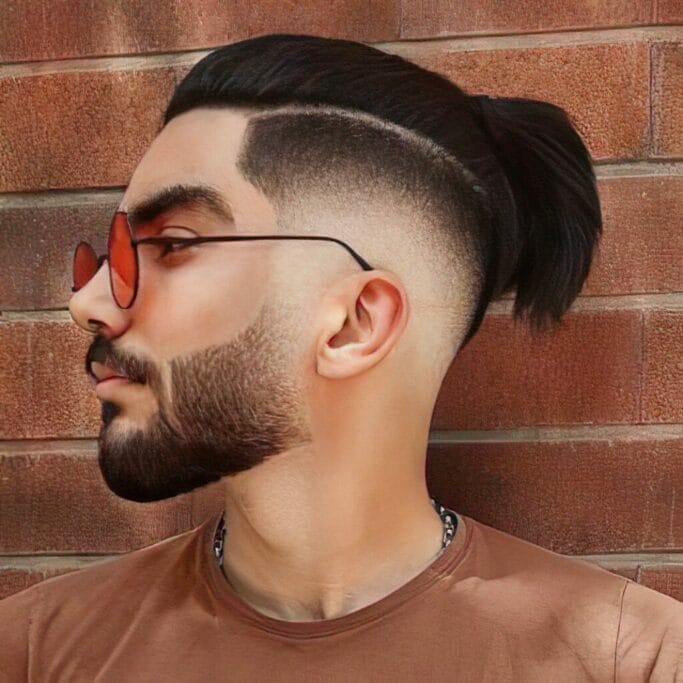 Spiky Haircut
Even when your spiky hair is short, you can still spice it up with a taper fade. This haircut will keep your hair neat, fresh, and ready for any occasion.
The taper fade is a great way to switch up your look and add some excitement, even if you're more of a conservative dresser. Try out the short and spiky hairstyles, and you'll never look back.
Curly Fringe Fade
Looking to transform your sleek, curly hair? Try a curly fringe fade for an impressive result.
The fade keeps your back and sides high and tight, laying the ground for your curly hair at the front to show off. The curly fringe fade is a popular option to elevate your casual style.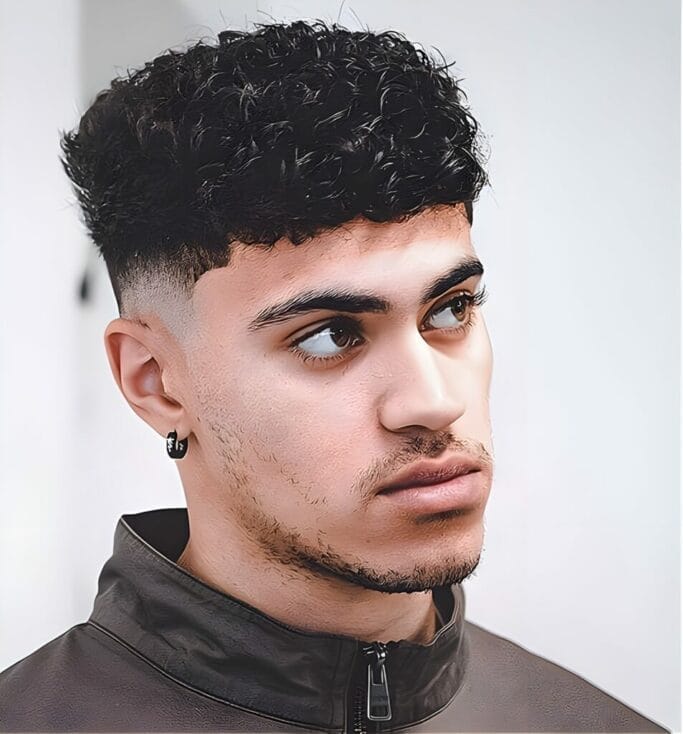 Tapered Hard Part
Try a hard part with a 0.5 to 1-grade fade and a clean skin taper for a sleek, mouthwatering look.
This haircut requires attention to styling and regular maintenance, so it may not be for everyone. Think of a haircut with one of the sides long and the other trimmed almost to the skin along a sharp-ruler line! Maintaining such a cut is not easy.
Tell your barber you need a skin taper while maintaining a sharp hairline stretching from your ear to the neck.
Use a pomade or gel to keep your hair in place and maintain a polished look.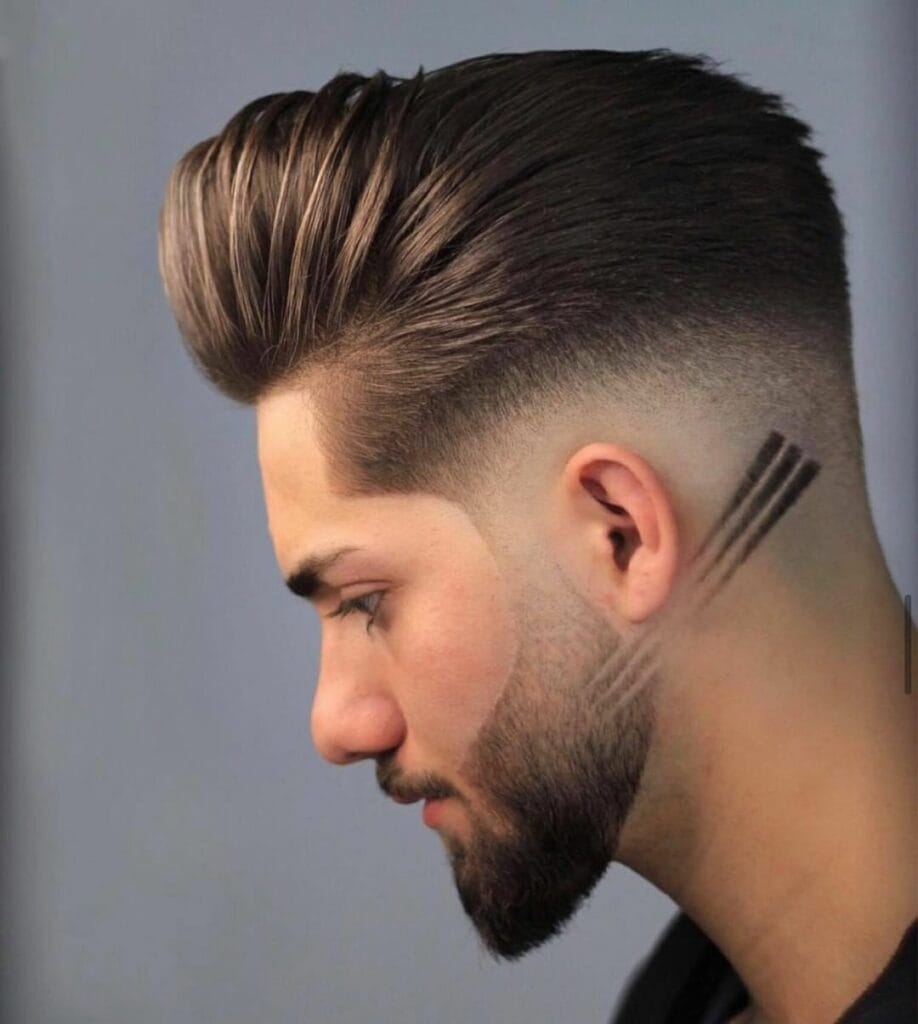 Taper Fade With Quiff
Looking for a timeless, stylish haircut that will make you stand out?
Consider wearing a quiff with a taper fade. This classic hairstyle, which resembles a pompadour, is worn by celebrities and men of all ages. To balance the proportions of your face and draw attention to your eyes, make sure your hairline is voluminous.
Adding a taper fade will help you upscale your look into a perfect and stylish clean-cut you can sport for any occasion.
Whether you want to wear your hair long or full, the quiff is a versatile option to express your personal style.
Bearded Taper Fade
No doubt that a taper fade will make you neat and impressive. Accompanying this haircut with a beard is the best way to send a message out there. We recommend wearing a chest-length beard for a sleek, daring look.
The contrast between the clean lines of the taper fade and the ruggedness of your beard will showcase your masculinity and add spice to your style.
Whether you're looking to impress at work or on a night out, this combination will make you stand out.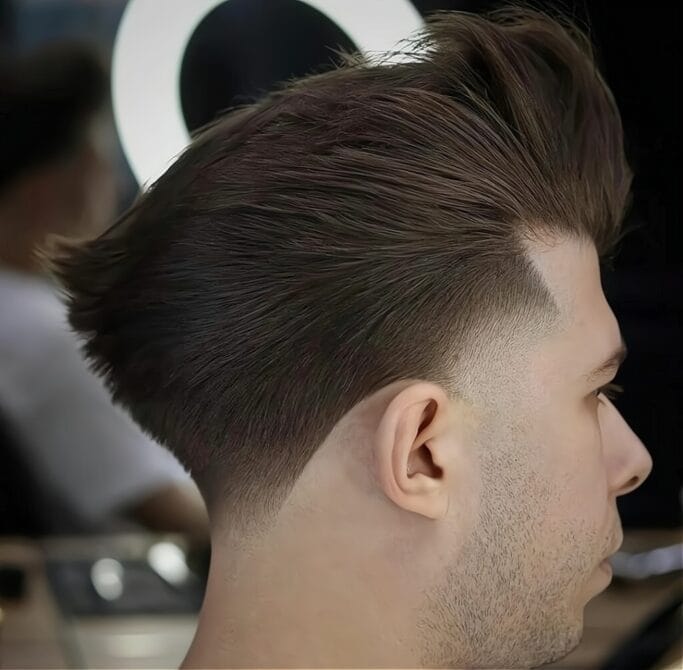 Textured Crop
A French crop is a versatile and stylish hairstyle that can tame even the wildest locks. While the French crop may not be for everyone, adding a high taper fade will switch the focus to your textured top and give you a trendy look.
This hairstyle is especially effective for those with kinky hair, as it will help tame unruly hair.
With the French crop fade, you'll be able to transform your hair and give yourself a fresh, modern look.
Tousled Blonde, Hand Brushed
This hairstyle is characterized by a highly textured top and a fade on each side and back. Tousled blonde attracts attention with its spiky look and neat elegance.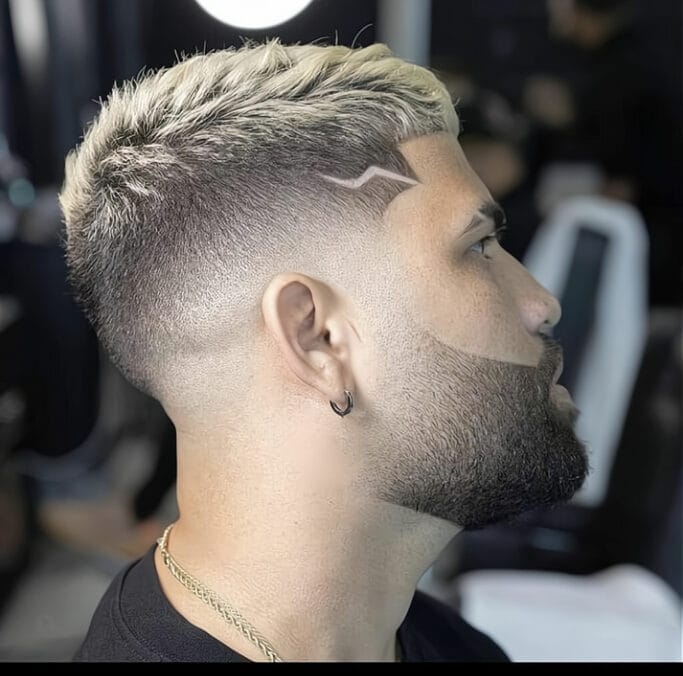 Tapered Pomp Short Turquoise
Looking to make your hair stand out and give it some personality? Why don't you consider dying it using a bold color like turquoise?
This bright and eye-catching shade will add a pop of color to even the most basic hairstyles, like a short pompadour, and give you a sleek, bold appearance.
With so many ways to express yourself through your hair, you'll find a look that truly reflects your personal style. Whether you prefer a classic cut or a bright, bold color, there's no limit to how you can rock to make a statement.
Brushed Up Shaved Hairline
The brushed up hairstyle is a mix of different haircuts, such as a shaved side part, a fade, and a brushed-up top.
Consider pairing this hairdo with a taper fade to give prominence to your top and add some polish to your look. This stylish combination requires little effort and time, but the result is eye-catching and fashionable.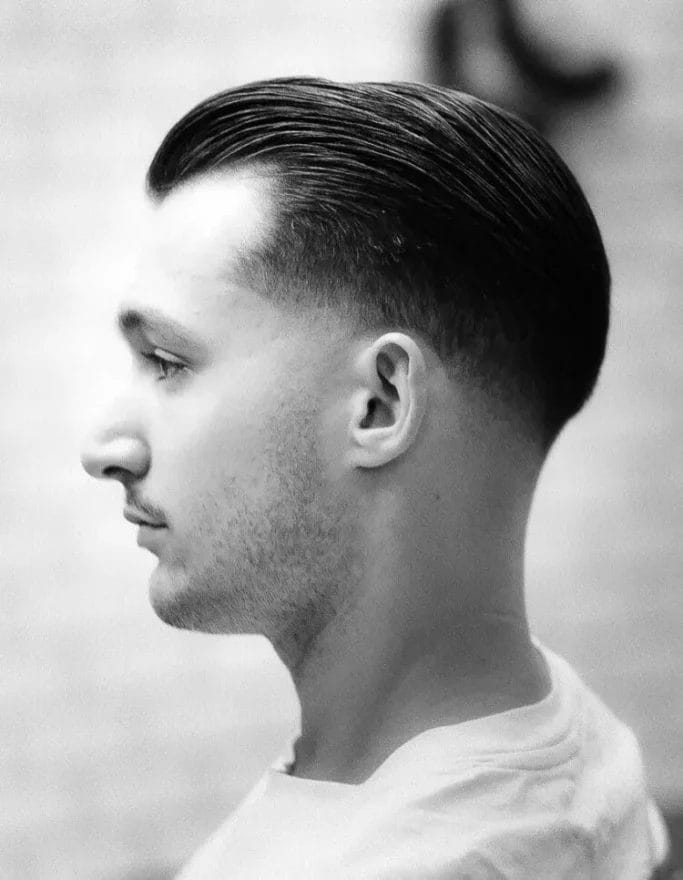 Spiky And Bleached
With a taper fade, you'll create bleaches and hair designs that showcase your personal style. To really make a statement, consider asking your stylist to bleach your hair and spike it up for a bold, daring look.
Classic Side Parted
Are you looking for a low-key hairstyle to compliment your look? A classic side part is your number one choice.
The taper fade adds a modern touch to this timeless cut, making it perfect for students, professionals, and anyone looking to upgrade their style.
Plus, the subtle fade ensures that you can wear this haircut comfortably in any setting.
Textured Short Top Crop
A taper fade blends well with any hair length, adding definition to shorter cuts . For even more flair, consider adding a texture cut on top.
This chic and trendy look won't disappoint you!
Designer Top Plus Shaved Hairline
Get ready to turn heads with this sleek crop featuring a textured top and a parted fade on the sides. The designer top is a unique blend of style and texture that can't escape people's attention!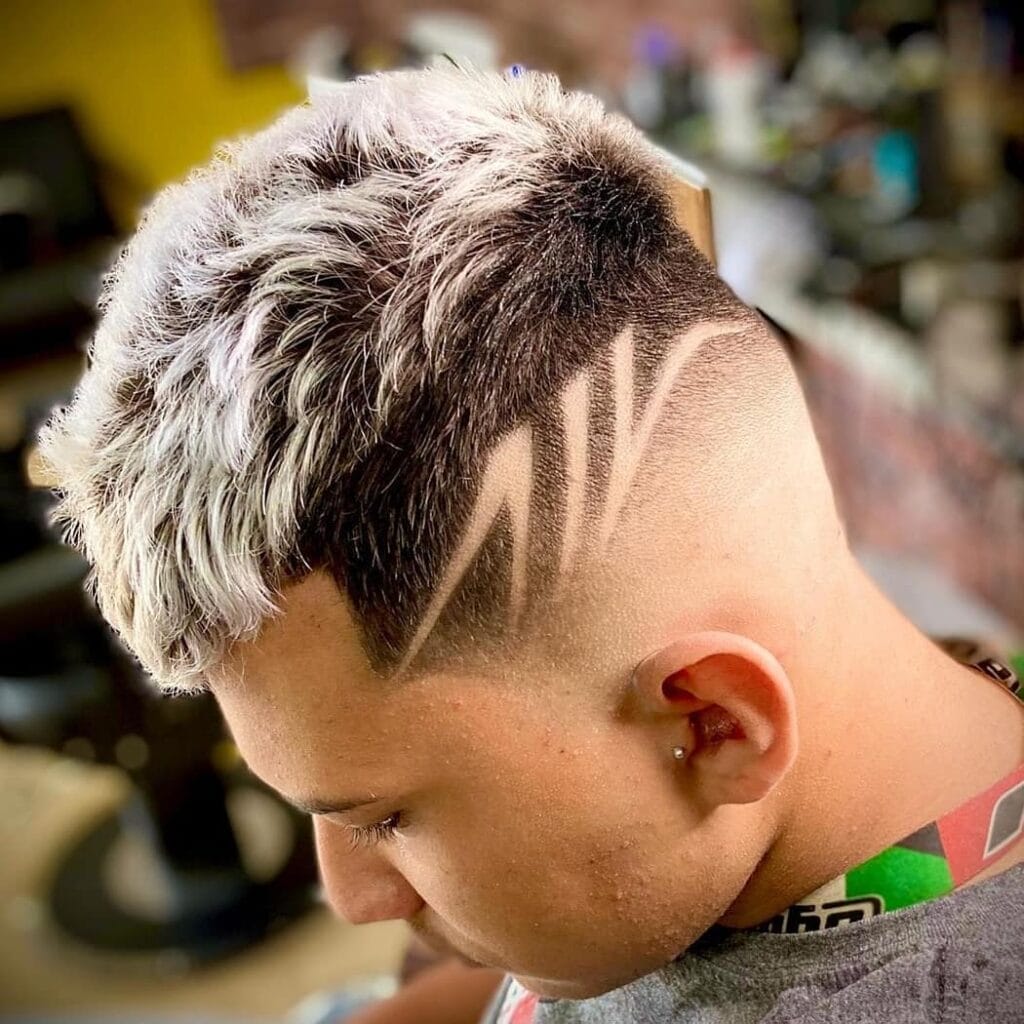 Wrap Up
The taper fade is a versatile and easy-to-style haircut that allows you to blend with many different hairstyles.
This popular cut gradually fades the hair on the sides and back while leaving the top longer and more prominent.
A braided taper fade haircut is an excellent option for those who want to add texture to their taper fade. This style incorporates braids on top of the longer hair, adding an extra layer of detail to the overall look.
Whether you prefer a classic taper fade or want to try a more daring bald fades and taper or braided taper fade, this versatile and low-maintenance haircut is a great choice for anyone looking for a fresh and fashionable style.
FAQs
What Is A Taper Fade?
A taper fade gradually tapers the hair down the sides and back while keeping it longer on top, creating a seamless transition that tapers into a fade.
This makes a sharp and neat appearance with no rough edges or unsightly spots. The hair gets shorter as it moves down the head, blending in with the skin for a sleek and stylish finish.
A Taper And A Fade: How Do They Relate?
The main difference between a taper and a fade is that a fade ends at the skin, while a taper is slightly longer.
A taper gradually changes hair length from top to bottom, while a fade creates a gradient effect by cutting the hair around the head just above the hairline. Both styles use scissors, hair clippers, or both to achieve the desired look.
Who Suits A Taper Fade?
A taper fade suits guys who prefer to keep some length on their heads but don't like the feel of longer hair around the sides. This hairstyle keeps the top of your head long while gradually fading the hair on the sides and back.
Give the taper fade a try and see if it's the right fit for you.
Do Taper Fades Last Long?
A taper fade is a stylish, low-maintenance haircut that lasts from one to two weeks. The length of time it lasts depends on your hair growth rate.
How Often Should I Get A Taper?
The length makes a tapered cut sharp-looking. The longer the hair, the less of a fade you'll have. So, to keep your tapered cut looking fresh, have your barber style it every three to four weeks.
Which Is Better, Taper Or Fade?
Tapers are evenly cut and typically leave your hair longer on the top and sides than a fade. The best cut depends on your face shape, style, and desired look.
Do Tapers Look Better Than Fades?
No. Fades are more dramatic and attractive than taper haircuts.
Is A Taper Fade Good For Round Face?
Many styles are suitable for round faces, including the classic taper fade. This style features close-faded sides and back, meaning the focus shifts to the top, leaving your face looking longer and thinner.
What Does A Taper Fade Require?
If you're unsure whether your hair type and length suit a taper fade, there's no need to worry. Even if you have short hair, you can still rock a taper fade by using different clippers on the back and sides of your head to create a gradual taper.
Simply consult your stylist to find the right taper or fade cut that suits your needs.
Khamis Maiouf is a professional barber who graduated from Hinckley College in England with a degree in hairdressing. He has also won several barbering contests and successfully operated a barbershop for the last two decades. As a skilled hair stylist for 20 years, his goal is to teach others how to achieve a beautiful appearance through their hairstyles.