41 Unleash Their Inner Strength with Mohawk Dreads 
Are you ready to make a statement with your hairstyle? If so, you'll LOVE these men's mohawk dreads styles that are sure to turn heads and showcase your unique personality.
Whether you're looking for something classic or contemporary, these styles have got you covered.
So why wait? Get ready to unleash your inner badass and discover the perfect mohawk dreads style for you
1. Mohawk dreads black men.
Most black men have long and thick dreads. To acquire the Mohawk style, you must shave on the side parts and type the dreads with any style that talks more about your personality.
2. Mohawk dreads braided.
The main advantage of braided dreads is that you can try out any style.
You can always try the single long braid and ensure that the dreads have a great length. You can also try small braids and allow them to sleep on the side. However, ensure that your braided dreads are medium or thick to acquire the style.
3. Dread Mohawk white guy
White guys can always try Mohawk, especially if they have dreads. The style will look great if the Mohawk is highlighted with great color.
4. Dread Mohawk fade
A dread mohawk fade is a bold and stylish hairstyle that combines long dreadlocks with a tapered fade on the sides and back. This look is great for guys who want to make a statement
5. Mohawk dreads short
A short mohawk with dreadlocks is a bold and edgy hairstyle that involves styling the hair on the top of the head into short, tightly coiled dreadlocks.
The sides and back of the head are typically shaved or faded to create a sharp contrast with the longer dreadlocks on top.
6. Best dreaded Mohawk: The twist or double twist
The twist or double twist is a great idea for men who are starting to dread their hair.
The twist or double twist is a popular hairstyle that applies to twist the hair into tight, coiled strands. This style can be achieved with natural or relaxed hair and can be worn in a variety of ways.
7. Crisscross dread Mohawk
A crisscross dreads Mohawk is a hairstyle that combines the bold and edgy look of a Mohawk with the unique visual interest of a crisscross pattern.
8. Dread Mohawk with design
The dread Mohawk with design is a great and easy style to try at home. It works best for men who work in the office and must maintain neat styles for their dreads. The style has a decorative style whose maintenance is simple.
9. Go bold with a dreaded Mohawk
The go bold with the dreaded Mohawk is best for brave men willing to try out any style.
The style is elegant and easy to customize according to your taste and preference.
10. Short dread Mohawk with tramlines
Are you looking to try the dreaded Mohawk style? If yes, then try it with tramlines. The tramlines are applied at the edge of the Mohawk parting to gain a different look.
11. Dread Mohawk with ponytail
If you're looking for a unique and eye-catching hairstyle that will turn heads and showcase your personality, the dread Mohawk with a ponytail is a perfect choice.
This style is perfect for men with long hair, as it allows you to easily control and tame your locks without sacrificing any of your edgy styles. So why wait? Embrace your inner badass and try out this ultimate men's dread Mohawk and ponytail combo today!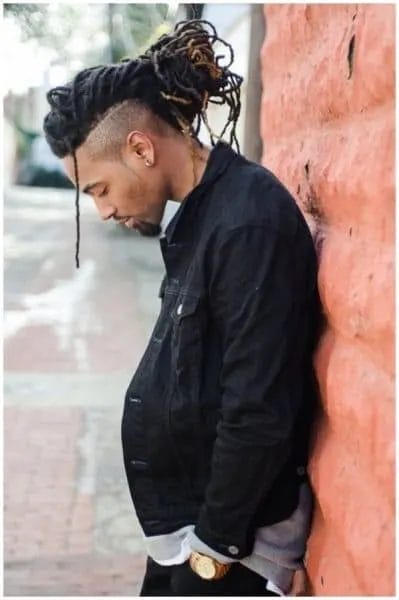 12. Dread Mohawk with shaved sides.
The Mohawk style suits men who love their long locs but dislike the bulkiness.
Shaving the sides will reduce the hassle. You can add a ponytail to gain a sleek and elegant style.
13. Dreaded Mohawk with the top knot
The man bun has become a trend in men's fashion style. You can try the bun style with the Mohawk and dreads style.
The style is excellent for formal occasions. To gain an enhanced design, add some fade style.
14. Twisted dread Mohawk
The twisted dread Mohawk is excellent for men with short or long hair. The twists ensure that you have an alternative style for full locks. The combination of twist and Mohawk makes the look unique.
15. Messy braided top
After dreading your hair, the locks will look messy after some time due to growth. You can create a style by flipping the dreads over each other.
The style works best for people with tattoos to help them look more attractive.
16. Braided dreads
Men are trying out extensions to acquire more styling chances for their hair. You can have a combination of dread extensions and a Mohawk to have a great style.
17. Two top French braids
Dreaded Mohawks have several styles to try out. For instance, you can divide the dreads into two to gain two French braids. To achieve an enhanced style. Let them meet on the nape side and have a bulky style.
18. Bulky dread Mohawk
Great style for black men with more dreadlocks to show off.
To acquire the style, have a bald fade and have a style between the beards and hairstyle. The dreads can be rolled to a Mohawk style.
19. Curved pony
The great thing about dreaded Mohawk styles is that there are no rules.
Therefore, if your sides are shaved, yet the center part has long hair, bend the ends on the upper parts and tie the locks.
20. High top dread Mohawk
A high-top dread Mohawk is a hairstyle that combines the bold and edgy look of a Mohawk with the unique texture and style of dreadlocks
21. Attractive dreaded Mohawk with shaved sides
A dreaded Mohawk with shaved sides is a hairstyle that involves growing out the hair on the top of the head and styling it into dreadlocks, while the sides of the head are shaved close to the scalp.
This style can be very attractive and edgy, and it can be a great way to express personality and style.
22. Long dread Mohawk with undercut
The long dread Mohawk with undercut is a great way to eliminate bulky disturbing hair. The undercut style will give you a cool appearance leaving you less effort to take care of your hair.
23. Dread Mohawk with shape-up
The style allows you to straighten the hairline and ensure that the blunt sides are well-shaved with a great angle along the forehead.
The look is a great look for men who love cleaned-out looks.
24. Dread Mohawk: the labyrinth
To gain the look, you require to go to a professional. The style is easy to maintain and ensures that your dreads look classic.
25. Chunky dreaded Mohawk
A great style to create a statement for people with thick hair. The style looks amazing, either tied or loose. Try it with a Mohawk style to acquire the look.
26. Braided ponytail dreaded Mohawk.
The style is becoming a trend currently. To acquire the look, plait the dreads to achieve a funky style. You can add a bold color to gain the fascinating Mohawk look.
27. Edgy dread Mohawk with beads
Using beads and hair wraps is a great way of playing with your hair.
Add the beads to the dreads well to prevent them from causing damage to your dreads.
28. Colored blonde dreaded Mohawk
The blonde color on your dreads is a great way to acquire a versatile look. The style will make a great statement.
29. Curly dread Mohawk
Curly hair is among the best hair type for dreadlocks. Add some dreads and try the Mohawk style to gain a great style.
30. Classic Mohawk dreadlocks
The classic Mohawk dreadlocks are among the earliest style. It is best to enhance your style. Ensure that your beards have a C-shaped to get an enhanced look.
31. Afro Mohawk dreads
The style is a great style for shorter dreads on the side.
Ensure that the middle part of the hair is longer than the sides to acquire the style.
32. Medium fade with short dreads
The style is best for people with start-up dreads. Ensure that the barber does not trim your side parts completely. Neat look for official purposes.
33. Semi-freeform spike dreadlocks
The locks are free-formed at the end. The style is great for people who can freely try any style on their hair. The style works best with grey highlights or any preferred color.
34. Sexy Mohawk with a top knot
The top knot style is becoming common for guys with long dreads. Have the Mohawk and tie the dreads at the center of your head.
35. Mohawk-the Viking way
The Mohawk Viking style is great for exposing your head tattoos . The tattoos are marked as the victory for battles participated in.
36. Long Mohawk
The long Mohawk style applies to men with long dreads looking for ways to try out new styles. The locs can be extended with artificial ones if your locks are shorter.
37. Mohawk with undercut
Undercuts are among the most trendy styles among men. You can have the Mohawk with an undercut by having your hair in a bun.
38. Hippie dreadlocks
Dreadlocks should allow you to have self-expression freedom. The hippie style will enable you to express your style.
39. Hip-hop dreads
The best style for men that love hip-hop. The dreads are mid-length to ensure they hang back on the head freely.
40. Swept back ombre dreads.
You can dye the dreads ombre where the color is fading to the other. The dreads should lay back on your head to acquire the look.
Frequently Asked Questions.
· How to maintain dreads.
Dreads are among the best styles to try on your natural hair. However, you must care for them regularly to ensure they are healthy and looking great.
To maintain your dreads, ensure to have products like moisturizers, hair oils, and shampoo to acquire growth. However, when choosing the right shampoo, you should ensure that it moisturizes and clarify your dreads instead of making them look gunk.
At home, you can apply moisturizers at night to keep your dreads from breakages.
After moisturizing, add some oil to ensure your dreads never dry.
· What are dreads?
Dreads are among the best natural hairstyles for men and women. Dreads are braid-like sections on the hair that have a coarse texture. Dreads have been applied since the Greek era of Senegalese, Buddhist, and Rastafarian cultures.
· Difference between Mohawk and dreads.
Mohawk is applied by shaving the side parts of the hair and remaining in the top position. Mohawk can be used on people with dreads and other hairstyles.
For dreads, the hair is interlocked against each other. You can dread the whole head or apply some styles like under-cut and Mohawks.
· How do you do a Mohawk with dreads?
To acquire a Mohawk on dreads, visit your barber and get a shave on the side parts of your hair. Then twist the dreads to the desired style.
· How many times can I wash dreads?
Ensure that your dreadlocks are washed after every week using residue-free shampoo for locks. However, if you work in a dusty area or have dandruff issues, you may have to clean the dreads twice or thrice a week.
Cleaning your dreadlocks regularly maintains a healthy and prevents your dreads from developing an odor.
· What are the three types of dreadlocks?
There are several dread types. The common ones are traditional locs, freeform locs, and sister locks. Sister locks look more like micro locs as they are smaller; thus, installing them takes some time.
References
The history of the name "dreadlocks" is unclear. source
The mohawk (also referred to as a mohican) is a hairstyle in which, in the most common variety, both sides of the head are shaven, leaving a strip of noticeably longer hair in the center. source
Khamis Maiouf is a professional barber who graduated from Hinckley College in England with a degree in hairdressing. He has also won several barbering contests and successfully operated a barbershop for the last two decades. As a skilled hair stylist for 20 years, his goal is to teach others how to achieve a beautiful appearance through their hairstyles.