Your beard is the one thing that can make you look more masculine. Like Kratos in God of War, the video game has an amazing bushy beard or a Tapered beard styles, which is quite popular. Tapered beard styles indicates a dashing and masculine look, making it the talk of the town. It is also one of the most popular beard styles.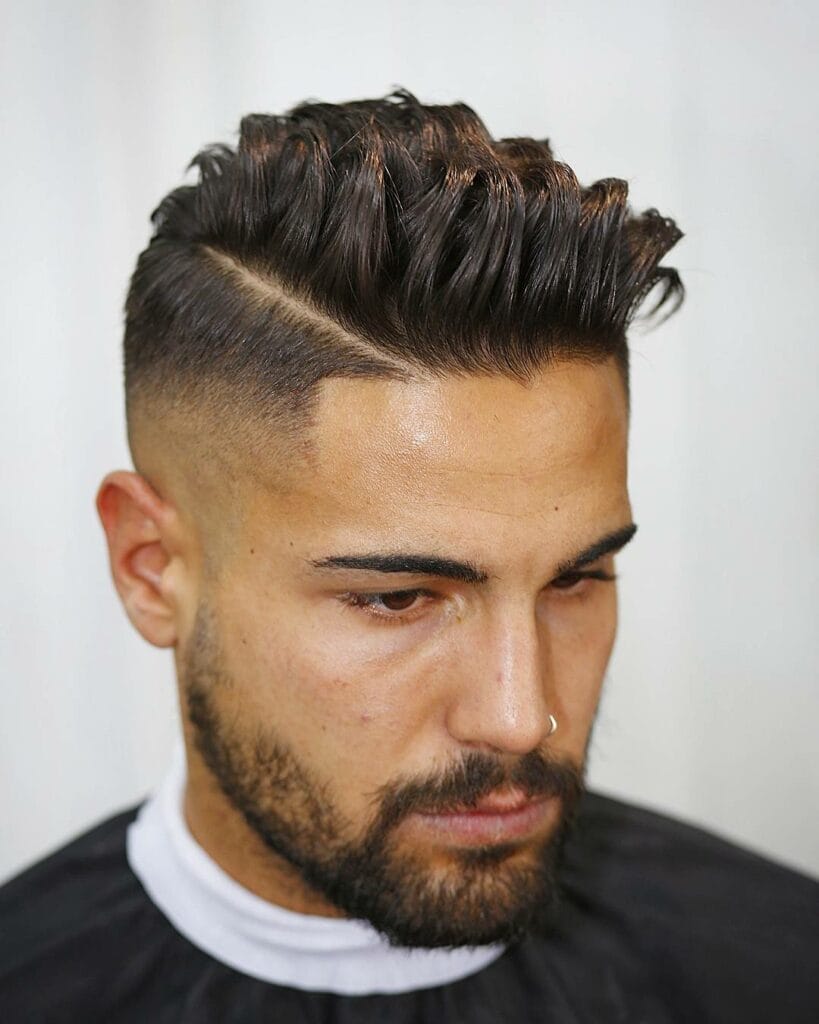 Everyone is adopting this current beard style because of its stylish and crisp appearance, from celebs to social media influencers to street style icons. The Tapered beard styles is all about displaying your facial hair and grooming it in unique ways to draw attention to your facial features. Are you thinking of adopting this style? You can learn how to taper the beard to the top beard style trend.
What Is the Tapered Beard Styles?
The Tapered beard styles means that you should have a long and thick beard at your jawline. Your cheeks will have shorter hair than the rest portion of your face. As the beard goes down to your cheeks, it gradually grows longer. It looks clean, crisp, and well maintained, making it suitable for any man, regardless of their facial shape. It is very simple to grow a pointed beard if you know how to care for it. As your beard grows down, make sure it looks healthy and thicker.
The Right Way to Taper a Beard
You must taper a well-groomed beard; else, it will appear messy. Tapering is necessary to convey the message that you are fully aware of your beard. You should ask a professional barber if you want to try the tapered beard style. But if you know how to taper your beard the right way, you can go for it at home. It will save you money, and also the process is easy.
You'll need some good quality products like:
Wide-toothed comb/brush
Trimmer
Razor
Scissors
How to Get Tapered Beard Styles – Step by Step Guide
Grow the Beard
You need to have patience when you are growing a beard. Don't hurry for styling; you need to develop a beard first. Therefore, give your beard some time to achieve a length that you can trim.
Comb Out the facial Hair
Once your beard has reached a sufficient length, first comb your beard hairs to remove any knots you have tangled and check for uneven growth. Use beard oil; it helps you to ease these tangles loosen out easily.
Trim the Beard
You can begin trimming when the tangles are cleared. Trim it, but don't go too close, or you'll end up cutting a big bunch of hair. Which will not look good.
Style Your Beard
If beard tapering is done correctly, now it's time to choose your style that goes best with your personality.
Top 14 Tapered Beard Styles
Here are the top 14 Tapered beard styles that are trendy and will suit you according to your preferences.
Mustache and Tapered Beard Pair
This bushy style is inspired by the hipster look; complete it with a curled mustache. It's a lengthier style, so this is a wonderful place to start if you want to try out different lengths.
Taper Full Beard Style
A tapered beard is primarily a type of full beard. The appropriate amount of tapering might work well with your thick beard. As a result, never let your full beard grow naturally. It should be tapered to look lovely and sensual.
Tapered Lumberjack Facial Hair
The lumberjack beard is a great way to add an edged touch and roughness to your look. It complements both round and rectangular face shapes. Long hair looks great with a beard, and a mustache completes the look.
The Dude/Guy Next Door Taper Beard Style
The handsome Guy next door beard style is perfect among other listed tapered beard styles if you want to steal hearts. It looks good on oval and rectangular faces. A smooth back hairdo and a low bald faded style will complete the look.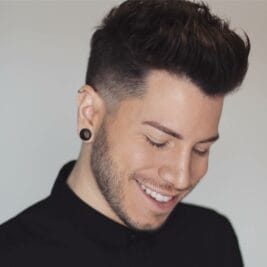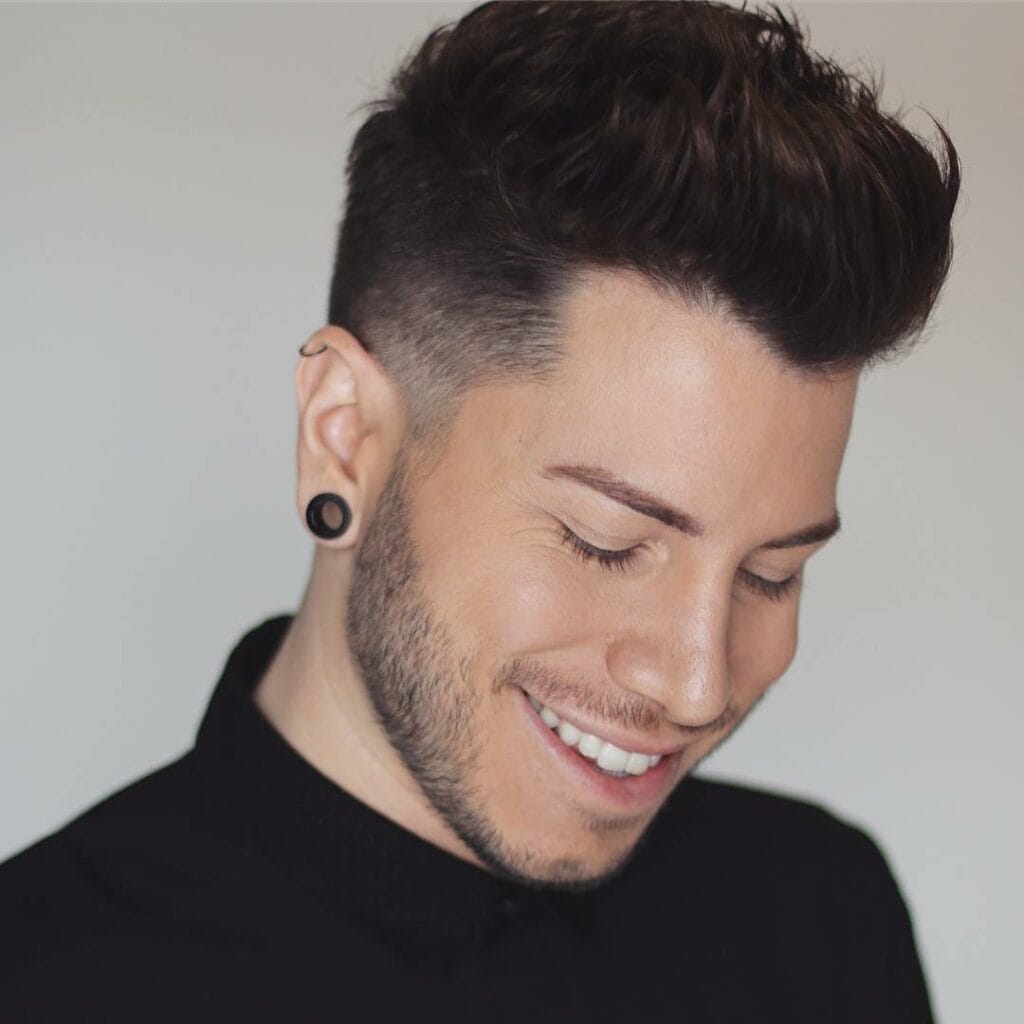 Fade and Taper Beard Style
If you're looking for a fashionable hunk look, you can't go wrong with a taper faded beard style. The beard complements square facial shapes wonderfully. Make sure to fade your style clearly and keep your beard clean by brushing your beard hair regularly to make it more noticeable.
Sleek Hard Parted Facial Hairstyle
For a square face shape, this style works like a charm. When done correctly, it produces a tidy and mature effect. Keep the beard large and thick, and mix it with a fading hairdo to complete the look.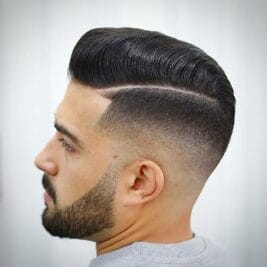 Sharp and Precise Beard Style
For oblong facial types, the crisp and precise beard style works well. Shave your hair in curved designs for an exact taper fade.
Mid-Taper Fade Facial Hair
For a softer look, choose the Mid-Taper fade. It's suitable for diamond-shaped faces. When it comes to beard fading, strive to be as subtle as possible with both the beard and the hair.
Low Fade With Tapered Beard Style
The Low fade hairstyle with a beard will make you look attractive and young. It's best for people with more defined facial features. Allow tiny hairs to grow, and then taper them from the edges. Also, add texture to your hair to make the fade stand out more.
High & Tide Taper Faded Style
For a sleek and contemporary look, this style is perfect. Men with square or even round-shaped faces look better in this style. You need to shave your beard for an amazing look but simultaneously leave it thick on the jawline. While you're at it, a military hairstyle looks great with this beard style.
Hollywood Inspired Taper Faded Beard Style
Short hair and a beard are ideal for a Hollywood star's image. The look is appropriate for both diamond and oblong face shapes. Grow your beard slightly longer, and then taper it around your jawline for a classic Hollywood-inspired faded beard.
Geometric Skin Faded Tapered Beard style
To bring out your inner star, choose a sophisticated and geometrical skin fade design. Sharper facial cuts look great in this style. Trim your beard's inside portion more than the outside area of your beard to get a reversed tapered appearance.
Disconnected Undercut and Tapered Beard Style
Square faces will appear best in this style. For a bolder look, taper your beard a little deeper. Keep the beard bushy but trimmed to achieve the effect. Make an effort to obtain a deeper fade in your hairdo.
Bandholz Taper Beard
On middle-aged males, the Bandholz style looks fantastic. All facial shapes, including oval, round, diamond, and triangular, look great with this beard style. You'll need a lot of patience to develop this kind of beard style since it could take up to six months before you can trim it to the appropriate shape and style.
The Benefits of Tapered Beard Styles
There are so many beard styles to choose from that you may be confused by the choices. If you're wondering why you should keep any tapered beard styles? What is the benefit of it?
Have a look at the reasons given below:
Polish and Clean
One of the reasons tapered beard styles have taken the world by storm is their clean, polished look.
Face Shape
Think about your face's shape, and then choose the beard style. If you pick the wrong beard type, you'll draw attention, making yourself feel embarrassed. And with a tapered beard styles, it is so adaptable that anyone with any face shape can wear it.
Maintain
The tapered beard styles is simple to maintain if you have the correct supplies and tools. If you're trying out for the first time, do hire a professional. After you've had your beard trimmed, all you have to do now is use items like beard oil and clean the edges and keep it looking nice and healthy.
Also Read: 5 Amazing Blonde Beard Styles to Get Masculine Look
Pros and Cons of Tapered Beard Styles
Everything has pros and cons, and tapered beard styles is no different.
Pros
You can use the look on both formal and informal occasions.
This style looks perfect for almost any face shape.
It looks neat and well maintained.
Stylish and serves as a foundation for more sophisticated and bold hairstyles.
Cons
People may question your hygiene routine if you don't trim your beard regularly.
A tapered beard is mistaken for a fade because you never know if you will get your preferred cut or not.
Conclusion
Beards have grown extremely trendy in recent years, and every man wants to grow one and join the trend. There's no reason left to have a discussion over why you shouldn't experiment with your beard styles if your beard is long enough. For the modern barber, the tapered beard styles has become the famous trendy standard.
After all, why not? It compliments all face shapes and styles. It creates a positive impression on other people. Every man can rock with these beard looks. The tapering beard is designed to be as versatile as stylish, not to mistake it for a faded beard.
Just follow the process to taper a beard correctly from top to bottom: The beard will be short on the cheeks and too long at the chin. Then, with a razor, pick up the cheek line and neckline and exactly line them up.
Clean the extra hair with scissors to make the beard look evenly cut. If necessary, trim the mustache. Bear in mind to use the correct beard products to keep it clean and tidy. And you will surely rock the party with your fashionable look.