Get a Fuller, Faster Beard: Top Tips for Lush and Speedy Growth
How to Grow a Beard: A Comprehensive Guide
If you've always wanted to grow a beard but didn't know where to start, you've come to the right place.
In this article, we'll explore everything you need to know about growing a beard, from understanding the basics of beard growth to tips on promoting growth and maintaining your beard.
Let's dive in!
Understanding the Basics of Beard Growth
Before you start your beard-growing journey, it's essential to understand the factors that influence beard growth.
The Role of Genetics
Genetics play a significant role in determining the thickness, color, and growth rate of your beard.
Unfortunately, this is something you can't change. If your father or grandfather had a FULL, THICK BEARD, there's a good chance you will too.
However, if your family members have struggled to grow facial hair, you may face similar challenges.
Hormones and Beard Growth
Hormones, specifically testosterone and dihydrotestosterone (DHT), play a crucial role in beard growth.
Higher levels of these hormones generally lead to thicker and faster-growing beards.
While some people naturally have higher HORMONE LEVELS, there are ways to boost them through diet, exercise, and proper sleep.
Preparing for Beard Growth
Before you embark on your beard-growing journey, consider these factors to set yourself up for success.
Setting Realistic Expectations
Accept that your beard may not look like the ones you see in advertisements or on celebrities.
Embrace your unique beard growth pattern and work with what you have.
Maintaining Good Skin Health
Healthy skin is the foundation for a healthy beard.
Cleanse and exfoliate your face regularly to remove dead skin cells and promote hair growth.
Keep your skin moisturized to avoid DRYNESS and irritation.
Choosing the Right Beard Style for Your Face Shape
Different beard styles suit different face shapes. Research which styles best complement your face shape, and aim for that style when growing your beard.
Tips for Promoting Beard Growth
To optimize your beard growth potential, follow these tips:
Proper Nutrition
A balanced diet rich in vitamins and minerals, such as biotin, vitamin D, and zinc, can promote hair growth.
Incorporate lean proteins, healthy fats, and a variety of fruits and vegetables into your diet.
Regular Exercise
Regular exercise can help increase TESTOSTERONE levels and improve blood circulation, promoting beard growth.
Aim for at least 30 minutes of moderate exercise most days of the week.
Getting Enough Sleep
Adequate sleep is essential for overall health, including beard growth.
During sleep, your body repairs and regenerates cells, including hair follicles.
Aim for 7-8 hours of quality sleep each night.
Create a sleep-friendly environment by minimizing distractions, establishing a bedtime routine, and ensuring your bedroom is dark, cool, and comfortable.
Reducing Stress
Chronic stress can negatively affect your hormones and hair growth.
Engage in stress-reducing activities, such as meditation, yoga, deep breathing exercises, or spending time in nature.
Don't forget the power of hobbies and spending time with friends and family to alleviate stress and promote well-being.
Beard Care and Maintenance
Taking care of your growing beard is crucial to ensure its health and appearance.
Washing Your Beard
Regularly wash your beard with a gentle, beard-specific shampoo to remove dirt, oils, and dead skin cells.
Avoid using harsh soaps or regular hair shampoo, as these can strip your beard of its natural oils, leading to dryness and irritation.
Aim to wash your beard 2-3 times a week, depending on your lifestyle and skin type.
Beard Oils and Balms
Beard oils and balms are essential for maintaining a healthy, well-groomed beard.
They moisturize your beard and the skin underneath, reducing itchiness and beard dandruff.
Look for products containing natural ingredients, such as jojoba oil, argan oil, or shea butter.
Apply beard oil or balm daily after washing your face and beard for the best results.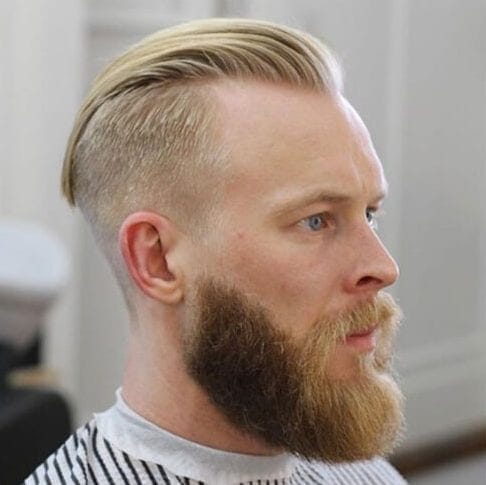 Trimming and Shaping Your Beard
As your beard grows, you'll need to trim and shape it to maintain your desired style.
Invest in a quality beard trimmer and learn to trim your beard at home or visit a professional barber for a more precise trim.
Regular trimming prevents split ends and promotes even growth. Don't forget to trim your mustache and neckline for a polished appearance.
Common Beard Growth Problems and Solutions
Growing a beard isn't always smooth sailing.
Here are some common issues and their solutions.
Patchy Beard Growth
If your beard grows unevenly, you may have a patchy beard. Give your beard time to grow, as patches may fill in over time.
Alternatively, try a shorter beard style or experiment with beard growth products, such as minoxidil, under the guidance of a healthcare professional.
Beard Itch and Dandruff
Itchy skin and beard DANDRUFF are common issues during the early stages of beard growth.
Regular exfoliation, washing, and moisturizing with beard oil or balm can alleviate these problems. If the issue persists, consider consulting a dermatologist.
Conclusion
Growing a beard requires patience, DEDICATION, and proper care.
By understanding the factors influencing beard growth, setting realistic expectations, and following the tips and advice in this article, you'll be well on your way to achieving the beard of your dreams.
FAQs
What stimulates beard growth?
Beard growth is stimulated by factors such as genetics, hormones, proper nutrition, regular exercise, adequate sleep, and stress management.
A combination of these factors can contribute to healthy facial hair growth.
How can I get a beard naturally?
To grow a beard naturally, be patient and let your facial hair grow for at least 4-6 weeks, maintain good skin health, eat a well-balanced diet, exercise regularly, get enough sleep, manage stress, and practice proper beard care and maintenance.
Can shaving grow a beard?
Shaving does not directly stimulate beard growth.
However, it can give the appearance of a thicker beard as the hair regrows with a blunt tip.
Your beard growth rate and thickness are determined primarily by genetics and hormones.
At what age does a beard grow fully?
Beard growth varies from person to person, but most men experience significant beard growth between the ages of 18 and 25.
However, some men may continue to see improvements in their beard thickness and coverage into their 30s.
Is there a trick to grow a beard?
While there is no magic trick to grow a beard, adopting healthy lifestyle habits, proper nutrition, regular exercise, and adequate sleep can help optimize your beard growth potential.
Additionally, practicing good beard care and maintenance can improve the appearance and health of your facial hair.
Can you grow a full beard without shaving?
Yes, you can grow a full beard without shaving. It's essential to be patient and allow your facial hair to grow for an extended period.
As your beard grows, you can trim and shape it to maintain your desired style, but avoid shaving it off completely if you want to achieve a full beard.
References:
Exercise, a nutritious diet, supplements, skin care, and other tips may speed up beard growth. source
How fast you grow a beard can depend on your genetics and overall health. source
Khamis Maiouf is a professional barber who graduated from Hinckley College in England with a degree in hairdressing. He has also won several barbering contests and successfully operated a barbershop for the last two decades. As a skilled hair stylist for 20 years, his goal is to teach others how to achieve a beautiful appearance through their hairstyles.