Ultimate Guide To Man Bun Hairstyle
A man bun is a popular men's hairstyle for men of all ages, backgrounds and cultures.
You can achieve this style by growing all the hair on the head and then pulling it back into a bun at the back or sometimes, though rare, tied on the side or at the top of the head, like a top knot.
While so many people have difficulty differentiating man burn from the top knot, the latter is a variation of the man bun.
Top knot involves growing long hair at the top but with shorter hair on the sides and back, then tied or released at the top of the head, like samurai.
The man bun is a timeless hairstyle, originating in Korea and Japan during their respective dynasties – the Joseon Dynasty in Korea and the Edo Period in Japan, to be exact!
Warriors originally wore it as a symbol of strength and power.
Still, over time it has evolved into a fashionable hairstyle that men from all walks of life can adopt to add an element of personality to their look.
In this article, I will give a comprehensive guide with everything you need to know regarding the man ban.
So, keep reading.
II. Different Variations of Man Bun Hairstyle
If you want to switch up your man bun look, you can choose from countless variations of the classic style.
Here are some of them, their development, and who rocks each style.
Man bun fade:
The man bun fade is a modern interpretation of the classic man bun.
It involves keeping the sides and back of your hair short while allowing the top to grow out and be tied into a bun.
I recommend this look to men with thick hair who want to add dimension and contrast to their hairstyle.
It's also an ideal approach way to hide any receding hairlines.
Half-Up Man Bun:
Sporting a half-up man bun is a superb option to stay on trend without having enough hair length for a full bun.
The look requires pulling the top section of your hair back and tying it into a bun.
Boys with an undercut or any other textured hairstyle can easily style this man bun variation for an eye-catching look.
Top Knots:
One of the most popular man bun variations is the top knot, tied at the top of your head.
This look works especially well for guys who don't have enough length to create a man bun.
You can get creative with your man bun by braiding the top of your hair before you tie it into a knot.
Spiky Man Bun:
You can also create a man bun with spikes.
All you have to do is style your man bun in a Mohawk-like way and spike up the man bun with styling products like wax or pomade.
This man bun style looks amazing and can be easily achieved by men with a medium-length man bun.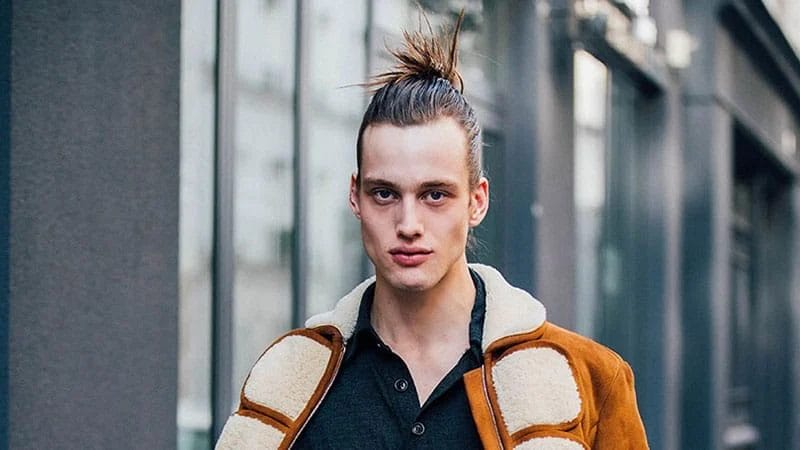 Messy Man Bun:
I would blame myself for failing to mention the most favourite man bun variation taking the soccer fields, runways and gym floors by storm.
If you want to sport a classic man bun, the messy man bun is the award-winning man bun style.
This man bun is super easy to create and requires minimal effort. You must pull your man bun back, twist it around to form a top knot and leave it shaggy and messy.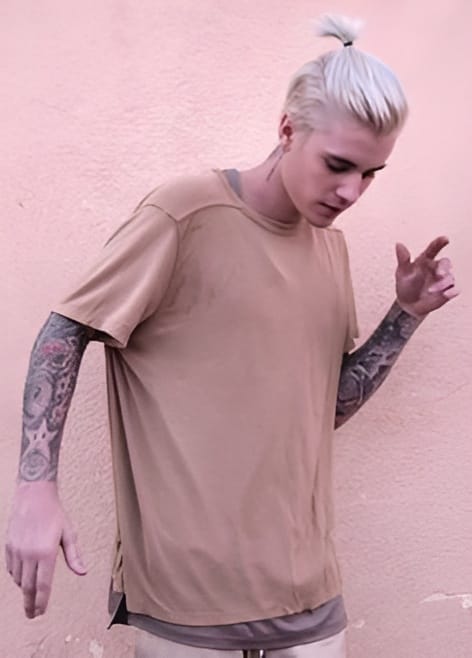 Undercut Man Bun:
Every man should consider trying the undercut man bun. The style gives a unique look to your man bun and adds some edginess.
To rock this style, you begin by shaving sides and back of your head, leaving a man bun on top.
For example, Zlatan Ibrahimovic, an international football star, wears this man bun variation and stars the trend.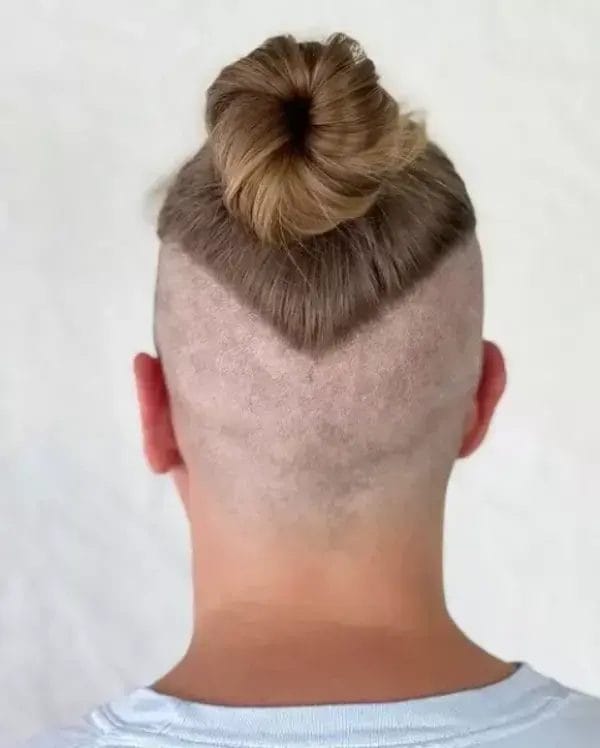 Classic Man Bun:
From Brooklyn Beckham to David De Gea, many celebrity men have rocked the classic man bun.
For this variation, you must tie your man bun into a man bun as low or high on the head as you prefer.
And the aftermath is a man bun that looks neat and presentable.
Hipster Bun:
This variation combines bun fade with a man bun, giving you a modern and manly appearance.
The hipster man bun looks chic with an undercut or short hairstyle.
You must keep your sides and back cut short of pulling off this man bun while allowing the top to grow out and be tied into a man bun.
III. How to Create a Man Bun
Creating a man bun is relatively straightforward, but you need to prepare your mane for the man bun before you can tie it up.
Here are the steps:
Step I: Growing Out Your Hair
Achieving the perfect man bun requires growing and maintaining long hair, which can take effort but is worth it once you get it right!
To do this, you should use quality shampoos and conditioners designed to promote healthy hair growth and regular trims every 4-6 weeks to keep split ends at bay and ensure that your hair is always looking its best before styling it into a man bun.
Step II: Choosing the Right Hair Length and Texture
Once you've achieved your mane's desired length and texture, you can move on to styling.
I suggest having your man bun designed when your hair grows at least three to four inches long.
But some guys prefer a shorter man bun, so it ultimately depends on your personal preference.
Step III: Gather Your Hair into a Ponytail
Gathering your mane into a ponytail is the first step.
Start by brushing your hair for detangling, then use your fingers to create an even man bun and tie it together with a hair elastic.
Step IV: Wrap and Create the Hair into a Bun
After you've tied your mane into a ponytail, it's time to create the man bun. Wrap the ponytail size in the style of the man burn you want to make.
You may bring it on top of the hair, back middle of your head or side way wraps, just as it suits you.
Step V: Secure with Elastic or Bobby Pins
Secure your man bun with a thin elastic band or bobby pins for extra hold.
These holders will help keep your hairstyle in place, even if you're participating in physical activities.
Step VI: Style and Accessorize as Desired
Once your man bun is secure, you can accessorize it with manly accessories like caps or scarves for an extra stylish finish.
Step VII: Finishing Touches for A Unique Look
Once you've perfected your man bun, spritz it with a manly scent like masculine musk or cologne.
If desired, add a few drops of styling paste to help keep the man bun in place and give it a polished finish.
Fortunately, man buns can last for days without needing much maintenance.
Creating man bun hairstyles doesn't have to be complicated. With proper knowledge and preparation, you can rock your man bun with confidence and style!
IV. Popular Braided Man Bun Looks:
Braids can transform man buns into something unique and stylish.
Whether you're looking for a man bun with an edge or a man bun that looks sophisticated, these variations will make you stand out.
Tiny Braided Bun
This man bun variation combines mini-braids with a small man bun at the crown of your head for a unique look.
You can create a tiny style by braiding three sections of your mane and tying them into a mini man bun.
Full Bun Braids
While man buns are often associated with braiding short hair with extensions, you can also create a man bun with longer locks.
Full-man bun braids involve tightly weaving your head and then creating a bun you tie at the back or the top.
This man bun style looks best with waist-length manes, and it takes a bit of practice to master the look.
Stitch Braided Bun
As the name suggests, this style involves braiding your mane in two sections and then pulling it together into a big bun that you stitch semi-permanent, limiting switching flexibility.
You can use either synthetic or natural hair extensions for this man bun style, as long as the mane is thick enough to create a full man bun.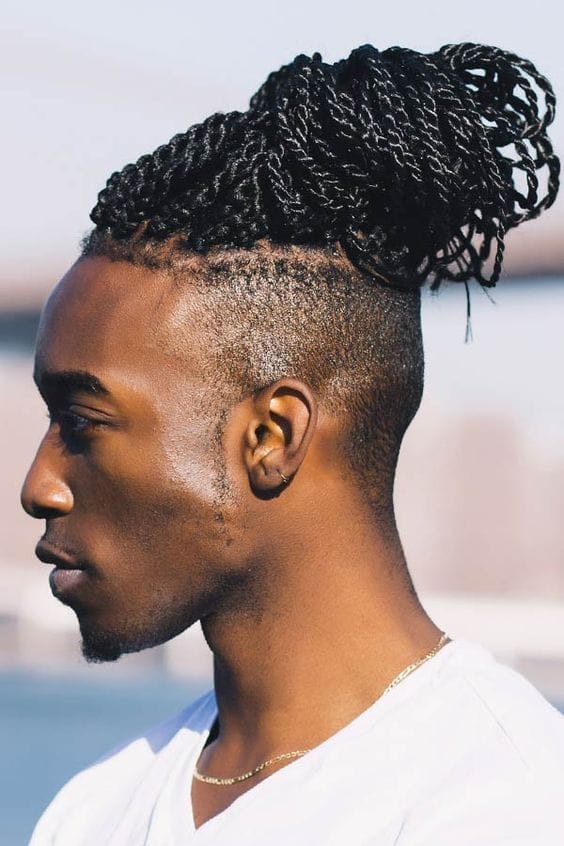 Cornrowed/Dutch Braided Bun
This man bun style gives off a rebellious vibe and involves weaving cornrows or Dutch braids towards the man bun and then tying it tightly together at the back or side.
This variation will turn heads if you're looking for a man bun with an edge.
Crown Braided Bun:
Do you love classy and polished man buns?
Then the crown braided man bun is a flawless choice.
The crown braided man bun requires weaving several rows of French braids around the mane and then wrapping them into a bun at the top of your head.
V. Tips for Maintaining a Man Bun:
Whether you rock a traditional or braided bun, proper mane care is essential to achieving the desired look.
To ensure your man bun stays looking great and healthy, here are some man bun maintenance tips to consider:
A. Proper Washing, Conditioning, and Drying Techniques
Ensure your mane is in its best condition by washing it regularly with a manly shampoo and conditioner.
Then rinse thoroughly using cold water, which helps seal the cuticle, thus preventing mane damage.
For man buns that require extensions, you'll want to utilize a moisturizing shampoo or conditioner to keep the mane hydrated.
Once you've washed your man bun, avoid using a hair dryer on it because this can strip away natural oils and create mane breakage.
Instead, use a manly towel to dry the mane and let it air-dry naturally.
B. Combating Frizz and Flyaways
You'll need extra care when styling man buns, especially when dealing with frizz and flyaways.
You can use a manly leave-in conditioner or pomade to tame frizz and flyaways.
Make sure to start with a little product at a time, so you don't overload the mane and end up with greasy man bun strands.
For man buns that require extensions, you should also ensure your mane is properly hydrated before braiding.
This will prevent man bun frizz and flyaways by keeping the hair moisturized and manageable.
C. Preventing Damage with Trims and Treatments
Get regular trims and hair treatments if you consider man buns from synthetic or natural hair extensions.
Depending on your man bun style and how often you wear it, you should consider getting a trim every two or three months.
In addition, man bun treatments such as hot oil and deep conditioning treatments are essential for keeping manes healthy, strong and soft.
If you're using man bun extensions, give them the same treatments you would like.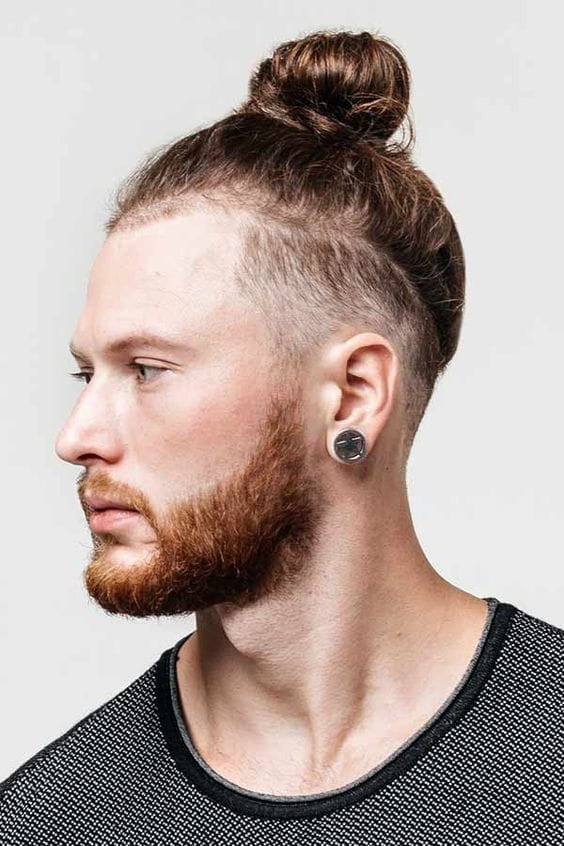 D. Use Wrapping Accessories With Discipline
Last and not least, go easy on products usage when styling, as too much product will weigh down your locks.
use multiple elastics instead of one big one, as this will create more tension when securing your look.
lastly – make sure not to tie too tightly as this can cause breakage over time due to stress placed onto strands from being pulled too tightly against one another!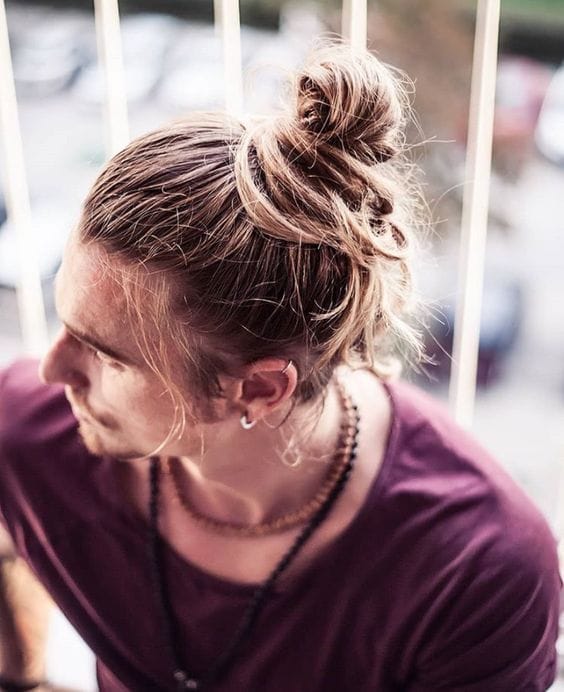 5 Popular Male Celebrities Sporting Man Buns and Their Favorite Styles
in most cases, man buns are the signature look of male celebrities. Here man bun designs and top stars that fancy man;
1. David Beckham: Full man bun
You have seen David Beckham rocking man buns since the 90s and still today.
He often sports his man bun in its classic form, a full man bun with man bun bangs often swept to the side.
He also loves to add manly accessories like manly headbands and pins to his man buns for an extra bit of manliness.
2. Leonardo DiCaprio: Dutch braided man bun
Leonardo DiCaprio is another celebrity who has been rocking man buns since the 90s.
His man bun style is a Dutch braided man bun which he often pairs with manly-style sunglasses and an animal print shirt for an ultra-manly look.
3. Jared Leto: Top knot man bun
Judge me for perpetual mentioning of his name, but believe it, the star has always sported knots.
He loves to keep things manly and grungy by pairing his man bun with manly accessories such as necklaces, scarves, and even hats.
Thanks to Jared, his buns have become the accessory of choice for guys worldwide.
4. Zayn Malik: Undercut man bun
Zayn Malik is known for impressive man-burn styles that he keeps switching at will.
He often pairs his man buns with manly manes and manly short haircuts such as undercuts . His man bun style is sliced back and tied into a manly knot.
5. Michael Jackson: Half-Man Bun
A mention of a moonwalker star can never be complete without man buns.
His man bun preferences have always been either half buns or curly man buns. The man bun is often tied into a manly knot and kept in its place by manly headbands.
Final Thought
No matter how you wear it, the man bun will always be an attractive and timeless look for a man, regardless of age or lifestyle.
With its ease of wear and versatility in both formality and dress code requirements – it's no wonder the man bun has enjoyed a steady resurgence in current men's hair fashion trends.
Even with so many debates based on this style, there's no question that it's here to stay, bringing along with it a level of confidence, independence and personality that looks good on everyone!
Don't be afraid to push boundaries and experiment with different styles – break free from expectations and do what works best for you!
Mens man buns can change shape and size depending on what look you're trying to achieve, so when styling your man bun, consider the length of your hair and overall face shape – this will help prevent any haphazard results.
Play around with lengths, designs, and colors until you find your take on the man bun.
But mostly, enjoy experimenting! After all, nothing truly says style, like mixing it up with a classic twist.
REFERENCES:
Man buns.Source
In a rush before school or work? source
A bun is a type of hairstyle in which the hair is pulled back from the face, twisted or plaited, and wrapped in a circular coil around itself, typically on top or back of the head or just above the neck. source
Khamis Maiouf is a professional barber who graduated from Hinckley College in England with a degree in hairdressing. He has also won several barbering contests and successfully operated a barbershop for the last two decades. As a skilled hair stylist for 20 years, his goal is to teach others how to achieve a beautiful appearance through their hairstyles.