Detailed Guide For Top Knot Man Bun Hairstyle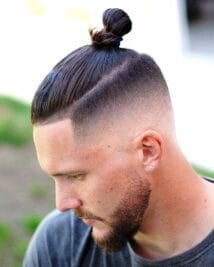 Long haircuts for men such as top knot man bun, in our opinion, should restore their lost prominence. And for that purpose, we decided to write a complete blog post about the top knot man bun hairstyle, which is a fashionable and elegant long hairstyle.
This blog will show you how to style your hair, how to build a man bun top knot and how to keep your hair healthy. Furthermore, our assortment of man buns will present you with a number of possibilities you can go with.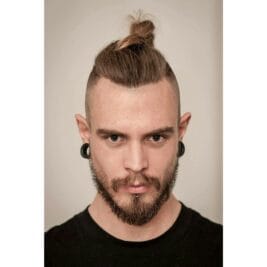 What Is A Top Knot Man Bun?
In actual, it is a hairstyle for men with long hair length. To generally describe, one can say that it is made by gathering hair in one place, giving the look of a crown. That's the reason why men with top knot man bun usually give off the vibe of a king. There are certain types to this hairstyle, like half bun or a full bun etc.
Some people confuse a ponytail with a man bun top knot because they both resemble a lot once wore with some styling. This is a very neat hairstyle, recommended for summers. In this way you can have your long hair but in a much cooler way.
Although the sides of the head are shaved short, the hair on crown of the head is linked back and a knot is created in this way. The greater the gap in hair length between both the two hair sections, the more disjointed and contrasting the appearance becomes.
How Do I Grow Hair For Top Knot Man Bun?
For the fist step, you'll need to accomplish the desired length, needed for this hairstyle. There can be some major obstacles on the way, as you let your hair grow. This phase of growing your hair can be very uncomfortable for some men, as it requires a lot of patience and the mid stages might give a little challenge of managing long hair.
Along with the journey, you also need to keep in mind that your hair needs to be healthy too. Because only a thin, long layer of length might not be enough to get top knot man bun. Another crucial step is to see your hairdresser on a regular basis to have your hair trimmed.
You'll be able to get your ideal hair length more rapidly this way. You'll also avoid hair damage while it's growing. Split ends will occur if you do not clip your hair on a regular basis. It would be really difficult to attain good outcomes with your long locks after this situation that comes undone and weakens it.
One more important tip that'll come in handy, is to use natural hair products. In which, the basics are a shampoo and conditioner with little or no chemicals.
How Do I Style The Top Knot Man Bun Hairstyle?
Once you are done with the growing phase of your hair, for top knot man bun hairstyle, you will need to shift your focus now to the maintenance and styling of your cut. Now to get the top knot man bun, different men prefer different position of man buns, so the first step for you will be to decide the location where you want your top knot man bun.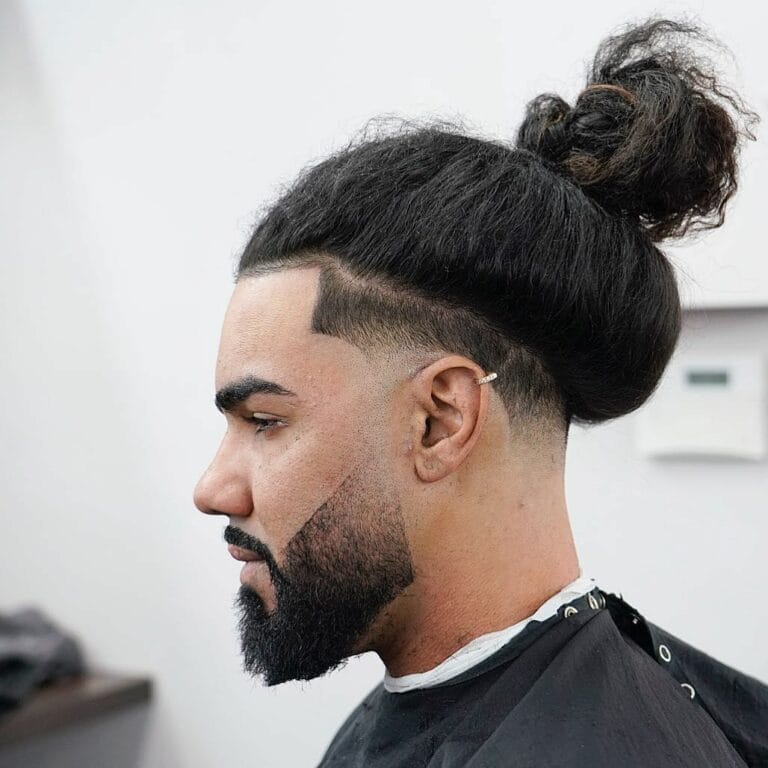 But remember to keep it in the top portion as it is not just the basic man bun, but has top knot in it. Once the position is selected, brush your hair towards that direction and hold your brushed hair in your hand, to keep it as a separate part as it is the future bun.
Now the upper dividend of your hair should be in your hands while the lower dividend can be left alone. Now make a cool knot from your top hair, you can do it with the help of an elastic band. After that make a knot out of your bun by twisting your hair into your fingers. It might also look like a small bun, but basically we call it man bun top knot.
How Do I Maintain Top Knot Man Bun Hairstyle?
As explained earlier, this hairstyle can only be achieved with long hair. And as per discussing long hair, we all know that they require extra care and maintenance. For long hair some common problems such as dry or split ends and messed up knots can be challenging.
To overcome these problems you can use certain products while avoid some. What you should use is conditioner and oils etc. Also regular or weekly trimming is highly recommended. On the other hand, heating products such as straighteners or curling wands should be used as low as possible. Although it might sound challenging but it is worth your time and effort.
As this look give off a very cool and manly vibe. Especially men with heavy beards are seen to slay this hairstyle more often. Even if you are not into styling, it should be your routine to take good care of your hair. So all these tips can be followed anyways. But if you are into long hairstyles then these tips will be an additional help.
Which Face Shapes Are Ideal For Top Knot Man Bun?
This hairstyle can go with all face shapes. But the ideals will be oval, oblong, triangular, and square face shapes. As it is a long hairstyle, it will be a good combination with such face shapes.
Conclusion
In this blog, you will find out the interesting topic of top knot man bun. Which is a long hairstyle, and is one of the coolest hairstyle for long hair. It can go with both clean-shaven and heavy beards, depending on personality type. We have explained the ways to make a man bun top knot and how one can maintain the elegance of this hairstyle. We have also answered a few questions that might be in your mind and I hope after reading this guide you will have a better understanding of this hairstyle.