Top 5 Tips on How to Soften Beard Naturally Now
With the rising trend of beards as a fashion accessory, it's no wonder why you'll want to soften beard naturally. In fact, growing a beard is not just a fashion statement but an investment in your facial hair's health.
Don't neglect your scruff! A soft and healthy beard needs as much tender love and care as the rest of your body. And the good news is you don't need to use harsh chemicals or expensive beard oils to achieve this.
Using natural means to soften your beard will keep the risk of dandruff, coarseness, and needless scratching at bay and make your beard hair the envy of all.
We've researched and compiled everything you need to know about softening and keeping your beard healthy.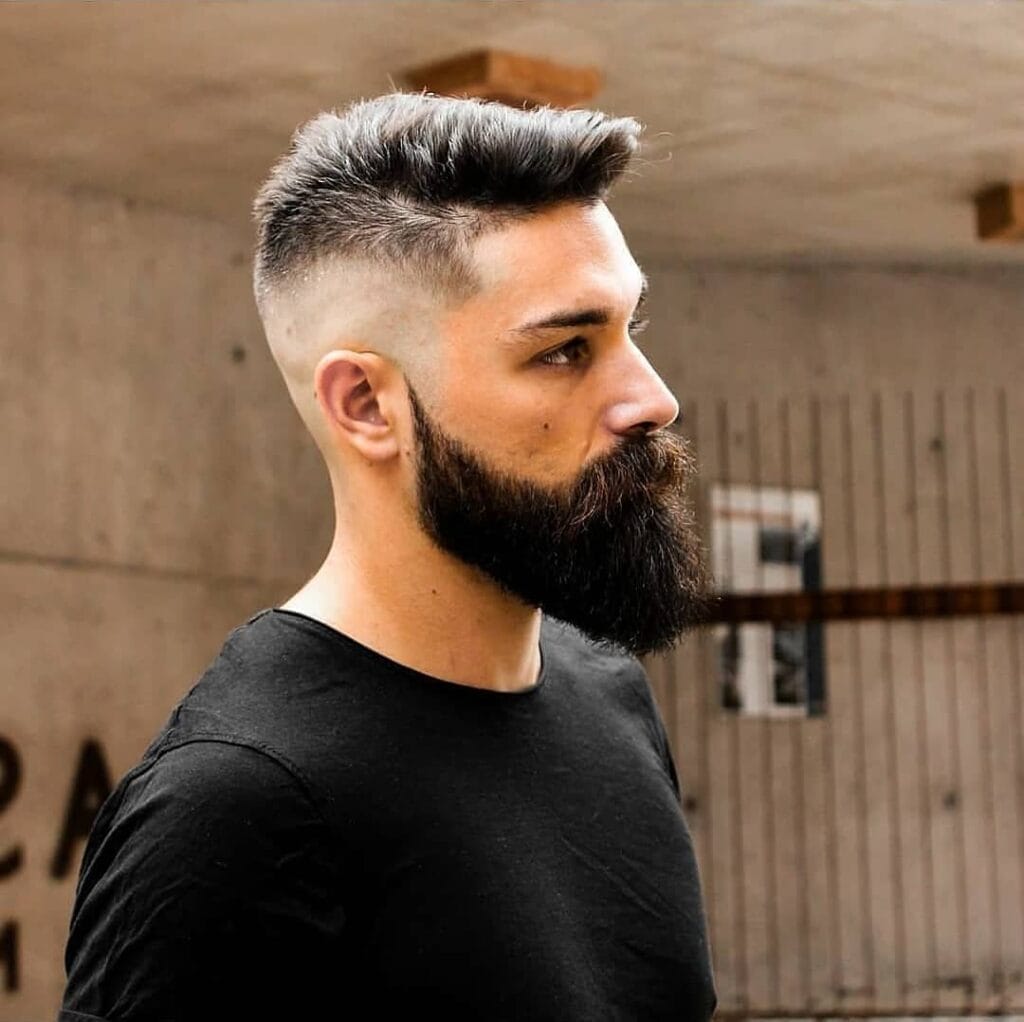 Reasons Why Your Beard is Coarse
Absence of moisture
Did you know that lack of moisture is the primary culprit behind a rough and brittle beard?
When your beard lacks moisture, it can become dry, wild, and more prone to breakage.
Your skin produces natural oils that help to moisturize your face and make your beard hair softer.
But, when you wash your beard with regular shampoos or strong soaps, you can strip away these essential oils. Without replenishing these oils, your beard will lose its moisture and become dry, rough, and damaged.
Fortunately, there is an easy solution to this problem: beard oil. A quality, natural beard oil made with natural ingredients will nourish your beard, making it thicker, healthier, and moisturized.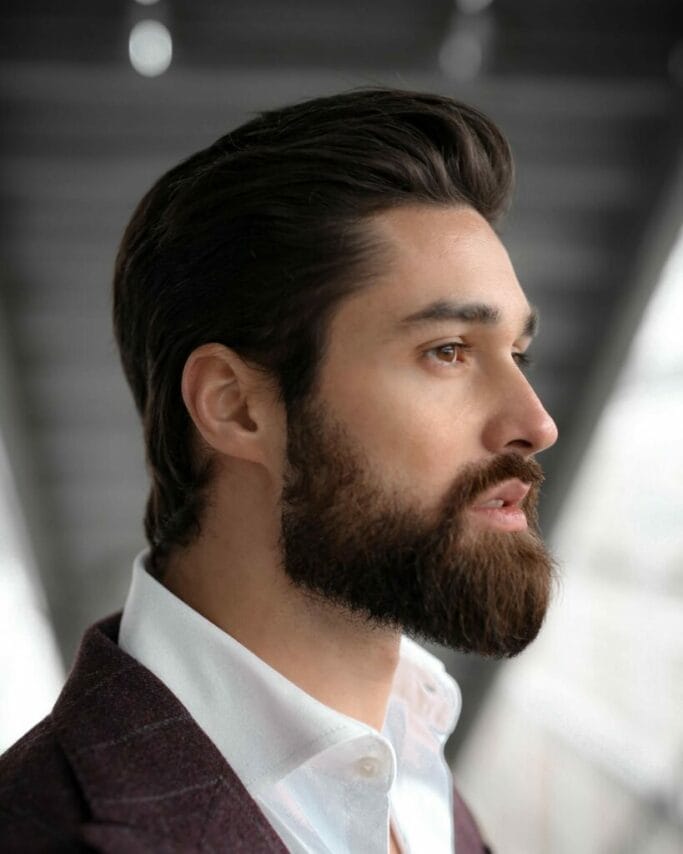 Genetics
Just like many other traits, a man's beard growth and texture are primarily determined by his genes, particularly those inherited from his father.
If your father had a coarse beard, likely, these genes will end up in your beard, making it rough naturally.
Washing away natural skin oil with soap and regular shampoo
Sometimes men, especially those less interested in grooming, may use regular soap or shampoo to wash their skin and beards.
However, these products can be harsh on the skin and strip away essential oils and nutrients required for healthy and soft beard growth.
Without replenishing these oils, the beard may struggle to grow nicely, leaving the skin dry and uncomfortable.
Low temperatures
If you live in a crisp region, know that the colder the weather, the more it affects your beard. The cold weather causes the beard to become dry and rough like a wire.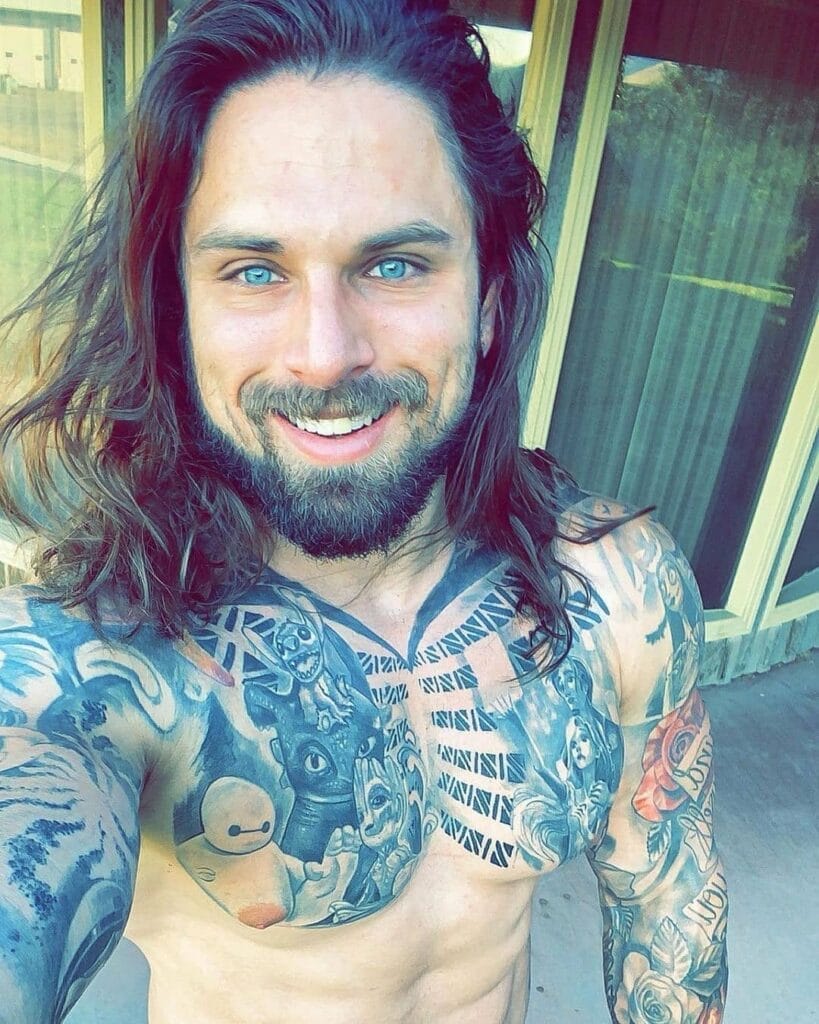 Dehydration
Many people believe that dry and non-hydrated mean the same thing, but this is not true. Dryness is often caused by external factors such as bad weather conditions.
On the other hand, dehydration is an internal issue that is within your control. It occurs when your skin and beard lose more fluids than the body takes in.
A dehydrated body is more likely to produce a coarse beard than a properly hydrated one.
Poor eating habits and diet
Your diet plays a significant role in determining how healthy your appearance will be, including your facial hair.
If you don't eat a healthy diet, you're likely to have an unhealthy and scratchy beard.
Lack of beard care
Your beard is more exposed to external factors like food, severe weather, dust, and constant touching. If you don't care for your beard, it'll become rough and messy. This can ruin your appearance.
To avoid this, use a beard comb to keep it neat and apply beard oil. There are many types of beard balm oil, like essential oil, coconut oil, and olive oil, you can choose from to keep your beard soft and healthy.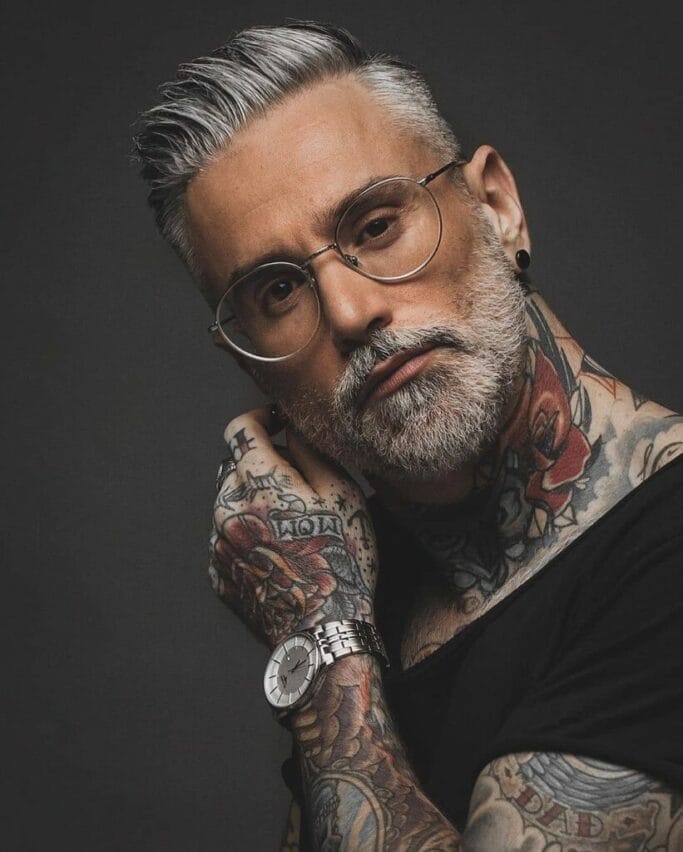 How Can You Get a Soft Beard Naturally?
There are many products available to help make beard hair softer and lustrous, but if you prefer natural remedies, here are some tips to try: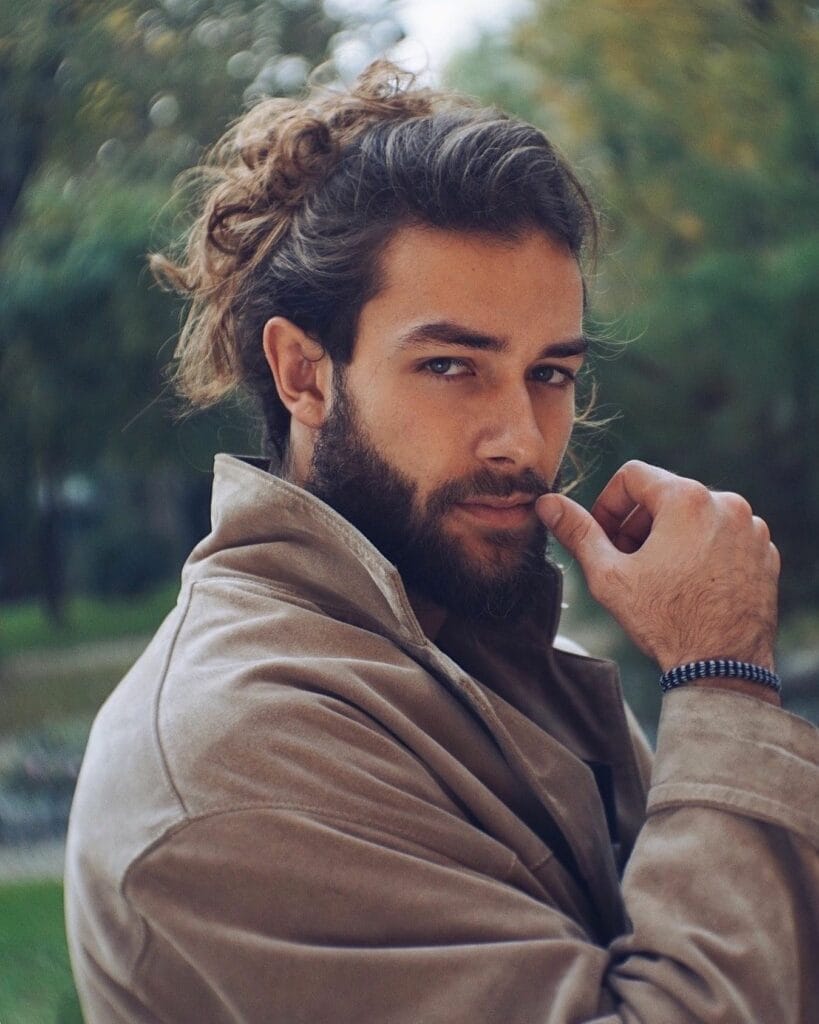 Regular Trimming Will Soften Beard Naturally
Trimming plays a significant role in keeping your beard soft by preventing the development of beard split ends.
Split ends occur when the hair becomes dry and brittle, causing the facial hair to break at the end. As such, your beard is not only rough to touch but also less manageable.
To soften beard naturally, trim your beard once a week to significantly reduce the possibility of developing split ends. Plus, your hair will become much softer when you trim your beard regularly.
However, ensuring that your beard is clean and dry before trimming it is crucial. Wet hair tends to appear longer than it actually is, which can result in over-trimming and uneven lengths.
You will need two essential tools to trim your beard effectively: a well-maintained beard trimmer and sharp beard scissors.
A beard trimmer is an excellent tool for trimming the beard evenly and quickly, while beard scissors will help remove any stray hairs that the trimmer may have missed.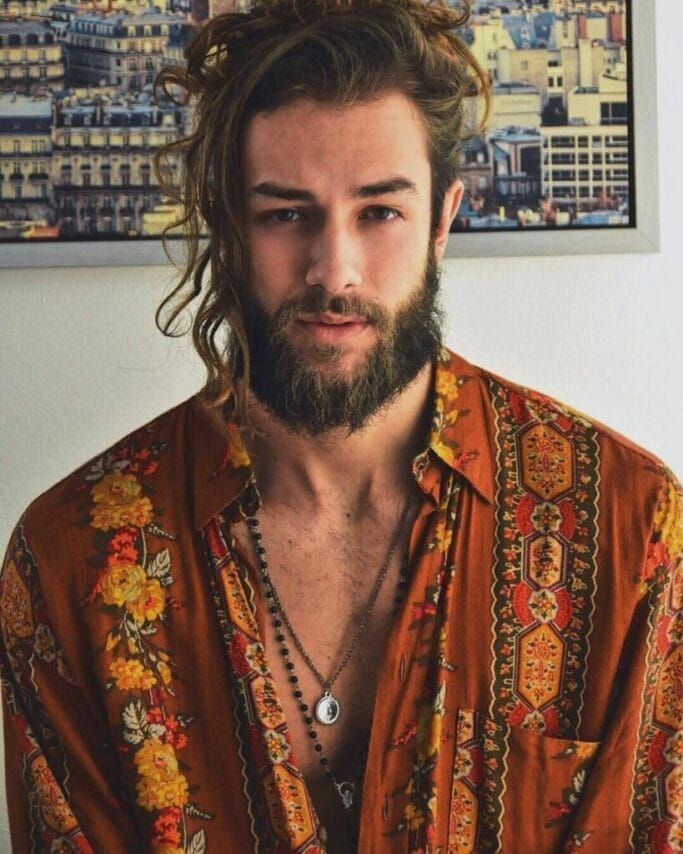 Eat Healthily To Soften Beard Naturally
If you want to soften your beard hair and make it look good, you need to eat healthily. Eating the right foods can help improve your beard growth and texture.
Vitamins, especially biotin, are crucial for a rich and fine texture beard. It's important to eat food that is rich in these vitamins to achieve the desired results.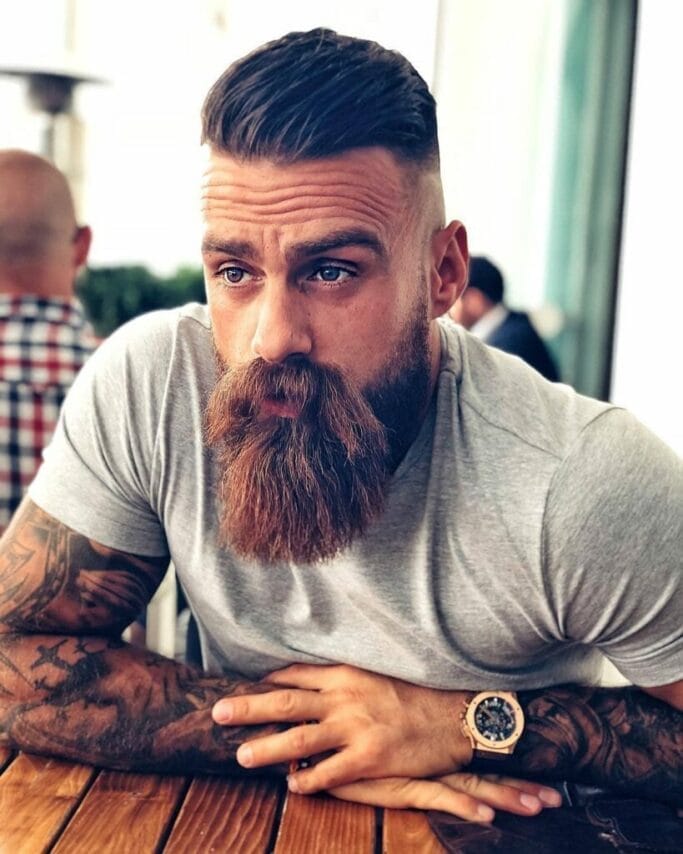 Apply Olive Oil and Oil Balm Soften Beard Naturally
Replacing the moisture and natural oils in your beard after stripping them away with your cleansing routine is essential.
Applying olive oil can do wonders for you. Olive oil is rich in vitamin E, making it an essential natural remedy for a coarse beard. Regular application of olive oil will keep your hair soft and dark, giving it an attractive hue.
Olive oil will help your skin glow and promotes facial hair growth, giving it enough luster to keep it attractively flirting.
You should touch your beard as little as possible unless you cover your hands with the right oil. Try out several that use natural ingredients, and choose whichever oils across your beard you like the smell and feel of the best.
Always use a beard comb or hair beard brush to spread the oil evenly. Brushing your beard helps avoid a scratchy beard.
Plus, apply your beard balm into all the hair. While beard oil is a nourisher, beard balm is a protector. Coating your beard hairs with balm can protect them from UV rays and make them softer for styling.
When using the balm, your comb is ideal for spreading the oil into the beard to achieve that silky look.
Aloe Beta
Aloe beta is an excellent natural substance that can protect your beard from dandruff while keeping it healthy and soft.
Honey
Honey is a natural substance that is very beneficial to the human body. It can also make your beard softer and more attractive.
Other natural substances that can improve your beard include balms, petroleum jelly (also known as Vaseline), and lemon juice. Apply these substances to your beard with a massage and wash them out with lukewarm or cold water.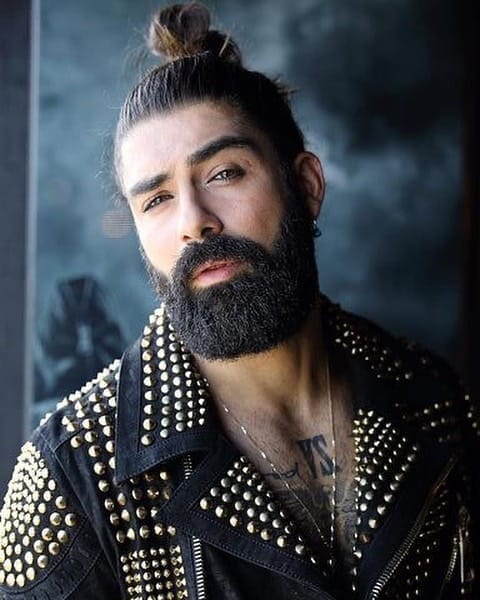 Wash Your Beard Daily to Soften Beard Naturally
Washing your beard out with these hydrating cleansers will condition the hairs while cleaning them, adding moisture to each strand.
Washing your beard removes dirt, grime, and excess oil that can compromise the health of each hair.
These unwanted elements can accumulate at the base and along the follicle shaft, and by scrubbing a beard, you can eliminate anything that doesn't belong there.
If you're using soap, choose a hydrating one specifically designated for beards to avoid drying it out.
Comb and Brush Your Beard
Brushing is an effective way to soften your beard. A natural beard growth pattern means facial hair will grow in different directions, making it challenging to achieve the desired beard style.
A beard comb or brush can help train your beard hair to grow in the desired direction. While a beard comb stimulates beard growth and conditions beard hairs to grow in the proper order, a beard brush is best for softening the beard.
Use beard brushes that are most effective for softening beards. This will help distribute the skin's natural oils evenly across the beard hairs.
Using Beard Conditioner
Your beard needs to be well-maintained, and investing in a quality beard conditioner is a great place to start.
Most beard conditioners are lightweight and contain vitamin E, which can help to moisturize the skin underneath the beard and reduce the stiffness of your facial hair.
After washing your beard with a hydrating cleanser, apply a generous amount of conditioner to your hand and massage it into your beard.
Make sure to thoroughly work the conditioner into your beard, focusing on getting as much of it as possible deep into your facial hair.
Once you've applied the conditioner, rinse it thoroughly with lukewarm or cold water, then gently pat your beard dry with a towel.
With regular use of a good quality beard conditioner, you should start to notice that your beard feels softer, healthier, and more manageable than ever before.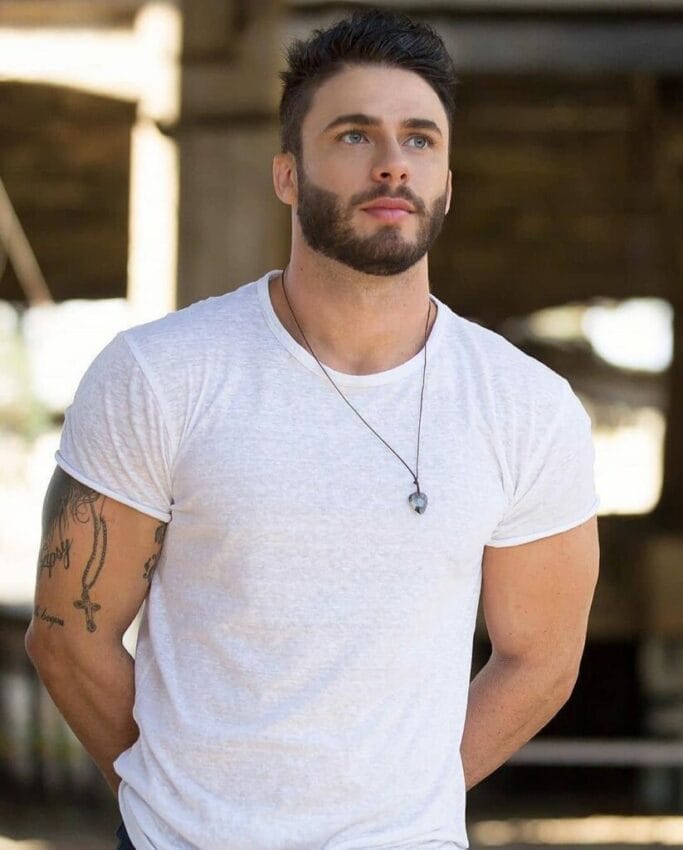 Conclusion
To soften beard naturally requires a bit of patience and dedication, but the results are worth it.
By incorporating beard care into your daily routine and trying the natural remedies shared here, you can achieve a healthy and soft beard that exudes confidence and elegant appeal.
You don't need to break the bank on expensive beard products when these budget-friendly alternatives are just as effective.
So, give them a try and watch your facial hair transform into a sexy beard that looks not only great but also feels great to the touch.
Remember, a soft beard is a healthy beard, and a healthy beard is a confident man's best accessory.
FAQS
Which is better a soft beard or a hard beard?
I prefer having a softer beard to a coarse one for the following reasons. First, a soft beard is much more comfortable to touch, making it easier to manage and reducing the itching and irritation that can come with a coarse beard.
In addition to improved comfort, a softer beard looks more groomed and well-kept, improving your overall appearance. A well-groomed beard can give you a polished, sophisticated look, while a coarse beard may appear unkempt and messy.
A softer beard can also positively impact your self-esteem and social interactions. Feeling confident and attractive can help you to be more outgoing and engage more effectively with others.
Softening your beard can also make it easier to groom and style. A softer beard is easier to comb, brush, and shape, saving time and effort in your daily grooming routine.
This can be especially beneficial if you have a busy schedule or want to maintain a particular beard style.
Finally, softening your beard can also improve the health of your facial hair. Softening products can reduce breakage and prevent split ends, which can help promote healthy growth and to avoid damage to your beard over time.
How can I make my beard soft?
I recommend the use of beard oil or balm, and your hair will become much softer. These products can help make the beard look smoother and feel softer. Plus, the application of beard oil can aid in styling by making it easier to comb.
Khamis Maiouf is a professional barber who graduated from Hinckley College in England with a degree in hairdressing. He has also won several barbering contests and successfully operated a barbershop for the last two decades. As a skilled hair stylist for 20 years, his goal is to teach others how to achieve a beautiful appearance through their hairstyles.