23 Badass Viking Beard Styles to Upgrade Your Look
Step back in time to the Viking era and embrace the fearless warrior spirit with a bold and bushy Viking beard.
The Vikings were formidable fighters known for their thick, full beards symbolizing strength and manliness.
With its roots in Scandinavia, the Viking beard has evolved to include various styles, such as braids and undercuts, attractive to beard lovers.
Even if you're not battling on the high seas, a Viking beard can still make a statement and exude confidence in the boardroom.
With its bold and masculine appeal, a Viking beard is the perfect way to show the world that you're a force to be reckoned with and adaptable to any preference.
What is a Viking Beard Style?
Originating in Scandinavia, this iconic facial hair style was the signature of Nordic warriors.
The Vikings took great pride in their beards, meticulously grooming and maintaining them even in the heat of battle.
For these fierce fighters, a clean and well-groomed beard was a true sign of manliness and bravery.
To keep their facial hair under control during combat, warriors would weave it into intricate braids.
Over time, this traditional Viking beard braid has evolved into a wide range of styles, offering a versatile and distinctive look that captures the rugged and fearless Viking spirit.
History of Viking Beard Styles
Vikings were known for more than just their warlike nature and advanced ships. Vikings were also recognized for their unique style, particularly their well-groomed beards and long hair worn in a conservative style.
They would tie up in long ponytails before traveling to battlegrounds to avoid any hindrances while fighting.
What's more, Vikings were skilled shipbuilders, and their ships played a significant role in their culture, enabling them to explore new territories and engage in trade.
The vessels also gave them an edge in battle, as they could quickly and easily navigate across bodies of water.
The Vikings viewed their beards as an essential part of their fighting gear, particularly in the cold climate they lived in.
The beard provided necessary protection for their faces against harsh weather conditions.
How to Get the Perfect Viking Beard Styles
Beards have always been a timeless emblem of power, strength, and masculinity.
Despite changes in facial hair trends over time, the Viking beard remains a classic and timeless style.
In this section, you'll learn how to grow the perfect Viking beard styles.
Understand that this style is not your average facial hair; it is long, full, and sometimes even braided or decorated with beads.
Growing a Viking beard requires a steadfast commitment and can take months, even years, depending on how thick and full you want it to be.
The key to having a thick and full Viking beard is ensuring everything grows out evenly.
Trim the areas that are getting too long to keep everything looking even, but be careful not to over-trim.
Have patience and understand that even though it might seem like you're taking a step back when you trim the strands that are too long, it will pay off in the long run.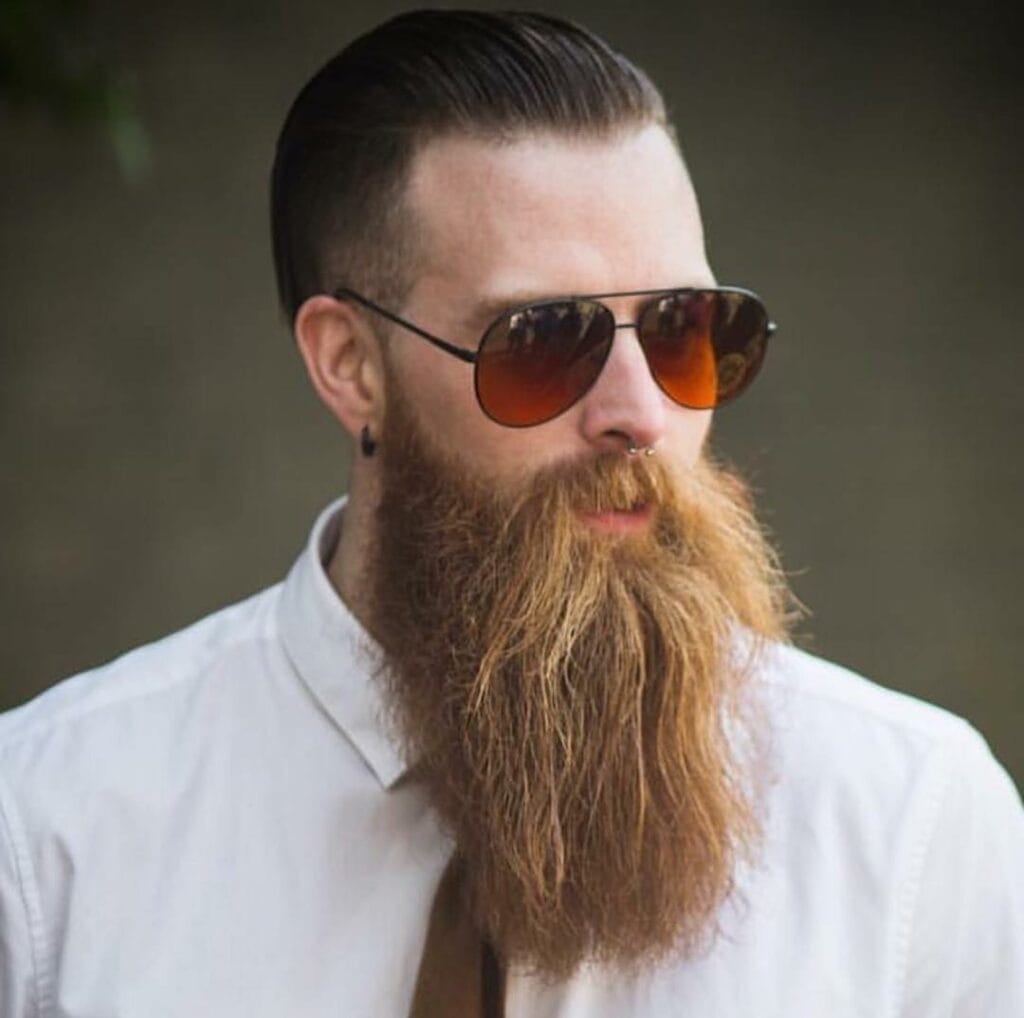 23 Best Viking Beard Styles
If you are aiming for a meticulously maintained look, you can effortlessly achieve a ruggedly charming appearance with one of the following Viking beard style options.
Ragnar Lothbrok Inspired Beard Style
The distinctive Ragnar beard style of the main character, Ragnar Lothbrok, in the TV show Vikings will definitely catch your attention.
His beard is a variation of the classic Viking style, called the Viking ducktail beard, with well-groomed sides of the face and a lengthier, pointed beard that resembles an arrow.
This impressive look gives Ragnar an undeniably commanding presence.
Bold Viking Beard
To achieve a sleek and stylish appearance, men can opt for a side fringe, complemented with a taper fade and hard part hairstyle.
To further enhance this look, maintain a circular or slightly curved beard.
Long Hair With a Viking Beard
If you have a broad face, pairing long hair with a Viking beard is a fantastic option that oozes appeal.
Whether you prefer the contrast of short beards with long locks or the carefree aesthetic of long hair and a lengthy beard, grooming is vital to achieving the perfect balance.
The mustache is like the icing on the cake – optional but transformative.
With it, the style is elevated to a cool and dashing level. Keep your beard well-trimmed and polished, and you'll look more like a Viking.
However, this style requires regular maintenance, so keep trying different beard oils, shampoos, and moisturizers until you find one that suits you.
Plus, comb it well and often to avoid tangles.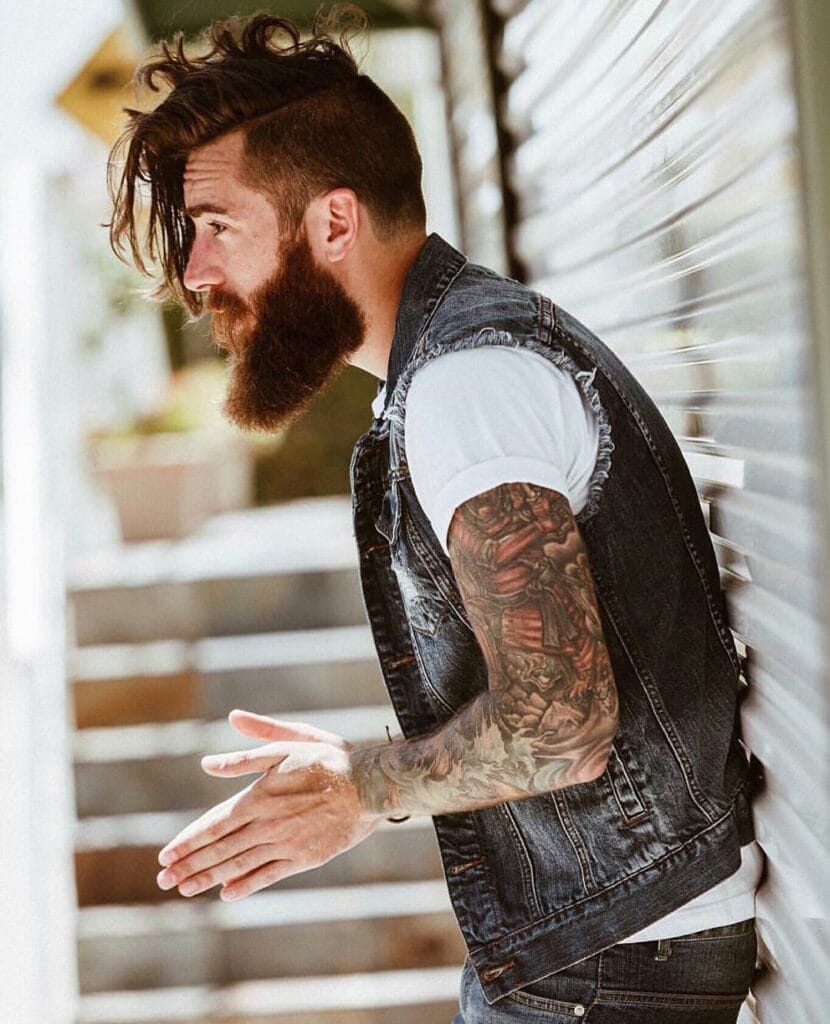 A stunning silver-blonde and black color combination in your hair and beard can make you a prominent figure.
This awesome Viking beard will undoubtedly garner attention and give you a shout-out.
When it comes to the beard, oil is preferred since it adds softness and luster; it keeps your skin nourished and prevents flaking.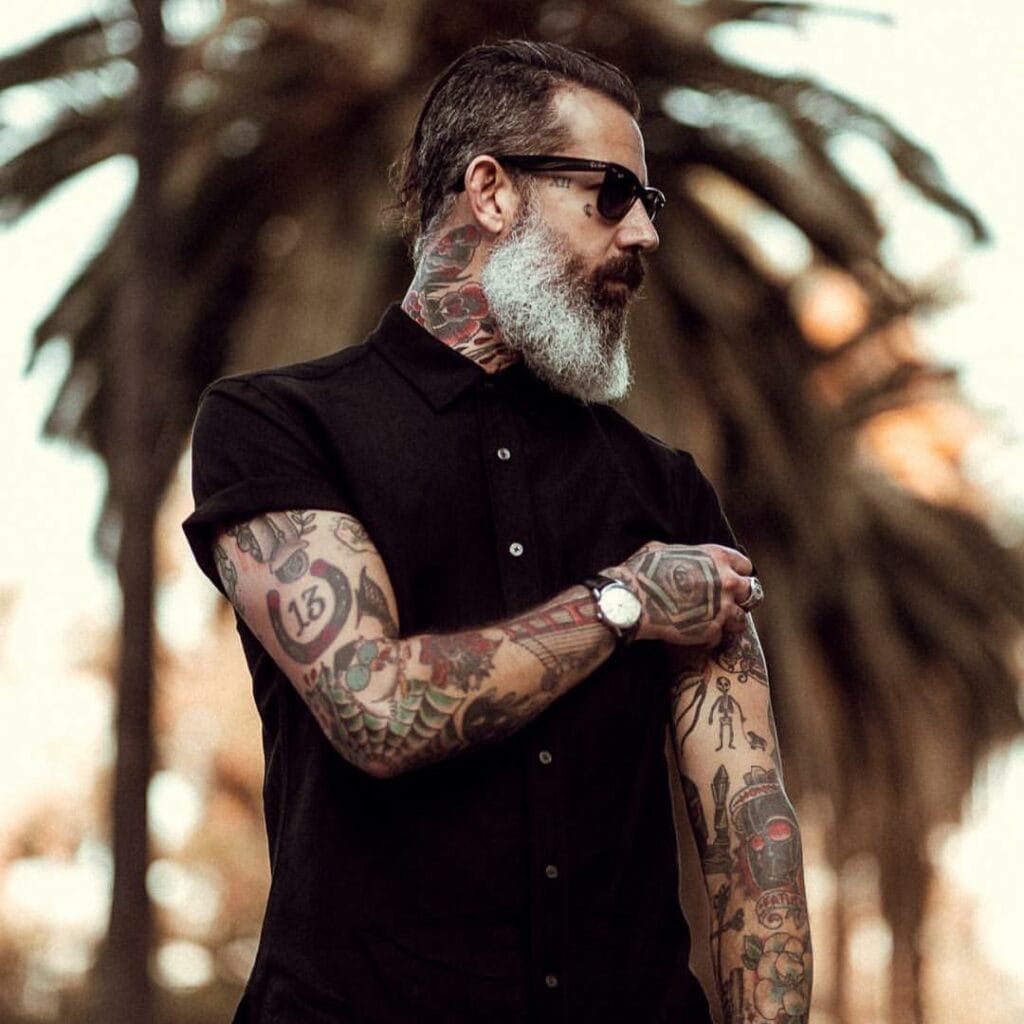 Viking Beard With Beads
Patience is vital when it comes to achieving a classic beard with beads – it may take a few months, depending on the speed of your facial hair growth.
If your neck hair grows quicker than your beard, you'll need to trim it regularly to keep it at a consistent length.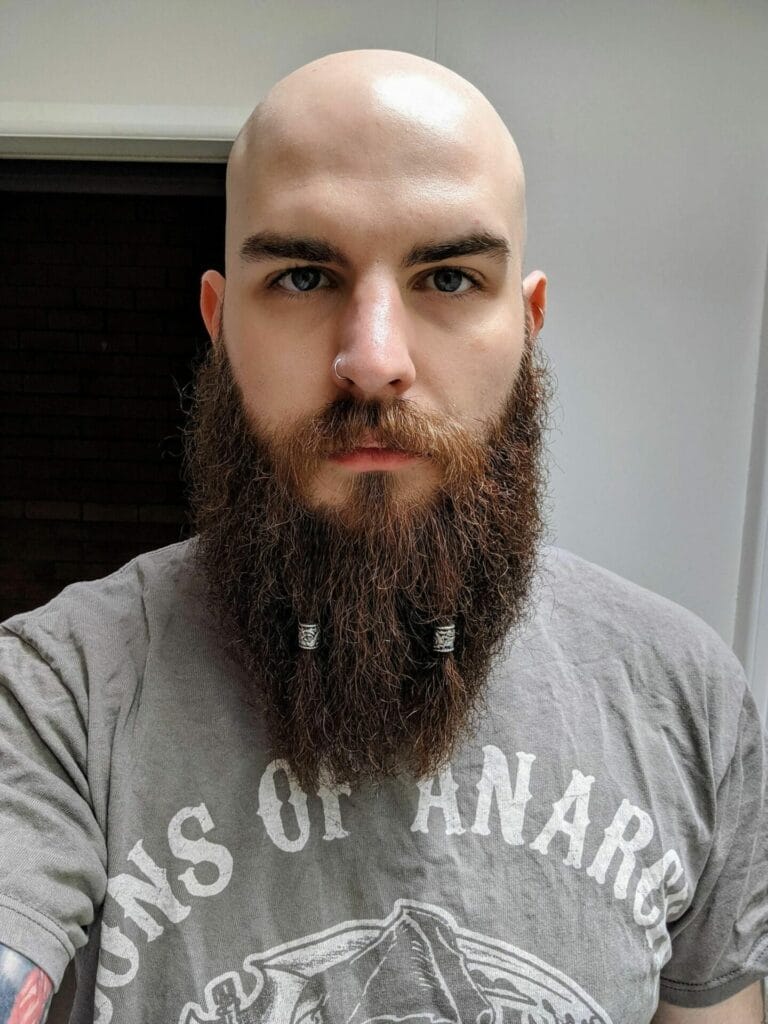 Man Bun Vikings Style
If you want to save time and effort, this is the style for you.
Maintain a medium-sized Viking beard and keep your hair in a bun. It will offer you a laid-back attitude exuding a classic beard shape.
Use a conditioner after each shower to hydrate your hair. Your hair will be silky and manageable as a result of this.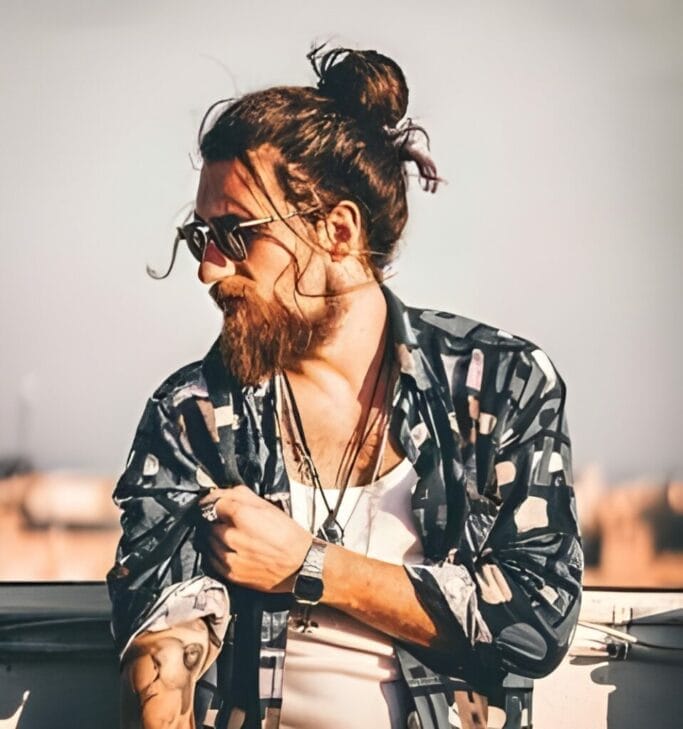 Tattooed Vikings Style
Incorporating tattoos into your look shows your interests or passions. Tattoos are a trendy choice nowadays.
To complement this style, consider shaving your head and growing a big Viking beard. It's worth noting that there's no turning back once you commit to this look, so choose wisely.
And growing out your hair and beard to this extent can take a considerable amount of time and effort.
Short Viking Beard
Back in Viking times, beard length wasn't a huge deal. As long as there was some scruff present, it was considered sufficient.
A shorter beard was often preferred because it didn't get in the way while wielding weapons like axes and shields. Interestingly, many iconic Norse characters portrayed in movies and TV have short beards, yet they still exude a formidable and commanding presence.
Maintaining a shorter beard is also more manageable and takes less time to grow.
It's a smart choice for those who prefer a more understated facial hairstyle or those who are just starting to grow their beard.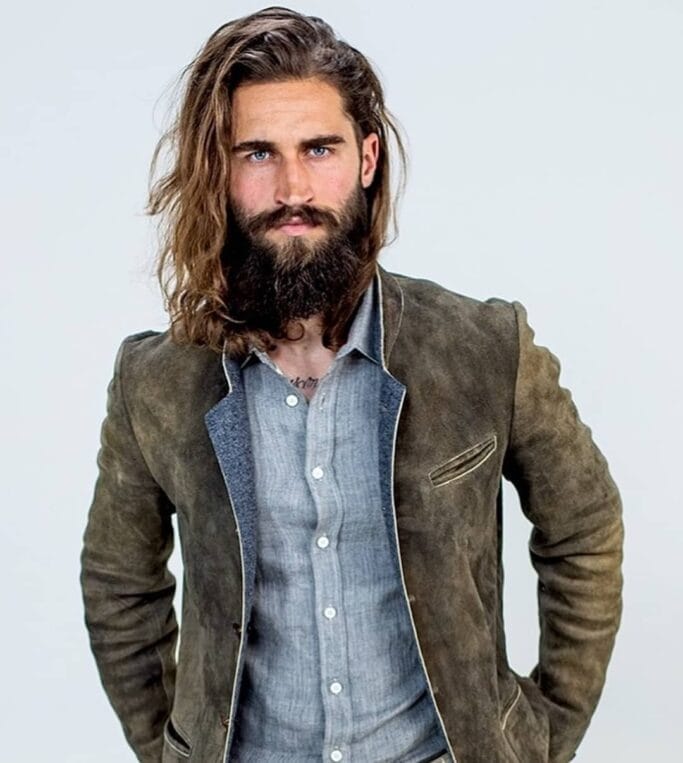 V-Shaped Viking Beard
It's the most elegant, simple, trendy, and easy-to-care beard style.
Pairing it with a man-bun hairstyle with an undercut creates an impressive and fashionable look.
It's important to note that getting a well-executed v-shaped beard is crucial, so it's advisable to seek the help of a professional to achieve the perfect look.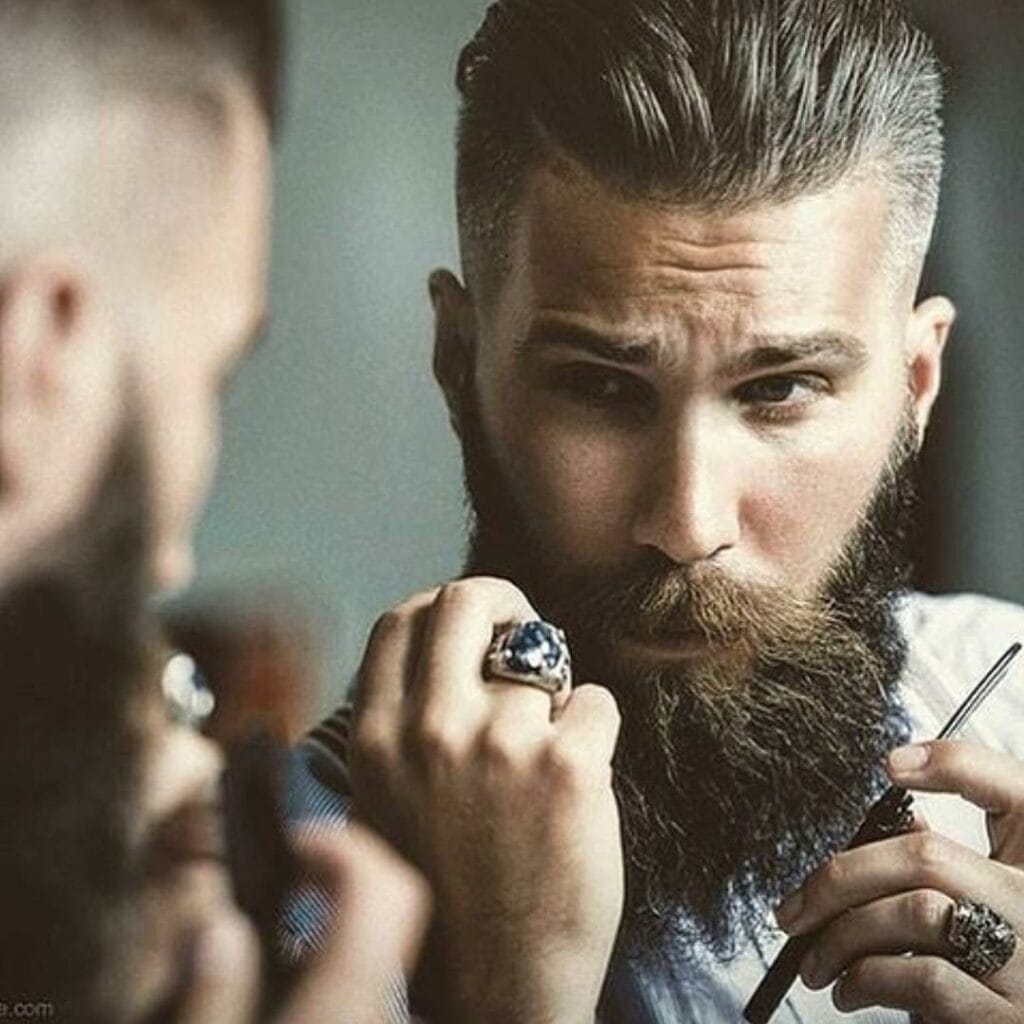 Viking Beard with English Mustache
The English mustache is a long and dense beard. Due to its length and texture, the English mustache complements the Viking beard well.
A comb-over or undercut hairstyle combined with a sleeve tattoo is recommended to complete the ultra-masculine appearance.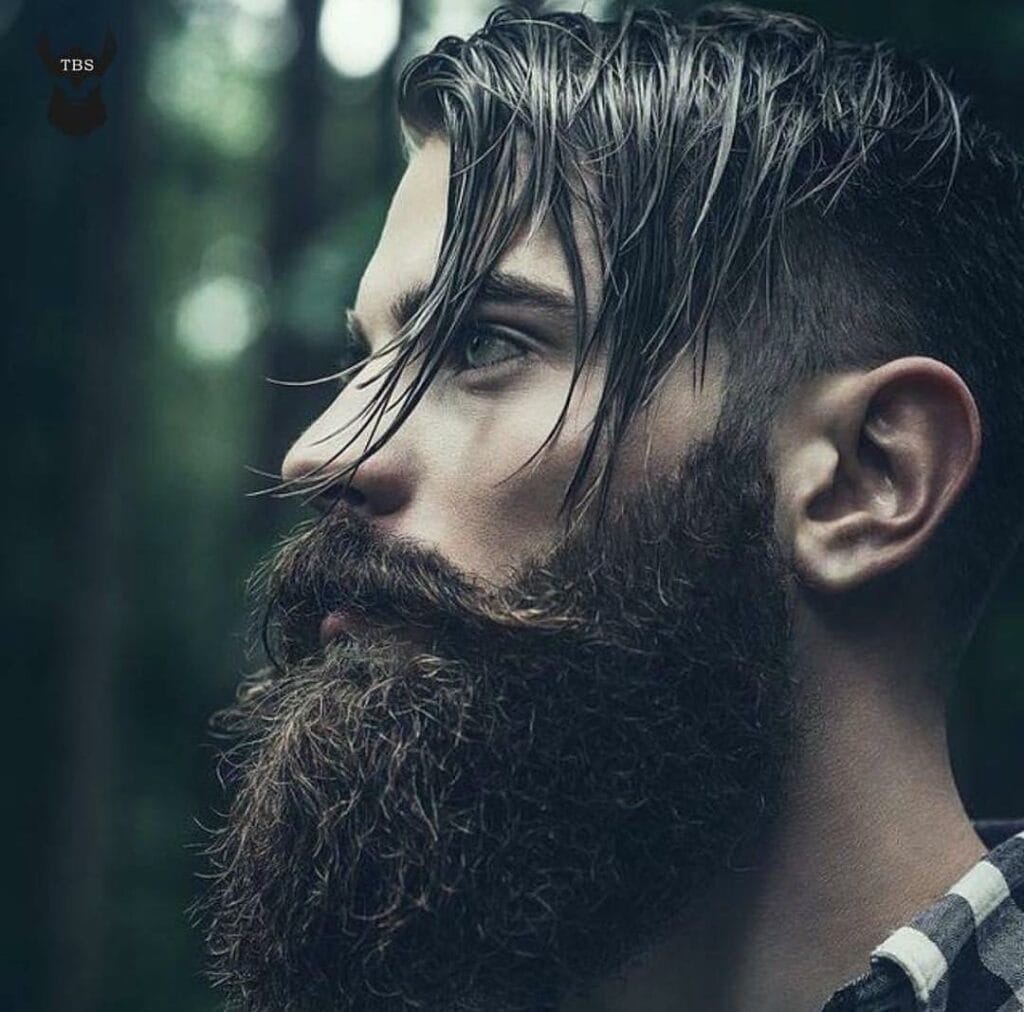 Waist Length Long Beard
If you're considering growing a waist-length Viking beard, you should be prepared for the challenges that come with it.
Maintaining such a lengthy beard requires patience and dedication. The tangles that come with it can be a nuisance too. Many men pair their beards with a buzz cut or a completely shaved head to avoid this.
This helps to balance the overall look and ensures that the beard doesn't become the only feature that people notice.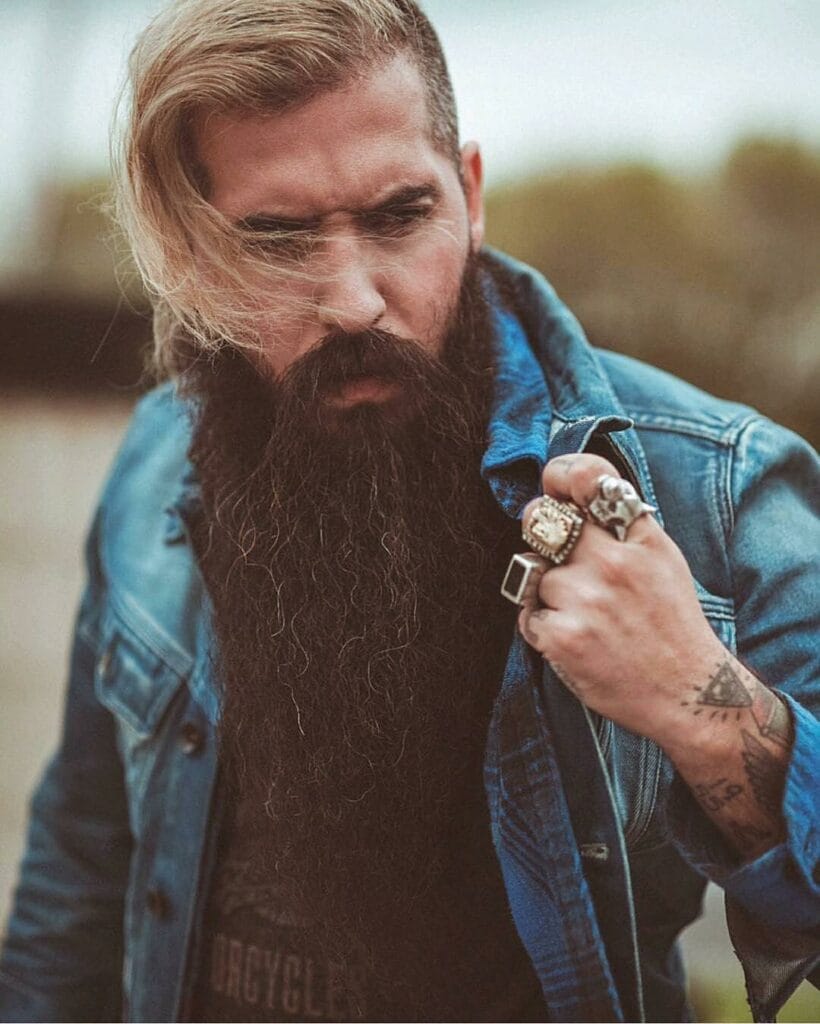 Square Viking Beard
The square beard is a distinctive facial hairstyle that accentuates the jawline, giving the wearer a powerful and confident appearance.
Individuals with a square face shape have a multitude of options when it comes to selecting a bearded style. This face shape is incredibly adaptable, providing ample room to play around with different styles.
From a pointed goatee paired with a slim mustache to a thick, full, and long beard, there's a Viking-inspired look for every preference.
Working alongside a trusted barber can help you discover the ideal beard style that suits your distinctive facial features.
To achieve a badass beard, it is essential to maintain a healthy diet.
Foods rich in proteins, vitamins, and minerals will help promote beard healthy, growth, and thickness.
Polished Vikings Beard Style
While the Viking beard is typically associated with a long and thick appearance, it's styled more refined and polished.
With careful grooming, any length or style can be made to look neat and well-kept.
But trimming the hair closer to the face can simplify the process and require less maintenance. Trimming the mustache to match the cool beard and create a seamless connection is essential.
Coordinating your hairstyle with your facial hair can also enhance your overall appearance.
For example, you can choose to pair a medium-length tousled cut with the beard for a softer and more attractive finish.
Bushy Beard
A bushy beard is typically large, thick, and full, creating an attention-grabbing appearance.
They can also be quite flattering, especially for those who want to shift focus away from their chin or enhance their jawline.
While it can take several months to grow, the bushy beard is relatively low maintenance compared to other styles that require more shaping and structure.
This type of beard offers a more mature and refined look to your appearance.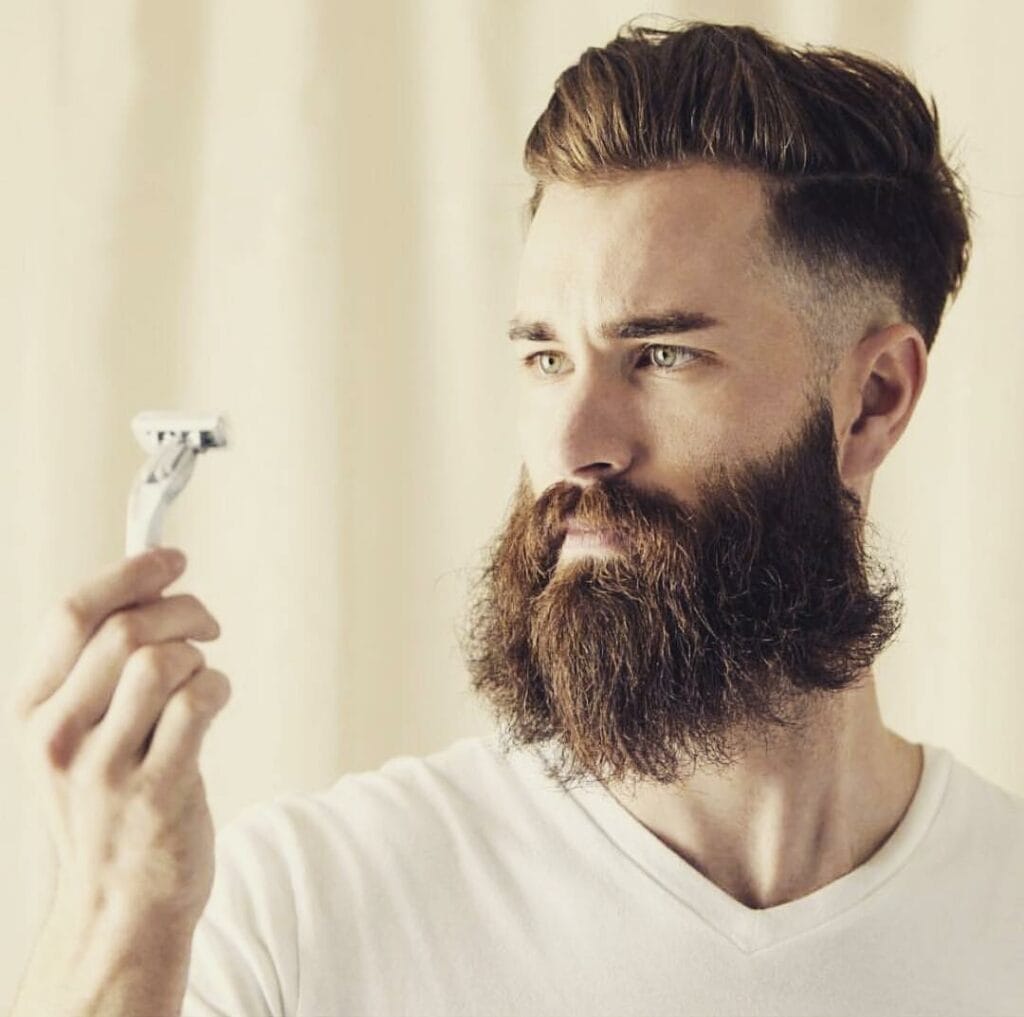 Red Viking Beard
Red Viking Beard Styles always get a perfect score, regardless of your hair color.
If you are fortunate enough to have natural ginger, you are one step closer to resembling the brave Vikings than your dark-haired peers.
A dense tuft of thick red facial hair, on the other hand, is sure to offer you a distinct identity and a commanding presence everywhere you go.
Growing your beard long and adding two small side braids creates a striking appearance that will undoubtedly turn heads.
Messy Viking Beard
Men who sport a slightly disheveled beard portray an irresistible aura of ruggedness and toughness.
In the past, Viking beards were well-groomed and orderly, but nowadays, there's more flexibility to achieve a casual appearance.
Therefore, it won't be an issue if you choose to style your beard with a slightly tousled look. However, it's crucial to stay moderate with it, as it should appear rugged but not sloppy.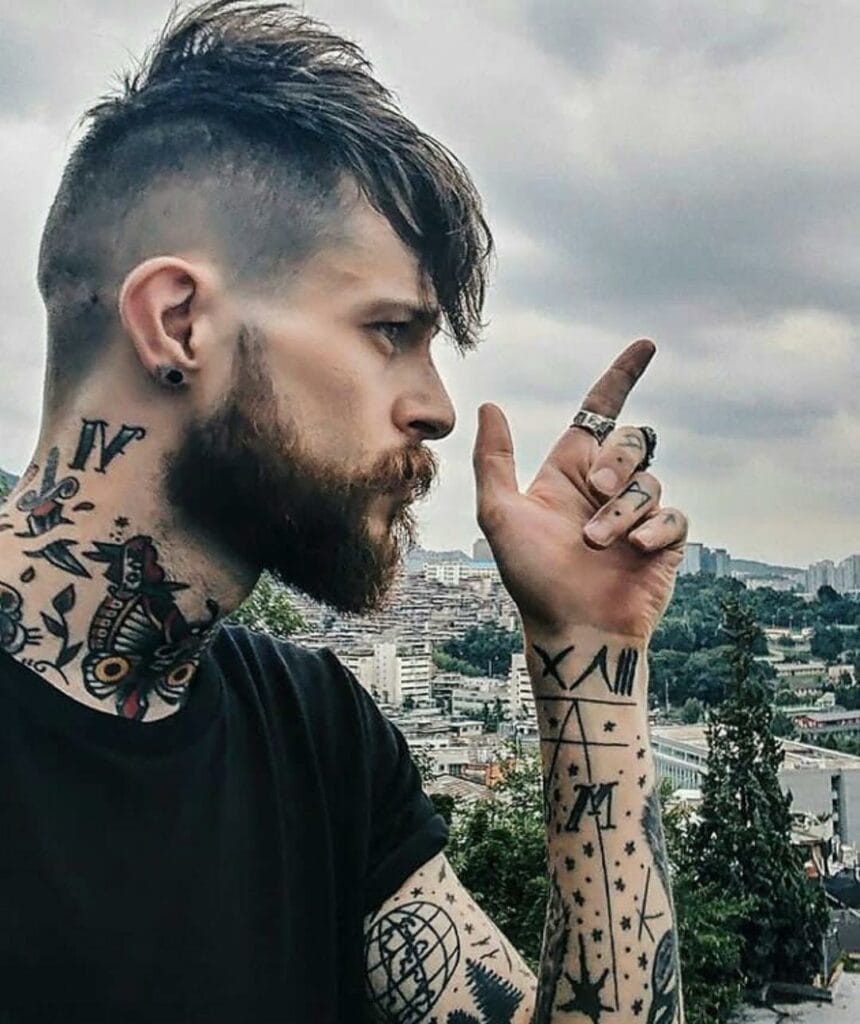 Single Braided Beard
As we all know, the Vikings favored a beard style that involved braiding the beard into a single braid before going to fight.
The long-bearded warriors of old took care to maintain their beards to avoid any distractions during battle.
If you're looking to try more intricate styles, a braided beard is a great place to begin.
Skin Fade Viking Beard
A bald fade combined with a Viking beard is a fantastic way to upgrade your style.
This pairing of a thick beard and skin fade cut will give you a more intense look and help showcase your best facial features.
To achieve the best results, ensure your barber evenly trims both sides of your beard.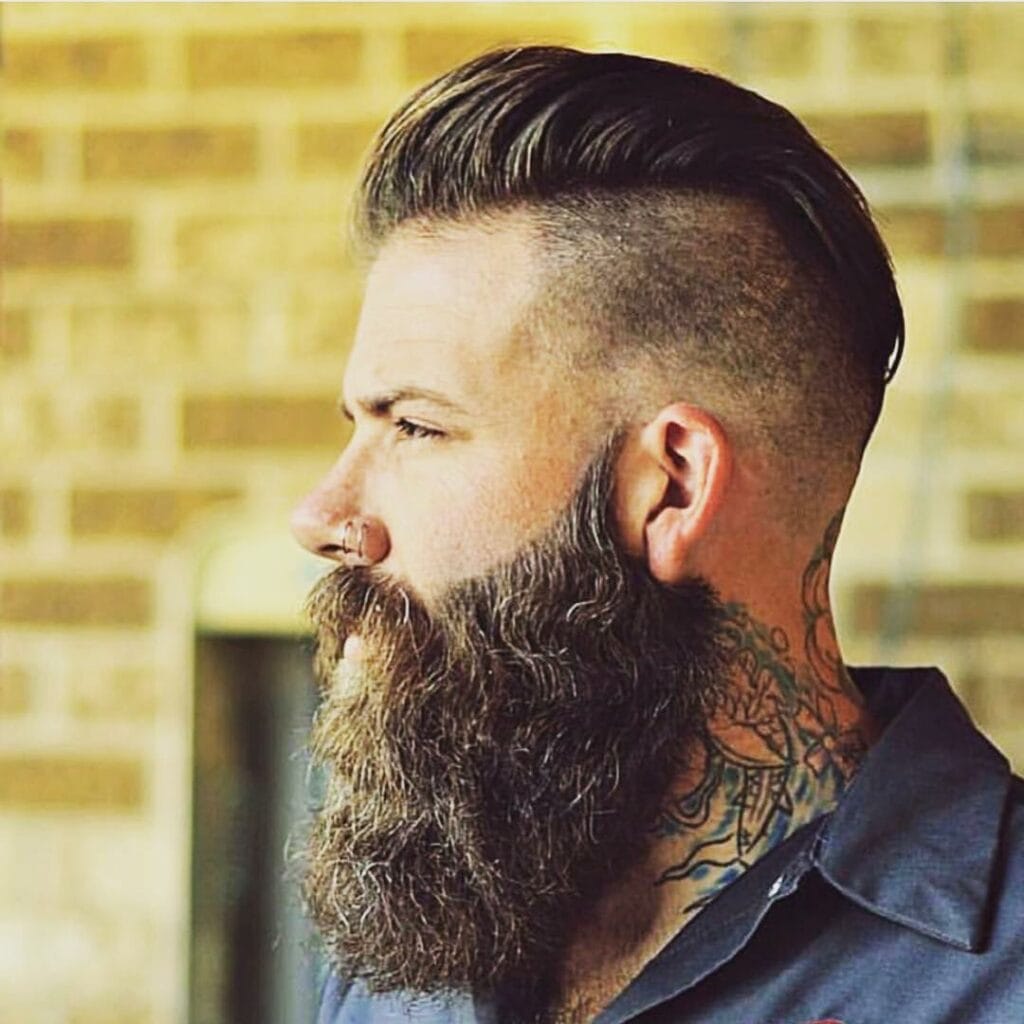 Pointy Beard Look
The pointy beard style is quite prevalent.
It involves sculpting your facial hair so that it tapers to one or two points at the bottom. Careful trimming and styling products with strong hold are essential to achieve a sharp and forked appearance.
A well-defined, pointy Viking beard enhances your features and gives you a polished, well-maintained look. It's a guaranteed way to increase your masculinity.
Rounded Viking Beard
It is another sophisticated and cool look that will earn you the title of a show-stopper. Men like to wear this style with a thick mustache to pull a killer look.
If a polished and neat appearance is what you're after, then a rounded Viking beard is the way to go. It's eye-catching and professional, making your facial features a tourist attraction center.

The rounded Viking style can be adapted to suit any beard length, but it typically requires more grooming and trimming to keep in shape.
Nevertheless, the extra effort is well worth it.
Pony Beard Look
The beard ponytail is a lovely design that deserves to be among the Viking beard styles.
Ponytail beard styles are a quick and easy way to achieve excellent trimmed styling of your long hair.
It is a popular style that looks great on all men and is appropriate for all seasons.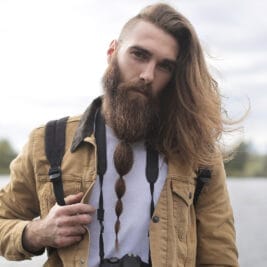 Shaved Head and Beard
The long Viking beard and the shaven head offer a classic look that will never go out of style. It's a timeless reminder of Kratos from the God of War series.
Regular grooming will ensure the even distribution of natural oils, resulting in a great-looking and healthy beard.
The Faux Hawk
To achieve the best results when braiding your hair, start in the middle of your head and work your way down.
Unlike other styles, this particular one doesn't require shaving the sides. The faux hawk style is best suited for those with long, thick hair that has a healthy shine.
By opting for this hairstyle, you can achieve the look of a warrior without putting in much effort.
Conclusion
Viking beard styles offer a wide range of options for men who wish to express their inner warrior through their facial hair.
What's more, it's easy to personalize it by adding curls, braids, and Viking beard beads. However, taking good care of the beard is essential for achieving the sweetness of this style.
This includes keeping it clean and hydrated and using skin-friendly products. Consider the thickness and length of the beard and your face shape to find a look that complements your features.
Regular brushing with a beard comb is crucial for removing knots and tangles, achieving smoothness, and evenly distributing natural oils throughout the hair.
Quality beard care products like beard shampoo and oil enhance the beard's thickness and keep it healthy.
Vikings Beard Styles FAQs
Why Did Vikings Let Their Beards Grow?
With their advanced seafaring skills, the Vikings used their beards to intimidate their foes and leave a lasting impression wherever they went.
What is a Viking beard Style?
The Viking beard style came into being between the late 8th to the 11th century.
The Scandinavian warriors, known as Vikings, had some of the largest and most rugged beards, primarily grown for practical reasons rather than fashion.
The beards provided a means for the seafaring Norsemen to keep their faces warm in extremely cold weather.
Khamis Maiouf is a professional barber who graduated from Hinckley College in England with a degree in hairdressing. He has also won several barbering contests and successfully operated a barbershop for the last two decades. As a skilled hair stylist for 20 years, his goal is to teach others how to achieve a beautiful appearance through their hairstyles.