Copying beard styles from popular personalities has become a hobby for many. Depending on that hobby, professional barbers are offering their knowledge too. On our site, you can have plenty of guide blogs regarding beard styles.
Starting from Kratos to Thor, and Lumberjack beard style to Eminem, we are trying to cover every single iconic personality. But for this article, we'll change the flow for a bit. Here, our point of discussion will be 'Pointed Beard Style'.
Why we have mentioned changing flow? Because this Pointed Beard Style is referring to a particular category. You can also call it one genre. So let's start our detailed discussion.
What is Pointed Beard Style?
If we want to draw a definition, it will be, a beard style that has a 'V' shaped endpoint. It is considered as the category of Full Beard Family. Do you know what's a full beard? The full beard is those beard where too much style is generally ignored.
A smooth, casual and normal look is the best. And Full Beard will give you that. Pointed Beard has the same vibes. Now, it's time to know what are the specialities of Pointed Beard. What makes it different from other beard styles under Full Beard.
What Makes Pointed Beards Different from Other Beards?
Certainly, the looks! The looks and the detailing of the beard make it different from other beards. It has mainly two specifications. Those are as follows.
The top portion, the part above the jawline must be clean. That area must be sharply trimmed.
The lower portion of the chin will be cut nicely. It must have a sharp point at the end tip.
Apart from these, there are no other noticeable or distinguishable characteristics remain. If you ask about the length, it depends, person to person. But before you dive into the procedures, you must know, it accompanies Boxed Beard when it comes to the list of most seen beards.
Now we also have the proper details with visionary option, You are just a click away!
Categories According to Point
While you are interested in Pointed Beards, I'll try to cover all the knowledge here. There are some categories according to that point shape. Despite having so many categories and variations, these two are being considered genuine ones.
The Devil's Beard
One thing for sure, you need time to make these happen. How much time? 60 days will be enough. It can be 30 days or maybe 45 days, varies on man to man. Let's know-how are these categories.
1. The Devil's Beard
Do you want to express the inner demon of yourself? The demon which is mostly desired by your loved ones? A man with a devilish look will surely be in the notice of others. As it increases the gravity of a person's appearance.
Then, The Devil's Beard will be best. What it looks like? As it is a category under the Pointed Beard, the end look must be a pointed one. But the shape of the beard of the lower chin will be an inverter triangle. The finishing with your manly moustache will make it eviler.
What's the history behind this beard style? A group of scientists from Australia was researching the devils of the past. The most noticeable thing, they discovered was the unique beard from the devil's book.
Our modern world never going to trust those words. But what about looks? Yes, to us, the looks are enough. Even men nowadays, love to look evil, admire themselves to be a villain. So, if you want to have it, Devil's Beard won't disappoint you.
What are the specifications of Devil's Pointed Beard? Though all the methods are being described below, those are the overall method. So, here mentioning the specifications will help you.
From the chin, the beard will get a 45⁰ to 60⁰ angle to the front. It won't be too large. Hardly 1.5 inches long.
The sideburns and the lower lip hair will meet with the beard. It will make the beard complete devilish.
The thick layer of facial hair near sideburns will meet with head hair. No grooming is needed, however, if you want, you can do it.
Lastly, the facial hair below Adam's apple will have a smooth, light cut. The density of the beard and moustache must be adjusted with the head hair.
These are the specifications of Devil's Beard. Follow the rules to make it more effective in looks.
2. The French Fork
The French Fork is a genius beard style. Genius? A beard? Stunned right? But it is, let me explain how. This beard style was first seen in France. The artists, the musicians, painters, and some intellectuals from before Christ, in France, has the French Fork Beard.
It probably making you odd about the look because most give a negative result. However, the impact of the style is very high. The admiration for those artists has let some men follow the path of elegance as they did.
History has answers to every question. Most surprisingly, there is no one particular answer. Not only in France, even in Italy, Greece and some parts of Europe had started following this beard. Undoubtedly, Europe is a place of culture. To show respect to those artists, and the art, having a French Fork is considered holy to a million.
If you appreciate the culture or the style catches your attention, then you must give it a try. Here are the specifications of this particular beard, given below.
There will be a split section at the chin. Two splits will be there.
The density of the beard must be very high. That's why curly hair is the best preference for French Fork Beard.
The finishing line of the moustache and beard will be smooth. But if it is rough, no one can object because both of these are common.
The facial hair will be less dense concerning the beard. No gap must be spotted between the chin and lower lip.
Generally, sideburns must be covered with hair. There must be a slight gap between Adam's apple and beard line.
These are the characteristics of French Fork Beard. As these two beard styles are mostly considered as the Pointed Beard, but there is one more on the list. However, it is sometimes not considered as the part of a Pointed Beard. It is a Ducktail beard.
Ducktail beard has 'U' shape. There is no sharp edge at the end. However, because of some hybridised beards, Ducktail is being considered a Pointed Beard. Read, What are The Best Ducktail Beards?
'Can I Try Pointed Beard for Myself?'
Yes, you can. No matter what face shape do you have, you can try these Pointed Beards. Now, close your eyes for a sec, assume your face and put a Pointed Beard on it. Is it making you uncomfortable?
If it is, don't worry, just remember the previous part. The category of the Pointed Beards. Generally, Round and Square shapes won't be suitable with Devil's Beard. So what? Try French Fork. Even most of the men, who have tried French Fork, have round or square faces. It will look good.
How to Get a Pointed Beard at Home?
No matter what you have, a long beard, a short beard, or anything else, just follow the steps to achieve the best-Pointed Beards.
Step-1: Expand Chin Beard
The chin beard is the most important part of the Pointed Beard. So how can you expand it? Generally, it will take 30 days to 45 days, to increase the beard from zero. After 45 days, it will be at least 1.5 inches long. This length is suitable however, you can try with longer/shorter beards.
How to elongate your beard? The three effective ways are there. All of these are equally effective and easy to do. Those are as follows.
Wipe out all the dead skin cells from your face. Use a face brush to do it. It will allow new cells to generate more hair follicles.
Secondly, you need to wash your face and beard daily. Make it enlisted in your routine.
Water will keep the Moisturizer intact.
Lastly, a good diet chart. Include the foods, enriched with Vitamin E, and Vitamin C. Biotin and keratin are necessary too.
Excludes fast foods and burnt oil.
Step-2: Shave and Trim The Cheek Areas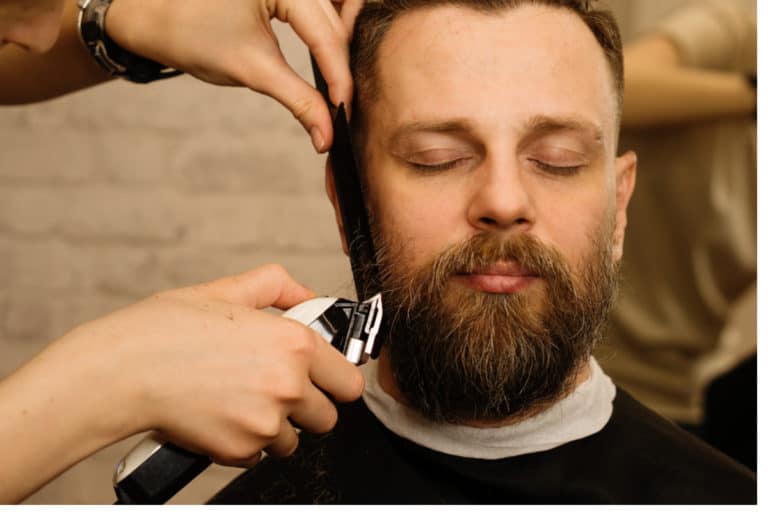 As the cheek part has most of the beard, we mustn't ignore it. The Pointed Beard will be prominent if the respective layers are okay too. To grow a Pointed Beard, you must adjust the cheek area very carefully. How to take care of it? Let's see.
The first thing is how to grow a beard on the cheek? The answer is the same as the chin. Follow the steps. You can also use chewing gum to do exercises while relaxing.
Set your trimmer at minimum value. Now, start trimming. Trim your cheek areas. Make sure the length of the hairs is 0.4 mm maximum.
Again, if you wanted to increase the length of your cheek hair, adjust your timmer. But don't elongate it more than 8 mm. 4 to 8 mm is just perfect. Though if you want to make your style by keeping cheek hairs long, you can do it. But make sure it is shorter than your chin hair.
The cheek hair must be mixed in a manner that everyone thinks, your cheek part is the moustache. This is the art, and you are the artist here. Make it possible. Then use the brush to give your moustache and facial hair a direction down below. A thorough practice can make it happen within a month.
Try to give an inclination to the chin from these cheek areas. A sharp edge cutting and regular brushing will help your beard to have a perfect 'V' shape.
Step-3: Give The 'V' Shape to Your Pointed Beard
Before going to the discussion, make sure you have these. A brush, a comb, a scissor and a trimmer. As you have done brushing for several days, it will get a slight shape by itself. If you are doing it at your home, make sure you have a mirror.
First, get an idea of what you are trying to achieve. From which location, you want the inclination for making 'V'. Allow your scissors and comb to hold those areas. Hold the comb and apply scissors to cut. You can also use Trimmer if you are comfortable with it.
As it is the point of discussing how to get a Pointed Beard, let's start it. As mentioned earlier, two categories are considered as the Pointed Beards. If we cover those two methods, you can modify those ( if you want something new).
The Devil's Beard:
Follow These Steps.
Take the comb and give the devil's beard shape with it. As it is wet, you can understand what to eliminate.
Allow the trimmer in the direction of inclination. 45⁰ to 60⁰ is the best angle. Give a point shape here.
Now, allow your comb to from sideburns to the chin.
Trim the areas properly.
Make sure, you maintain the symmetry in respective places.
Allow trimmer at the sideburns to the chin. Make sure, you cut, maintaining a proper gap.
Moreover, check whether the jawline beard is properly mixing with the chin beard or not.
Allow comb again. Eliminate the hairs that disturbing the looks.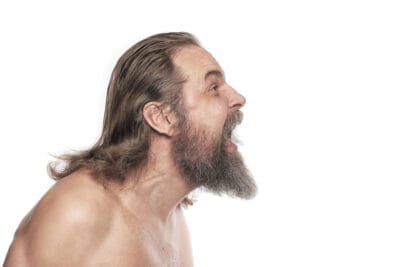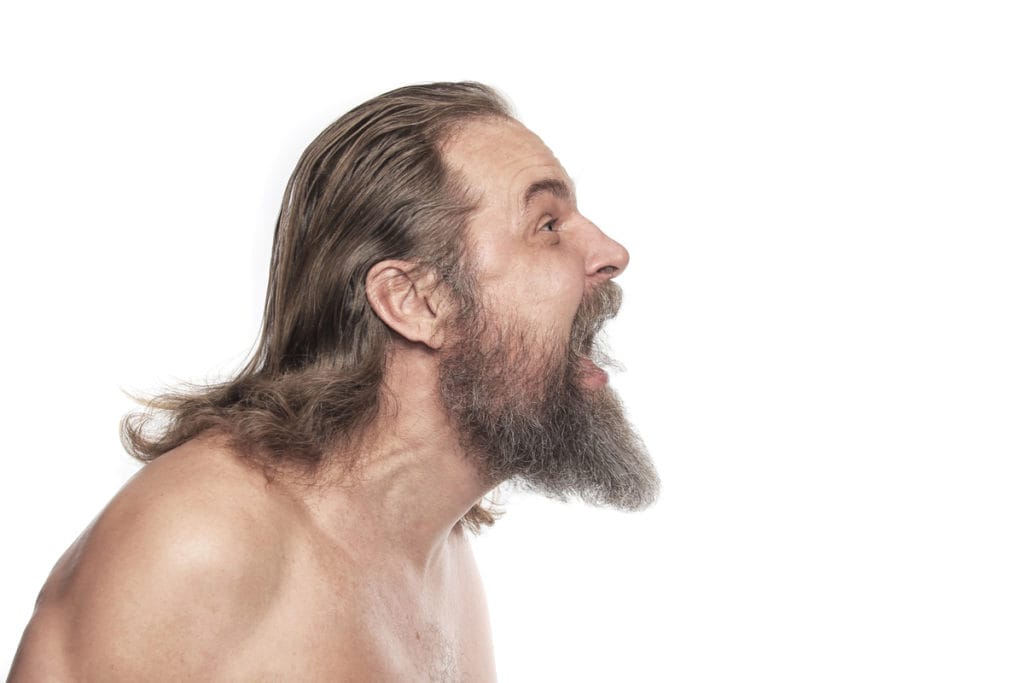 The French Fork Beard:
Follow these steps.
Allow water to rinse the beard properly.
For making the French Fork Beard, you need to give your beard a trapezoid shape.
Brush your chin hair regularly.
But make a split first. Brush in a manner that allows your divided chin beard to stay fixed. You can use wax or oil too to fix it.
The interesting part is, you don't have to take care of this too much. Because it will be easy to do and maintaining beard part is lower here. So what to do?
Cheek line and neckline are the crucial part here.
Allow trimmer to adjust the hair of the remaining area.
For now, avoid neckline. Adjust the cheek hair symmetry with your fork.
Allow scissor to adjust the extra hair. Give a slight cut near Adam's apple. As this beard looks good on random arrangements, you don't have to invest more time in it.
Step-4: Give a Shape to Your Moustache
Giving a perfect shape to the mustache is essential to make it suitable with your Pointed Beard. Which mustache style will look better with your Pointed Beard? Probably this question is killing you from inside. Then let's know.
A downward, over the mouth mustache, will be suitable for your face.
Allow your moustache to be thick, but not too much.
Make it symmetric with your chin beard.
Allow brush regularly to your beard to give it a downward stylish look.
Last but not the least, make sure the end tips of the mustache has a perfect finishing with the sideburns' beards.
The density must be thicker to thinner.
Allow trimmer on the finishing lines to adjust it smoothly.
Step-5: Style Your Neckline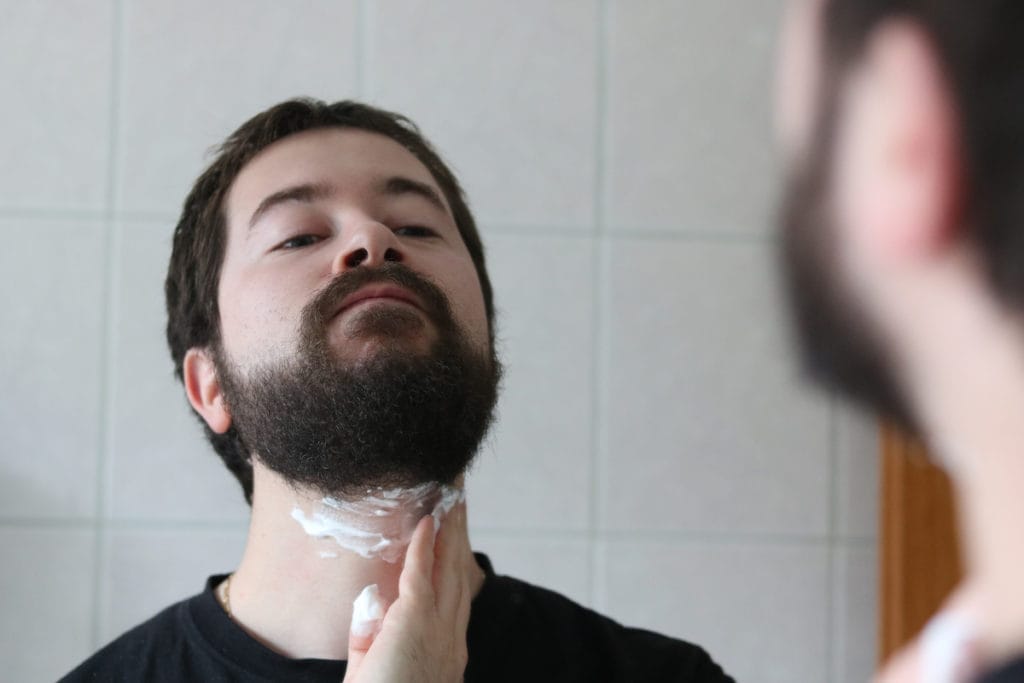 Without this step, your beard style will be incomplete. The neckline is important because, when you have done the Pointed Beard, the beard will let everybody watch your neckline. From Adam's Apple to two-finger away, the neckline is present.
The neckline job is just the opposite of the mustache. Here you have to brush it upwards. You have to let the end of the neckline meets the Pointed Beard from the backside of it. Take a razor or a trimmer, to give a sharp edge.
As it will be seen from outside, you are recommended to give a maximum 4 mm length. Make it less dense compared to sideburns.
Step-6: Final Treatments
As everything is done, now take a mirror and have a look. Boom! You have the Pointed Beard now. Keep all the images and instructions in your mind. If your perspective is not clear, you can't give a perfect shape.
It's time to give the hair an external nutritional source. Allow beard oil on your beard properly.
Do a little massage. Let all the ingredients absorbed by hair roots.
Your facial hair will be strong and will reduce hair fall too.
Wash your beard with water properly.
But at least, once a week, allow beard shampoo to remove dandruff from the beard. Allow Conditioner to regain the Moisturizer on your hair.
Combing and brushing your hair will be considered the best facial exercises.
It will provide Strength and Proper direction of the hair.
Proper care will grow your beard healthy.
Beard Balm is a good choice to fix your beard end. Apply a little amount, it will accompany your whole day.
As there are only two types of Pointed Beard available, you can turn the way of style in various direction. A slight modification on beards will make you unique in looks. Go, do whatever seems good to you.
Though I am giving 5 ideas which will be much stylish, and much manly. Let's see what are those.
What are The 5 Best Pointed Beard Styles Look Good on You?
It would be better to call these beards Goatee. Do you know a Full Beard is being called a Goatee? The areas of the chin and cheek, are the places where style can be obtained. Let's see all of these.
1. Faded at Cheek
Do you remember the Devil's Beard? It resembles that one. The main theme of this beard is, the cheek area must be faded. A subtle style at cheek will make it.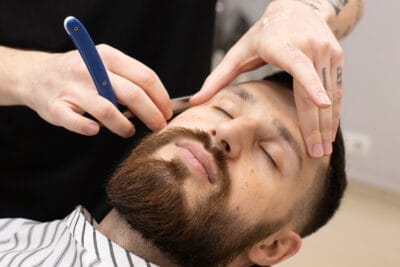 You can easily do it at home by using two clippers. Long and short both beards are suitable with it. The faded cheek area will be in a major gap from the ear and a minor gap from your moustache and chin hair. Styles are welcomed.
2. Extended Pointed Beard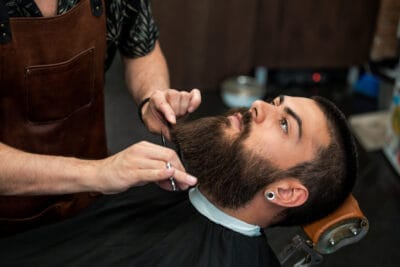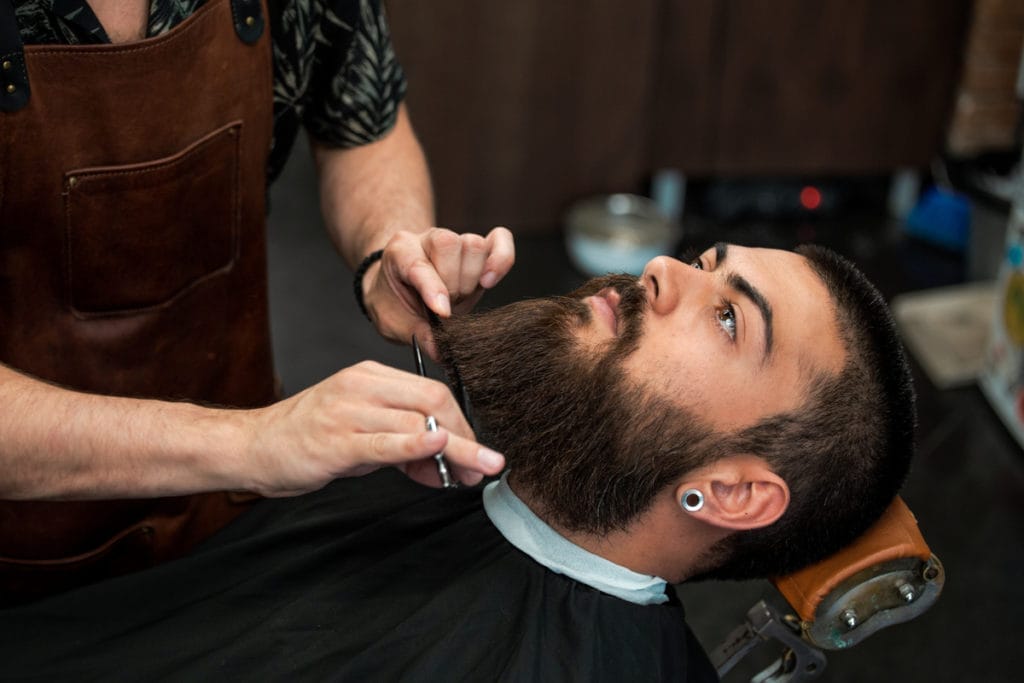 To define the jawlines, the extended Pointed Beard will help. The side tail is partially inverted in the backward direction. Trimming is needed to give the shape of pointed at an acute angle. A lot of precise trimming must be done on the neckline and cheek area, as the extended part must be blended.
3. The Braided Pointed Beard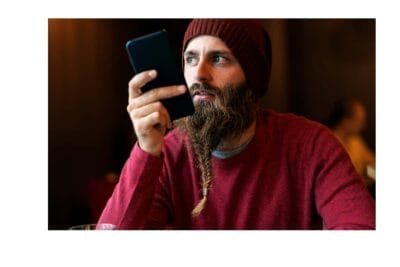 This one is excellent and far different from others. The braided part is elongated from the chin. Styles and binding are needed. Though the pattern is up to the beard owner. The great thing is, no cheek hair and no other maintenance are required. Probably this is the only Pointed Beard that is not full beard.
4. Pointed Beard with No Connection with Moustache
It is just like the name says. It is a Pointed Beard where the length can be changed. Here, cheek hair and lower lip will be very finely cut. But the moustache won't have any connection with your beard. The direction of the hair will be downward.
5. Traditional Pointed Beard
This is the last one on the list. In movies, often we encounter this beard. The style is high in trading in Asian countries mostly. The lower lip portion will have a 'w' cut. Cheek hair will be properly trimmed. In the chin area, the beard will have a smooth finishing. The beard will be placed at the jawline mainly.
Conclusion
I expect this information will help you to get the best-Pointed Beard. As I covered almost every part of this beard in a single article, you can choose precisely for yourself.
I'll recommend you to look for your face shape, and hair type first. Think which style will be better for you, then go for it. If you ask me, I'll recommend you to have a look at the  Lumberjack Beard Styles and the Ducktail beard styles, as they are gorgeous too, easy to do, and stunningly masculine.