Having a beard is a must for men, and we can't deny it. They are always looking for beard styles and designs that look good on their faces. But the real problem is that there are so many styles and designs that it's easy for them to get confused and pick the wrong one. It might help if we could name one of the most fantastic beard styles right now in a situation like this. In current years, faded beard styles have become well-known and the most wanted thing for men. The faded beard has a lot to offer, from short stubble to a full, broad beard. The faded beard styles are trendy and stylish because of how they look and contrast with the skin fade on the sides.
They are also a perfect match for the rough texture that men love to show off. This bold look goes well with the faded beard, which goes well with the patchy facial hair and neck beards. So, if you decide to do this, this article can help you by giving you a list of Faded Beard Styles that you're sure to like. Read the part below to find out more about it.
What are Faded Beard Styles?
The fade has become an essential part of barbering in the 21st century. It means making a smooth change from one length of hair to another. This means blending long hair on top with short hair on the back and sides of the head. In terms of the beard, it's about letting the hair on the chin and cheeks grow out into sideburns. When done right, it's a distinct look that goes well with other just-so haircuts like a slick back or pompadour. With a good fade, a beard looks like it was planned like a style choice instead of something that grew out of your face while sitting in the dark playing Xbox.
Who needs a Faded Beard Style?
Even though there are many good things about faded beards, some bad things are also. You will look better, but that will take time, money, and care. If you want your fade to look good, you'll need to go to the barber often and keep a few tools at home for maintenance. If you're the type of guy who would rather spend all day playing Call of Duty than doing anything else, the fade might not be for you. It's also a style that calls for hair to grow across your face in a pretty even way. No barber in the world will be able to fade your facial hair if it's all over the place.
How to fade your beard?
Choose the Right Length: The length of your beard and mustache is still the most important thing. First, give your beard and mustache a good wash and dry them well. This will get rid of the extra hair. Try this one with a shorter length if you want a more subtle look.
Give Your Neckline a Point: Comb your beard down to eliminate the extra hairs. Place your finger horizontally over Adam's apple and then cut a vertical strip below it. Work the same way outwards from right under the jawline, and do the same thing on the other side.
Give Yourself a Good Clean: Shave cleanly below the neckline of your new beard. Make sure you don't join the new line that was just made.
Cut down your cheek line: If you want a thin cheek line, make a long, straight, or slightly rounded line that goes from the bottom of your sideburns to the end of your mustache. Leave the cheek line alone if you want your cheeks to look natural. Remove any stray hairs from the top of your cheeks, though.
Keep Your Mustache Neat and Tidy: It is best to use the blades of a mustache trimmer to contour your upper lip and remove any hair that has developed there. Trim the top of your mustache neatly to make it look more put-together.
Will you be able to do it at home?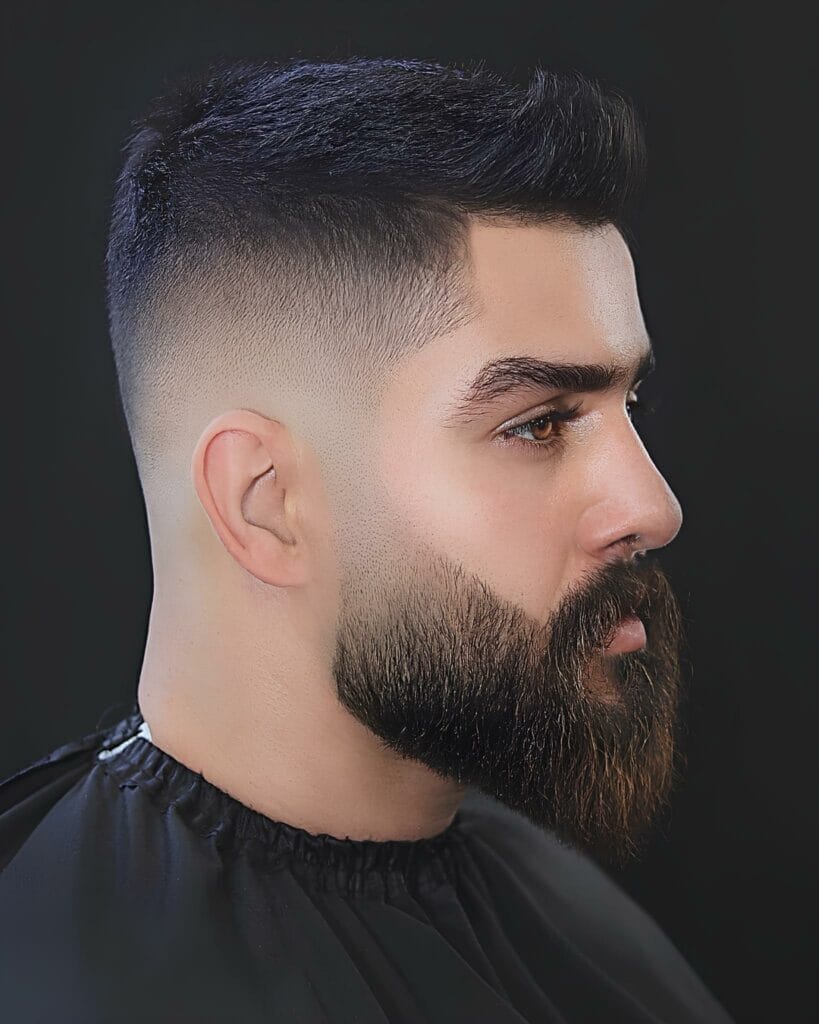 If you already know how to fade, it should be easy to learn how to shrink your hair since the process is pretty much the same. If not, you should start by getting a razor, beard comb, and an adjustable clippers or trimmer. Also, technology is essential. So, how do you cut a beard that's grown out? Start by washing it with a beard shampoo to make it clean and fresh. Then, use beard oil to keep it moist and brush your facial hair to eliminate any knots.
Take the clippers or trimmer without a guard and trace the edge of your beard around your neck. It should be parallel to your jaw. Next, put on grade size 2, which is 6 mm, and move the clippers from the ears to the chin downward. This will get rid of the extra hair. Now let's answer the most critical question: how do you trim your beard? Cut off about 1 cm of hair around the ears with no grade. Repeat this step with grade size 1, 3 mm, below and above the last step. Make a smooth transition between sections trimmed with 1 and 2 grades by opening the blades to 1.5, which is 4.5 mm. No protection and 1.5 mm-wide edges allow you to quickly transition between portions that have 0-1 grades. To finish, shave the edges to a smooth finish.
How to Style a Faded Beard?
No matter what fashion of faded beards you choose, you will need a beard trimmer , a comb and a pair of scissors or. Once you have all the tools you need, you can do the following: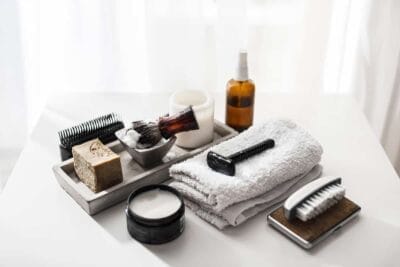 Use the trimmer to cut all of your facial hair to the length you want.
Use a clipper for detailing to cut the hair around your mouth. But don't make it too short, because you'll need something to work with later.
Draw a straight line from your neckline to the top of your Adam's apple. Make sure you get rid of any stray hairs.
Use a detail trimmer to find the fading point by putting a line through the hair below the ears and along the cheek line.
Use the zero setting on your clippers to cut the beard 0.5 inches below where it fades out. Change the position of the lever to half an inch and keep going down.
If you want a faded beard that isn't too long, you can stop there or keep going until you get the look you want.
Use a razor to clean up the edges of the beard.
Put a little bit of your favorite after-shave lotion on the areas you just shaved.
Best Men's Fade Beard Styles
Now that you know how to fade your facial hair, it's time to choose a cool and flattering beard style. There are plenty of faded beard styles, which is good news. Just pick the one that makes the most sense to you.
1. Wide faded strap
It's one of the most excellent new styles. A man can get a nice beard without deciding to grow one with a broad faded strap beard. Start by letting your hair grow out to a reasonable length. Then, start trimming and fading it every week, depending on how long you want your beard. This style might look cool and sassy, but it needs to be taken care of if you stand out in a crowd. Even if this style looks good on every face shape, this broad hair faded strap beard will look great on men with long faces.
2. Mid-length faded beard
If you don't like short beards and don't want to spend a lot of time trimming and maintaining a long beard, a faded mid-length beard is something you should consider. It gets regular maintenance, so it doesn't change or mess with its shape. Combine this beard style with a high and close-cropped hair cut to stand out. Again, a style quotient that goes with both your hotness and sexiness makes you the star of the show, whether you're dressed up or down. So get it now if you want to look your best.
3. Layered Faded Beard
A layered fade can be one of the best-faded beard styles for men to add to the list. This looks great if you have thick hair and can create layers. In all honesty, men with darker beards have an advantage over men with lighter hair when it comes to this style. This difference is fantastic and mesmerizing. Try to keep the sideburns at a lower level for this style. If you want a completely shaved head with a beard, you could choose a layered fade.
4. Thin faded beard Styles
Try this one if you don't want to wear a thick patch on your face but can't stand the way light patches look on your cheeks. It works great for men who have thin facial hair, to begin with. You can choose this beard style if you keep the shags and sideburns clear of each other. Also, the thick hair on top of the head contrasts with the thin hair at the base. People who think this is just a sign of less hair might find that this light, faded beard is a great way to make and show off new styles.
5. Fade Patchy Beard
A faded, patchy beard is a great way to get a breath of fresh air if you have a rugged look and a thick beard. But to keep it in good shape, you need to work hard to find the patches, trim them when necessary, clean the beard lines on both sides, and deal with the uneven cuts smoothly. Clean lines are so attractive. Some of you might think this is a strange but very cool patch of facial hair, but there's nothing else like it when it's worn right.
6. Faded curly beard
This name on the list of faded beard styles is just what you need if you want a small amount of facial hair and want to keep it in good shape. Even though the curly and straight beards might have the same number of hairs, the curly one looks fuller and denser because of its shape. This style gets a lot of attention, but all you need is some moisturizers, combs and beard oils, to keep it from getting tangled and its overall shine and glossy look.
7. Faded stubble beard
People often don't know the difference between stubble and a short beard. But a, stubble, which is somewhere between a short beard and being clean-shaven, is not as well-known. Yes, even if stubble looks like a short beard, the hair doesn't fall out of the skin because it's getting faster. This also has to do with the fact that stubble can give you a well-defined manly look without letting you move an inch into the broader areas of a full-length grown beard. A faded stubble beard looks great on a man, but he needs to take care of it and do it right to be proud of his look.
8. Faded goatee beard
The goatee beard style will never go out of style because it is the trendiest style. The faded beard with a goatee is a new and versatile way to pull off the goatee look. Here, the goatee is what draws people's attention, but the faded beard does its job well. Place your hand under the chin so that your fingers can move from left to right. This is the perfect way to measure a goatee. You can show off this style with confidence when you can fit at least two fingers between your Adam's apple and your beard.
9. Undercut fades with beard
A thick beard with a rough look is one of the best ways to show that you are a man. On top of that, this faded beard-style name is like pinning to make a strong statement. The beard is a great way to make the undercut look better while giving the beard and cutting the same pitch. If you added a fade to this whole pair, it would make it stand out. It's a rough-looking thing that not everyone might want to show off, but it's sure to make the heart skip a beat when worn the right way.
10. Low taper fade with beard
For a proper explanation, a low taper fade is a hairstyle in which the hair gets shorter and shorter over time, starting from its longest point right above the ears. This low taper fade is a good alternative if you don't want to cut your hair so close to the skin on both sides that the scalp shows. Now, guys can combine the tapered fade with a beard to get a soft beard, which is a unique way to go from a low or high tapered haircut to a full-grown beard.
11. Faux hawk fade beard
To get more specific, the faux hawk hairstyle has been getting much attention lately. It looks like a Mohawk, but the sides are shorter, and the top is longer. This one has style and elegance, but it also has a hint of sophistication that makes it seem less wild. This style with a fade shows that the hair on both sides of the face is the same length. The main trick is to improve the proportions of the cut and find the perfect size that works with your face. You should also ensure that your barber knows how much beard hair will work with your face.
12. Fade buzz style beard
This style on the list of faded beard styles for men is what men would love to show off the most. It is the most stylish way to describe sexy, dense, and edgy. To start, grow a short beard and give it a buzz fade by cutting the sides of your facial hair short. Also, if you want to stand out from the crowd, a long, thick beard might be a good choice. With right buzzed cut beard, you can even pull off a fresh, much-desired rough style that can't be done with any other types.
13. Quiff with fade beard
The versatility of the quiff hairstyle for men is shown by the fact that it works for almost every man. Men who have naturally round faces, on the other hand, look the best. Before styling it and giving it a wave shape, a quiff is made by first brushing all of the hair forward. As a hairstyle, it will stand out. On the other hand, men are sure to be the talk of the town for a long time if they have a faded beard that is neatly trimmed and well-kept. So, start cutting right away.
14. Bald head with faded beard
The best way to make the most of your sideburns and give yourself a whole new look is to have a bald head and a faded beard. This style goes well with a facial hair patch, which gets its name from how the sideburns blend into the beard. This style has also been used with short facial hair. When kept in good shape, a faded beard always looks good and is a great way to go from having a thick, full beard to being bald.
15. Faded pointed beard
Styles with faded beards are always adaptable and never go out of style. Even though a ducktail beard and a pointed beard may look the same, we have also explained how they are different. Try to keep the angles sharp for a pointed beard, and don't make it square at the chin. Instead, trim it towards a point. Try drawing a diagonal line from the corner of each jaw and bringing them together just below the chin. A faded beard looks a lot more aggressive than the known and relatively gentle egg shape, but it would make any face-cut look longer, thinner, and leaner.
16. Long Faded Beard
If you know how to fade a beard, you don't have to deny yourself the pleasure of wearing a long beard without looking scruffy. For best results when shaping a beard, the faded parts of the beard should blend in with your hair, as for how long the beard is.
17. Mid-Length Faded Beard
If you're still unsure how to fade, high or low, go for the golden mean, a mid fade. This beard style will look stylish but not too wild so that you can wear it to both formal and casual events. This look is also great because it looks great with almost any hairstyle.
18. Short-Faded Beard
Even if you don't like long beards, you can still wear a beard fade. Instead, because the hair on the cheeks and jawline are slightly different lengths, this type of fade facial hairstyle looks more realistic and fluffier than others. If you want to know how to fade a beard slowly, match it up with the hair on your head that has already disappeared.
19. Skin Fade with Beard
If you want a look with a lot of contrast, add a fade to the back and sides of your hair. For the most confidence and edge, go for a high skin fade. You can mix it with a beard fade because it makes you look neat.
20. Thick Cropped Bang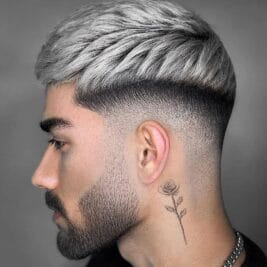 You don't have to cut your beard short to get it to grow out. So, if you like long, thick facial hair, you can still wear it with a beard fade. Start with the hair around your temples, which is the shortest. Let it grow longer and longer until it meets your thick mustache.
21. Cropped Cut with Design
This look is perfect for you if you like to be the center of attention. If your hair is styled in a complicated way and you have a short haircut, you will stand out right away. This look works well with both short and long beard fade styles.
22. Black Men Faded Beard
This is one of the most common ways for Afro men to style their facial hair. It lets you have a clean and neat look while adding a complicated twist to your face. You can also choose from short faded beard styles and faded long beard styles.
23. Drop Faded Beard Style
One of the best things about a fade is that you can do whatever you want with your hair. Even if you decide to get a bald fade on the sides and back, the beard will keep you from feeling "naked."
24. Thick Beard
Guys with thick hair will look great with this beard style. It makes your facial hair thinner; it gets much easier to take care of. So, you can quickly look dapper even if you have long hair in a man bun or other style.
25. Edged Light
Do you like hairstyles that are sharp and stand out? We're sure the same is true for the beard. So, we don't see why you shouldn't wear them all together. Add a lineup around the forehead and cheekbones to give it an edgy outline that will tie everything together. As you can see, the modern grooming world has a lot of cool ways to fade your beard to fit any taste and style. They vary in style, length, and the setting they go with. We hope you now have adequate information and ideas to draw off a faded beard on your own.
Conclusion
These new faded beard styles are part of the modern art of barbering. This is a fundamental idea that has to do with making a smooth transition between different types of hair with different lengths. But at a hiatus level, all you need is a lot of time and hard work. So, before changing your style, try updating your wellness kit with beard oil, a comb, moisturizer, and love for yourself. Then, you can choose any style you think would look best on you. So, now that we're all done with the techniques get one done for you as soon as possible.