25 Best Types of Mustaches to Get an Impressive Look
Have you ever noticed how some men have hair on their upper lip, called a mustache? Well, several types of mustaches have been a symbol of masculinity for generations.
Some of the greatest men in history, like Albert Einstein and Salvador Dali, had mustaches.
But not everyone likes them! Some people think they are outdated, while others believe they never go out of style.
If you're interested in growing a mustache, we encourage you to try it out! It might take some time before it looks good, but you'll feel confident and stylish once it does.
To grow a mustache, all you have to do is let the hair on your upper lip grow and then gradually shape it with scissors and a trimmer.
There are many different mustache types to choose from, like the Handlebar and the Horseshoe. You can pick one that suits your face and personality.
So, get ready to join the mustache movement and rock a stylish upper lip.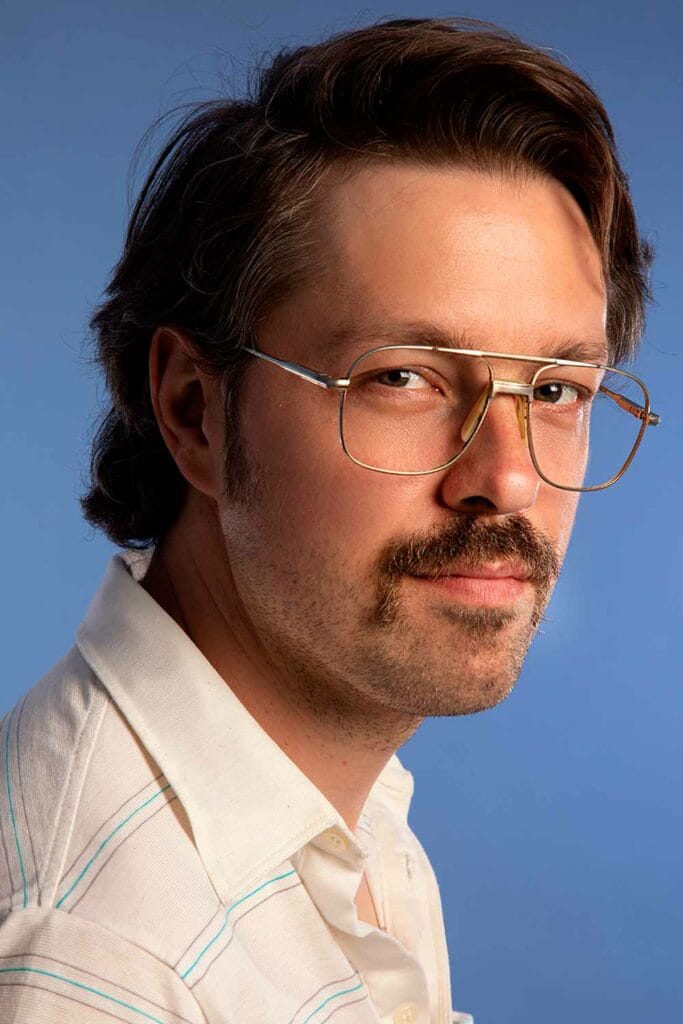 25 Types of Mustaches Styles
Check the Latest 25 Different Types of Mustaches Styles
Chevron Mustache
This is one of the most classic mustache styles. It's characterized by its thick, bushy appearance and narrow width.
The chevron is perfect for men with fuller faces, as it helps balance out the proportions.
Take this style a level higher by wearing a chevron along with a beard, and you'll turn heads.
Handlebar Mustache
The handlebar mustache is aptly named for its similarity to bicycle handlebars.
This type of a mustache is a bit more challenging to pull off than other styles, but when done right, it looks incredibly dapper.
It's popular with fancy-beard competition people and cool bartenders who make their own fancy styles. But if you want to try it, go for it!
Keep the middle part of the mustache short (the region under your nose), and let the sides grow long. Use a special wax or balm to shape the ends and make them firm.
This style requires daily maintenance to keep it looking neat and tidy – but trust us, it's worth the effort.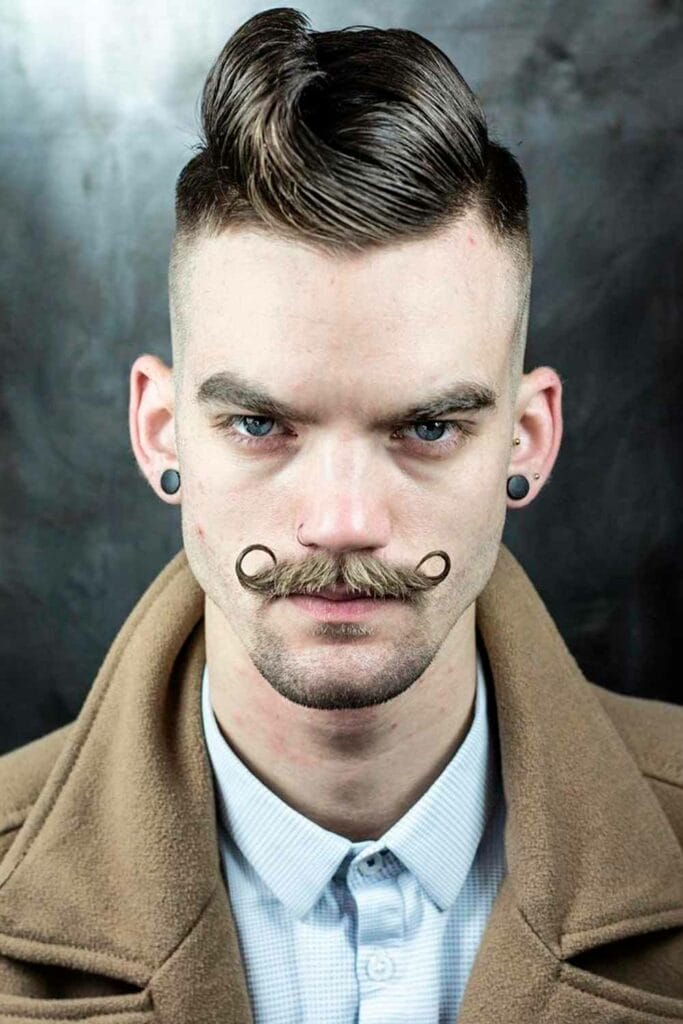 Horseshoe Mustache
Also known as the "biker mustache." The horseshoe is recognizable thanks to its distinctive "U" shape.
It originated in the 1970s amongst members of the Hell's Angels motorcycle club but has since been adopted by celebrities like WWE star Triple H and actor Tom Selleck.
Virtually anyone can grow a mustache, but the Horseshoe is a tough guy look that not everyone can handle!
It's like a goatee without the hair on your chin, so to get it, you can grow a goatee and then shave off the chin hair.
Just make sure to keep it neat and trimmed, not too long, and the lines looking sharp for the best look.
Pencil Thin
The pencil thin mustache is a timeless classic. It shows that with some careful shaping, a mustache can look nice without taking over your face.
It is the embodiment of sophistication and refinement. The pencil-thin mustache has been sported by some of the most iconic figures in history, from Clark Gable to Salvador Dalí.
The important thing is to make sure it's not too short because then it seems like you just forgot to shave.
You should trim it so it's just above your lip and not extending past the corners of your mouth.
To keep this style looking good, you need to take good care of it. Ensure that the mustache is evenly trimmed on both sides, with no stray hairs protruding past the lip line.
Dallas Mustache
The Dallas Mustache was inspired by the classic mustache style of the early 20th century.
The Dallas mustache is a popular style in America. But nowadays, many young guys are making it look new and cool by trimming down the sides.
This type of mustache is characterized by its thick, bushy appearance. This makes it match better with modern hairstyles.
Natural Thin Mustache
The natural thin mustache is an excellent choice for men who want a sophisticated and stylish look.
If you're looking for a timeless facial hair option, the natural thin mustache is definitely worth considering.
Fu Manchu
Designed to strike fear into the hearts of Fu Manchu's enemies, the Fu Manchu mustache is one of the most iconic facial hairstyles in history.
Manchu is a dali mustache that goes from the top of the lip to the bottom of the jaw. The part above the mouth is shaved, which makes it different from the horseshoe style.
To achieve a shape as this style, make a big space between the two parts of the mustache above your lip.
Then, use a little bit of wax to shape the mustache into points at the ends, but don't make them stick up. You want it to look natural, not like two sticks hanging off your face.
To mustache the Fu Manchu, you need to shave every day and make sure there are no stray hairs.
And keep the space between the two parts of the mustache clean.
Imperial
The Imperial Mustache is characterized by its long, thick, and often curly appearance. The style was most popular during the Victorian and Edwardian eras in England, but it has seen a resurgence in recent years.
All you need is to leave your mustache so that it grows thick and above your bottom lip and up toward your cheeks.
Stubble
This type of mustache is characterized by its short, bristly hairs that give it a rugged look.
It's a masculine style that has been sported by some of Hollywood's biggest stars, including Brad Pitt and George Clooney.
Stubble looks good on men who have thick, curly hair. However, unless you want to look rough and tough, you may need to shave it every day to keep it looking neat.
Goatee
The goatee mustache is a facial hairstyle achieved by shaving the cheeks with scissors to keep the mustache clean and leaving a strip of hair along the chin.
This style is often seen with a beard, but it can also be worn without one.
The goatee mustache is a popular choice for men who want to add a bit of personality to their facial hair.
Lampshade
The lampshade mustache gets its name because it looks like a lampshade that's shaped like a trapezoid. This style has become even more famous because of Miles Teller's mustache in the movie Top Gun.
Some people call it a "cop 'stache" because many police officers and military personnel wear this style due to their grooming rules.
For people in the military, a mustache is the only facial hair they're allowed to have. But they have strict rules to follow, like growing short beard styles.
The mustache can't be wider than the top lip or higher than the bottom of the nose, and it can't touch the upper lip. It also can't be too bushy, so it needs to be kept short.
If you want a lampshade mustache, you need to let your mustache grow for one to two months, but make sure you trim it along the way so it looks good.
Extended Chevron
It is a great choice for those looking to add a bit of flair to their facial hair.
This style is achieved by growing out the mustache to cover the entire top lip and then trimming it into a point at the center.
This style is definitely not for the faint of heart but can be a great way to add some personality to your look.
Modern Horseshoe
If you're not sure about having a full-on horseshoe mustache, you can still try a different style that's more eye-catching and not as extreme.
The modern horseshoe is inspired by the classic, but it's shorter and doesn't go over your top lip or hang down as low.
Let the hair grow around and down the corners of your mouth, but don't let it go past the edge of your bottom lip. Then, cut it off.
Mustache with Soul Patch
A soul patch is a small patch of hair that looks like a tiny triangle or rectangle. It's usually not very long and is grown right under your lower lip.
The mustache with soul patch is a great way to show off your individuality and make a statement.
Zappa
The Zappa mustache is named after Frank Zappa, who was a well-known musician and had a very recognizable style.
It's a variation of the horseshoe mustache, but with a soul patch added to it.
It's mustache can be very thick and bushy and sometimes grows a little past the corners of the mouth.
The fuller your Zappa mustache is, the better it looks. Some stubble can also make it look even better.
The Painter's Brush
The painter's brush mustache looks like a thick line of hair under your nose, but it doesn't angle down like some other mustache styles.
It's called a painter's brush because it looks like a quick brushstroke a painter might make.
You don't see many people with a real painter's brush mustache these days because it's more of a joke. All you need for this mustache is to grow it naturally.
Trim the hair above your lip so it forms a straight line. Trim the edges into a rounded shape that follows the curve of your mouth.
Dyed Mustache
The dyed mustache style is a fun way to show off your personality.
To get this look, you only need to dye your mustache a bright color. But make sure to choose a color that looks good with your skin tone, not just any random color.
Handlebar Mustache
A classic handlebar mustache style looks really cool! It's thick with long handles at the ends, shaped into points using wax.
The handles curl out over the cheeks and back towards the middle of the face. It can take a long time to grow a full handlebar mustache, and some people might not be able to grow one if their hair doesn't grow long enough.
To keep a handlebar looking neat, you have to shave the hair beneath the handles at the corners of your mouth.
It takes a lot of work to keep a handlebar mustache looking great, but it's worth it if you want to make a statement.
English Mustache
The English mustache is a fancy style of mustache that originated in England. It's similar to the handlebar mustache, but the ends are not curled up.
Instead, they are waxed horizontally and shaped to a point.
To grow an English mustache, you can follow the same process as for a handlebar mustache. Let the hair grow on the edges of your mustache while trimming the center to keep it looking neat.
You should also make sure to keep the hair out of your mouth. You can create a hard part at the philtrum to make your English mustache look even fancier.
Lastly, to keep the hair off your top lip, you can trim it or use a blow dryer to push it away from your lip.
Pencil Mustache
Some mustache styles look really cool and fancy, like the pencil-thin mustache. But you have to wear nice clothes to match it.
It's best for people with dark hair because it's worn short. Let your mustache grow naturally, but make sure it doesn't cover your top lip.
Depending on the hair color, the pencil mustache takes two to four weeks to grow. Use a razor to shave the top line of the mustache following the curve of your mouth.
Shave the upper line a few times a week or every day. Be careful not to hurt your delicate skin around the mouth.
The good thing about styles like the pencil is that almost anyone can wear it as it looks natural. This style can still work for you even if you don't have much hair.
The Walrus Mustache
The walrus mustache looks like a walrus's whiskers. It's big and covers the top lip and sometimes even the bottom lip.
It also doesn't have curled ends like the handlebar mustache. You'll need the patience to grow this style unless you have a special gene for a long mustache.
You don't have to trim it at all. Just let it grow naturally for 6 months to a year.
You need a beard comb to keep the mustache tidy and going in the right direction.
You can also use the comb to keep hair out of the mouth when you eat or drink. You can use scissors to trim the mustache to the length you want.
Gunslinger
The gunslinger beard is often seen in cowboy movies, but anyone can wear it.
A man named Abhinandan Varthaman, who is in the Indian Air Force, wore this beard, and it became popular all over India after he was in the news. Pakistani forces captured him, and people noticed his cool beard.
This mustache is perfect for those with a strong jawline and chiseled features.
If you're looking to make a statement with your facial hair, the Gunslinger mustache is the way to go!
The Royal Mustache
A popular facial hair trend is the Royal Mustache. You might feel like a king with this incredibly regal and dominating appearance.
This is the design to wear if you want to add a dash of elegance to your appearance.
Indian Farmer
The Indian farmer mustache is a thick, bushy mustache that is often seen in Indian men.
This mustache is a symbol of masculinity and strength, and it is often seen as a sign of wisdom.
People believe that it brings good luck and shows that the person wearing it is very manly.
Beardstache Mustache
The Beardstache is not a type of mustache, but a mix of a mustaches and a little bit of stubble.
This means you have a full mustache and some hair on your chin and cheeks, but not a full beard. It's a cool way to wear a mustache because it adds to your tough look and makes your jaw and cheek lines stand out more.
The beardstache can be fashioned in a variety of ways, from a raw, untidy appearance to one that is more refined and well-groomed.
How to Grow a Healthy Mustache
Growing strong mustache styles can be easy, but there are things you need to do to make sure your mustache looks excellent and healthy. They include:
Shave your face before growing your mustache to avoid getting any hair stuck.
Comb your mustache regularly to keep it looking neat.
Use mustache wax to keep your mustache in place and looking good.
Trim your mustache regularly to maintain its shape. By doing these things, you can grow a fantastic and healthy mustache.
How to Trim Your Mustache
Do you want to learn how to trim your mustache? Don't worry. It's easy!
Tools Needed
You will need tools like an electric trimmer, a fine tooth comb or mustache comb, scissors, and a mirror.
Procedure:
Having the right tools for the work, follow these steps to trim your mustache.
First, pick the mustache style you want to trim.
Next, clean your mustache with shampoo or soap, rinse, and dry it completely.
Then, comb your mustache in the direction of hair growth.
Use your trimmer to trim the hair around your upper lip line, but be careful not to get too close to your actual lip.
After that, trim the length of your mustache with the comb and trimmer.
Trim the outer edges of your mustache slowly with scissors or a trimmer.
Finally, comb your mustache and style it with some beard oil or mustache wax. And use hairspray to keep it in place.
Remember:
Mustache hair is coarse and thick, so use a good quality trimmer to avoid pulling out hair or causing split ends.
Clean and dry your mustache before trimming, and comb in the direction of hair growth.
Trim carefully and conservatively to get the desired length and shape, and always refer to the mustache style you want to achieve.
Maintenance Tips for Healthy Mustache
Use a conditioner or oil to keep your mustache soft and hydrated. This will also help to prevent any split ends.
Comb your mustache regularly to remove any knots or tangles.
Use mustache wax to keep your mustache in place and looking neat.
Trim your mustache regularly to maintain its shape.
Finally, be sure to wash your mustache regularly with a mild shampoo to remove any build-up of dirt and oil.
Conclusion
If you want a one-of-a-kind look, you have several types of mustaches to think about. Now you can step towards the style that fancies and makes you confident. Grow any of these styles for a trully refreshing new look.
It may take some time for your facial hair to grow long and thick enough. Once it's long enough, you can shape it using a comb or scissors. Don't cut too much at first, you can always trim it later if you need to.
Types Of Mustaches FAQs
What is the best type of mustache?
There is no definitive answer to this question since everyone has different preferences. Some of the most popular mustache styles include the chevron, handlebar, and horseshoe.
Ultimately, it boils down to what looks best on you and what you feel most comfortable with.
How do I choose my mustache?
One way to choose your mustache is to find a style that suits your face shape. If your your face is either round, you might want to try a thinner, rectangular mustache.
If you have an oval face, you might want to go for a fuller, more triangular mustache.
Who looks good with a mustache?
It depends on the person's individual facial features and personal style. However, mustaches can look good on a variety of face shapes and can be styled in many ways.
A well-groomed mustache can make a man look more sophisticated and distinguished. It can also convey a sense of humor or whimsy.


Khamis Maiouf is a professional barber who graduated from Hinckley College in England with a degree in hairdressing. He has also won several barbering contests and successfully operated a barbershop for the last two decades. As a skilled hair stylist for 20 years, his goal is to teach others how to achieve a beautiful appearance through their hairstyles.