Do you want to look your best for your next special occasion? Or do you just want to look more mature? If you're aged 50 or over, there are many stylish hairstyles that you can try.
In this article, we'll introduce you to some of the most popular hairstyles for older men, and explain what they are and how to style them. We'll also give tips on choosing the right hairstyle for your age and skin tone, and discuss some downsides of choosing a hairstyle for older men. Ready to give it a try? Let's get started!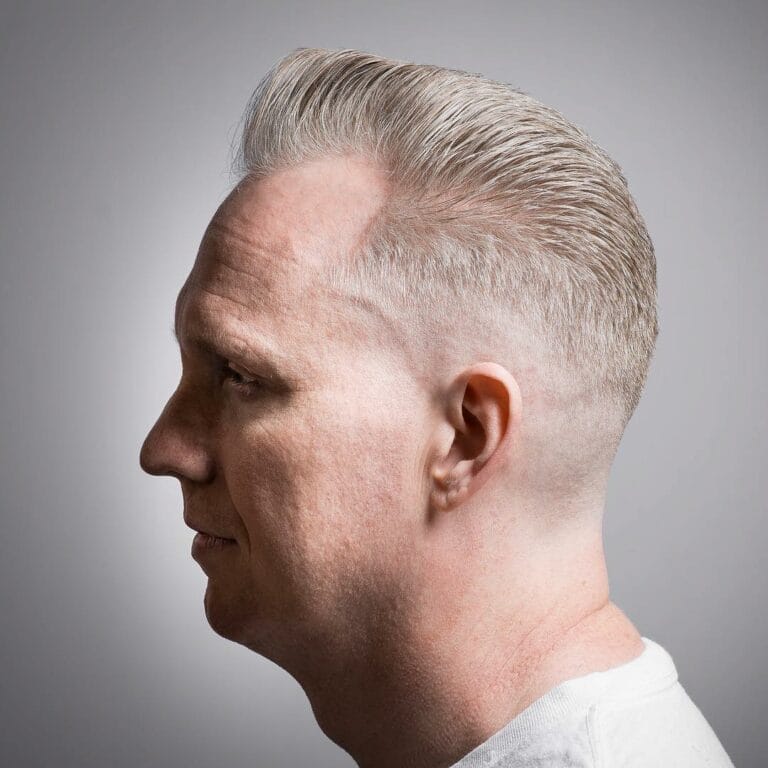 What Are Hairstyles for Older Men?
When you reach a certain age, your hair may start to thin and fall out. This can make it difficult to choose the right hairstyle that will look good and be suitable for your age. This can be a source of anxiety for men, as they may feel less manly without the abundance of hair that was once popular among males. However, there are many styles that are perfect for older men who want to retain their dignity and avoid looking too backward in age.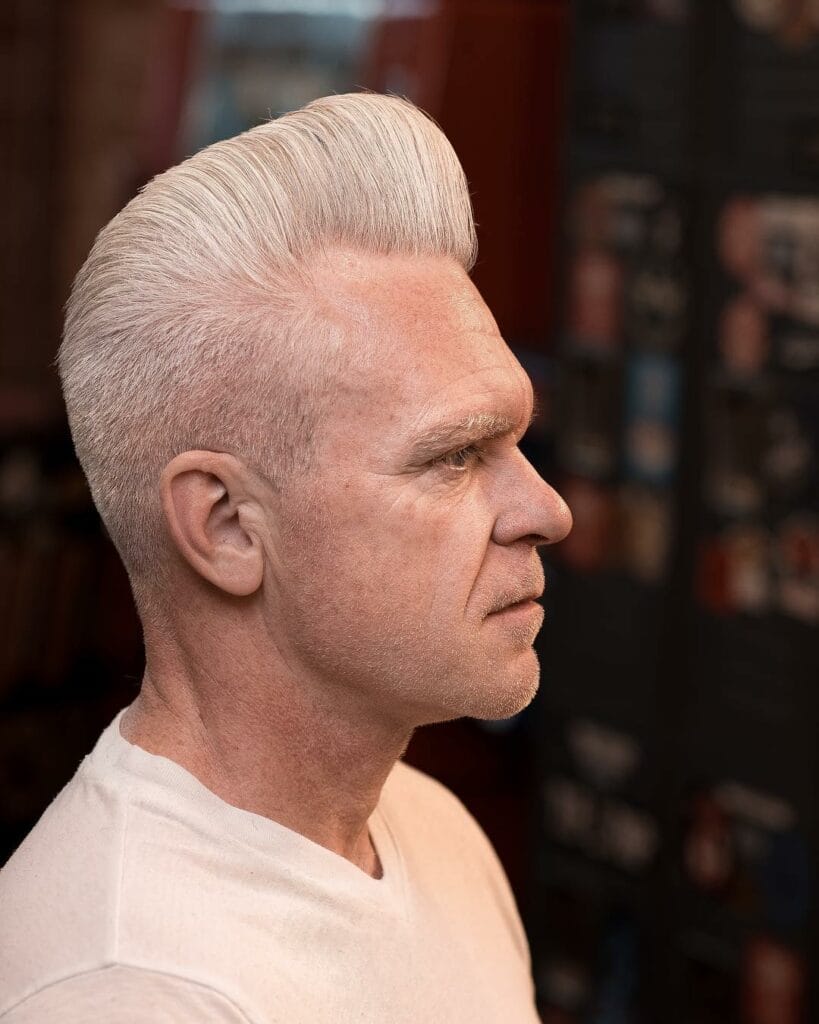 How to Style the Hairstyles for Older Men?
Barbers have been styling men's hairstyles for years, so it is not rocket science when it comes to styles for older men. However, there are a few steps that you should follow if you want to style your hair in a way that looks good on aging.
Step 1: Start with clean hair and dry scalp. Shampoo using sulphate-free soap or conditioner made specifically for thinning or curly hair. Avoid using heat on the scalp as this can cause damage and further thinning of the strands.
Step 2: Blow-dry the hair straight or slightly wavy depending on its texture. Do not use excessive heat while blow-drying as this may result in frizzing instead of smoothness throughout your locks. Finally, use an aerosol hairspray to hold all of your strands in place until they are styled later on (be sure to test out different sprays before applying them to ensure no allergic reaction).
Step 3: Use products designed specifically for styling manes: For example, light weights such as gels or pomades will give more body and hold while mousse tends to provide volume without being heavy or sticky residue-y at the end of the day.
Choosing The Right Hairstyle For Your Age And Skin Tone
Older men often face the challenge of finding hairstyles that look good on them, regardless of their age or skin tone. To help get started, here are a few guidelines to follow:
Start with what you have
If you have naturally curly or wavy hair, for example, don't try to style it straight. Instead, go for a bouncy style that is easy to manage and will stay in place throughout the day.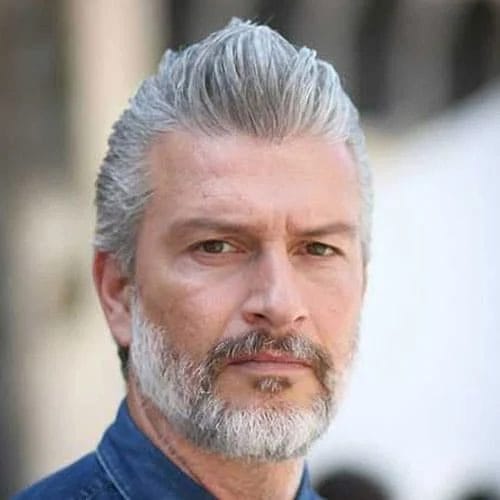 Think about texture
Thin hair may need less product than thicker hair to hold its shape; conversely, oily strands may benefit from using more styling products. Experiment until you find a style that works well for your locks!
Consider color
Older men with light skin tones can wear almost any color without having to worry about appearing too brash or attention-seeking; however, darker complexions should avoid colors like black and brown because they can be difficult to control and might not last long under intense sunlight exposure. For those same reasons, olive-toned older guys should also steer clear of these hues due to there's already enough contrast in their coloring scheme.
The 20 Best Hairstyles For Older Men
Textured Slicked Back for Older Men
The textured slicked back hairstyle for older men is a great way to add some texture and definition to your hair. This style can be styled in many ways, so there's bound to be a version that suits your needs.
Side Swept Hairstyle for Older Men
Side swept hairstyles can be a great way to age gracefully. This style is flattering on most faces and allows you to experiment with different hair colors and styles without feeling constrained by traditional beauty standards.
Buzz cut Hairstyle for Older Men
One of the most popular buzz cut hairstyles is the older man's style. This haircut can be tailored to fit any age, and it is perfect for those who want a modern update on a traditional haircut. The key to this particular style is to keep your hair short enough so that it won't get in your way while you're working or participating in active sports.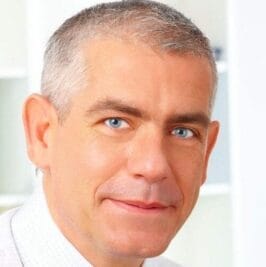 Crew Cut
The crew cut hairstyle for older men is a modern-day classic that can be styled in many ways. You can use it to create an updated look or simply take inspiration from some of the latest fashion trends.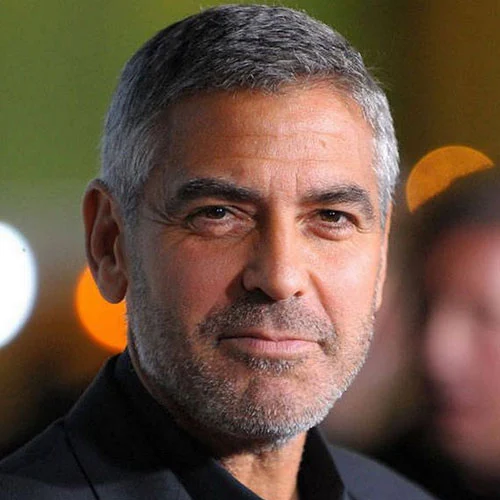 Side Faded Hairstyle for Older Men
If you're looking for a sleek and stylish side faded hairstyle that can still be worn by older men, then this style could be perfect for you. Side fades are becoming increasingly popular because they create a natural look that is both modern and timeless.
Taper-Faded Hairstyle for Older Men
For older men, a gradual taper fade hairstyle can be a refreshing change. This style is perfect if you're looking for something that will add some life to your appearance and combat the signs of age.
Bald Fade Hairstyle for Older Men
Old-man bald fade hairstyle is an updated version of the popular five o'clock shadow style. It is easy to achieve and can be styled in a number of different ways, including spiked or messy styles.
Thick Brushed Back Hairstyle for Older Men
If you're looking for a stylish and edgy hairstyle that will put your masculinity front and center, try the thick brushed back hairstyle. This style is perfect if you have coarse hair that needs to be pulled back in a tight bun or ponytail.
Dyed Hair Older Males
The popularity of dyed hairstyles for older men is likely because they appear sophisticated, edgy, and modern. Dyeing your hair can add years to its appearance while giving you a more youthful look.
Natural Messy Bun Haircut
One popular natural hairstyle for older men is the messy bun. This style involves creating a loose bun by pulling small sections of hair forward and securing them with an elastic band or rubber band.
Undercut for Older Men
An undercut hairstyle is a great option for older men who want to add some contrast and vitality to their appearance. It can be styled in many ways, so there's bound to be one that suits your unique features and personality.
Clean Cut for Older Male
A clean-cut hairstyle is a great way to achieve an updated look and feel for older men. By keeping your hair short, you can easily manage it on your own or with a small amount of product.
Wavy Hairstyle for Old Men
The wavy hairstyle for older men can add some much-needed dimension and life to your hair. The style works best on natural or slightly relaxed hair, and you can achieve it by using a curling iron or hot rollers.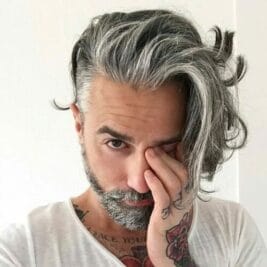 High-Fade Hair
A high fade haircut is a popular style that is perfect for older men. It's versatile and can be dressed up or down, making it the perfect choice if you want to look your best.
Pompadour With Beard
A pompadour with a beard hairstyle is a classic look that can make you stand out from the crowd. This style is best suited for older men who want to project an air of sophistication and dominance.
Loose Messy Haircut for Older Male
Loose messy hairstyles for older men can be a great way to start the week. By going with something easy to manage, you'll have more time to focus on your personal lifestyle and health goals.
Man Bun Hairstyle for Older Male
The man bun hairstyle is a simple and effortless style that can look great on older men. This hairstyle consists of taking the hair in front of your head and putting it into a high ponytail.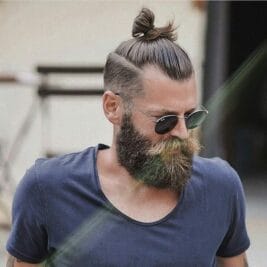 Classic Cut Hairstyle for Older Men
The classic cut hairstyle for older men is a bit on the floppy side and features shorter, choppy layers that are finished off with a temporal wave or pompadour. This style is perfect if you're looking to cultivate an air of sophistication without going too far down the traditional manly path.
High Top Knot Hair
Since high top knots can be flattering on any age group, men over 40 may want to consider this hairstyle for a more youthful look. High top knots are easy to do and don't require much time or special styling tools.
Bushy look Haircut for Older Men
If you are looking for a hairstyle that will give your hair some volume and body, then the Bushy Look might be what you're after. This style is characterized by tightly coiled curls that are pushed down towards the crown of the head.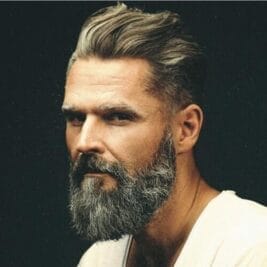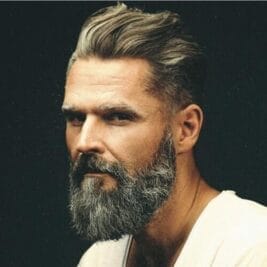 7 Maintenance Tips For Hairstyles For Older Men
Here are 7 maintenance tips for hairstyles for older men:
Start by conditioning your hair regularly using a good hair care product
This will help to keep the strands healthy and hydrated, which in turn will result in stronger and healthier locks.
Avoid heat styling your hair too often
this can damage the hair follicles and cause them to become more fragile over time. Instead, opt for low-temperature styles that won't fry or burn your locks.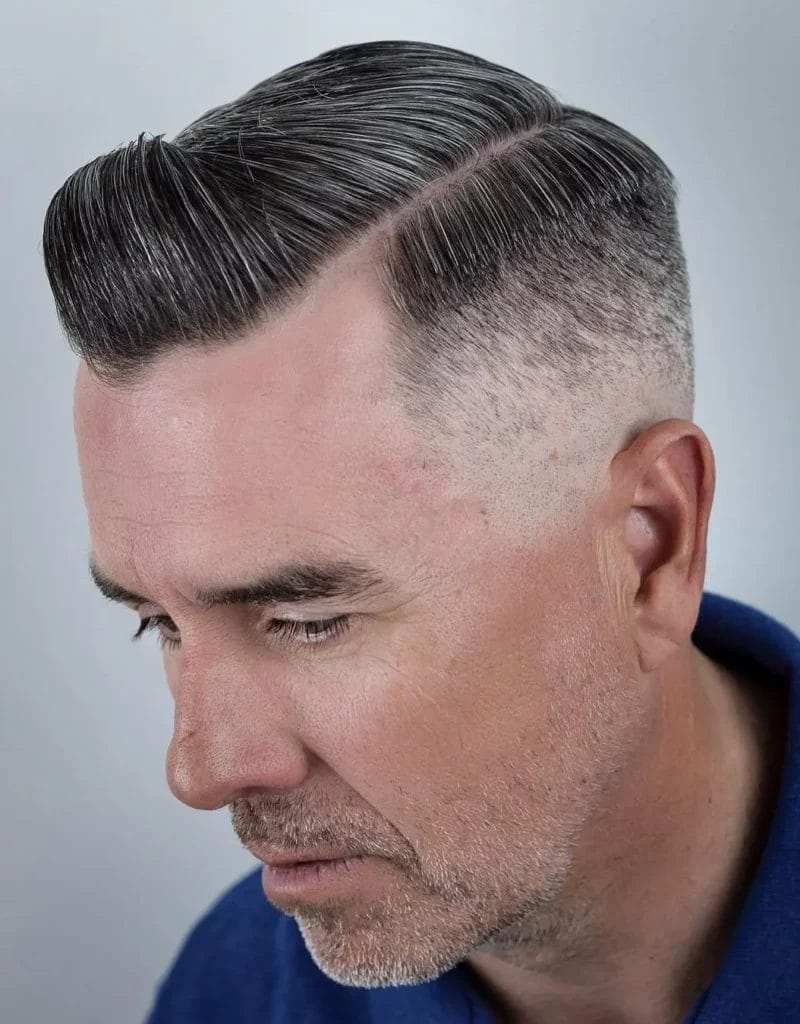 Keep an eye out for signs of thinning or balding
These conditions may require you to switch up your hairstyle strategy altogether if you wish to preserve what remains of your mane! Consider adding some layers or choppy cuts to give yourself a bit more volume while still keeping things looking natural and stylish.
Be sure to brush on serum before styling
It seals in moisture and helps minimize frizziness/curls down the road! Use a light hold spray when needed – this will add shine, manageability & control without weighing down curls or leaving residues behind like most chemicals typically do (which is bad news if you have a sensitive scalp).
Keep your hair trimmed and styled on a regular basis
This will help to keep the style looking fresh and new.
Choose hairstyles that are suited for your face shape
if you have a round face, avoid haircuts with extreme angles or points, as these will look unflattering on you.
Avoid using too many products in your hair
excess oils can lead to build up and make your locks greasy over time. Stick to simple styling techniques like dry shampoo, pomades, or mousse instead.
Some Downsides Of Choosing A Hairstyle For Older Men
There are some downsides to choosing a hairstyle for older men, including hair loss, thinning hair, and more fragile strands. Additionally, styles that are popular with younger men may not be as flattering or comfortable when you're in your 50s or 60s.
Older men also tend to have less elasticity in their skin which can make it difficult to achieve certain hairstyles – especially if you have coarse or curly locks. And lastly, age-defining features like facial lines and wrinkles can be accentuated by fashionable high-piled hairdos.
Instead of focusing on the negative aspects of aging, try incorporating into your style goals things like simplicity (avoid traditional pompadours and quiffs), timelessness (keep pieces simple but well-chosen such as tortoise shell sunglasses), light texture (go for natural-looking textures rather than heavy products), moisture retention (try using hydrating shampoos and conditioners every day). With these tips in mind, styling an old man's hair shouldn't seem impossible!
Conclusion
Now you can rock a cool hairstyle for older men by reading this article. Older men often lack the confidence and sense of fashion that young people have. With new styles, it is possible to look younger and more stylish than ever before!
These hairstyles were just some we gathered as examples, but there are many others we did not include in our list. Feel free to share your favorite with us in the comments section!
FAQ
What are some common hairstyles for older men?
Common hairstyles for older men include crew cuts, buzz cuts, and parted styles. However it depend on your face shape and hair type.
What are some tips for choosing a hairstyle for an older man?
When choosing a hairstyle for an older man, it is important to keep in mind that simpler styles are often more flattering.
What is the difference between a hairstyle for older men and a hairstyle for young men?
Older men usually need to keep their hair shorter in order to avoid looking too busy or formal. On the other hand, younger men often want more of an active appearance and prefer longer hair that's styled in various styles.
What are some things to avoid with hairstyles for older men?
Some things to avoid with hairstyles for older men include complex styles that require a lot of upkeep and styles that are too young or trendy.