27 New Undercut Middle Part Hairstyle For Men
Eploring the vibrant world of 'undercut middle part hairstyles' for men?
As trends shift and new styles emerge, the undercut middle part proves to be more than just a fleeting fashion; it's a statement.
Dive in to discover 27 transformative cuts that not only elevate your hair game but also resonate with your personal flair."
I remember the first time I spotted the undercut middle part—it was on a bustling New York street, and the man wearing it exuded a sense of confidence that was hard to ignore.
Low Taper and Messy Middle Part Haircut
Lower taper and messy middle part haircut start fading from the ears up.
The hair on the sides is cut short and gains length at the top. You should leave the comfortable length at the top, but the hair must be long enough for an excellent style.
In the middle, divide your hair into two and give them the style you want. With this hairstyle, the hair must be messy.
This amazing hairstyle will give you confidence among your peers, and everyone will admire your new look.
Straight and Clean Middle Part Undercut
If you like looking presentable, this is the hairstyle you need.
Your back and sides hair will be buzzed or cut at the sides and back of the head. With this style, your hair should be kept clean and brushed straight.
You should then style your hair from the middle.
Bob Cut Curtain Bangs with an Undercut
With this haircut, the hair at the front is cut short, so it fails on your forehead.
The remaining hair at the top is cut uniformed and combed backwards and on the sides.
This haircut is combined with an undercut, where the hair at the back and sides are trimmed to give it a modern look.
This hairstyle will give you a stylish and contemporary look.
My barber, a seasoned expert with over two decades in the industry, claims the undercut middle part hairstyle has consistently been among the top requests in recent years.
Wavy Hair Combed Back with Fringe
If your hair is wavy, you can style your hair nicely to achieve this hairstyle.
But it's possible even for those with straight hair to make their hair wavy using a hair product.
Shorten the hair at the front and comb it forward, so it rests on your forehead, then comb the rest of the hair backwards.
Having this cool and fashionable look is simple, and you can achieve it quickly.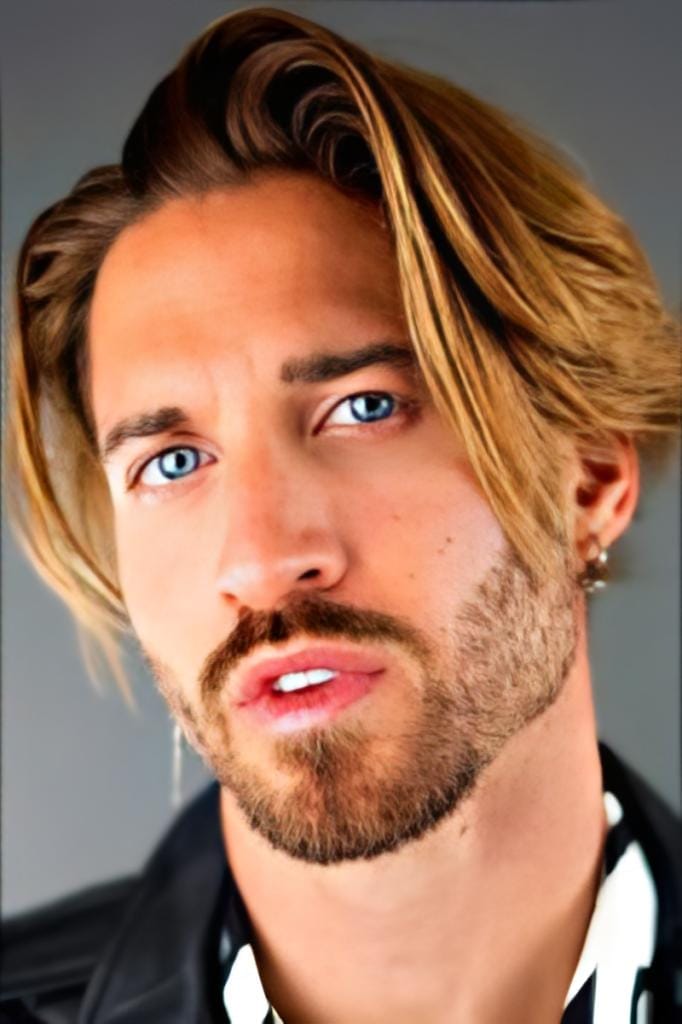 Curly Blunt Cut with Bangs
If you love voluptuous hair, this is the perfect look for you. If your hair is curly, it is better for you, but if it isn't, you can apply some hair products to make it curly.
Your front hair should be short and combed forward. Let the rest of the hair resume its natural look. This is a confident look that will make you look lovely.
Classy Eboy Parted Hair
This hairstyle has been around since the 1990s, and it's still trending. However, different styles are incorporated to give it a modern look.
If you want to give this haircut a new look, have an undercut and apart, and you will look attractive and stylish.
Braids with Hair Twists
If you admire additional hair, here is a trendy hairstyle for you. Braiding hair is not only for women, but men too can rock this hairstyle. Just have some braids twisted for a bold and unique look.
Windswept with Faded Sides
Shave your hair to the sides and leave long hair at the top. The rest of the hair should remain messy but with a style to ensure it doesn't look like an accident.
You can add volume at the root to give your hair a stylish look.
Curly and Short
Short hair, too, can look stylish. So if you like short hair, this will suit you perfectly.
Make your hair short and apply some hair styling gel to make your hair curly. This is a presentable hairstyle that you can wear on any official occasion.
Wet Curtain for Men
To achieve this hairstyle, you need to wet your hair. You can then part your hair in the middle or on the sides.
Create a long fringe at the front. The hairstyle features shorter hair on the sides and back to give it a modern look. This unique look will leave everyone breaking their necks to see you.
Middle Fluffy Hair Part Fade
Fluffy hair requires volume. First, make your hair look voluptuous. Get some hair products that will make your hair gain some volume.
After that, make your hair fluff. This can be achieved through blow drying your hair. To achieve a stylish look, complement this hairstyle with a part fade. This haircut will make you look innovative and attractive.
Men's Shag Bangs with Side Part
This is one of the unique hairstyles in town.
You will not see many people with this hairstyle, so if you don't want to look like every man out there, wear this hairstyle.
It contains many layers with bangs, sideburns, waves or curls, and long hair at the back.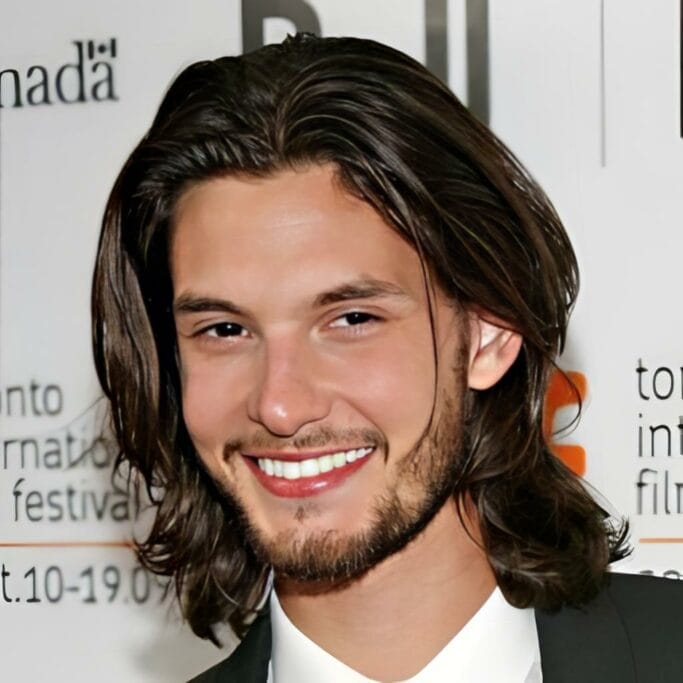 Split Flow Middle
If you don't have much time to spend on your hair, this hairstyle will be good for you.
All you need is to have the length of the hair you are comfortable with and divide your hair equally in the middle.
Then let the hair flow naturally. This is a cool attractive hairstyle you will love.
Classy Asian Man with Center Part
With an Asian man's hairstyle, you can have long or medium-cut hair.
The hair is then divided from the center and styled to your liking. If you want to make the style more modern, you can have an undercut or a fade.
You can wear this hairstyle on an official or unofficial occasion, depending on how you style it.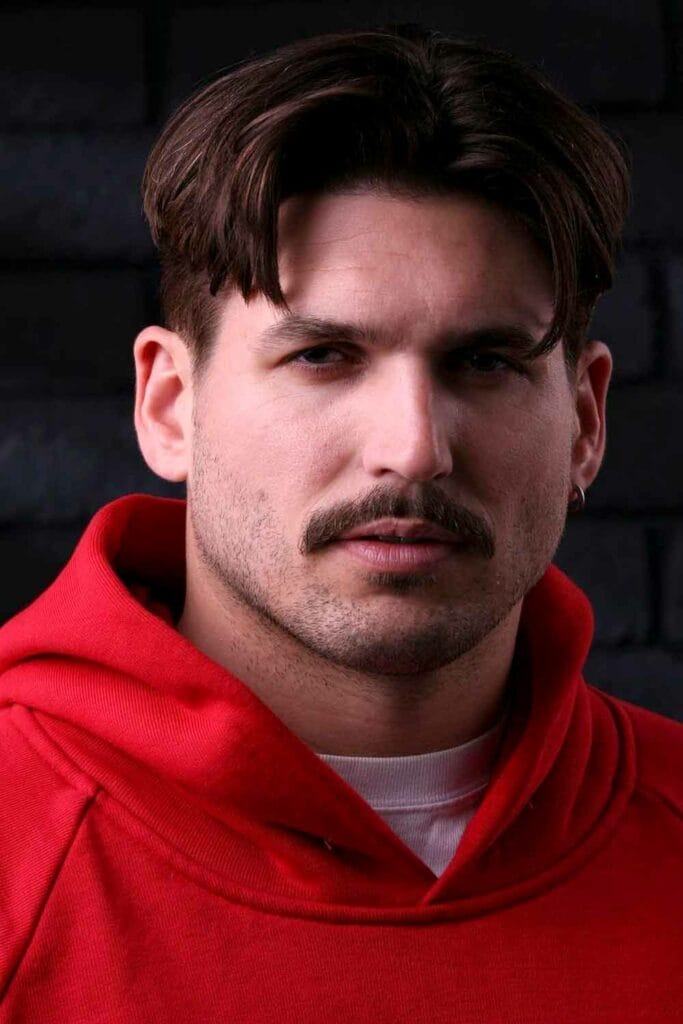 Mullet Middle Parted
To achieve a mullet hairstyle, trim the hair in the front and sides of your head and leave longer hair at the back.
This is one of the hairstyles you can have if you want to look creative.
It's a unique style for bold people, so this hairstyle will give you the confidence to face everything around you.
Piecey Bedhead Short Hair
Piecey bedhead short hair is one of the best unofficial hairstyles you can choose. It creates a messy hairstyle with layers which is achieved by applying styling products.
You can use products like hair gels, waxes, or pomades to your hair, and styling will be easy.
Shoulder Length with Middle Parte Style
This style is for those who love long hair. Your hair should be cut at shoulder level to achieve this look.
For a better look, part the hair in the middle. When this hair is allowed to take its natural flow, it looks nice on men.
Make everyone break their necks as they look at your new gorgeous look.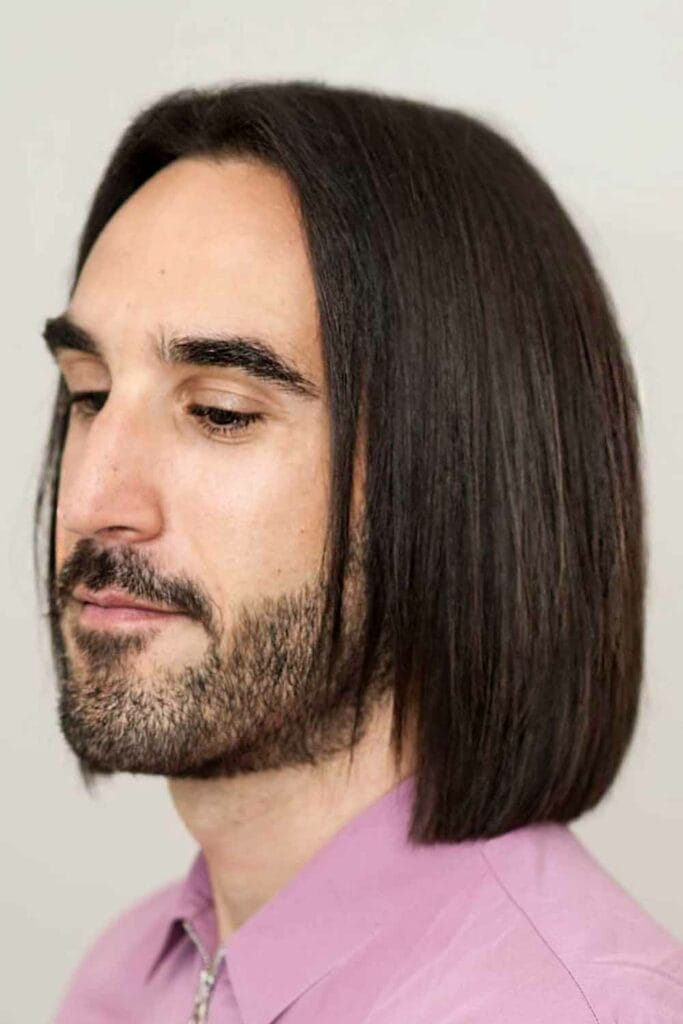 Long Waves Haircut
If you want to make your undercut outstand, give your remaining long hair a good length. If the hair is straight or curvy, you can make it wavy to have a new look.
You can use many products on your hair to make it wavy. This is a low-maintenance hairstyle that any man of any age can wear.
Last summer, while vacationing in Barcelona, I was surprised to see how the undercut middle part had taken over the European streets, each individual adding his unique twist to the style.
Boys Middle Part
Boys, too, can have a middle part. This middle part can be combined with different hairstyles like an undercut, bang, etc., to give your boy a new classy look.
As with any hairstyle, the magic often lies in the subtle nuances—a slightly different fade, a variation in parting, or even the texture of the hair itself.
Slicked Back with Disconnected Undercut
This features the top haircut at different lengths. The hair on the sides and the back are completely shaved or trimmed and covered with hair at the top.
The hair is then brushed back for a perfectly relaxed look.
Bro Low Fade
The hair starts fading from the neck and the ears upwards. The hair at the top can be long, short, or medium.
The hair is let to take its natural flow. With this haircut, you will not need frequent visits to the barbershop, and it will take a very short time to style.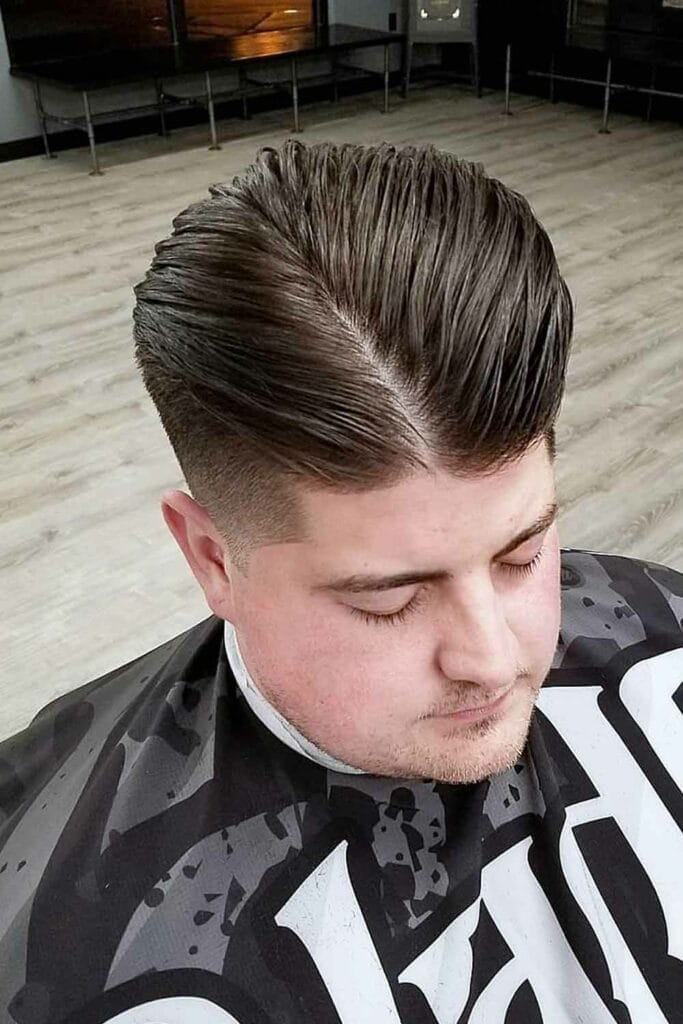 Surfers Middle Part with Afro
This is a perfect hairstyle for natural hair. If you adore your natural hair, this can be a statement hairstyle.
It is the hairstyle that will make your hair look beachy and wavy.
Achieving this hairstyle is simple, just divide the hair at the top and apply some product to your hair to prevent it from getting messy. And there you have a bold and stylish look.
Smooth Windswept Look
A windswept hairstyle can easily be confused with an unintentional hairstyle, so you have to do something unique for people to stop mistaking it as accidental.
One way of giving it a unique look is applying hair products to make it smooth.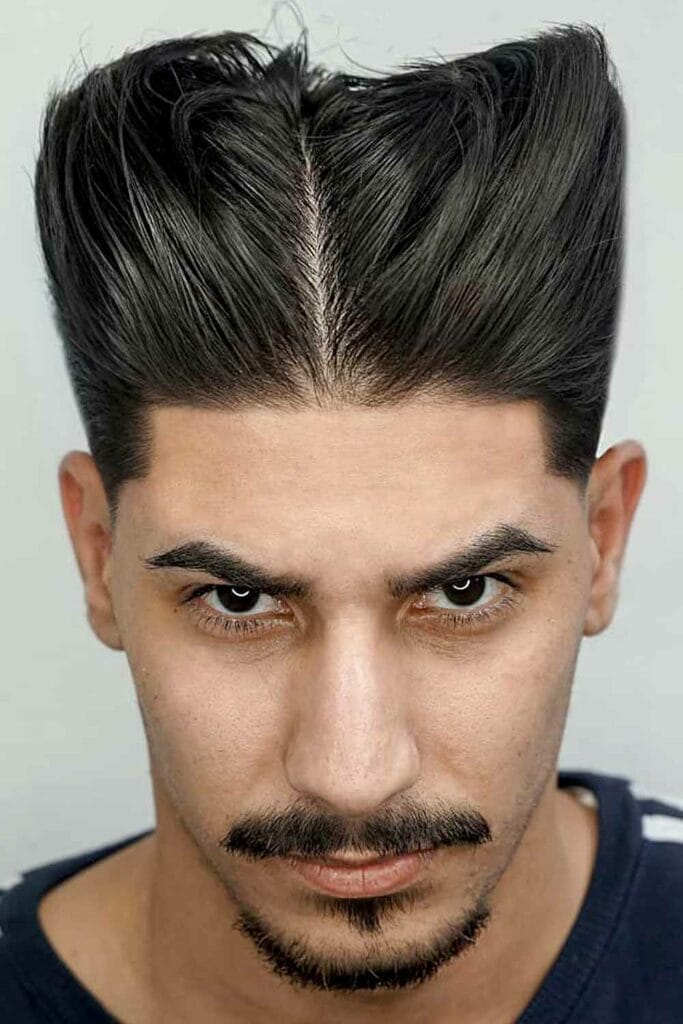 Short Layered Messy Style
The short layered layer is a statement hairstyle that every guy who wants to look bold can have.
All you need is to cut your hair short but in different lengths. You should make them look messy by applying a product if your hair is tidy.
Modern Bowl Buzz Cut
This haircut comprises an undercut and textured top. The hair at the top is cut at the same length to give it a round-like look. You can complement the haircut with a bang to have a classier look.
Loose Textured Waves
To create this look, you first need to spray your hair, then brush the hair with a smoothing brush.
Take small sections of your hair as you curl, spray with a light spray, and then comb it. You can also use your hand to style. This will give you a fantastic look.
Forward-Combed Deep Side Part
Part the hair from the side and ensure you go deep into the scalp. Then comb the hair forward on the opposite side.
This is a straightforward hairstyle that will leave you looking admirable.
Final Word
Being a man doesn't mean you must shave your hair entirely daily. There are several hairstyles you can wear to look unique and admirable.
You can alternate these undercut middle part hairstyles until you get the best styles.
FAQS
How Do I Inform My Barber About A Middle Part?

When you visit your barber, be specific about wanting a "middle part" hairstyle. Providing a photo reference or detailing the length and style can ensure you get the desired result.
What Is Middle Undercut?

The middle undercut is a distinct hairstyle characterized by longer hair on the top that covers the closely cropped sides and back. This style can be further enhanced with features like a fringe or fade.
Are Undercuts Still Fashionable?

Absolutely! Undercuts remain a popular and trendy choice, consistently evolving with modern fashion sensibilities and favored by many celebrities.
Is The Middle Part Good For A Round Face?

Yes, the middle part is flattering for round faces. It elongates the appearance of the face, adding balance and structure.
How to Hide The Middle Part Of My Hair?

To conceal the middle part, you can gather the top section of your hair and pin it back, or volumize your hair to naturally divert it from parting down the center.
How Can I Stop My Hair From Splitting Down The Middle When I Push It Back?

To prevent your hair from splitting down the middle, start by combing your hair when it's damp, training it over time. Consistent use of a light hair product can also aid in keeping the hair pushed back uniformly.
Is A Middle Part Undercut Delectable For Guys?

Definitely! The middle part undercut exudes a blend of classic charm and modern edginess, making it a highly sought-after style among many men.
Khamis Maiouf is a professional barber who graduated from Hinckley College in England with a degree in hairdressing. He has also won several barbering contests and successfully operated a barbershop for the last two decades. As a skilled hair stylist for 20 years, his goal is to teach others how to achieve a beautiful appearance through their hairstyles.