How to Grow Lumberjack Beard Style?
If you think it's a shame to not invest a single buck for grooming, then you are wrong. Think about it positively. Not everyone has the time to groom themselves even they are a billionaire. So, stop worrying about everything, and know how you can have a glorious beard at zero cost. If I am going to start making a list, it will be huge. But I want to suggest a specific name from the list. That's Lumberjack Beard Style. Have you heard about it before? No? Then don't worry, you'll get all of your answers in this article.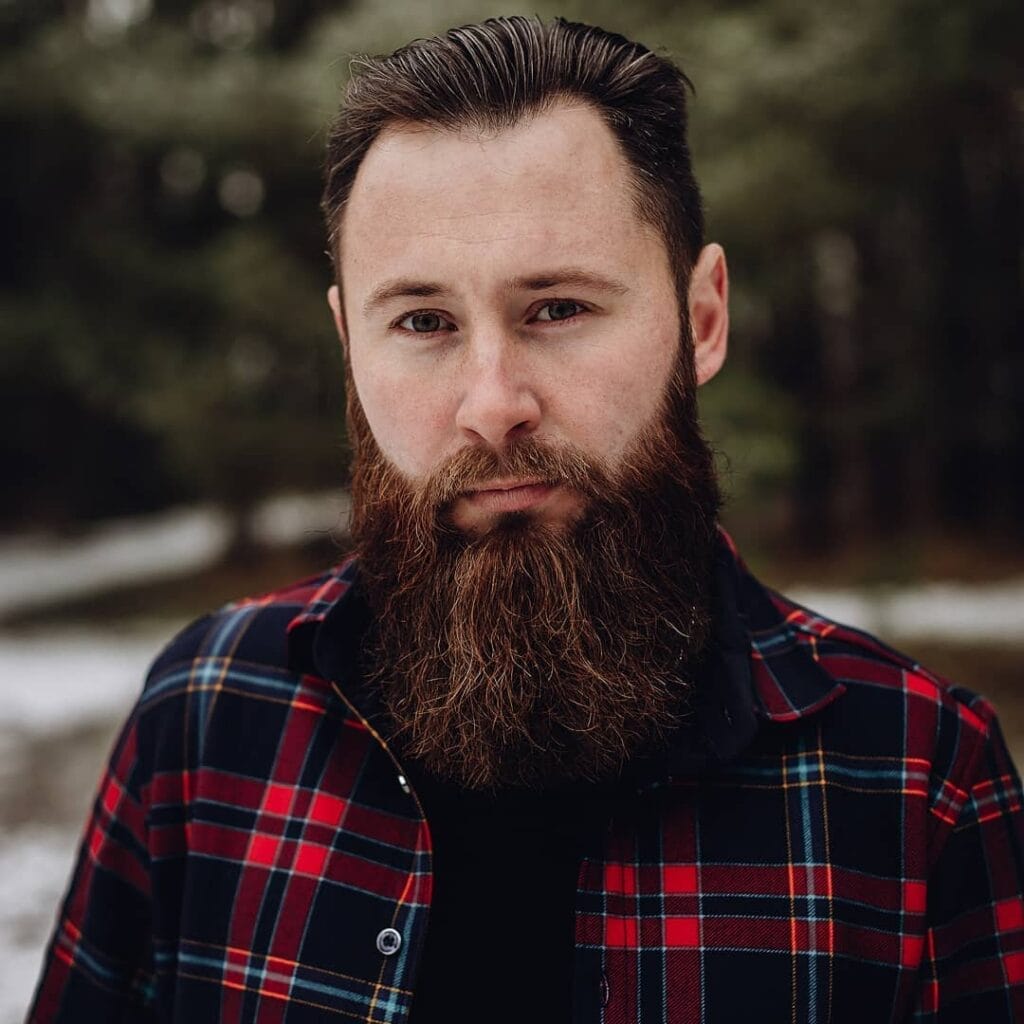 What is Lumberjack Beard Style?
Lumberjack Beard Style is a unique classic style of Western America. People are from various professions are come across daily. Such an incident has happened a few decades back. What was that? There is a group of people who live their lives by cutting woods. Not only cutting, but the creativity regarding woods are often done by them. Those so-called carpenters, from a particular village in Western America, have a unique grooming style, such as the Ducktail Beard style. That's their beard.
In this modern world, grooming especially a beard has become one of the great attractions, like Jon Hamm Beard. When such an amazing beard style came into the public's eye, it started getting popular. And because of their profession, this signature beard style named as Lumberjack Beard Style.
What are The Specifications of the Lumberjack Beard Style?
You'll be wondered by knowing this amazing fact. Do you know how much those lumberjacks spend to groom their beard? Any ideas? It's zero! Yes. But you can see the class, the style, the masculine nature of their beard, right? It's certainly amazing. Let's know what are the specifications of this amazing beard.
To be frank, this beard is from another world. If you want to get exactly the lumberjack beard, then roughness will be the key. Dust, sweat, and work get their body busy all the time. Nature has given a gift to her precious children. This beard. The next thing is the length and density of it. It's not too long. It depends on man to man. But on average, it's 1 to 1.5 inches (3.81 cm). You can do it as long as you want. And density is very high. Whether you can say, it's due to random roughness, but in the end, it's thick.
Now, what's making this style unique from others? The shape and the edges of the beards are deciding how much dashing it would be. And that makes the difference too. For the Lumberjack Beard Style, it starts from cheekbones to the neckline. There is no need to have a good finishing between beard and moustache meeting point. The moustache must be thick enough to look comfortable with a beard. Lastly, the density of hair must be the same between the margins.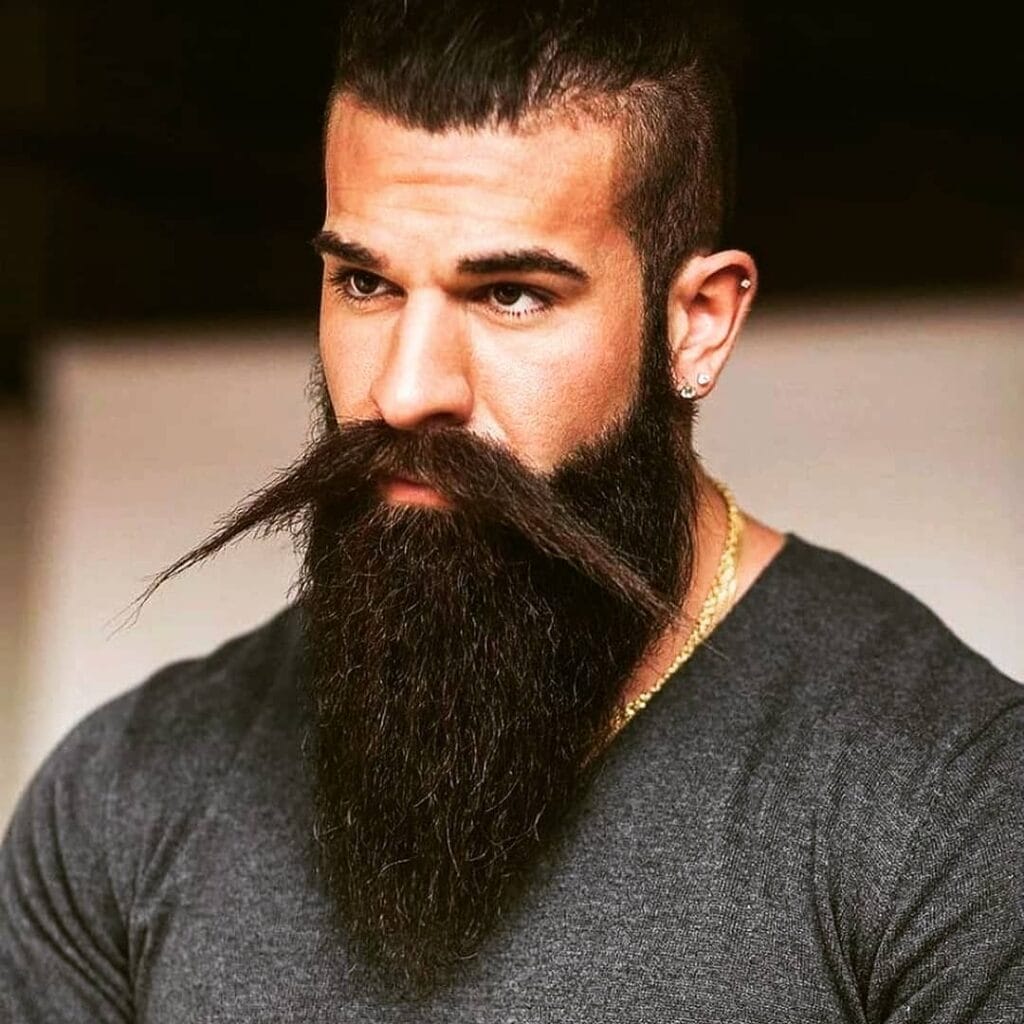 Will Lumberjack Beard Style Look Good on You?
It's a brilliant question and probably, you are thinking about it. Right? Then let me tell you something. For example, say the name, David Beckham. He has an amazing beard style, right? But he used it recently, not throughout his life. You can copy his style, his dye of the beard and get the same beard. But here, you are copying someone's signature style. But when it comes to a group of people, there no use of the word 'Copy'.
You know, this Lumberjack Beard Style is fully natural. So, it's possible that you can have this beard style. No investment in money, no investment of time, you can have a full grown-up lumberjack beard easily. And it will suit you as it does for everyone.
How to Grow The Lumberjack Beard Style?
As I promised you, you don't have to lend your money to make this beard. But you must have the basic necessary ingredients in your hand. What are those? You'll know while I'll explain.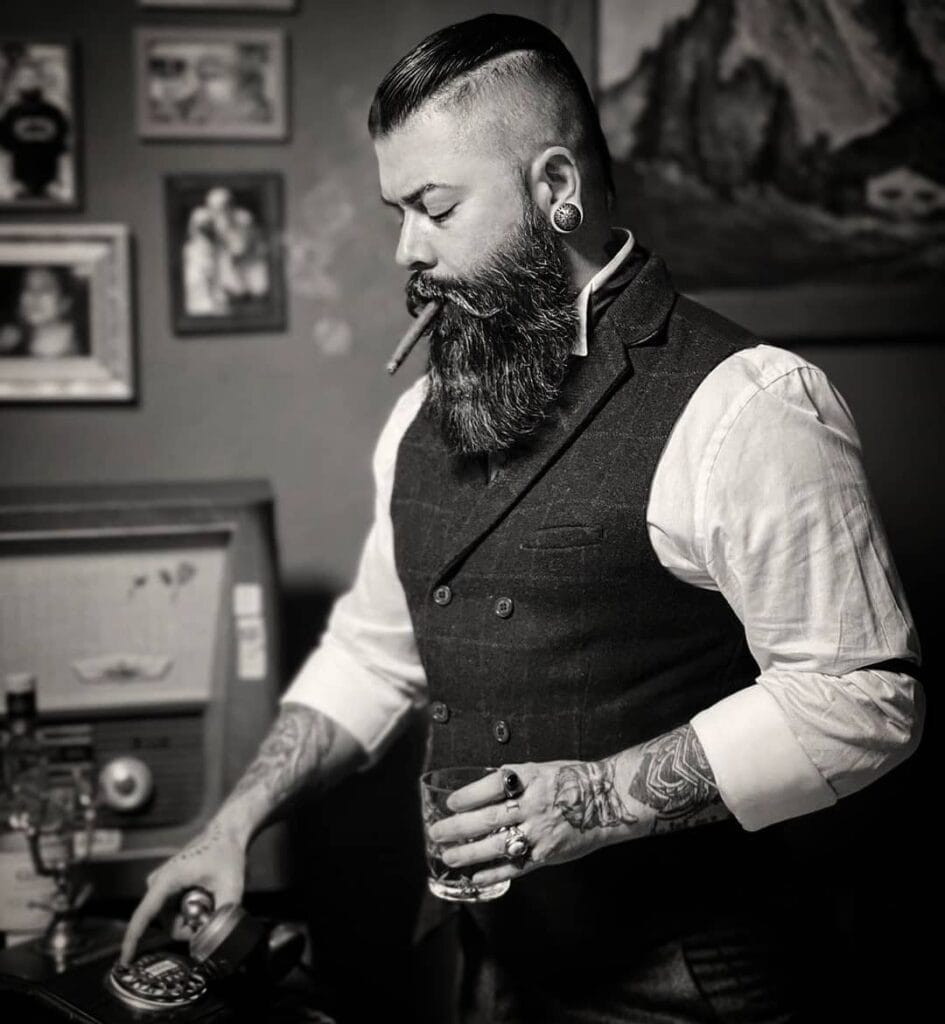 Step-1: Work Out and Eat Healthily
One survey was done on the lumberjack community. The main topic was the Lumberjack Beard Style. Everyone in this world is surprised to see their beards. While doing the survey some vital points came in front of us. You can say, it's their secret and mother nature's blessings to them. Not only their beard, but their physiques are also masculine too. As they are working out as a woodcutter and other staffs, it makes them more efficient.
Do you know the more you work, the blood flow in vital spots will increase? Yes, that's their secret. These hard workers put all their effort into their curriculum with full potential. Even their facial muscles act simultaneously on their actions. Because of a good blood flow, they are having such a thick beard. So, here you learn the first hack. Do a lot of physical work, especially facial massages. Don't have time? Okay, buy chewing gum and let your face muscles move on their own.
Another excellent hack to grow such a thick beard is to eat healthily. What kind of food you must try? Beef, carrot and foods with Vitamin C and Vitamin E are very helpful. The lumberjacks usually eat this food in high contents. You can also try dry foods like nuts, the biotin in it will help to grow a healthy beard. Now, match the dots. On one hand, they are eating such healthy nutritional foods and on other hand, they are working very hard daily. Such a good routine is making their beard thick, glorious, and long as well. Now, are you getting what you have to do?
There is an additional point from us. As you see how they make their beard thick, you need to make it stable too. As they don't care about their beard, so it becomes rough and hair fall happens. You can prevent it by taking water daily. Huge water intake is beneficial for health as well as for your beard. Lastly, don't apply it from the inside only. Allow water rinsing every day on your beard.
Just switch your nutrition routine with the new one and do the facial exercise as mentioned. Within few days, you'll get your result.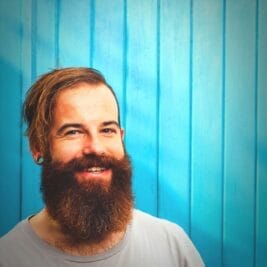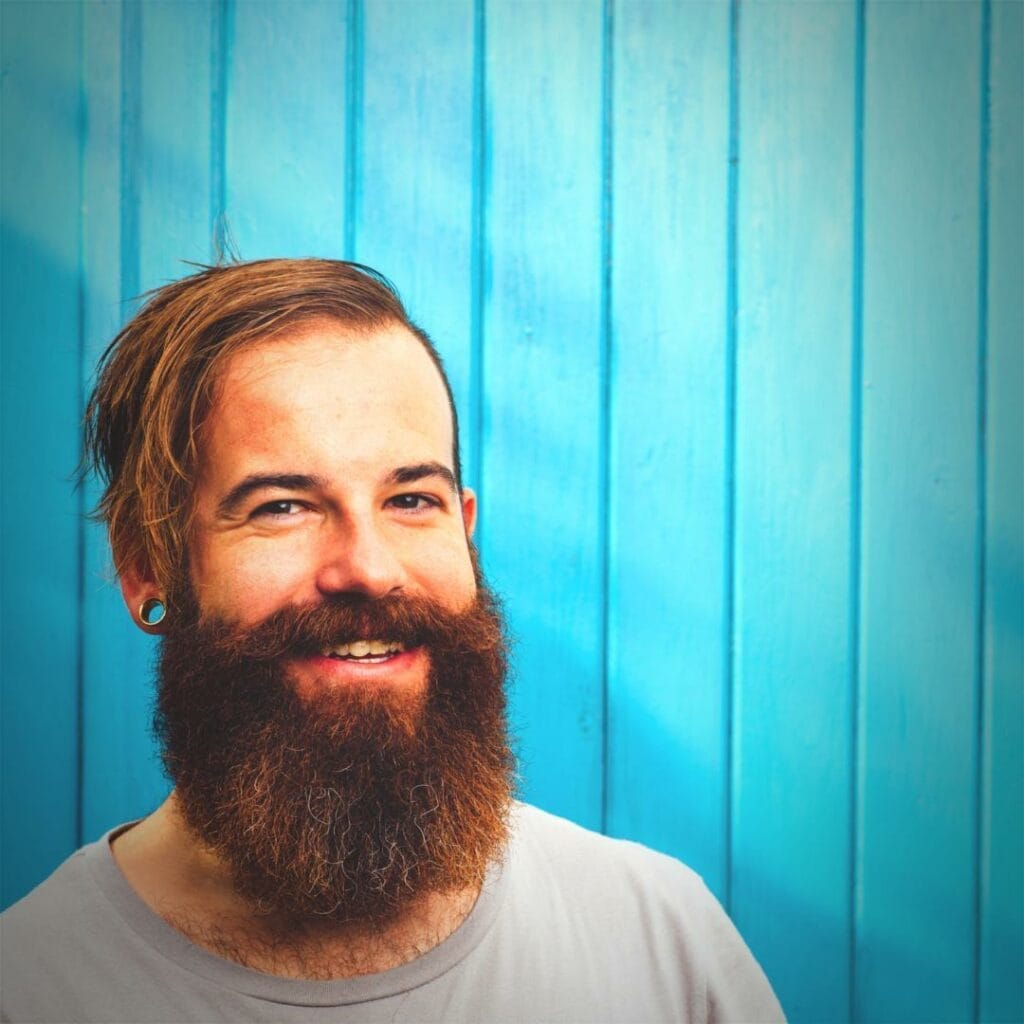 Step-2: Turn Your Beard into Lumberjack Beard
In this step, you'll make your beard into a lumberjack beard. To make this happen, you need to grow a 1.5 inches (3.81 cm) long beard at least. We expect that you have a razor or trimmer with you. Before starting, make sure you have scissors, comb and brush too.
To make this Lumberjack Beard, you need to make a long beard first. As soon as, it is thick, now, you have to give it the shape. No balm, no beard oil, no beard shampoo required to do this. Just use water instead. Let's jump into the method section. First, take the comb a d move through the beard several times. Make your beard lightly wet. As the hair roots become week, now it's time to trim.
Place your trimmer on the cheekbones from where the sideburns end. Now move it slowly in the direction of a moustache. Make sure, you trim up to the end of the moustache. Be careful to mix the short and long hair properly. You can apply scissors to it. Now, it's time to take care of your neckline. In Lumberjack Beard, it plays a crucial role. Take your trimmer or razor and shave the extended hairs at your neckline. Though because of a long beard, it won't be in the notice. However, perfect makes a man sexier.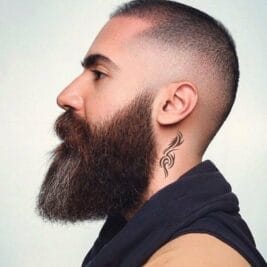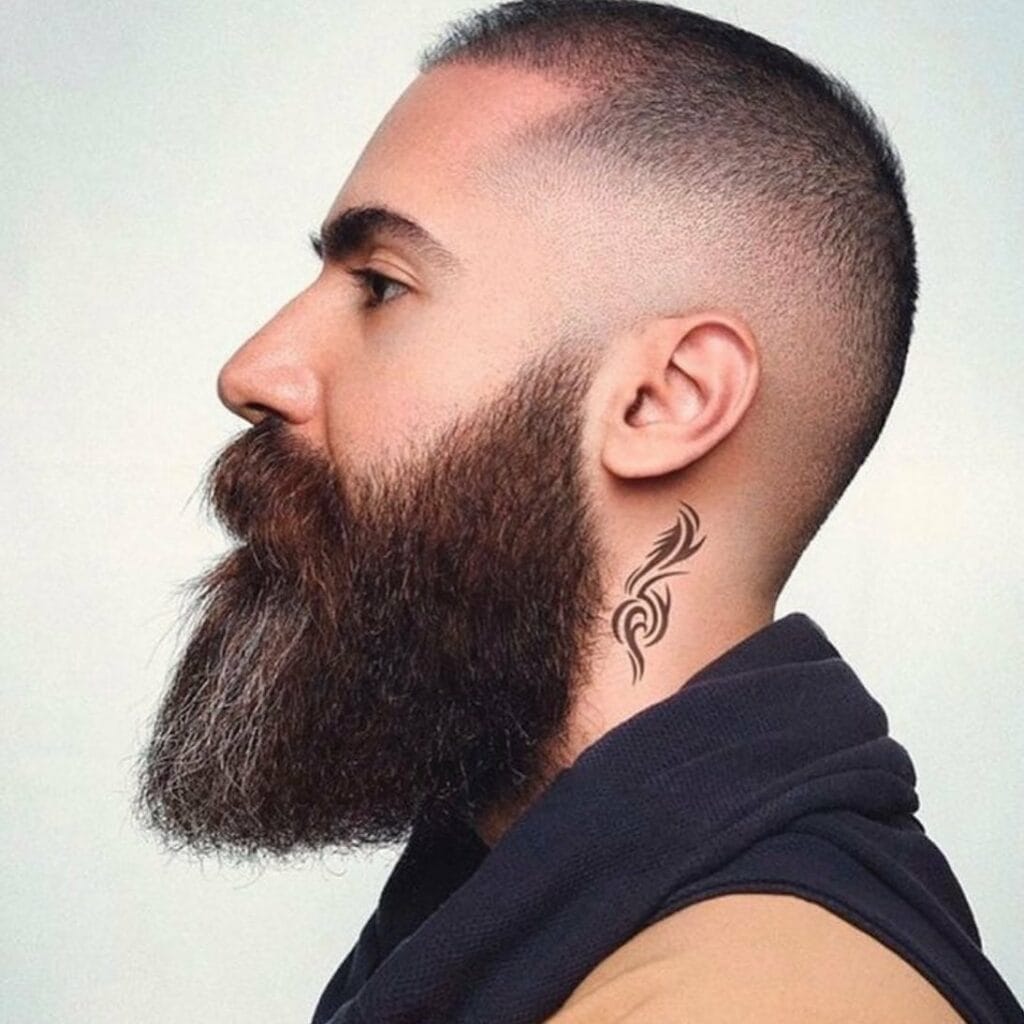 Step-3: Let Your Beard Grow
Probably this is the only beard where you need to wait for growing a beard after shaving. Surprised? The thing is, when the first time we make our beard, there must be some places where hair doesn't pop up. In a lumberjack beard, you need to grow hair at every space on your face (certainly within the margin).
"I don't have hair at the cheekbones. I don't have the hair underneath the lips. What should I do?" Are you facing the same problem? Some men don't have hair in these areas or some have a little. Don't worry, I have the best idea for you.
Take your razor and shave the bare area. Shave the bare area? Yes, just do it. Do it for few days. It may take few weeks in some cases. How will it help? Regular shaving will let the closed pore be opened.
Thus, you can have a grown-up beard in few days. If you are asking about how to maintain the beard for a long time, then I'll suggest you invest only 5 minutes. 3 minutes to rinse the beard every day while taking bath and 2 minutes to comb it properly. In any case, you don't have time to do this, the beard will get its shape automatically. That's the beauty of Lumberjack Beard Style.
Note: In this particular article, we are focusing on how to grow a beard quickly with zero investment. However, if you want some modifications and other changes, you can use dye. Even if you have certain issues related to face skin and other problems, you can use beard oil, shampoo, conditioner and other stuff.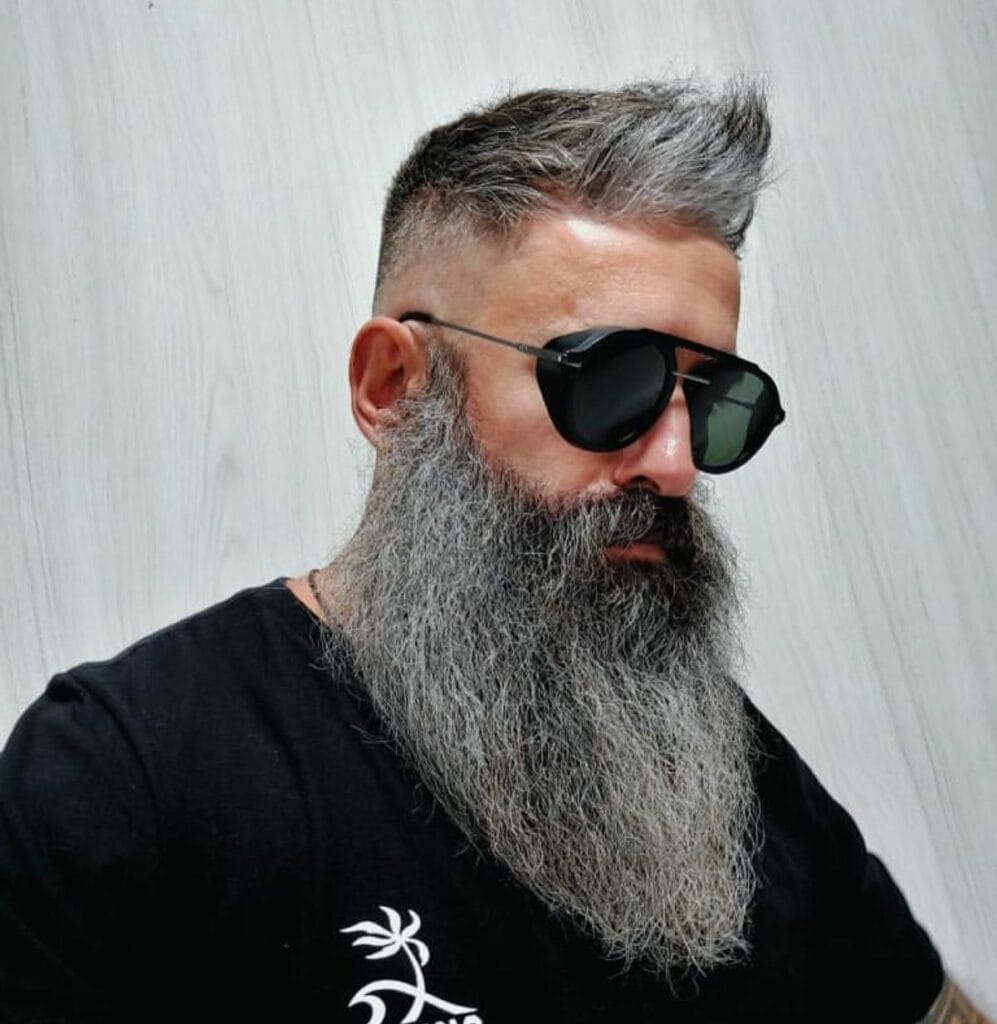 How You Can Make a Lumberjack Beard Style for Yourself?
You don't have to have the same beard as Lumberjack. People may think, you have lost your way from the forest. Just kidding! You can use some styles for yourself like-
Full White Lumberjack Beard
Retro Undercut with Lumberjack Beard
Lumberjack Beard and Round ends.
Slicked Back and Ducktail Beard (Though it is far different from the concept of lumberjack)
Long Hair Lumberjack Beard
Long Moustache Lumberjack Beard
There are millions of ways, you can think for your Lumberjack Beard. However, these are the most famous and suit every face shape.
Conclusion
I hope, the effort which is done on this article to give you a free stylish look, will be appreciated by you. From the beginning, all the steps are mentioned, often done by everybody. Just switching the diet chart, you can have an excellent beard. Be in yourself and trust your look. The way you look, that's perfect. Everyone is perfect in their way. Don't listen to anybody, your look is just fabulous. You can try the variations of Lumberjack Beard too if these suit you.
Khamis Maiouf is a professional barber who graduated from Hinckley College in England with a degree in hairdressing. He has also won several barbering contests and successfully operated a barbershop for the last two decades. As a skilled hair stylist for 20 years, his goal is to teach others how to achieve a beautiful appearance through their hairstyles.