17 Golden Black Men's Beard Styles for Masculine Looks
Talk of creativity at its best with the several beard styles currently in the market for black men.
The well-designed hairstyles leave your facial hair perfectly groomed to compliment your appearance. If you have facial hair and have not tried any of these styles, there is a part of your life that's missing.
We have sampled the coolest black men's beard styles that will give you the coolest appearance and showcase your masculinity.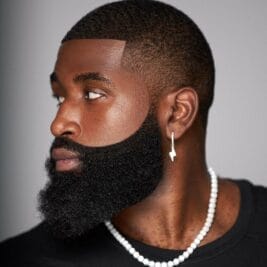 Sleek Chin Beard Black Men Hairstyles
Chin beard is a simple but sleek style to get a clean and pretty face.
Shaving any stubble and sideburns on your cheeks illuminates your beard from a distance, making them noticeable.
This helps to shift the attention to your beard away from the center of your face.
Go for a chin beard if keeping a bushy beard is not your thing. When done skillfully, this style makes you attractive and delectable.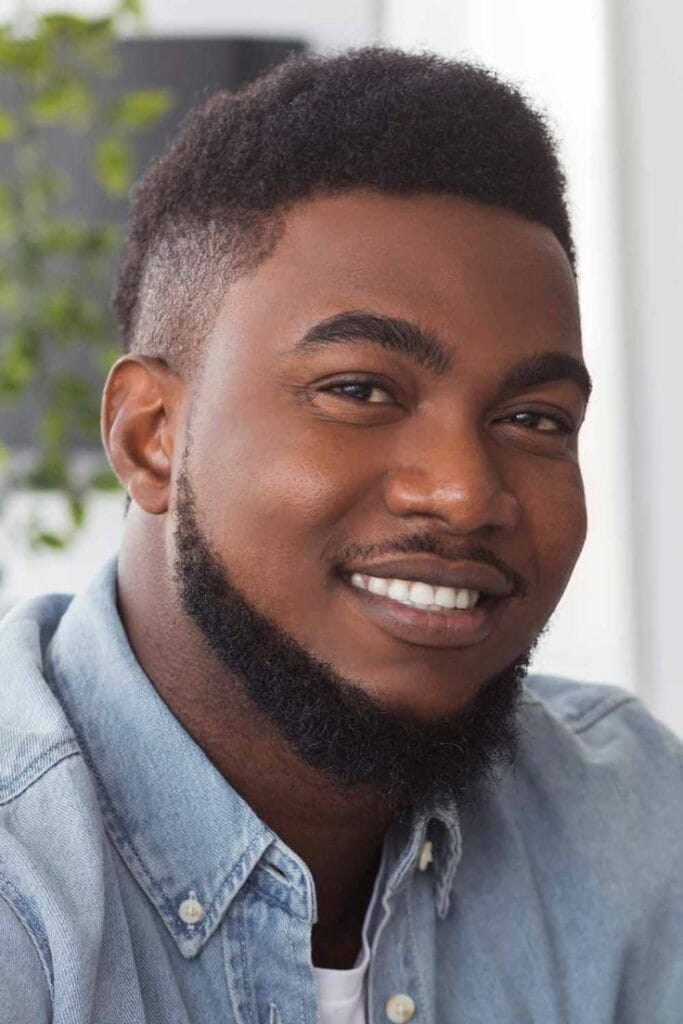 Anchor Beard Black Men Haircut
The anchor beard is a combination of a mustache and a goatee-style beard. Guys with square, rectangular, and round faces appear excellent in this cut.
Again, consider going for the anchor beard if you are a public speaker. Having it diverts people's focus to your lips and mouth making them attentive to what you are speaking. Grooming is essential for a healthy beard if you want to rock in this style.
Keep trimming each of your hair regularly to maintain it.
Stubble Black Men Beard Haircut
While long beards elate most black guys, it's not true for everyone. Go for a short stubble and get a stylish appearance with little effort.
Mutton Chops Black Men Beard
Get the daring mutton chops to show off your bravery. Getting this cut requires your stylist to create definite cheek lines.
However, the sideburns remain full and long but cut at a wide angle. Connecting the mutton chops with a mustache will help you look friendlier. 
Keep them maintained for a full face and rugged look.
Elegant Black Men Mustache
Get a black man's mustache beard and be the subject of talk regarding your appearance. You will require little effort to grow it since it is thick.
You need a black man's mustache if your daily routine is busy with little time for grooming.
Glamorous Goatee Beard
The style is complete, with a short beard under the chin. Having it will leave your face gleaming and stylish.
Although suitable for other face shapes, round faces take the lead in rocking with a goatee beard.
Plus, this beard suits guys whose chins do not have uniform hair growth. This is because a lot of hair is shaved to get the goatee beard.
Short Black Men Beards Haircut
Short but full hair characterizes this beard style. Many people, especially black men, go for it because it's classy yet easy to maintain.
It's the best way to wear a uniform beard if your hair is even and thick all around your face.
Classic Soul Patch Cut
Soar high with a strip of facial hair extending from your lower lip to the chin to produce a glamorous Soul patch beard style.
The contours at the periphery of your face leave you with an imperial feeling not found in any beard style.
Add a mustache to your soul patch for a standout finish that will wow ladies.
Sexy Full Beard
While maintaining a full beard may be an uphill task, there's no doubt that it's fantastic.
How else will you show off your masculine vibe? This beard suits all face types and any hairstyle making it popular among black men. It also allows you other options, including wearing it with a mustache or sideburn.
Carved Beard
The carved beard allows your barber to style it according to your taste and preference.
Your barber carves it at any angle, shape, or length to give you a sleek and impressive appearance. This is one of the styles you must consider when taking your beard style to another level.
But if you are that guy who is not so much into grooming, avoid it as plague. It's a high-maintenance style but worth it.
Drake's Stubble Beard
The Drake's stubble beard is characterized by a short and subtle growth, resembling a person that forgot to shave.
It would be best if you kept your hair trimmed all the time to maintain the look.
Five O'Clock Beard Cut
The five o'clock beard draws its name from a thin hair that appears in the afternoon in case you didn't shave in the morning.
In reality, it takes about three days to grow your hair to the length required for this cut.
Using an ELECTRIC SHAVER, trim your hair size to give you a striking natural look.
You'll need to trim the areas around the neck and cheeks to maintain this cut almost every day. edges
Bald Black Man Beard
A bald black man's beard has never lost its glory. Consider going for the bald black man style if you are experiencing thinning hair or baldness.
Detract people's attention by having your head shaved clean while maintaining your beard.
Overall, you don't have to be bald to experience the taste of this beard cut.
Do you like it?
Go for it. Shave your head clean to give prominence to your beard and experience a delectable look.
Biker Beard
The biker beard is got by having your beard at the chin with extra length while the sides remain straight.
You'll need to be calm to grow your beard to the size required for this beard style for a cool appearance.
Plus, extra care is necessary to avoid giving it a messy shape.
Avoid lanolin-based beard oils if you are to prevent clogging your pores. Instead, use tea tree, coconut, and argan oils to keep your beard gleaming.
Chin Strap Black Men Beard
The chin strap beard resembles an army of ants on a line going for a mission.
It extends along the jawline from one end of your face to the other. It's worth noting this style covers the edges of your chin while the other areas are shaved clean. It's stunning on black men when the beard's length is moderate.
Guys that don't want to keep a simple beard yet aren't ready for a bushy beard have this style to choose from.
Ducktail beard Black Men Beard
Do you have a thin mustache but want to grow a beard?
A Ducktail beard is at your disposal.
Ducktail is a great cut that will complement your overall appearance. It's fantastic with a business suit, jeans, and a tee shirt.
Allow the hair around your chin to grow to obtain the shape of a duck's tail. Shape it to your taste.
Black Men Faded Beard
Combine your faded beard with a long beard for a romantic look. Keep a defined cheek line and regularly trim any stray facial hair to rock with this style.
Wrap-Up
Different black men's beard styles blend best with given hair texture and skin tone. So, select your style carefully to help scale up your facial grooming for a new look.
Black men, beard styles offer you the freedom to style your beard to your demands and personality. You can have them carved in any shape or curve. However, most of them will require frequent reshaping and trimming to keep them customed and fine all through.
FAQs
Which Beard Style is Sexiest for Black Men?
STUBBLE BEARD has been ranked top among many ladies as the style that attracts them most to men.
How Often Should Black Men Wash Their Beards?
At least once a week. However, washing it twice or thrice a week is ideal.
Regardless of the number of times, wash your beard thoroughly to help strip away the toxic substances your skin produces and optimum maintenance. However, check how you use your all-natural ingredients because overusing them will result in dry skin.
As A Black Man, Should I Comb or Brush My Beard?
Comb It! This will help your hair become fuller and tidier for a healthy beard. It will also help your hair to maintain growth in a specific direction.
Khamis Maiouf is a professional barber who graduated from Hinckley College in England with a degree in hairdressing. He has also won several barbering contests and successfully operated a barbershop for the last two decades. As a skilled hair stylist for 20 years, his goal is to teach others how to achieve a beautiful appearance through their hairstyles.