Discover the Best Beard for Your Oval Face Shape
Are you tired of trying out beard styles that just don't seem to flatter your face shape?
If you have an oval face, finding the right beard style can be a challenge. But don't worry – we've got you covered. In this guide, I'll share expert tips and showcase the best beard styles for oval faces.
Whether you're looking for a bold NEW cut or simply want to refresh your current style, I've got something for everyone.
So if you want to find the perfect beard style that will make your oval face shine, keep reading!
Believe me when I say that God has provided you with a blessing in the form of an oval shape, as most beard styles are ideally suited for the oval shape.
What Is Oval Face Shape? What Beard Suits an Oval Face?
An oval face shape is characterized by balanced features and a slightly elongated shape.
The forehead and jawline are about the same width, and the face tapers gently to a narrow chin. The length of an oval face is about one and a half times its width.
It is neither too pointy nor too round. Typical characteristics include a slightly curved jawline and noticeable but not too prominent cheekbones.
Many people believe that the oval face is the perfect face shape for a man because of its balanced size and form. When you have an oval-shaped face, many styles will look good. You can have both a beard and a mustache.
21 Best Beard Styles for Oval-Shaped Face
You can do a range of beard styles that other men couldn't with an oval face. This versatility comes from having both square and round elements, so you don't have to worry about balancing anything. We are suggesting some of the best beard styles for an oval face that will go well with your face shape :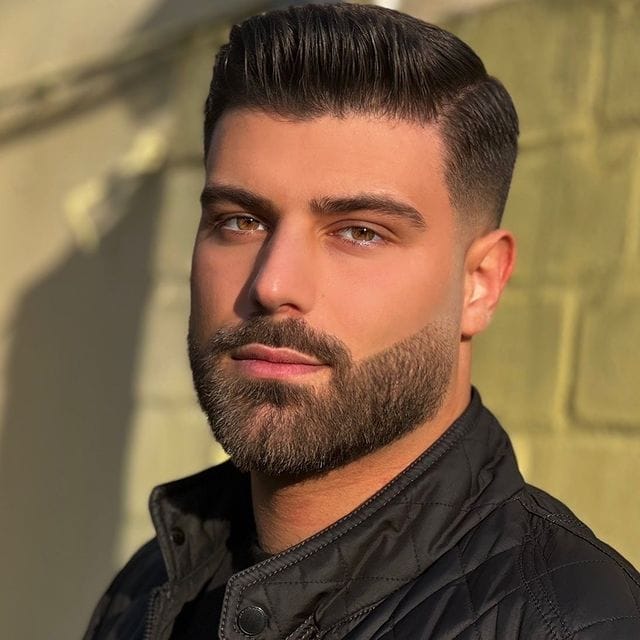 Chevron Beard Styles for Oval-Shaped Face
A chevron beard is a full-coverage statement beard that is angled downwards toward the corners of your mouth. It complements an oval face shape and is a fun way to add some personality to your look.
Horseshoe Facial Hair for Oval Face: Is Mustache Good for Oval Face?
The Horseshoe beard features two distinct long bars of facial hair going downwards to your chin. It will help you define an oval face shape, especially around the cheeks and chin.
Short Stubble Beard for Oval Face Shapes
Short stubble beards are one of the basic beard styles for these face shapes. This beard style appears short and can be kept tidy with the use of a trimmer. To keep it beautiful, clean the hair below Adam's apple.
Medium Stubble Style for Oval Face
Are you looking for an excellent macho beard style? I recommend you try out a medium stubble beard style. but It may take time to achieve this style.
Classic Long Beard Styles for Oval Face Shape
classic long beard style can be a great option.
To achieve this look, simply let your beard grow out to a desired length, making sure to trim and shape it regularly to maintain a clean and neat appearance. You can also add some texture to your beard by using a beard oil or balm to tame any frizz and add shine.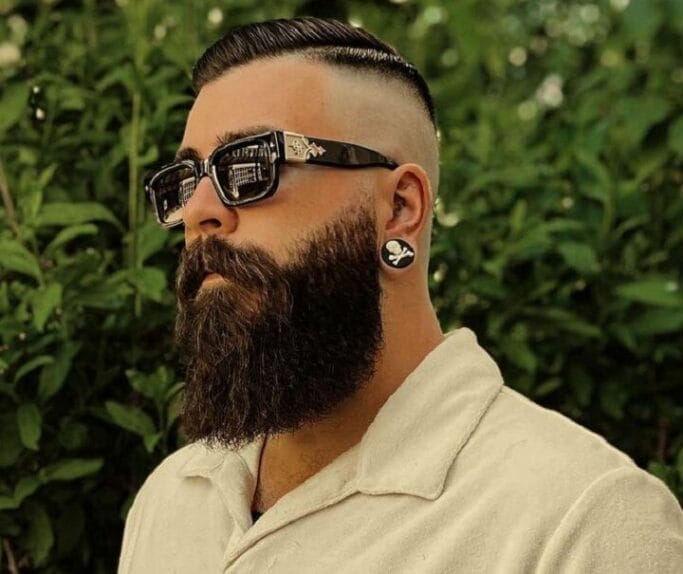 Classic Goatee Beard Style for Oval Shaped Face
The traditional Goatee is a popular beard style that you can find all over the world. A simple style that merely covers the chin and is simple to maintain. You'll look like a badass day in and day out with a bit of trimming.
Chin Curtain Facial Hair for Oval Face
A lengthier variation of the chinstrap is the chin curtain. Both beard styles for oval-shaped faces look great on an oval face and will make your cheekbones stand out more.
Winfield Medium Beard Styles for Oval Face
This style is one of a kind because this beard style makes people respect you just by looking at you. Maybe they think you'll give them a flying elbow to the chest or believe you are a pro wrestler.
Beardstache Style for Oval Face Shape
The most popular beard style in 2023 is BeardStache. It gives a simple look that unites a large, thick mustache with a full-face stubble beard.
It's a beautiful beard style for this particular face shape because it doesn't take away your naturally proportioned facial features. It adds a little scruff and roughness to the bottom half of your face.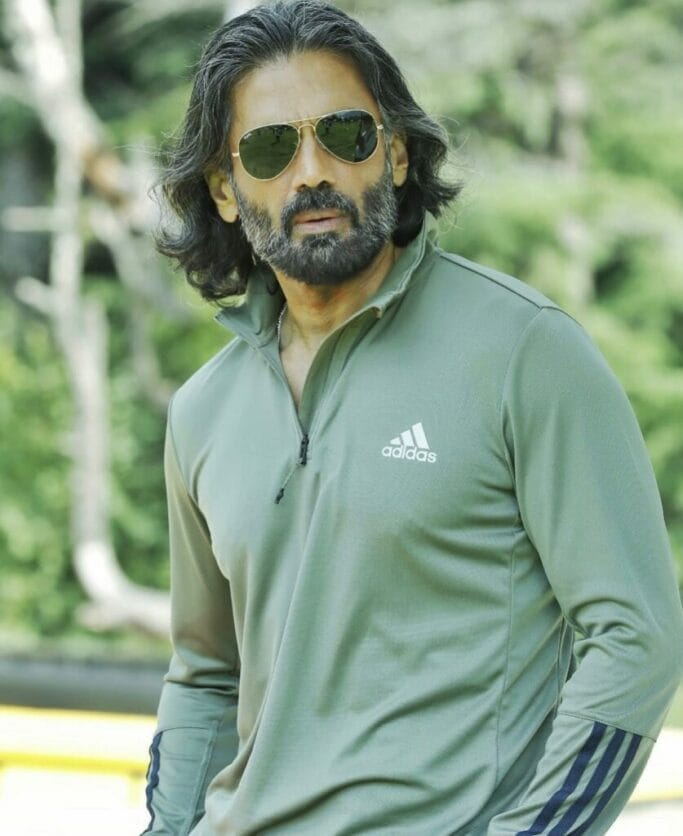 Short Boxed for Oval Face
For an oval-shaped face, a short boxed beard is a great idea. It has a nicely trimmed mustache, a full facial beard of an even length, and sharp clean-cut cheeks and neckline.
Because it's an excellent fit for organizations with rigorous beard restrictions, the short-boxed beard is sometimes referred to as the "business beard style."
Oval Face Shape Suitable Verdi Beard Style
A short full-face beard characterizes the Verdi beard style and a mustache curled up or fashioned to the sides. It's a great beard style for men with oval faces because it doesn't hide any of your natural features, and the mustache adds a lovely lift to your face.
Oval Face Suitable Garibaldi Look
This style is for you if you have an oval face and want to add some definition and size to your jawline while maintaining a natural appearance.
This beard style is notable for its little trimming and large rounded bottom half, which can draw attention to your jawline.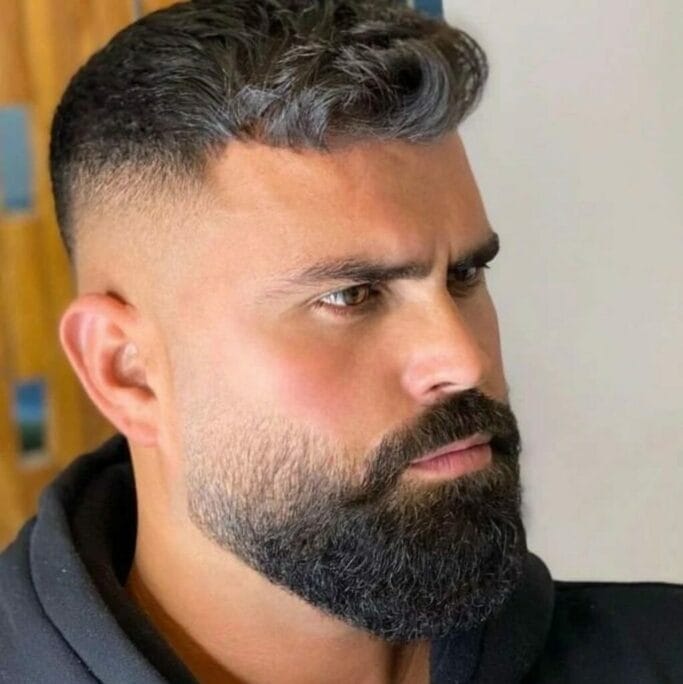 Oval Face Suitable French Fork Beard
The credit for making the French fork beard cooler goes to Jack Sparrow. The difference is that it creates two French forks at the lowest region of your face, similar to a full beard style.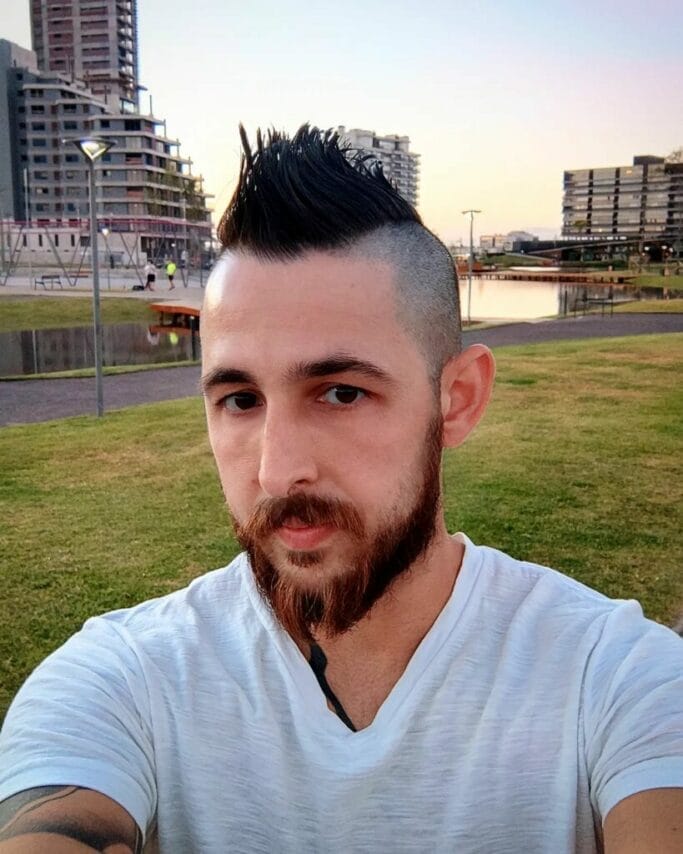 Ducktail Beard Styles for Oval Face
The ducktail beard style is a modern, edgy look that can be great for men with an oval face shape.
To achieve this style, you will need to grow out your beard to a medium length and then shape it into a point at the bottom, resembling the tail of a duck.
Circle Beard Styles for Oval Face
To keep your beard in a circle form, you'll need to pay extra attention and maintain it. It features a mustache and a circular beard on the chin.
To keep the circular beard in the right shape, you'll need to cut excess hair around it.
A Thin Goatee for Oval Face Shape
This looks similar to a big goatee but has less hair. This is equally appealing and emphasizes the best aspects of your oval face.
Landing Strip Beard for Oval Face
This beard is simple to grow and maintain. You have to leave the hair on your chin alone. The hair is sparse and looks like a landing strip.
Patchy Goatee Style for Oval Face
A Patchy Goatee is another option for those who struggle to develop a full beard. You only need to keep a thin beard and some hair on your chin. The mustache's hair is not connected to the chin's hair.
The Woodsman Look for Oval Face
The mix of narrow sideburns and a long beard creates a sophisticated look. You'll need to keep a thick mustache and a beard for this.
To have a tidy appearance, you'll also need to trim the hair along the cheeks.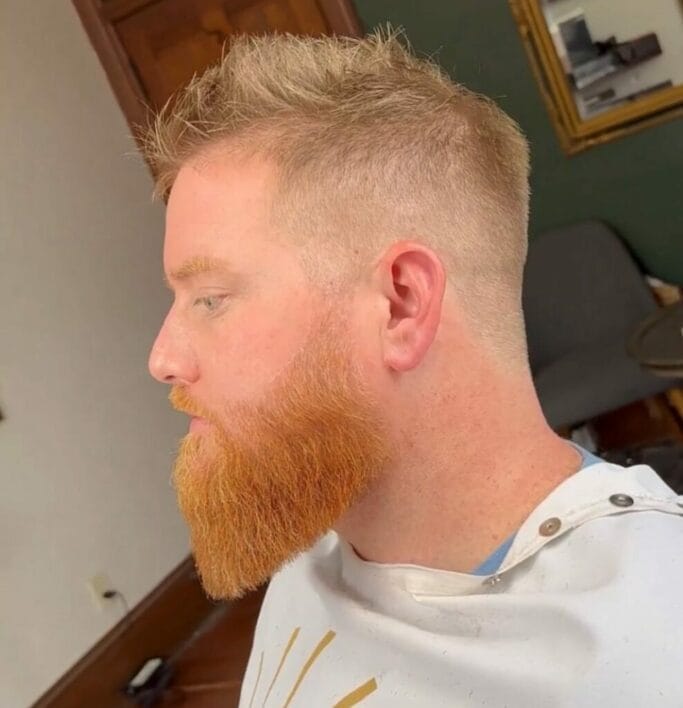 Defined Lines for Oval Face Shape
In this case, the hair on the chin must be shaved in part, with a little patch of hair remaining below the lower lip. This will draw attention to your jawline and chin, giving you a more manly appearance.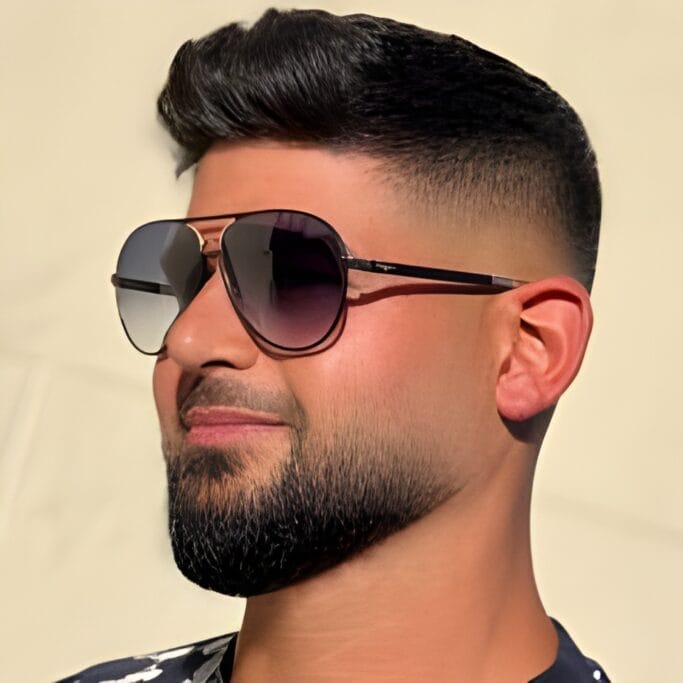 Full Beard for Oval Face
If none of the styles work for you, we propose moving straight to the whole beard avatar. You must have patience for your beard to grow fully, after which you can shape it with a razor or a trimmer.
If you are unable to shape it, then go to a professional barber.
Which Beard Styles for Oval Face Shape Works the Best?
The full beard: A full beard involves growing out all of the facial hair on your chin, jawline, and cheeks to create a thick, full appearance.
Conclusion
In conclusion, an oval face shape is considered to be a versatile and balanced shape, and as such, there are many beard styles that can work well for this face shape. Some popular options include the classic long beard, the ducktail beard, the full beard, and the goatee. Ultimately, the best beard style for an oval face shape is one that complements your overall appearance and personal style. With regular grooming and maintenance, you can find a beard style that works well for your oval face shape and helps you to achieve the look you desire.
FAQs
How to Maintain the Beard Styles for Oval Face Shape
To maintain your beard, this is what you have to do:
Use oil.
Trim regularly.
Wash it regularly.
Completely dry the beard.
Eat well and drink plenty of water.
How to Pick the Best Beard Styles for Oval Face Shape?
To pick the best beard style for an oval face shape, consider the following tips:
Determine your personal style: Consider your overall appearance and the style you are trying to achieve. Do you want a more classic, sophisticated look or a more modern, edgy style? This will help you narrow down your options.
Consider your beard growth patterns: Pay attention to how your beard grows and how thick or thin it is. This will help you determine which styles will work best for your natural beard growth patterns.
Consult with a professional: If you are unsure of which style to choose, consider consulting with a professional barber or stylist. They can give you personalized recommendations based on your face shape and personal style.
Experiment with different styles: Don't be afraid to try out different styles and see what works best for you. It may take some trial and error, but eventually, you'll find the perfect beard style for your oval face shape.
Maintain your beard regularly: No matter which style you choose, make sure to maintain your beard regularly by trimming, shaping, and grooming it. This will help your beard look its best and complement your oval face shape.
Khamis Maiouf is a professional barber who graduated from Hinckley College in England with a degree in hairdressing. He has also won several barbering contests and successfully operated a barbershop for the last two decades. As a skilled hair stylist for 20 years, his goal is to teach others how to achieve a beautiful appearance through their hairstyles.