21 Sexy Bleached Hairstyles For Guys to Spice Up Your Fashion
Bleaching your hair gives you a sexy look.
So if you want to try out a new hairstyle, playing with colors on your hair will give you a stylish appearance that will make everyone turn their heads.
Rocking a bleached hairstyle can make you more confident and bold than with natural hair. This hairstyle has been around for a long, and it's still in fashion.
You must have seen some celebrities with bleached hairstyles, like Brad Pitt, Adam Levine, and Justin Bieber, among others.
What does that tell you?
It tells you that wearing a bleached hairstyle can also make you famous.
And the good thing is that there are several sexy bleached hairstyles for guys you can choose to spice up your fashion.
In this article, we will discuss 21 sexy bleached hairstyles for guys you can try out.
1. Stunning Bleached Undercut
If you love an undercut, it's time to make it more fashionable by bleaching it.
After shaving the sides and the back of your head and leaving hair at the top, choose a good color.
You can choose any color you want, but you must be sure of the color first before you bleach your hair since once you do it you can't reverse.
An undercut makes you masculine as it shows off your facial structure.
2. Turned White With Quiff
One way to show your boldness is by coloring your hair in bright colors like white. Get a bleaching product that will make your hair white, and apply it.
You will need to apply a developer regularly on your hair to ensure it doesn't turn coper.
So if you have time to spend on your hair, you can color it white. You will need to shave the sides and the back hair but leave some hair at the top.
Brush the top hair forward to form a quiff. This is a fashionable style, and you will love it.
3. Attractive Bleached Combed Back
For a more attractive look with your bleached hair, you can change the style occasionally to avoid boredom.
This time, comb your hair bleached hair backwards. You can have tapered sides and back, or you may have faded skin. These will bring out your creativity, and everyone will be wowed by how you know to change hairstyles.
4. Awesome Bleached Buzz Cut
If you want a cool official haircut, a bleached buzz cut is your ideal hairstyle.
It's a low-maintenance hairstyle where you have the sides and the back tapered and leave very short hair at the top, almost the size of the buzzed sides.
Adding color to the top hair gives you more confidence.
5. Bleached Afro (Show Off Your Natural Curls)
Show off your natural curls in a new color. And even if your hair is not curly, don't give up yet; you can curl your hair and create the best afro.
This is one of the best unofficial hairstyles you can choose when going for that occasion of your lifetime. This is the time to look handsome with this new hairstyle.
6. Made White Pompadour
Do you have voluptuous hair?
Good, a pompadour is the ultimate hairstyle you need. With a pompadour hairstyle, you can change your hairstyle as much as possible, and there are several styles you can choose from.
A pompadour will allow you to make your hair more stylish with a side part.
Even though you have less hair on your head, there are still pompadour styles you can choose from.
Also, you can use different styling products to increase the volume of your hair. The white color on your pompadour will give you a more classic appearance.
7. Men's Bleached Hair Long
Who said men couldn't have long hair?
Men look amazing with long hair, and when color is involved, it even gets better.
Long hair can also be dyed, so if your hair is long, don't hesitate to make it trendier by bleaching it. You can style your long hair to your liking to make it fabulous.
8. Bleached Curtains
A curtain hairstyle features a long fringe and can be paired with a side or middle part.
The hair at the back and sides is also shortened. You don't need natural hair to get this hairstyle; you can have bleached curtains.
A bleached curtain cut makes you sharp and admirable.
9. Turned Pale Taper Fade
A taper fade is a style that never gets out of fashion. It's a haircut that gives a stylish look to every hairstyle.
With a taper fade, the hair fades to the skin as you go down to the natural hairline. A grey or white color can complement this hairstyle.
10. Cool Bleached Fringe
A bleached fringe is a cool hairstyle that will look good on you. You can have a side fringe or a blunt fringe.
When creating a bang, ensure you keep your front hair to a manageable length to ensure it won't disrupt you.
To make your hairstyle unique, add color to your fringe. There are different colors you can choose for your hair.
Your hair color will give people different perceptions about you, so ensure you communicate the right message through the choice of color.
11. Blonde Slicked Back
Blonde slicked back is a trendy hairstyle you will see around with most guys. You can combine it with a low or high fade to make it modern.
Styling this hair is simple and you can achieve by using hair products like a gel, hair spray or wax. These hair products ensure your hair stays in place the whole day.
12. Unique Platinum Messy Hair
If you want a cool look, a platinum messy hairstyle will do you good.
Platinum color allows you to match your hair with your skin color or outfit. This hairstyle will give you a new look and show your creative skills.
13. Bleached Caesar Cut
This is a good haircut for short-hair lovers. So if you are one of them, give your hair a new look with this haircut.
The hair at the back and sides is trimmed, and the hair at the top should be not more than three inches long. Brush the top air forward to create a fringe.
14. Bleached Straight Fringe
You can have a bleached straight fringe for a handsome appearance.
If your hair is curved or wavy, ensure you make it straight. Brush your front hair forward such that the hair rests above your eyebrows.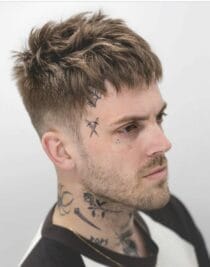 15. Bleached Short Hairstyle
Many men love short hair. It can be complicated to style short hair, but styling it is easy, and the hair stays neat the whole day.
Short hair can feature side parts, bangs, fades, etc. bleaching short hair is one way of making you stand out in the crowd.
Even with other styles, the hair will look more sophisticated when you bleach it.
16. Bleached Messy Hairstyle
A messy hairstyle is easy to make and doesn't take much of your time.
You should put more styles to your messy hair to ensure people won't confuse it with being shaggy and unintentional.
Bleaching your messy hair will make you attractive and bold.
17. Bleached Shag
This haircut consists of different layers of hair on the top. The hair is cut at different lengths to create a shag.
Your shag haircut is not complete without bleaching. With this haircut, you can feel more powerful and authoritative.
The hairstyle works magic on your self-esteem.
18. Bleached Short Fringe
A short fringe is another type of fringe you can rock in. if you love fringes, you can play with their lengths and colors to create a unique haircut every time.
The hair is cut half the forehead or shorter.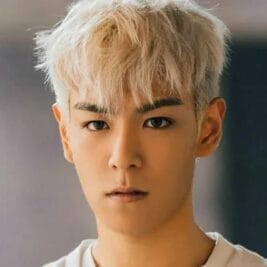 19. Bleached Guys Flat Top
You need to comb your hair upwards with a flat top and cut it at a uniform length.
The sides and back are either shaved or cut short.
The rest of the hair at the top is combed upward and styled such that it retains the same length when you look at it from any angle. This hair is then dyed for a modern and bold appearance.
20. Bleached Man Braids
If you have braided your hair, you are not only restricted to your natural color. You can bleach your braids to acquire the color you want.
With this hairstyle, you will feel more confident.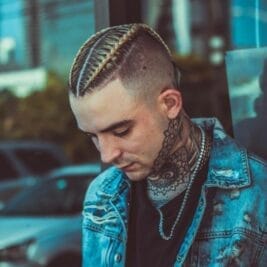 21. Bleached Medium Fade
A medium fade is a haircut between a high and low fade. It's a statement hairstyle that will make you appear cool.
And yes, you can bleach this hairstyle for a more handsome appearance.
Final word
Men have worn bleached hairstyles for many years, which is still fashionable.
When bleaching your hair, you need to choose the color wisely and choose the color you will be comfortable with for the period you want that hairstyle.
It's important to know that once you bleach your hair, the only way to reverse its natural color is by shaving it or cutting the bleached part.
Also, some colors are high-maintenance for them to retain the color for long. Bleached hairstyle is a stylish hairstyle that will make you confident in your appearance.
Khamis Maiouf is a professional barber who graduated from Hinckley College in England with a degree in hairdressing. He has also won several barbering contests and successfully operated a barbershop for the last two decades. As a skilled hair stylist for 20 years, his goal is to teach others how to achieve a beautiful appearance through their hairstyles.