The crew cut is the most famous hairstyle for guys with short hair. The crew-cut hairdo is trendy and classic, and it allows you to wear short hair in different ways while requiring minimal care. For example, boys can opt for a long or short crew cut and decide whether to fade the sides or leave some length for a tapered haircut. The crew cut hairdo even allows for creative changes, such as a side part crew cut, spiky hair, or keeping it natural textured and sloppy.
While we prefer the high fade haircut crew cut for its quick and simple style. However, the modern and traditional crew cut still remains a favorite for professionals, no matter which variation you choose. This article will discuss all you need to understand about crew cut down below. It will teach you about obtaining the perfect crew cut, including short or long hair on top.
What Is A Crew Cut?
A crew cut is basically a very short haircut with closely buzzed sides, and the natural hair begins to grow longer just above the ear and up to the top of the head. The Crew Cut, such as Buzz Cut, gets its name from its military origin. In opposite to Buzz Cuts, the sides and back are trimmed.And if you request your hairstylist for "short sides and back," that's what you'll get. Typically, the length variation is roughly an inch or 2.5 cm.
What is the right face shape for a crew cut?
It has been proved that males who have thicker hair appear exceptionally appealing with a crew cut. It really doesn't imply that males having thinner hair can't carry off crew cuts. The crew cut has no age restrictions, and you may wear it in your 20s as well as your 60s. This is especially true for males who live an active life and have hair that gets in the way.
All varieties of a crew cut usually give the person a more aged appearance. However, they function as well if you have a receding hairline. In any event, if you're not sure which hairstyle is best for you, consult with your barber. Additionally, when choosing a crew cut, you need to examine the face shape before settling on a crew cut. Not every beard and haircut suits every facial shape. With that said, the crew cut is flattering on most face types; that's why it's a popular style.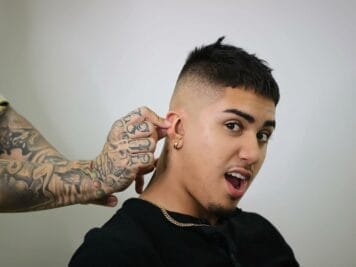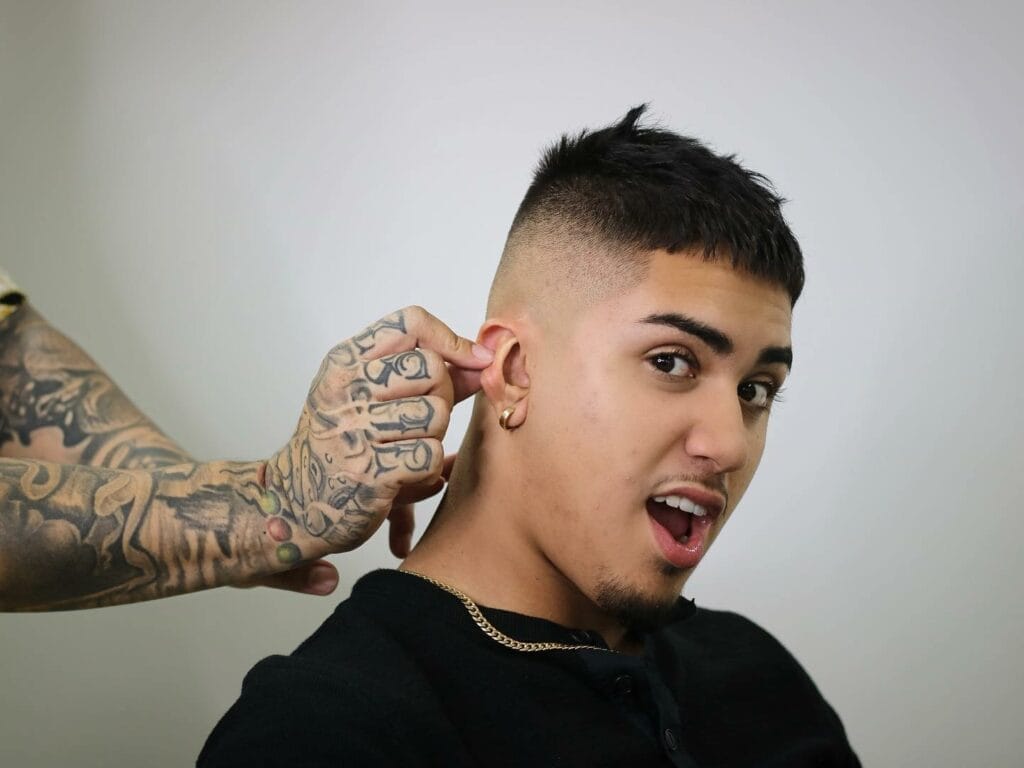 However, not every face shape is suited to the crew cut. Face shapes such as oval, round, and square are great fits. If you have one of these facial shapes, go to your favorite barber and have the crew cut immediately. You may play with different types, lengths, and heights with the oval face shape. Crew cuts, which can narrow the face at least slightly are beneficial to the round face. Men with square features look best in a crew cut influenced by the military.
However, if you have a square face shape, fade may not look nice on you. Diamond, heart, and triangle face shapes can have a crew cut, but only in certain styles.
6 Stunning High fade haircut Crew Cut
High fade Modern Crew Cut
The trendy crew cut is a cutting-edge way to attain this one-of-a-kind style. Men with shaved sides and 2 inches of hair on top may achieve the best contrast. To get the stylish modern gentleman look, mix a crew cut with a beard.
High fade Mid-Length Crew Cut
This is ideal for guys who don't wish to get short military hair and yet want to look great. Straight and semi-wavy hair tends to look ideal with this cut, along with grooming with wax to preserve a polished appearance.
High fade Side Swept Crew Cut
The high fade side swept crew cut is still one of the most popular hairdos. To get this style, simply brush one side of your hair. It is totally up to you to sweep all of your hair or just the front part and leave the rest wavy or unkempt.
The ease with high fade side swept crew cut may be styled makes it a low-maintenance hairstyle you'll love.
Caesar Crew Cut with High Fade
The high fade Caesar crew cut is a traditional men's haircut with short, horizontal bangs that just never get old.
The hairs on the sides are the same length, such as fringe, and are occasionally trimmed shorter. The curved fringe softens the appearance of a receding hairline.
High fade Curly Crew Cut
This is perfect for people who have coarse and curly hair. This high fade curly crew cut is beautifully tight on the sides while remaining quite short on top to keep everything within the place.
A high fade curly crew cut is a beautiful haircut that will show your unique hair type while also helping you maintain your curls. Make sure you have a high fade haircut on the sides and back to maintain the short trimmed hair. With long hair, the attention will be on shaping your untamed waves and curls, so use a high-hold wax and show off the natural texture.
High fade Slicked Crew Cut with Line
Creating a line on the top of one side of the hair is a simple approach to dress up any haircut. In this case, the line creates a gap that works as a complement to a side-slicked crew cut.
How To Style A High Fade Crew Cut?
You can easily get a high fade haircut crew cut with wax for a matte finish. Although this is a low-maintenance haircut, you will need to renew it regularly, as with any short haircut. Finally, apply a nice wax to style a high fade haircut crew cut. Choose medium or strong hold wax with shine if you really want the hair to seem structured, glossy, and smooth. Use low shine wax products to get a matte finish on a rough crew cut to showcase your hair's natural feel. We recommend avoiding the use of gel to minimize clogging, particularly if you do have thin hair.
Conclusion
If you're typically short on time and can't even be bothered with maintenance other than the regular touch-up with hair trimmers, this famous high fade haircut crew cut is for you. Hope you have gotten enlightened after reading through to the end. Good luck as you progress on getting the new looks by trying out one of these high fade haircut crew cut listed styles. Enjoy that excellent low-maintenance look!