28 Top-Notch Messy Hairstyles For Men
The world of men's hairstyles is continuously EVOLVING, offering a wide array of options to suit every taste and preference. One of the most popular trends in recent years is the messy hairstyle.
These styles allow men to express their individuality and effortlessly exude confidence.
In this article, I will explore the top messy hairstyles for men, helping you find the perfect look to match your unique personality.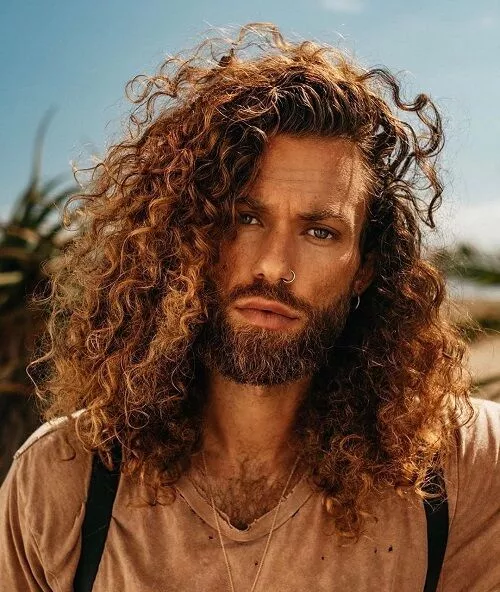 What Is A Messy Hairstyle For Men?
Messy hairstyles for men have gained popularity in recent years as they offer a break from traditional, structured styles and provide an edgy, modern AESTHETIC.
These hairstyles are perfect for individuals who want to express their personality through their hair, showcasing a sense of confidence and nonchalance.
Due to their laid-back nature, messy hairstyles are often seen as low-maintenance options, making them ideal for men with busy lifestyles or guys who prefer a more effortless approach to grooming.
In addition to their VERSATILITY, messy hairstyles can also be adapted to suit different face shapes and personal preferences, ensuring that there is a suitable option for everyone.
They can be worn in both casual and formal settings, as the level of dishevelment can be adjusted according to the occasion.
Furthermore, these hairstyles can easily be updated by incorporating different haircuts, colors, or styling techniques, allowing men to experiment with their look and keep up with the latest trends.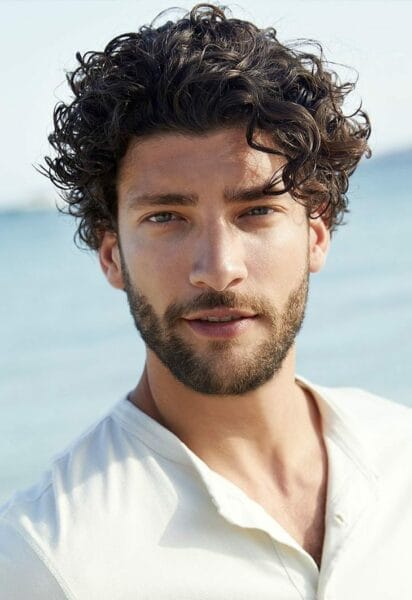 28 Messy Hairstyles For Men
Long Length Messy Hair
Embrace your inner rebel with this free-spirited style that showcases untamed locks cascading down your back.
Ideal for gentlemen with naturally wavy or curly hair, this look can be amplified with sea salt spray or light texturizing products for added volume and character.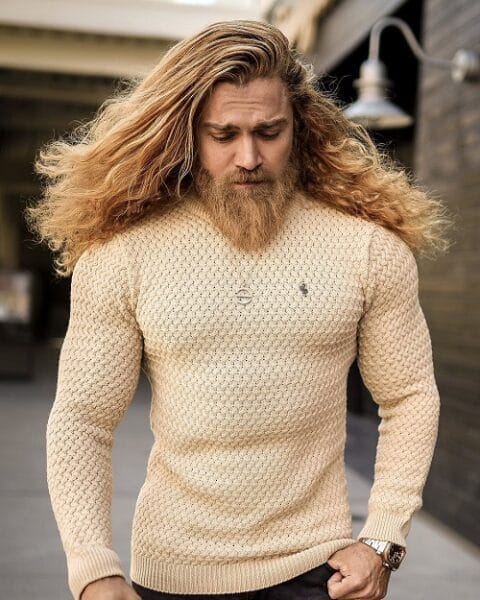 Messy Curly Hair
Unleash your wild side with these untamed curls, the epitome of a messy hairstyle for men. This look is perfect for gentlemen with thick or naturally curly tresses.
When blow-drying, use a diffuser attachment to enhance your hair's natural texture, then scrunch with a styling cream or pomade for definition and hold.
This style adds a sense of carefree confidence, making it perfect for casual outings or nights out on the town.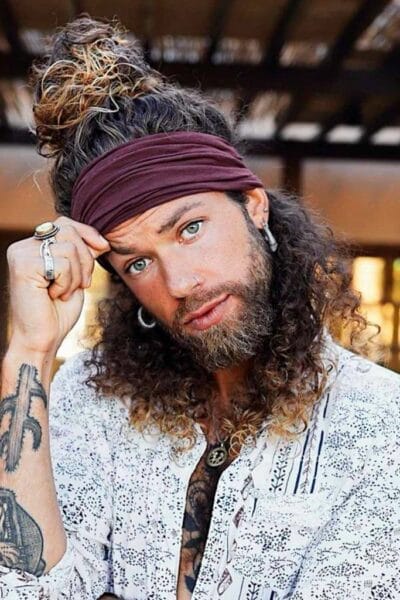 Medium Length Messy Hair
This versatile and effortlessly cool option is a popular messy hairstyle for men, working well with various hair types and textures.
To achieve the perfect balance between polished and disheveled, use a texturizing spray or wax and finish with a quick tousle for that lived-in vibe.
This look offers a low-maintenance yet stylish option for men seeking a bit of intentional chaos in their appearance.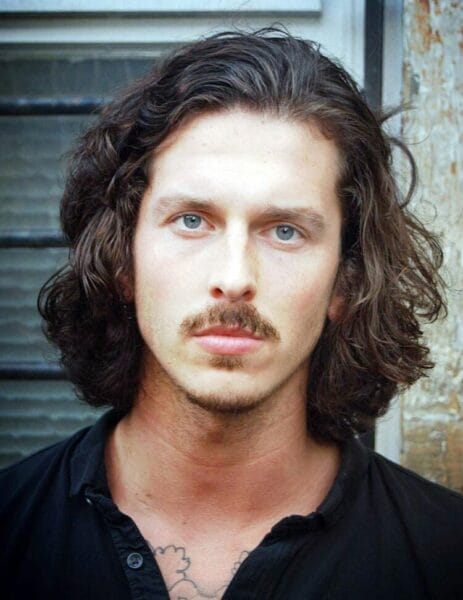 Tousled Wavy Hair
Embrace the beach vibes with this messy hairstyle for men, ideal for gentlemen with naturally wavy locks or who enjoy using a curling iron.
Enhance your hair's natural movement with a sea salt spray, and gently scrunch for a laid-back, ocean-kissed appearance.
This style evokes a relaxed, vacation-ready vibe that's perfect for warm weather and sunny days.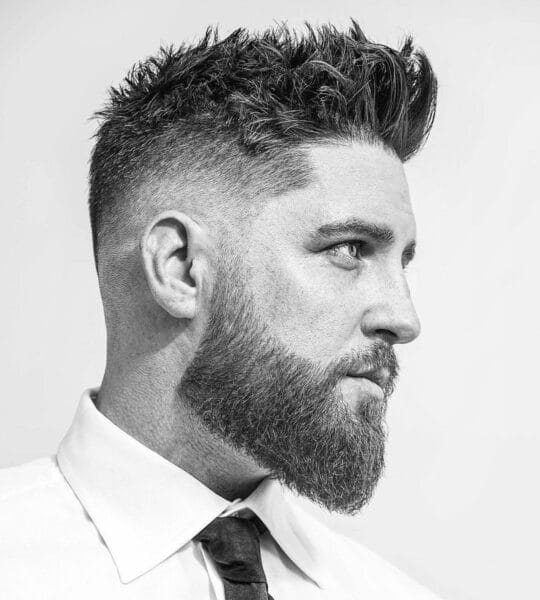 Bedhead Messy Hairstyle
Master the art of waking up stylishly disheveled with this tousled masterpiece.
Achieve the ultimate bedhead by applying a small amount of texturizing paste to your fingertips and working it through your hair, focusing on the roots for added lift and volume.
It is an easy going look, perfect for guys who want to appear effortlessly put together without spending hours on grooming.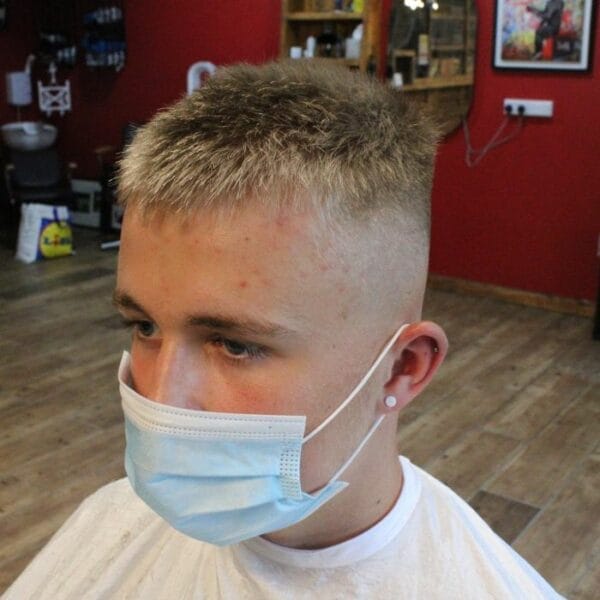 Disheveled Quiff
This messy adaptation adds a rebellious twist to the classic quiff, making it a popular choice for a messy hairstyle for men.
Create the disheveled effect by using a texturizing spray before blow-drying and finish with a light hold wax or pomade, styling the hair upward and slightly to the side.
This look oozes confidence and charisma, making it perfect for nights out or special events.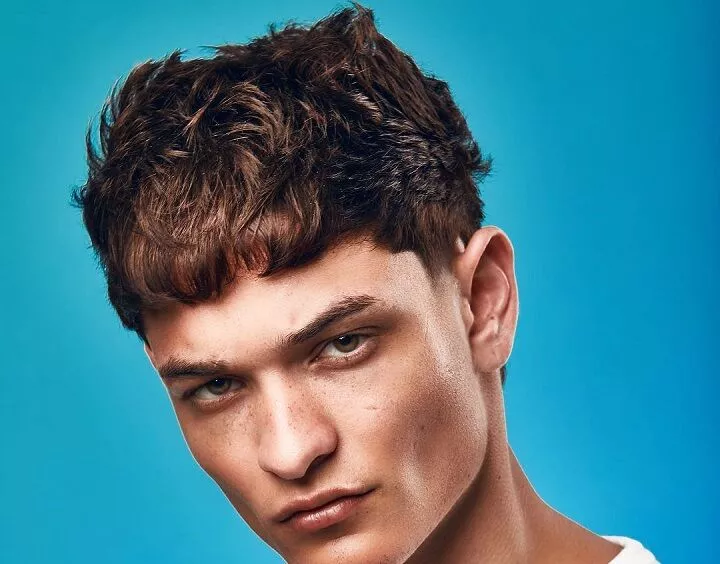 Messy Pompadour
It takes on the iconic pompadour showcases height and texture while maintaining a messy, lived-in feel.
Use a volumizing mousse to build the foundation, then shape and style with a matte-finish pomade or clay for a perfectly disheveled appearance.
This style is an excellent choice for men looking to make a bold fashion statement without sacrificing their desire for a messy hairstyle.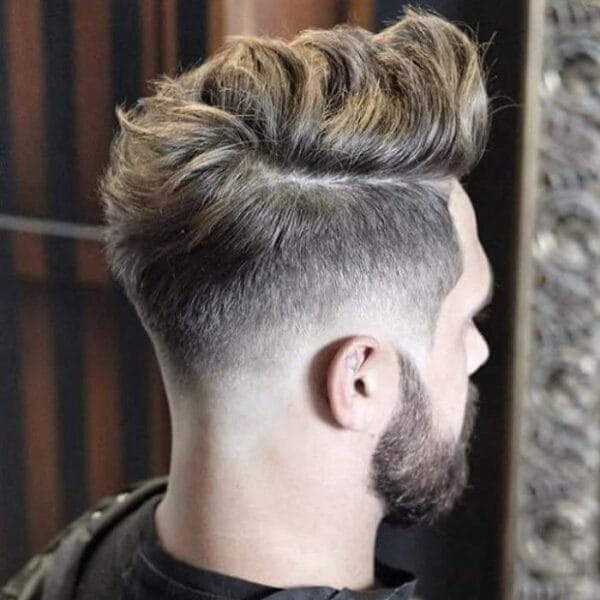 Shaggy Layers
Embrace your inner rock star with this messy hairstyle for fellows featuring uneven layers that create a lived-in, effortless look.
Add definition to the layers by applying a light texturizing cream, and finish with a shake of the head for maximum shagginess.
This style is perfect for gentlemen who want to project a carefree, bohemian vibe while still appearing polished and put-together.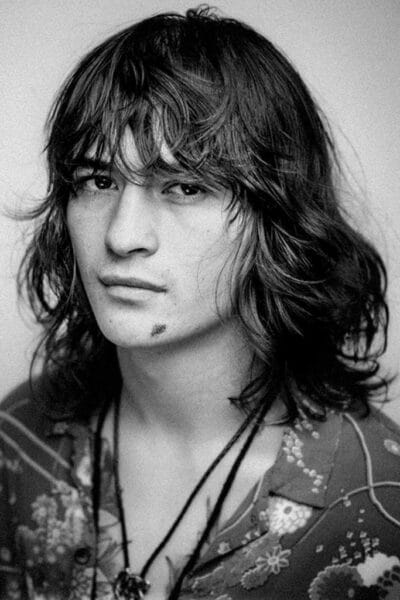 Windblown Faux Hawk
This edgy, wind-swept style makes a bold statement and is a popular messy hairstyle for men.
Achieve the look by using a strong-hold gel or wax, working the hair upward and inward to create the illusion of a faux hawk, then finish with a blast of hairspray for all-day hold.
It is perfect for guys looking to stand out from the crowd with a distinctive, eye-catching look.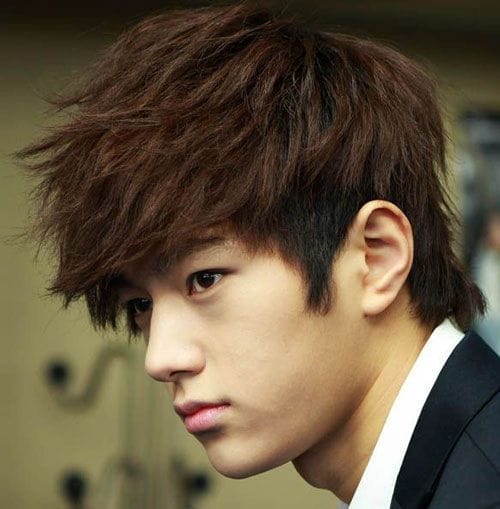 Textured Fringe Messy Hairstyle
Add a touch of playfulness to your appearance with this tousled style featuring a textured fringe.
Use a lightweight styling cream or wax to add definition to the fringe, and gently tousle the rest of your hair for a casual, cool finish.
This messy hairstyle for gentlemen is perfect for men who want a low-maintenance, yet stylish look that can easily transition from day to night.
The textured fringe adds an element of intrigue and frames the face, making it a great option for men who want to soften their features while maintaining a sense of effortless cool.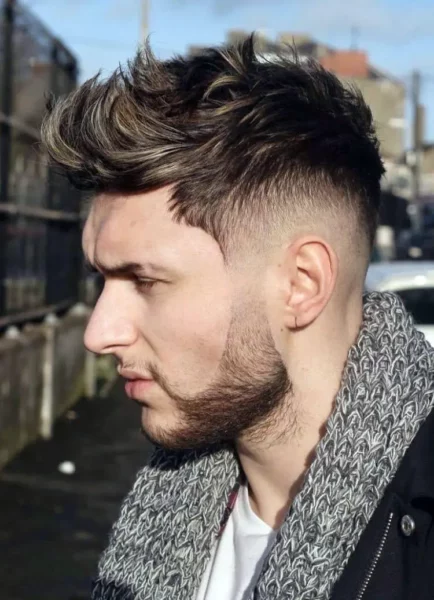 Messy Undercut
This modern and edgy hairstyle combines the clean lines of an undercut with the chaotic appeal of a messy hairstyle for men.
To achieve this look, ask your barber to create a sharp undercut, leaving the top hair long and textured.
Style the top section with a texturizing spray or paste, focusing on creating volume and a disheveled appearance.
This hairstyle is perfect for gentlemen who want a bold, contemporary look that still maintains an air of nonchalance.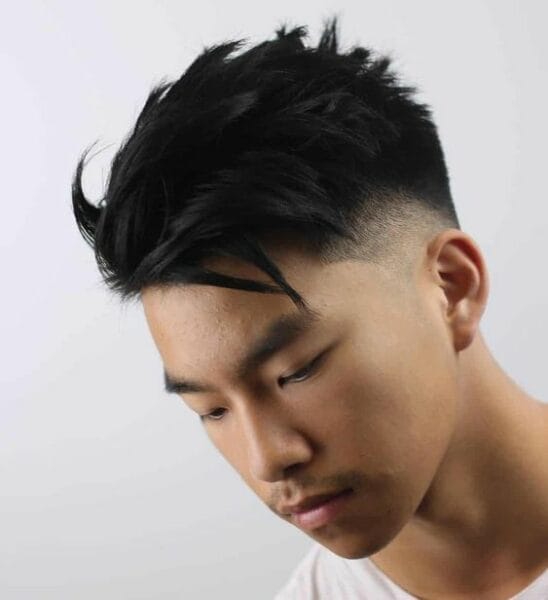 Messy Spikes
Add an element of rebelliousness to your style with this edgy, spiked hairstyle.
Use a strong-hold gel or wax to create the spikes, working from the roots up and twisting the hair for added texture.
It is for gentlemen who want a look that is both playful and daring, making a statement without being overly polished or refined.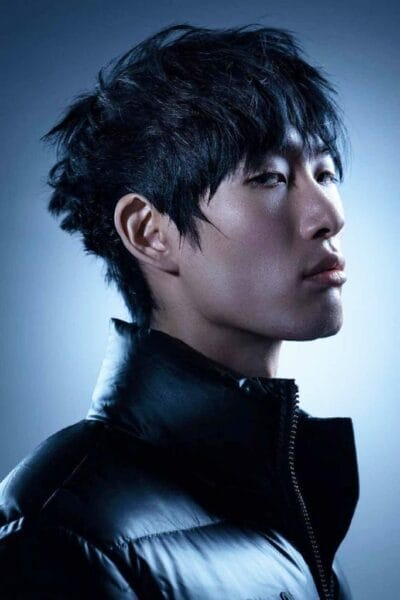 Messy Side Part
This relaxed take on the classic side part is a popular messy hairstyle for men who want to maintain a sense of SOPHISTICATION while embracing their laid-back side.
To achieve this look, create a loose side part and use a lightweight styling product to add texture and a subtle wave to your hair.
Gently tousle the hair for a casual, effortless finish. This style is perfect for men who want a versatile look that can easily transition between casual and more formal settings.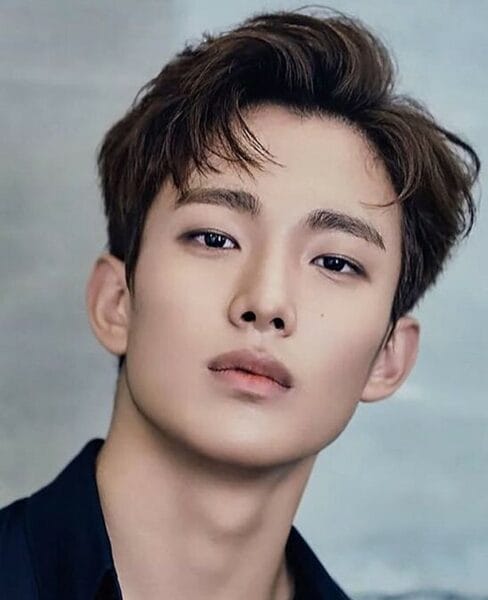 Messy Top Knot
Exuding both sophistication and ease, the messy top knot artfully blends the grace of an updo with a more carefree spirit.
Simply gather your TRESSES into a high, loose bun, allowing a few strands to escape for an untroubled, chic appearance.
This versatile style works well for various occasions, from formal events to casual outings.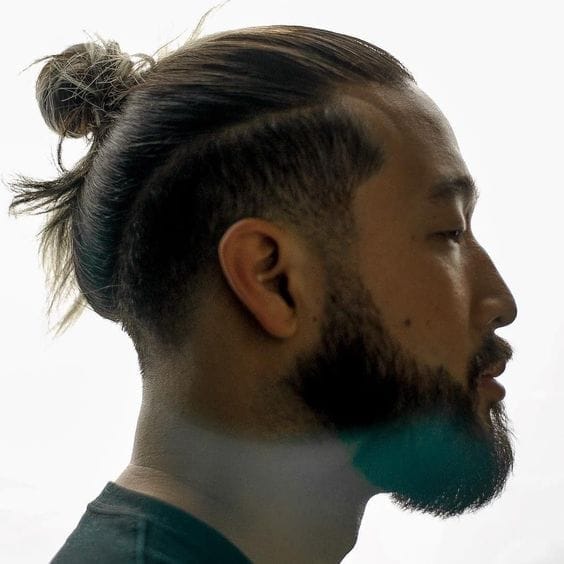 Asymmetrical Bangs
A contemporary spin on timeless bangs, asymmetrical bangs infuse your hairstyle with a dash of boldness.
To achieve this distinctive, captivating look, trim the fringe unevenly, leaving one side longer than the other, resulting in a visually striking frame for your face that commands attention.
Unkempt Undercut
Radiating an aura of nonchalance, the unkempt undercut showcases a shaved or closely TRIMMED lower portion with longer, disheveled hair on top.
This dynamic hairstyle easily adapts to a range of textures and exudes an irresistibly cool vibe that's sure to turn heads.
Tangled Surfer Waves
Capture the essence of a relaxed, ocean-inspired atmosphere with tangled surfer waves.
Achieve this breezy, tousled look by allowing your hair to air-dry before using a sea salt spray to impart texture and volume. This effortlessly stylish aesthetic is ideal for men who appreciate a laid-back, sun-kissed appearance.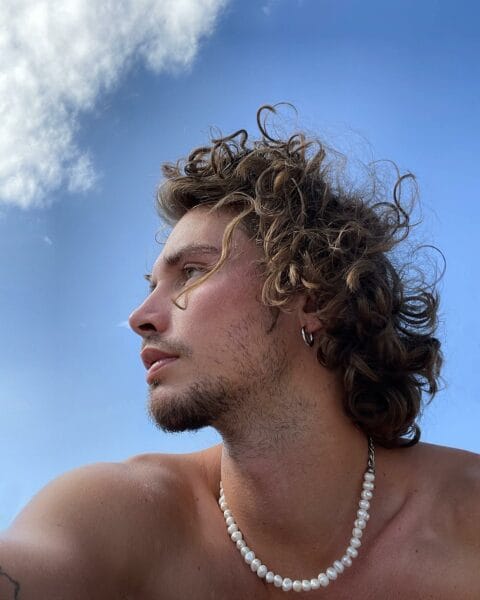 Casual Side Part
A highly adaptable hairstyle, the casual side part complements numerous hair types and face shapes.
To create this look, simply part your locks to one side and allow them to drape naturally. Add a small amount of styling product for hold and definition, crafting a sleek, yet easygoing vibe.
Spiky Mess
Make a bold statement with a spiky mess, a daring style that emanates self-assurance and an assertive attitude.
To master this hairdo, apply a robust-hold gel or wax to your strands and use your fingers to fashion a disordered, spiky texture throughout.
This audacious look is sure to grab attention and leave a lasting impression.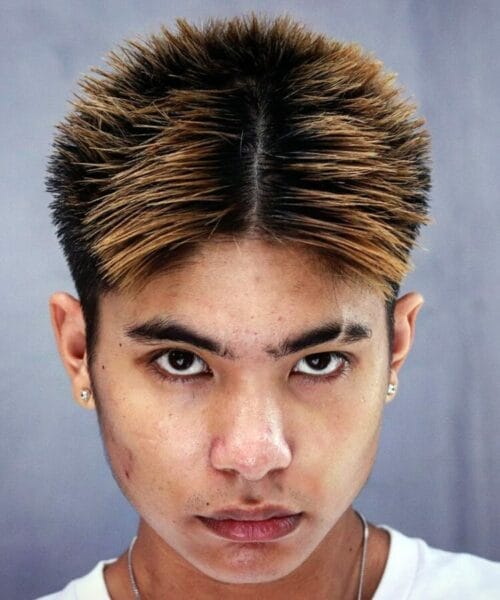 Grungy Mullet
Harkening back to the defiant '90s, the grungy mullet fuses a short, uneven top with lengthier, textured layers cascading down the back.
Embrace this hairstyle with confidence, knowing that your edgy, unorthodox look demonstrates a fearless, trendsetting spirit.
Scattered Pixie Cut
Perfect for men and women who crave a chic and effortless style, the Scattered Pixie Cut combines playfulness with elegance.
Artfully arranged strands create a visually striking appearance, making it ideal for short hair. 
Achieve the perfect Scattered Pixie Cut by running your fingers through your hair for a casual, carefree look.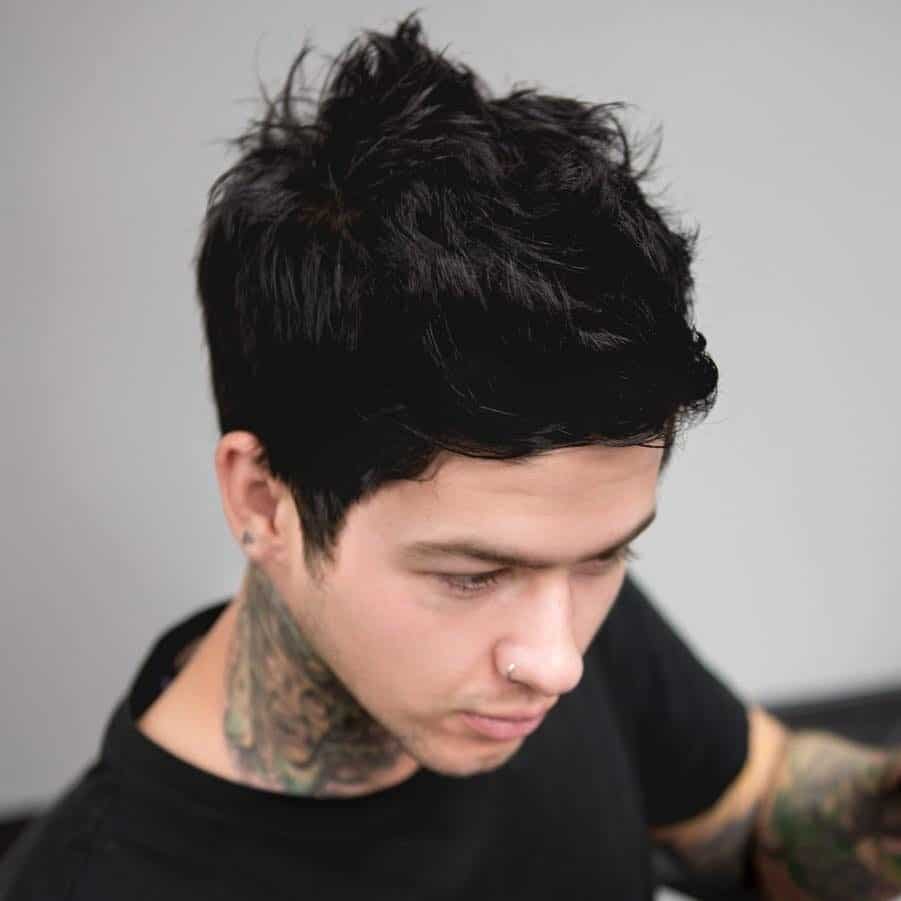 Loose Dreadlocks Messy Hairstyle
Loose Dreadlocks Messy Hairstyle is a modern twist on a classic style, showcasing your free-spirited nature.
Ideal for both men and women, this hairstyle features partially formed dreadlocks with loose, messy strands.
Skip the tight twists and let your hair flow freely for an untamed, carefree vibe.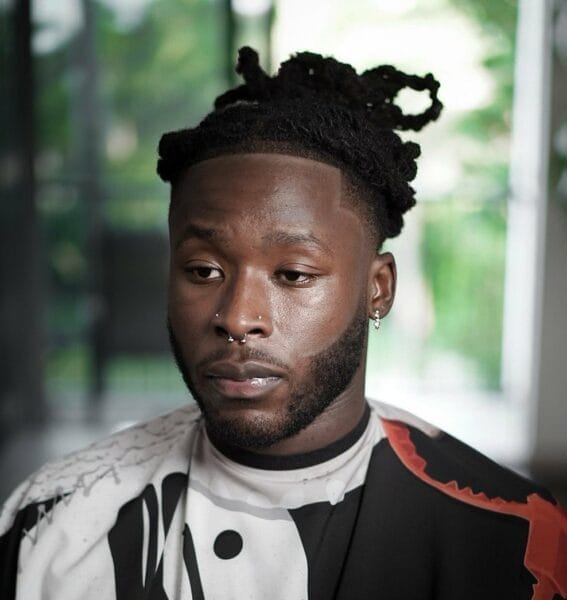 Artfully Disarrayed Bun
Ideal for men who want a refined yet relaxed look, the Artfully Disarrayed Bun strikes the perfect balance between elegance and nonchalance.
Create this look by loosely gathering your hair into a bun, allowing a few strands to escape for a delicate touch of disheveled charm.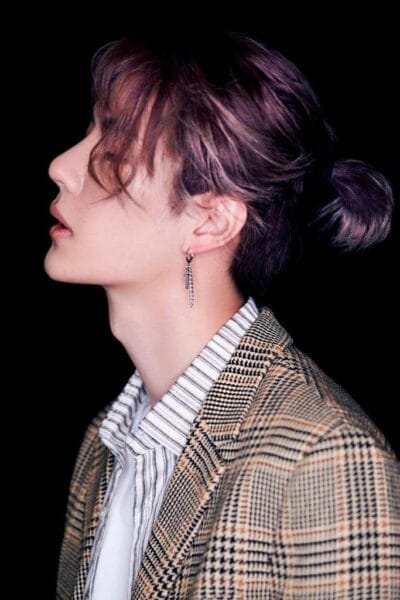 Messy Braids
Messy Braids breathe new life into boho chic style for both men and women. Slightly disheveled braids provide a laid-back, stylish aesthetic.
Braid your hair while leaving a few strands loose for a casual, breezy vibe.
Finger-Combed Curls
Showcase your curls with the Finger-Combed Curls hairstyle, perfect for men and women who embrace their natural hair texture.
Gently comb through your curls with your fingers, enhancing their bounce and volume without creating frizz.
Unstructured Slick Back
The Unstructured Slick Back, suitable for both men and women, is a modern take on the classic slicked-back style.
This relaxed, slightly tousled look is perfect for men who desire a bold and sophisticated appearance. 
Apply a light styling product and loosely comb your hair back, allowing some strands to stray for added texture.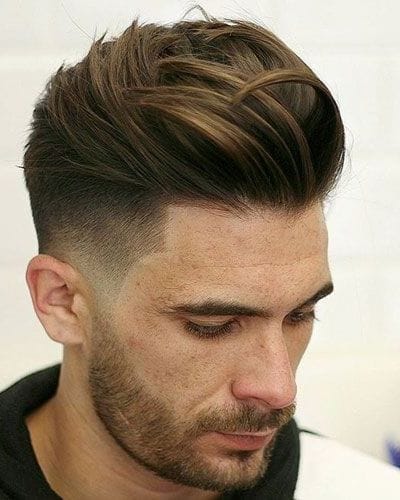 Chunky Highlights
Make a statement with Chunky Highlights, a daring and fashionable choice for men who want to stand out.
Bold, thick highlights add depth and dimension, creating an eye-catching contrast. 
Experiment with various shades and hues for a special and vibrant style.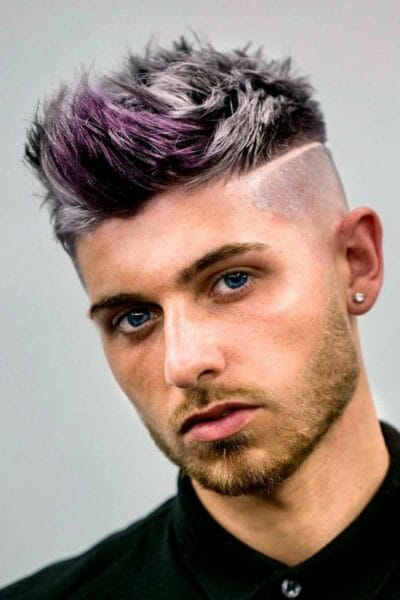 Tousled Coif
The Tousled Coif is a versatile and sophisticated hairstyle for men exuding effortless elegance.
Loosely styled waves and curls create a voluminous and textured appearance. 
Use a curling iron or wand to create loose curls, then gently tousle your hair for an artfully messy finish.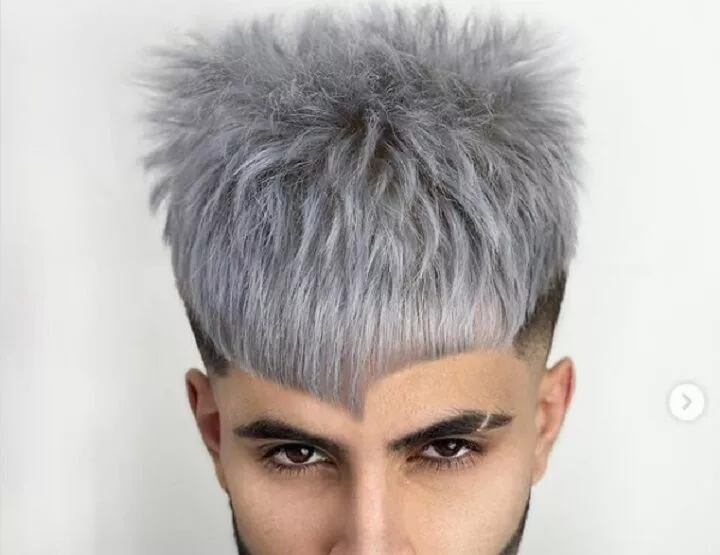 Conclusion
In conclusion, messy HAIRSTYLES for men offer a stylish and carefree alternative to traditional, structured hairstyles. Embracing a disheveled and tousled look, these hairstyles cater to various hair types, lengths, and textures, making them a versatile choice for many men.
Their adaptability to different face shapes and occasions, as well as their low-maintenance nature, make them a popular trend in men's grooming.
FAQs
How can I achieve a messy hairstyle?
To achieve a messy hairstyle, start with clean, DAMP hair. Apply a small amount of styling product, such as a matte clay, wax, or sea salt spray, to add texture and hold.
Use your fingers or a wide-tooth comb to create the desired messy look, scrunching and tousling your hair until you achieve the desired effect. Finish with a light-hold hairspray if necessary.
How can I maintain my messy hairstyle throughout the day?
To maintain your messy hairstyle, use a light-hold hairspray or a small amount of styling product to keep your hair in place.
You can also carry a small COMB or brush to make minor adjustments throughout the day. It's essential to strike a balance between a messy appearance and looking unkempt.
What are some popular messy hairstyles for men?
Some popular messy hairstyles for men include the messy quiff, tousled waves, bedhead, textured crop, shaggy mop, a disheveled pompadour, and the messy faux hawk. These styles can give a relaxed, carefree appearance while still looking stylish and on-trend.
Are messy hairstyles suitable for all hair types?
Messy hairstyles can work well for most hair types, including straight, wavy, curly, and even thinning hair. However, the specific style you choose and the amount of styling product needed may vary based on your hair type.
It's essential to experiment with different looks to find the one that best suits your hair and personal style.
How often should I get my haircut to maintain a messy hairstyle?
The frequency of haircuts depends on the specific messy hairstyle and your hair growth rate. Generally, you should visit your barber or stylist every 4-6 weeks to maintain the desired shape and length. Regular trims can also help keep your hair healthy and manageable.
Khamis Maiouf is a professional barber who graduated from Hinckley College in England with a degree in hairdressing. He has also won several barbering contests and successfully operated a barbershop for the last two decades. As a skilled hair stylist for 20 years, his goal is to teach others how to achieve a beautiful appearance through their hairstyles.