Men's Hair Types: Decode & Dominate Your Distinctive Tresses
When it comes to hair, it's not just a strand-off between straight and curly!
Understanding the full spectrum of Men Hair Types is crucial for making informed decisions about your grooming routine, haircut choices, and overall hair care.
With various textures and patterns, men's hair is a world of its own, ready to be explored and CELEBRATED.
The uniqueness of your hair type can make a significant difference in how you style, maintain, and care for your locks.
By familiarizing yourself with different hair types, you can unlock the full potential of your mane, creating a look that is both flattering and expressive.
In this blog post, I'll dive deep into the realm of Men Hair Types, discussing the various textures, patterns, and characteristics that define the crowning glory of men around the world.
Armed with this knowledge, you'll be able to confidently embrace your hair type and make the most of your tresses.
So, let's untangle the mysteries of men's hair and uncover the secrets to mastering your mane!
Men Hair Types by Texture: A Comprehensive Guide for the Modern Gentleman
1. The Straight Men's Hair Type: Sleek, Smooth, and Sophisticated
When it comes to Men Hair Types, straight hair is the most common type, and it's often associated with a sleek, smooth, and sophisticated appearance.
As a barber and a hairstylist by profession, I can attest to the ease of maintaining this hair type. To keep your straight locks looking their best, it's essential to regularly shampoo and condition your hair.
For styling, opt for lightweight products like hair mousse or pomade to avoid weighing your hair down.
A simple, elegant hairstyle like a side part or a slicked-back look is always a classic choice for straight-haired gents.
2. The Wavy Men's Hair Type: Embrace the Natural Flow
Wavy hair is the perfect middle ground between straight and curly hair, and it's one of my favorite Men Hair Types.
To maintain and enhance your wavy hair's natural texture, use a sulfate-free shampoo and conditioner, followed by a leave-in conditioner to lock in moisture.
Air-drying your hair is the best way to maintain its natural wave pattern.
To style wavy hair, apply a sea salt spray or a curl-enhancing cream to damp hair and scrunch it with your fingers.
This will give you a relaxed, beachy look that showcases your hair's natural movement and volume.
3. The Curly Men's Hair Type: Unleash Your Inner Lion
Curly hair is one of the most eye-catching Men Hair Types and can make a powerful style statement.
As a curly-haired guy myself, I can't stress enough the importance of keeping your curls moisturized to reduce frizz and enhance definition.
To maintain your curly mane, use a hydrating shampoo and conditioner, and consider using a deep conditioning treatment weekly.
When styling, work with your hair's natural texture by applying a curl-defining cream or gel to damp hair.
Avoid using a brush, and instead, use a wide-tooth comb or your fingers to detangle and shape your curls.
4. The "Coily" Hair Type: Embrace Your Crown of Glory
Coily hair is the most tightly curled of all the Men Hair Types, and it can be both striking and versatile.
To maintain your coily hair, it's crucial to keep it moisturized and protected from breakage.
Invest in a sulfate-free shampoo, a rich conditioner, and a leave-in moisturizer to ensure your hair stays healthy and hydrated.
When styling coily hair, be gentle with your strands and avoid excessive manipulation. Use a wide-tooth comb to detangle, and opt for protective hairstyles like twists or braids to minimize damage.
Applying a lightweight oil or cream will help seal in moisture and give your hair a beautiful, healthy SHINE.
Men Hair Types by Thickness: Mastering Your Unique Mane
1. Men's Thin Hair Type: Lightweight, Versatile, and Polished
Men with thin hair often struggle to find the perfect balance between volume and style.
As someone with a lot of experience handling thin hair, I know firsthand the challenges and advantages of this particular Men Hair Type.
To maintain and enhance the appearance of thin hair, opt for gentle, volumizing shampoos and conditioners that won't weigh your hair down.
When styling, choose lightweight products like texturizing sprays or mousses, and avoid heavy gels or pomades.
A well-executed haircut, such as a textured crop or a close buzz cut, can work wonders in making your thin hair look thicker and more polished.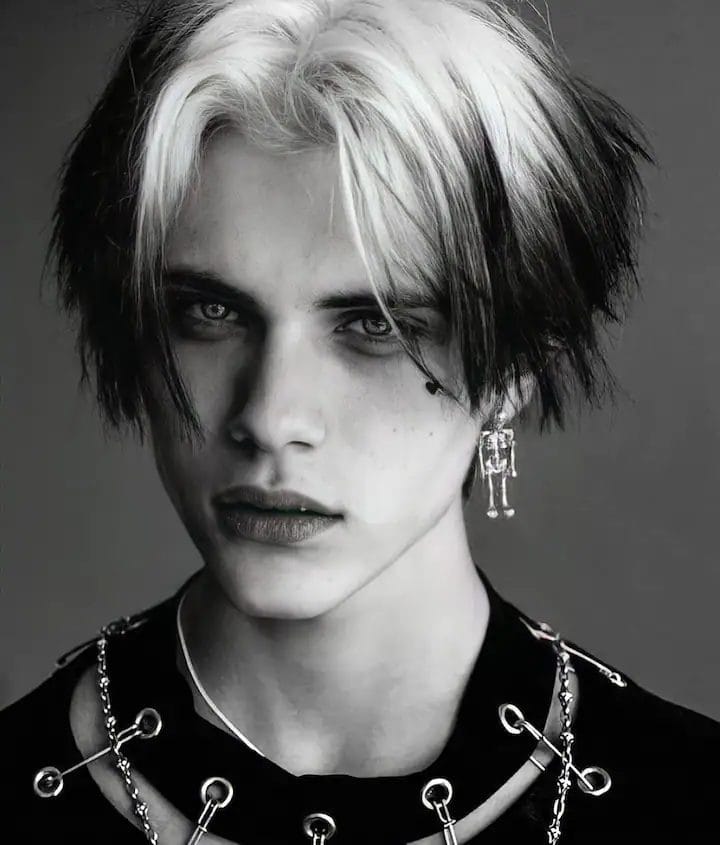 2. Men's Normal Hair Type: The Ideal Balance
Normal hair thickness is the envy of many, as it offers the perfect balance between manageability and versatility.
As a professional hairstylist, I can attest to the importance of maintaining this Men Hair Type with the right products and styling techniques.
Keep your hair healthy by using a gentle, nourishing shampoo and conditioner. When it comes to styling, the possibilities are nearly endless, from slicked-back looks to voluminous pompadours.
Just be sure to choose a product that complements your desired finish, whether it's a matte clay for texture or a high-shine pomade for a glossy look.
3. Men's Thick Hair Type: Taming the Bold and Beautiful
Thick hair is a blessing in disguise, offering a myriad of styling options and a naturally full appearance.
However, as far as I have seen in my hairstyling career so far, I know that this Men Hair Type can also be challenging to maintain and manage.
To keep your thick mane under control, use a moisturizing shampoo and conditioner to avoid dryness and frizz.
When it comes to styling, opt for heavier products like creams or waxes that can provide the necessary hold to shape and tame your locks.
Experiment with different hairstyles, such as a textured quiff or a classic side part, to showcase your hair's unique thickness and volume.
Conclusion
Understanding your unique Men Hair Types is key to unlocking your hair's full potential.
As I've explored, different textures and patterns can significantly IMPACT your style choices and grooming routine.
Armed with this knowledge, I am confident that you can make the most of your mane, showcasing your distinctive tresses with pride.
FAQs
Q1. Which hair type is frequently found in men?
The most frequent hair types found in men are straight, wavy, curly, and coily. These hair types can vary in texture, thickness, and density, which can affect the way they look and behave.
Q2. How do you classify men's hair types?
Men's hair types can be classified into four main categories: straight, wavy, curly, and coily. Straight hair has no bends, while wavy hair has slight waves that can form an "S" shape. Curly hair has defined curls that can range from loose to tight, and coily hair has tightly coiled curls that can resemble a zigzag pattern. These classifications can help determine the best hair care routine and products for individual hair types.
Q3. What distinguishes the various types of hair?
The various types of men's hair are distinguished by their texture, thickness, and density. Straight hair tends to be smooth and shiny, while wavy hair can be more voluminous and have a textured appearance. Curly hair may be dry and prone to frizz, and coily hair can be challenging to comb or style due to its tight coils. These differences can affect how each hair type responds to different hair products and treatments.
Q4. What methods are used to assess hair type?
Several methods are used to assess men's hair type, including observing the hair's pattern, measuring the hair's diameter, and performing a strand test. Hair pattern analysis involves looking at the shape and size of the curls or waves, while measuring the hair's diameter helps determine whether it is fine, medium, or thick. A strand test involves evaluating the hair's stretch and elasticity to determine whether it is healthy or damaged.
Q5. What is the significance of hair type?
The significance of hair type lies in the fact that different hair types have varying needs when it comes to hair care. Understanding your hair type can help you choose the right products and treatments to ensure that your hair looks and feels its best. For example, someone with curly hair may need extra moisture to combat dryness and frizz, while someone with straight hair may need products that add volume and texture. By identifying your hair type, you can customize your hair care routine to meet your specific needs.
References:
A buzz cut is any of a variety of short hairstyles usually designed with electric clippers. source
Thick hair on guys is the best—you've got natural volume and tons to work with for styling. source
Khamis Maiouf is a professional barber who graduated from Hinckley College in England with a degree in hairdressing. He has also won several barbering contests and successfully operated a barbershop for the last two decades. As a skilled hair stylist for 20 years, his goal is to teach others how to achieve a beautiful appearance through their hairstyles.