The Low fade haircut designs is versatile in the sense that it looks nice on people with all kinds of skin colors, faces, and hair textures. Moreover, Fade-style sides make a very trendy look, and a taper haircut never goes out of style. Check out our top 20 selection of haircut designs, to fit your haircut, hair length, or hair texture.
The 20 Best Low Fade Haircut Designs Are Here
1. Faux Hawk (Mohawk) With A Designed Line
It is arguably one of the most popular men's hairstyles right now, with a long top and a short back and sides. You stand out from the crowd when you wear this look with the three lines on the back of your head.
2. X-shaped Caesar cut Hairstyle
The short haircut looks great on anyone with any hair color or texture, and suits most face shapes. Still, doesn't a constant shape get boring after a while? With the X haircut, you will receive a sophisticated and masculine look that adds to your style.
3. Tight and high hairstyle with freestyle styling
The lightning-shaped freestyle lines add some edginess and uniqueness to this haircut, which is versatile and easy to maintain. In addition to growing out quickly, razor-shaved lines are also quite uncomfortable.
4. Haircut with Double lines on one side
It creates a dynamic and daring look when longer, curly hair on top contrasts with the fade haircut. The best way to achieve a showstopping undercut on disconnected curly hair is to ask your hairstylist to shave one or two lines along one side.
5. Fade-out hairstyle with freestyle design
This style emphasizes the face features of a person wearing it because of the curved line and the two diagonal lines crossing each other. To maintain their fresh appearance, the hair designs have to be re-done every two to three weeks.
6. Hair Design with Wavy Lines and Skin Fade
Round faces benefit from this haircut because it sharpens the natural features of the face and creates a bold look. This hairstyle is distinguished by a Z-shaped stripe design in the center that adds a personal touch to it.
7. Taper Cut Geometric Hairstyle
This hairstyle has an uber-defined appearance due to its perfectly clean and sharp lines. An elongated maze-like shape is created from the temple area right to the neck and ends at the back of the head.
8. Tattooed fade haircut[ Low Fade Haircut Designs ]
The perfect way to show off this amazing hair tattoo is to wear it on your sleeve. This low fade haircut style may not be for the fainthearted, but it is a very sweet way to express your love. This hairstyle is trendy among youngsters.
9. Skin Fade Haircut with V Shape Lines
A skin fade hairstyle is suitable for those who want to maintain a neat and clean hairstyle without having to fuss. This haircut highlights the contrast between curly, textured tops and their short sides. Its V shape design is both asymmetrical and perfectly balanced, giving it a modern and elegant appearance.
10. Mohawk lined up with spikes[ Low Fade Haircut Designs ]
This is a really cool hairstyle! Creating a Mohawk fade begins with a tapered side. However, a high skin or temple fade is needed to make it the most similar to the original Mohawk. Up top, your hair should be medium length, the sides and back buzzed or faded, and the bordering sections should have shaved lines that divide them.
11. Pompadour Hairstyle with Geometrically Designed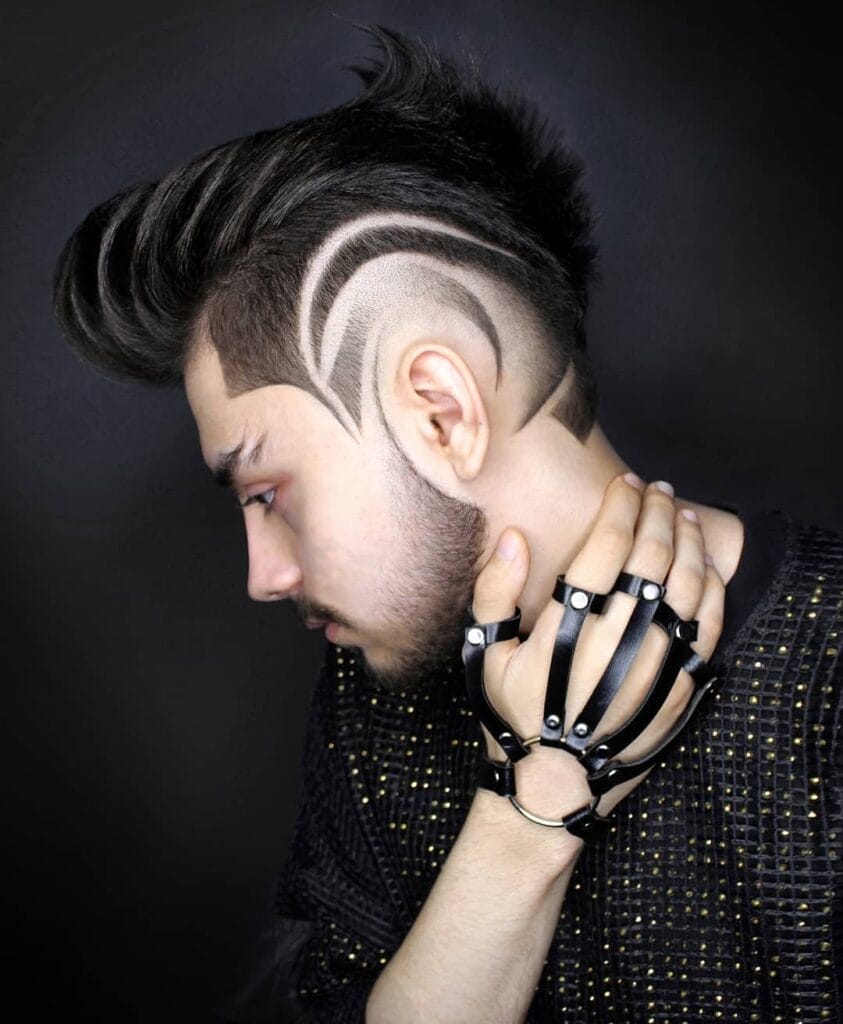 This pompadour haircut is a modern take on the classic men's haircut. It is a very bold shape in its own right, but a geometric-styled hair tattoo certainly makes it even more striking. On a faded side, geometric patterns represent a new aspect of rockabilly style!
12. Colorful triangle hairstyle with a buzz cut
It is best to keep the hairline clean and angled and to keep the lines short and precise. In addition to their rainbow color scheme, these triangles are shaved in rainbow colors.
13. A Curly Hairstyle Undercut for Men
There is a visual contrast between the top's messy curls and the faded short sides, which is enhanced by the straight lines on the sides. If you are looking to accentuate your features, this combination is a great choice.
14. Hair Design with Lines
A short top section is maintained in this haircut to reduce clumping, while a short side and back are maintained. This razored haircut design shows the geometric design of the look!
15. Hairstyle with Drop Fade and Curved Line
There's nothing quite like the crispness of this line, located just before the fade begins. Using strong hold hairspray and a men's hair pomade will help you recreate this look.
16. Detailed hair design with low fade
Choosing a hairstyle can be difficult because there are so many options to choose from. Let your barber do as many as he can fit in, and don't limit yourself to just one. With its clean, simple style, the low fade haircut is a great choice.
17. Short faded hairstyle with bolt hair design
There's nothing more edgy than these bold fades paired with the sleek, smooth silhouette of bolts. If you have thick straight hair, this hairstyle is perfect.
18. Short Fade with Diamond-shaped Hair Tattoo
Guys tend to avoid diamond-shaped hair designs, but they look absolutely stunning when they do. Our best wishes are with you as you search for a barber who can recreate it.
19. Haircut design with curved Z lines
A curved line design adds a touch of sophistication to a traditional crew cut, such as the classic crew cut. You can make the beard even more sophisticated by matching the skin fading with your eyebrows. To achieve a more natural look, you can shave the faded sides of your scalp.
20. Dimensional and Disconnected Fade with Dimensional Design for Men
What do you think of this cool hairstyle? Would you pull it off? However, this hairstyle is not for everyone. Whether you want a hair design with geometric lines or a color you can always incorporate one of its details in your haircut.
Finally [ Low Fade Haircut Designs ]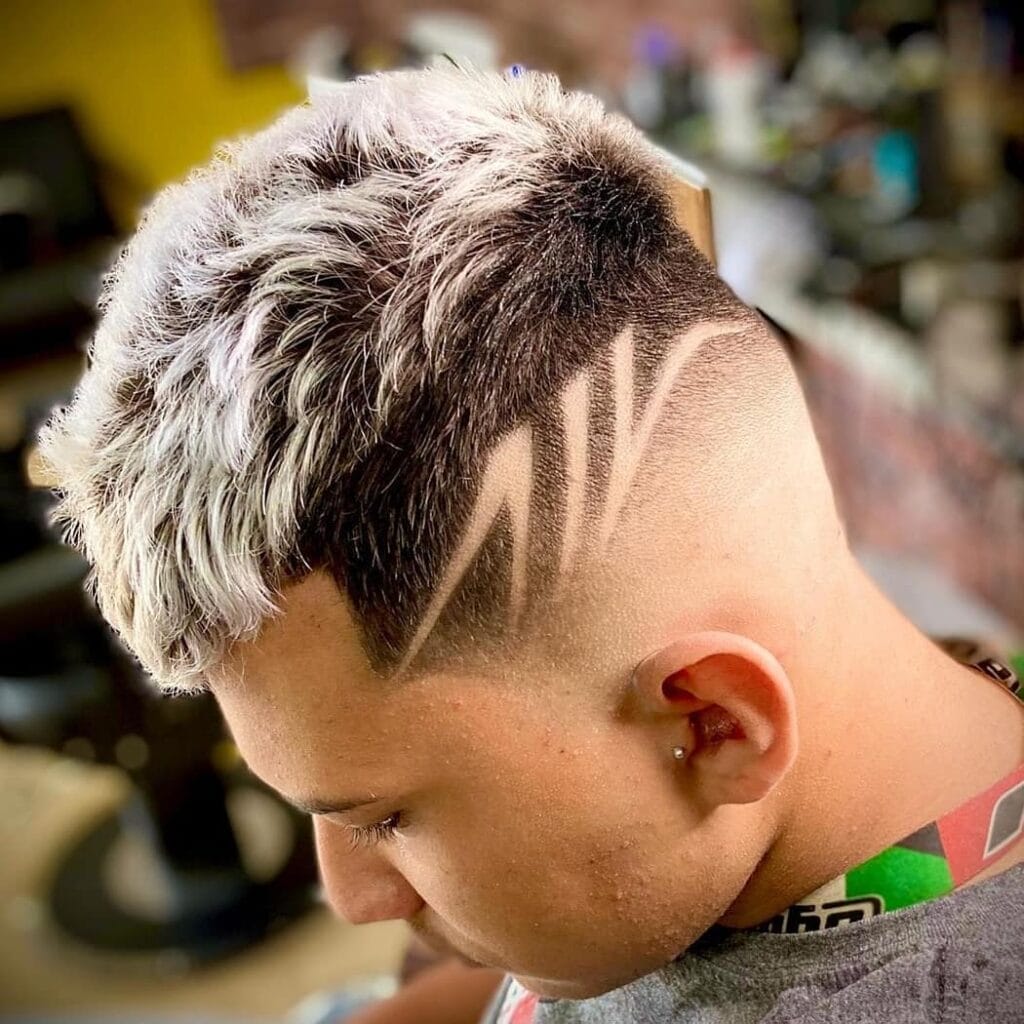 Your only decision is which style to go with. You can opt for a low fade haircut design or a detailed line-up for a hairstyle that stands out.  Many styles look great paired with a low fade, whether the hair on your head is thick or curly.