20 Exclusive Beard Styles for Bald Heads
The combination of a bald head and beard has always been a style statement to many guys out there, including the modern-day hipster trendsetters.
If you're contemplating going bald, it's worth considering growing a beard as well.
The great thing about a bald haircut is that it complements any beard style, be it a goatee, full beard, stubble, or mustache, with no discrimination.
However, the challenge you may face is selecting the ideal beard style to match your bald hairstyle.
And that's precisely where we come in; to make you aware of the various beard styles you can combine to pull a sleek look.
In this guide, we'll explore the best beard styles for bald men, both classic and modern, that will have you looking your absolute best.
How to Select the Perfect Beard Style for a Bald Head
While all beard styles can complement a bald head, choosing a style that flatters your facial structure is essential. This involves understanding your facial features and selecting a beard style that complements them.
Follow the guidelines discussed in this article to determine the best beard style for your bald head.
How to Know the Perfect Facial Structure
For the sake of clarity, use these guidelines for determining your facial shape.
Total Facial Length
This is the vertical measurement of your face from the forehead to the tip of your chin. Use a ruler or tape to measure it.
Forehead
This measurement is done horizontally on the forehead. You will place your tape just above your eyebrow and measure from one end to the other.
Cheekbones
This is another horizontal measurement between the eyes and the nose, taking your reading from one end to the other.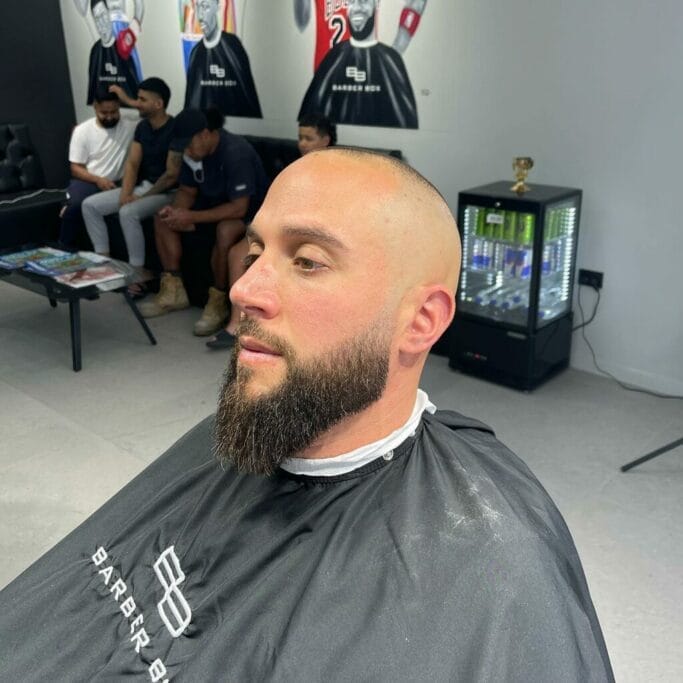 Jaw Portion
To determine the length of your jawline, trace your hand from just below your ear to the point where the jaw meets the neck at a 90-degree angle.
From this point, measure down to the mid-chin area, just below the center of your mouth.
After taking these measurements, multiply the values by 2 to obtain the full facial structure.
Please write the new figures down and compare them with the shapes below.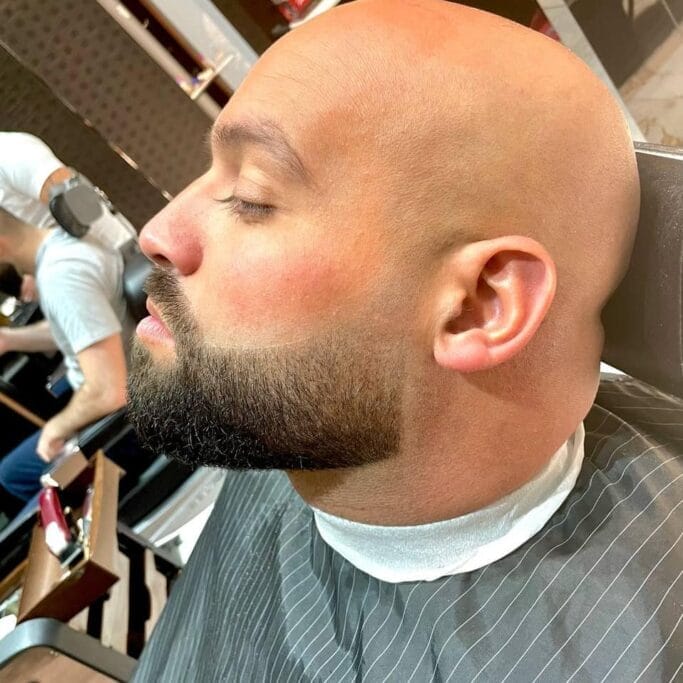 The Different Facial Shapes
Round Face
Some suitable beard styles for bald heads for this face shape include boxed beard, goatee, circle beard, garibaldi, and van dyke.
Square Face
Square face shapes blend well with a goatee, stubble, and a short beard.
Oval Face
Examples of suitable beard styles for this face shape include full beard, anchor, and long stubble.
Triangular Face
The forehead is more prominent than the cheekbones for this facial shape. Goatee, chin curtain, and stubble are some beard styles suitable for this shape, especially if the head is bald.
Rectangular Face
A rectangular face has the jaw, cheekbone, and forehead being of equal size. A stubble and a short beard are suitable for this shape.
Heart Shape Face
A heart-shaped face is characterized by a narrow, pointed chin and a broad forehead compared to the jaw.
A garibaldi beard style is excellent for this shape.
Diamond Face
Diamond and triangular facial shapes resemble, except that a diamond face is more extended. Goatee, full beard, chin strap, mustache, and balbo form appropriate beard styles.
20 Trendy Bald Head Beard Styles For You
Are you on the hunt for the perfect beard style to complement your bald haircut?
Your search ends here! We've put together a list of 20 top bald head beard styles, including some classic celebrity looks, to help you out.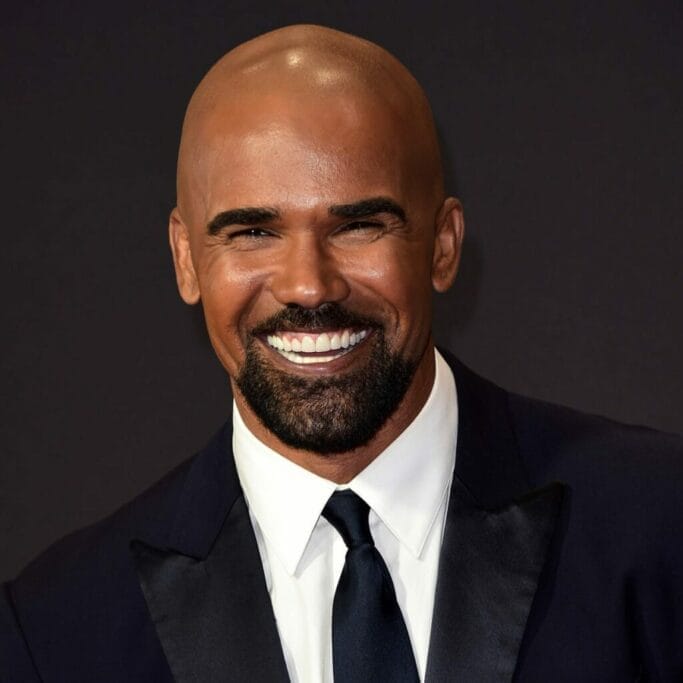 Full Beard Style Bald Head
The most common beard style for men is a full beard with a bald head. If you don't want to commit to a long beard, you can still achieve a similar fullness by growing it a little longer than a short beard.
While some beard styles may suit specific face shapes better than others, full beards are a rare exception that generally complements most men.
Stubble Beard Style for a Bald Head
Electric trimmers with attachments designed to maintain your stubble at the ideal length can simplify the upkeep of your stubble beard.
The stubble beard style is well-liked and favored for many reasons, one of which is its adaptability to other styles. It also boasts a decent ranking among celebrities in terms of popularity, making it a suitable option.
Garibaldi Beard Style Bald Head
The Garibaldi beard is similar to a full beard but rougher and more casual. With its masculine look, it typically draws attention and is suitable for most facial shapes.
To maintain a Garibaldi beard, it's crucial to follow a proper grooming routine that involves frequent shaping and the use of high-quality beard products to prevent frizziness.
If you're looking to achieve this style, using beard oil is necessary, and following it up with some beard cream or butter can further enhance its appearance.
Short Beard Style and a Bald Head
While we have praised long beards, short beards have much to offer. They are ideal for men with oblong faces as they complement the natural contours without elongating them.
Whether you desire a lazy-man fuzz for an effortlessly sexy vibe or a classically grown-in short beard for a more mature and dignified appearance, there are numerous styles to explore.
Short beards also provide ample opportunity to experiment with various looks and take little time to grow.
Balbo Beard Style for a Bald Head
Exhibiting an air of sophistication and a trendy vibe, the balbo beard style has recently been sported by Robert Downey Jr. as Iron Man.
However, it requires precision trimming and steady hands from a skilled barber or a quality trimmer.
Start with a full beard and shave your sideburns to achieve the Tony Stark look. Trim the jaw strap to be thicker beneath the chin, tapering it to a sharp point at the end of the jawline.
Maintain a slightly longer chin, add a soul patch, and disconnect the mustache to achieve the best of this style.
Anchor Beard Style
The anchor beard style resembles the balbo. It incorporates a soul patch, pencil mustache, and chin strap beard for a fancy look.
You'll require professional services to achieve this cute look that compliments a bald hairstyle.
Chin Strap Style for a Bald Head
The chinstrap goatee is a suave, stylish beard style that lives up to its name. It combines a classic goatee with a chinstrap beard, resulting in a versatile bald look that flatters most face shapes and ages.
Achieving this beard style is simple: start with a full beard and trim everything below your jaw and cheeks, leaving the strap along your jawline.
To ensure that your chinstrap is well-defined, aim for a thickness of between one to one and a half inches. As for your mustache, you can keep it connected or disconnect it.
Either way, you'll end up with an excellent facial hairstyle that enhances your overall appearance!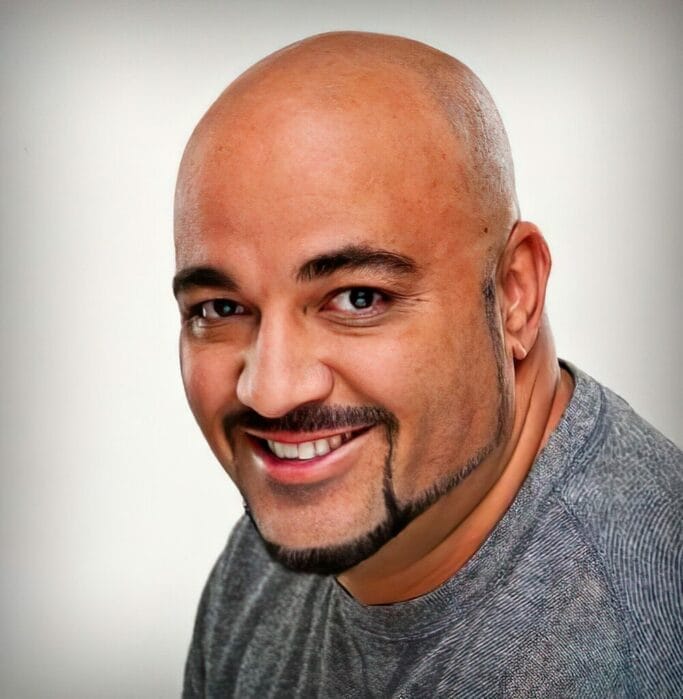 Van Dyke Beard Style Shaved head
This is another beard style with a rich history, named after Flemish painter Anthony Van Dyck in the 17th century. It combines the goatee and mustache, with all chin hair shaved.
It can be tweaked by adjusting the mustache to form other unique styles.
Circle Beard Style for a Bald Head
The circle beard and goatee are often used interchangeably, with many men not realizing they are two different beard styles.
A circle beard is a specific type of goatee where the mustache is connected to the beard in a circular shape around the mouth.
This classic beard style looks handsome and distinguished on most bald men.
To achieve a circle beard, follow the same steps as you would with any other goatee style, but be sure to keep the chin strap out of sight.
The mustache must be connected to the beard. With proper grooming, you'll rock this timeless beard style that will elevate your look.
Boxed Beard Style for a Bald Head
The boxed beard style complements bald men as it adds depth to their facial appearance.
Defining the jawline during trimming is crucial to attaining a sharper look. You are advised to avoid growing the beard beyond the jawline.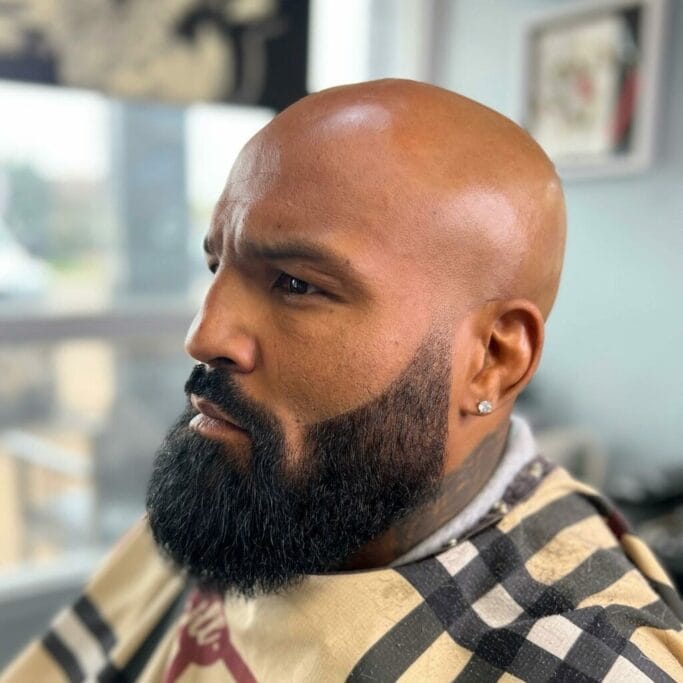 Chin curtain Beard Style Clean Head
The chin curtain is similar to the chin strap but grows along the jawline, covering the chin entirely.
Long Beard Style for a Bald Head
Guys who roar like Vikings have this timeless and respectable hairstyle to rock. They are particularly suitable for round faces as they add length and enhance masculinity.
What's more, the contrast between a bald head and a long beard creates an attractive tapered shape, especially if you have a more spherical skull.
Mustache Beard Style for a Shaved Head
Even though it's not technically a beard, mustaches form a crucial part of your facial hair. There are many styles of mustaches to choose from, with long, curled, and pointed handlebar mustaches enjoying recent popularity.
A mustache adds to your appearance with very little effort, particularly if you have a bald or shaved head.
It's best to avoid a shorter, overly thick mustache unless you're aiming for a 1980s-era Tom Selleck look.
Maintain a well-groomed and closely cropped mustache to create a versatile look.
Swashbuckler Beard Style for a Bald Head
The swashbuckler beard style is only suitable for some people. It's a bold and unconventional old-school look that can be pretty aggressive, yet that's also part of its appeal.
Rocking the Swashbuckler beard is demanding and requires a lot of effort. You'll enjoy the attention it brings if you're the right guy. You must be ready to trim, shape, and use many products to keep the handlebar mustache in place.
Adding a pointed goatee only compounds the maintenance. But if you're going to experiment with facial hair, you could go all out.
Two-day Stubble Beard Style for a Bald Head
A study published in the 2013 issue of Evolution and Human Behavior found that women consider heavy stubble the most attractive facial hairstyle on a man.
The study compared women's opinions on clean shaves, light stubble, heavy stubble, and full beards, with heavy stubble coming out on top and light stubble being the least attractive.
Most men can grow heavy stubble in just two days, but they should avoid a five-o'clock shadow at all costs. Use electric trimmers with attachments that keep your stubble at the perfect length to maintain the two-day stubble beard.
Stubble Goatee Beard Style for a Bald Head
A stubble goatee is pretty similar to the classic and full goatees. Although it may not exude as much attractiveness as its larger counterparts, it still makes a fashionable statement.
For a controlled appearance that combines the appeal of heavy stubble with a polished finish, a stubble goatee could be a suitable choice.
The stubble creates a contrast against the smooth scalp and balances out the appearance. Let the goatee area show that you left this section to grow for a day or two on purpose for a relaxed look.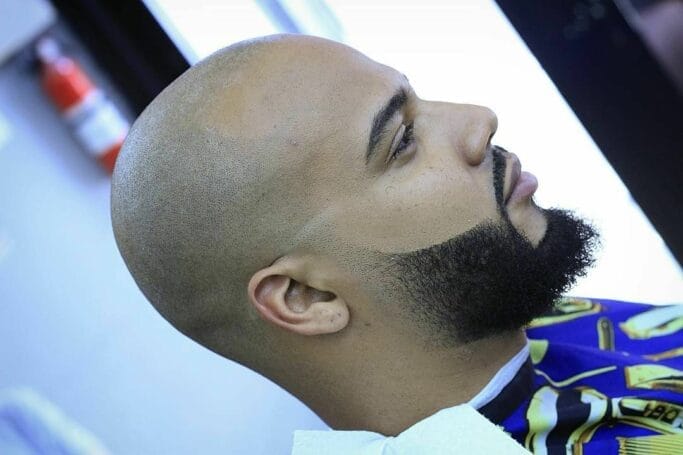 Full and rounded Beard Style Bald Head
Men with round skulls or weak jawlines can benefit from full and rounded beards. These beards can create a beautiful symmetry that draws attention and can help to hide a soft jawline.
Keep the mustache and beard disconnected to achieve the ideal shape through careful styling. However, the effort is well worth it to boost confidence, especially for bald men.
Full Chin Cover Beard Style Bald Head
The full chin cover beard combines the full beard and the chin curtain beard, creating a unique beard style that perfectly suits the bald haircut.
This particular style follows the structure of the classic goatee, featuring a chin, a mustache, and lines connecting the two.
However, it's enlarged, covering more surface area on the chin and slightly thicker lines beside the mouth.
Because it's longer with a wider shape, it appears less sculpted than the classic goatee but still demands the same level of maintenance.
Slightly pointed Beard Style
This beard style is usually distinct and smart for men but similar to the van dyke beard style. It involves well-trimmed and classy hair, which is a delight for most men.
Manicured Stubble Beard Style for a Bald Head
Manicured stubble beards are a great way to show that you care for your appearance while keeping your facial hair length to a minimum.
By trimming the edges of your stubble beard, you make it look sharp and refined, achieving a sexy and polished look.
Though it's not as laid-back as a two-day stubble beard, it still exudes an elegant appeal and is more acceptable in the workplace.
Conclusion
Choosing a good beard style will go a long way to complement and enhance a clean-shaven, edgy look for bald men. While personal preferences may differ, the classic full beard is considered by many as the best beard style for bald men of all facial structures and lifestyles.
Never be scared if you don't love extra grooming. Just grab any beard style of your choice to complete your trendy appearance.
FAQs
Is a Bald Head with a Beard Attractive?
Studies indicate that bald men with beards are perceived as more confident, attractive, and dominant. Plus, bald men could boost their sex appeal by shaving their heads while maintaining a beard.
Is a Shaved Head with a Beard Suitable for a Professional Environment?
Traditional beliefs about beards not being professional have changed significantly in recent years. Many organizations allow facial hair at work as long as it is kept neat and clean.
You'll need to check if your organization has any specific dress code or grooming standards against them.
Khamis Maiouf is a professional barber who graduated from Hinckley College in England with a degree in hairdressing. He has also won several barbering contests and successfully operated a barbershop for the last two decades. As a skilled hair stylist for 20 years, his goal is to teach others how to achieve a beautiful appearance through their hairstyles.