8 Classy Tom Ellis Haircuts Drastic Transformation 
As the "devil" on the hit television show Lucifer, Tom Ellis has become one of the world's finest actors. His fans love his wickedly charismatic persona. He's also an accomplished musician. In the past, he played for the City of Sheffield Youth Orchestra.
In addition to his incredible talents and charismatic character, he is most recognized for his beyond-measure sense of style.
Saying he looks glamorous in nearly all the haircuts is an understatement.
Here are some of the sleekest Tom Ellis hairstyles to inspire your next look, from neat short straight hair to a pompadour hairstyle.
Tom Ellis Long Hair
Tom Ellis is the one person who can pull off any look. Just recently, during past series of Lucifer, Tom Ellis exhibited such thick hair that some guessed he'd gotten a hair transplant or wig piece. But Ellis has since clarified that it's all his own.
The popular Netflix show Lucifer has Tom Ellis as the Devil. He used a long wavy hairstyle for his role in Merlin's third season.
In these instances, his elegant long wavy hairstyle suits the character well.
Neat Short Straight Hair
Cut short the hair along the back and sides with a clipper, ensuring the edges remain clean. The top is kept sharp for height and shape.
Use products for shine and hold to have the Tom Ellis sleek look.
To rock this hairstyle, ensure your hair density is medium or thick. A fine or medium texture will level up your look. Use your fingers to apply the styling product through your hair to create a fine texture.
In a nutshell, this hairstyle suits guys in all age brackets. But you must be ready for regular trims to maintain shape and style.
Tom Ellis Sexy Pompadour Hairstyle
A year ago, many fans wondered if Tom's hairstyle was a pompadour.
In one of the interviews, he had to clear the air when he said he had straightened his hair. Although not many people were happy with his change of hairstyle, it changed him from the devil in the Lucifer series to an adorable and irresistible gentleman.
Usually, a pompadour is slicked back and has longer hair at the top front. The hair length decreases gradually from the front to the back of the head.
The sides and the back have shorter hair with uniform size.
You can also try this look if your hair at the top is at least three inches long. Look for a stylist and pull a surprise with such sexy hair. Your hair doesn't have to be greasy for you to go for this haircut. Getting an experienced stylist will produce this dashing style.
Tom Ellis Classic Comb Over
A comb-over has been a reserve of businessmen and brokers for years.
But it has been revived and reinvented for a modern aesthetic. The Lucifer star, for example, has been featured on Tv screens wearing this hairstyle.
And guess what?
Many fans remarked that Ellis became a superhero in his acting thanks to the comb-over haircut, which gave his looks an edge.
A comb-over is a versatile hairstyle that suits almost any face shape. What's more, it blends with other cuts such as a fade, helping you move your look to the contemporary territory.
Lucifer Hairstyle
The devil is associated with all the wrongs in the Lucifer series and the general view. Having such a dark character, Lucifer shouldn't be adorable. He must be scary, to speak the least.
Acting the devil, Tom Ellis had to sport long curly hair. But, even with such unkempt and shaggy hair, many fans remarked that he looked handsome.
What an irony!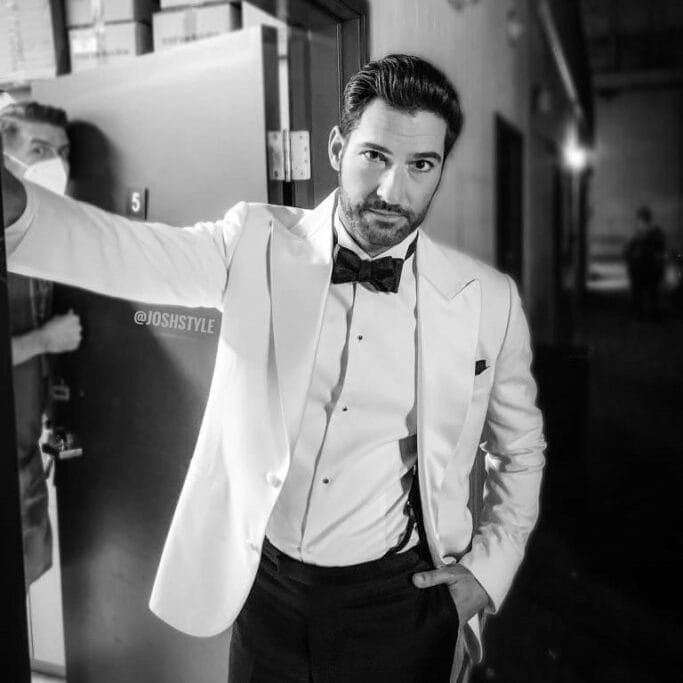 Tom Ellis Curly Hair
Tom's hair is naturally black and curly. With this endowment, he has mastered the art of blow-drying it to redefine curls, resulting in medium waves with added bounce and volume.
He has also featured been featured wearing a long messy curly haircut. He let his hair grow long for a prominent and eye-catching look. You don't require a lot of styling if you prefer a long curly hairstyle.
Just apply a blob of a hair styling product to define your curls and let them fall naturally. Curly hair is quite dry and brittle.
As such, using a brush disrupts its natural form leading to breakage. But that doesn't mean you should avoid it altogether. Instead, use a detangling brush to make your curls pop. It's safest to brush through conditioned hair during this time.
Depending on your hair length and density, you may use a wide-tooth comb.
If you are considering going for curls, consider going for short curly haircuts. This haircut helps to tame your ringlets if your texture is defined.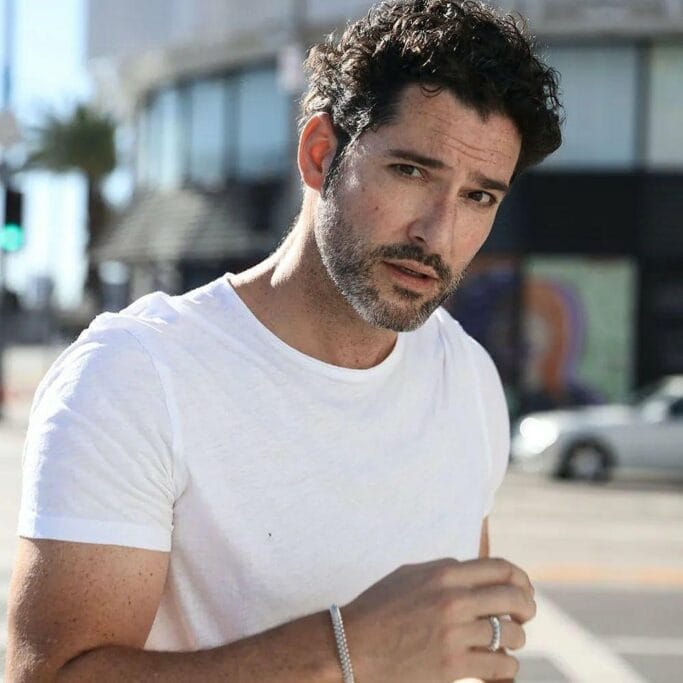 Tom Ellis's New Hairstyle
His long wavy hairstyles reflected his Devil character on Netflix's Lucifer. Although his hair was messy, it was pretty polished and elegant. The fans were so much thrilled with his new wig.
Ellis High Fade
The gradual fading of hair makes it easy to recognize high Fade haircuts from top to bottom. This allows the top to have the most hair to play around with. The sides and back are closely trimmed or even shaven.
Tom Ellis has sported this hairstyle. It's worth noting that the sides and back are not shaved clean but shortened, leaving the top with much dense hair's hair.
Having naturally dark and curly hair has given Ellis an edge to strike an irresistibly drastic transformation.
Wrap Up
Having been a role model in the acting scene for several years, you can borrow a leaf from Tom's haircuts. The straight curls, for example, aren't difficult to maintain but will give you a sexy and dramatic transformation.
Whether going out on a business or a formal meeting, you can be sure to look incredibly super in Tom Ellis haircuts. Look dapper and tailored by adding a waistcoat on top of your classic button-down shirt to add to your signature hairstyle.
FAQs
Does Tom Ellis sing in Lucifer?
Yes, Tom Ellis, the Lucifer Morningstar, does the majority of the singing on the show.
Does Tom Ellis play the piano, or does someone else do it?
Typically, Tom Ellis doesn't play the piano on screen. But he has previously confessed to having known how to play it. His most preferred instrument is the guitar.
Khamis Maiouf is a professional barber who graduated from Hinckley College in England with a degree in hairdressing. He has also won several barbering contests and successfully operated a barbershop for the last two decades. As a skilled hair stylist for 20 years, his goal is to teach others how to achieve a beautiful appearance through their hairstyles.