28 Weird Beard Styles To Try
Technology has transformed the world into a small, interconnected community. The more people from various cultures and races interact and exchange ideas, the more inventions emerge.
One example of this cultural and racial blending is evident in the fashion industry. Entirely new fashion trends have come up as a result of fusing different cultures.
Individual grooming, and more so beard styling, has not been left out either. The internet has seen the birth of various sleek beard styles, while others are just weird.
We will take you through some of the weirdest beard styles you've ever witnessed. Who knows? You might find one beard style that interests you!
The Pac-Man Weird Beard look
This is the funniest and most incredible style for cookie lovers you'll ever see.
Get the Pac-man weird beard style by trimming the bottom of your beard straight. And then color the rest of your beard using any shade of color the Pac-man ghosts adorned.
Batman Weird Mustache Style
This unique and creative style will transform your appearance into a true Batman lover. Start off by growing a thick beard and then trimming your excess hair. Next, ask your barber to cut the Batman design, being mindful not to make mistakes. Once you are done, clean up the facial hair around your neck and cheeks for an elegant look.
A Food Lover Weird Beard Styles
Are you a lover of food and as well don't mind flaunting a beard? Look no further! With the food lover beard style, you're sure to carry your food right on your face. Simply place your snacks in the "beard hole" and secure them with your braids and a mustache.
A Designer Weird Mustache Look
The designer weird beard style gives you the best option if you are looking for a unique alternative to do your beard. All you must do is use decent beard-holding products to hold your beard in place and form the required shape.
Try something new today and take your beard game a notch higher.
Curly-Spiral Weird Beard Styles
Are you looking for a unique style different from the traditional monkey tail beard? The curly-spiral beard style is the best choice.
The good thing about this variation is that it incorporates extra twists for a more dynamic look. Plus, the spiral image can be placed on any part of the face for a sleek appearance.
To rock this beard, grow a curly beard and shave it into a round shape. Start by shaving your beard from the lower lip and move towards the upper chin.
The result is a hilarious spiral look perfect for a Halloween party.
Aggressive Weird Cat Beard Look
Cats are aggressive, and this weird beard look perfectly represents a guy that becomes angry at the slightest provocation.
Use holding products such as mustache wax, which offers a powerful hold to the ends of your mustache hair to resemble those of a cat. Alternatively, you can use a styling pomade or gel to shape and firmly hold your mustache hair to the required shape.
Weird Monkey Tail Beard Look
Mike Fiers, a baseball player, introduced this kind of beard a few years ago. Your mustache hair around the nose is curled to create the impression of a monkey sitting on your shoulders, and its tail wrapped around your chin and upper lip.
Ask your barber to make a thick haircut from one end of your sideburns through the chin to your upper lip.
The monkey beard style best suits guys that want to rediscover their potential and become a force to reckon with in their endeavors.
Also Read: Top 5 Mexican Mustache and Beard Styles that are timeless
A long Weird beard with Cube Shape
To rock this style, you must keep your facial hair long enough, which is a process that takes time. You must be patient as your hair grows to the required size, which is then trimmed to a box-like shape, ensuring it remains thick and long.
This beard cut is stylish and perfect for an oval-face-shaped guy.
Iconic Weird Spider Look
The spider beard will be your perfect match if you want to make a statement with your facial hair. All you must do is grow your beard for some days and ask your barber to shape it into a spider's legs. The long wispy hairs radiating out from your chin will make you stand out.
This requires a steady hand, creativity, and some patience, as you will need to make delicate cuts to get the desired shape.
A BEARD word Weird beard Style
The man in this photo has shaped his braids into a "BEARD" word. This level of creativity is outstanding and rare.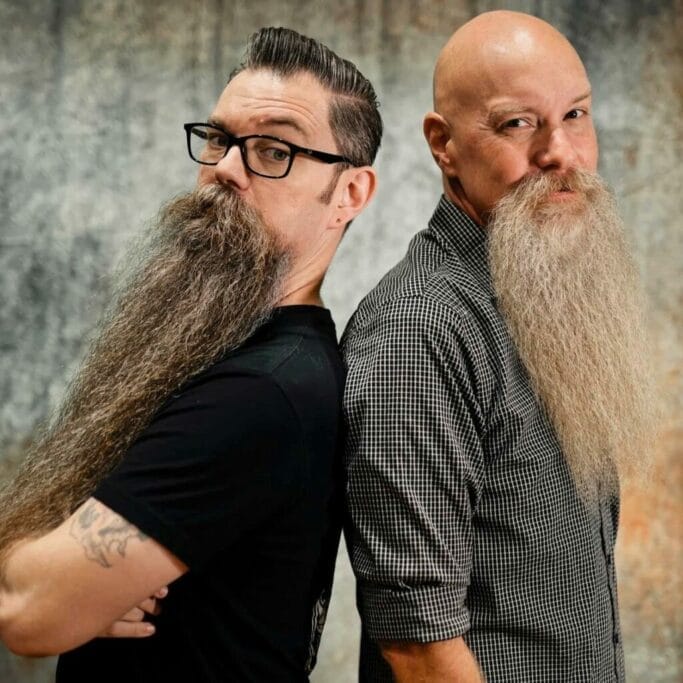 A Star Weird Beard Styles
Let your love for celestial objects manifest by styling your beard into a beautiful star. This creative look involves shaping your beard into the shape of a star. Trim the rest of your facial hair to allow your style to stand out.
This weird beard style is perfect for outgoing guys who want to discover the world.
Loop Weird Beard Styles
This is the weirdest beard you'll ever see. The cringy beard is achieved by simply shaving your beard into a loop, and you are good to go. Use some pomade or wax to hold it in place.
And boom! The end result is a crazy cut that will keep people turning their heads.
The Weird Kraken Beard Style
Although scary and weird, you can flaunt it with no apologies if you have guts.
You must be up to the task to avoid difficulties managing the Kraken beard style. Plus, growing this kind of beard takes some time. So, you need to be very patient; otherwise, look for another beard style.
Even so, before you clad this weird look, reexamine yourself if you are indeed ready.
A Weird Windmill Look
This beard is achieved by allowing your beard to grow to full length and then trimming it into the desired shape. It's characterized by long sails resembling those of a windmill.
Growing the windmill beard is not a one-day endeavor; it needs a lot of patience and dedication to reach full length and thickness.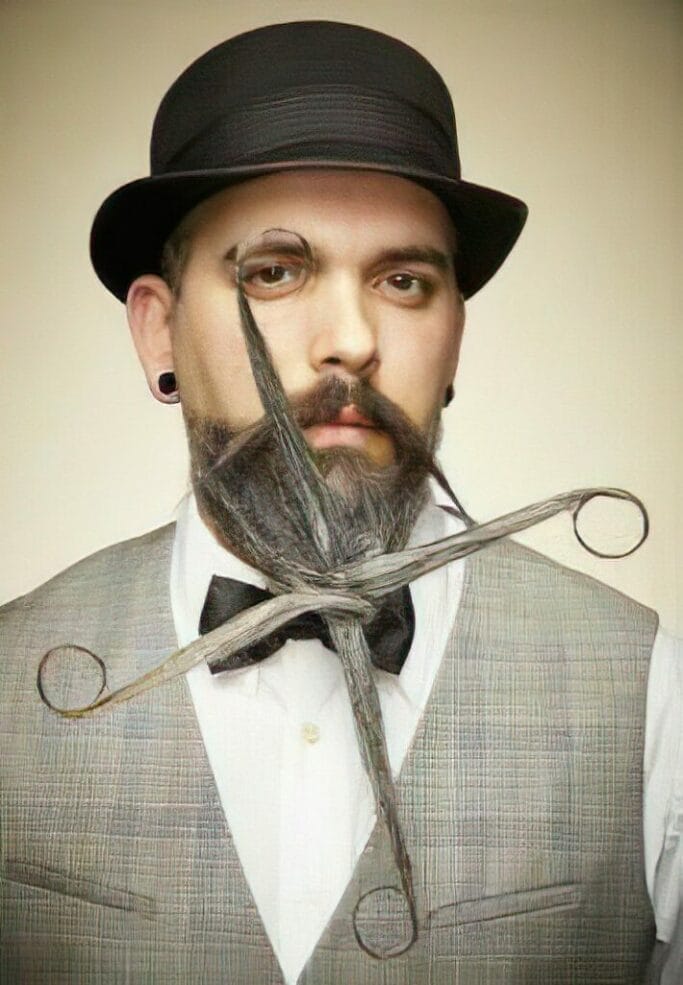 A Weird Dollar Lover Beard Style
Who says money cannot buy happiness? From this photo, we can say without mincing words that this man is happy courtesy of the dollars.
This man has styled his beard into a dollar shape showing his crazy affection for money and dollars. He shaved all his facial hair on his cheeks and neck, allowing his dollar sign beard to show off.
Wired Long and Half Round Beard
To flaunt this style, you need to shave your facial hair halfway, leaving part of your mustache, chin, and one side. You, however, must be brave enough to rock this beard cut.
Heavy and Hairy Beard
The heavy and hairy beard style is characterized by thick and full hair covering your entire face. Bold guys are welcome to try this mind-boggling beard style resembling a lion's face.
To rock this style, you'll need a lot of patience, as it'll take time for your hair to reach full length and thickness. It's the best bite for guys who love to keep their beards but have little time to trim them.
Its freestyle growth guarantees little attention. You'll also not need much cash to maintain this look.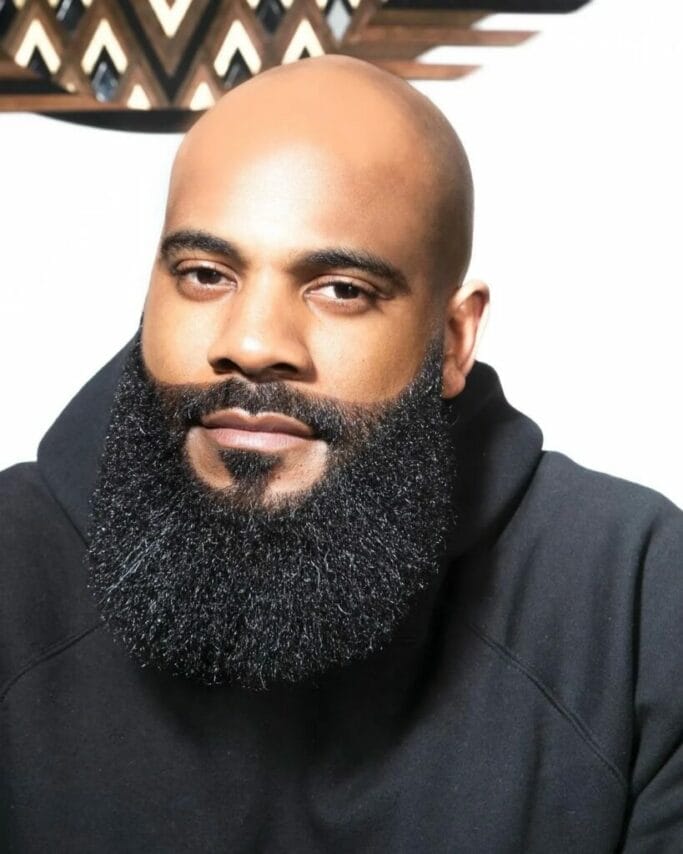 Weird Downward Spiral Beard Style
This unique and stylish downward spiral beard was famous in the 20th century but hasn't lost its glory yet.
To do this style, you need a skilled hairdresser to shape your beard into a spiral, giving you an elegant look.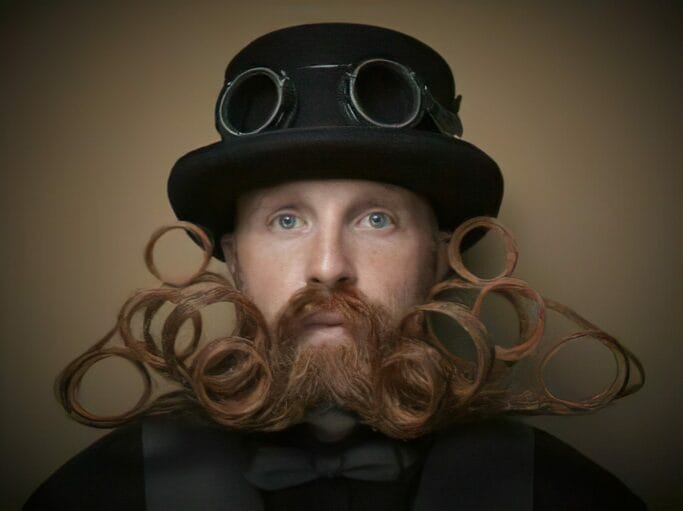 Weird One-Sided Full-Length Beard
It's a simple and funny beard style that looks like your barber forgot to shave your facial hair on one side.
This style doesn't require a lot of time trimming it. You'll, however, shave clean the other half regularly to maintain this style.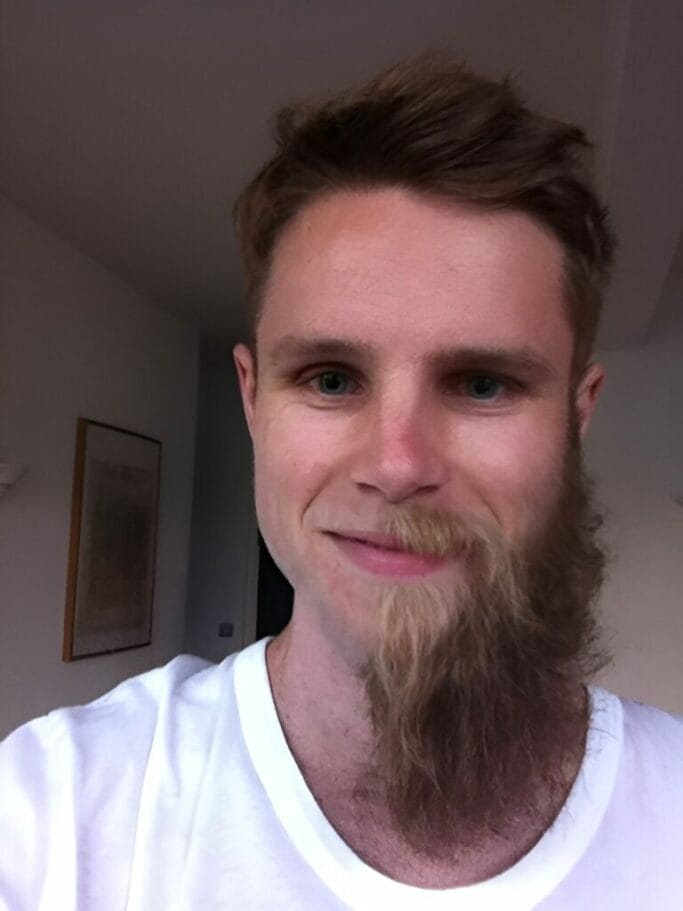 Weird Round Braids On Cheeks Beard
This style was inspired by an old man beard style from India.
Round braids on cheeks beard style has gained popularity in recent years. Your hair is divided into smaller sections and braided close to the scalp, following a circular pattern. The result is a unique and eye-catching style able to turn heads.
This style suits daring and bold guys with the "I don't care attitude." Plus, if you are looking for a style with low maintenance costs, you are free to try this style. Go for this option if your facial hair is thin or damaged, as it can help protect and strengthen your hair shaft.
A Weird Villain Look Beard Look
Going by what we have seen in movies and cartoons, all villains have unique beard styles. The villains play the most hated characters despite having admirable beards.
This look suits strong and antisocial personalities. Try this beard if you are an actor, and your fans will be over the moon watching you.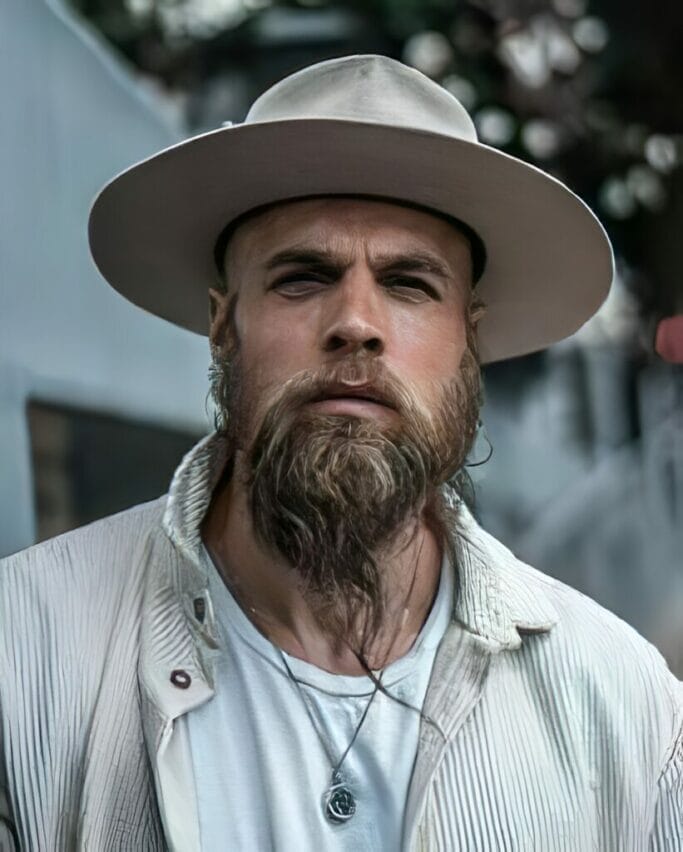 A Weird Beard Style Look
Try this beard style and send the world into a fuss. All you need is to leave your hair to grow to full length and use a holding gel to hold your beards to make a "@" sign.
A Weird Handlebar Beard Style
Are you naive about growing a full beard but want to keep a mustache? The handlebar mustache suits you best. Trim your mustache to the desired length and use beard wax to hold and shape it into the iconic handlebar. This style will add a touch of flair to your look without committing to a full beard.
This beard will flaunt you as a focused, scary man.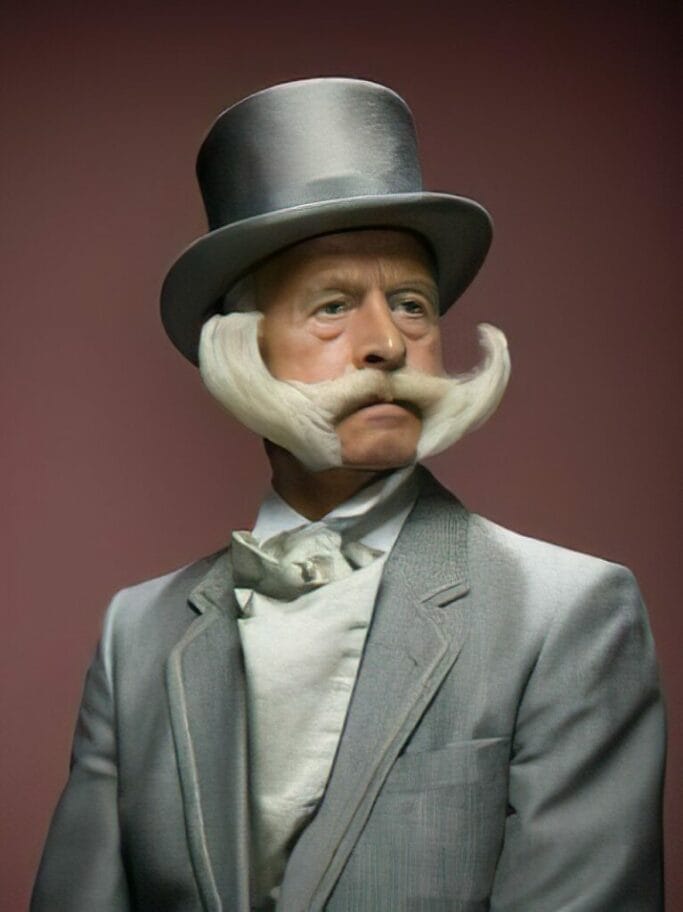 A Weird Fu Manchu Beard Look
Are you looking to add your inner martial arts prowess to your look? The Fu Manchu mustache is here for you! Inspired by old Chinese martial arts movies, this style involves letting your mustache grow out. You'll then trim the middle while letting the ends grow long.
You can leave your hair open or do braids on both sides. A long mustache with a Manchu beard will give you a classic look.
A Weird Goatee Style Without Mustache
Are you a rugged man looking to show his inner self? Growing a goatee beard is stylish and shows your masculine nature effortlessly. All you need is to grow your hair vertically and let it go beyond your chin, although it shouldn't go too far.
You can choose to have your goatee remain natural or trim the sides to make it defined with a sharp look.
Weird Horseshoe Beard Look
Ask your stylist to shave the hair around the edge of your face to give it the impression of a horse that just left its mark on your chin. Go for this style for this elegant look to turn heads.
Weird Mutton Chops
The mutton chop beard style involves shaving your beard and mustache but leaving your sideburns intact. This results in a look reminiscent of Elvis Presley's iconic mutton chops.
When done correctly, this style adds a touch of class and sophistication to your appearance. However, it's important to note that if you're not careful, the mutton chop style can also turn out to look comical. To avoid this, shape and maintain your sideburns to achieve the desired look.
A Cringy Napoleon Imperial Weird Beard Style
The Napoleon Imperial beard style involves growing out a full, thick beard and neatly trimming it into a well-defined triangle. The beard is then paired with a carefully groomed mustache extending slightly past the mouth's corners, making a double handlebar.
To rock this style, you must invest in high-quality beard grooming products. Plus, your stylist needs time to carefully shape and maintain your facial hair for a polished, sophisticated look.
Conclusion
A peculiar beard style is a great way to put people at ease and make them feel more comfortable around you.
Whether a silly mustache or a wacky goatee, it can evoke a sense of humor to help break the ice and encourage people to let their guard down. In fact, funny beards make many people feel more relaxed and happier, much like how kids feel when they're around Santa during Christmas.
These weird beard styles will help you to connect with others and spread joy wherever you go.
Khamis Maiouf is a professional barber who graduated from Hinckley College in England with a degree in hairdressing. He has also won several barbering contests and successfully operated a barbershop for the last two decades. As a skilled hair stylist for 20 years, his goal is to teach others how to achieve a beautiful appearance through their hairstyles.