Top Square Beard Styles You Should Try
It is no surprise that men with square beards are regarded as more attractive. However, having long beards is not everything. The art of keeping an attractive beard is cleanliness, which implies constant trimming and general hygiene. Squaring your beards requires careful trimming of your facial hair starting from your ear to chin. It starts with making a square with a line from the ear, the jawline, to the chin. Making your beard square requires a gradual and careful process. Because to get the perfect look, the angles must be balanced or equal.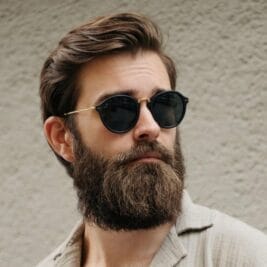 What are the types of square beards I can get?
Not many people are aware that there are different types of square beards. Of course, there are different styles of square beard styles you can make to make you look even more attractive. However, they all bring the same result —they bring out your best look. You may prefer a tightly shaved square beard or a thicker side beard; I bring you the best square beard styles you can try to give you your best look.
Traditional square beard
The clean and perfectly cut jawline is one of the features of the traditional square beard. If your facial hair is medium-sized, try getting this beard style to help you control or tame the growth of your facial hair. To create this refined beard style, you can use a beard trimmer and check out beard guides for tips.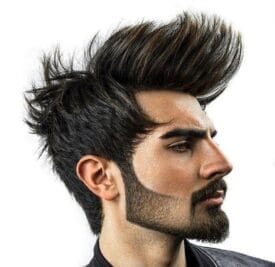 Yeard Square Beard
Growing a yeard beard requires time and discipline. A yeard beard is usually more than four inches and takes up to a year to develop. If you want to keep a yeard beard from scratch, you don't need to worry about it growing fast. You can use beard cream to help your beard grow thicker and faster. After about six months of keeping your square yeard, the length must have grown to the level where you could see its increasing size.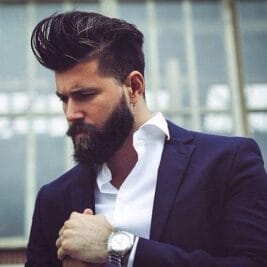 For most men, the growth of the beard usually stops by this time; If it's like that for you, you don't have to worry; you can make it grow faster with a beard cream.  After about 11 months of growing the yeard, you will become a fully-bearded gent. Keep in mind that the idea is to keep a yeard beard and not a bushy forest on your face. So, continue to trim and use beard cream on the beard.
Extended Square Beard
Like the square yeard, the extended square beard requires time to grow. Before trimming your beard to the extended square-shaped beard, allow the hair to develop fully and thicker. Unlike shorter square beards, where you trim the facial hair closer to the jawline, the extended square lowers or completely disappears the jawline with thicker hair.
Square Goatee
The square goatee is an excellent beard style to be on. If You decide to go for this square beard, you will feel confident anywhere you go. The square goatee is a simple beard style that will give you your best look. To get this beard style, you don't need to have much facial hair like the yeard and extended beard styles. With a simple touch, you can perfectly line your facial hair to give you a fantastic look.
Faded square beard
The faded beard style fits better with a shaved head. Liner attachments, comb guards, and a beard trimmer are things you need to have a clean faded square cut.  Getting a faded square haircut is not something you should be afraid of. All it needs is just your care and regular trimming.
How can I trim my square beard?
To get the perfect square cut, you'll need a good set of beard trimmers and high-quality creams or soap. With a beard dresser and a guide, shaping the sides to make them equal becomes easier. Below are the steps to help you get your favorite beard style
Determine The length 
The length of your beard relies on what you want of your neckline. To some, the beard usually sits an inch or so above their Adam's Apple. You must maintain the length of your hair at a size that you're comfortable with and the form of your face.  Combing your hair to its maximum and trimming the sides can help you achieve your desired beard style. After combing, you can now line up and align the sides of the hair.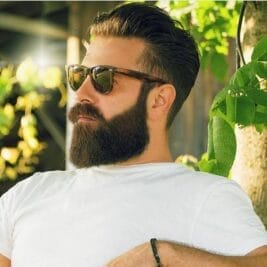 Trim Your Hair and Beard
When trimming your beard, use a boar bristle brush by brushing out your facial hair; irrespective of how you want to grow your hair — whether full or shorter beard— trimming is essential.  After you have decided the style you want to make with your facial hair, go on to trim it. You may choose to go for a fuller square beard or a short square goatee; you can trim your facial hair to get the style you desire.
Creating Square Angles
The corners of the jaw, the chin, the jawline, and the top of the lip make a square beard unique.  With scissors or beard trimmer,  shape the angels of your facial hair. When these angles are untrimmed, they make a face look rough, which is against the unwritten rule of keeping a beard.
Trim Sideburns
To provide the appearance of a thicker beard and a wider jawline, make sure you connect the sideburns to the beard using your trimmer. Sideburns may be thicker from the bottom to the top, then fades to the temples and hairline.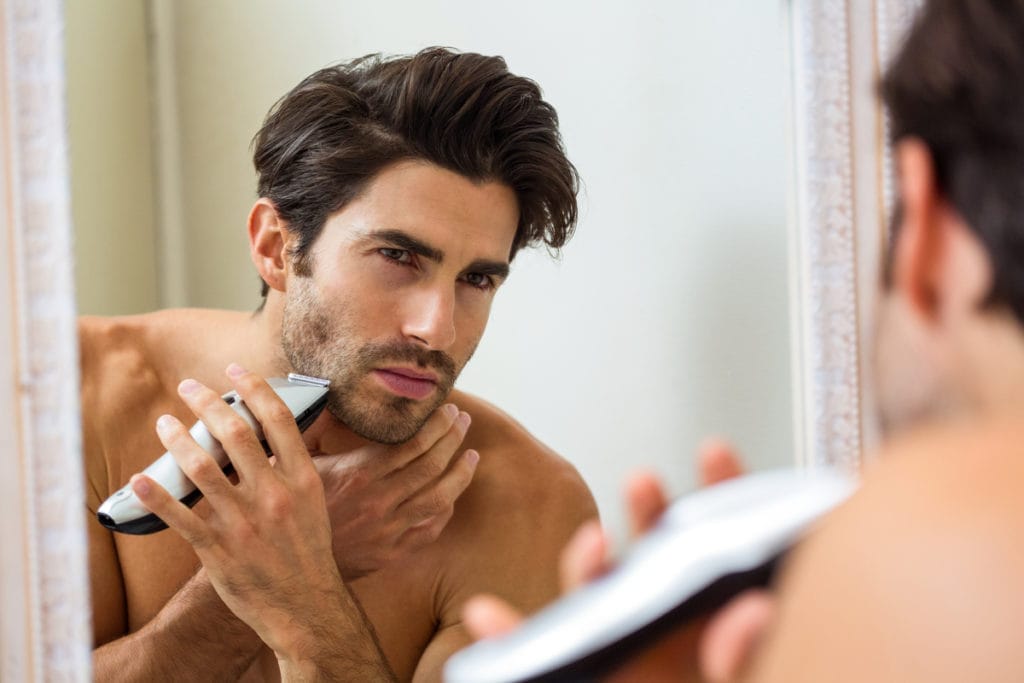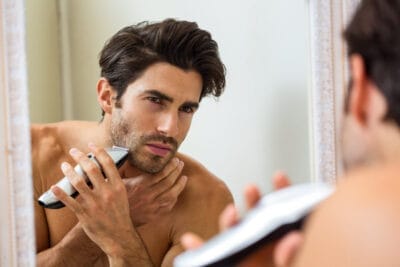 Shave Your Neck
One thing that makes the square beard look fabulous is a clean neckline, when trimming your square beard, shape above and below your Adam's Apple to make your jaw seem longer.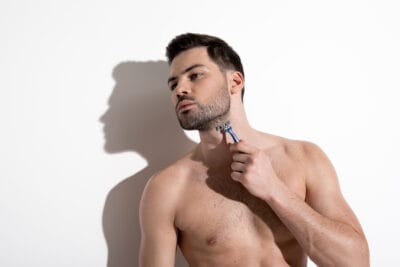 Most men prefer the thicker, longer beard; however, one golden rule in the square beard rules is maintaining thick hair at the border of the jawline and under the chin to ensure proper side alignment. Ensure you use detailer attachments that allow you to remove neckbeard stubble easily. You must know this little detail defines that square beard style.
Finishing the square trim.
Check the angles of your beard after you've shaved your neckline in a mirror. What do you think of the balance? If it's not what you want, use a pair of beard scissors to shape the left and right sides of your beard smoothly.
How can I make my square beard grow faster?
It's not always easy to grow a beard in a square shape. To get a tailored cut with crisp lines and a sharp fade, seeing a barber is your best bet for getting your new look started.
To get the perfect neckline, show the photos in this article or the site to your barber. Also, you'll need a beard trimmer and a guide to keep the beard looking good at all times. You may be wondering how you can make your beard grow faster; follow this step below to get the result you need.
As part of the beard grooming routine, trim your facial hair every day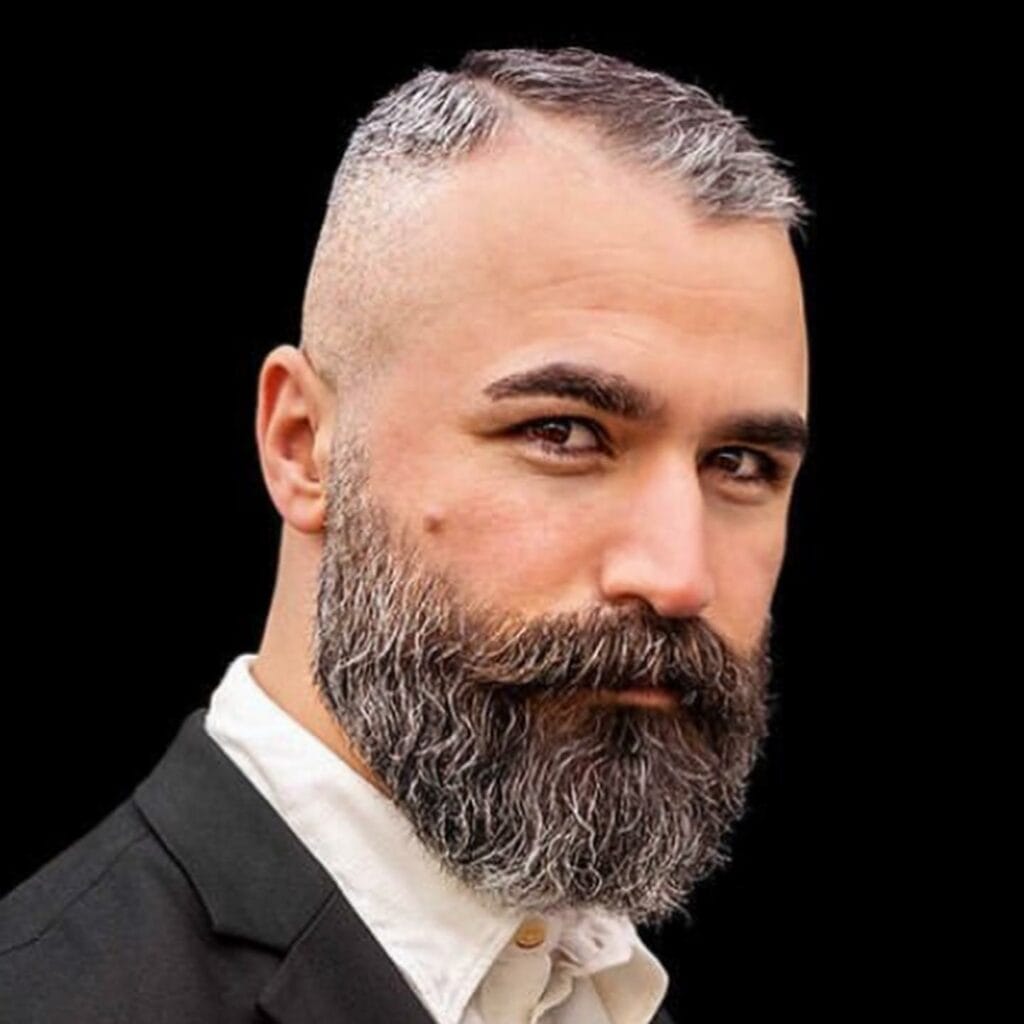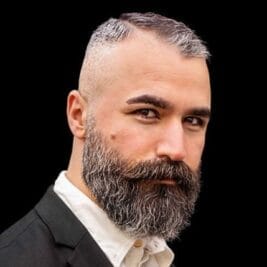 There's no need to worry about whether it will fit to keep hair near your jawline or let it reach your kneecaps. Get a quality trimmer, and shape your beard with it every day. As you go on with your regular trimming and try out different trimming methods, you will discover the form of trimming and style that suits you better.
Ensure you wash your hands often.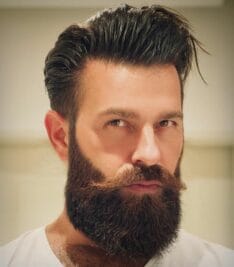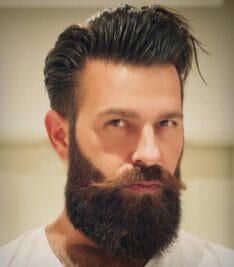 There's every chance you will feel uncomfortable and have an itchy beard if food and skin cells are trapped in your facial hair. An unkempt and dirty beard makes you seem dirty. To avert the negative attention of a messy beard, use a beard cleaner and scrub your beard several times a week.
It's a Good Idea to Use Beard Oil
Beard oil should be your best friend if you want to keep your beard in order. Because bearded oil hydrates beards and the skin underneath, it is distinct from aftershave.  Beard oil not only moisturizes the skin but also softens and tames the beard hair. Because beard oil makes the beard look clean, it is an excellent style tool.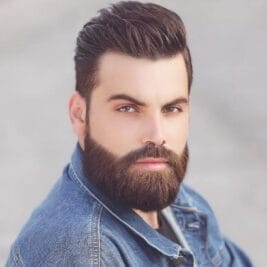 Your Beard Needs to be Trained
Trimming your facial hair regularly will keep it in the desired shape. However, there are additional methods you can use. 
Your beard needs regular brushing to keep it in shape, so try to get into the habit of doing so. Using this method, you can untangle and straighten tangled and curly hair, causing them to grow downwards. You can get a good barber to help you with the trimming process. Alternatively, you can learn to trim the hair yourself.
Your beard is necessary for a balanced look!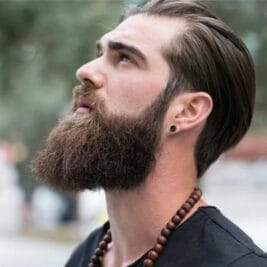 Many may disagree,  but beards are essential for a well-balanced look. They compliment your face, so they require special treatment to make you look astonishing.  If you wish to attach a mustache to your look, trim the region beneath your nose using a pair of trimming scissors to maintain cleanness. You might also use a medium-hold wax to keep it molded organically.
The food you eat matters!
Do you know that the food you eat contributes to the growth of your beard? Yes, they do. Eating a good and balanced diet can contribute to your beard growth
The protein and fatty acids make it possible for hair to grow. To grow a healthy beard, vitamins B5, B3, and B9 are critical. That implies you should consume lots of lean protein, nuts, egg yolks, milk, leafy greens, and most importantly, water!  As long as you're devoted to maintaining a clean beard, eat healthily and follow other tips above. Also, you can purchase beard boosters like Vita beard as a quick fix.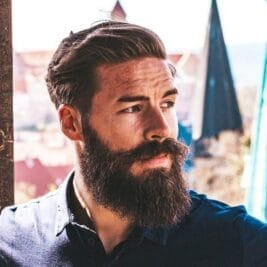 What are the dos and don'ts I should keep in mind before growing a square beard?
Before keeping a beard, there are certain things you must keep in mind; below are some
Trim your beard regularly 
To maintain a clean appearance, you'll need to trim your beard regularly. Think about purchasing trimmers to make this easier. Also, learn how to properly style your beard to get the square shape you need.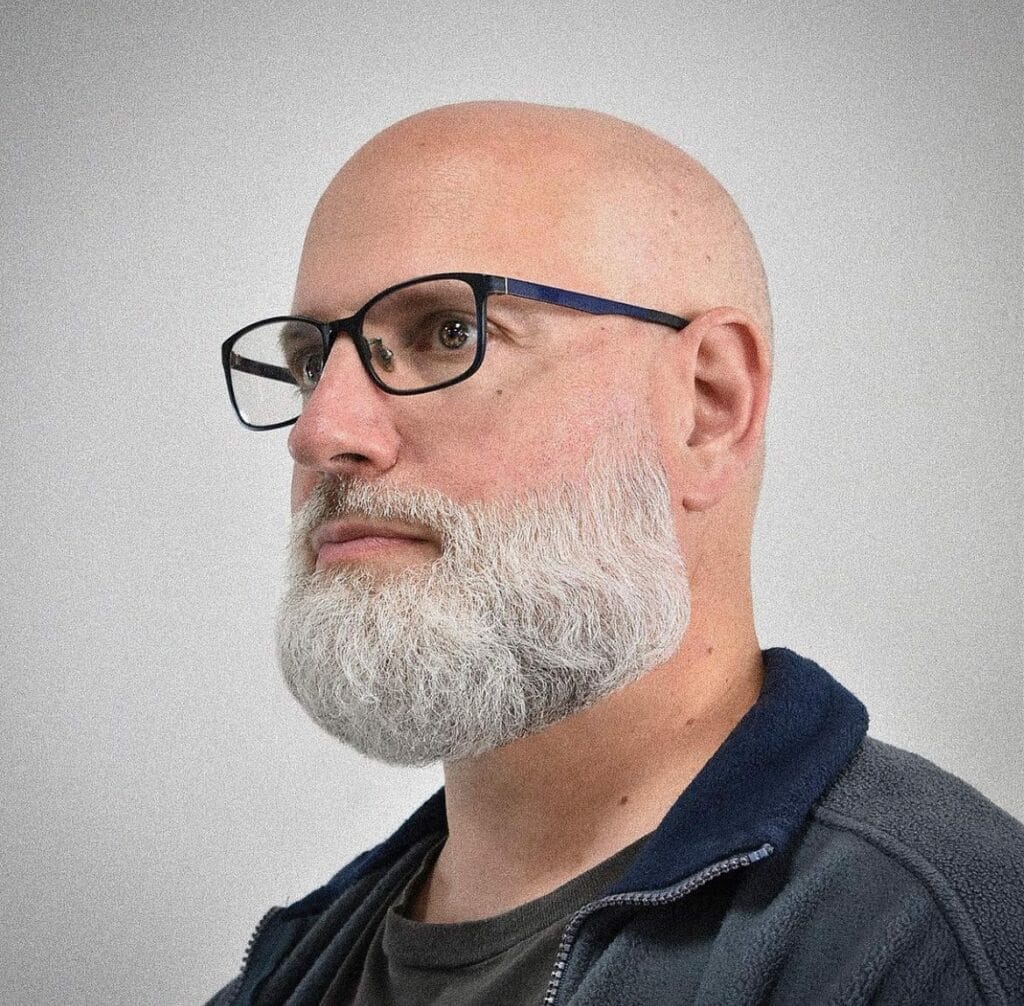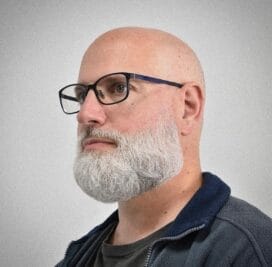 Before you cut your beard, wash it with a special beard soap.
Brushing and combing your beard daily might help you know the spots that need trimming. In addition, it makes your beard grow faster and prevents knots.If your facial hair is still wet after washing, do not trim or shape it. This will only increase the likelihood of your beards cutting.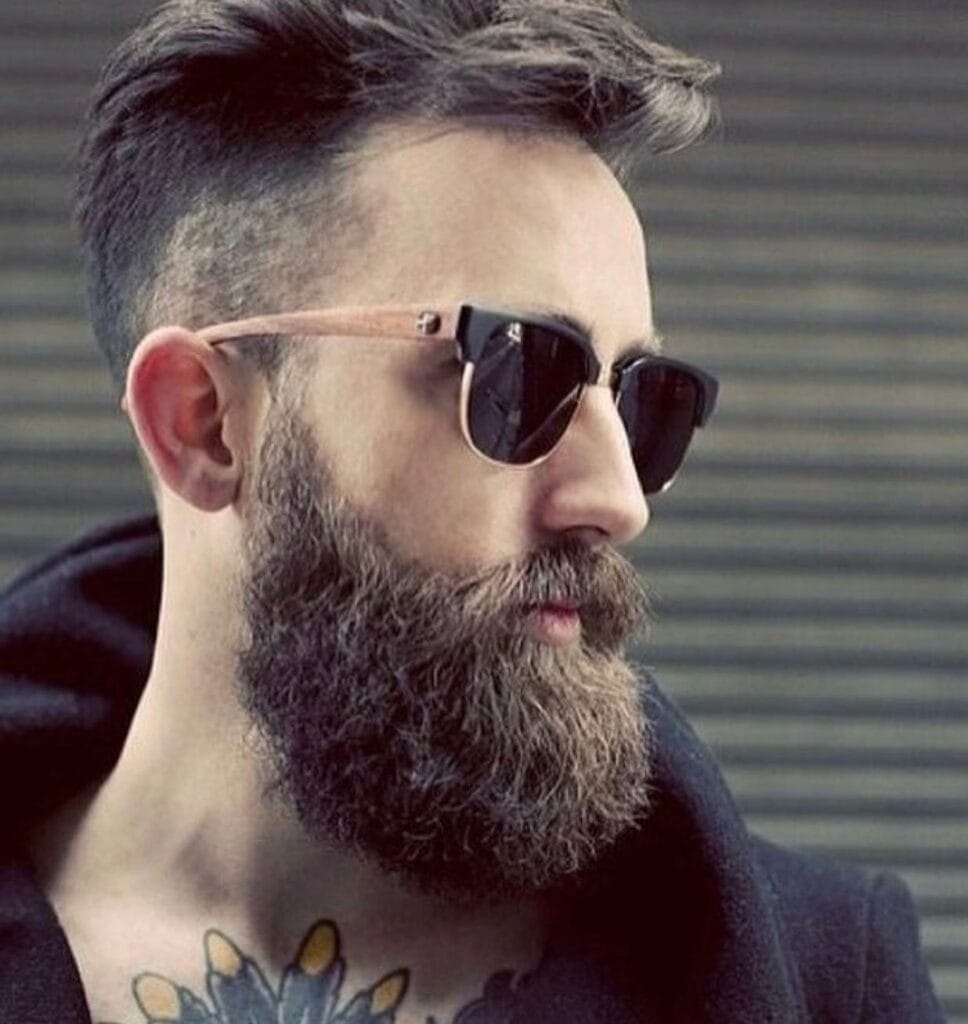 Moisturize your beard after trimming
Wash out any dead skin or stray hairs after trimming. Maintaining a good moisture level in your facial hair can help you avoid dryness and even beard irritation.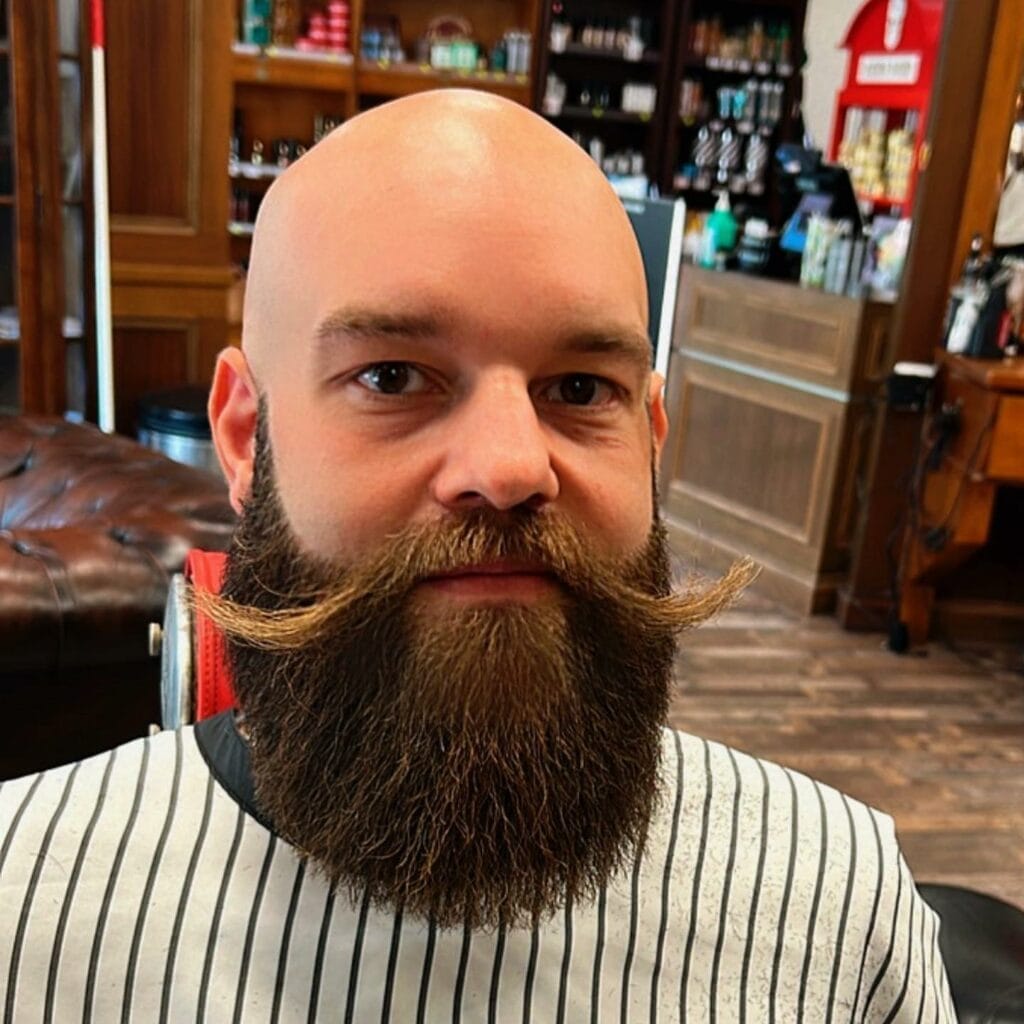 Avoid using beard solutions that include alcohol or chemical treatments
When you purchase a beard cream or solution, avoid those products with high concentrations of alcohol and chemicals. These alcohol and chemical-based products can irritate and dry up your skin.
What can affect the growth of my square beard?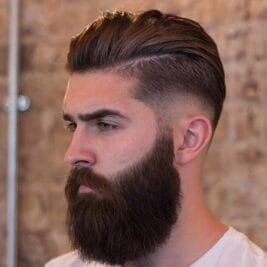 Beards grow in stages, and as already stated, growing a square beard can take up to a year. The growth of facial hair happens in stages. For the first four months, the hair can grow to about 0.5 mm per day. That is about an inch or an inch and a half every month. The growth of your facial hair can be halted by several factors. 
Genetics
The chances of you growing a beard is slim if your parents or grandparents had issues growing it. Beard growth can be hereditary; if your parents have long beards, you will have full facial hair.
Conditions caused by a person's genes 
Beard development may be affected by conditions that affect the accumulation of follicles in your pores or low levels of testosterone or other hormones. Sometimes, your doctor may have a solution to this; visit him to find out.
Stress
You may not know that stress can affect the growth of your hair —Yes, it does. If you always feel stressed, your beard development may be affected. Your facial hair will start falling out, impacting the growth of your beards. Aside from the need to grow longer beards, rest is essential for the body. Take a break to get your body back to full functioning.
Aesthetics 
The human body differs, so as the need for the body. You may have a treatment that works best for you. This treatment may produce negative reactions in another person.  When getting a beard cream, look at your skin type, your hair type, and your allergies before settling for a product. For instance, a product that works for a person with moist skin may not be ideal for cracked and dry skin. 
When you purchase a beard cream, look out for products that suit you. And, avoid products with high concentrations of alcohol and other chemicals! Most importantly, seek advice from your doctor or skincare expert.
What else should I know? (Conclusion)
Just like most people, if you decide to settle for the fuller square beard over the square goatee, it means you will have to leave your beard unshaved for some time. This means the beard will grow faster in some regions, and in a few weeks, your face will be full of beards.
The best approach in this situation is to continually trim the hair in some of these areas, particularly the neck area. It is important to state that growing a square beard of your dream requires lots of patience and discipline. Regularly trim your hair, use beard cream and oil, check and tangled facial hairs and untangle them, etc.
If, after carrying your square beard for a while and you are getting tired of it, check our website for other amazing beard styles you can try.