Top Square Beard Styles You Should Try
Beards symbolize masculinity and can make a big difference in one's appearance. Every beard, including square beard styles, is unique and requires special care so that it complements your facial features.
However, if you have a square face shape, finding the right beard style that works for you can be challenging. Like a good haircut, the right beard can completely change your look.
With the right tools, tips, and advice from a barber, you can find a beard style that suits your square face shape and hair type.
Exclusive Square Face Shape Beards You Can Try
It's surprising how many people are unaware of different types of square beards. The various beard styles for a square face will enhance your appearance and make you even more attractive.
Below, we have rounded up our favorite beard styles for square faces to help you choose the style that accentuates your best features as you start your beard journey.
Traditional Square Beard
When it comes to beard styles for men, the traditional square beard is a classic choice that can enhance your appearance.
One of the defining features of this style is the clean and perfectly cut jawline it creates. If you have medium-sized facial hair, the square beard can help you control or tame the growth of your facial hair.
To achieve this refined beard style, you can use a beard trimmer and consult beard guides for tips on creating a neat, well-groomed look.
Yeard Square Beard
Yeard is among the styles for your beard that require time and discipline to grow. A yeard beard typically measures more than four inches and takes up to a year to develop.
If you're starting from scratch, don't worry about the slow growth rate – you can use beard cream to help your beard grow thicker and faster. After about six months of keeping your square yeard, you should see noticeable growth in length.
While most men's beard growth slows down at this point, you can still encourage further growth with the help of beard cream. By the 11-month mark, you should have a full beard.
Your goal now must be maintaining a well-groomed yeard, not a bushy forest on your face. Regular trimming and beard cream will help keep your yeard beard looking neat and polished.
Extended Square Beard
Like the square yeard, the extended square beard requires time to grow. Before trimming your beard to the extended square-shaped beard, allow the hair to develop fully.
An extended square beard differs from a shorter square beard in that the facial hair can grow thicker and longer, often extending beyond the jawline and even hiding it completely.
Square Goatee
A goatee square beard is a popular style that's perfect for those who want a smaller beard. This style has all the features of a full-face beard but on a smaller scale.
If you have a slight length of facial hair, cutting in a goatee is easy. To achieve this style, you only need to shave everything except your mustache, chin, and the lines connecting the two.
To maintain a well-defined goatee square beard, daily trimming or shaving is necessary. Keeping a little more length to the hair on your chin can help lengthen the appearance of your face shape.
This style is versatile and can be customized to suit your preferences. You can experiment with different shapes and lengths to find the perfect goatee square beard that complements your facial features.
With a little bit of grooming and maintenance, you can take your goatee square beard to the next level.
Faded Square Beard
Faded square fade is essentially a skin fade for your face and a great way to give your beard a stylish and modern look. The fading happens in the sideburn and the face or cheek.
This beard style is perfect for those who want to slim and elongate the silhouette of their face.
By removing cheek bulk, the thickness of the beard is kept on the chin, creating a crisp and clean look. Its glamor is at its peak if you leave the beard to grow to around six inches long.
The fading process requires skill and expertise to ensure the lines are clean and crisp and blend the beard perfectly.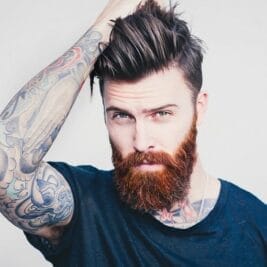 How to Trim Your Square Beard
To achieve a perfectly square cut for your beard, you'll need the right tools, such as a high-quality beard trimmer and grooming products like creams or soap. Using a beard guide can also help you shape the sides evenly.
Here are some steps to guide you in achieving your desired square beard style.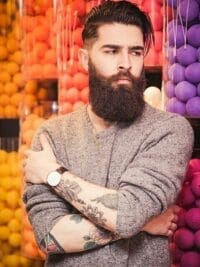 Determine The length
When it comes to the length of your beard, it all depends on how you want to bring your beard style to life. Some prefer their beard to sit about an inch above their Adam's Apple, while others prefer a shorter or longer length.
It's important to keep the size of your beard in proportion to your face shape and what you feel comfortable with. To achieve your desired beard style, start by combing your beard to its fullest. Then, trim the sides to create an even base.
This will give you a good starting point to work with. From there, you can line up and align the sides of your beard to achieve a perfectly symmetrical square cut.
Trim Your Hair and Beard
Trimming is essential to achieve your desired beard style, regardless of whether you're going for a full or shorter beard. To begin, use a bristle brush to brush out your facial hair.
Once you have decided on the style you want to achieve, it's time to start trimming. Whatever your preference, trim the length of the whole beard to get the perfect shape and size.
Creating Square Angles
You'll need to consider the length of your face when shaping a square beard. The corners of the jaw, the chin, the jawline, and the top of the lip all contribute to the unique shape of a square beard.
Using scissors or a beard trimmer, shape the angles of your facial hair to create a neat and polished look.
Trim Sideburns
To give the impression of a fuller beard and a broader jawline, you'll need to connect your sideburns to your beard using your trimmer.
You may want to make your sideburns thicker from the bottom up and then fade them out towards your temples and hairline. This technique can help create a more cohesive and polished look for your square beard style.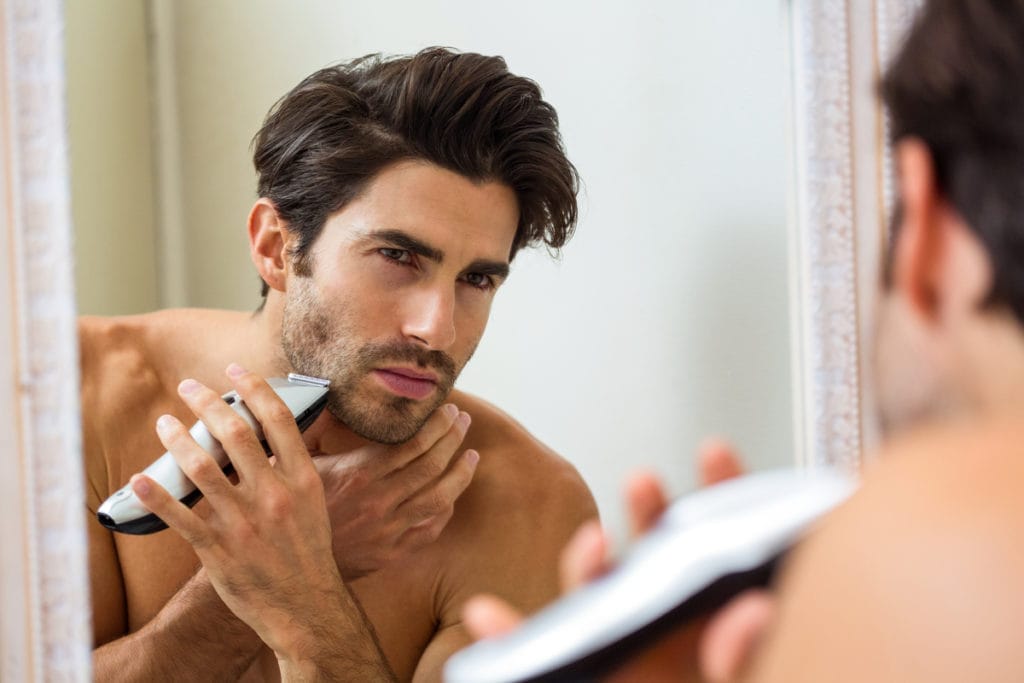 Shave Your Neck
A clean and well-defined neckline is an essential aspect of achieving a great-looking square beard. When trimming your square beard, you'll need to shape it above and below your Adam's Apple to create the illusion of a longer jawline.
While many men prefer a thicker and longer beard, it's crucial to maintain thicker hair at the border of the jawline and under the chin to ensure proper side alignment.
To achieve this, use detailer attachments to remove neckbeard stubble easily. This small detail can make a significant difference in defining your square beard style.
Finishing the Square Trim
Once you've trimmed the neckline, take a look at the angles in the mirror. Is the balance between the left and right sides to your liking? If not, grab a pair of beard scissors and shape the sides of your beard to achieve a smooth and balanced look.
Remember to trim slowly and carefully, as it's easier to remove more hair that you cannot add back.
Tricks for Growing Beard Styles for Men Faster
Achieving a square-shaped beard that looks neat and tidy can be challenging. If you want a tailored cut with defined lines and a sharp fade, visiting a barber is your best option to start your new look.
To achieve the perfect neckline, consider showing your barber the photos provided in this article or on the website. Additionally, you'll need a beard trimmer and a guide to keep your beard looking great between visits.
If you're interested in speeding up your beard growth, try following the steps below for optimal results.
As part of the beard grooming routine, trim your facial hair every day
You don't need to contemplate whether to keep your beard short or let it grow long. Instead, invest in a quality trimmer and use it to shape your beard every day.
As you continue to trim regularly and experiment with different techniques, you'll discover the trimming style that suits you best.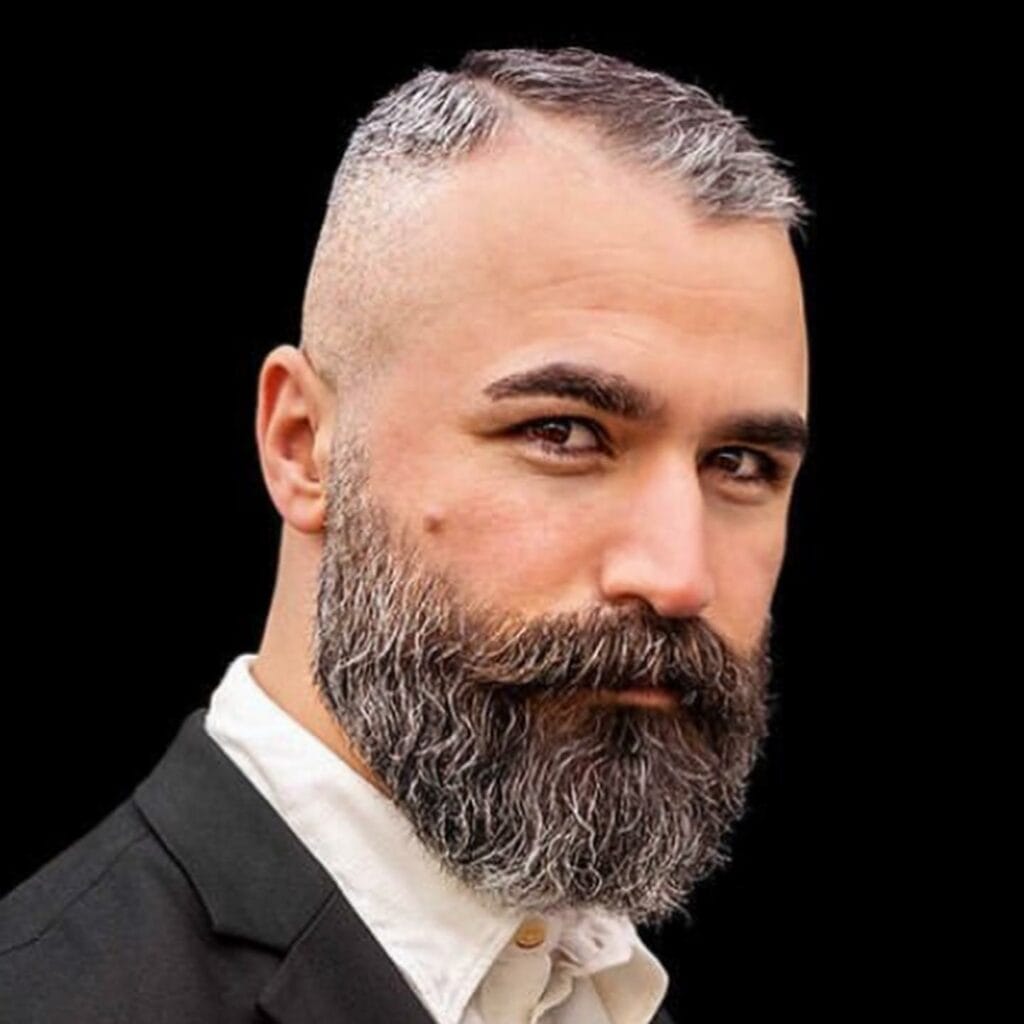 Ensure you wash your hands often
If food and dead skin cells get trapped in your facial hair, you'll likely experience discomfort and itchiness. Moreover, an unkempt and dirty beard can make you appear unclean.
To avoid negative attention resulting from a messy beard, we recommend using a beard cleaner and scrubbing your beard a few times per week. This will help keep your beard clean and healthy and prevent unwanted irritation or discomfort.
It's a Good Idea to Use Beard Oil
If you want to maintain a well-groomed beard, beard oil should become your best friend. This is because beard oil hydrates your beard and the skin underneath.
Beard oil moisturizes the skin and softens and tames the beard hair. And because beard oil makes the beard look clean, it is an excellent style tool.
Your Beard Needs to be Trimmed
Regular trimming is crucial for maintaining the desired shape of your facial hair, but there are other methods you can employ as well.
One such method is regular brushing of your beard to keep it in shape. Brushing your beard will help untangle and straighten any curly or tangled hairs, encouraging them to grow downwards.
Additionally, consider seeking the services of a skilled barber who can help you with your trimming needs. Alternatively, with practice, you can learn to trim your beard yourself.
Your beard is necessary for a balanced look!
While some may disagree, beards can be crucial to a well-balanced look. They can complement your facial features and require special treatment to help you look your best.
If you wish to incorporate a mustache into your look, trim the area beneath your nose using a pair of trimmers to maintain cleanliness.
Additionally, consider using a medium-hold wax to help keep your mustache neatly shaped and styled to complement your overall look. Your beard and mustache can help you achieve a stunning appearance with the right care and attention.
The food you eat matters!
Do you know that the food you eat contributes to the growth of your beard? Of course, it does. Eating a good and balanced diet contributes greatly to your beard growth.
Protein and fatty acids are essential building blocks for hair growth. However, to grow a healthy beard, it's also crucial to consume adequate amounts of specific vitamins, such as B5, B3, and B9.
You can get these vitamins by incorporating lean protein, nuts, egg yolks, leafy greens, and plenty of water into your diet.
What are the dos and don'ts I should keep in mind before growing a square beard?
Before keeping a beard, there are certain things you must keep in mind; below are some
Trim your beard regularly
To maintain a clean appearance, you'll need to trim your beard regularly. Think about purchasing trimmers to make this easier. Also, learn how to properly style your beard to get the square shape you need.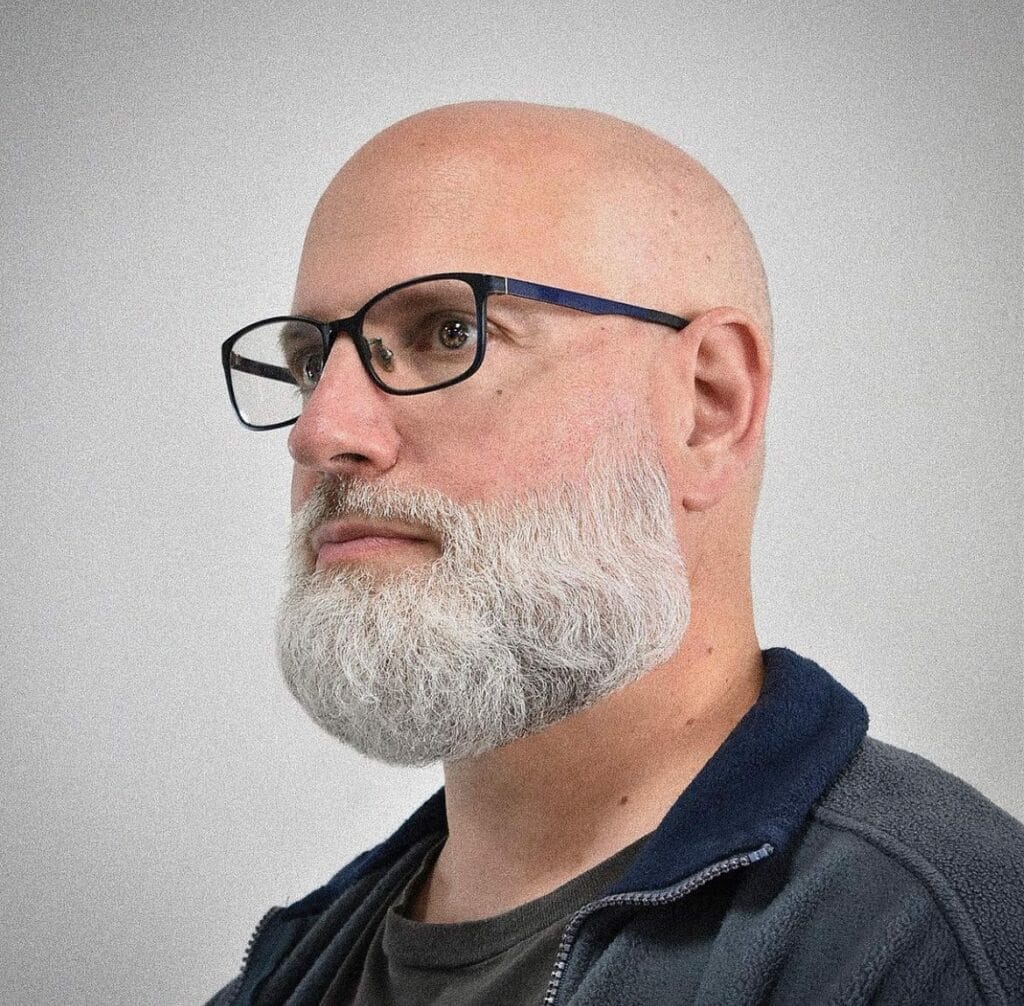 Before you cut your beard, wash it with special beard soap.
Brushing and combing your beard daily might help you know the spots that need trimming. In addition, it makes your beard grow faster and prevents knots.
If your facial hair is still wet after washing, do not trim or shape it. Wet hair is more susceptible to breakage and damage, which can make it easier for your beard to become uneven or develop split ends.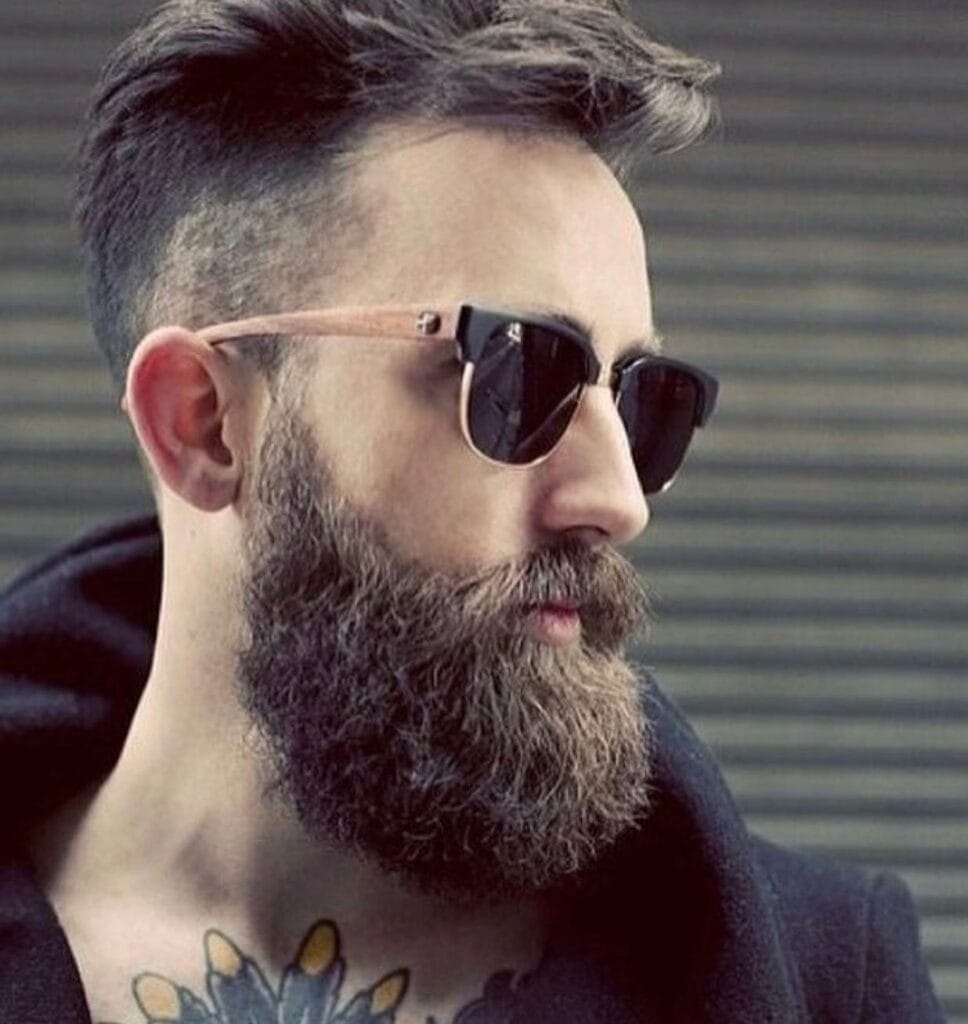 Moisturize your beard after trimming
Wash out any dead skin or stray hairs after trimming. Maintaining a good moisture level in your facial hair can help you avoid dryness and even beard irritation.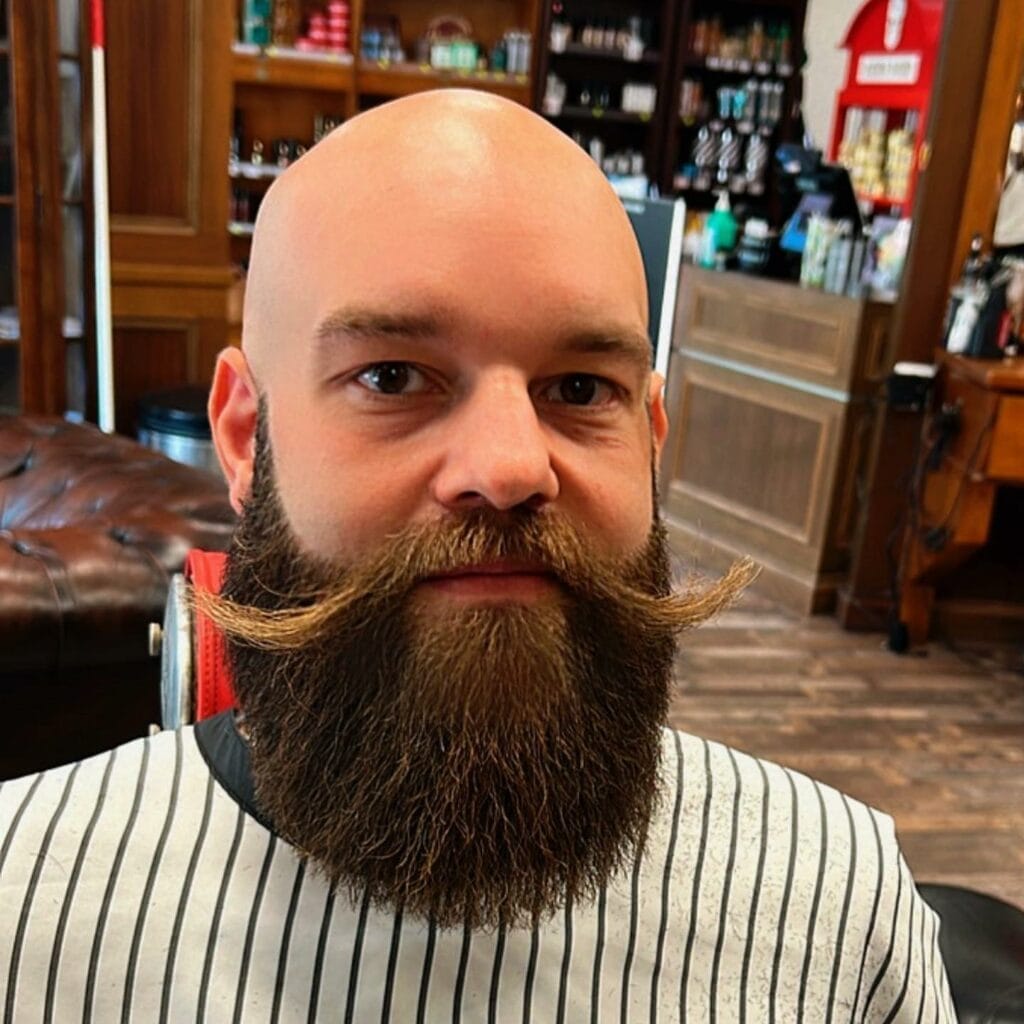 Avoid using beard solutions that include alcohol or chemical treatments
When you purchase a beard cream or solution, avoid those products with high concentrations of alcohol and chemicals. These alcohol and chemical-based products can irritate and dry up your skin.
What's Likely to affect the growth of your square beard?
Beards grow in stages, and as previously mentioned, it can take up to a year to grow a square beard.
During the initial stages, facial hair can grow at a rate of approximately 0.5 mm per day, equating to about an inch or an inch and a half of growth per month.
However, it's important to note that the growth of your beard can be affected by various factors, including genetics, age, hormone levels, and overall health.
Caring for your beard and incorporating healthy habits into your lifestyle can help promote healthy growth and achieve your desired beard style.
Genetics
Genetics plays a significant role in determining beard growth, and if your parents or grandparents had difficulty growing facial hair, there is a chance that you may face similar challenges.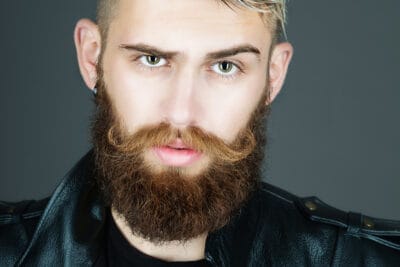 Conditions caused by a person's genes
Various factors can affect beard growth, including conditions that affect the accumulation of follicles in your pores, low levels of testosterone or other hormones, or other medical issues.
If you are experiencing difficulty with beard growth, speaking with your doctor to determine the underlying cause and explore potential solutions may be beneficial.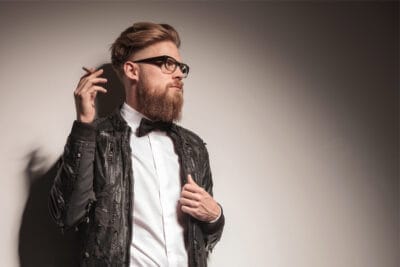 Stress
Stress can have a significant impact on beard growth. When you experience chronic stress, it can lead to hair loss and impact the growth of your beard.
Taking care of your mental health and managing stress levels is essential to promote healthy beard growth.
Aesthetics
Every individual has a unique body and may require a different treatment approach. What works best for one person may only work for one person.
Therefore, it is crucial to consider your skin type, hair type, and allergies before selecting a beard cream. For instance, a product that works for a person with moist skin may not be ideal for cracked and dry skin.
When purchasing a beard cream, check the label for any potentially harmful chemicals or high concentrations of alcohol.
It is also wise to seek advice from a doctor or skincare expert who can help you determine the best beard cream for your skin and hair type.
Conclusion
If you decide to go for a fuller square beard instead of a square goatee, it's important to be patient and let your beard grow unshaven for some time.
However, some areas may grow faster than others, so it's a good idea to trim them regularly, especially the neck area.
Growing the square beard of your dreams takes discipline and dedication. You need to trim your hair regularly, use beard cream and oil, check for tangled hairs and untangle them, and so on.
Remember that everyone's beard grows differently, so keep going even if it doesn't look exactly how you want it.
If you ever feel like changing your style, there are plenty of other fantastic beard styles to try. Check out our website for inspiration and tips on achieving your desired look.
Khamis Maiouf is a professional barber who graduated from Hinckley College in England with a degree in hairdressing. He has also won several barbering contests and successfully operated a barbershop for the last two decades. As a skilled hair stylist for 20 years, his goal is to teach others how to achieve a beautiful appearance through their hairstyles.