17 Best Types of Beard Styles (Pick Yours)
The types of beard styles you rock influence your look and personality to a great extent.
That is why you can wake up one morning and feel your beard isn't working for you. Maybe it's too short, too long, or just plain unruly. Whatever the case may be, it's time for a change.
But where do you even begin? There are so many beard styles for men that it can be tough to know which is right for you.
That's where we come in!
We've compiled a comprehensive guide to 17 different beard styles, complete with instructions on how to achieve each look.
Whether you want a classic style like the "stubble beard" or something more daring like the "hipster beard," we've got you covered. So what are you waiting for? It's time to get styling!
Why Beard Styles?
There are many reasons why people might choose to style their beards in a particular way.
For some, it may be a way to express themselves or make a statement. Others may simply prefer the look of a certain style. And still, others may find that a certain style is more flattering to their face shape or makes them look more rugged and masculine.
Whatever the reason, there are endless possibilities for styling your beard.
One of the most popular beard styles is the full beard, which includes all the facial hair from the cheeks down to the neck.
This style can give you a very rugged and manly appearance, especially if you have thick facial hair. It's also relatively easy to maintain, as long as you keep it trimmed and in shape regularly.
If you're looking for a low-maintenance option, this is one to consider.
Another popular choice is the goatee, which is basically just hair on the chin and around the mouth area. This style can be tailored to suit every face length or shape and worn with or without a mustache.
If you want something easy to groom but still look stylish, this is worth considering.

And finally, there's the mustache alone, which has made something of a comeback in recent years thanks largely to its popularity among hipsters.
If you want something different from traditional styles but still want something that will make you stand out from the crowd, then growing just a mustache could be perfect for you.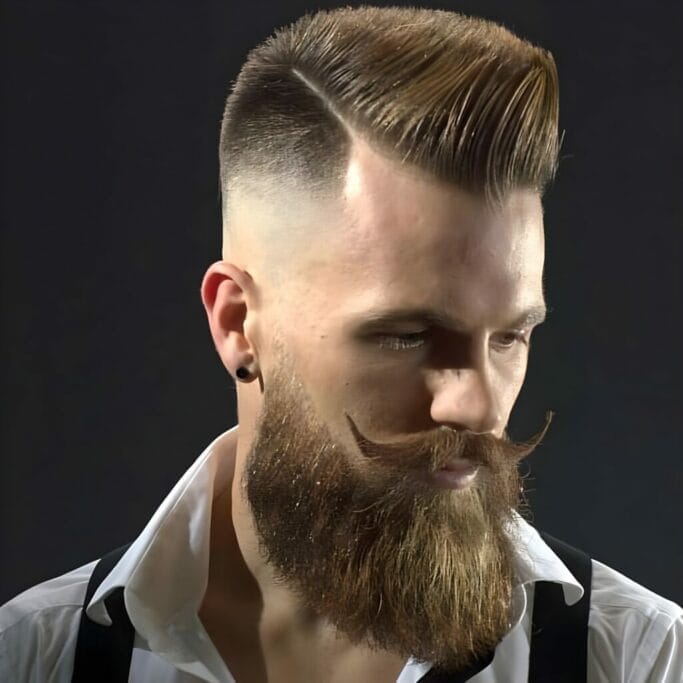 17 Popular Beard Styles To Try.
Here are 17 certified beard styles for you:
Goatee Beard Style
A goatee is a small patch of facial hair that grows on the chin, typically below the lip. It gets its name from the tuft of hair that resembles a goat's beard. Goatees can be worn with or without a mustache and exist in various styles and lengths.
Van Dyck Beard Style
The Van Dyck is a facial hair style named after the 17th-century Flemish painter Anthony van Dyck.
Characterized by long, drooping mustaches connected to short, neatly trimmed beards, the Van Dyck was once considered Europe's most fashionable beard style.
Chin Curtain Beard
The chin curtain beard is a facial hair type encompassing the entire face's lower half, from the cheeks down to the jawline. This style is also sometimes referred to as a "full beard" or a "complete beard."
As the name suggests, the chin curtain beard looks like a curtain hung down from the chin, covering everything below it.
The chin curtain beard has been around for centuries and was particularly popular during the 19th century. It fell out of fashion in the early 20th century but has seen a resurgence in recent years.
Rogue Beard
A rogue beard is the kind of facial hair that is neither neatly trimmed nor completely wild and unkempt.
It is somewhere in between, giving the wearer a rugged yet stylish look. The rogue beard style is not for everyone. It takes a certain type of man to be able to rock this look – someone who is confident and comfortable in their own skin.
Long Beard
The long beard style is exactly what it sounds like – a type of facial hair allowed to grow to its full length. This style is not for the faint of heart, as it takes a lot of time and commitment to grow a long beard.
Try any long beard styles today if you want to take your beard to the next level.
Short Boxed Beard
The short boxed beard style is a great way to add a bit of extra definition to your face without going overboard. It's a simple, clean look that can be easily groomed and styled to suit your own personal taste.
To achieve this power beard, start by trimming your beard down to a few inches long.
Then, use a comb and razor to create sharp, defined lines around the edges of your beard. You can make the box as wide or narrow as you like – just make sure the corners are nice and sharp.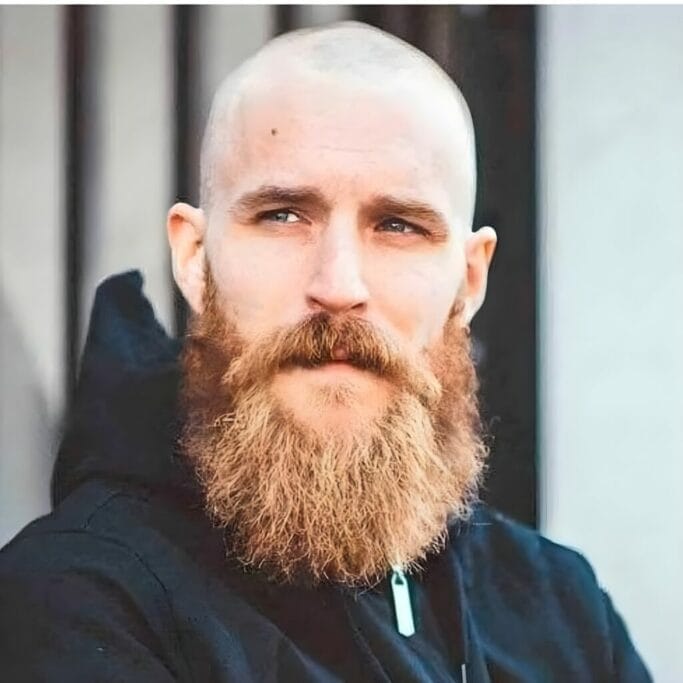 Balbo Beard Style
The Balbo beard style is named after the Italian general and dictator, Benito Mussolini.
It's a classic, stylish look popularized in the 1930s and 1940s. The Balbo beard style is characterized by a clean-shaven face with a single patch of hair on the chin.
This patch of hair is then connected to the mustaches with trimmed, curved lines. The result is a well-defined, masculine look perfect for every formal or professional occasion.
Mutton Chops Beard Style
The mutton chops beard style is a great way to add some extra personality to your look. It's a striking, attention-grabbing style that will turn heads wherever you go.
To achieve the mutton chops beard style, start by growing out your sideburns until they are several inches long. Then, use a comb and razor to create sharp, defined lines around the edges of your sideburns.
Hipster Beard Style
There are many hipster beard styles today. The most common is the full beard, which covers the whole face and has a bushy, unkempt look.
Other popular styles include the goatee, which is just a small patch of hair on the chin, and the mustache, which is a thin strip of hair above the lip.
Handlebar Beard Style
Popularized during the 19th century by President Abraham Lincoln, the Handlebar Beard style is characterized by its distinctively shaped mustache resembling a bicycle's handlebars.
To achieve this look, the hair on the cheeks is trimmed short, allowing the mustache to grow long and broad.
The mustache tips are waxed and twisted upward to create the signature handlebar shape.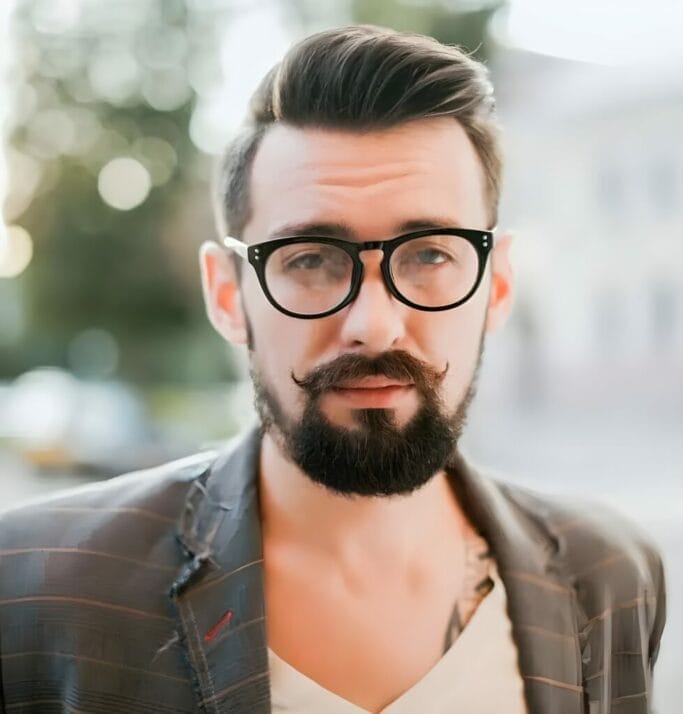 Royal Beard Style
Throughout history, many cultures and societies have regarded facial hair as a sign of virility and masculinity. In Ancient Greece, for example, beards were thought to represent courage and power.
Today, there are still many cultures in which facial hair is seen as a symbol of strength and manliness.
The royal beard style is one that has been popular throughout the ages. This style involves growing the beard out for a month or so, often with a mustache or goatee.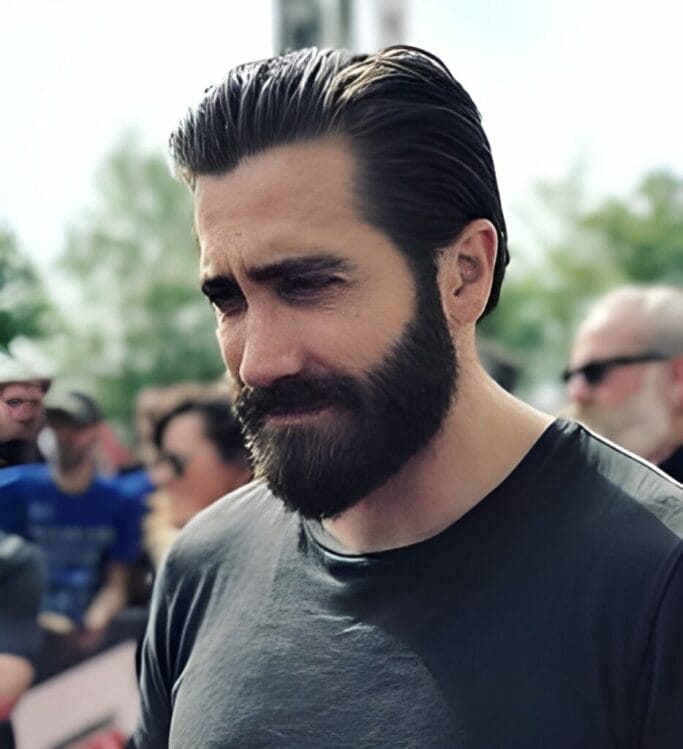 Soul Patch Style
The soul patch style is perfect for men who want to add a bit of personality to their looks. This beard type is easy to style and groom and can be worn in various ways.
Whether you keep your soul patch small and neat or allow it to grow into a full-on goatee, this beard is going to make secret admirers give a second look.
If you're thinking about growing a soul patch, the first step is to grow your beard out for a month or so until you have enough length to work with.
Wide beard style
A wide beard style is defined by a beard extending at least 2 inches from the side of your face. This can be achieved by letting your facial hair grow for several months or combining trimming and styling products to achieve the desired look.
Anchor Beard Style
The anchor beard style is perfect for those who want to sport a well-groomed, masculine look.
It is characterized by a chin strap that extends from one side of the face to the other and a neatly trimmed mustache. This beard suits a square face. Feel free to rock this glamorous look for your casual and corporate events.
Classic Beard
There are many beard styles to choose from, but the classic style is always a good beard choice.
If you're looking for a reliable, tried-and-true option, the classic beard is the way to go. This style is characterized by full, thick growth on the cheeks and chin, with a neatly trimmed mustache.
It's a rugged look that commands respect and conveys an air of authority.
If you want people to take you seriously, this is an excellent choice. The key to pulling off the classic beard style is maintaining tidy lines. Be sure to invest in a good quality trimmer to keep your facial hair looking sharp.
With proper care and grooming, this style will have you looking your best.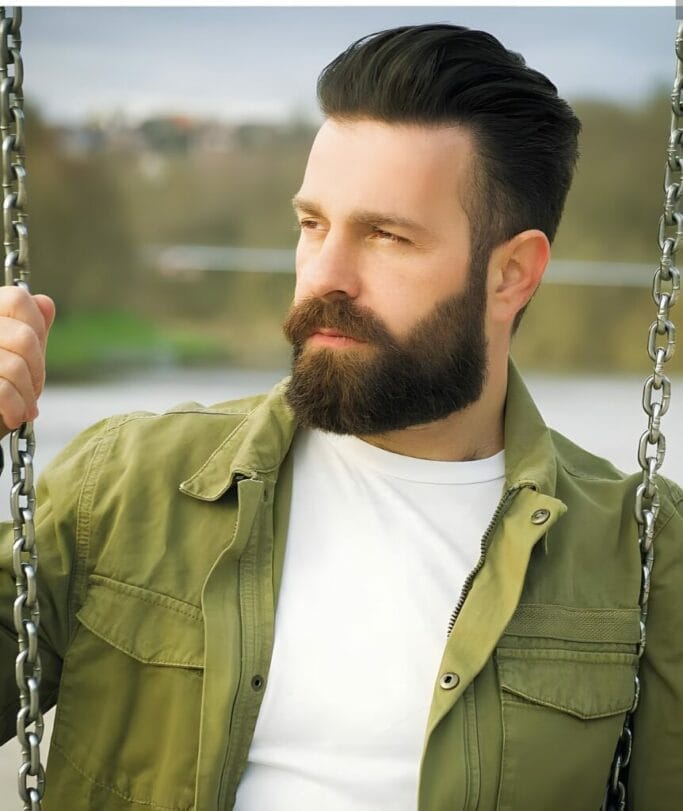 Full Beard
A full beard is a style of facial hair in which the entire face is covered with thick hair growth. Usually, the hair is allowed to grow for several weeks or even months before being trimmed or shaped into a specific style.
Following quality beard trimming tips will make the process smoother.
Many famous men have sported the full beard throughout history, including Charles Dickens and Friedrich Nietzsche.
In recent years, it has become increasingly popular amongst hipsters and young men looking to make a statement.
There are many ways to style a full beard. The most important thing is to let the hair grow out evenly so it can be properly groomed and shaped.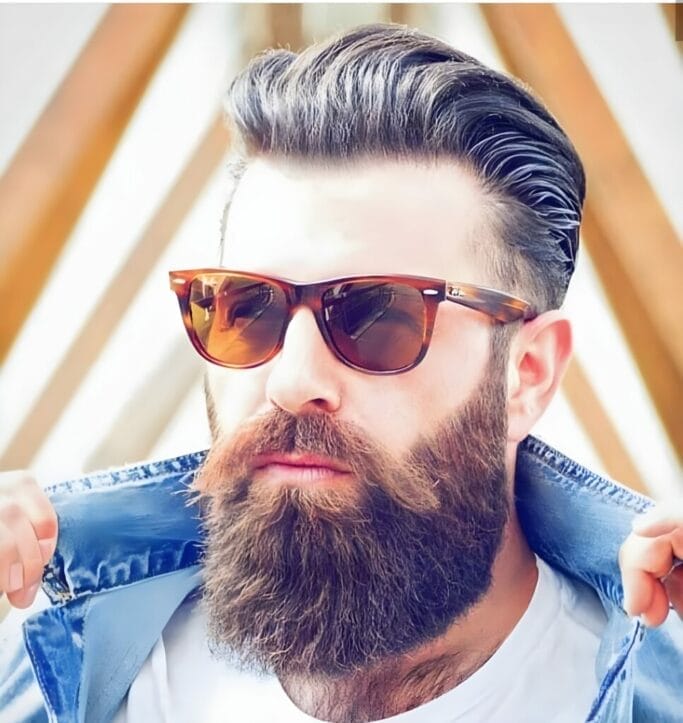 Urban Style Beards
Urban style beards are very trendy right now. They are usually well-groomed and look very polished.
Often, urban beards are trimmed shorter on the sides and longer on the chin, giving them a sleek look. This beard is perfect for guys who want to add a bit of edge to their appearance.
Conclusion
There are many beard styles, each with its own unique style. The most important thing is to find good beard styles that suit your face shape and personality. With so many options to choose from, there's sure to be a beard style that's perfect for you.
Types Of Beards FAQs
Which Type Of Beard Is Best?
The best beard for you will depend on your specific facial features and style preferences. However, some of the most popular beard styles include stubble, goatee, and full beard.
What Beard Style Is Most Attractive?
There is no definitive answer to this question, as everyone has different preferences. However, some attractive beard styles include stubble, goatee, and full beard.
To make your beard look its best, it is important to keep it well-groomed and trimmed. Regular cleaning with a mild shampoo can also help keep your beard healthy and attractive.
Also, consider if a beard suits your personality and facial features before going for it.
What Age Does A Beard Grow?
Most men will be able to grow a full beard by the time they are 20-25 years old.
Why Does A Beard Look Hot?
Beards look hot because they make men more mature, masculine, socially dominant, and aggressive. There are funny perceptions that men with trimmed beards are real men.
Can Beard Grow After 25?
Most men will be able to grow a full beard by the time they are 20-25 years old. However, some men can continue growing facial hair into their 30s and 40s.
If you cannot grow a beard by 25, there is no need to worry – it could take a little longer for your facial hair to develop. Be patient and give it time!

Khamis Maiouf is a professional barber who graduated from Hinckley College in England with a degree in hairdressing. He has also won several barbering contests and successfully operated a barbershop for the last two decades. As a skilled hair stylist for 20 years, his goal is to teach others how to achieve a beautiful appearance through their hairstyles.