Straight Razor Shaving: Elevate Your Grooming
Ready to slice through the mundane and embrace the world of Straight Razor Shaving?
Let's cut to the chase and delve into the art of this time-honored grooming practice.
Mastering the straight razor will not only give you a closer shave but also elevate your shaving routine to a sophisticated experience.
Say goodbye to disposable razors and hello to a world of unparalleled precision and finesse!
In this guide, I'll help you hone your SKILLS and unveil the secrets to achieving a smooth, flawless shave every time.
Let's get razor-sharp and redefine your grooming game!
Straight Razor Shaving: Step-by-Step Guide
1. Prepare Your Face: The Canvas for Straight Razor Shaving
Before diving into the world of straight razor shaving, it's crucial to properly prepare your face.
Start by cleansing your skin with a gentle face wash to remove any dirt, oil, or residue.
Follow this up with a warm towel treatment. Soak a clean towel in warm water, wring it out, and apply it to your face for a couple of minutes.
This will soften your facial hair and open up your pores, making the shave smoother and more comfortable.
2. Lather Up: The Key to a Smooth Straight Razor Shave
A rich and thick lather is essential for a successful straight razor shave.
I recommend using a high-quality shaving cream and a shaving brush to create the perfect lather.
Begin by soaking your shaving brush in warm water, then apply a small amount of shaving cream to the brush.
In a circular motion, work the brush on your face to create a dense, protective layer of lather.
The lather not only helps the razor glide smoothly, but it also acts as a barrier to minimize irritation.
3. Master the Grip: Confidence in Straight Razor Shaving
Holding a straight razor can be intimidating at first, but with practice, you'll develop the confidence and skill needed for a perfect shave.
Grip the razor by placing your thumb on the side of the blade near the center, while resting your index, middle, and ring fingers on the back of the blade.
The pinky finger should rest on the razor's tang. This grip will provide you with optimal control and precision during your shave.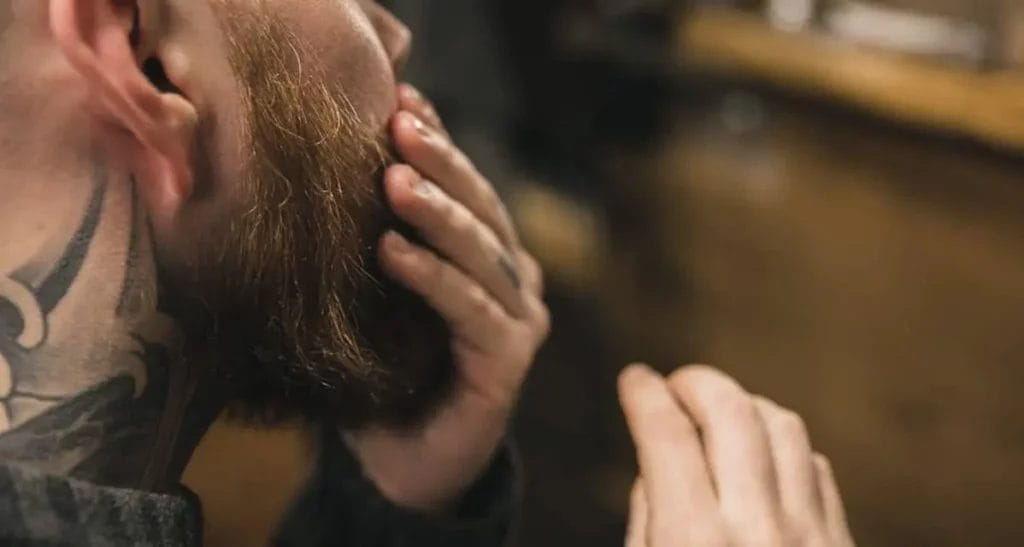 4. Shave with the Grain: The Secret to a Comfortable Straight Razor Shave
When using a straight razor, always shave in the direction of hair growth, also known as "with the grain."
This helps to minimize irritation and the risk of ingrown hairs.
Start by shaving the cheeks, working your way down from the sideburns towards the jawline.
Next, move on to the neck, upper lip, and chin areas. Remember to keep a light, steady pressure on the razor and let the sharpness of the blade do the work.
5. Mind the Angles: Precision in Straight Razor Shaving
One of the secrets to achieving a perfect straight razor shave is maintaining the correct angle between the blade and your skin.
Aim for a 30-degree angle, as this provides an optimal balance between cutting efficiency and safety.
Be cautious not to hold the razor too flat or too steep, as this can lead to nicks, cuts, or an uneven shave.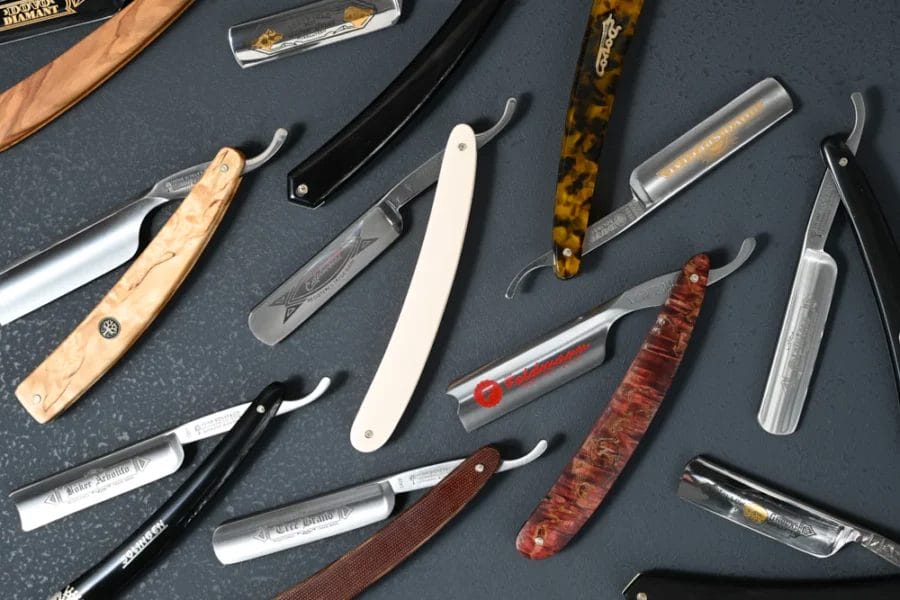 6. Post-Shave Ritual: Pamper Your Skin After Straight Razor Shaving
After completing your straight razor shave, it's important to take care of your skin.
Rinse your face thoroughly with cold water to close the pores and remove any remaining lather.
Pat your skin dry with a clean towel, then apply a soothing aftershave balm to moisturize and calm any irritation.
This will leave your skin feeling refreshed and ready to face the day.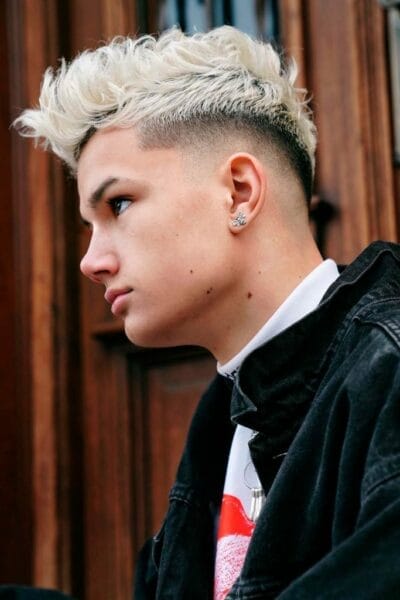 5 Remarkable Benefits of Straight Razor Shaving
1. Unparalleled Smoothness: Straight Razor Shaving's Finest Result
One of the most significant advantages of straight razor shaving is the incredibly smooth shave it provides.
With a single, sharp blade, the straight razor cuts the hair right at the skin's surface.
This results in a closer, smoother shave than most modern razors can achieve, giving you that polished, red-carpet-ready appearance.
2. Reduced Skin Irritation: A Gentler Approach to Straight Razor Shaving
A common misconception about straight razor shaving is that it's harsh on the skin. In reality, it can actually reduce skin irritation.
When executed correctly, the straight razor's single blade minimizes the chances of razor burn, ingrown hairs, and other irritations that often accompany multi-blade razors.
As a hairstylist, I appreciate the importance of keeping my clients' skin healthy and irritation-free.
3. Cost-Effective Grooming: Straight Razor Shaving's Wallet-Friendly Appeal
In the long run, straight razor shaving can be a cost-effective grooming option.
Although the initial investment in a quality straight razor might be higher, the ongoing costs are minimal.
With proper care and maintenance, a straight razor can last a lifetime, eliminating the need for expensive cartridge replacements.
It's a smart investment for men who appreciate a luxurious grooming experience.
4. Environmental Friendliness: Straight Razor Shaving's Sustainable Edge
As a hairstylist, I'm always looking for ways to make my grooming practices more eco-friendly.
Straight razor shaving is a perfect example of a sustainable grooming choice.
By eliminating the need for disposable razors and cartridges, straight razor shaving helps reduce plastic waste, making it a greener option for men who are environmentally conscious.
5. The Art of Ritual: Straight Razor Shaving's Timeless Appeal
Lastly, straight razor shaving offers an opportunity to embrace a ritual that has been cherished for centuries.
The process of preparing the skin, lathering, and wielding the razor with skill requires focus and patience.
It's a chance to slow down and appreciate the art of grooming, transforming an everyday task into a mindful, luxurious experience.
Conclusion
Mastering the art of Straight Razor Shaving can elevate your grooming experience to NEW heights.
I'm confident that, with practice and dedication, you'll reap the benefits of this timeless technique, achieving a precise, luxurious shave.
Embrace the elegance of the straight razor and transform your daily routine into a sophisticated ritual.
FAQs
Q1. Is using a straight razor superior when it comes to shaving?
Using a straight razor for shaving can offer a superior experience in terms of closeness and smoothness. Straight razor shaving allows for precise control and can provide a close shave that lasts longer. It can also be a sustainable and cost-effective option as straight razors are durable and do not require disposable blades. However, mastering the technique of straight razor shaving can take time and practice.
Q2. What are the downsides of utilizing a straight razor?
The downsides of utilizing a straight razor include the potential risk of injury. Straight razors are extremely sharp and require a steady hand and careful technique. Additionally, proper maintenance like regular honing and sharpening is necessary, which can be time-consuming and require additional equipment and knowledge.
Q3. Is it possible to use a straight razor for shaving daily?
It is possible to use a straight razor for shaving daily. However, it is important to take proper precautions to prevent injury and ensure the blade is sharp. Utilizing a proper stropping technique and honing the blade regularly will help maintain its edge. For men interested in learning how to use a straight razor for daily shaving, it is recommended to seek advice from an experienced barber or participate in a training program.
Q4. What is the reason why barbers cannot use straight razors?
The reason why barbers cannot use straight razors in certain jurisdictions may vary depending on local regulations. In some areas, using a straight razor may require a specific license or certification. Additionally, there may be laws in place that address sanitary considerations and require the use of disposable blades or other equipment.
Q5. Are straight razors against the law?
Straight razors themselves are not against the law, however, restrictions may exist regarding their use in certain areas or by unlicensed individuals. It is essential to research local regulations before purchasing or using a straight razor to ensure compliance with the law. Ultimately, utilizing a straight razor for shaving can be a satisfying and efficient option, but it is important to take the necessary precautions and adhere to local regulations.
Khamis Maiouf is a professional barber who graduated from Hinckley College in England with a degree in hairdressing. He has also won several barbering contests and successfully operated a barbershop for the last two decades. As a skilled hair stylist for 20 years, his goal is to teach others how to achieve a beautiful appearance through their hairstyles.