The Great Debate: Goatee vs Beard – Which Suits You Best?
When it comes to facial hair, there's a whole lot more to consider than just letting it grow wild. In the battle of GOATEE vs Beard, which one should you choose?
This age-old conundrum has left many a man scratching their chin in confusion.
As varied and distinct as the individuals who wear them, these two styles have carved their own niches in the annals of facial hair fashion, sparking debates and inspiring trends.
But fret not, I am here to help you navigate the wonderful world of facial hair and figure out which style suits you best.
Furthermore, I will discuss the factors that might influence an individual's decision to sport a goatee or beard, such as FACE SHAPE, personal preference, and lifestyle considerations.
So, buckle up, and let's dive into the nitty-gritty of goatees and beards.
The Goatee
The Goatee is a popular facial hairstyle characterized by a tuft of hair on the chin, often accompanied by a MUSTACHE.
It has been in and out of fashion throughout history, making a statement with its unique look. In this section, we'll explore the origins, variations, and maintenance tips for this distinctive style.
I will also share my personal experiences and advice on how to successfully rock a goatee.
Origins of The Goatee
Dating back centuries, the goatee's name is derived from its resemblance to the tuft of hair on a goat's chin.
Interestingly, it has been a symbol of both wisdom and rebellion in different eras.
I remember reading about famous historical figures like Abraham Lincoln and Charles Darwin, who sported goatees as a sign of their intellectual prowess.
Types Of Goatee
A myriad of goatee styles exists, allowing individuals to choose a variation that suits their preferences and face shape. Here are a few popular ones:
Classic Goatee: This style is the simplest form of a goatee, with hair on the chin and no mustache.
It's a small, rounded patch of facial hair that doesn't connect to any other hair on the face.
Full Goatee: Also known as a "circle beard," this style consists of a connected mustache and chin beard that forms a circular shape around the mouth.
Van Dyke: Named after the 17th-century painter Anthony van Dyck, this style features a detached mustache and a goatee on the chin, often with a soul patch connecting them.
Anchor Goatee: This style resembles the shape of an anchor, with a mustache that connects to a pointed chin beard and a soul patch.
The chin beard's shape may vary, but it generally tapers towards the bottom.
Extended Goatee: This is a combination of a goatee and a mustache, but the chin hair extends along the jawline, creating a more elongated look.
It's also known as the "Hollywoodian" or "tailback" goatee.
Goat Patch: A small tuft of hair on the chin, resembling the facial hair of a goat. This style does not include a mustache or any other facial hair.
Petite Goatee: Similar to the classic goatee, but smaller and more refined, with less hair covering the chin.
Balbo: A combination of a disconnected mustache, chin beard, and soul patch, with hair extending along the jawline but not connecting to the sideburns.
Norse Skipper: A full goatee with a longer, pointed chin beard that resembles the bow of a Viking ship.
The mustache may be disconnected or connected, depending on personal preference.
Landing Strip: A thin vertical line of hair that runs down the center of the chin, resembling a landing strip. This style does not include a mustache.
Tips for Growing and Maintaining a Goatee
Growing a goatee requires patience and proper grooming techniques. Here's what I've learned from my experience:
Allow hair to grow: Give your facial hair at least two weeks to grow before shaping it.
Define the shape: Once the hair has grown, trim and shape it according to your chosen style.
Maintain cleanliness: Regularly wash and condition your goatee to keep it clean and healthy.
Trim and groom: Use a trimmer and comb to keep your goatee well-groomed and uniform in length.
Pros and Cons of The Goatee
Like any facial hair style, the goatee has its own set of pros and cons. Here is a summary of both:
Pros:
Versatility: Goatees come in various shapes and sizes, offering multiple options to suit individual preferences and facial structures.
Unique look: A goatee can help set you apart from others and give you a distinctive appearance.
Easy maintenance: Compared to a full beard, a goatee requires less grooming and upkeep, making it an easier option for men with a busy lifestyle.
Enhances facial features: A goatee can help accentuate certain facial features, such as a strong jawline or prominent chin.
Youthful appearance: For some individuals, a goatee can create a more youthful appearance by covering gray hair or balancing out facial proportions.
Conceals imperfections: A goatee can help hide skin blemishes or scars on the chin and lower face.
Cons:
Not suitable for all face shapes: Depending on your face shape, a goatee may not be the most flattering choice, potentially accentuating unwanted features.
Time-consuming initial growth: Growing a goatee from scratch can take time, requiring patience and maintenance during the initial growth period.
Limited professional acceptance: In some professional settings, facial hair may not be seen as appropriate or well-received, limiting the situations in which a goatee is suitable.
Can cause skin irritation: Regular shaving around the goatee area can cause skin irritation or ingrown hairs for some individuals.
Maintenance: While less maintenance than a full beard, a goatee still requires regular trimming and shaping to keep it looking its best.
Not universally attractive: Personal preferences vary, and not everyone finds a goatee attractive.
It's essential to consider your own preferences and men of people you care about when deciding on this facial hair style.
The Beard
When it comes to facial hair, the beard holds a special place in the hearts and minds of many people.
I've always found it interesting how something as simple as a beard can signify so much about a person's identity, beliefs, and social status.
Origins of Beards
Throughout history, beards have symbolized wisdom, strength, and masculinity. In ancient Egypt, noblemen and pharaohs sported beards to showcase their power.
Similarly, ancient Greeks and Romans revered bearded philosophers and rulers.
However, in certain periods, such as the 18th century, clean-shaven faces became the norm, reflecting a preference for a more youthful appearance.
My appreciation for the historical significance of beards has only grown with time.
Types Of Beards
There are many types of beard styles that cater to different preferences and face shapes. Here are some popular beard styles:
Full Beard: A classic and timeless style, the full beard covers the entire chin, cheeks, and mustache area. It works well for most face shapes.
Circle Beard: A combination of a goatee and mustache, the circle beard is shaped to create a continuous loop around the mouth.
It is a well-groomed look suitable for most face shapes.
Balbo: The Balbo consists of a mustache, chin beard, and soul patch. It is often disconnected from the sideburns and can suit various face shapes.
Chin Strap: A thin beard that follows the jawline, the chin strap connects the sideburns while keeping the chin area covered.
It's a good option for men with round or oval faces.
Mutton Chops: This style features long, bushy sideburns that extend to the corners of the mouth but do not connect with the chin or mustache.
Mutton chops can be bold and distinctive, and they work best on square or rectangular faces.
Stubble: A short beard that typically takes a few days to grow, stubble adds texture and definition to the face. It works well for most face shapes and can be easily maintained.
Anchor Beard: Resembling the shape of an anchor, this beard style combines a pointed chin beard with a thin mustache and a small soul patch.
It suits men with triangular or diamond-shaped faces.
Garibaldi: A full, rounded beard that is shorter than a traditional full beard, it is often accompanied by a connected mustache. It is suitable for most face shapes and requires minimal GROOMING.
Tips for Growing and Maintaining beards
Growing and maintaining a beard requires patience, care, and attention. Here are some tips to help you achieve a HEALTHY and well-groomed beard:
Be patient: Growing a beard takes time, and the rate of growth varies from person to person. Allow your BEARD to grow for at least 4-6 weeks before shaping or trimming it.
Choose the right style: Pick a beard style that suits your face shape, personal style, and lifestyle. Consider factors like the amount of grooming required and the desired length.
Maintain cleanliness: Wash your beard regularly with a gentle beard shampoo or soap to keep it clean and free from dirt and bacteria. Be sure to rinse thoroughly to remove any residue.
Hydrate and condition: Use a beard conditioner or natural oils like argan, jojoba, or coconut oil to moisturize and soften the hair. This helps prevent itchiness and promotes healthy growth.
Comb and brush: Regularly comb or brush your beard to detangle the hair and distribute the natural oils evenly.
This practice can also help train the hair to grow in a specific direction.
Trim and shape: Invest in a good-quality beard trimmer and scissors to maintain your beard's shape and length.
Trim your beard every few weeks or as needed, depending on the style and desired length.
Define the neckline: To create a clean and polished look, define your neckline by shaving the hair below your Adam's apple.
The neckline should follow a natural curve that connects the back of the sideburns to the area just above the Adam's apple.
Tame the mustache: Keep your mustache neat by trimming it regularly, especially around the lip area. Use a small comb and scissors for precise trimming.
Deal with patchiness: If your beard is patchy or uneven, consider choosing a style that works with the natural growth pattern. Be patient, as some areas may take longer to fill in than others.
Develop a routine: Establish a grooming routine that works for you, and stick to it. Consistency in beard care is crucial for maintaining a healthy and well-groomed appearance.
Pros and Cons of The Beards
Beards can have both advantages and disadvantages, depending on personal preferences, facial features, and lifestyle.
Here are some pros and cons to consider when deciding whether to grow a beard:
Pros:
Enhances appearance: Beards can add definition to the jawline, create a more mature or masculine look, and balance facial features.
Personal expression: Growing a beard allows for individuality and personal expression, as there are numerous styles to choose from that can reflect your personality and sense of style.
Sun protection: Facial hair can provide some protection against harmful UV rays, reducing the risk of sunburn and skin damage.
Keeps you warm: Beards can act as natural insulation, helping to keep your face warm during colder months.
Conceals imperfections: Beards can help hide acne scars, uneven skin tone, or other blemishes, providing a smoother overall appearance.
Saves time: Once you've established a grooming routine, growing a beard may save you time compared to daily shaving.
Cons:
Maintenance: Beards require regular grooming, including washing, conditioning, combing, and trimming, which can be time-consuming and costly.
Itchiness and discomfort: Growing a beard can cause itchiness, especially during the initial stages, as the hair can irritate the skin.
Uneven growth: Some individuals may experience patchy or uneven beard growth, which can be challenging to manage and may limit styling options.
Workplace restrictions: Some professions or workplaces may have policies against facial hair, requiring employees to remain clean-shaven.
Allergies and irritation: Beards can trap allergens, dust, and other particles, which may cause irritation for guys with allergies or sensitive skin.
Potential negative perceptions: In some social or professional situations, beards may be perceived as unkempt or unprofessional, depending on the style and grooming habits.
Comparing Goatee and Beards
When it comes to facial hair, Goatee vs Beard can spark an interesting debate.
I have experimented with both styles and can share my personal experiences to help you make an informed decision.
I will discuss the differences, similarities, and the pros and cons of each facial hair style.
Maintenance of Goatee and Beard
In my experience, maintaining a goatee generally requires less effort than a full beard. Since a goatee only covers a small portion of your face, it is easier to trim and shape.
A beard, however, demands more attention due to its larger coverage area. You need to ensure proper grooming, trimming, and conditioning to maintain a healthy and neat appearance.
Versatility and Style
When it comes to versatility, I find that goatees offer a wider range of options. There are numerous styles to choose from, such as the classic goatee, Van Dyke, and circle beard.
This allows you to experiment with different looks and find the one that best suits your face shape and personal style.
Beards, while still versatile, may not provide as many options. Nevertheless, you can still experiment with different lengths and shapes to create a unique look.
Suitability for Different Face Shapes
In the debate of Goatee vs Beard, one important aspect to consider is which facial hair style best complements your face shape.
In my experience, a goatee can work well for most face shapes, as it helps accentuate the chin and jawline.
Beards, on the other hand, are better suited for guys with a square or round face, as they help create the illusion of a more elongated and angular appearance.
The Impact on Professionalism
In some professional settings, facial hair can be perceived differently. I have found that a well-groomed goatee can be seen as more acceptable and less intimidating than a full beard.
However, if you prefer a beard, keeping it well-maintained and trimmed can still project a professional image. Ultimately, it depends on your workplace culture and personal preferences.
How to Choose Between Goatee and Beard
When it comes to facial hair, the decision between a goatee and a beard can be challenging.
As someone who has experimented with various facial hair styles, I understand the dilemma.
In this section, we'll explore the factors that should influence your choice, focusing on personal style, preferences, and lifestyle considerations.
Personal Style and Preferences
Goatee vs Beard: The first factor to consider is your personal style and preferences.
A goatee often provides a sleek, sophisticated look that can accentuate certain facial features.
For example, if you have a strong chin and jawline, a goatee can help draw attention to these areas.
On the other hand, a full beard can give off a more rugged, masculine vibe. This style might suit you better if you're going for a casual, laid-back appearance.
When I first grew facial hair, I opted for a goatee because it complemented my face shape and gave me a more refined look.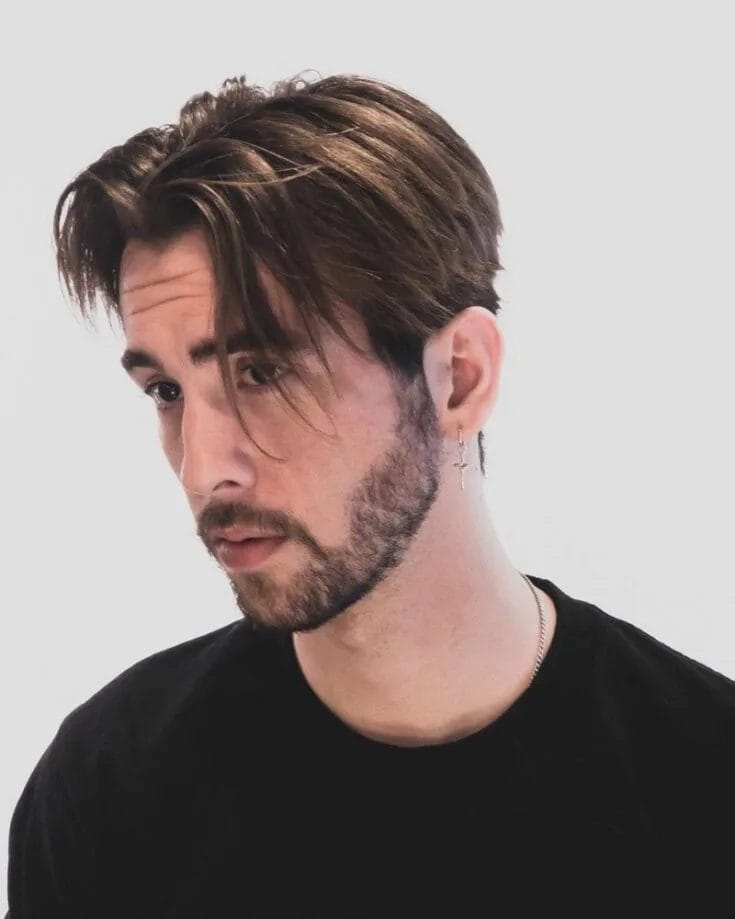 Lifestyle Considerations
In addition to personal style, it's essential to consider how a goatee or beard fits into your lifestyle.
Think about your daily ROUTINE and the environment you spend most of your time in.
For instance, if you have a job that requires a clean, professional appearance, a goatee might be more suitable as it's generally easier to maintain and keep neat.
On the other hand, if you work in a more casual setting or enjoy outdoor activities, a full beard may better suit your lifestyle.
Another lifestyle factor to consider is the time and effort you're willing to invest in GROOMING your facial hair.
A goatee typically requires more precise trimming and shaping, while a beard can be more forgiving when it comes to maintenance.
I have found that maintaining a goatee takes a bit more time and effort than a beard, but the results are well worth it for me.
Conclusion
In conclusion, when deciding between a goatee and a beard, consider your personal style, PREFERENCES, and lifestyle.
A goatee can provide a polished, sophisticated look, while a beard often conveys a rugged, casual vibe.
Take into account your daily routine, work environment, and the time you're willing to spend on grooming to make the best choice for you.
FAQs
Does a beard or goatee make you look older?
In my experience, both a beard and a goatee can make a person appear older.
However, the extent of this effect depends on the individual's facial features and the style of their facial hair.
For some, a full beard may add a few years to their appearance, while others might find that a goatee gives them a more mature look.
Ultimately, the impact of a beard or goatee on one's perceived age will vary from person to person.
Does beard make you look more attractive?
Attractiveness is subjective and can vary greatly depending on personal preferences.
While some people might find a beard to be more attractive, others may prefer a clean-shaven look or a goatee.
It's essential to consider what style of facial hair suits your face and personal style best.
I've noticed that a well-groomed beard can enhance certain facial features and give an air of confidence, which many find appealing.
What face shape suits a goatee?
A goatee often works best for gentlemen with a square or round face shape.
By adding some length to the chin area, a goatee can create the illusion of a more elongated face, balancing out the proportions.
However, everyone's face is unique, and a goatee might also suit other face shapes depending on the specific style chosen.
I recommend experimenting with various goatee styles to find the one that flatters your features most.
What looks better, a beard or goatee?
Deciding between a beard or goatee ultimately comes down to personal preference and how each style complements your facial features.
For some, a full beard might provide a more rugged and masculine appearance, while others may find a goatee gives them a more sophisticated and refined look.
I encourage you to try out both styles and see which one feels more comfortable and suits your personal aesthetic.
What are the benefits of having a goatee?
There are several benefits to sporting a goatee.
Firstly, a goatee can help enhance certain facial features, such as the jawline and chin, giving your face a more defined appearance.
Additionally, goatees require less maintenance than a full beard, making them a practical choice for men with busy schedules.
Finally, a goatee can be a versatile and stylish facial hair option, allowing you to experiment with various looks and styles.
In my opinion, the benefits of a goatee make it a popular choice for many men.
Khamis Maiouf is a professional barber who graduated from Hinckley College in England with a degree in hairdressing. He has also won several barbering contests and successfully operated a barbershop for the last two decades. As a skilled hair stylist for 20 years, his goal is to teach others how to achieve a beautiful appearance through their hairstyles.