Line Up Haircuts: The Hottest Trend in Men's Grooming
Are you sick and tired of your current hairstyle? Do you want to try something that has never been done before?
A line-up haircut is a stylish and modern way to style your hair that will make it look like you put a lot of thought into how you look.
This article shows 24 of the best line-up haircuts that will make you go to the barbershop as soon as possible.
Don't hesitate since it is time to take advantage of these trendy haircuts and feel like a completely different person.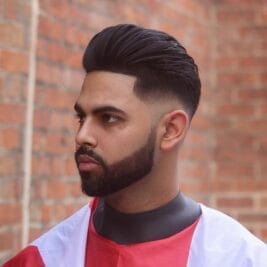 What Is a Line-up Haircut?
A line-up haircut, also known as a shape-up or edge-up, is a type of haircut that involves shaving or trimming the hairline to create a precise, straight edge or line.
It is commonly associated with short, buzzed hairstyles and is often paired with a fade or taper on the sides and back of the head. The line-up can be customized to suit different face shapes and styles and is typically maintained through regular touch-ups at the barbershop.
Some people opt for a line-up as a way to add definition and structure to their haircut, while others may use it to create a more polished or clean-cut appearance.
How To Get the Line-up Haircut
The barber uses a straight-edge blade or clipper without attachments to do the service. The haircut's final form is sleek and sharp, with a linear, high-contrast shape.
Visit a barbershop: This is the most common method for getting a line-up haircut. Simply find a reputable barbershop in your area and make an appointment with a barber who is skilled in this type of haircut.
Cut your own hair: If you are confident in your hair-cutting skills and have the necessary tools, you can also try cutting your own line-up at home. Start by using a trimmer or razor to create the initial line, then use scissors to blend and shape the hair to your desired style.
Use a hair clipper: Another option is to use a hair clipper to create the line-up. This method is similar to cutting your own hair, but the clipper provides a more precise and even cut. Make sure to start with a very short clipper guard and gradually increase the length as you go to avoid cutting too much hair at once.
Line Up Buzz Cut
A buzz cut and line-up are great ways to stand out and show that you mean business. It is a sign of being unique and strong, as the line-up cut brings out the unique shape of the skull.
You and your barber can try out different styles until you find the one that suits you best.
Men who have sexy confidence would look great in this. Also, if you want people to notice your good qualities get a buzz cut.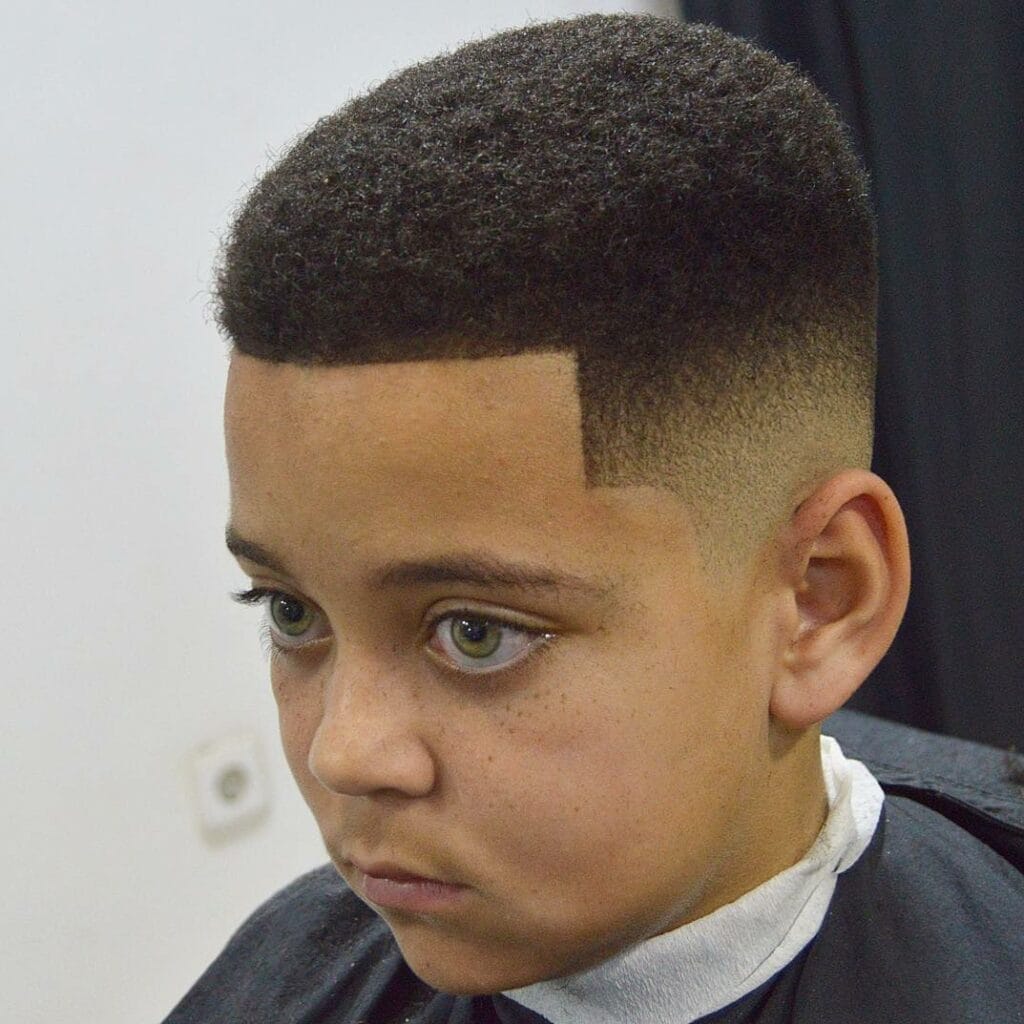 Line Up Crew Out
You can make a new and appealing hairstyle by putting together two classic cuts.
Because they have clean, classic lines, crew cuts are more versatile, and most faces look good. People with these cuts can keep more hair in front, making it look like they have a fringe.
This buzz cut stays neat all day with a matte pomade increasing your chances of success.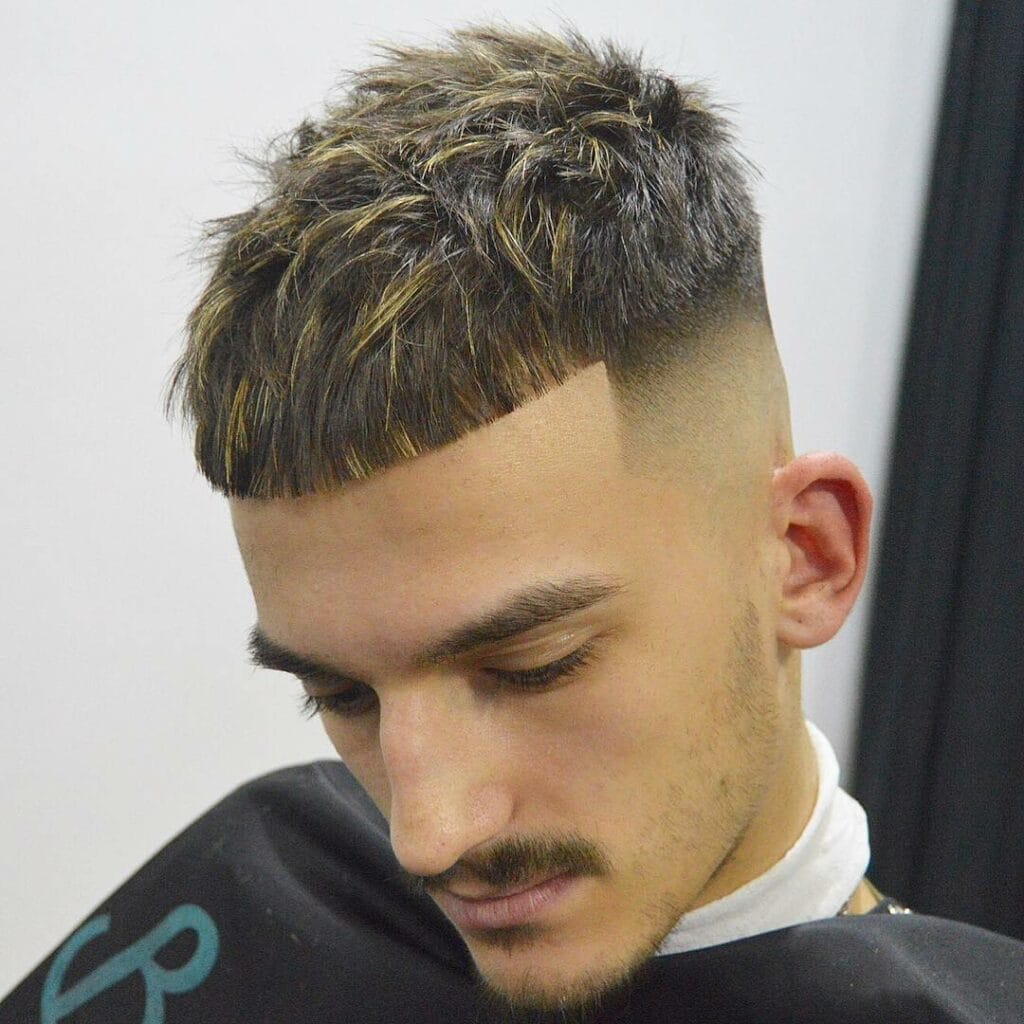 Line Up Ivy League (also known as a "preppy cut")
This stylish design will make your face seem thinner and draw more attention to the contour of your jawline. Also, because it does not need a great deal of volume in the hair, this preppy cut is excellent if you have thinner hair.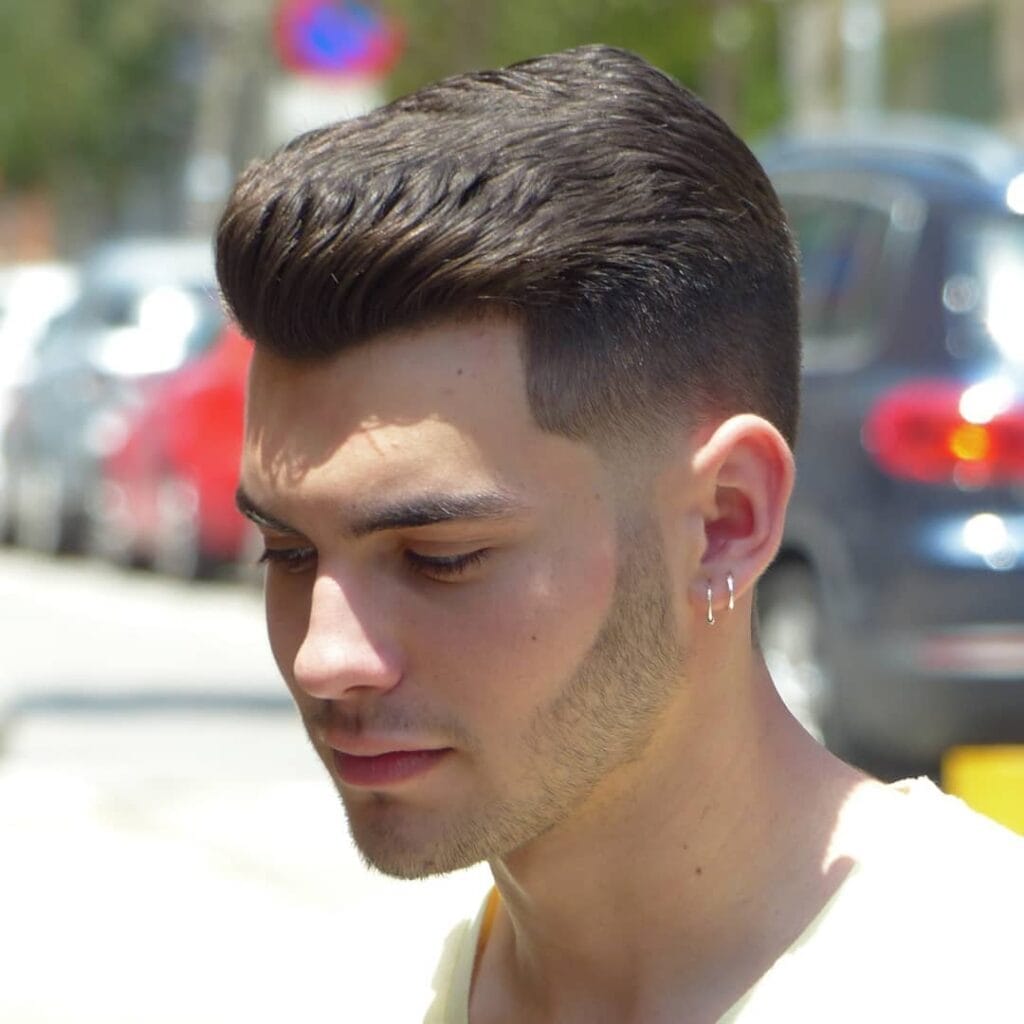 Line up French Crop
When it comes to hairstyles for men, most people agree that the French Crop is the most elegant and classy cut.
This short, clean cut is great for men who are always on the go but still want to look good.
Aside from being attractive in general, it is a great choice for men with faded haircuts or hair that is getting thinner. Today, these are some of the most common ways men change the classic French Crop haircut.
They include shorter layers, swirls, and streaks.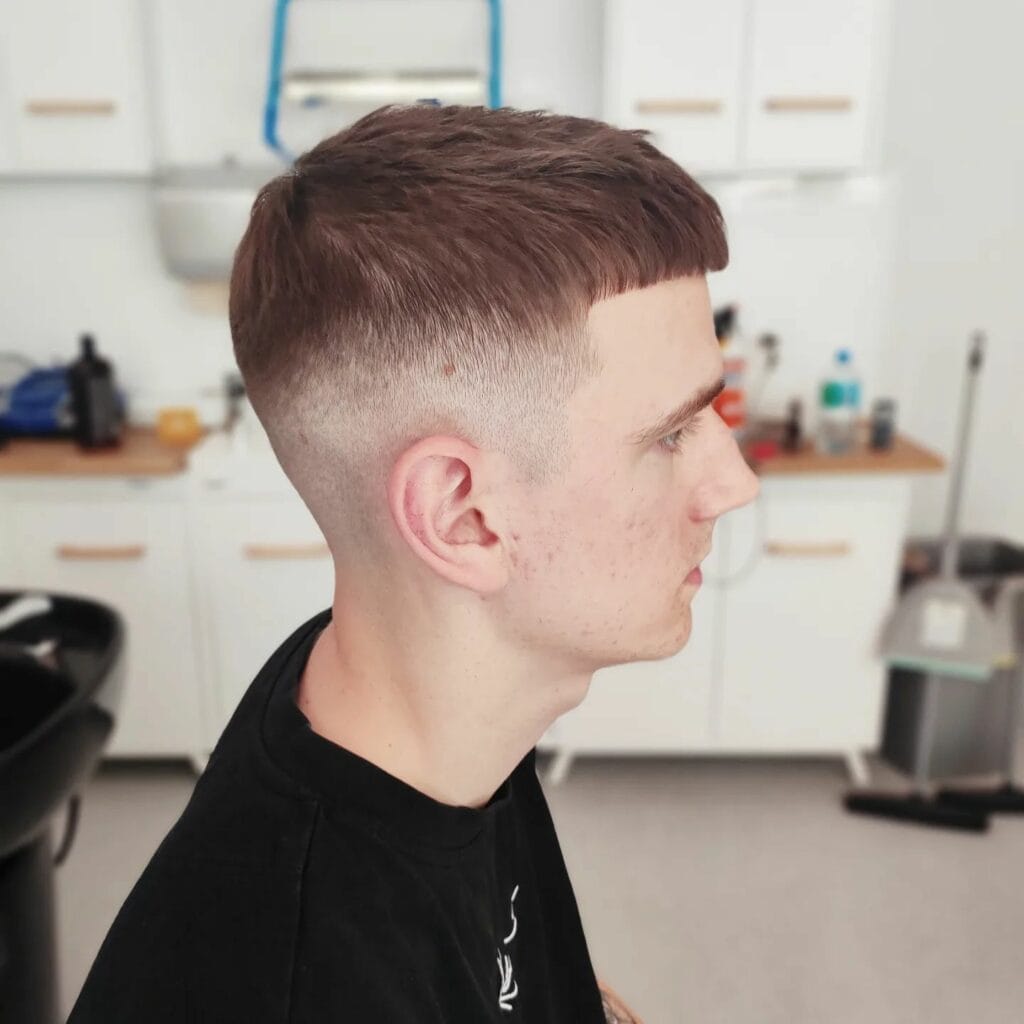 Line Up Caesar Cut
The Caesar haircut, in which the hair is cut short and styled with a fringe, is popular among men who like to keep things simple.
Because it can be changed, the Caesar haircut works for both straight and curly hair.
Young men love this brand, especially athletes and other high-energy men. You don't need to be fixed up with a Caesar haircut to look good.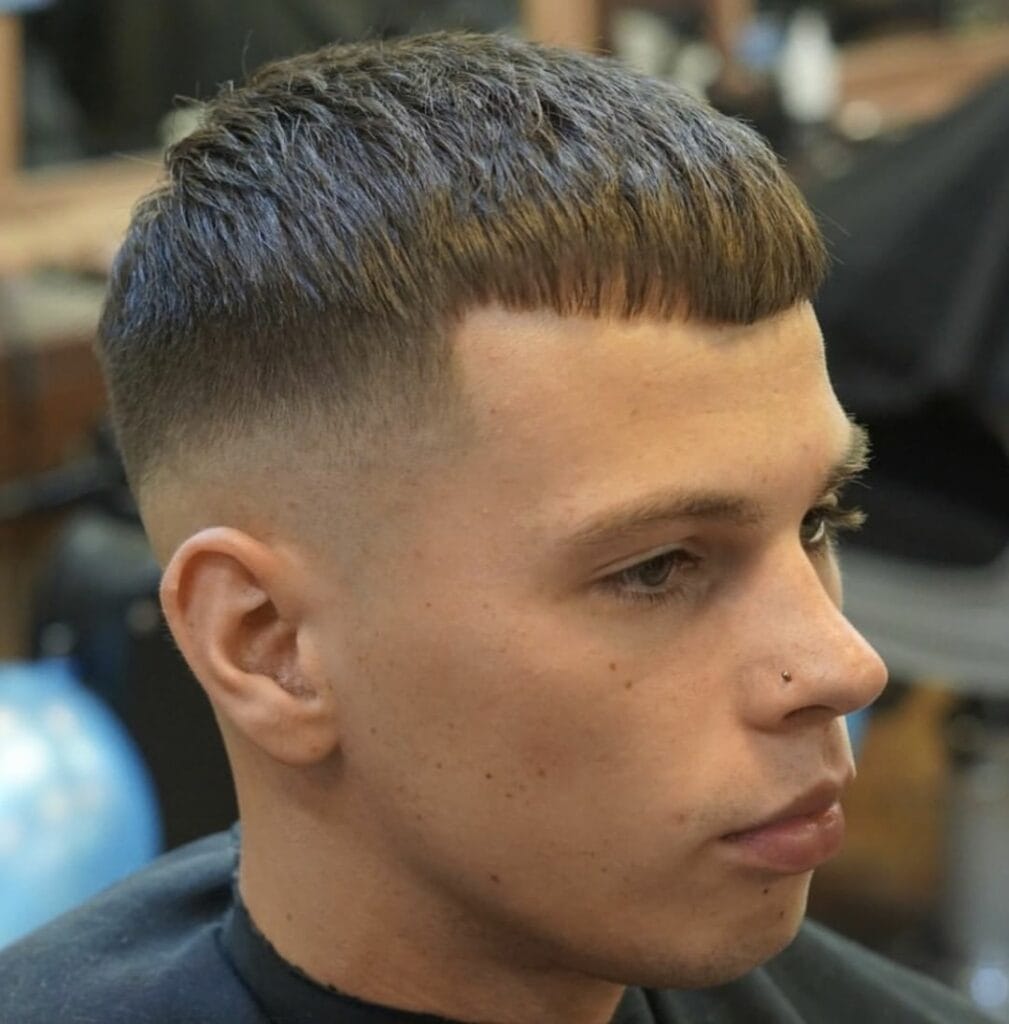 Line Up Side Part
Most people agree that the left side gives off an air of competence and masculinity, while the right gives off an air of warmth and femininity.
In addition, a side part can soften a cube, gemstone, or heart-shaped face's chin and cheeks and bring the face into balance.
Pompadour
The pompadour hairstyle, which has more height and length on top, is popular with many men.
In this style, the top is smoothed back while the sides and back are kept short and undone.
The pompadour is a trendy hairstyle that takes parts from traditional, playful, and modern hairstyles. It gives you many macho vibes, brings back a bit of the past, and is just a little in style right now.
Line Up Quaff
This particular hairstyle has longer lengths on top and shorter lengths on the sides.
Most likely, the hair in front of your head will be lightly brushed over or backcombed. As a result, your hair will be thick and long in front of your head.
In addition, the shape is angular and messy, which gives the impression of being sharp and different.
Line Up Faux Hawk
Men's faux hawk haircuts have short sides and a longer part in the middle of the head than the rest of the hair on top. It's a mohawk, but it doesn't have an undercut.
Therefore, you will have a more carefree cut that is great for the summer but can also be styled more professionally. It also manages to be both trendy and cool at the same time.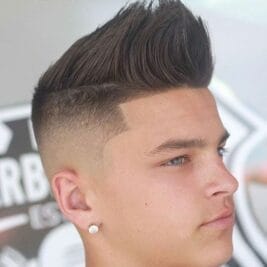 Line Up Slicked Back
The slicked-back hairstyle for men gives you a modern and elegant appearance.
The top layer of hair is brushed behind the ear and kept with a styling product. The slick-back haircut for men is still popular because it can be changed and looks good on a wide range of men's faces and hair types.
Undercut
It's a traditional style that involves shaving the back and the head's sides while leaving longer hair on top of the head.
They are hip and stylish and useful for bringing unmanageable, thick hair under control. In addition, they go well with a range of hair lengths and styles without seeming out of place.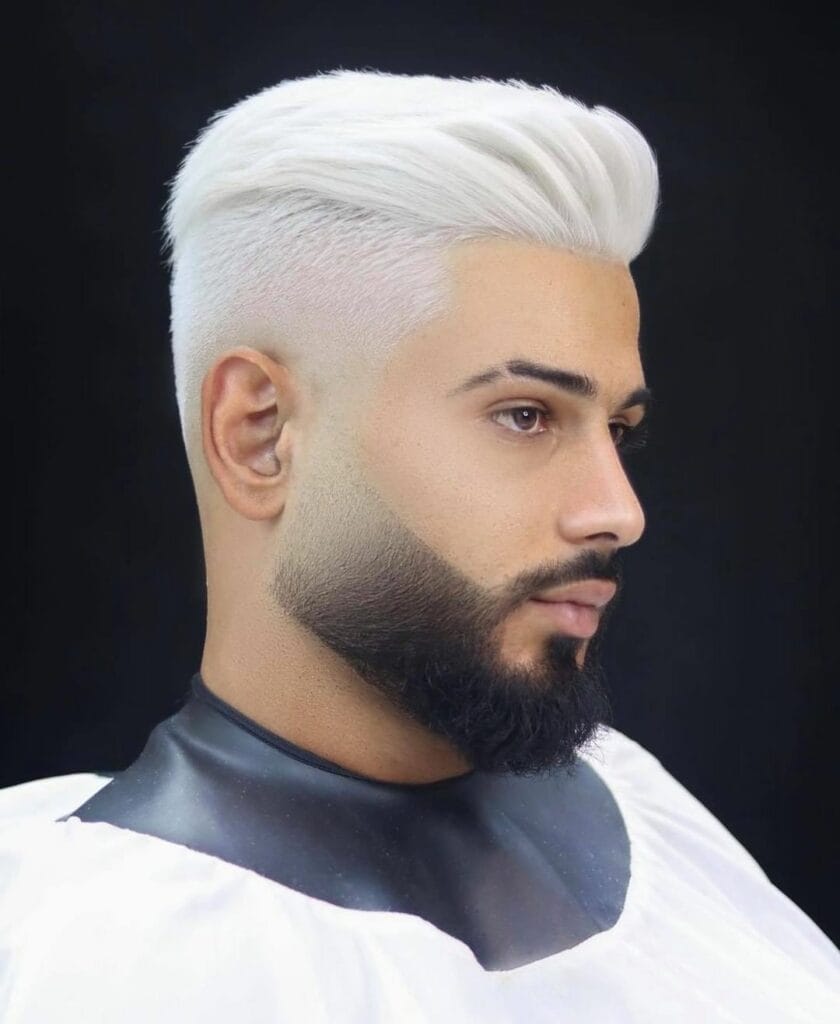 Line Up Comb Over
If you're a man who wants to look cool and intelligent, you might want to get a comb-over fade haircut.
It's possible that men's hairstyles like comb-overs and fades, which are common, can be both stylish and useful.
Line Up Side Swept Fringe
In this style, the bangs are parted on one side and swept to the other. Side-swept bangs, often a bit longer than the classic straight-across bangs, are great for hiding wrinkles and creases around the eyes because they sweep the hair to the side.
As a result, the hair doesn't hide your face as most side bangs do. Instead, it beautifully frames your face and draws attention to your best features.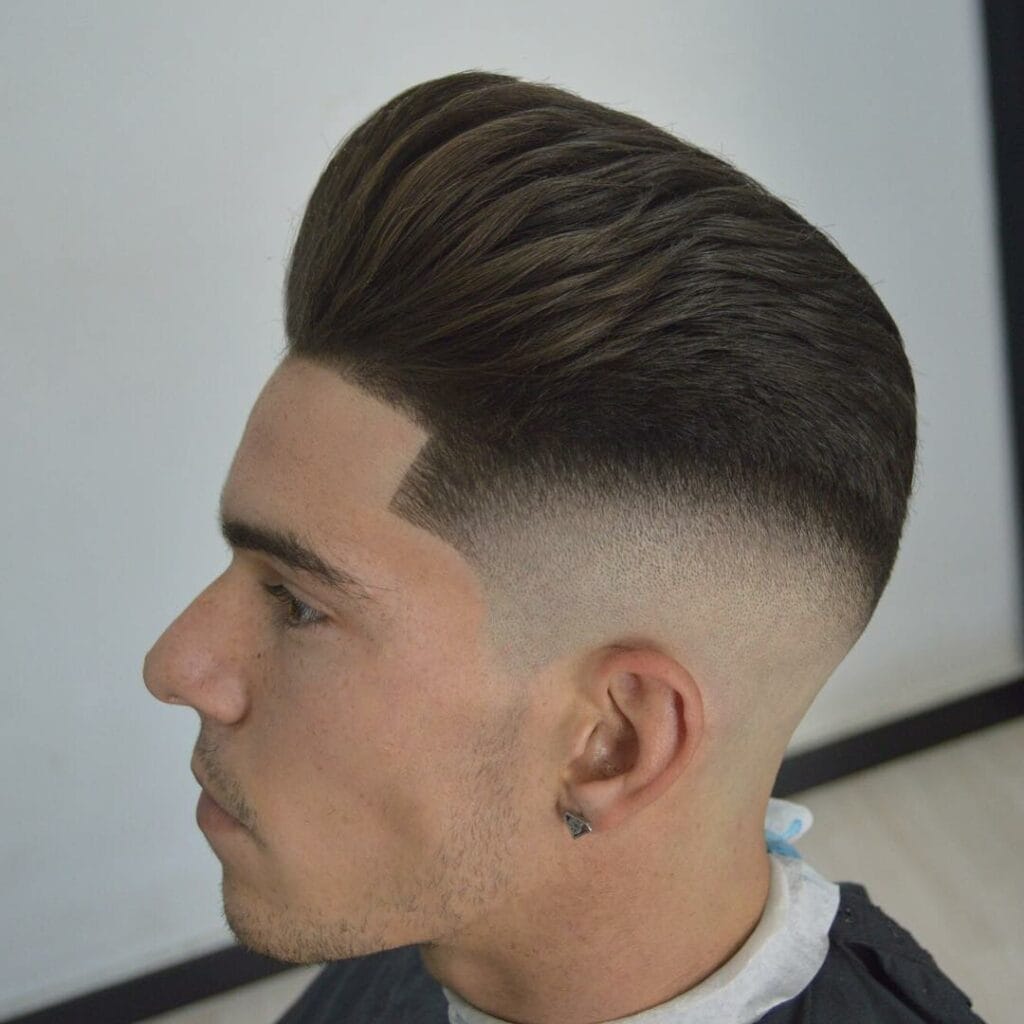 Textured Crop
The hair is cut short and textured all over the head, with the back and sides usually cut shorter than the top. Even though a magnificent taper on the back and sides of the head is a popular choice, the most popular style right now is the skin fade.
The mid-skin cut and the sharp edge go well together and are good for many different types of hair.
Line Up Spiky Hair
A line-up haircut can be paired with spiky hair for a bold and cheeky look.
To achieve this style, the hair is first trimmed or shaved along the hairline to create a straight edge or line.
The hair on top of the head is then styled into spikes using a strong-hold gel or pomade. Depending on the desired level of hold and shine, different hair products can be used to achieve different effects.
For a matte finish and a more natural look, clay or wax may be used, while a high-shine pomade or gel will give the hair a glossy, slick appearance. To maintain the spiky look, the hair should be restyled every few days or as needed.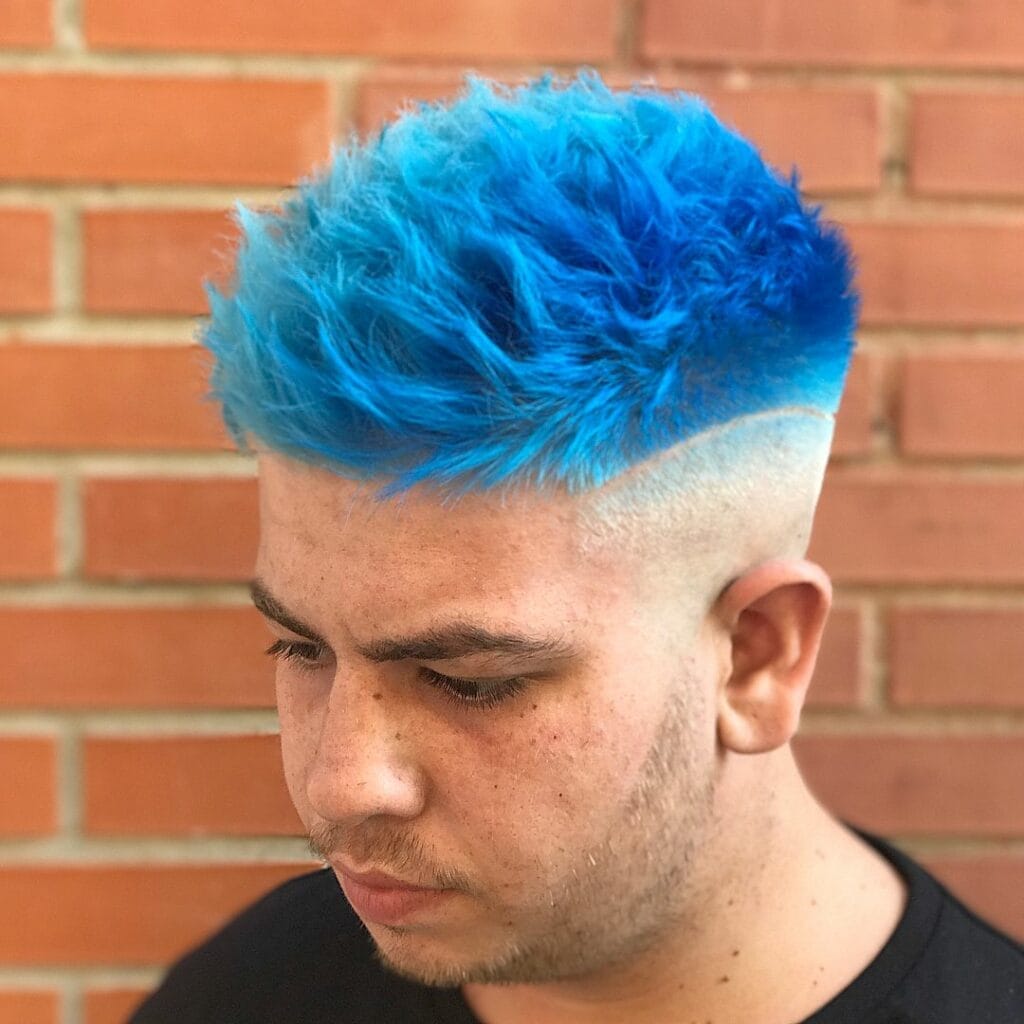 Line Up Fade
The line-up is a trendy style that can be styled with many different hair lengths and textures, adding character and edge to a fade.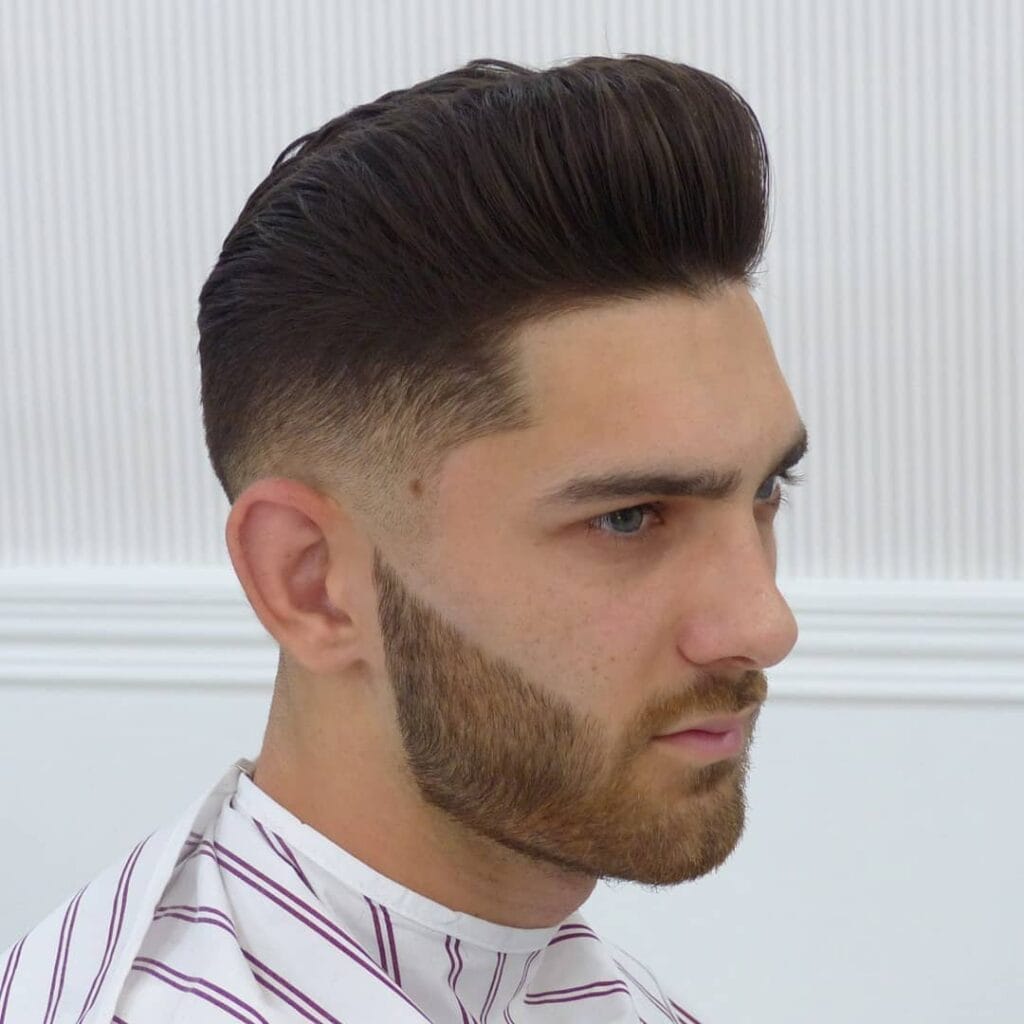 High And Tight Haircut
High and tight hairstyles are similar to undercuts in that they are short and trimmed close to the head.
However, if you want to get the look of a high and tight cut, you should let the hair on top of your head grow out much longer than the rest of your hair.
Remember that contrast is necessary if you want to accurately convey the high and tight. If you don't have a very long face, to begin with, getting a buzz cut like this will help give the appearance that your face is longer than it is, and this is more effective.
Line Up Bald Fade
Well-dressed men should know that the bald fade hairstyle is trendy.
The fade haircut is popular because it can be altered to suit many tastes. The fade is the only style that trims hair shorter. Thus to balance out your long hair top, gradually trimming your sides and back is key.
The bald fade hairstyle is unique because it exposes the scalp.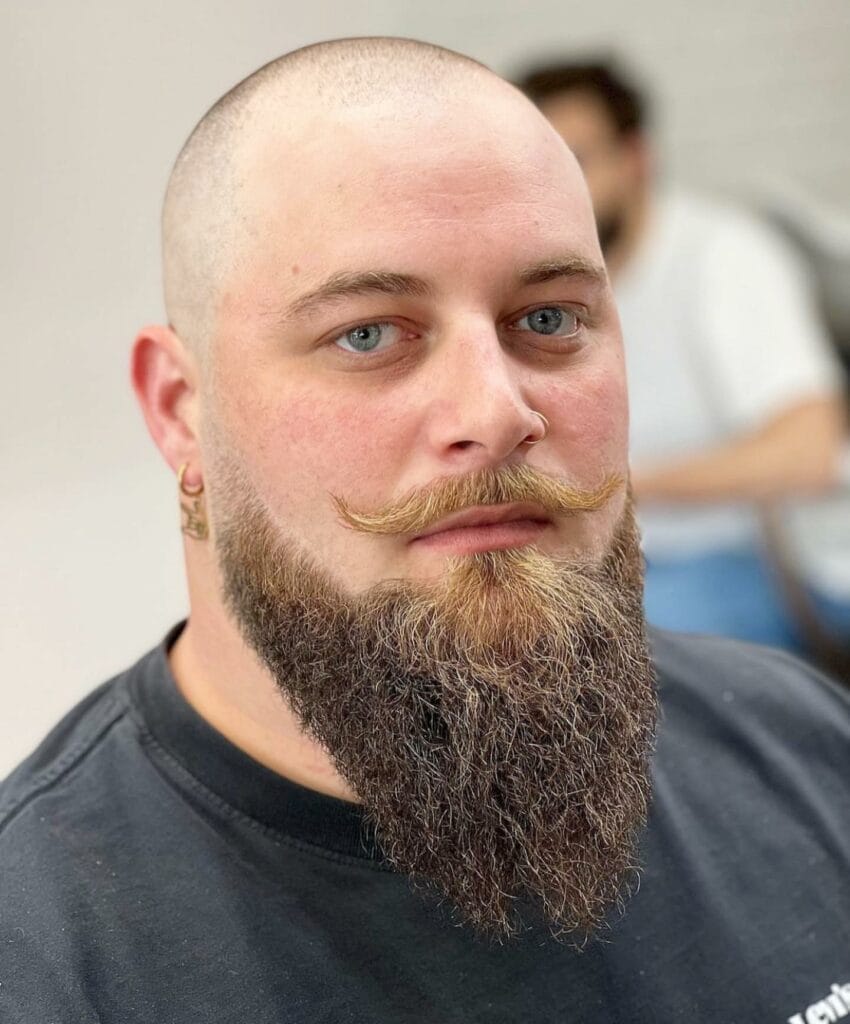 Line Up Shape Up
A straightening haircut that maintains the natural hairline is referred to as shape-up or line-up, as well as edge-up.
These haircuts are most popular among men and women who wear their hair short for any reason.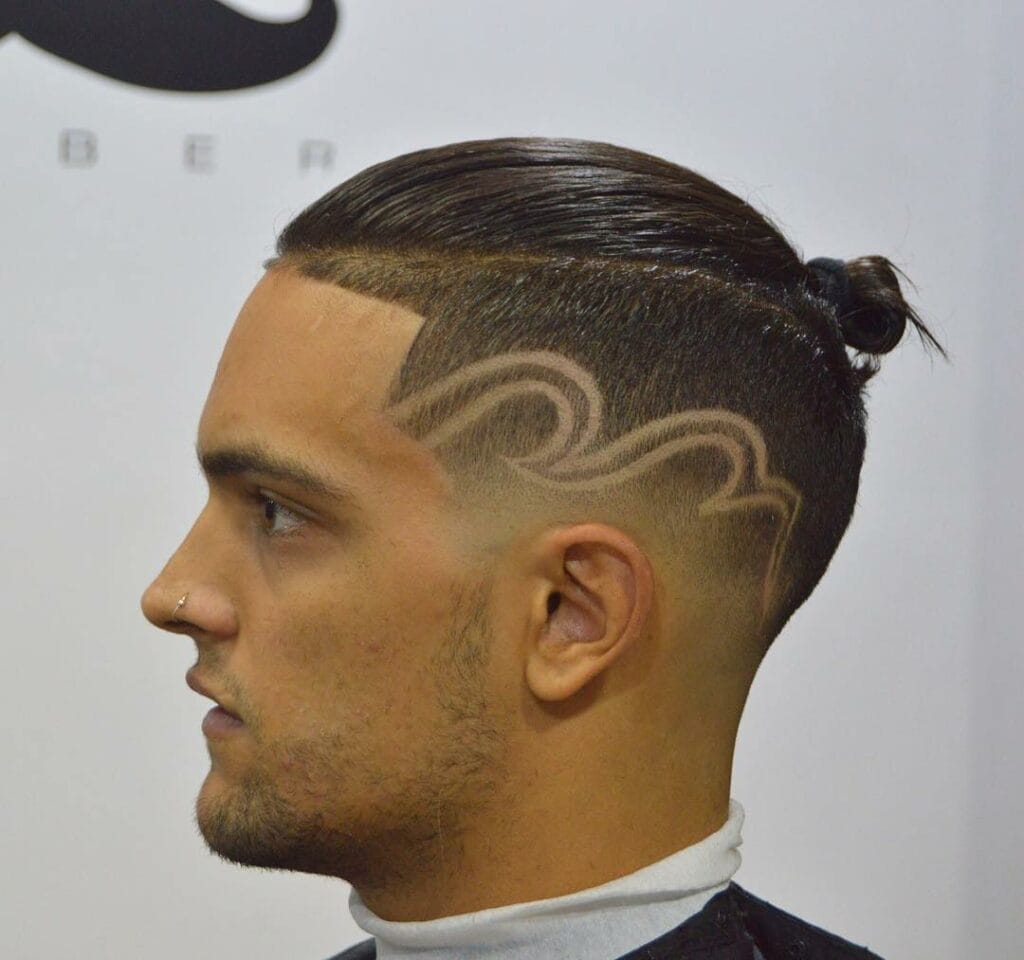 Line Up With The Hard Part
A clean and distinct profile on a hard component gives the impression that it is cutting-edge and on-trend.
But, on the other hand, a firm part is versatile and complements various cuts and styles quite well.
In short, these hard-part haircuts will inspire you to make an appointment at the barbershop, regardless of whether you want to infuse your hair with individuality or present a clean and polished appearance.
Low Fade
A low fade haircut is an upscale short back and sides style that has longer hair on top.
Your hair on the sides and back of your head is cut shorter than the hair on top, and the fade runs completely around your head. With this style, you won't have to choose between having a tidy undercut and sideburns and having a huge top on your head.
Line Up Haircut Black
The razored edges of the line-up haircut make it stand out. Straight razors and clippers with very small guards may give you a very sharp and clear look.
Most barbershops have all of these options. The final product focuses on lines and has a simple, almost geometric style.
The hair around the temples meets the rest of the hair on the head at a right angle. The line-up haircut is great if you want to draw attention to the angles of your face.
Line Up With Long Hair
This is the best choice for you if you like shorter hairstyles less and longer hairstyles more. When hair is pulled back, it reveals how distinct and defined the hairline is. A row of curly hair that has been combed or groomed is thus a smart bet to make.
Line Up Haircut Boy
You can make your child's hair look even more polished and sophisticated by cutting it into a straight, symmetrical line.
This is the most effective way to get this look. Also, you might want to let a little more hair grow on top of your head.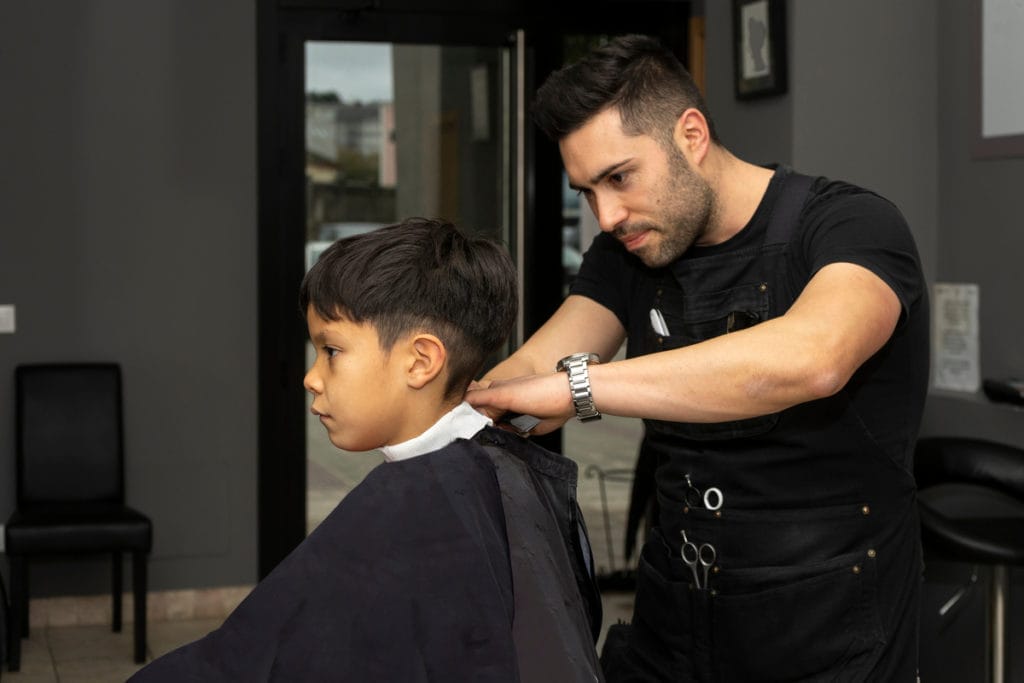 FAQs
What's The Difference Between a Haircut and a Line-Up?
A line-up, or haircut, is simply a hairstyle in which a crisp line is cut along the hairline. The term "edge up" may also be used in certain contexts.
How Do I Ask My Barber for A Line-up?
It's important to talk things out with your barber or stylist. Do your best to explain it so the Berber can piece it together. Communication may be verbal or nonverbal, or both.
How To Make a Crispy Line-up?
Line-up is where you get to polish off any rough spots. A hair trimmer is the most popular appliance for shaping up.
How Do You Get a Straight Line on Your Hairline?
You should line up the horizontal line of the cutter's blade with the straight edge of your hairline.
Any hairs that fall while you're working toward that hairline should be clipped.
References
when someone's hairline is very neat,
straight, and not crooked. It's even. source
Khamis Maiouf is a professional barber who graduated from Hinckley College in England with a degree in hairdressing. He has also won several barbering contests and successfully operated a barbershop for the last two decades. As a skilled hair stylist for 20 years, his goal is to teach others how to achieve a beautiful appearance through their hairstyles.