17 Salt And Pepper Hairstyles For Men That Turn The Clock Back
Do you believe that gray hair strands should be hidden?
Are you ready to embrace your natural salt and pepper hairstyle? These stylish haircuts for men prove that gray hair can be trendy and cool.
From short buzz cuts to longer layered looks, there are plenty of options for showcasing your silver strands.
Embracing your grey hair can also boost confidence and embrace the wisdom that comes with age.
In this article, we are going to talk about the top hairstyles that suit any gentleman with grey hair. Let's dive into it!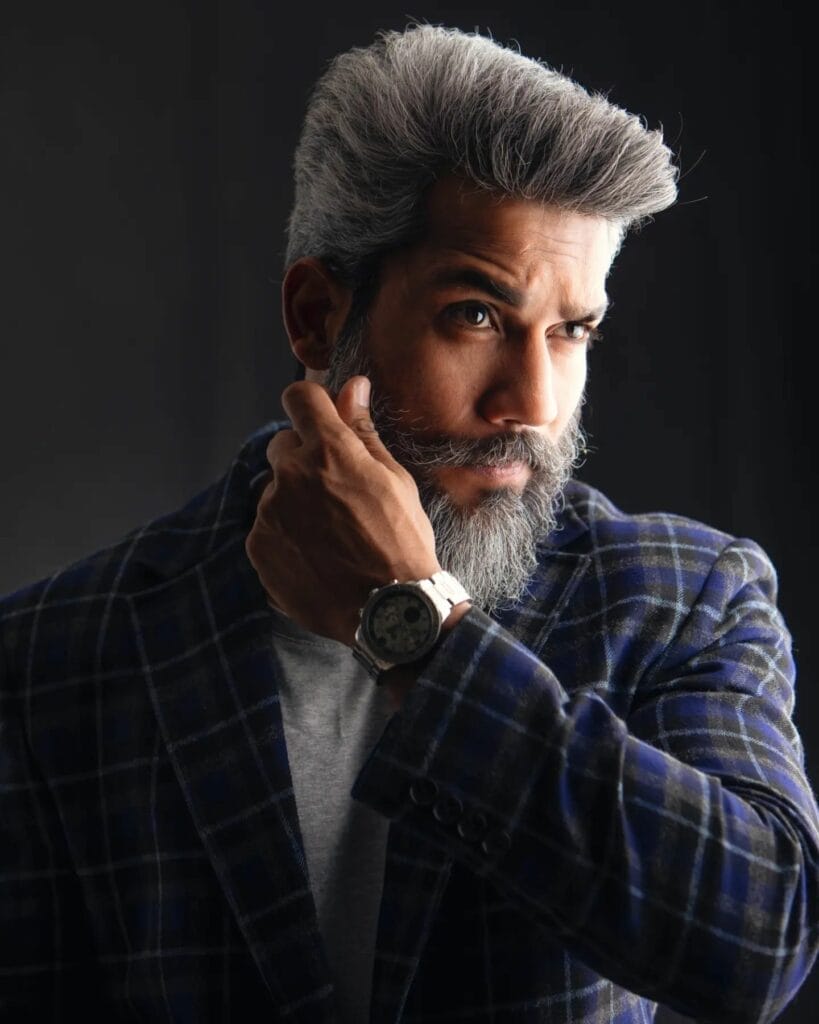 What Are The Best Salt And Pepper Hairstyles?
Keep reading to find out the trending salt and pepper haircuts and styles!
1. Salt And Pepper Backcombed Hair
Perhaps the most stylish and chic look is integrating gray hair with a backcombing technique.
This hairstyle is versatile enough to complement any hair color, but it looks especially handsome on men with salt and pepper hair.
If you're wanting your hair to grow out slightly, then this option might be for you.
2. Salt And Pepper Quiff
Want to add some volume and height to your hairstyle?
The salt and pepper quiff is the perfect option. This haircut works best with medium-length hair.
Ask your barber for longer hair on top, shorter sides, and a tapered back. You can also share the images with your hairstylist to get exactly what you want.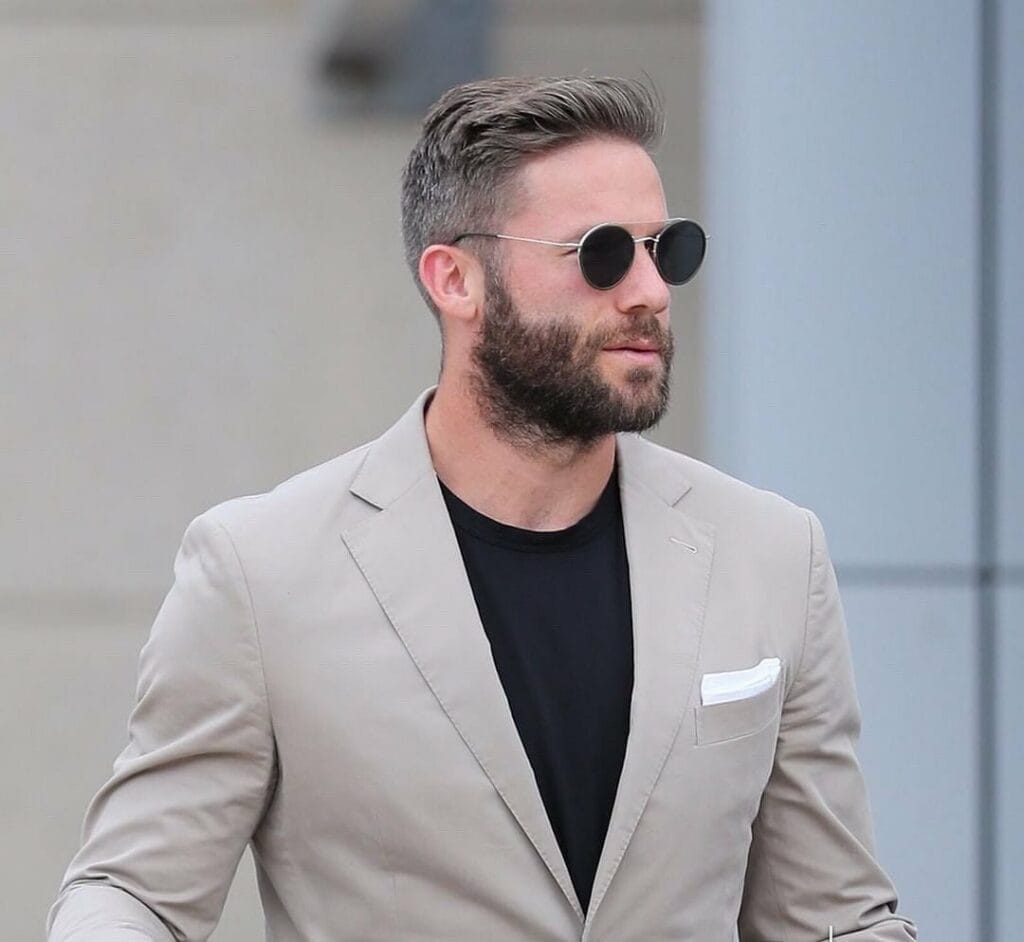 3. Salt And Pepper Comb-Over
would you like the most popular style?
The comb-over is a classic hairstyle that has been popular for years. It's an effortless and polished look for any gentleman with grey hair.
Ask your barber for shorter sides, longer hair on top, and a deep side part to show off your gray strands.
4. Gray High Fade
If you're looking for an edgier style, the gray high fade might be for you. This haircut features short sides and quite long on top, with a dramatic fade at the temples.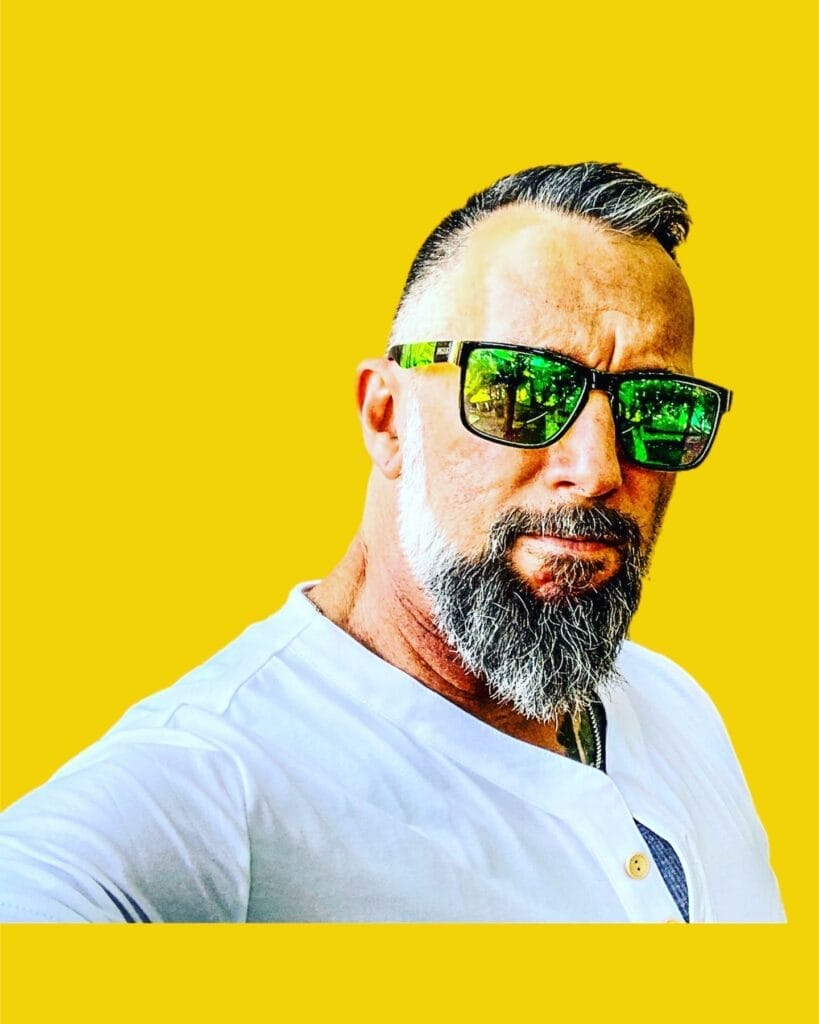 5. Undercut
Keep your hair on-trend by styling it into an undercut combined with salt and pepper coloring. A top tip is to keep the back part of your hair long while trimming the sides regularly.
6. Darkened Strands
For a more subtle salt and pepper look, try coloring your gray strands darker. This can add dimension to your hair and give you a sophisticated style.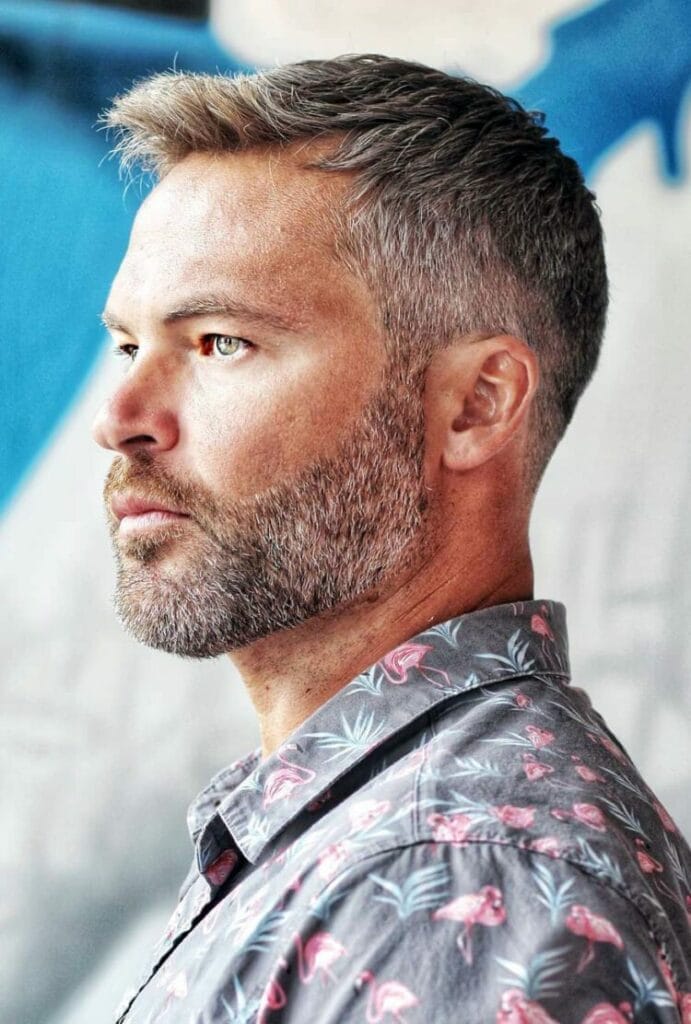 7. Salt And Pepper Tousled Waves
Embrace your natural gray strands by styling them into tousled waves. This hairstyle is perfect for any occasion, whether it's a day at the office or a night out with friends.
8. Salt And Pepper Wolverine's Hair
A movie-inspired hairstyle is becoming popular among men who have longer hair. The look involves keeping the long strands in the back and letting a few shorter pieces hang out in front, creating a casual but stylish look.
9. Colin Farrell's Style
Colin Farrell is often praised for his sense of style. He regularly stuns in both clothing and grooming, looking like he walked straight out of a movie set.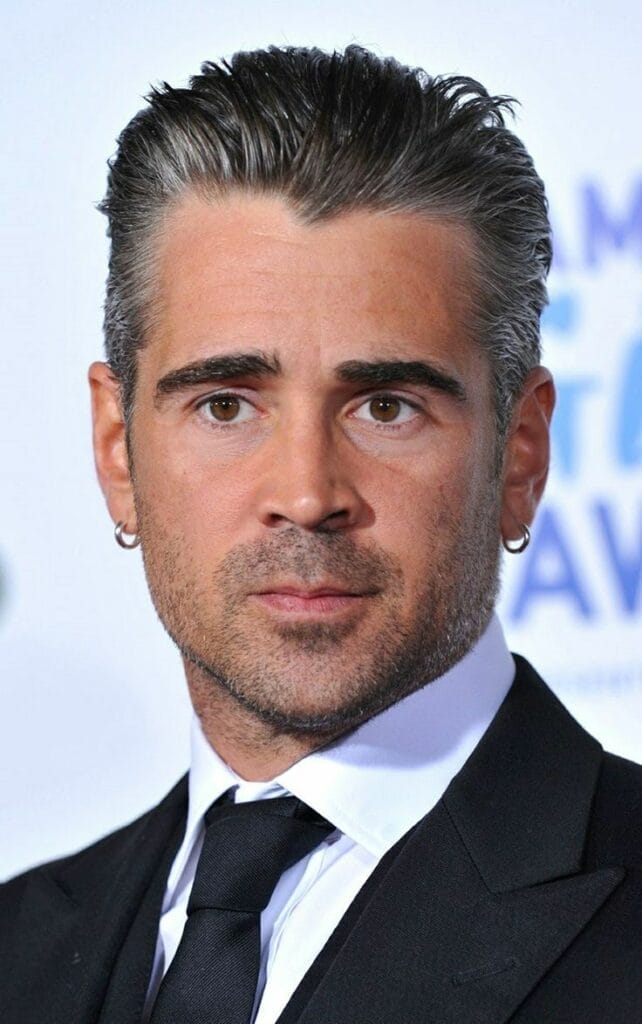 10. Minimalistic Style For Gray Hair
If you're a fan of the minimalistic style, then this military cut combined with light gray hair color is perfect for you. This style is also perfect for conforming to any dress code or event.
11. Old-Fashioned Haircut
Is there anything more classic and elegant than this hairstyle?
A clean side part with a precisely styled wave in the front trimmed beard– it's the perfect look for any gentleman nowadays.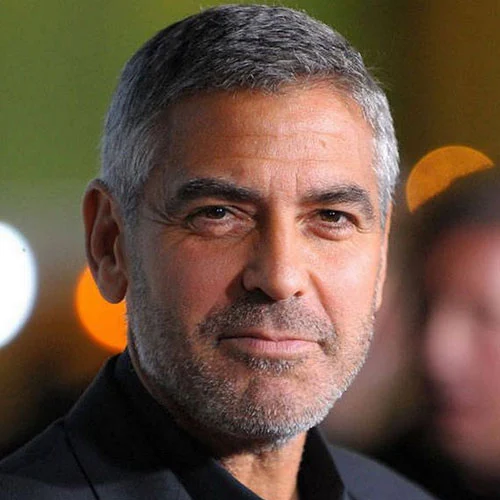 12. Golden-Toned Salt & Pepper
Not all gray hair looks the same! Some men have silver strands, while others have a mix of gray and golden tones.
Embrace your unique coloring by styling it into a shorter cut with some texture and volume on top.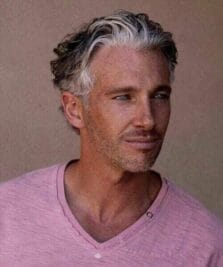 13. Ben Affleck's Style
A true Hollywood star has a look that is polished yet removed, and Ben definitely has that.
His sides are freshly trimmed, his front hair has light volume, and his beard is neatly groomed but not fussy. The salt-and-pepper coloring of his hair only adds to his charisma.
14. Gelled Back Salt And Pepper Style
Want a sleek and professional hairstyle? Look no further than this gelled-back salt and pepper. This look is perfect for the office or any formal occasion. Plus, it shows off your gray hair in a sexy way.
15. Highlighted Salt And Pepper Hairstyle
For added dimension to your gray hair, consider getting highlights or lowlights. This can add depth and make your salt and pepper coloring stand out even way more.
Ask your hairstylist for some expert advice on what shades would work best for you.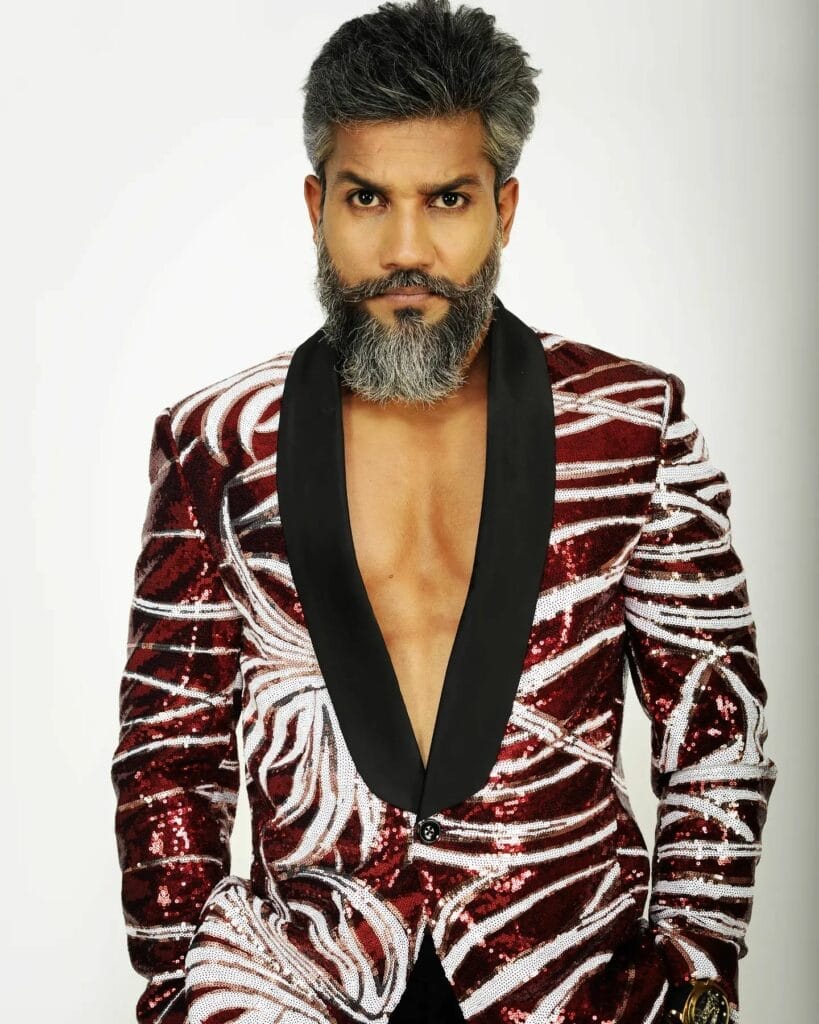 16. Silver & Black Hairstyle
Don't be afraid to experiment with color when it comes to salt and pepper hair. This look combines silver-gray strands with black for a bold and stylish result.
17. Salt & Pepper Worn By Brad Pitt
Brad Pitt has always been a style icon, and his salt-and-pepper hair is no exception. He often styles it into a messy yet put-together look, with some volume on top and just the right amount of length in front.
Final Word
No matter how you choose to style your salt-and-pepper hair, remember that it's all about embracing the natural aging process and rocking your unique look.
So rock that gray hair with confidence!
Faqs
Is Salt And Pepper Hair Attractive On Guys?
salt and pepper hair can be attractive on men if they style it in a way that suits their individual features and personality.
What Is Salt And Pepper Hair Men?
When you have black or brown hair and some white hairs randomly grow out, you get a mix of colors. but it isn't necessarily caused by age.
How Long Does Salt And Pepper Hair Last?
It lasts for 3 months but the root color may need to be touched up sooner as the new hairs grow out quickly and become more noticeable. However, some men choose to let their hair grow out and embrace their natural salt-and-pepper coloring.
Do Girls Like Men With Grey Hair?
Some women may find it attractive, while others may prefer a different hair color. It ultimately comes down to personal preference.
How Much Does Gray Blending Cost?
The cost of hair color blending services will vary depending on the length of your hair and the location of the salon but typically falls between $25-$30.
Khamis Maiouf is a professional barber who graduated from Hinckley College in England with a degree in hairdressing. He has also won several barbering contests and successfully operated a barbershop for the last two decades. As a skilled hair stylist for 20 years, his goal is to teach others how to achieve a beautiful appearance through their hairstyles.