How to Ask for a Haircut: Mastering the Art of Salon Speak
A trip to the hair salon or barber can be both EXCITING and nerve-wracking, especially if you're not quite sure how to articulate your desired hairstyle.
Communicating effectively with your STYLIST is essential to ensure you leave the salon with the haircut you've envisioned.
In this comprehensive guide on "how to ask for a haircut," I will explore the terminologies for requesting a haircut.
By the end of this article, you'll be well-equipped to confidently ask for the haircut you want and achieve the style you've been dreaming of. So, let's dive in!
How to Communicate Effectively with Your Barber
When you visit a barber, it is essential to clearly express your desires regarding your haircut.
In this article, I will explore practical tips to ensure you are able to effectively communicate with your BARBER, ultimately getting the exact haircut you want.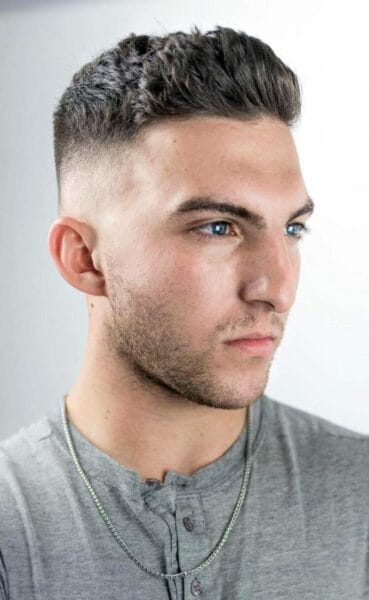 1. Do Your Research
Before you even set foot in a barbershop, it is important to have an idea of the haircut you want.
Spend some time browsing through magazines or online galleries, and save images of hairstyles that appeal to you.
Having a visual reference can make it much easier to describe your desired look to your barber.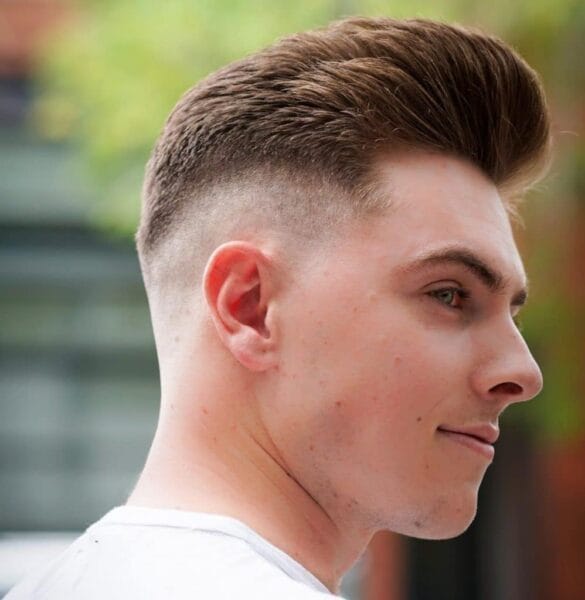 2. Learn the Lingo
Familiarizing yourself with common hairstyling terms can improve communication with your barber.
For instance, understanding the difference between a fade and a taper can help you convey your preferences more accurately.
Don't be afraid to ask your barber for clarification if you are unsure about any terminology.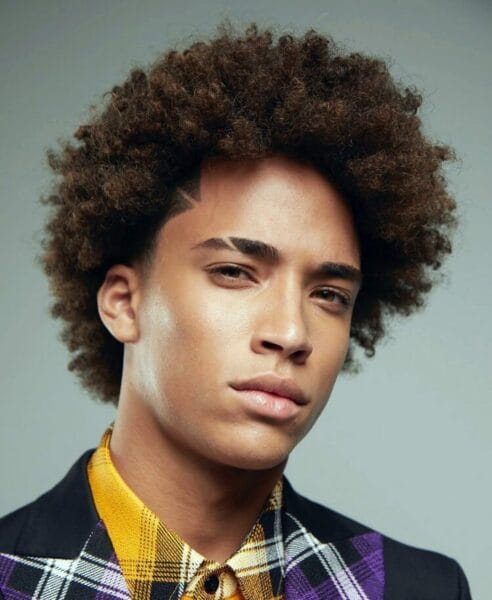 3. Be Specific
When describing the haircut you want, try to be as specific as possible.
Instead of saying "I want it short," provide more detail, such as "I'd like a two-inch trim" or "I want a one-inch fade on the sides."
Clear instructions will help your barber understand your vision and execute it correctly.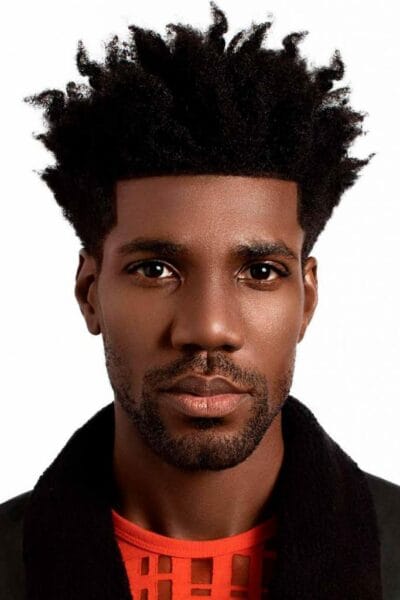 4. Show a Picture
A picture is worth a thousand words. If you have found an image that represents the haircut you want, show it to your barber.
They can use this as a visual guide to ensure they are giving you the desired style.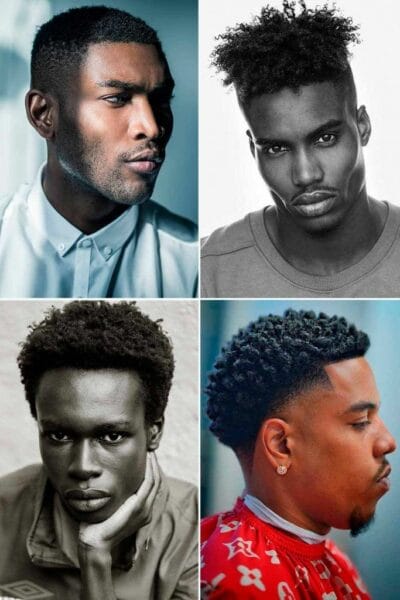 5. Ask for Recommendations
If you are unsure about what hairstyle will suit you, don't hesitate to ask your barber for advice.
They have experience working with various hair types and face shapes and can provide valuable insight into what may work best for you.
6. Provide Feedback
As your barber begins cutting your hair, pay attention to their work. If something doesn't look right or you want an adjustment, speak up.
Providing real-time feedback allows your barber to make any necessary changes and helps you achieve the desired result.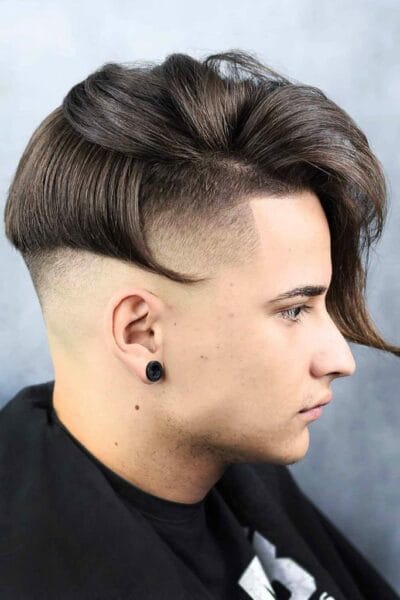 7. Be Patient
A great haircut takes time. Be patient with your barber as they work to create the perfect style for you.
If you rush them, they may not be able to achieve the look you desire. Trust the process and allow your barber to work their magic.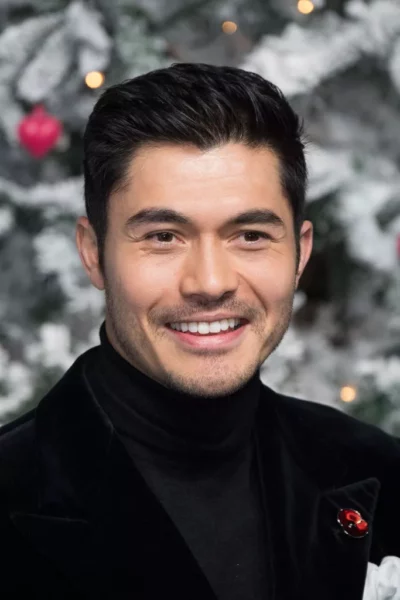 Popular Hair Terminology Used For Haircuts
Fade vs Taper
When thinking about how to ask for a haircut, it's essential to know the difference between a fade and a taper.
A fade involves gradually shortening the hair from the top of the head down to the neck, with the shortest length typically at the bottom.
It creates a smooth transition and can range from subtle to dramatic.
On the other hand, a taper is more conservative, with a gradual transition from longer hair at the top to shorter hair on the sides and back.
Both styles can be customized to suit your preferences, so don't hesitate to discuss your desired look with your barber.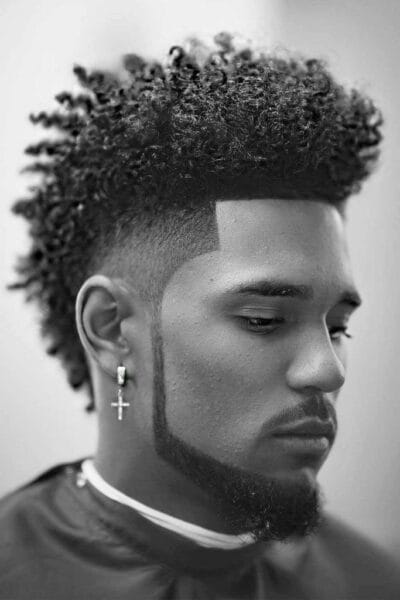 Haircut Numbers or Clipper Sizes
Understanding haircut numbers and clipper sizes is crucial when communicating with your barber.
Haircut numbers refer to the guard attachments used on hair clippers, with each number representing a specific hair length.
For example, a number 1 guard will leave the hair approximately 1/8 inch long, while a number 8 guard will leave the hair 1 inch long.
Familiarize yourself with these numbers to accurately convey your desired haircut length.
Remember, it's always better to start with a longer guard and gradually work your way down if you're unsure.
Textured
Textured haircut can add depth and movement to your hairstyle, making it an excellent choice for men seeking a fresh, modern look.
To achieve a textured style, your barber will use techniques like point cutting, slide cutting, or razor cutting to create varying lengths and remove weight from your hair.
This results in a more natural, lived-in appearance. When asking for a textured haircut, be specific about the amount of texture you want and where you'd like it placed to ensure the best results.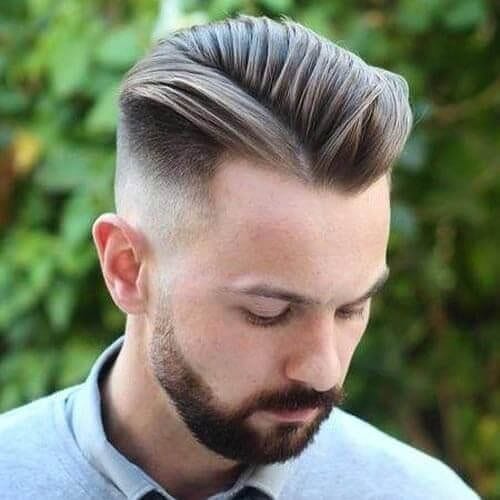 Long Top and Short Sides
A popular and versatile hairstyle is the long top and short sides. This style features a longer length on the top of the head, while the sides and back are kept shorter.
The contrast between the lengths can create a striking look that's both fashionable and low-maintenance.
To request this haircut, describe the desired length for the top and sides, and discuss whether you'd like a fade or taper to blend the two areas.
Additionally, think about how you'd like to style the longer hair on top, as this can influence the haircut's final outcome.
Thinning or Layering
If you have thick or heavy hair, you might consider asking your barber for thinning or layering to help reduce bulk and create a more manageable style.
Thinning involves using thinning shears to remove weight and create a softer, more natural finish.
Layering, on the other hand, involves cutting the hair at different lengths to create movement and volume.
Both techniques can be tailored to your specific needs, so be sure to explain your hair concerns and desired outcome to your barber when discussing these options.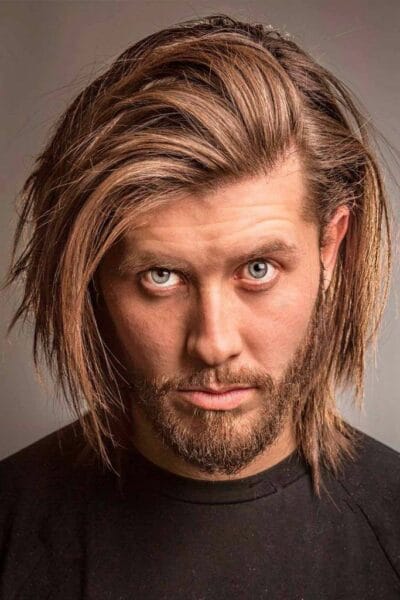 10 Popular Haircuts To Ask For
Crew Cut
A Crew Cut is a classic and versatile haircut that suits many men.
With short hair on the sides and slightly longer on the top, this style is easy to maintain and perfect for men who prefer a clean-cut look.
To ask for a crew cut at the barber, simply request a short fade or taper on the sides and back, while keeping some length on the top.
I personally enjoy this style because it's low-maintenance and always looks neat.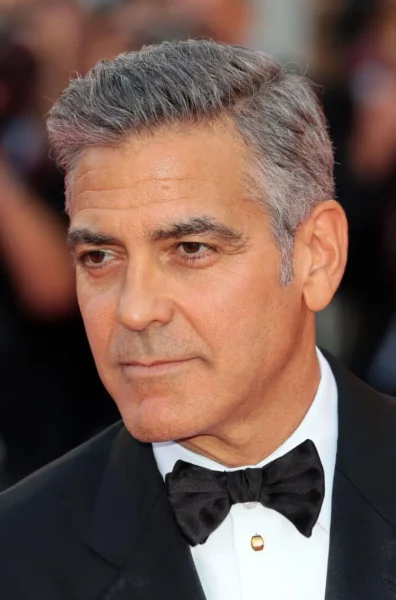 Pompadour
Pompadour is a stylish and eye-catching haircut that adds FLAIR to your appearance. It features longer hair on top, which is swept back and upward to create a voluminous look.
To achieve this style, ask your barber to leave the top long while keeping the sides shorter.
Mention that you want to create a pompadour and they'll understand the desired look. I find this hairstyle particularly attractive as it adds a touch of sophistication to any OUTFIT.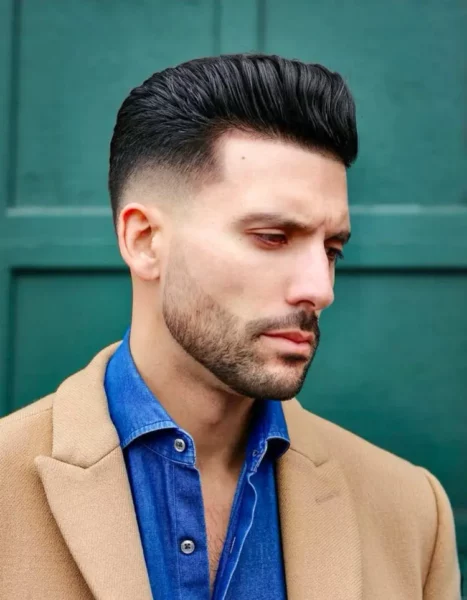 Undercut
An Undercut is a MODERN and edgy haircut that can easily be adapted to suit different tastes.
The key to this STYLE is having the sides and back of your hair cut very short or even shaved, while the top remains longer.
To request this cut, simply ask your barber for a close shave on the sides and back, and a longer top that can be styled in various ways.
I like experimenting with my undercut, sometimes wearing it slicked back or with a side part.
Buzz Cut
Buzz Cut is an ultra-low-maintenance hairstyle that's perfect for gentlemen who want a no-fuss look.
It involves cutting the hair to an even, short length all around the head.
To ask for a buzz cut, specify the desired length using CLIPPER guard numbers, such as a "number 2" or "number 3" all over. I appreciate the simplicity of a buzz cut, as it requires minimal styling and upkeep.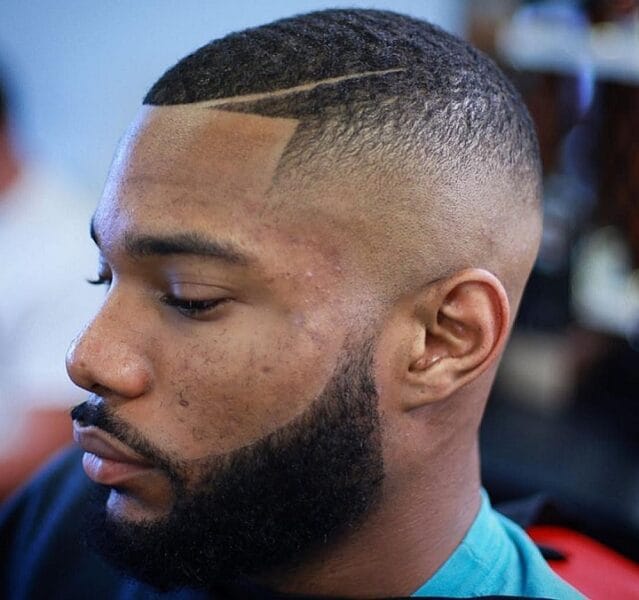 Quiff
Quiff is a fashionable hairstyle that combines elements of a pompadour, flat top, and sometimes even a mohawk. It involves longer hair on top styled upwards and away from the forehead.
When asking for a quiff, request a fade or tapered sides with longer hair on top to be styled in an upward motion.
It is a versatile style, as it can be dressed up or down depending on the occasion.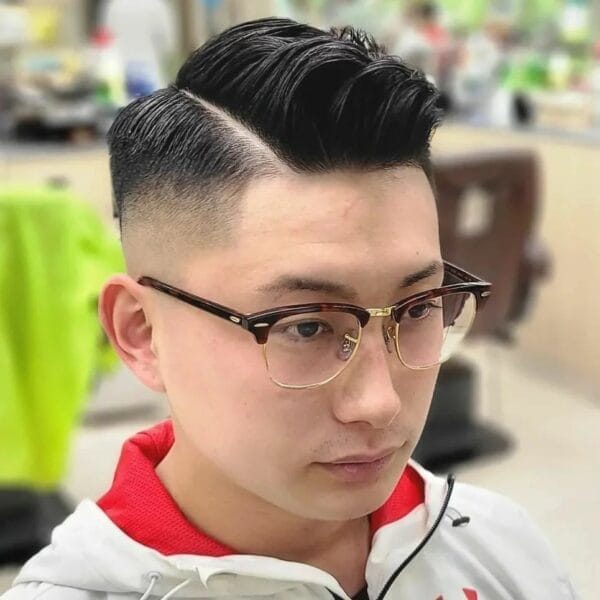 Faux Hawk
Faux Hawk is a trendy hairstyle that mimics the look of a traditional mohawk but without the commitment of shaving the sides of the head.
To achieve this look, ask your barber to leave the hair longer in the center and shorter on the sides. I enjoy the faux hawk for its edgy appearance and the fact that it can be easily transformed into other styles.
Side Part
Side Part is a timeless and elegant hairstyle that suits a wide range of men. This cut features a neatly combed parting on one side of the head.
Request a taper or fade on the sides and back, while keeping some length on the top for a clean parting.
I appreciate the side part for its versatility, as it can be styled for both casual and formal occasions.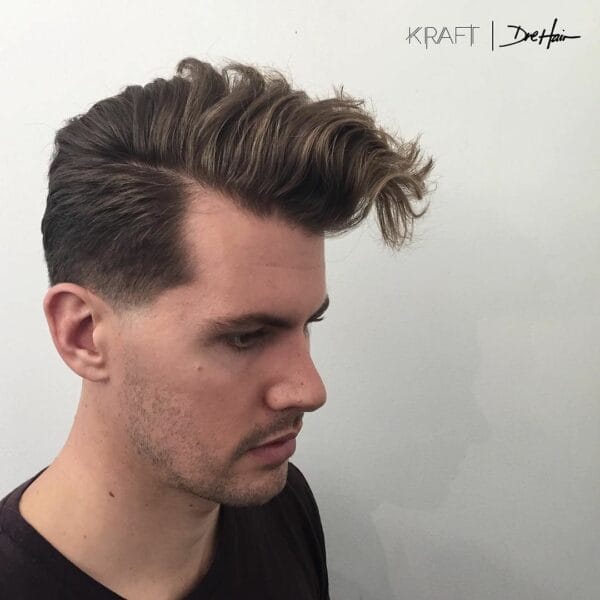 Ivy League
Ivy League is a refined and polished haircut that exudes sophistication. It's similar to a crew cut but with slightly longer hair on top.
When asking for an Ivy League cut, request a short fade or taper on the sides and back, with a bit more length on the top to allow for a side part.
It is suitable for professional settings, as it projects a well-groomed image.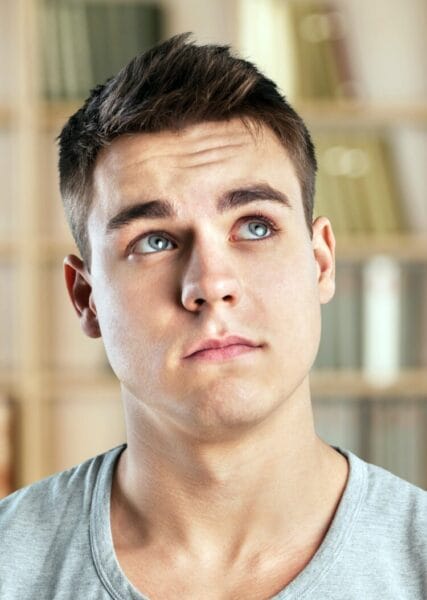 High and Tight
High and Tight is a military-inspired haircut that offers a sharp and clean look. It features very short hair on the sides and back, with a slightly longer top.
It is achieved with a close fade or even a shave on the sides and back, while keeping a small amount of length on the top.
Personally, I appreciate this style for its low-maintenance and no-nonsense appearance, making it perfect for gentlemen who prefer a minimalist approach to grooming.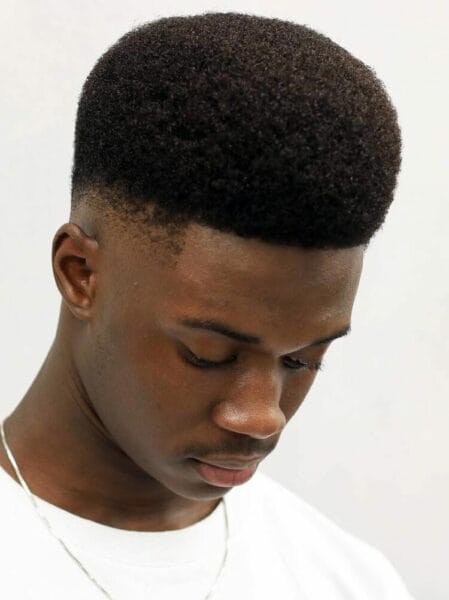 Slicked Back
Slicked Back hairstyle is a timeless and stylish choice for men who prefer a polished look.
This cut involves longer hair on top that is combed and styled backward, away from the face.
Achieve this style by asking your barber to leave the top long enough for SLICKING back, while keeping the sides shorter or tapered.
It adds a touch of SOPHISTICATION to any outfit and can be easily transitioned from day to night.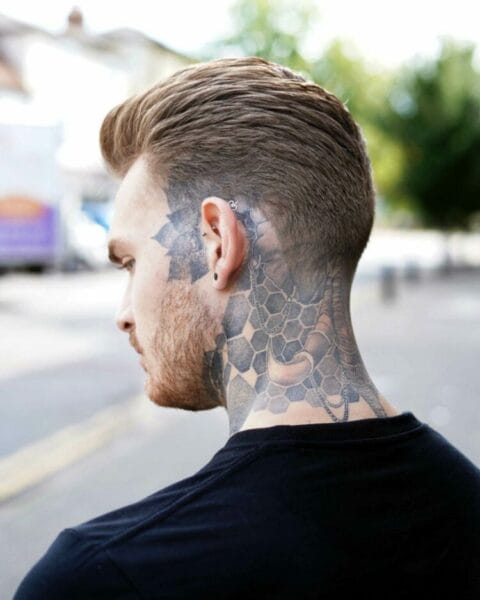 Conclusion
Knowing how to ask for a haircut is an essential SKILL for effective communication with your hairstylist and achieving the desired outcome.
By following a few simple guidelines such as conducting thorough research, using proper terminology.
Providing visual aids, being specific about your preferences, and engaging in open dialogue with your hairstylist, you can ensure a smooth and satisfactory experience.
FAQs
How do I ask my barber for a specific haircut?
When visiting your barber, it's essential to communicate clearly about the specific haircut you want.
One effective way is to bring a photo or two of the desired style. Tell your barber the key elements you like from the pictures and ask for their professional advice on how to achieve the look.
Don't hesitate to ask questions about the maintenance and styling of the haircut, so you know what to expect.
How do you ask for a haircut you want?
To make sure you get the haircut you want, be specific and descriptive when explaining your desired style.
Use common terms such as "layers," "fade," or "bangs," and specify the length you want. If you're unsure, ask your barber for guidance.
They can recommend the right terminology and options based on your hair type and face shape. Remember, a good conversation with your stylist is key to getting the perfect haircut.
What do I say when asking for a haircut?
When asking for a haircut, start by describing the general style you're interested in, then focus on the details.
You can mention the length (short, medium, or long), the type of cut (layered, textured, or blunt), and any additional features (bangs, sideburns, or fades).
If you want to be more specific, you can also discuss the length in inches or centimeters. Don't be afraid to speak up if you have any concerns or preferences.
How do you ask for a fade haircut?
When asking for a fade, it's important to specify the type of fade you want, as there are various styles, such as a high, mid, or low fade.
You should also mention if you prefer a skin, shadow, or taper fade. It's helpful to provide your barber with a photo to ensure they understand your desired look.
Remember, your barber is there to help and guide you, so don't hesitate to ask for their opinion.
What haircut should I ask for men?
When choosing a haircut for men, consider factors like your face shape, hair type, and lifestyle.
Popular men's haircuts include the crew cut, pompadour, and undercut, but there are many other styles to explore.
Consult with your barber, who can provide expert recommendations based on your specific needs and preferences.
Ultimately, choose a haircut that makes you feel confident and suits your personal style.
Khamis Maiouf is a professional barber who graduated from Hinckley College in England with a degree in hairdressing. He has also won several barbering contests and successfully operated a barbershop for the last two decades. As a skilled hair stylist for 20 years, his goal is to teach others how to achieve a beautiful appearance through their hairstyles.